We use affiliate links. If you buy something through the links on this page, we may earn a commission at no cost to you. Learn more.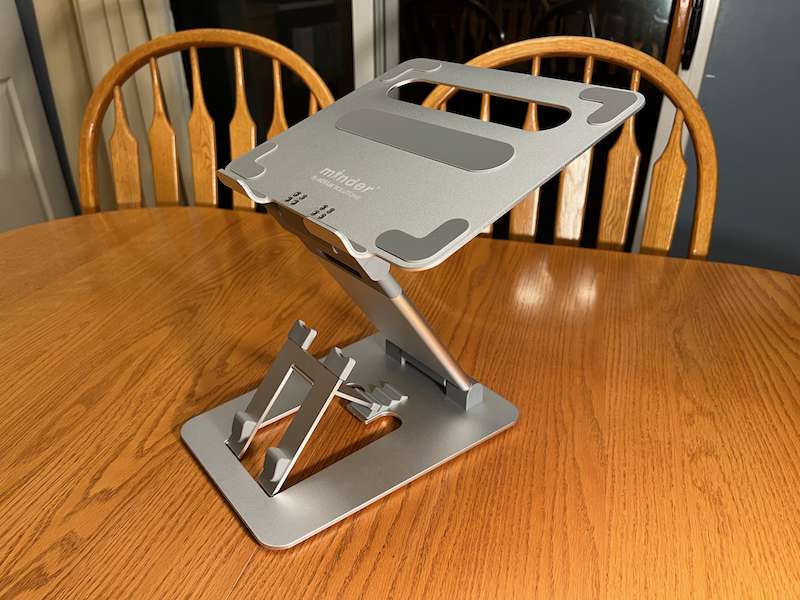 REVIEW – Standing desks and laptop stands are a great way to help improve posture and keep you from sitting in a chair all day while you work. Raising a laptop screen so it's at the proper eye level can go a long way to alleviating neck and back strain, keeping you more comfortable and decreasing pain from sitting and working for many hours a day. Along that vein obVus has released their Minder Tower Stand II as a solution for raising your laptop, tablet, or even a book off the desk, placing them at a better viewing angle. obVus sent me the minder Tower Stand 2.0 and their folding Bluetooth keyboard and trackpad combo to test along with it.
What is it?
obVus minder Tower Stand 2.0 is a portable, foldable, adjustable stand for a laptop, tablet, or book, raising them off the desk to bring them to a proper height for your eye line, helping prevent strain on the neck and back during extended work hours.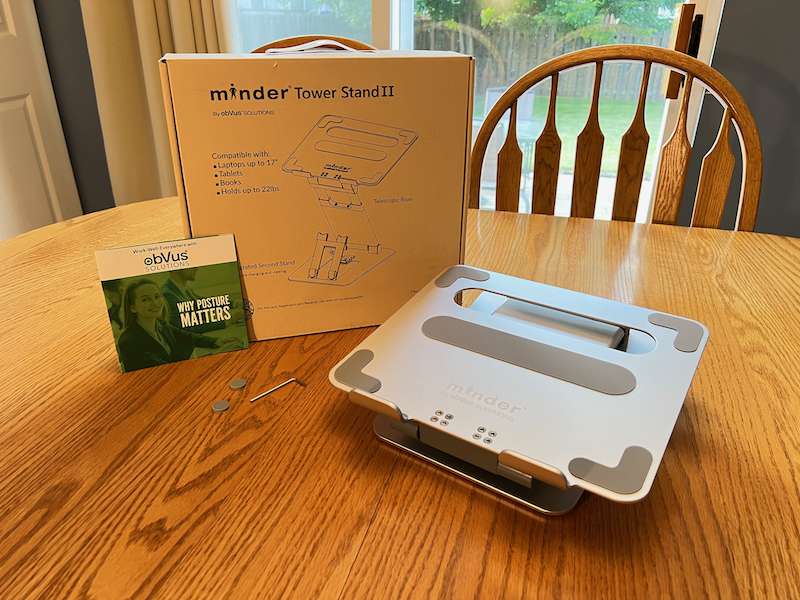 What's in the box?
Stand:

minder Tower Stand 2.0
Non-Slip Pads (to secure base)
Allen wrench (to tighten stand)
Instructions (on back of box)

Keyboard

minder Keyboard
Micro-USB Charging Cable
Instruction Manual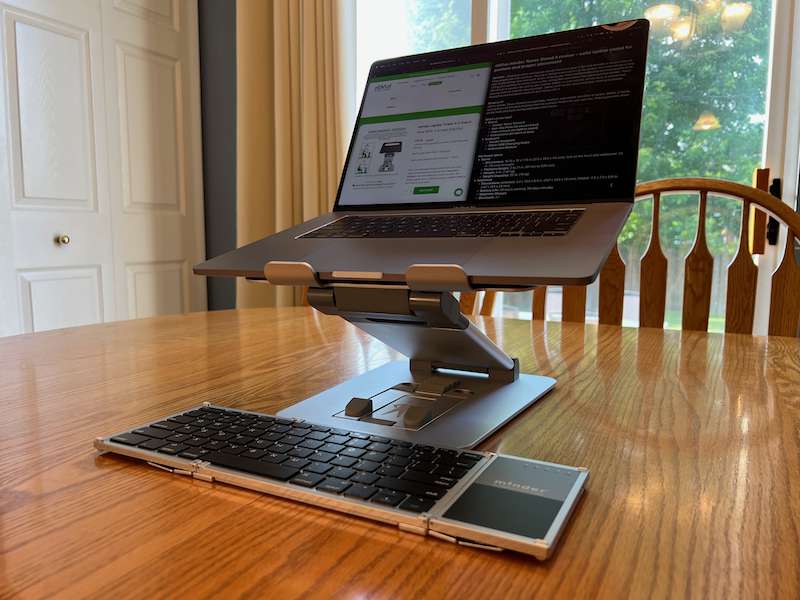 Hardware specs
Stand

Dimensions: 10.75 x 10 x 1.75 in (273 x 254 x 44 mm); curved feet on the front of the platform add additional .75 in. (19 mm) to height
Platform Height: 2 to 21 in. (51 mm to 533 mm)
Weight: 4 lb. (1.81 kg)
Weight Capacity: 22 lb. (10 kg)

Keyboard

Dimensions: Unfolded: 4.2 x 13.5 x 0.5 in. (107 x 343 x 13 mm); Folded: 4.2 x 7.2 x 0.9 in. (107 x 183 x 23 mm)
Battery Life: 40 hours working, 90 days standby
Magnetic Closure
Bluetooth: 5.1
Pair 3 Devices
Sleep Timer: 10 minutes
OS Compatibility: Mac, Windows, iOS, Android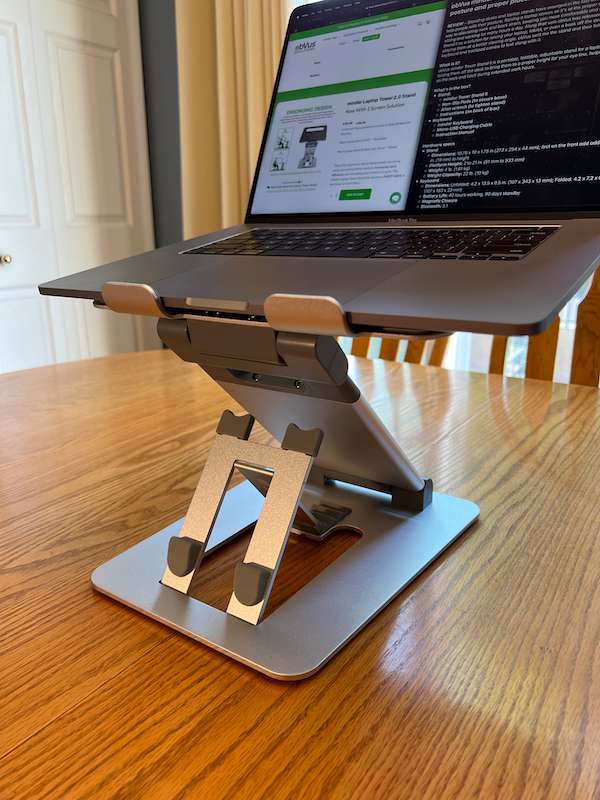 Design and features
The obVus minder Tower Stand 2.0 is built from aluminum with rubber non-slip pads on the bottom to help keep it in place during use. There is an arm with two hinges, one at the bottom and one at the top, below a top platform where your laptop or another item you wish to view can be placed. The platform has several non-slip pads as well so you can rest assured that what you place there won't slip off without a decent amount of force. The two hinges allow the stand to be placed at just about any angle you would want to use.
Below the main platform is another small stand that can be raised to four different angles, allowing for a phone, a small tablet, book, or other item to be placed there. This can be useful for holding reference material, keeping your phone close at hand, or even keeping a running clock or timer on a small tablet. This could also be a nice storage area to get your keyboard off your desk if you don't want it in the way while not in use.
When not in use the stand folds down to a fairly compact size for storage or travel. It's fairly bulky but if you need to go between the office at work and your home office, or to a coffee shop, or even your backyard, it's easy enough to carry around, especially with the built-in handle.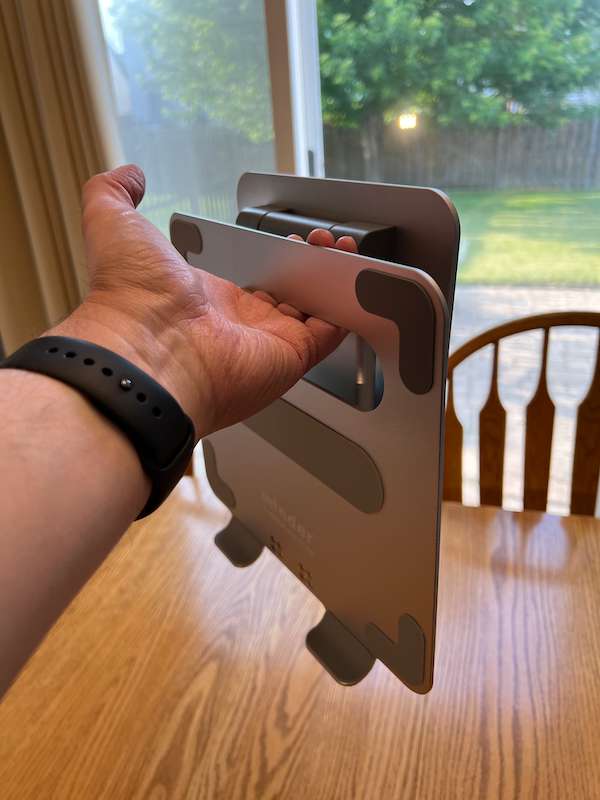 obVus says the keyboard has an aluminum frame for durability. The exterior of the keyboard is made of plastic in a silver or black finish with black keys and a small trackpad attached to the right side. The keyboard is foldable for travel, making it handy to carry with the stand wherever your work might take you. The keyboard can be paired with up to three Bluetooth devices and you can switch between them with a keyboard shortcut, allowing you to switch between a computer, a tablet, and a phone at any moment as the need arises.
Installation and setup
Installation and setup for the stand simply consists of taking it out of the box, removing the plastic wrapping and styrofoam inserts, and setting it to the desired height and angle for your setup. It couldn't be easier. Actually, it could be easier because it takes a decent amount of force to adjust the angles, but that's exactly what you want for something that can hold up to 22 lb. off your desk – you don't want it slowly (or rapidly) lowering, potentially damaging the device you're holding with it. Because the stand takes so much force to move into place I recommend removing the laptop or tablet before adjusting. I wouldn't want it to slip or accidentally go too far, potentially causing the device to fall off and potentially get damaged.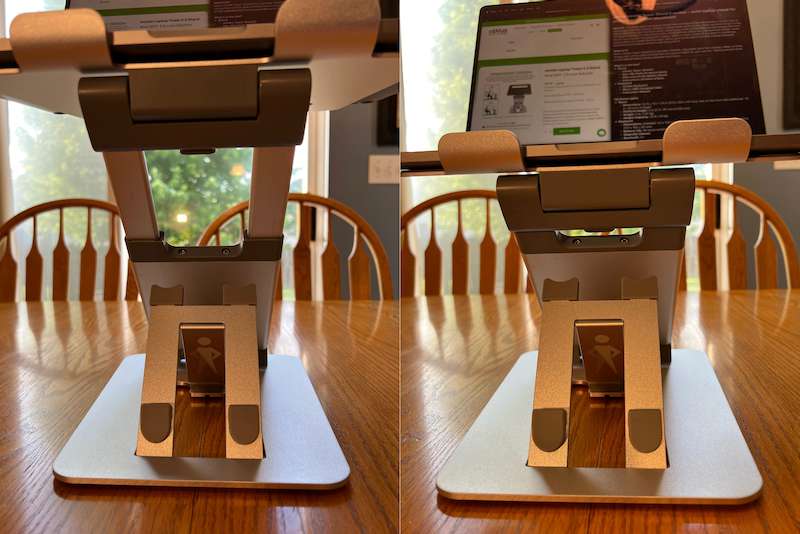 The arm is telescoping, giving approximately 3.25 more inches of height, mostly useful if you're planning to use this while standing at your desk. There is a button at the base of the platform to release the telescoping arm, allowing you to adjust the height at any time with minimal effort.
Once the stand is in position you can raise the lower stand. There are four angles to choose from with a large block of thick rubber to help keep it in place. There are two large rubber feet to hold the items you place on this lower stand. This lower stand isn't able to be opened until the main arm is up at a certain angle. When the arm is at a shallower angle there just isn't enough room to raise the lower stand. This probably won't be a problem for the most part but it is something to be aware of.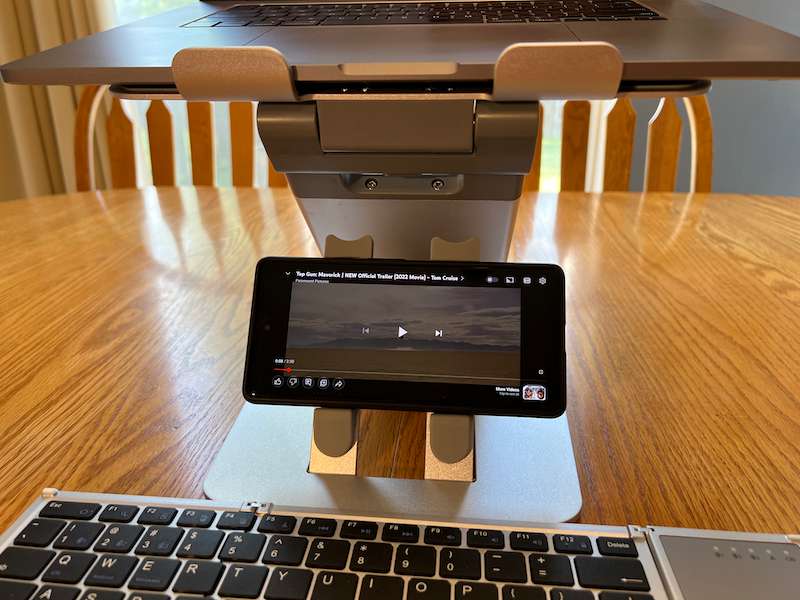 The obVus keyboard uses Bluetooth and can be paired with up to three devices and easily switched with keyboard shortcuts. The keyboard mode can also be switched when working with Windows, Mac, iOS, or Android devices. There are rubber feet on the bottom to help keep the keyboard in place while typing. It also has a magnetic closure system to help keep the keyboard folded up when not in use. Weighing in at 10.6 ounces this keyboard is lightweight and easy to pack.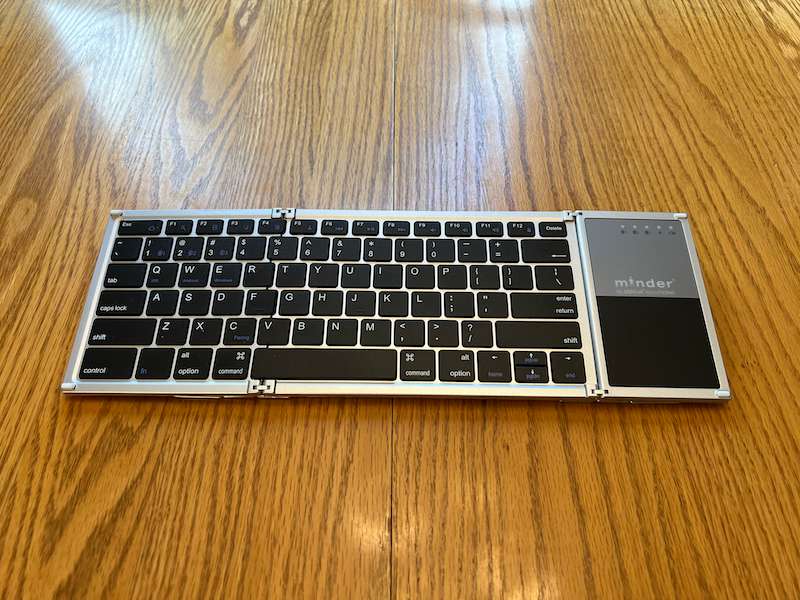 In Use
This construction of this stand is really solid. The aluminum is a thick gauge. It feels like it would take quite a bit of force to try to bend it. The rubber pads used to hold the stand in place and to keep the laptop from slipping and the ones on the lower stand are really solid and feel like they're going to last a long time.
When you're raising an expensive laptop or tablet almost two feet off the desk you want it to be sturdy. As long as you don't go crazy with the angle, your device isn't going to go anywhere. I did notice a slight wobbling when I tried to type on my MacBook Pro at the highest setting. It didn't seem so bad that I thought the laptop was going to fall off but just be aware that it's going to move a little bit when you interact with it. I believe this would be the same with any other similar adjustable so I don't fault obVus for this.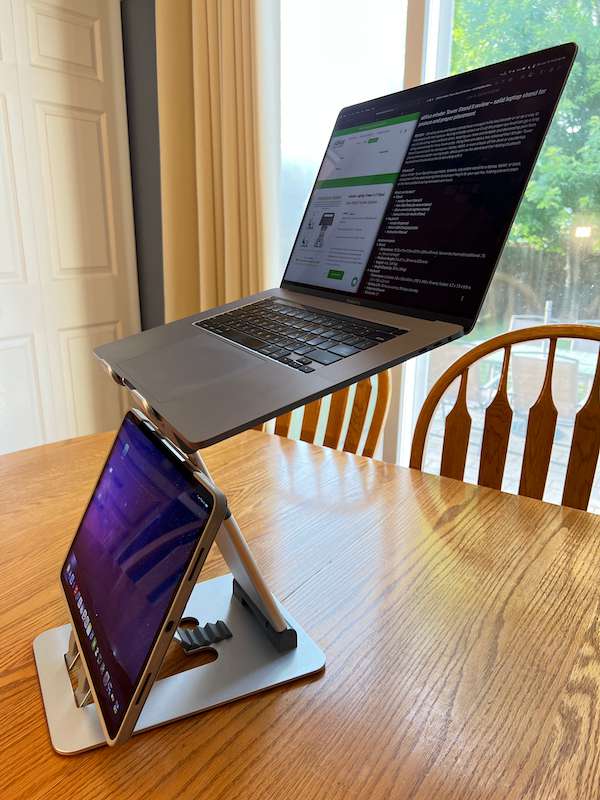 I did manage to get my 12.9″ iPad Pro on the lower stand but it's not really of practical use there. To get it on there I had to have the platform so high that it would only be good for standing use, meaning the iPad Pro would be too low to really use much. I suppose if I had a clock or just something I only had to glance at once in a while it would be OK but this is really meant for smaller tablets, phones, or other smaller items that you don't necessarily need to interact with but want within reach.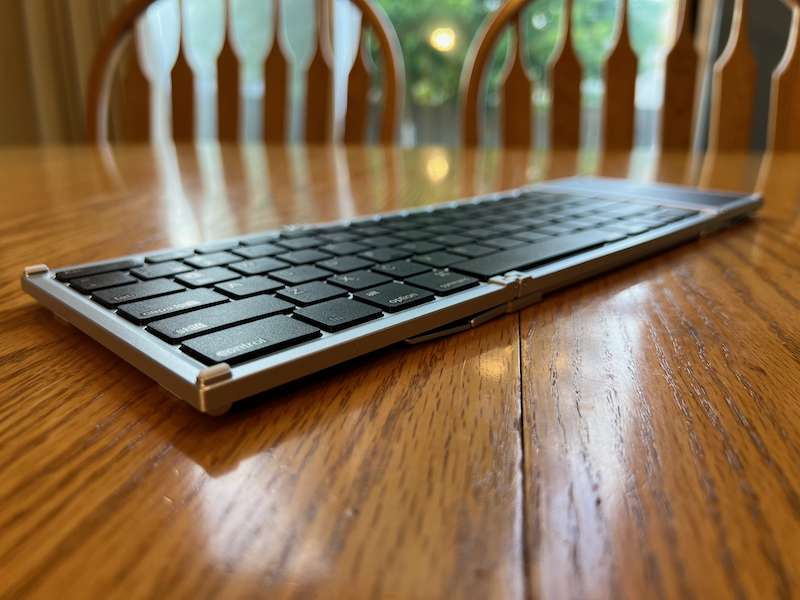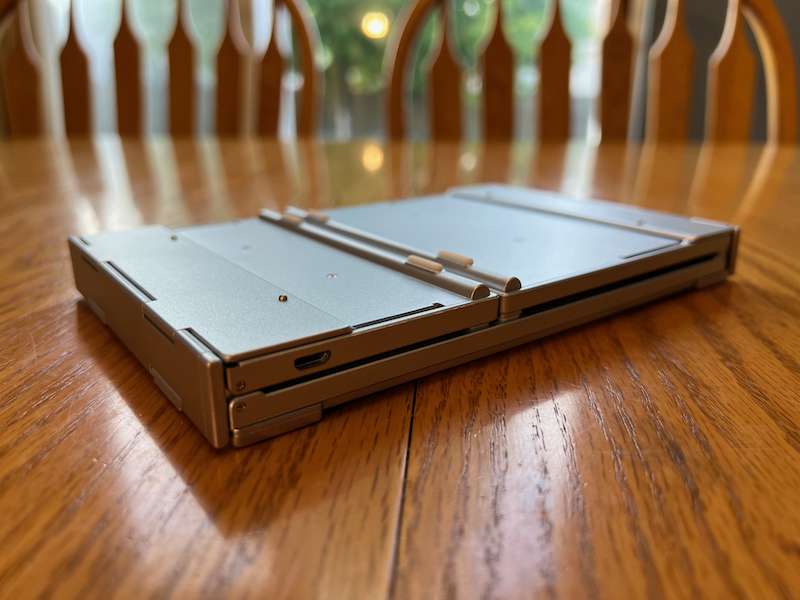 I'm typing this section on my iPad, paired with the minder keyboard. Pairing is easy with a keyboard combination and switching between devices is easy as well. In addition to the keyboard, the trackpad works as expected on both Mac and iPad. There are a number of gestures available with the trackpad with one, two, three, or four fingers. I can barely fit all four fingers on the trackpad but it's still nice to have the gestures available, especially for Mac & iOS users who are used to multiple finger swipes to do various things with our favorite operating systems. Having a trackpad built into a portable keyboard is a convenience when you're away from your normal peripherals but it's not going to take the place of the versatility of my MacBook Pro's trackpad or even a mouse.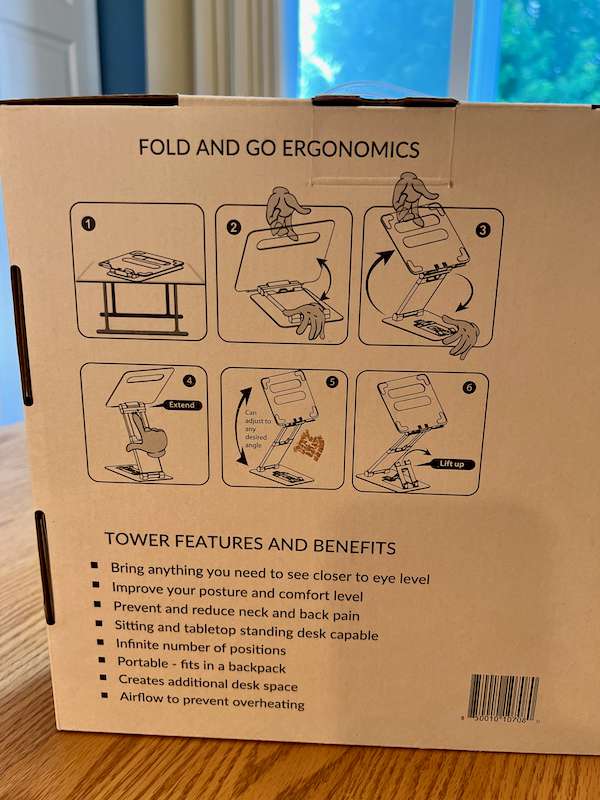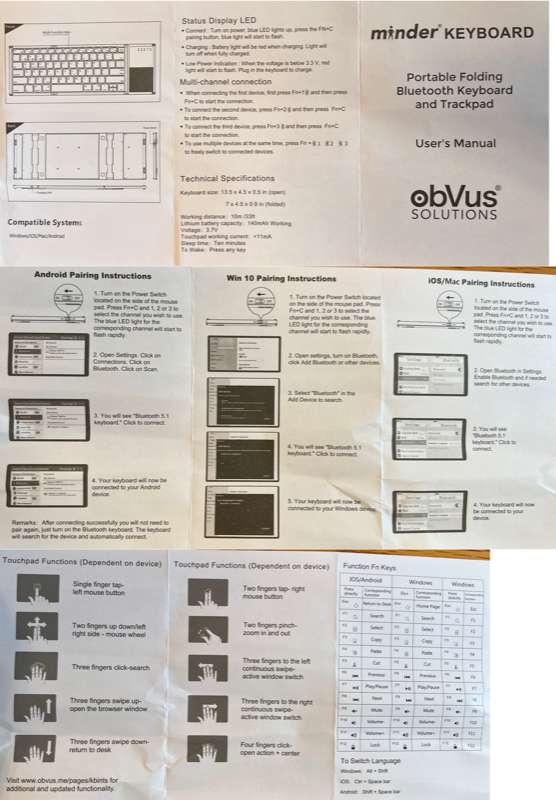 While typing this review on the obVus minder keyboard I noticed a lot of repeating characters which was concerning. I finally realized that I didn't have the keyboard in the right mode. When typing with it on my MacBook Pro I had the keyboard in iPad mode. When I switched the keyboard to Windows mode the repeating keys problem went away. I figured the keyboard shortcuts might be different between Windows and iOS modes, but I didn't realize it would also fix the repeating key issue. I'm not sure what's going on behind the scenes that would fix this problem, but I'm glad I was able to solve it. I'd rather have my typing problems be my fault, not the fault of the keyboard I'm using. I tend to fat-finger or get sloppy while I'm typing so I accept a certain amount of problems as I type, but if the keyboard is causing the problem it can be really frustrating. I probably wouldn't type a novel or other long-form content with a keyboard like this but to have something portable that can work with whatever devices I carry around it's better than the onscreen keyboard for something longer than a text message or short email reply any day.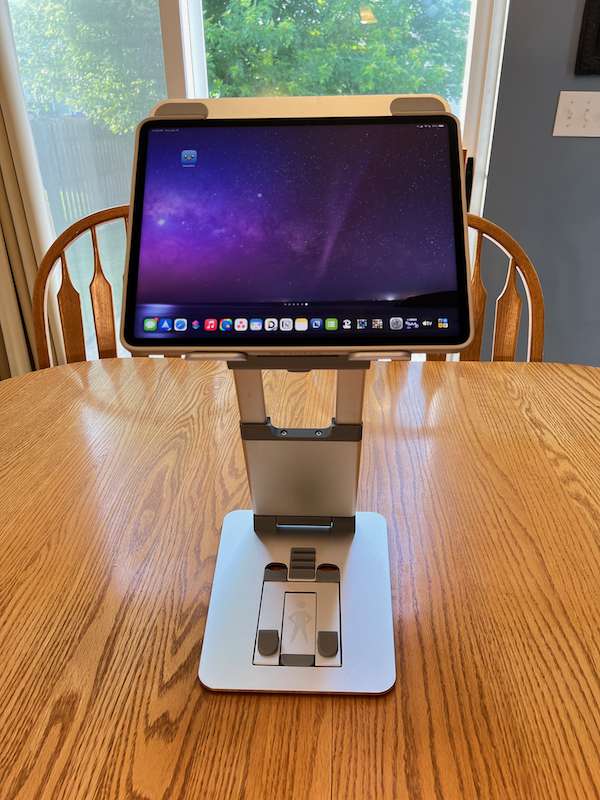 One negative thing about the keyboard is that it uses Micro-USB charging, not USB-C. With just about everything moving to USB-C it's becoming increasingly more frustrating to have new devices that use the older Micro-USB standard. It does come with a USB-A to Micro-USB cable so at least you don't have to find one of those. 
The only other thing that is a negative about the keyboard is that it doesn't lock open. This prevents it from being usable on a lap or other uneven surface. When paired with a laptop or tablet on the minder stand this likely won't be an issue but it does affect its ability to be used in setups when you're not at a good desk or table.
What I like
Sturdy construction
Adjustable height
Adjustable angle
Second stand with multiple angles
Feels like it will stay put a long time
What I'd change
Nothing about the stand
USB-C charging for the keyboard
Mechanism for locking the keyboard
Final thoughts
Raising your laptop's monitor to eye level and raising it to standing height are both good options for posture and keeping yourself from sitting in a chair all day. The obVus minder Tower 2.0 is one stand with both options in a package that can go with you wherever you want to work is a great combination in my book.
Price: $67.49
Where to buy: obvus.me or Amazon
Source: The sample for this review was provided by obVus. For more information visit their site.