We use affiliate links. If you buy something through the links on this page, we may earn a commission at no cost to you. Learn more.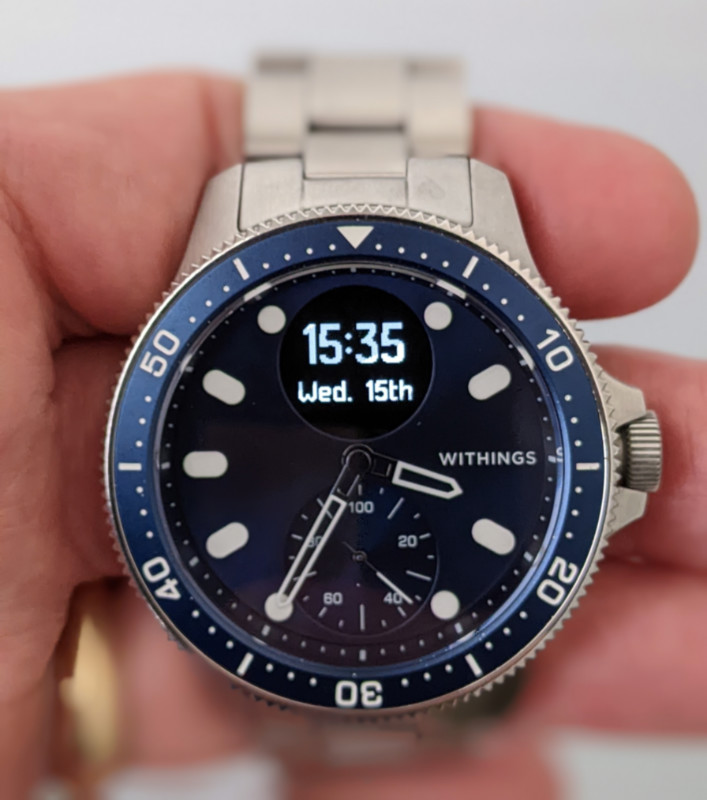 REVIEW –  The Withings Scanwatch Horizon has impressive looks but does it have what it takes to compete in the smartwatch arena with the other big names?  As a spoiler, I'm not shelving mine after this review ends. It ticks (yes) a lot of the smartwatch requirement boxes for me and, did I mention how great it looks?  
What is it
The Withings Scanwatch Horizon is a dive-watch style, hybrid smartwatch. It has the usual tracking features but also does electrocardiogram and oxygen saturation measurements with medically validated accuracy.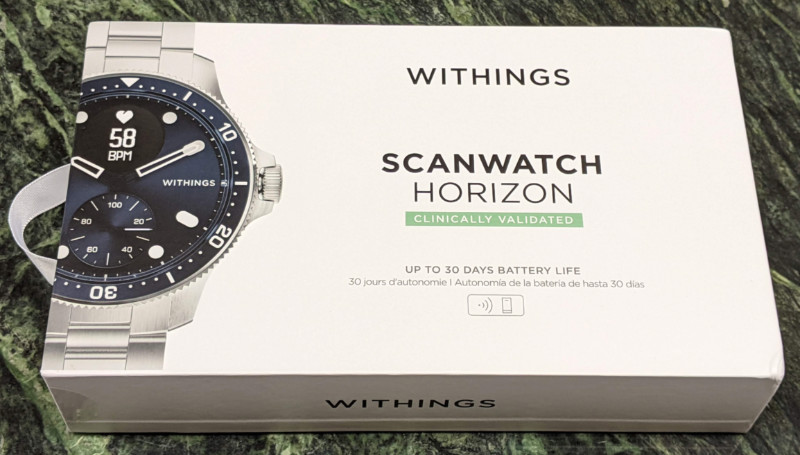 What's in the box
Withings Scanwatch Horizon

Stainless steel watchband attached

Fluoroelastomer band included

Magnetic charging cable

Quickstart guide

Band toolkit for resizing the metal band (pin pusher, hammer, band holder)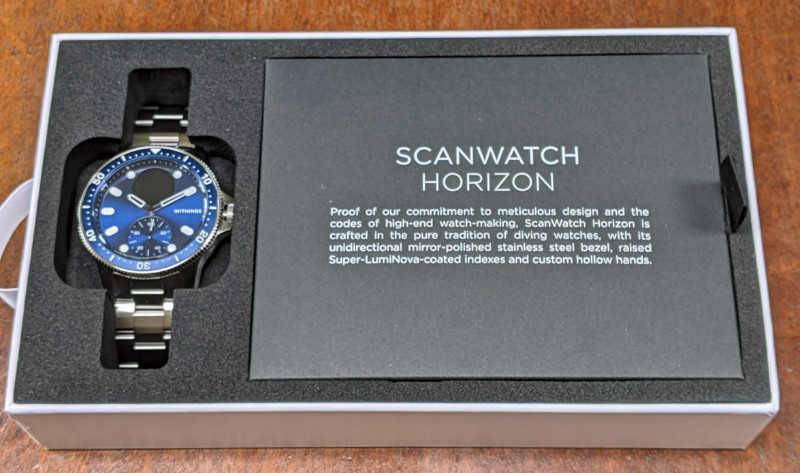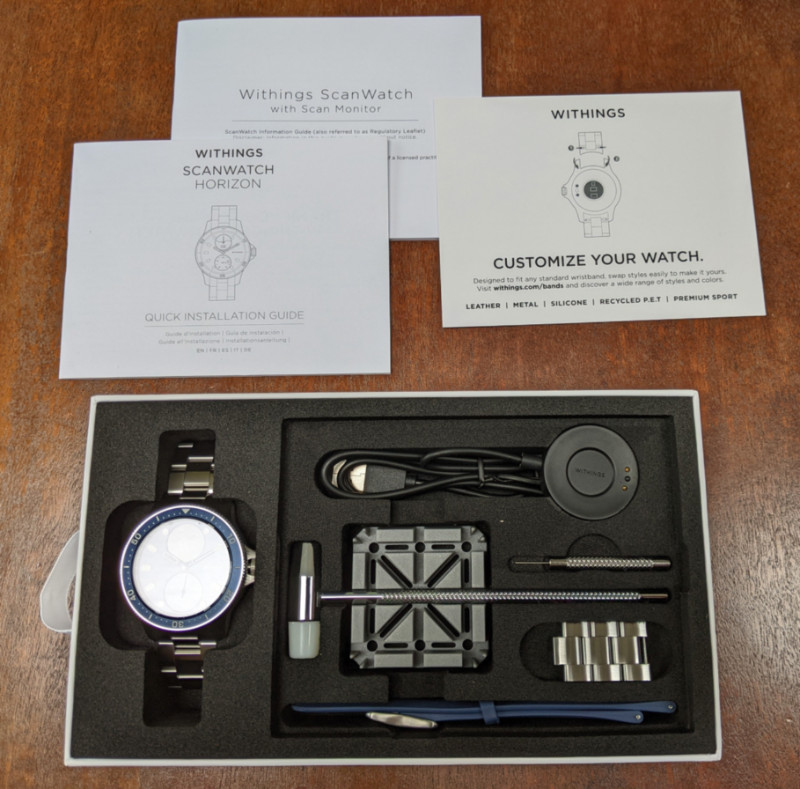 Hardware specs
Dimensions: 43mm diameter (1.7''), thickness 0.52'', 20mm wristband width (0.78'')

Weight: 2.5 oz (watch only).  Watch with metal band: 5.3 oz

Up to 30 day battery life

10 ATM water resistance (330 feet)

Flat sapphire glass

316L stainless steel case

Sensors: Exclusive multi-wavelength PPG heart rate/SpO2 sensor, Stainless steel ECG electrodes, High precision MEMS 3-axis accelerometer

Display: Analog time. Activity subdial. PMOLED screen.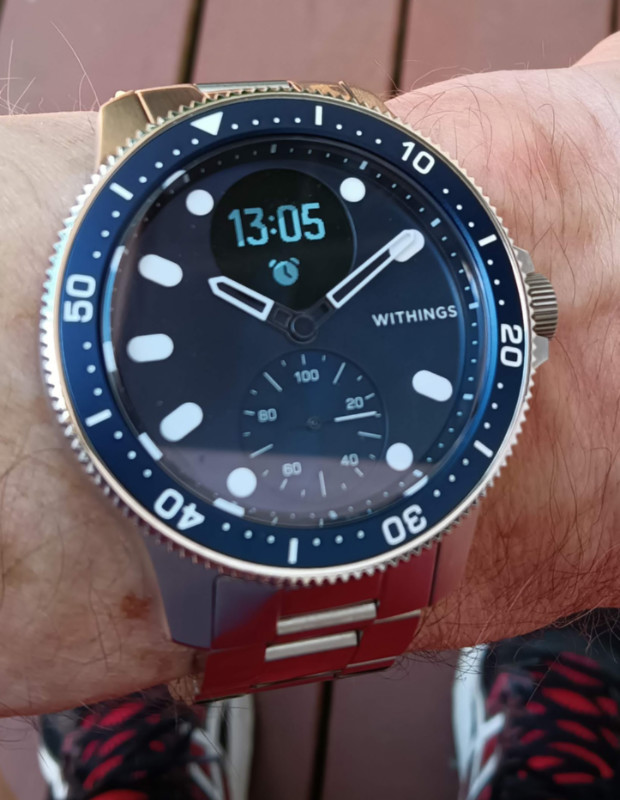 Design and features
5-year warranty

Dive watch style

Watch hand aim adjustment

True ECG capability

Breathing disturbance detection

Medical grade oxygen saturation detection

Heart rate tracking

Step tracking

Automatic activity tracking

Connected GPS (via phone)

30 sports workout mode

Sleep tracking

Phone app notifications

Companion phone app

Interchangeable bands

Counterclockwise rotating bezel

Available in blue or green watch face and bezel

Free shipping

30 day trial

5 year warranty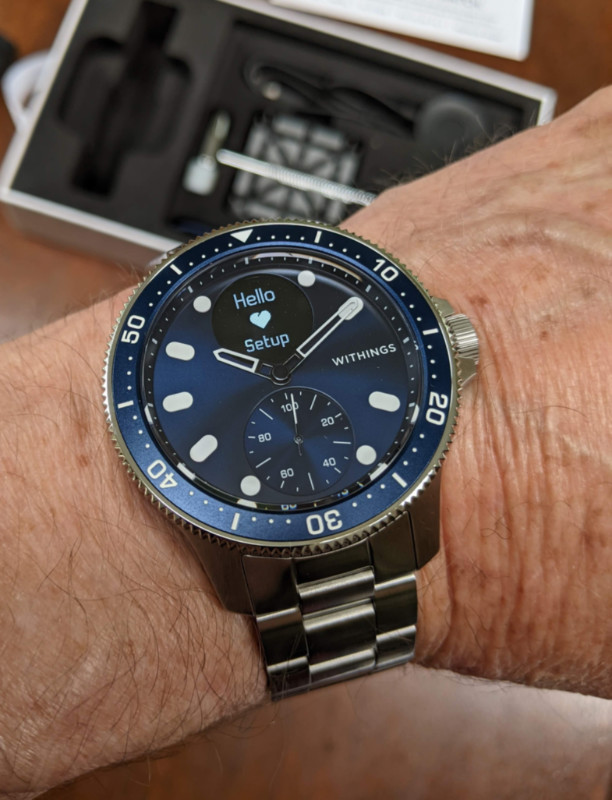 Installation and setup
After unboxing the watch and the charging cable, I started charging the Scanwatch Horizon, paged through the Quick Start guide and downloaded the Health Mate app to my phone. It is available on the Apple and Google Play app stores.
Setup took 30-40 minutes but not because anything went wrong. The software in the watch and in the app are well designed and the process moved along as it's supposed to. There was about a 10 minute wait while a watch update downloaded and installed but when the process was done the watch said so and moved to the next step in the process. And once it's done it's done. I have not had to factory reset and re-setup the watch.
I made a mistake when entering my body weight during the setup process. OK, I should have been 2 pounds more generous. I discovered after setup it's possible to change several personal details in the Profile including height, of all things, but not the body weight. I asked Support why that was the case. Support replied they'd submit this as a feature request.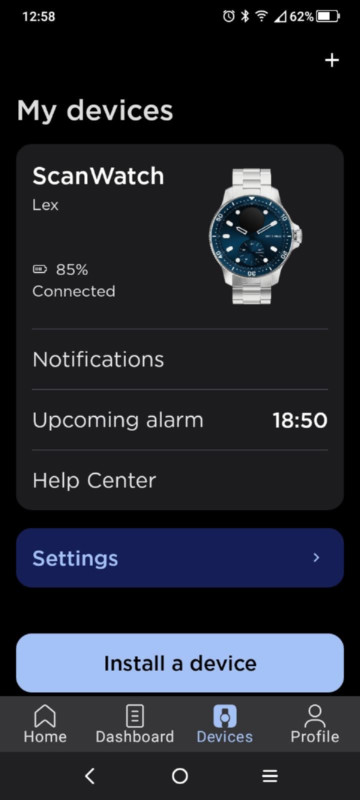 In a separate area of the Health Mate app you can enter body weights over time as you monitor your weight, so I entered my actual weight there. The next morning my weight had changed in my Profile. 
I also asked Support why Google Assistant Reminders don't pass to the watch. I.e. No vibration happens and no text appears following a Google Assistant Reminder. They said Google Assistant Reminders are not supported at the moment and also forwarded this as a feature request.  
Kudos to support for answering within two days on a holiday weekend. 
Testing and observations
GENERAL
When I show screenshots from the phone app in this review, I'm not trying to show every nook and cranny of the phone app. You can drill down further on many screens but I'm mainly trying to give an overview of the app.
I'm using this $500 watch on the $200 TCL phone I recently reviewed. The watch and phone paired and operated perfectly. Good on Withings, good on TCL.
The Withings website shows a list of phones that are incompatible with the Scanwatch Horizon. They seem to be mostly obscure brands and models.  Here's that compatibility link.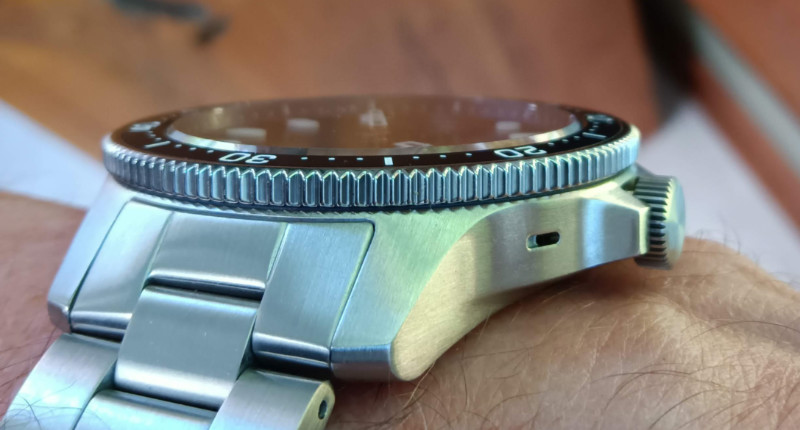 What's that hole in the case next to the crown? That's the altimeter port. A support page says water in the altimeter port could affect its accuracy in counting the number of floors climbed, or altitudes during walks, runs and biking. Given the watch has a 330 foot water depth limit, I assume the water that gets in the port must be inconsequential. This isn't really a deep diving watch so I consider it fine for showering, swimming, and probably snorkeling.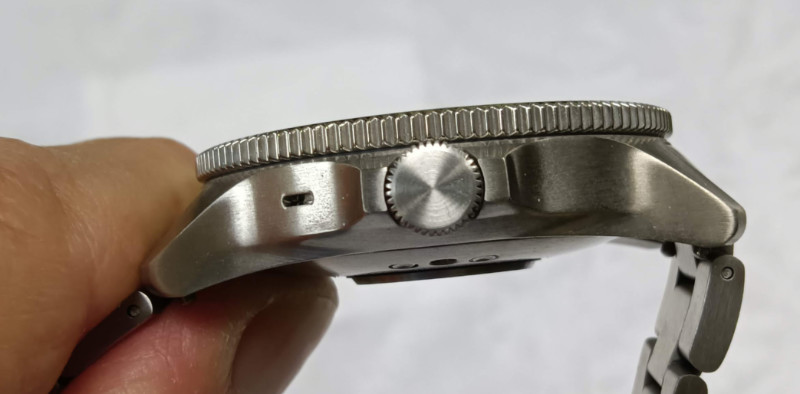 Notice the thin 'sensor bump' that contacts the wrist. The Horizon was comfortable to wear.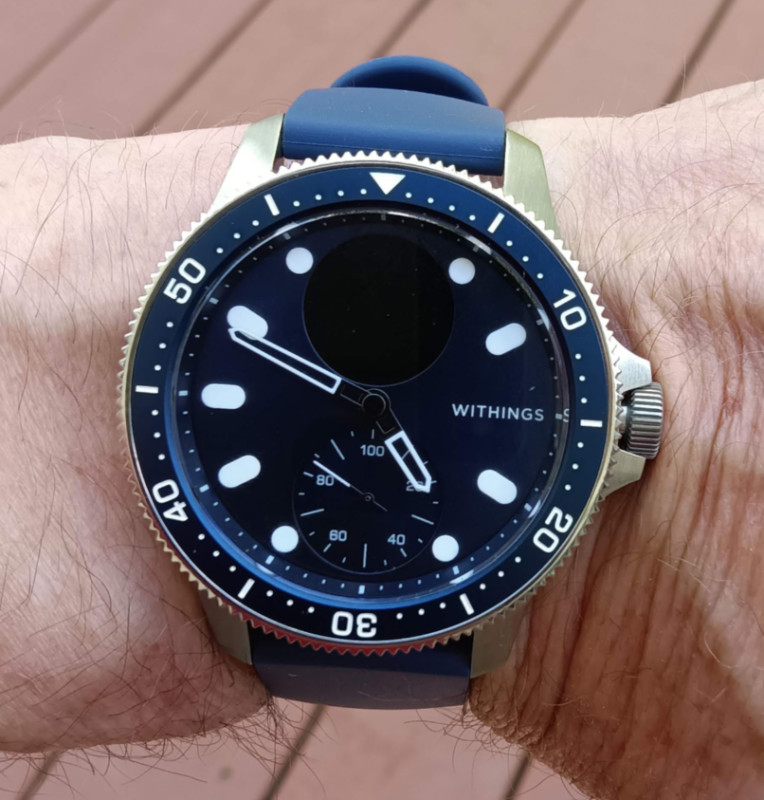 WATCH FACE
The watch face is a very nicely designed dive style watch with a counterclockwise rotating bezel. That's how it should be so that if it gets turned while diving you don't end up thinking you have more time (tank air) underwater than you really do. For you and me we're probably timing tea brewing and parking meters but the bezel should still only rotate counterclockwise. The Horizon's bezel is just right, not loose and cheap-feeling, but appropriately right-tight.
I really wish the Horizon had a second hand. It seems a missing feature and the look is incomplete without it. I'd be willing to charge the watch more often if it had an actual analog second hand.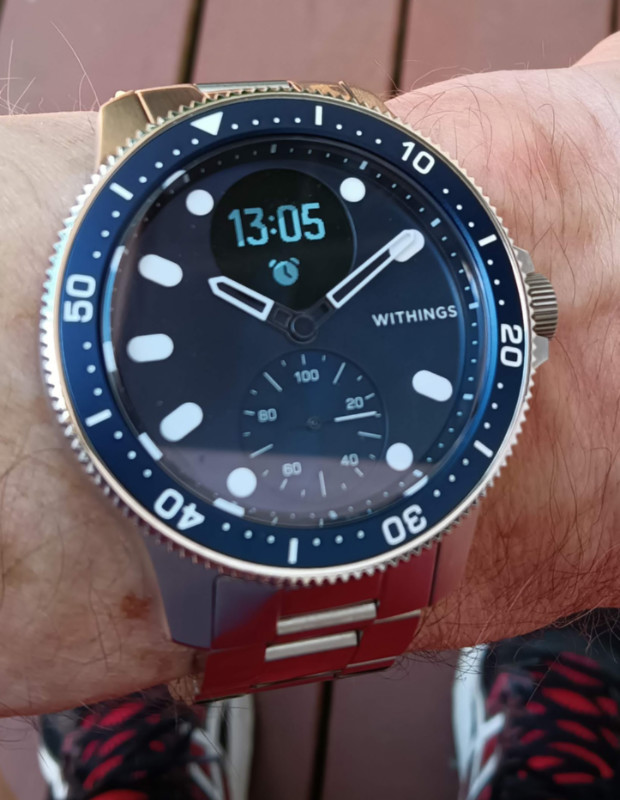 The upper round window is the LCD display. It wakes up with a press of the crown, then the watch functions are accessed by rotation of the crown. 
When I press the crown then rotate it to scroll to 'Timer', for example, I press the crown to enter the timer function, then rotate the crown to set the amount of time to count down. Then I press the crown to start the timer. The same selection and initiation process applies to each of the watch functions that have sub-settings; Pulse, ECG, Oxygen saturation (SP02), Workout, Breathing, Clock (next alarm time, stopwatch and timer) and Settings.
If the time of day causes either the hour or minute hands to obscure the LCD window when the crown is pushed to wake the LCD display, the hands instantly revert to 10:10 so the full LCD display is clearly visible. That's pretty cool. When the display goes off, the hands return to the time of day. This feature can be turned off in the on-watch settings. It would save some power to have the feature off and it can be turned off in watch settings. 
I found the LCD display readable in direct sunlight. It's not the easiest way to read any LCD screen but it's doable with the Horizon. 
The lower watch face round window dial indicates progress towards 100% of one's step goal.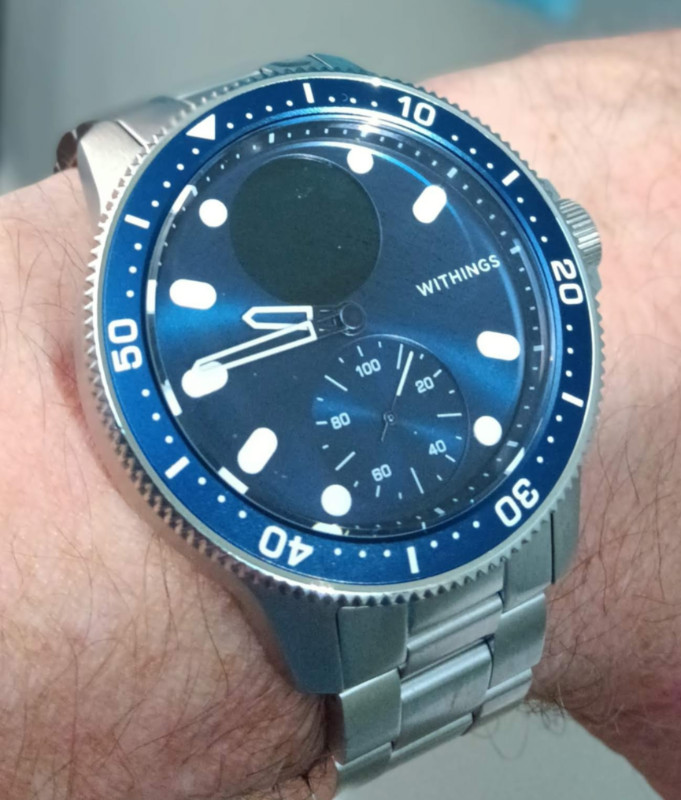 It may annoy some (me) if watch hands do not point directly at the minute / hour markers on the dial. After a quick check-in with Julie The Gadgeteer, she recalled that Withings watch hands could be 'trued' (which she had to learn for her review of the Withings Steel HR Sport hybrid smartwatch). I discovered there's a setting in Settings, called 'Set the time', that allows for manual alignment of the watch hands if necessary. This is amazing attention to detail is it not? I bypassed this during setup assuming it was for manually setting the time vs. opting for time sync with my phone.
After a simple procedure, I was able to align the minute and hour hands to properly aim at the minute and hour markers, and ditto the activity meter hand, so that they all point where they're supposed to at the appropriate time, all day long. Thanks again to Julie.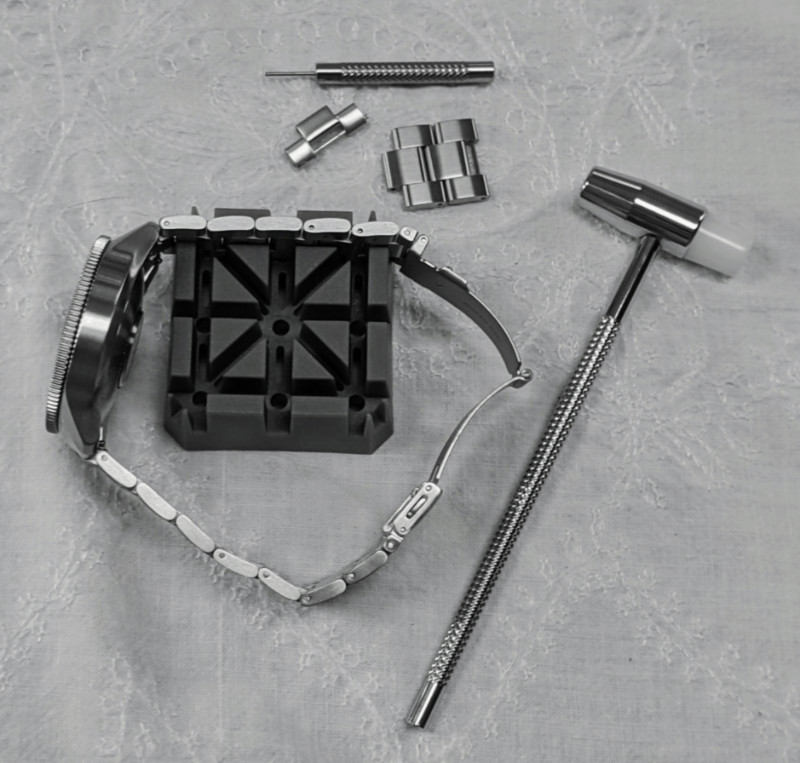 BANDS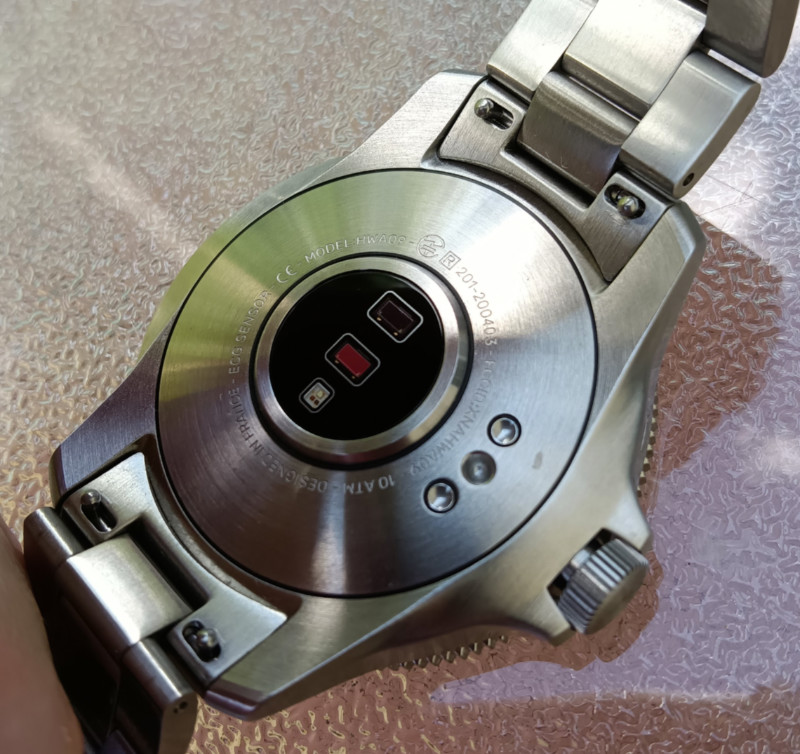 Thank you Withings for using quick-release band pins. Those should be the standard for all watch bands.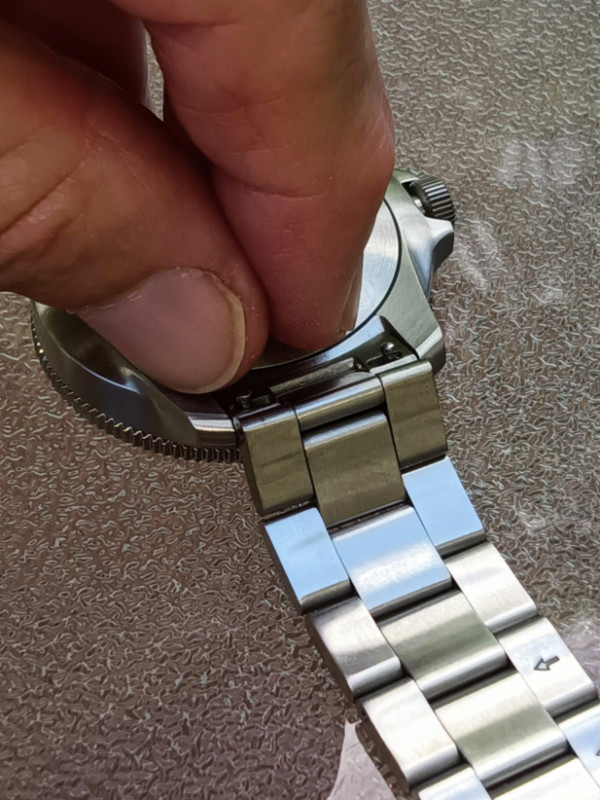 I first thought the metal bracelet fit me perfectly out of the box, but after a night of sleep, it seemed a bit too tight. I used the tools provided by Withings to add one regular link to the band, and remove one of the small links that were already in place. 
Directions are included to show you how to remove links from the metal bracelet. With the watchband holder, pin punch, and hammer, this process went extremely well, and there's not a scratch on the watch from me goofing up. I've done this job with many metal watch bands before with makeshift tools and while I got it done, it was more difficult. I know in general not to hammer nails with wrenches but I didn't always have proper watch maintenance tools. Withings gives you all you need, to make the metal band fit you comfortably, including a few extra links for the 'fuller wristed' person. 
The metal bracelet that ships attached to the Scanwatch Horizon is a very well-made, high-quality stainless steel band. It is my favorite of the two in the box and really makes the watch stand out as a dress watch or high-end watch to be worn with casual wear.
I've observed that an upscale watch and band look fine with very casual wear, but a very casual watch looks off with a business suit.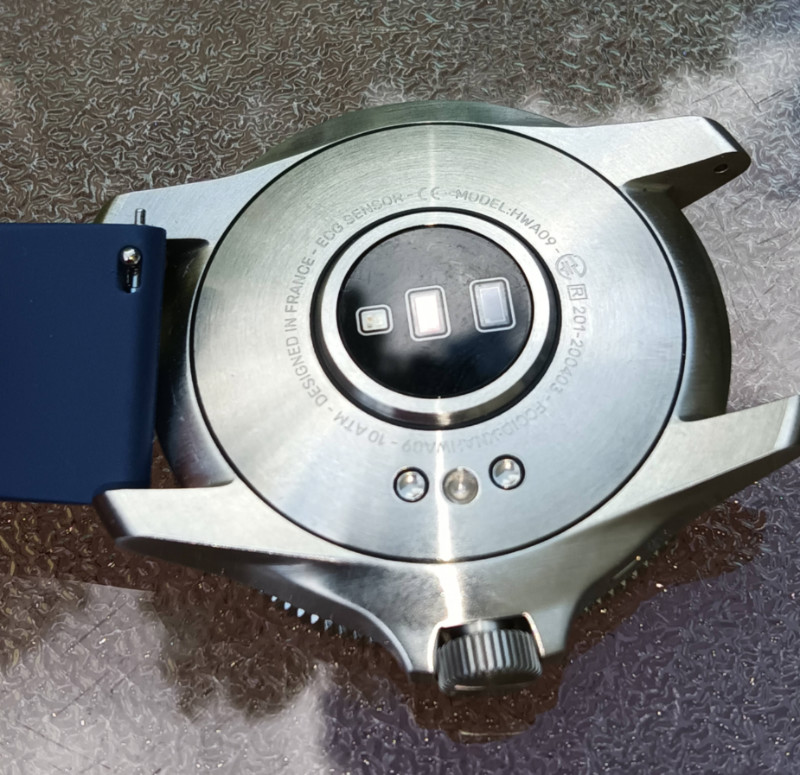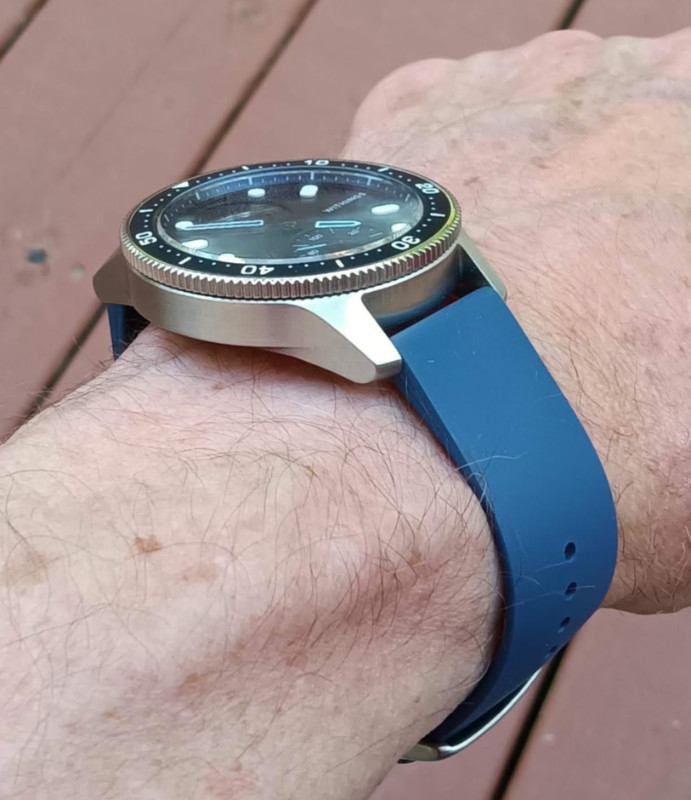 The flouroelastomer band (may I call it 'rubber' even though it isn't?) is there for those who'd rather use it, but I prefer the look and feel of the metal band. The only problem with the metal band is snugness and position of fit during exercise or data readings.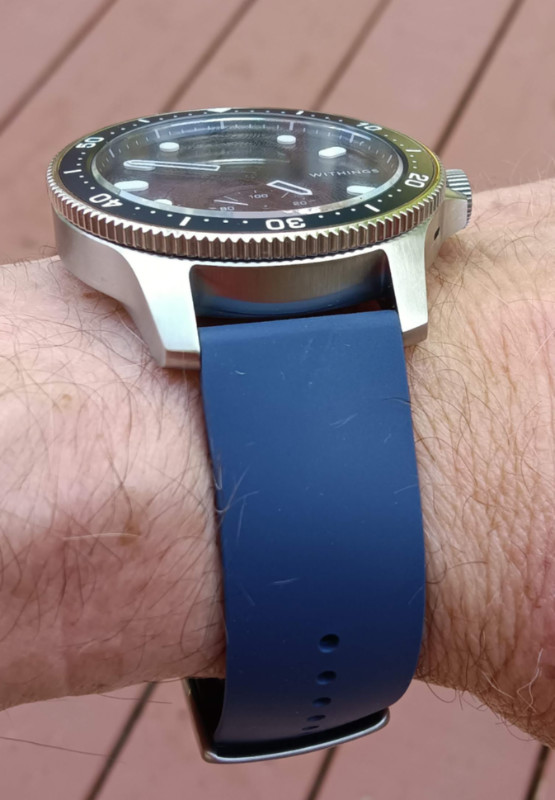 For proper readings of all the data the watch gathers, the watch is supposed to be worn snugly and above the wrist bone. The watch with its metal band finds its way all the way down my wrist (where normal people wear their watches anyway). I had to tighten the rubber watchband an extra notch to keep it above my wrist bone during workouts. I doubt I'll bother, keep using the metal bracelet, and just hope for the best as I do weights, bike, and walk.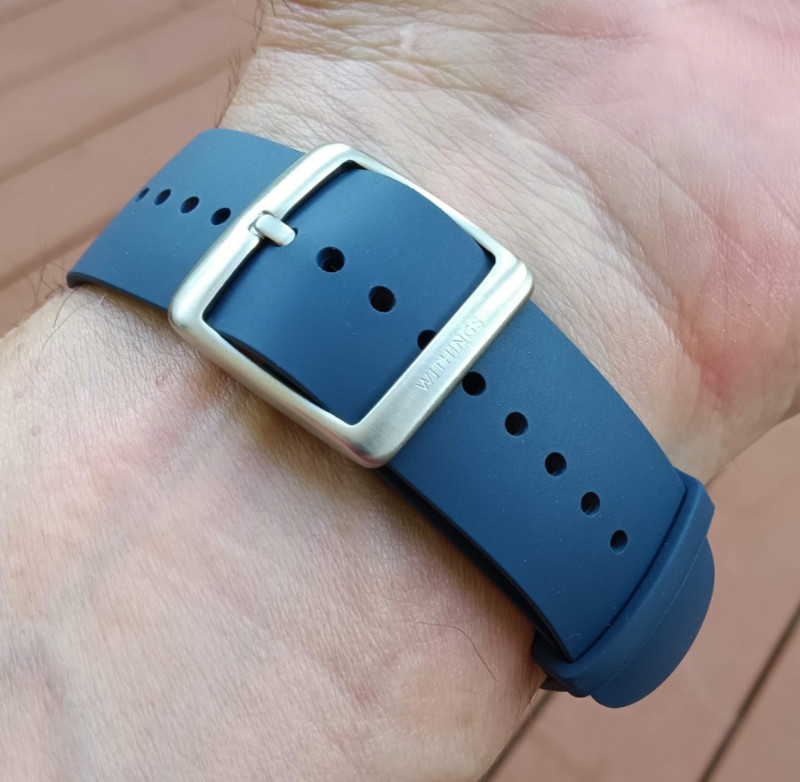 ECG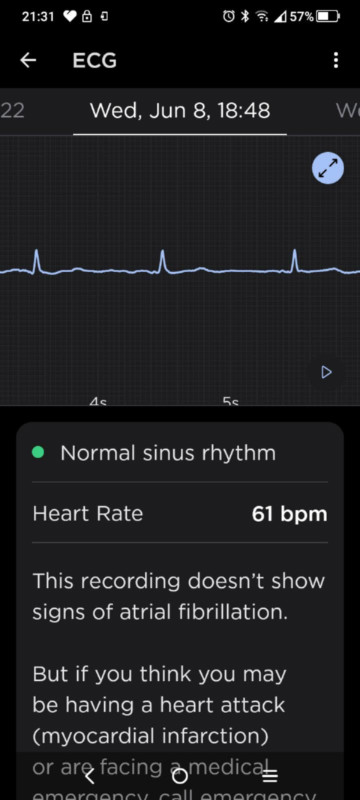 The first ECG taken by the Horizon has to be sent to a medical authority, then you get a message that you can start using the ECG function of the watch, if you're approved. There are bound to be medico-legal reasons for this initial 'speed bump' but it was no problem. In 3 hours on a Friday afternoon, I received the green light that my initial ECG had been assessed and I was cleared to use the ECG function on the watch. 
The Withings Scanwatch Horizon box has a line of text, 'Rx only'. The comment is also in one place on the website information about the Horizon watch. So, I set up an order online and got to where I'd enter my credit card number. I was never asked to add a prescription. 
The 'prescription' is simply the permission by a health professional for you to use the ECG feature of the watch. This happens automatically after you run your first ECG on the watch. 
Here's what the Support FAQ says on the topic of 'by prescription':
"Why do I need medical clearance to access the ECG feature?
ScanWatch is an over-the-counter device, however, its ECG feature has been tested and cleared under Rx by the FDA. As such, ECG permissions are reviewed and validated for free by a health professional who will deliver a prescription for continued use.
Again, activating the ECG approval process is completely free, and you will not be charged whether you are approved or not for continued ECG use. In the meantime, we've begun the process of working to make the ECG functionality fully available to users without a prescription or additional costs, and look forward to keeping you updated.
Note: The price of ScanWatch will remain the same even after ECGs are available without requiring an Rx."
On day two with the watch, I tried to do an ECG five times in a row, sitting still, and the result came back each time as 'inconclusive'. I had my wrist bent so I could more easily see the watch face. I waited a few minutes and did another ECG in the same position but this time spread out my hand in my lap in a relaxed position, and the result came back 'normal'. Maybe the whole arm should be relaxed during ECGs? All subsequent ECGs ran normally, even while standing and showing off the feature to people, and it reported the result of 'Normal'. I -really- like my watch telling me I'm normal. I sometimes like to assume very broadly. With a relaxed wrist and arm all ECGs have run properly since.
I had a 4-year fling with atrial fibrillation. Don't cry for me, last year it got resolved with catheter ablation, Woo hoo! But it is very nice to have an ECG reader on my wrist. I feel the occasional batta-batta-bump from a PAC or PVC but they're momentary and cause no problems. It would be cool to 'catch one' with the watch ECG but hopefully, I'll continue to have a boring cardiology experience. 
Here is more info on the ECG from the Support FAQ:
"What is the ECG validation process?
The first electrocardiogram recorded by your ScanWatch is sent to a medical organization, Heartbeat Health, which is able to review the data and issue a prescription to authorize the permanent use of the ECG feature.
Please keep in mind that this process is entirely free of charge as you already paid for the watch. 
Here is how it works:
1  We ask for information about you: name, date of birth, email address, and phone number depending on your state's regulations.
2  We ask you to consent to sharing information with Heartbeat Health
3  We ask you to take an ECG measurement, but you will not be able to see the results immediately. You will be able to find them in the app once the feature has been enabled.
4  We send the ECG information to Heartbeat Health that will provide feedback within 48 operating hours.
Depending on your state's regulations, you might be contacted by our partner Heartbeat Health to get on a call with a physician — at no additional cost to you, except possible message and data rates — only if you wish to ask questions or discuss the ECG feature. Again, nothing is mandatory, and all actions are free of charge."
TIMERS AND ALARMS
Most watch functions, except showing the analog time and receiving notifications, are unavailable if a timer is running. If you have a timer set to remind yourself of something, and want to do an ECG, check SP02 or monitor your heart rate, you'll just have to wait, or stop and clear the timer. I think this could be improved with a firmware update.
The vibration strength of the Scanwatch Horizon is not super strong. But, the wake-up alarm woke me every morning, and without fail. I usually heard the watch vibrate as well as feeling it. But it was not enough sound to wake my wife. When doing something active or in a moderately noisy environment I didn't perceive every notification or alarm from the watch. Perception of the vibrations may also depend on how tightly one wears the watch.
Alarms set on the phone's stock clock app do not pass through to the Horizon watch. 
Unfortunately, alarms cannot be set on the watch itself. Alarms must be set in the Withings Health Mate app. Many, if not most smartwatches allow for alarm setting on the watch itself. I wish this one did. 
A maximum of 3 alarms can be set in the Health Mate app. If you try for more, the app warns you to delete one. Three alarms were fine for my needs and they are all editable.
BATTERY 
The watch came with about 65% battery level. After about 40 minutes of charging it achieved a full charge. 
The battery capacity readout on the watch is in watch Settings, and Battery is the first item. It seems odd there. You can't alter a setting to the battery so why is it in Settings? I think 'Battery' belongs as a separate readout in the main watch menu alongside Heart Rate, Miles, Floors, etc. The Health Mate app also shows the watch battery capacity.
The battery first depleted to 50% in only 48 hours. I had notifications turned on for multiple apps, I used the timer and alarms daily, did 3 ECGs, a couple of SP02 tests, a couple of pulse checks, and did two 30 minute workouts in that time. I probably used more power during the 'getting to know you' phase. The watch achieved 100% charge from 49% within 45-60 minutes.  My next trek to a 50% battery took 7 days. I charged from 43% to full charge in an hour. This watch does not need to stay on the charger all night like so many smartwatches do. 
STEP COUNTING
Can we agree that step trackers are really arm movement counters? Here's proof. I play drums. After an hour rehearsal then a one hour show, I achieve half of my step goal! It's activity for sure, but it is not steps and is only minor exercise, I must admit.
I carefully and manually counted a 200 step walk, having noted the step count on the watch before I started. At the end of the 200 actual steps, the Scanwatch Horizon showed 196 additional steps since the starting step count. I did it again. This time the watch claimed I had walked 184 additional steps. Wow. So I did another 200 step walk. This time the watch indicated I did 201 steps. I recommend taking your step counts with this or any other step counter as only an estimate. 
SLEEP TRACKING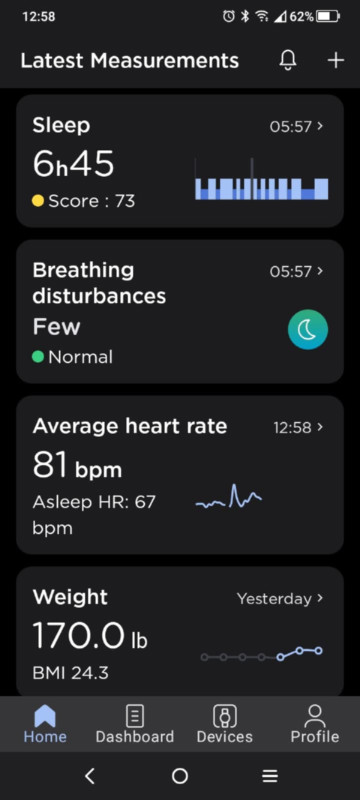 I'm not demeaning Withings sleep tracking but have some thoughts on the topic.
My wife and I laugh about the sleep scores our various wrist devices give us each morning. We can't determine the methodology used by any brand and there is no reason to think they correlate across brands. A sleep score of 75 from my Withings may or may not correlate with a 90 from my Samsung on the other arm on the same night. 
If I sit really still for 30 minutes while watching a movie, one of my smartwatches thinks I've napped and gives me a sleep score!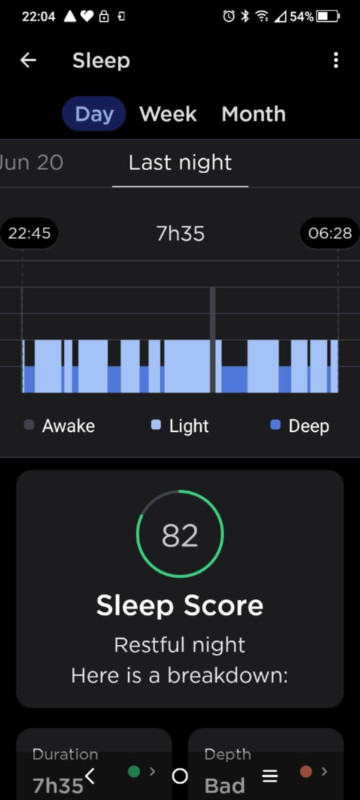 The Withings Horizon (and other smartwatches) sometimes misses my once per night trip to – check my makeup. (On the night pictured the Horizon caught it.) I'm really awake at such events, and take about 10 steps to get to the bathroom, then take the 10 steps back to bed. One night the Horizon said I was in deep sleep during my bathroom break. I was quite awake and noted the time so I could check the time point on my sleep report the next morning.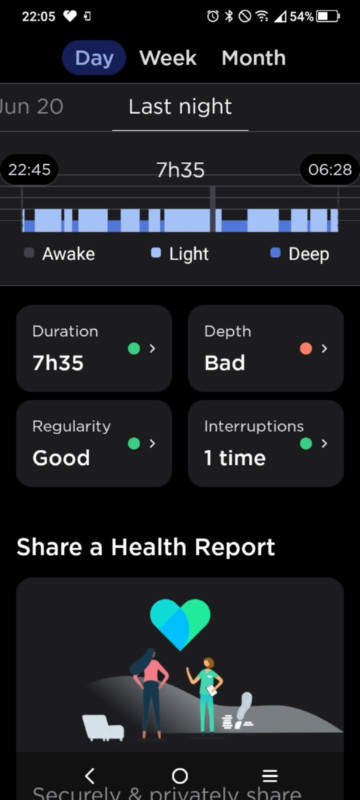 On one night during this review, I turned in at 11pm and then got up 6:02 the next morning. The Horizon gave me a 20 sleep score and claimed I slept from 1:15am to 6:02 the next day. There were no new variables that night that would have caused that sleep tracking 'miss'.
I take sleep tracking with only passing attention. I will need to see some very well-done research results to trust what a wrist-worn device tells me about how I sleep. I have awakened somewhat tired as my Amazfit awards me a 90 score for that night's sleep. I've seen low scores on my Samsung on mornings I've awakened feeling fully energized.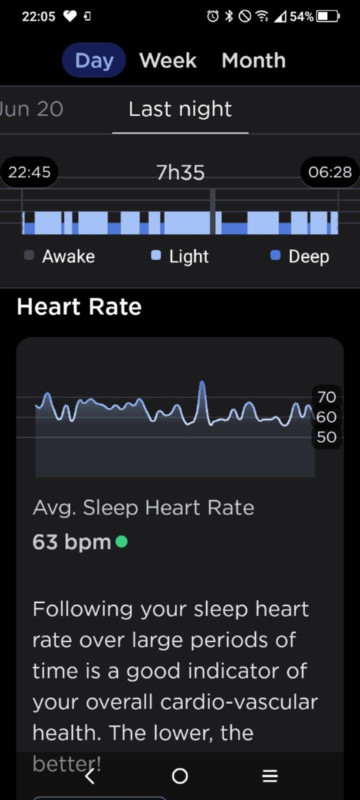 Don't sweat over sleep tracking. You could be stressing over inconsequential information. That said, there should be better data coming from higher-end devices so I'm willing to trust the Withings Scanwatch a bit more. More on this at my Final Thoughts section.
WORKOUT TRACKING
The watch specs claim '30 workout modes'.  I see Run, Swim, Cycle, Walk, Indoor Run, and Other.
I was unclear on how the watch tracks 30 sports. I asked Support and they said:
"…there are 17 activities that ScanWatch Horizon automatically detects such as Running, Swimming, Cycling, Walking, Indoor Running, Table Tennis, Badminton, Basketball, Volleyball, Boxing, Tennis, Squash, Weights, Soccer, and Dance. Your ScanWatch Horizon can detect more activities which you can find on the list below:
Walking
Indoor Walking
Running
Indoor Running
Hiking
Cycling
Indoor Cycling
Swimming
Fitness
Surfing
Kitesurfing
Windsurfing
Tennis
Ping Pong
Squash
Badminton
Weights
Elliptical
Pilates
Basketball
Soccer
Football
Rugby
Volleyball
Golf
Yoga
Dancing
Boxing
Skiing
Snowboarding
Rowing
Zumba
Baseball
Handball
Hockey
Ice Hockey
Climbing
Ice Skating
Equestrian
Note that these activities can be added and edited directly in the Health Mate app… You can also choose to display 5 of these activities for quick access when you start a workout on your watch…"
I don't know how the Horizon can tell the difference between windsurfing and surfing, dancing and zumba, squash and badminton, but, maybe?  At least after you do one of these workouts you can label it appropriately in the Health Mate app, and maybe next time you do that workout the watch will label it correctly?  You kite surfers, give it a try and report back to us.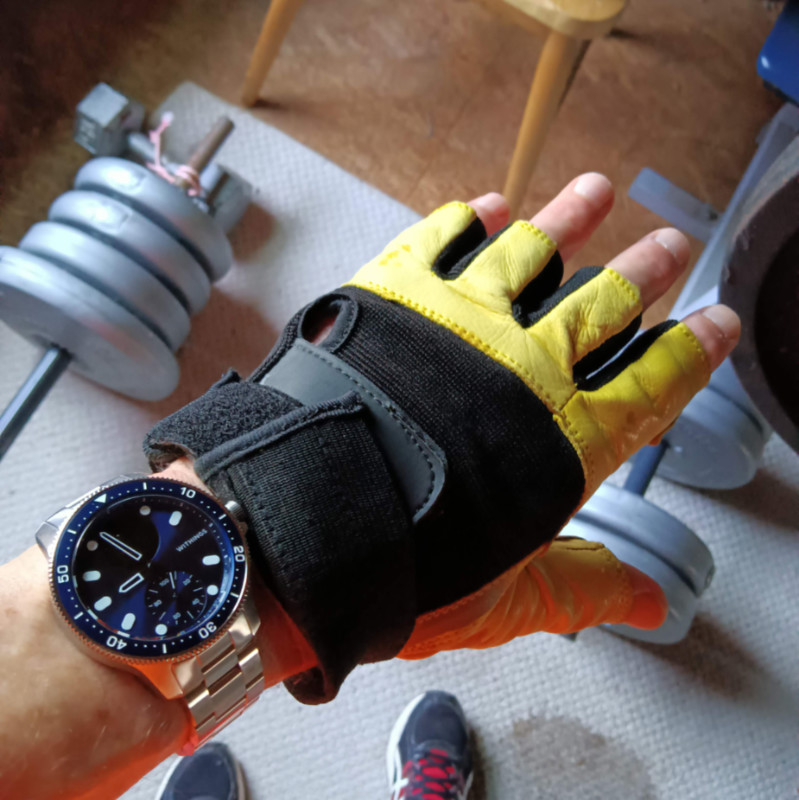 When weight lifting, the Horizon monitors time/duration and heart rate. But heart rate during weights training is a challenge for any fitness monitor on the wrist because of muscular tension changes and watch movement of the arm during workouts.
I completed two weights workouts wearing the Horizon with no problems. On my third workout I was near the end of the 30 minute workout and noticed the workout got paused at the 3 minute 20 second point. The wrist of my workout gloves had pressed the crown in and paused tracking. I was nearly finished with a hard, half-hour workout and got credit for 3 minutes 20 seconds of exercise – Yea! 
On my fourth workout the watch got paused by my glove 4 minutes before I finished. I'm not giving up the gloves to accomodate a watch. 
I know when I've worked out. I don't really need tracking of weights workouts. Your needs and success with activity tracking may be different. Some like to watch their heart rates closely to be sure they're doing circuit training fast enough so that the whole workout is at aerobic levels. A chest strap heart monitor may be the most accurate way to monitor heart rate during exercise.  
Here's how the app depicts a walking workout. It would be similar for a run: (I was dog-walking so no land speed records were broken that day.)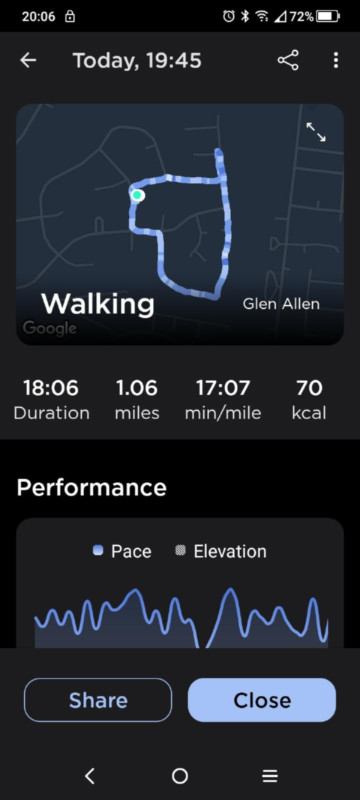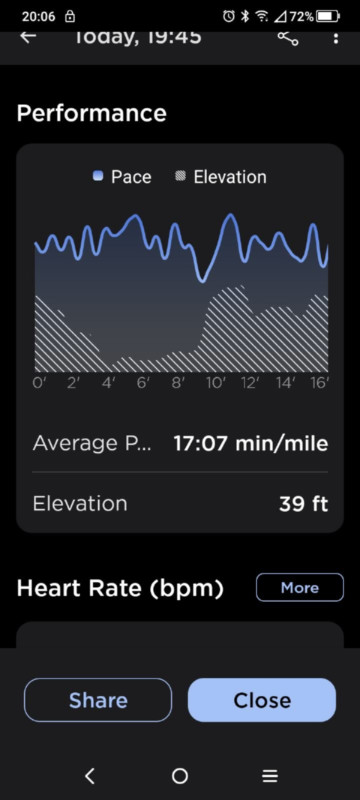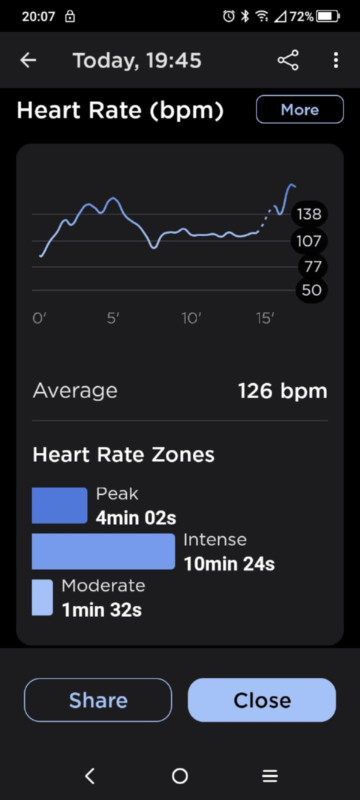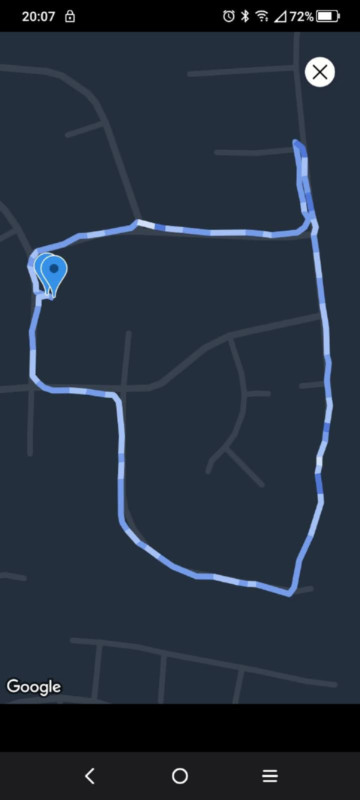 The GPS tracking of walks seemed to work well, and they would be for runs. The Withings system only tracks your route if you have your phone with you. The Withings Scanwatch Horizon hybrid smartwatch does not have built-in GPS so we can thank Google Maps for the route tracking in the Health Mate app. During walks or runs, the Horizon Scanwatch monitors heart rate, altitude, and elapsed time. All the data from a walk or run shows on the app after you stop your workout. 
Here is detail from a bike ride: (It included a root-knotted trail path so again this was not a speed trial.)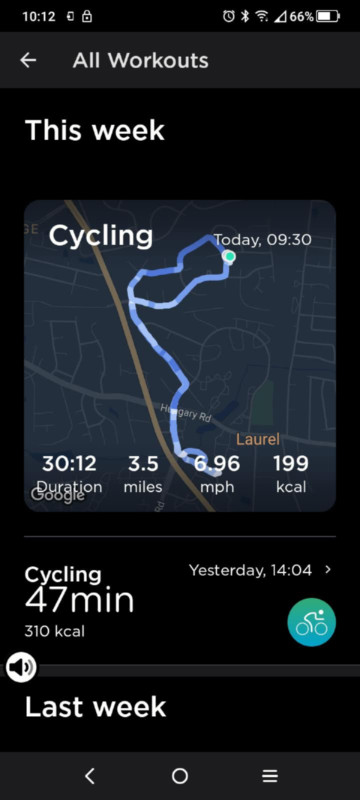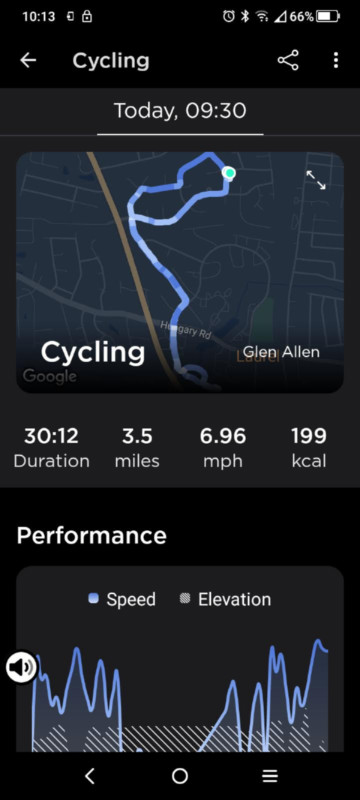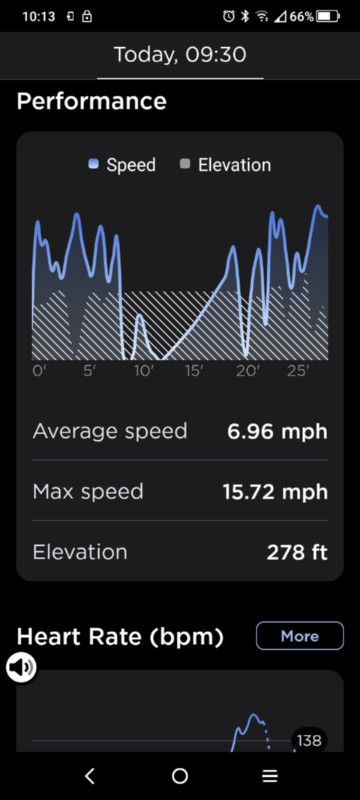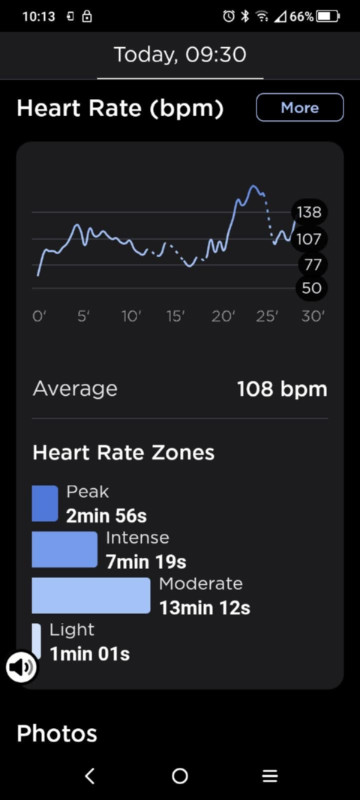 What I like
Excellent design and appearance

'Professional' look, feel, and operation of the watch

Very well executed phone app

The Scanwatch Horizon can get notifications from every app on your phone that receives a notification (except Google Reminders and phone clock alarms)

Medically validated ECG and SP02 functions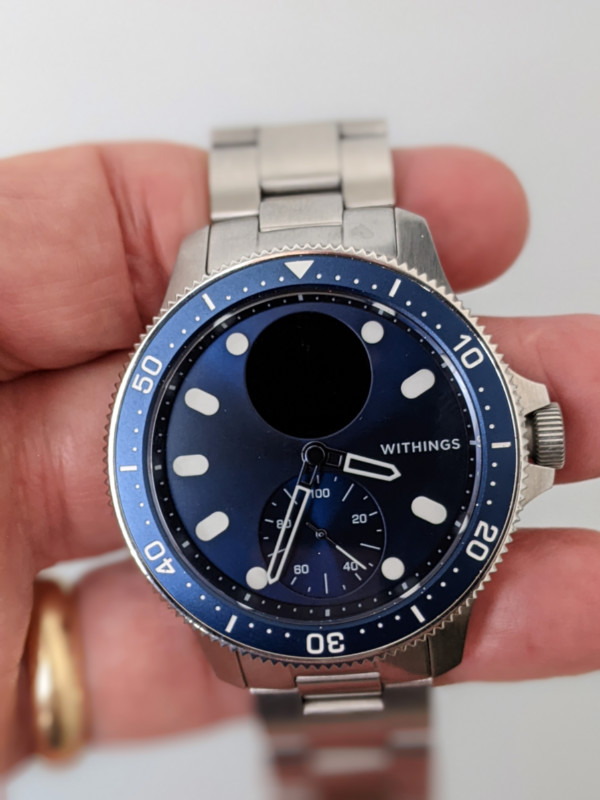 What I'd change
Increased vibration intensity would be more effective. And/or add sound for alarms and notifications.

Alarm setting should be possible on the watch itself.

I wish Withings watches had an analog sweep second hand.

Use of other watch functions should be possible with a timer running. 

Move 'Battery' to the main watch menu.
Final thoughts
The Withings Scanwatch Horizon hybrid smartwatch is the best looking smartwatch / exercise tracker on the market in this reviewer's opinion, and it excels at looking like a luxury watch, instead of being just another black wristband step counter that also tells time. It beats the competition with its medically validated ECG and SPO2 tracking.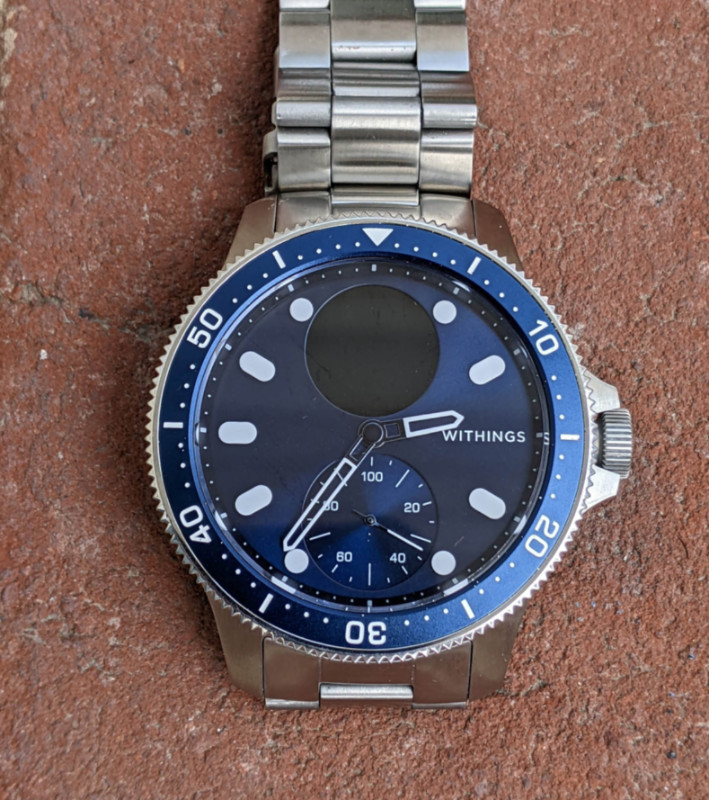 All wrist-worn smart devices have positives and shortfalls. If you major on estimated step tracking, heart rate tracking while resting or during light exercise, need highly reliable silent notifications, and would benefit from the medical-grade ECG and SPO2 measurement features, the Withings Scanwatch Horizon may be for you. Feel free to click the link below to look further into the Withings Scanwatch Horizon.
Rob Horst, Ph.D, also known as 'The Quantified Scientist', is a biomedical researcher who tested the Scanwatch Horizon against high accuracy equipment to measure and compare sleep tracking, heart rate and SP02. He oddly left out ECG evaluation. Maybe he'll review that in the future. He speeds up his commentary so be prepared to listen fast, and rewind.
His review is here: https://youtu.be/-cZYbf_Zhoc  
Price: $499.95
Where to buy: Withings and Amazon
Source: The sample for this review was provided by Withings.