We use affiliate links. If you buy something through the links on this page, we may earn a commission at no cost to you. Learn more.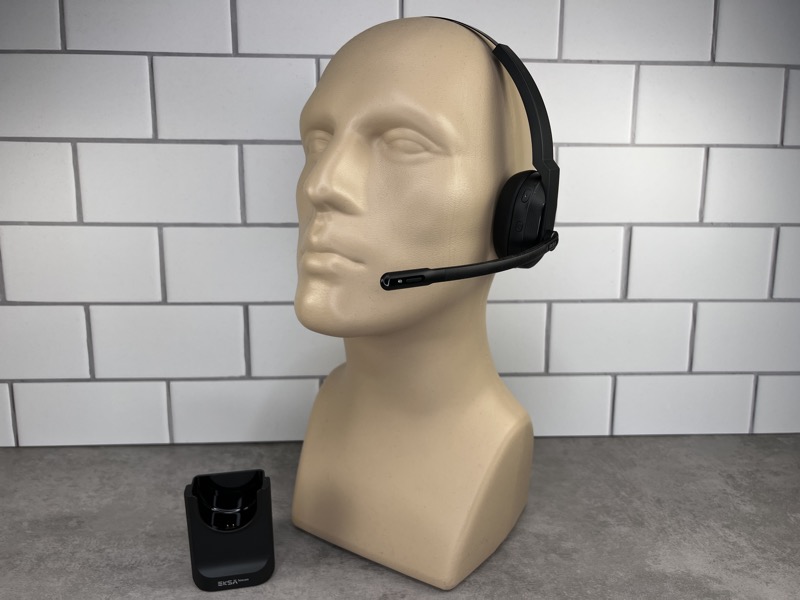 REVIEW – I really didn't care about headsets until everyone was videoconferencing from home. Generally, headset microphones sound better to your audience than the one built into your laptop, and the on-ear speaker gives you listening privacy. The ESKA H5 headset boasts "AI-Powered" noise reduction in a professional-looking package.
What is it?
The model H5 headset from ESKA is a Bluetooth headset that features an over-the-ear single earpiece design with a microphone on an adjustable boom. This is my favored type of headset, as I like to keep one ear open.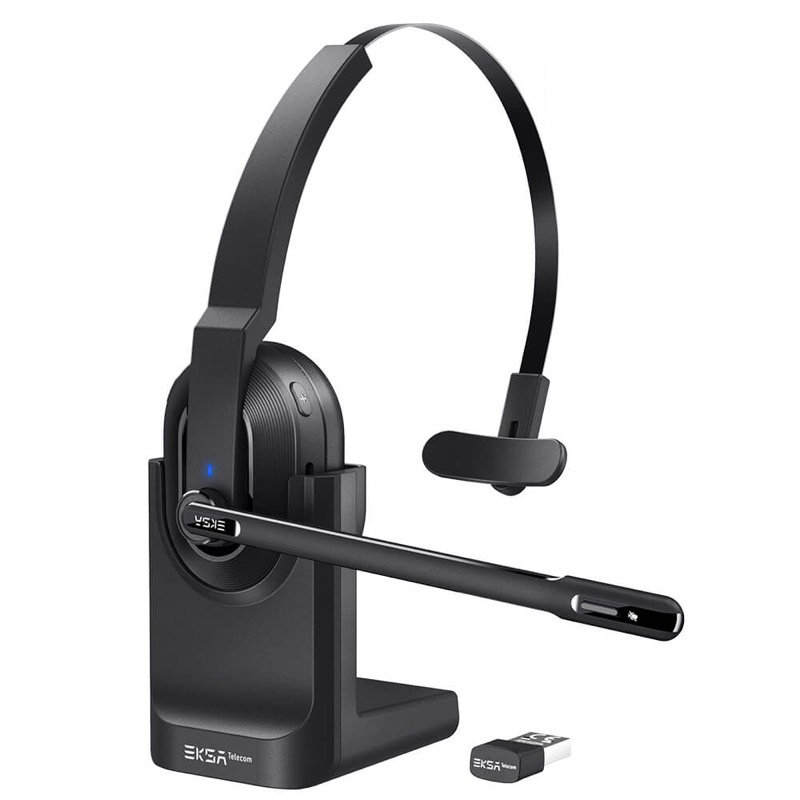 What's in the box?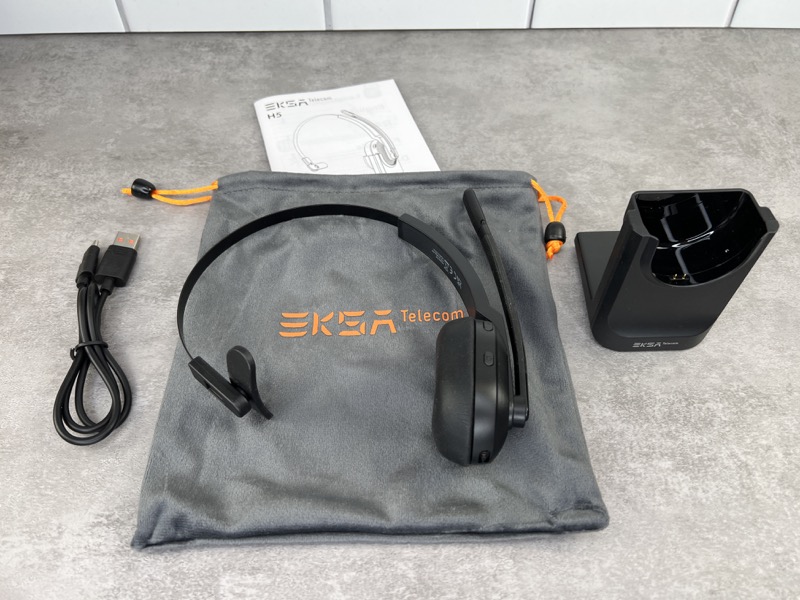 ESKA H5 wireless headset
Docking charger
USB-C charging cable
Instructions
Drawstring bag
Hardware specs


Driver Diameter: 40mm
Weight: about 75g
Impedance (talk) 2.2kΩ
Impedance (music) 32Ω±15%
Sensitivity (talk) -25dB±1dB
Sensitivity (music) 125dB±3dB
Frequency Response (Talk) 100~8kHz
Frequency Response (Music) 20~20kHz
Polar Pattern Omnidirectional
Busy Light: No
Call Control: Yes
Battery Life (Talk) 46h* (70% volume)
Battery Life (Music) 46h (70% volume)
Charging Time ≈2h
Operating Temperature -10~55℃
Connectivity: Bluetooth, USB-C**
Bluetooth Version V5.0
Operating Range 10M/32.81FT
Connected Devices: 2 Devices Simultaneously***
* Website lists 25 hours talk time. This may be a typo.
** In testing, the USB-C port on the headset appears to only support charging, not connectivity. It does not appear as an audio device when plugged in this way.
*** I did not see any way to connect this headset to two devices at the same time. Like many headsets, there are instructions to pair a 2nd device, but you can only listen/speak to the one you're actively paired to at any given time. I wouldn't use the word "simultaneously".
Design and features
From the website, main features include:
1. AI-Powered ENC Mic, Noise Reduction Depth Over 40dB
2. Two Different Charging Methods: Cable / Inductive Charging*
3. Mono Headset Built For All-Day Comfort With 75g
4. 25-Hour Talk Time Ensures You're Always Ready For Meetings
5. 270° Rotating Mic, Left / Right Side Can Be Worn
* I'm not so sure there's inductive charging similar to Qi or Magsafe going on. There are contact pins on the bottom of the headset and in the charging cradle. To put this to the test, I covered the terminals with tape and docked the headset. No charging. It's conductive, not inductive. The dock appears to be magnetic. which gives a nice pull as you place the headset in for charging. I wonder if the magnet is what they meant.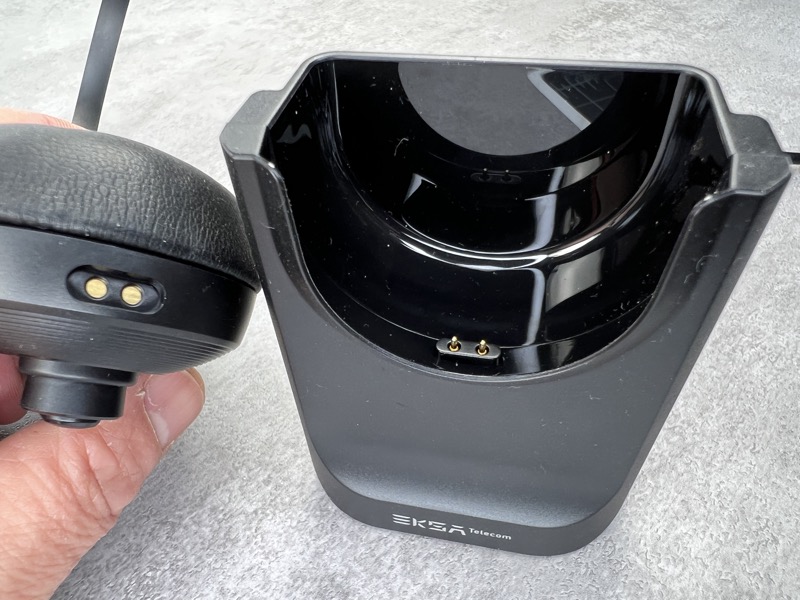 The ESKA H5 is designed to be worn with the headband over the head. The microphone boom swivels up and out of the way. It does not mute when pushed up.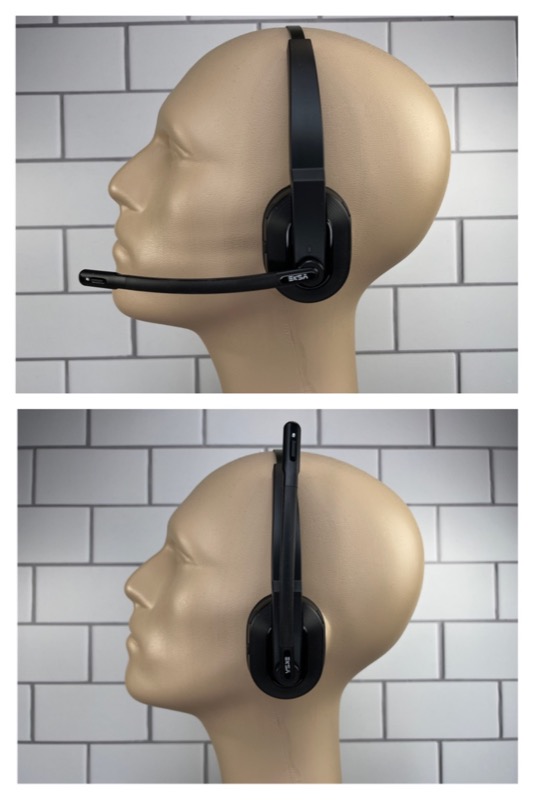 The boom swivels in either direction so the headset can be worn with on either the right or left ear.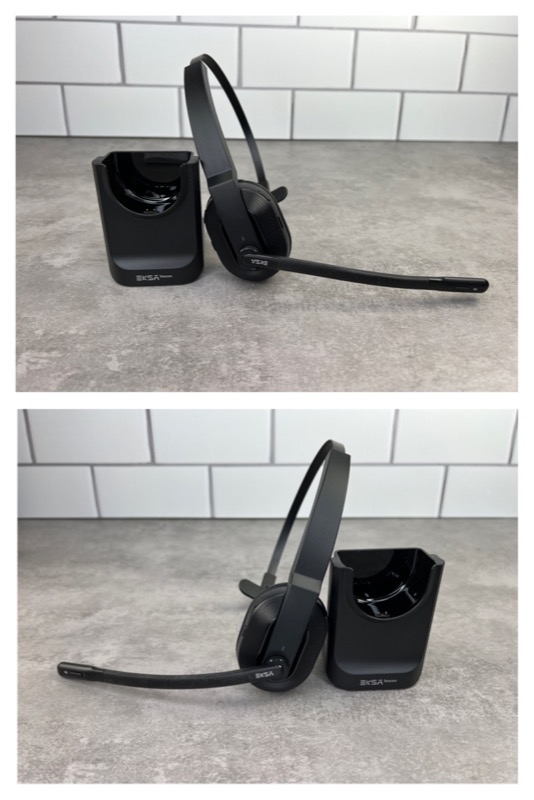 There are a few buttons around the outer edge of the earpiece. There's a power button and volume down button (top image) and a volume up button and a USB-C charging port (bottom image).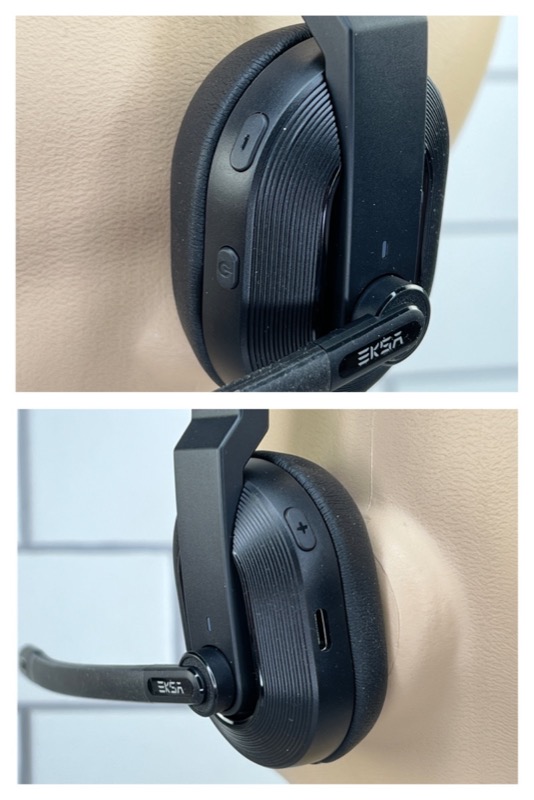 I've never owned a headset where the mute button was on the tip of the boom. Very clever. It's not illuminated, but the mute button has a nice click to it.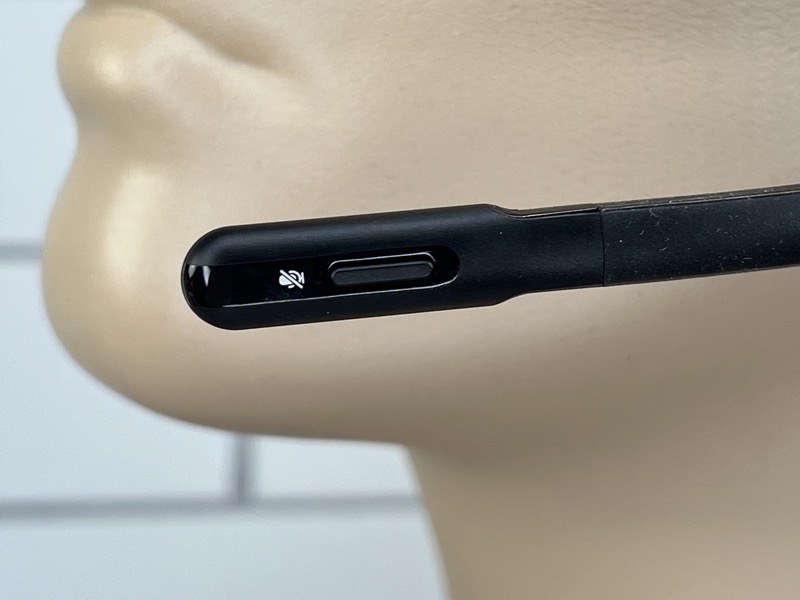 The earpiece is oval, and very, very soft. It does not appear to be removable or user-replaceable.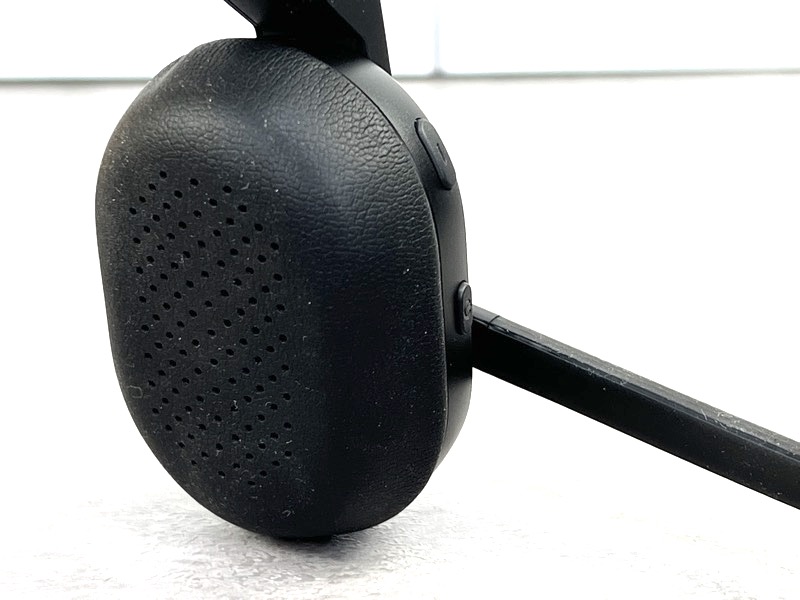 Setup
The ESKA H5 is designed to connect via an included USB dongle (Mac, PC) or directly to a device such as a tablet or smartphone via Bluetooth.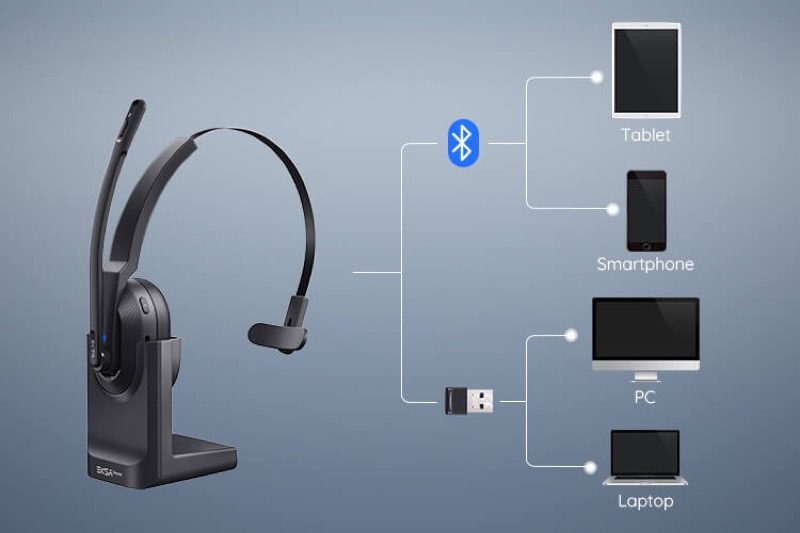 But where's the dongle? I had to refer to the manual, but it's tucked away in the back of the charging dock in its own little cubby.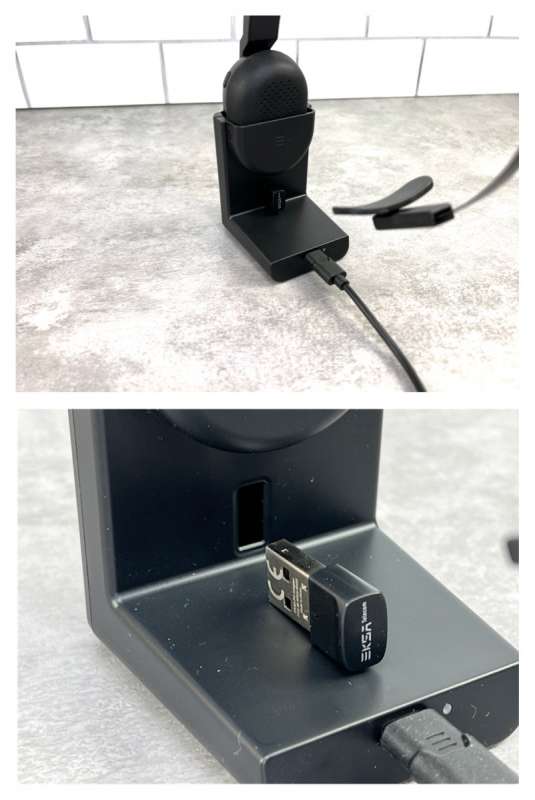 It's charging time! You can charge via USB-C directly to the headset, or you can use the charging dock.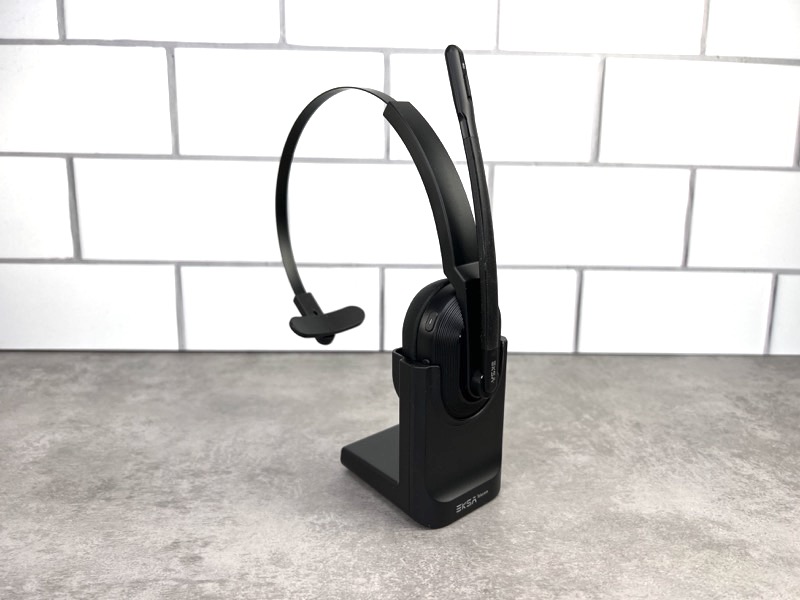 The USB-C port is on the rear of the dock. A small red LED lights up. The LED stays lit red all the time. It does not change colors.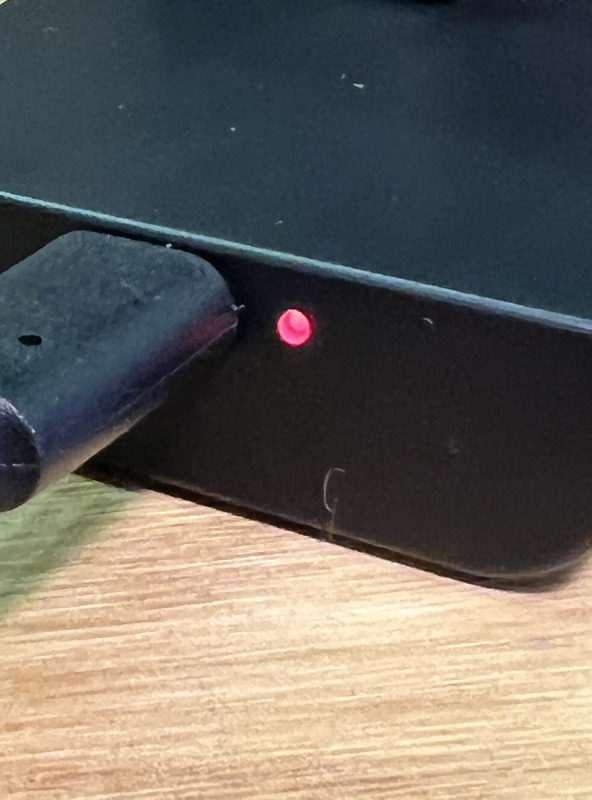 The ESKA H5 headset has a tiny LED that indicates charging status: Red for charging, and blue for full. Unfortunately, the LED is obscured when the boom is fully upright.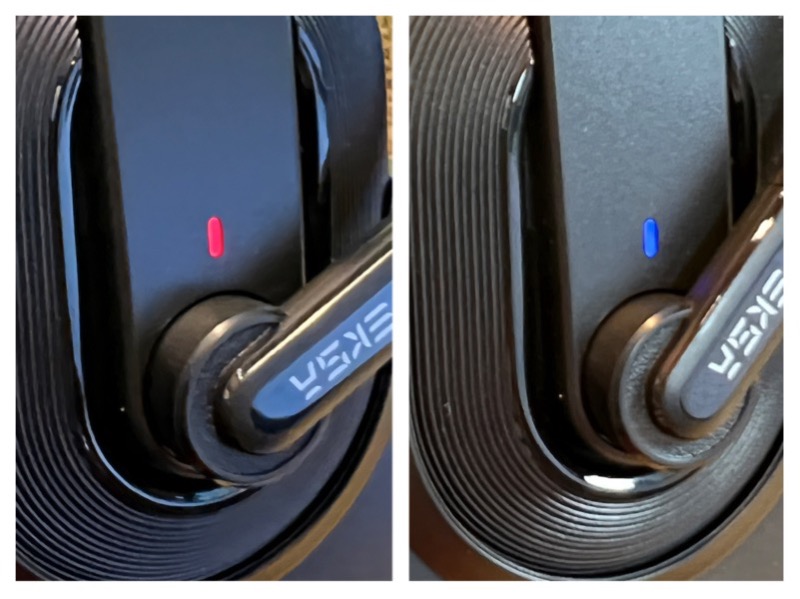 I plugged the USB dongle into my Mac and the headset simply paired. I didn't have to enter any other settings. If you connect this headset via Bluetooth without the USB dongle, you'll have to enter Settings > Bluetooth or similar.
Here, I can choose the USB dongle as a sound source (Mac OS shown) as ESKA PC Adapter.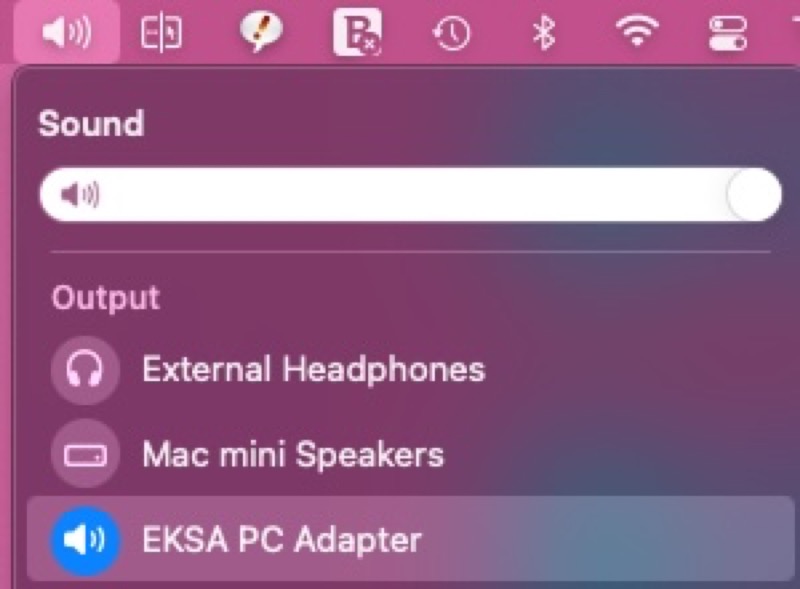 Yes, it works on programs like Zoom. Under "Settings" you'll have to select the ESKA PC Adapter as your Speaker and Mic.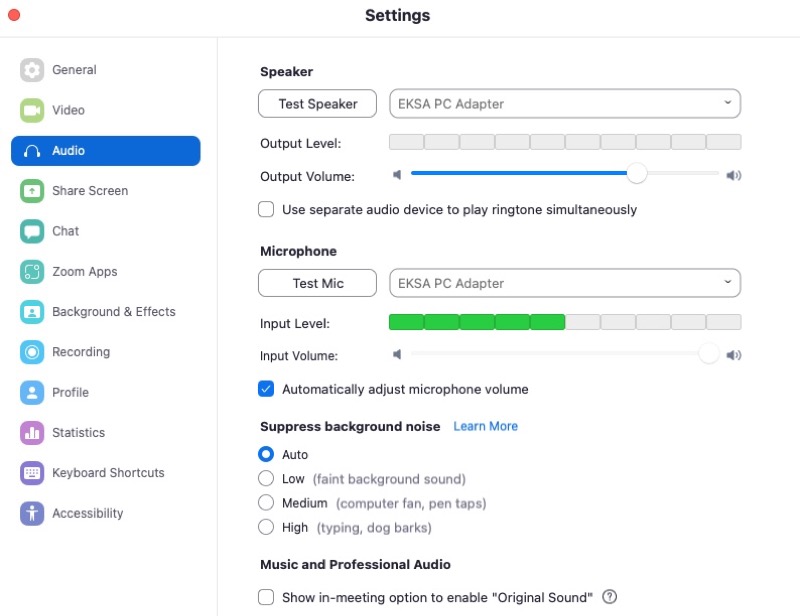 Here's the USB dongle plugged into a Windows laptop. Note the tiny blue LED when connected to the headset.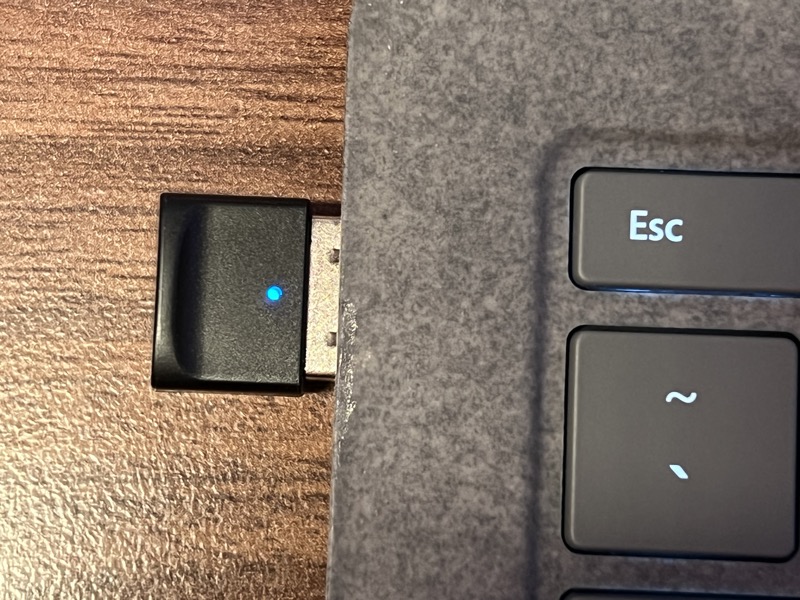 I'm not sure why, but pressing the volume keys on the Windows 11 laptop would show a volume slider in the upper left go up or down with the level. This doesn't seem to track 1:1 on the Mac, at least not all the time.
Performance
I recorded myself speaking on the ESKA H5 headset and my "regular" headset, the Jabra Evolve 65, another Bluetooth-enabled headset with a USB dongle that covers only one ear.
To do this, I put on both headsets and made some recordings.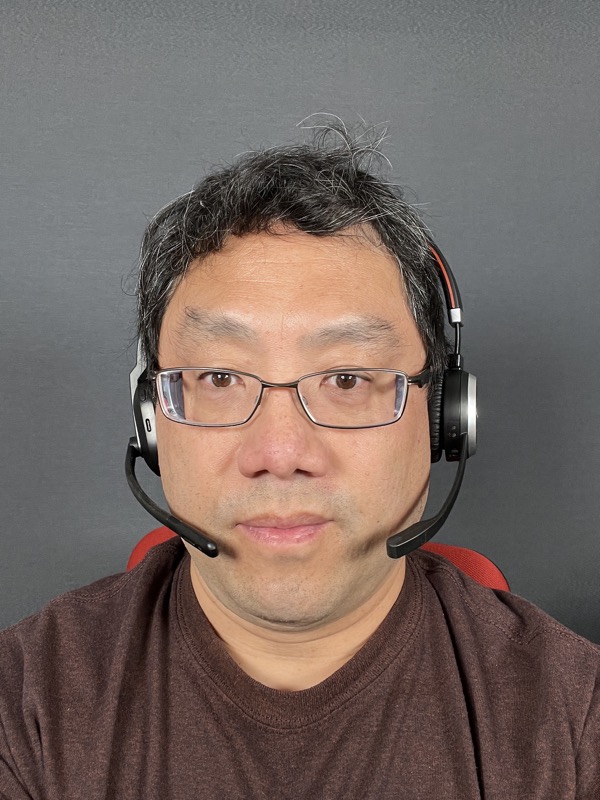 The first half of the recording is with the H5, the second with the Jabra. My old Jabra is more intelligible in a quiet room.
Notice the gap in audio at the beginning of the recording? Somehow, when recording on my Mac, the ESKA H5 has a brief delay. I don't know if it's a connectivity issue, but I've seen this before with certain headsets with aggressive noise cancellation.
For the next test, I recorded again while crinkling up a sheet of paper.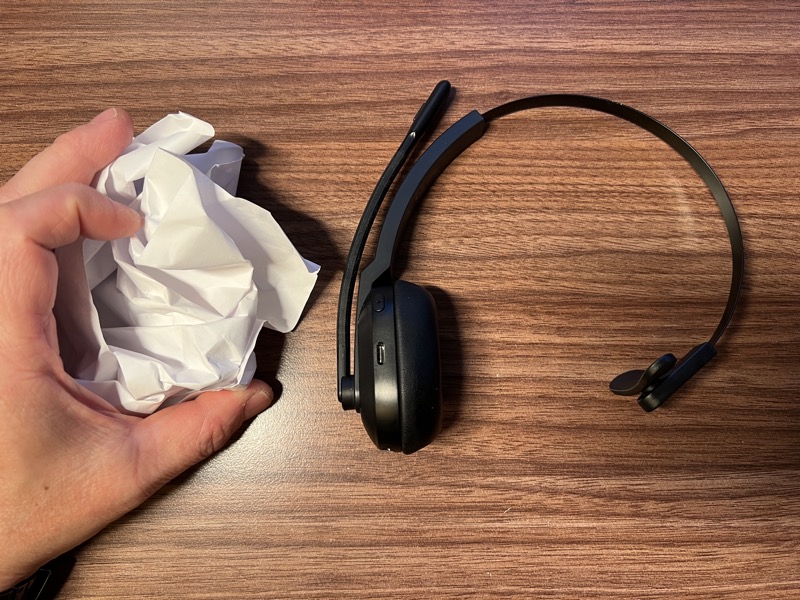 Well what do you know… the H5 pulled ahead by making the background noise less noticable.
That darn mute voice prompt
The audio prompt for mute on/off is atrocious. It speaks "microphone on" and "microphone off" and it's not very clear. I can barely make out the difference because there's no change in voice inflection towards the end. Beeps would have been preferable, or "muted" and "unmuted". I realize I'm picking at nits, but take a listen:
What I like
Comfortable earpad.
Mute button on the tip of the boom.
USB dongle or Bluetooth connection.
Charge by magnetic dock or directly on the headset with USB-C.
Tasteful appearance (not a "gamer" headset).
Well suited for noisy environments.
What I'd change
Aggressive noise cancellation works at the expense of clarity. A way to toggle noise cancellation would be good.
Mute prompt could be clearer.
Final thoughts
If you operate mostly in a quiet home office setting, you may want to skip this one. Despite the quirks, the ESKA H5 headset does a fair job of reducing background noise if you can't control your ambient surroundings.
Price: $64.99
Where to buy: ESKA and Amazon
Source: The sample of this product was provided by ESKA.