We use affiliate links. If you buy something through the links on this page, we may earn a commission at no cost to you. Learn more.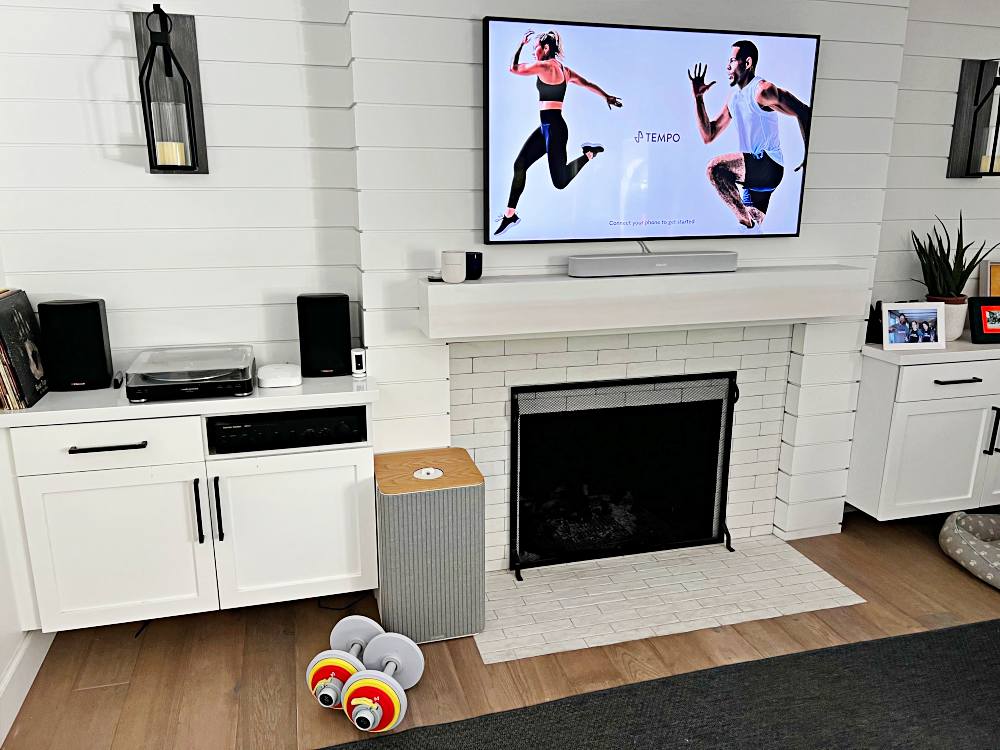 REVIEW – It would be quite understandable if the phrase "home gym" brought to mind images of equipment that needs it's own room. Treadmills, exercise bikes and weight sets don't exactly play nice with clean living rooms aesthetics. Tempo realized this and set out to build a solution that arguably looks out of place in a gym environment. An anti-gym if you will, and I have to say they succeeded. If this looks interesting to you, here's what you should know.
What is it?
Tempo Move is a home gym in disguise. It contains dumbbells, 3 sets of different weighted plates and an iPhone dock that connects to your TV and leverages the iPhone camera for tracking weight and exercise reps.
What's in the very heavy (90 lb) box?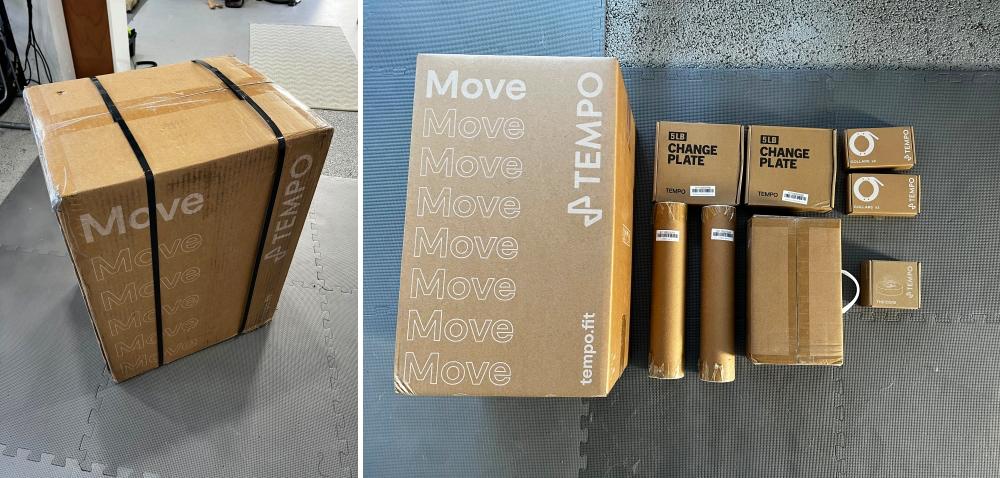 More boxes (and when unboxed…)

Storage cabinet
(2) 7.5 lbs dumbbells
Weight plates – 4 of each size | Grey 5 lbs | Yellow 2.5 lbs | Red 1.25 lbs
(4) Weight collars
Tempo Core (dock) and cable
Hardware specs
Requirements:
– iPhone XS/XR or more recent
– TV with an available HDMI port
– USB-A charger or power port on TV
– Subscription to Tempo (12 month commitment, Up to 6 accounts per membership)
Space requirements: ~8 sq. ft of floor space
Device cradle: Lightning connector only
Dimensions: 22" H x 13.5" W x 13.5" D
Compatible accessories:
– Tempo heart rate monitor
– Apple Watch
Design and features
If you saw this for the first time would you guess this was exercise equipment? The removable, roll cover hides the weights and the slip collars.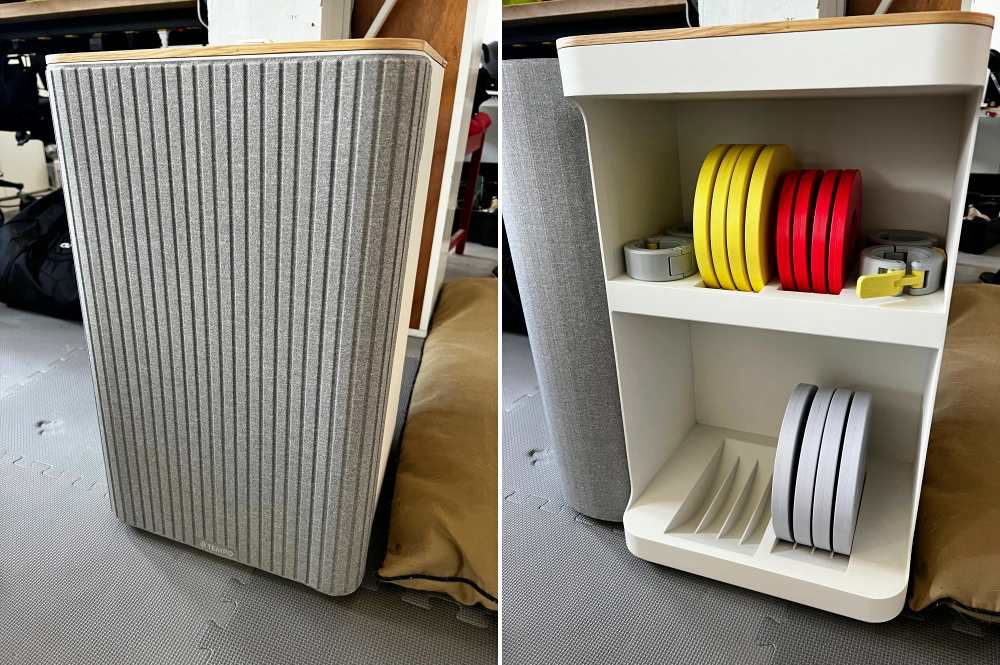 The dumbbells are hidden in a vertical compartment accessed from the top.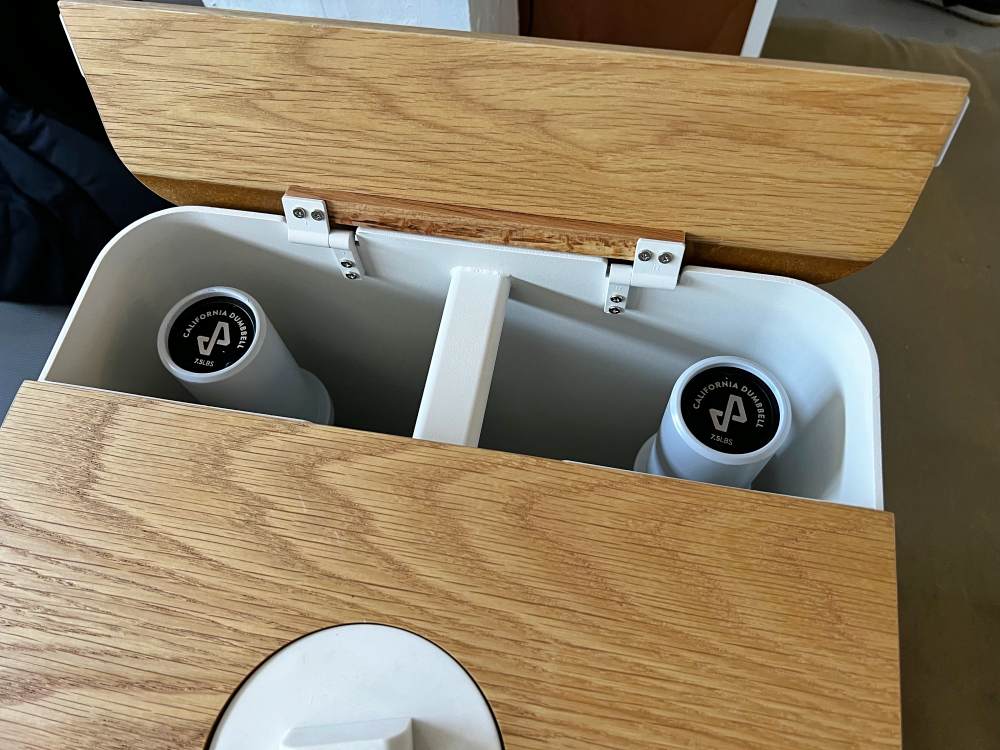 Your iPhone (only XS/XR or newer) provides the computing power, weight recognition and workout monitoring by connecting to the dock which pumps the classes up to your HDMI TV for large screen workouts.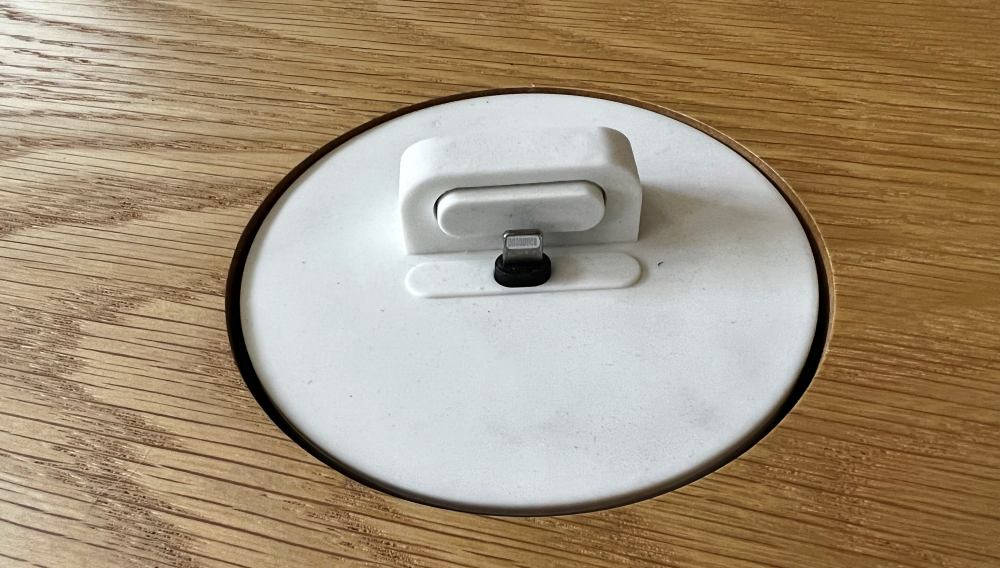 Setup
First and foremost, the shipping box is HEAVY. Make sure you get some help when the box is set to arrive. Be nice to your delivery person and maybe they'll help bring it inside for you. Then play it safe and unbox it there, moving the interior boxes individually.
Tempo Move has a couple of spatial requirements. First, you realistically need an 8′ x 8′ open area in front of the TV. Their documentation says 6′ x6′, but then goes onto say stand at least 6′ back from the TV/Phone. Next the Tempo Core (dock) unit needs to be positioned close to your TV. It can rest in the circular recess of the cabinet, or it can be placed next to your TV on your existing furniture. Tempo includes a wood puck to fill the void in the cabinet top for just this latter scenario.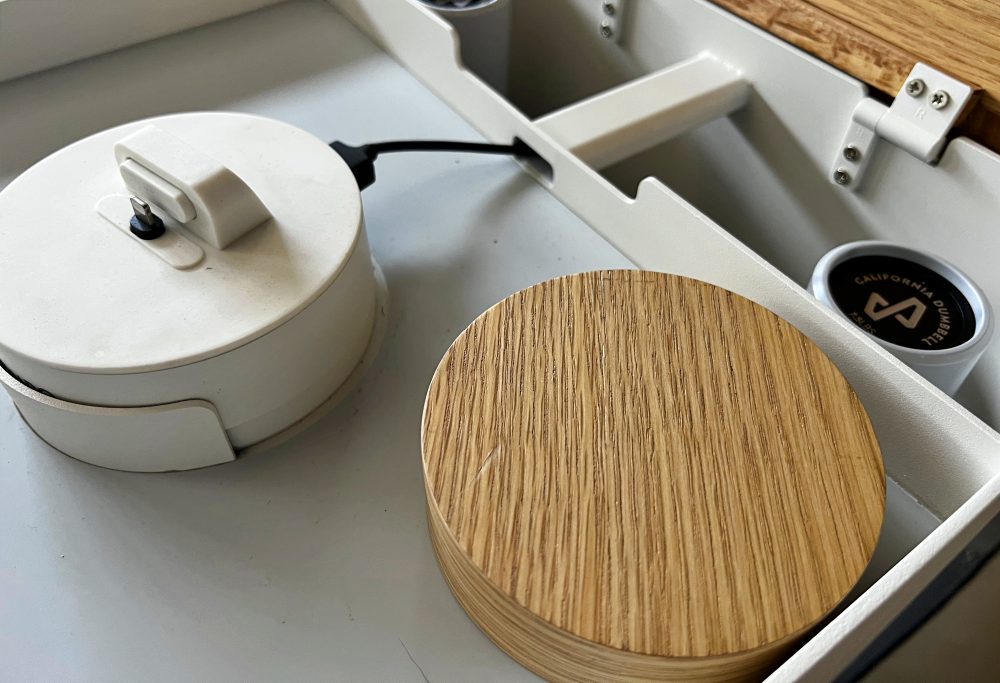 Here's the catch though. The cable that connects the dock to the HDMI connector is only about 6 foot long which ends up being way too short if you're using the dock on top the Tempo cabinet, if you've got your TV wall mounted or just prefer clean and hidden cable routing. Any USB-A extension cable can work, but you may have to trim or remove the connector overmold to allow it to fit through the narrow cable tube through the back of the cabinet shown above. And you're almost guaranteed to need to trim the overmold to fit the male USB-A connector at the back of the dock which has a very defined space around it as you can see in this photo.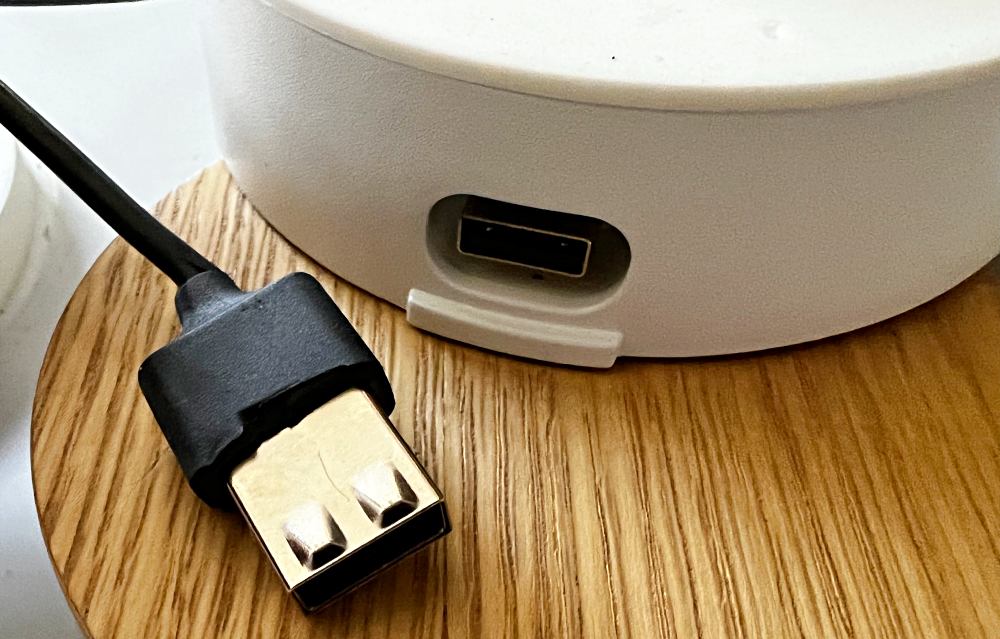 Unless you have an available USB-A port on the back of your TV, you'll probably need a second USB-A extension cable to a USB power source since that cable is only about 3 ft and starts at the HDMI connector. By the way, all of this assumes you have an available HDMI port on your TV, so there's that too. Here's those connections on my TV.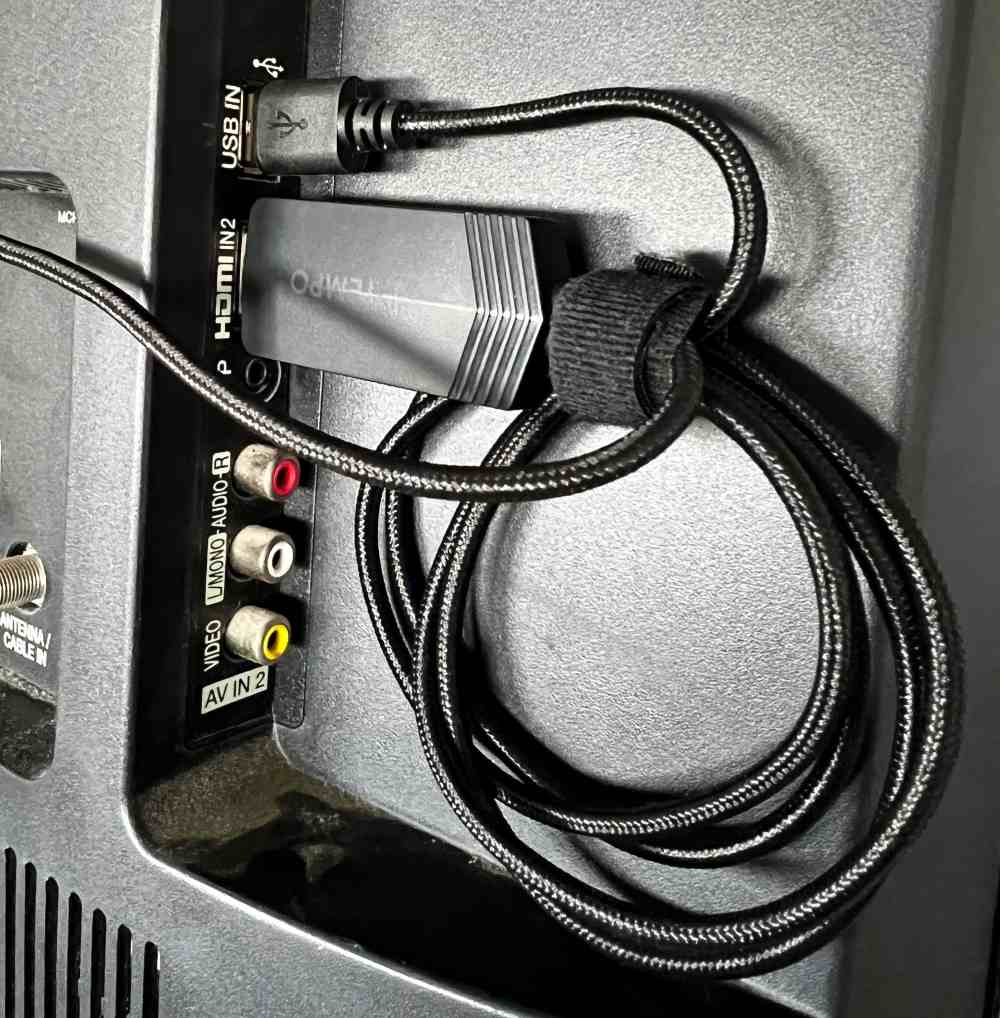 You also should be aware that only slim iPhone cases will work with the dock. Any cases with any kind of drop protection (read thickness) won't allow the iPhone to fully seat on the lightning connector so you'll have to remove the case in order for it to work.
Still with me? Good. Download the Tempo app, register for an account and sign up for the 12 month subscription (there is a 30 day trial period). You'll then be able to answer some profile and physical athletic performance questions like the following…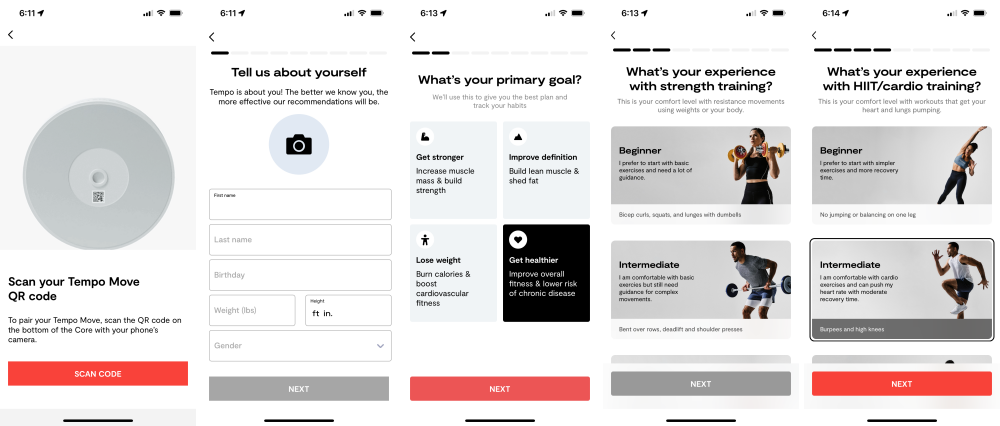 As well as some preferences for routine, reminders and data management.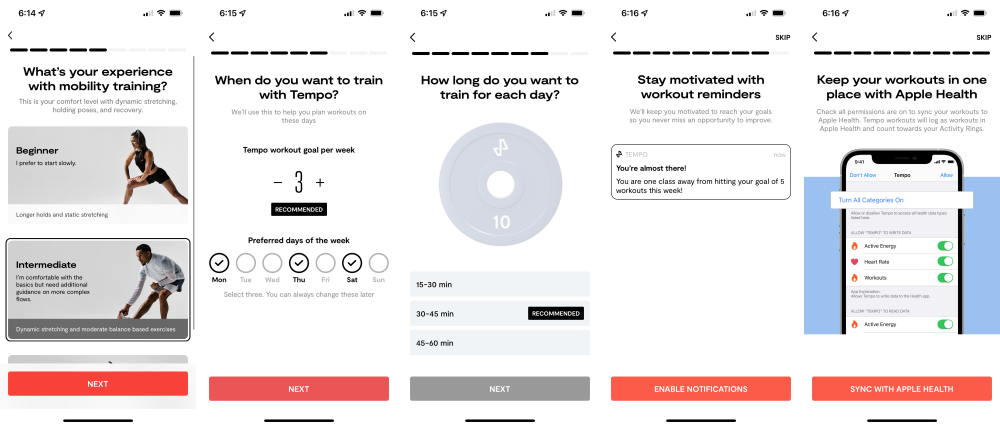 I'd suggest you choose beginner unless you are already pretty familiar with using weights. It will then walk you through the remainder of the setup which includes scanning the QR code on the underside of the dock and setting up your workout area. This involves explaining the metrics displayed on the TV, your position in the field of view and any further adjustments needed to the position of your phone. I set up Tempo Move in our garage where our treadmill and exercise bike are. I tried the positioning the dock a few places to understand what would work best before ending up with it on the cabinet after all. Here's a view from slightly behind my TV. The yoga mat is about how far the system recommended I stand from the TV. You might be a bit closer if you're not 6'3″ like I am.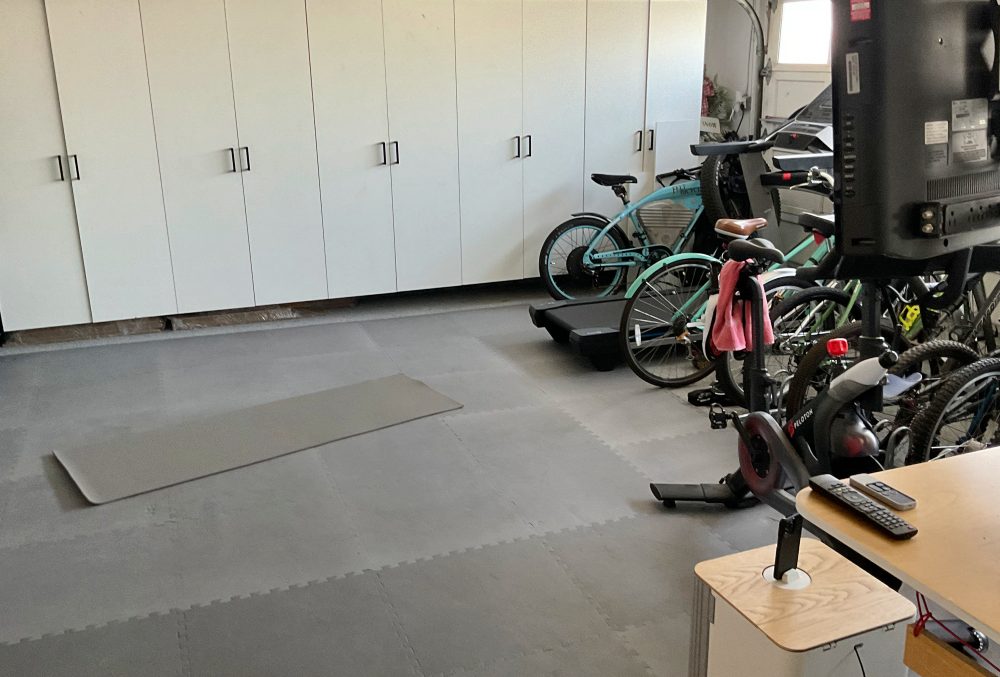 Now you're ready to remove your phone from the dock, browse the available classes and select one for your first workout. Make sure you scroll through and find the Get Started selections as a good place to start.
Performance
The weights and the equipment is fancy for sure, but let's cover the classes first as they're what will hopefully keep you coming back. First off, there are lots and new ones are added weekly. You can choose from the on-demand classes or sign up for a live class which Tempo starting offering over the last few months. Open the app and go to the Classes tab on the bottom row. There's a filter icon and 3 instant selection buttons up top; Optimized for Move, Favorites and Recently added. I'd assume the first would show Optimized for Tempo if you purchase their larger Tempo equipment. If you click on the filter icon you see the multiple options shown in the two additional scrolled screenshots.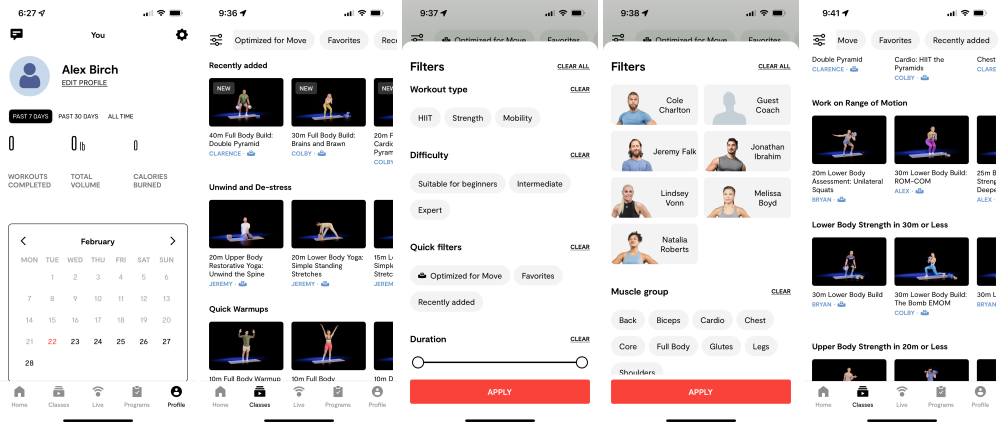 Otherwise you can scroll through all the sections which include everything from Range of Motion, Mediation, Yoga and a Get Started with Tempo (which may or may not be near the top when you first get going. Interestingly enough there's no search field to jump right to classes that might interest you which might start to get annoying as more and more classes are added.
The classes are fun are fun and engaging. If you've taken classes on other platforms, these are similar with good instruction, comments on form and plenty of direction on working within your limits and how to increase your fitness. The live classes are a bit more ad-lib but approach an actual in person vibe. They require clicking the Sign Up to claim a spot. The on-demand classes (of which there are many) can be taken individually or in programs to lead you through successive classes over a period of days.
Tempo's unique angle is that by using the iPhone as both the camera and computing power and Tempo's unique colored weights, they are able to recognize the amount of weight set on your dumbbells and count your repetitions. This is very cool in that it doesn't require any input from you the user. You just get to work out.
If you pair your Apple Watch or the Tempo Heart Rate Monitor (available separately) you'll get to see your heart rate up on the display as well. I've been working on watching my heart rate and blood pressure over the last few months, so this is super helpful to see it as live data where I'm already watching for instruction. Speaking of data, you're presented with more of it when you finish a work out. Here's the screen you'll see on the TV along with what appears in the app.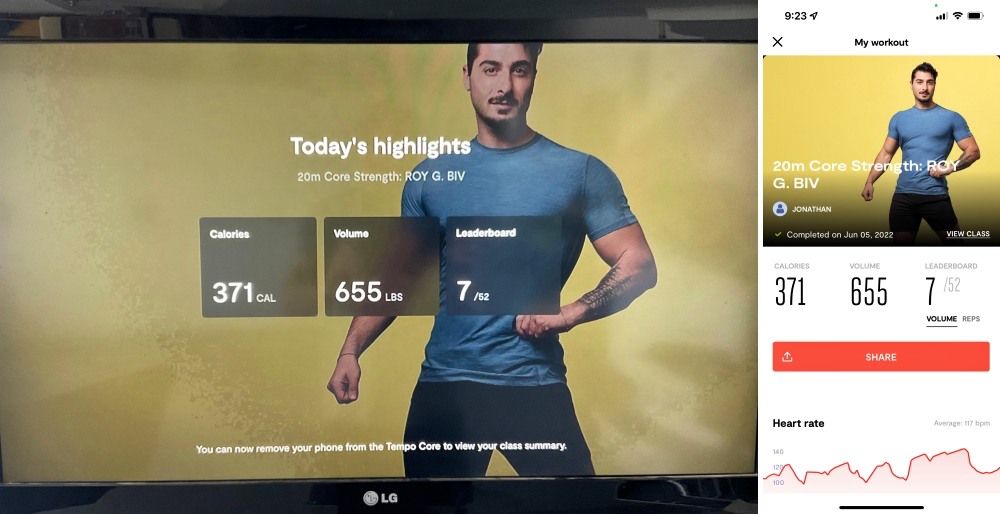 So that brings us to the equipment. The cabinet's design is pretty cool. The cover wraps back and can magnet out of the way or be removed completely. Each set of 4 weight plates and even the dumbbells have their own specific locations that basically demand everything be put away properly after you're finished working out. The cabinet is easy to reposition as long as you remove the weights first. When it's loaded up, it's not going anywhere.
Let's look at the weights next. Simply put, they're beautiful and clearly intended to fit in with a home lifestyle of clean interior and minimalistic design. The weight plates are rubber coated, easy to handle and color coded to enabling the software to recognize how much weight you're using. The dumbbells are a hefty 7.5 pounds each with bearings that allow the weights to rotate as needed without needing to change your grip. The weight plates are held onto the dumbbell with slip collars with an over-center lever making weight changes fast and easy.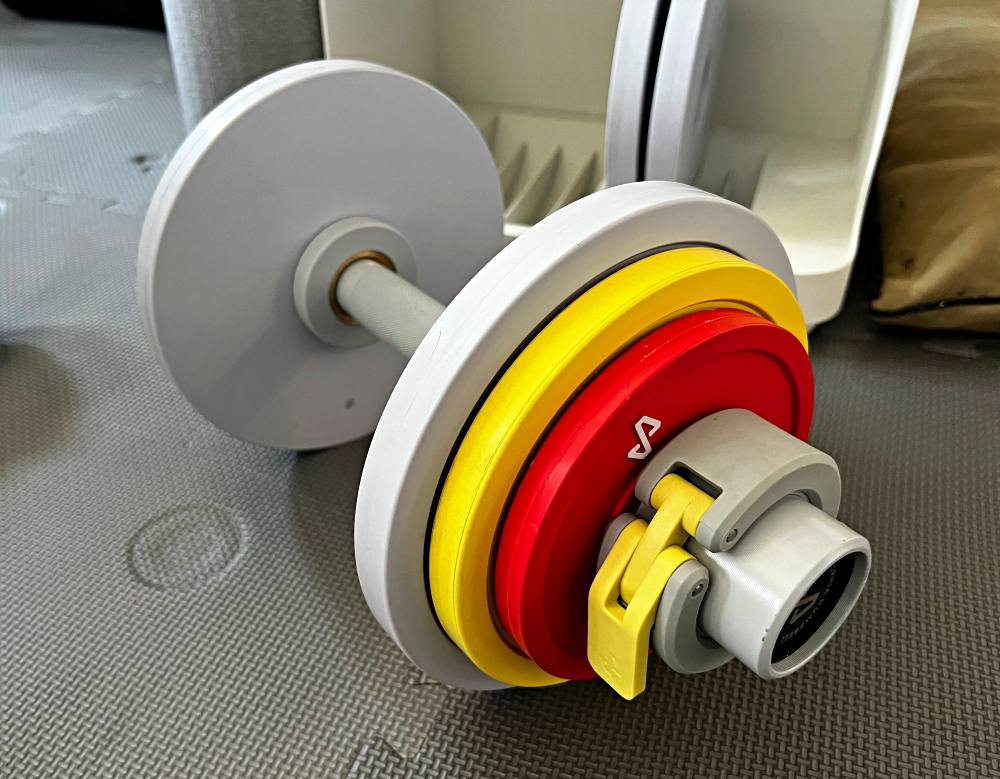 The recognition works pretty well. I've had no issues with Tempo registering the correct weight, but does have issues from time to time with rep count. It gets annoying if you're the competitive type that wants to be at the top of the leaderboard. Speaking off, the leaderboard jumps around a bunch in the live classes. In today's session it was bouncing back and forth between 4th, 26th and 30 something. I've taken to ignoring it until I get the final rank at the end of the session.
The most common instance happens if you start a rep before or finish slightly after the timer ends. I've also had it completely miss a complete section which I think I'd chalk up to shifting out of the green zone as I started. Incidentally, this is what caused me to rearrange the workout space. I ended up moving the cradle back down to the cabinet and had to install a USB-A extension cord as a result. I also turned the cradle so the area behind the workout space was all the white cabinets you can see here. I'm guessing that made it easier for the software to identify me and the weights from the background. A suggestion for the Tempo team: You might consider having the phone take a snapshot of the workout space without the user in it to have a baseline reference image for the detection algorithm. Just a thought.
I also should mention that in the duration I've been using Tempo Move, the app has been updated frequently. I'd guess every couple of weeks at most. I've noticed quite a few changes during that time including the addition of Live Classes which were listed as coming soon for the first month or so and fixes like an issue I experienced early on. Any time I unplugged the cradle in the process of figuring out my TV/cabinet layout, it forced me to go through the un-skippable workout area setup again before I could do anything in the app. Now you can adjust the workout area in the settings panel from the profile screen should you need to. It's great to see this kind of cadence on app releases.
It's cool that there are so many classes that don't require weights. It makes sense as Tempo is competing with Peloton, Apple Fitness, iFit and countless others that have classes across multiple disciplines. It does however beg the question as to why they don't have a lower cost version of Tempo that just comes with the Tempo Core especially for users that may not want or need weights. I have to imagine that the weights and cabinet are the lion's share of the product cost (not to mention cost of shipping which cannot be inexpensive). So it seems like it could be a play, but again the "magic" of the system is the weight recognition which wouldn't happen without Tempo's color coded weights. Incidentally, it's $145 to buy the Blue 10 pound set for which there are already dedicated spots in the cabinet. It does make sense to get it all in one kit. They do have a 30 day risk-free trial and financing options.
I've never been the gym type, so it's very beneficial to be able to go at my own pace. I've passed the half-century mark so it's all about maintenance and staying flexible. Every little bit counts.
What I like
Compact, clean storage cabinet that doesn't look fitness equipment related
Quality, good looking weight plates, collars and dumbbells
Color coded weights are auto-recognized and tracked by the system
Lots of content, 1000+ live and on-demand classes, plus multi-class programs
What I'd change
Device cradle REALLY needs to work with most phone cases, not just slim cases
Device compatibility – Cradle has a lightning connector, so Android and almost all iPads won't work
Further improve rep recognition and leaderboard behavior
Make extension cables available that fit the dock and cabinet cable tunnel
Final thoughts
Tempo Move is definitely more than just a set of dumbbells. It truly is a home gym that doesn't require that you dedicate an area of your home to looking like a gym. The weight equipment is top notch and the technical side of using your phone works really well (albeit after removing your case). If you've got a household or roommates the savings start to add up.
Price: $495 ($100 off with code SUMMER100)
Where to buy: Tempo.fit
Source: The sample of this product was provided by Tempo