We use affiliate links. If you buy something through the links on this page, we may earn a commission at no cost to you. Learn more.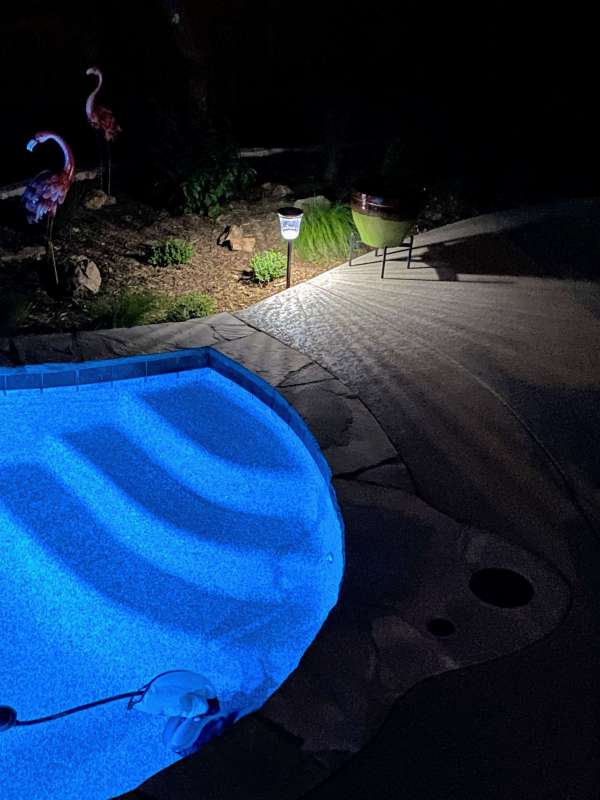 REVIEW – We moved into a new home last year and had our first pool built and finished at the end of March.  We are now having 100-degree days in May and we are really beginning to enjoy that pool.   Because it has been so hot, we like to spend more of our time in the evenings outside.  The humidity drops a bit by then and it can be quite nice outside.  We came to realize that we definitely needed some better lighting in our backyard.   A full in-ground LED light system with a transformer is out of our budget right now.  So when the Haoyishu Solar Path Lights came up for review I requested them to see if they would work for our lighting needs in the backyard.  Let's see how they work out.
What is it?
The Hayishu Solar Path Lights do exactly as their title says.  They are pathway lights that use solar energy to charge up an internal battery.
What's in the box?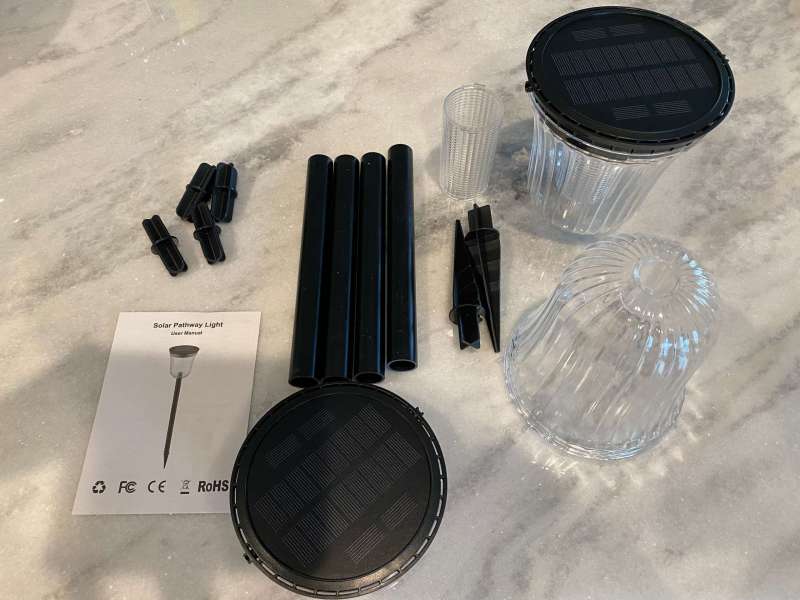 a user manual
two solar charging tops with attached LED bulbs – these are integrated and not replaceable
two clear bases
two light diffusers
two sharp plastic stakes
4 pole extensions
4 pole connectors
Hardware specs
Latest solar panel: 5.5V/1.5W

monocrystalline 

silicon, 

35% the photoelectric conversion rate

Battery Capacity: 

3.7V 2200MAH NiMH

Unique design: Different 4 lighting patterns with switchable warm/white colors and a detachable refractive cup.

Upgraded LED:

Saves 80% more energy than common bulbs and has a long use life of 50,000 hours.

Auto On/OFF

 

Mode

: dusk to dawn sensor

Shell Material: 

IP65Waterproof + sturdy 

ABS+PC

Charge time: 

6-8 hours

Lighting time: about 

10-12 hours

Save Efforts:

 These wall lanterns will 

automatically light up at dusk and turn off by themselves at dawn

 or battery run out.

Light Source:

 

16PCS 2835

LEDs

Luminous Flux

: up to 200LM

Easy To Install:

Small items are included to install the lamp, with only minutes to finish the installation.

Two Color Tones:

 Switch 

warm white to cool white light

by a toggle switch. Great auxiliary lighting or decorative light.
Design and features
You can see below that the LED light bulbs are integrated into the bottom of the solar panel.  That means when these die, you have to throw away the entire light.  Granted they have a very long estimated life span of 50,000 hours, but I really hate wasting the entire device when the bulb goes out.   I have had plastic solar panels before on my Davis weather station and after about 5 years, the plastic around the panels starts to deteriorate due to our intense Texas sun.  So if these bulbs do last 50k hours, then I am sure by that time the plastic the lamps are made of is sure to be showing some significant wear and tear by that time.
In the picture below, I have the light diffuser installed on the one on the right only to show you what that looks like.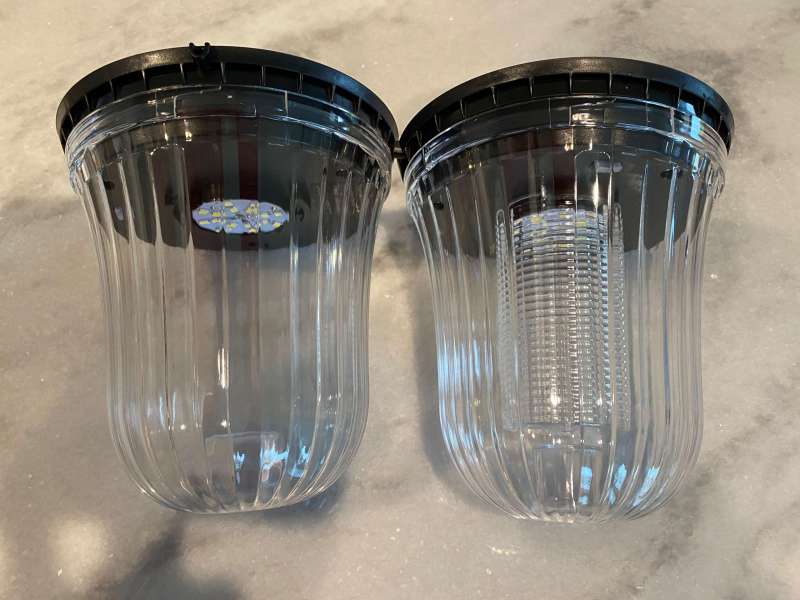 I then took a picture of the light display with the diffuser on the bulb.  You can see that it has a really nice pattern and is a pretty strong light.  I am using the bright white option for these tests.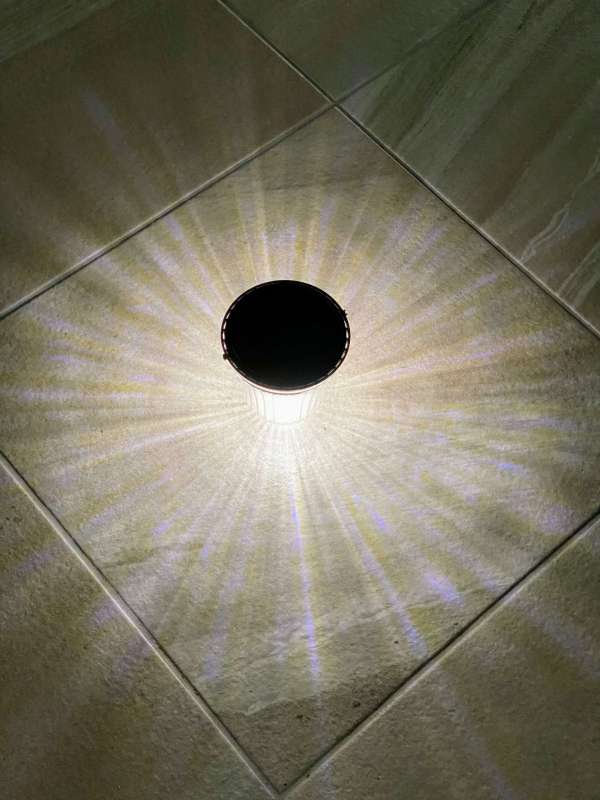 This next picture shows the light without a diffuser.  The lines from the clear casing are more defined.  I personally prefer this display option and I removed the diffuser from both lamps.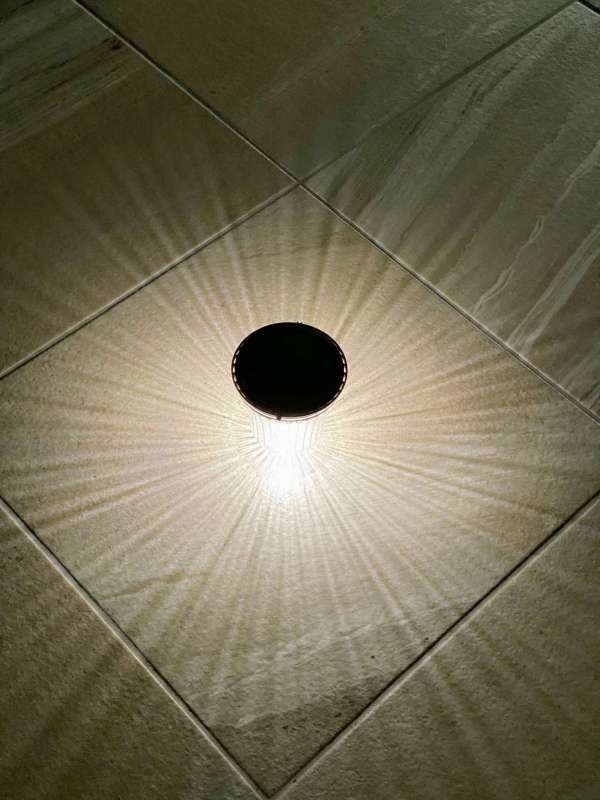 The LED lights do offer two different levels of light tones.  The first is a cool light color.  It shows up as blue below in the picture but it is a bright white color and what I used in the above diffuser option pictures.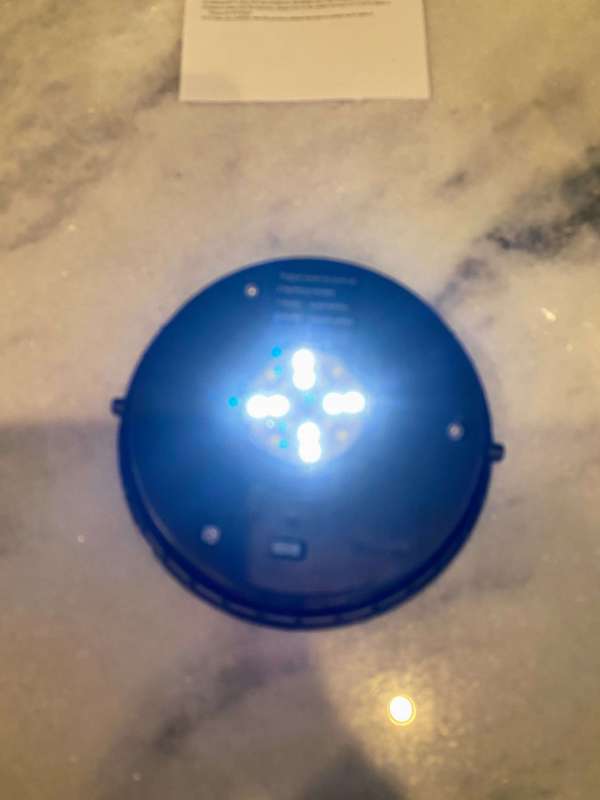 The other option is a warm white where you get more yellows in the light.  Both of these options are set using that switch at the bottom of the picture.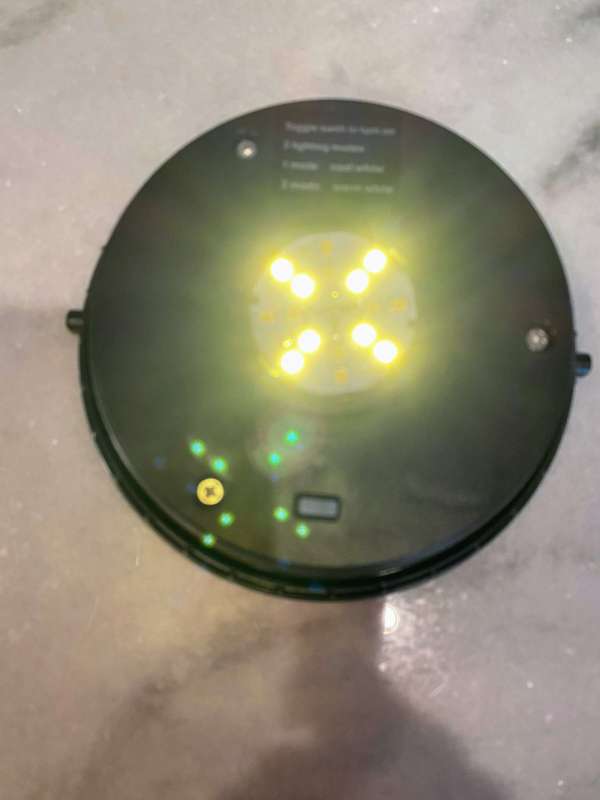 Setup
The setup was very simple.  You can use one or two poles per light depending on the height you need.  I used both because I was installing them in a plant bed that was slightly lower than the cement deck around our pool.  Plus the higher you can get them the more area the light can cover.  I simply slid the attachment into one pole and used it to connect the other.  The pointed stake went into one end, and the other pole attachment went into the other for the lap to attach.
The picture below shows the pole.  Here is where I wish that instead of plastic, they had used metal for the pole and stake.  We have very hard clay soil and I had to be very careful when installing the stake into the ground or it would have easily broken.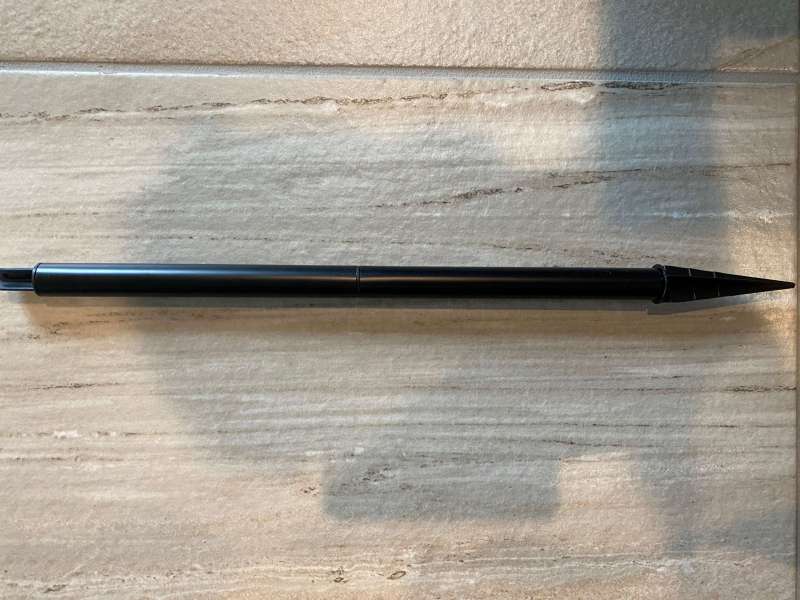 Performance
Our backyard around the pool gets full sun pretty much all day long.  I placed these out there around 10 am.  That night I took pictures of the two lights.   I have used solar lights before and was never very impressed by the amount of light they gave off.  These lights give out quite a bit of light.   This first picture I took across from the other end of the pool.  It lights up the edge of the decking along with the start of the retaining wall for the plant bed very nicely.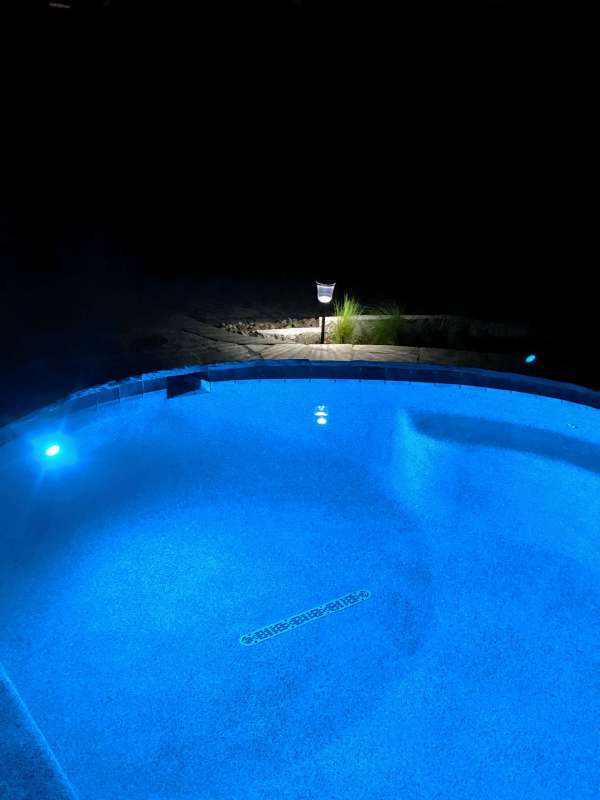 This picture shows where I put the light in the plant bed next to the side of the pool where we have stairs going down into the pool.  This picture shows how large of an area the light covers.  I think it does a great job of throwing a lot of light.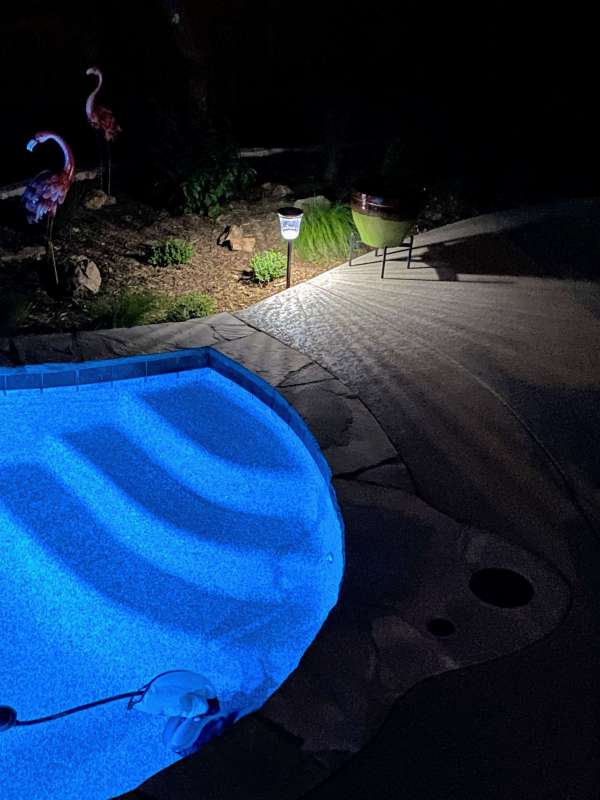 I got up just before sunrise and found that the Haoyishu Solar Pathway Lights were still working.  Granted they were not as bright as when they first came on, but I would say they were still lighting up the area quite well.   I checked them again around 11 pm after they had been on for about 3 hours and they were as bright as when they first came on.
What I like
Easy to install
To types of light tone colors to pick from
They offer a diffuser if you want to use that
What needs to be improved
I wish the stakes and poles were metal.  It would be easy to break them when installing in harder clay-type soils.
Offer more than two to a package so you could discount if you buy more.
Final thoughts
I have used the Haoyishu Solar Pathway Lights for a month and they continue to work flawlessly.  Even on cloudy days, the lights have received enough charge to light the entire night.  They throw out an immense amount of light for a solar-powered light.  I think they are a great economical option if you need some lighting in an area where they can get fully charged by the sun.  I personally have gone and ordered 3 more pairs of lights so I can finish lighting around my deck area.
Price: $34.98
Where to buy: Amazon
Source: The sample of this product was provided by Haoyishu.