We use affiliate links. If you buy something through the links on this page, we may earn a commission at no cost to you. Learn more.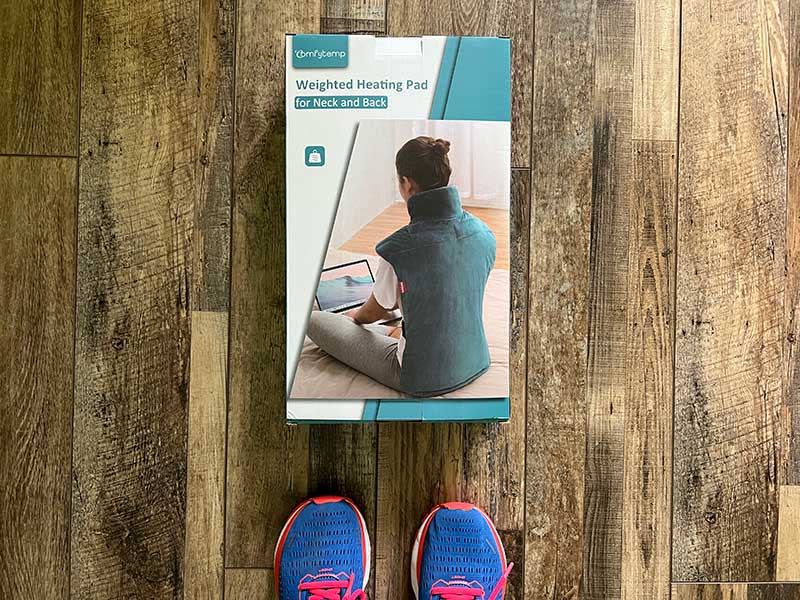 REVIEW – If you've ever had a sore back, you know that a heating pad can help soothe the pain. But most heating pads are small and might not be large enough to cover the full area of your back that hurts. The Comfytemp Weighted Heating Pad does not fit in that category because this heating pad is HUGE. Let's take a look.
What is it?
The Comfytemp Weighted Heating Pad is a large electric heating pad used to soothe sore muscles in your neck, shoulders, and back.
What's in the box?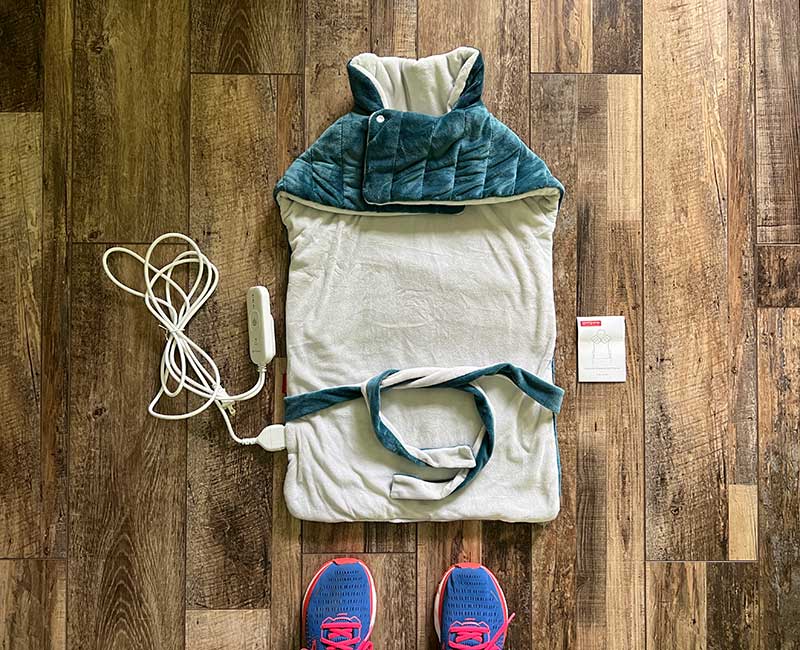 Comfytemp Weighted Heating Pad
Instructions
Design and features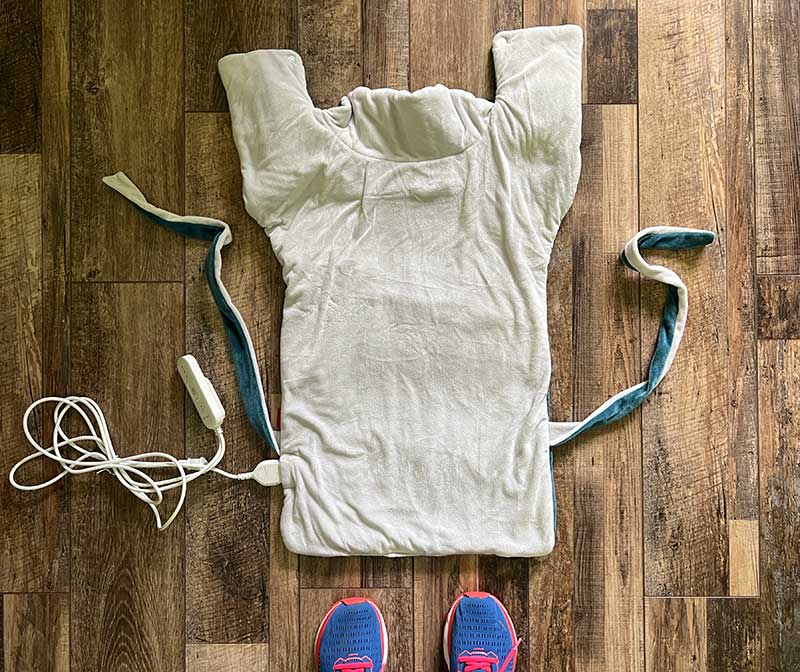 The Comfytemp Weighted Heating Pad is larger than any heating pad that I've ever seen or used before. It's 22 x 33 inches and weighs 2.2 lbs.
The interior of the heating pad is a soft cream plush material.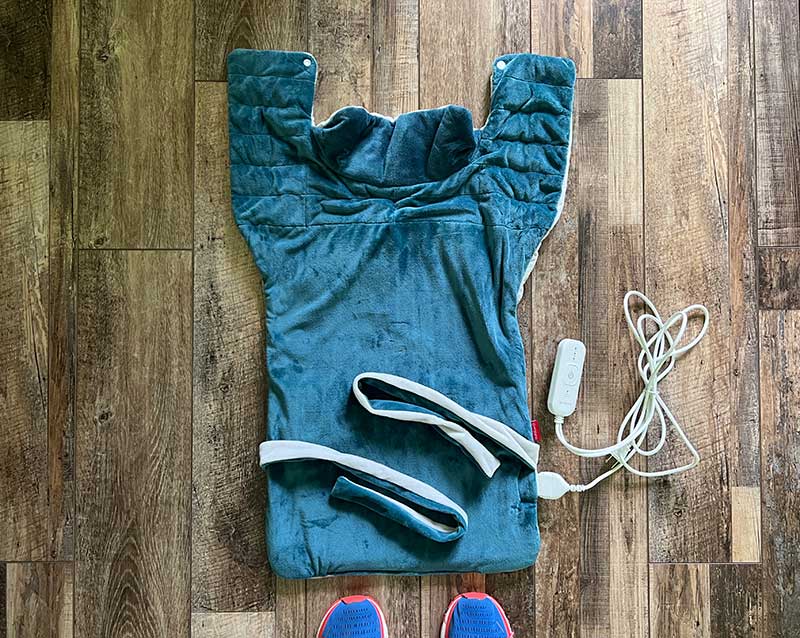 The outside of the heating pad is equally plush. The whole thing is so soft that it feels like a child's stuffed animal.
You can see me "wearing" the Comfytemp Weighted Heating Pad in the images above. For reference, I'm 5'6″ and weigh 124lbs.  You'll also notice that there are straps that you can use to tie the heating pad around your waist.
If you're wondering about the white circle stuck on the back of my arm in the images above and below. That's a Freestyle Libre continuous blood glucose sensor which gives me my blood sugar readings when I scan it with my phone.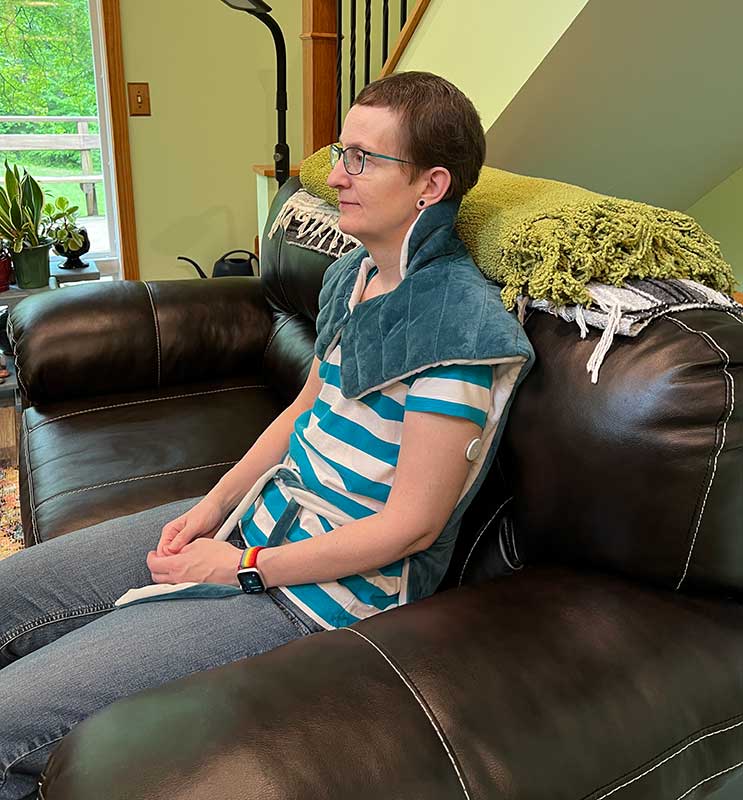 There is a wide neck collar with shoulder straps that are weighted with what feels like tiny beans… like a Beanie Baby stuffed toy. That's the only weighted part of the heating pad. If you're wondering why part of this heating pad is weighted, it's a feature that is supposed to help provide pressure to your body to temporarily soothe anxiety and help you relax. I personally couldn't feel that much weight from the straps.
The neck straps have a small snap that you can use to snap the Comfytemp Weighted Heating Pad around your neck like a cape so the neck and shoulder areas of the heating pad stay in place.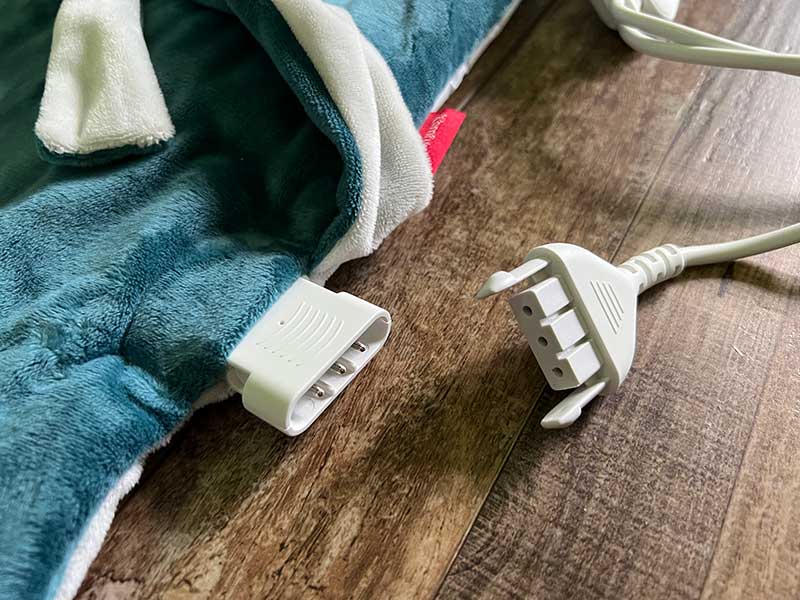 The Comfytemp Weighted Heating Pad has a detachable 9.5 foot power cord with a built-in controller.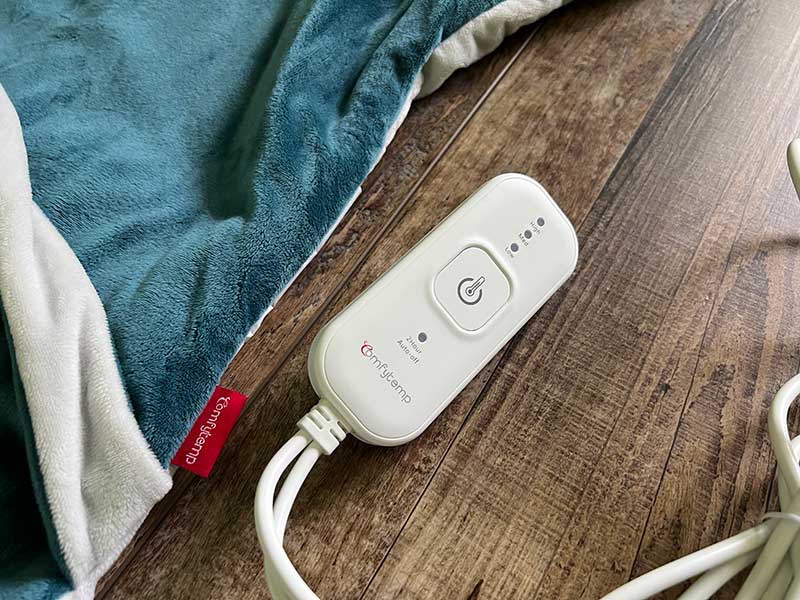 Using the inline controller is about as easy as it gets. It has one button that toggles through Low, Med, and High settings as well as powering the heating pad on and off. There's also a built-in 2hr auto-off feature that automatically turns off the heating pad once it's been on for 2 hours.
I tested the Comfytemp Weighted Heating Pad and I had my significant other test it too. I don't use a heating pad on a regular basis, but she uses one every single day because she has chronic issues with back pain.
My thoughts about using this heating pad: I found it to be soft and comfortable. It heated relatively quickly and I mainly felt the heat around the back of my neck, my shoulders, and my upper back. I didn't feel it as much in my lower back. While using the Comfytemp Weighted Heating Pad, I found myself wanting a way to selectively turn off certain areas like my neck and shoulders because even at the low setting, it made me feel hot like I was having a hot flash 😉
Jeanne's thoughts about using this heating pad: She liked everything about the Comfytemp Weighted Heating Pad. She agreed with me about the weighted shoulder straps not being noticeable and didn't even realize that they were until I pointed it out and asked her what she thought about them. She did not however agree that there needed to be a zone selection to customize heating areas. She liked that the whole pad heated all the time. Go figure 😉 I still like my idea of zone heating though so I'm sticking to it. 🙂
What I like
Large size
Soft cover
Washable
What I'd change
It would be nice if there were zone buttons to select neck, shoulder, and back areas individually.
Final thoughts
The Comfytemp Weighted Heating Pad is a nicely made heating pad that is very easy to use and sized large enough to cover your whole back including your neck and shoulders. If you need a large heating pad, this one will cover that request without breaking the bank.
Price: $39.99
Where to buy: Amazon
Source: The sample for this review was provided by Comfytemp.