We use affiliate links. If you buy something through the links on this page, we may earn a commission at no cost to you. Learn more.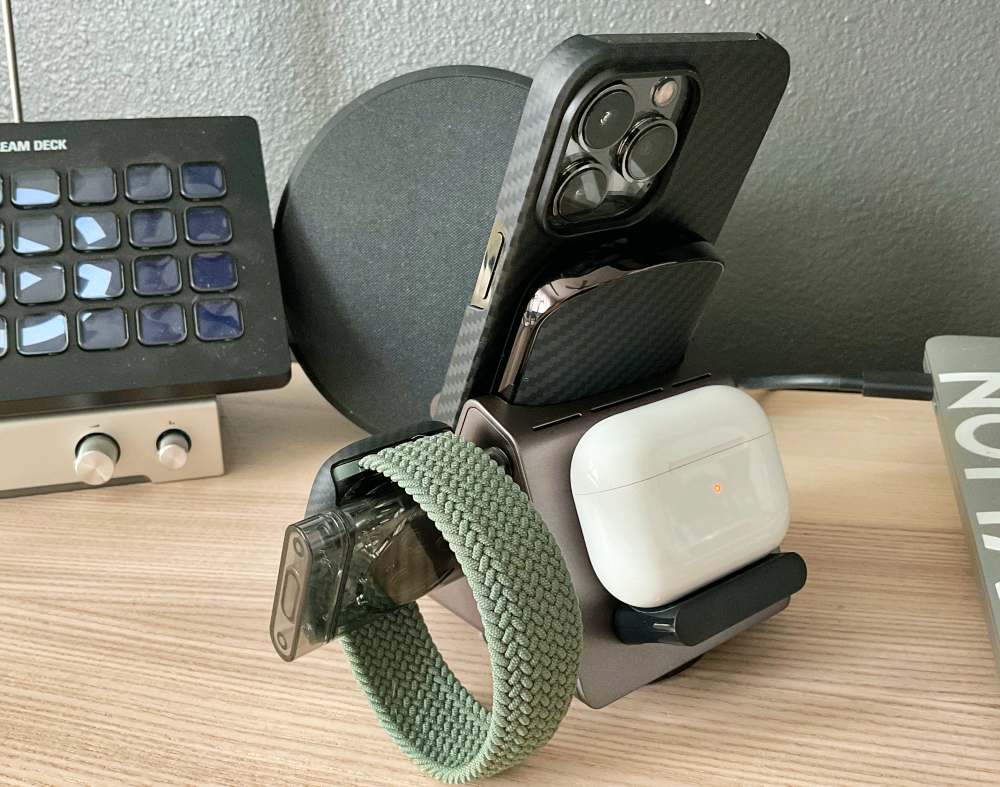 REVIEW – The Pitaka MagEZ Slider is a different take on the unified charger for the Apple device trifecta of iPhone, AirPods and Apple Watch. There are a few unique features, some great design as well as some questionable ones. Let's take this thing for a spin.
What is it?
The MagEZ Slider is a charging station that combines rotating stand functionality with a portable MagSafe battery, Qi charger for AirPods and a USB-C expansion port for adding an Apple Watch charger Pitaka sells separately.
What's in the boxes?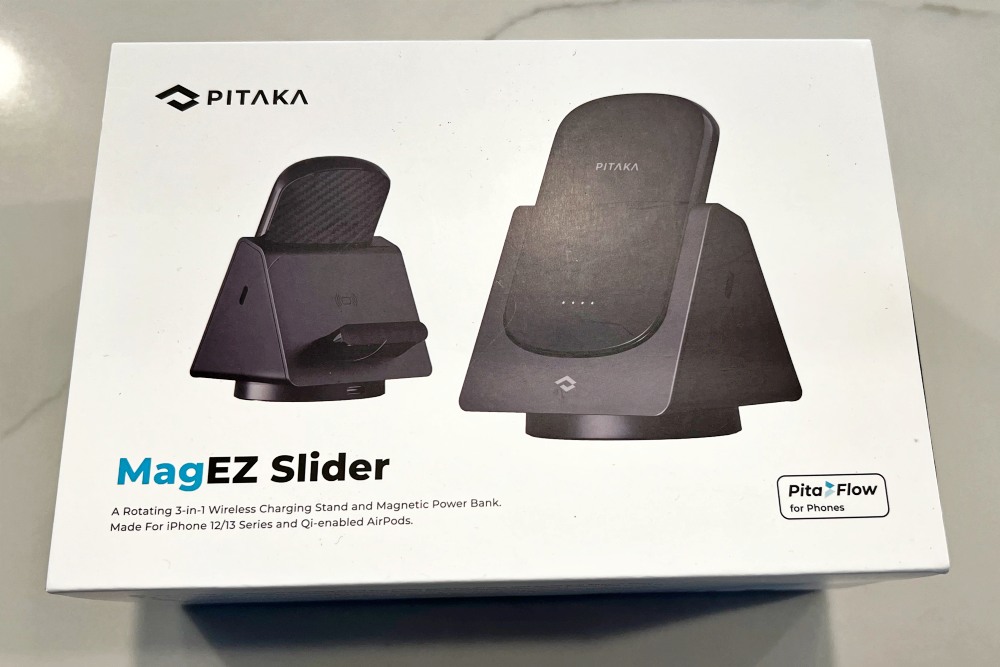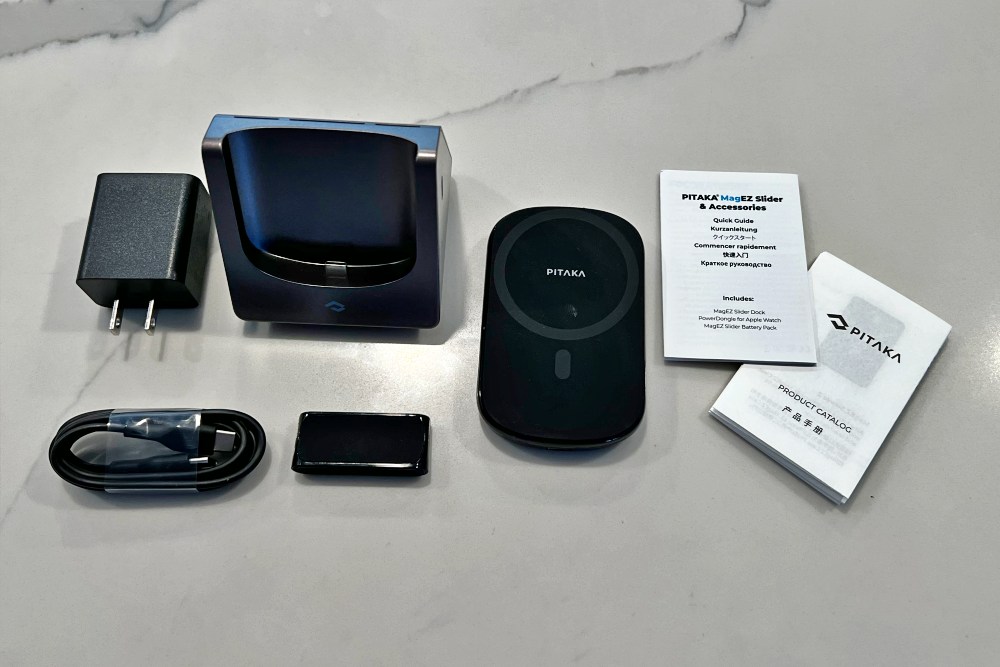 MagEZ Slider Dock

MagEZ Battery Pack

Magnetic Earbuds Stand

C to C cable

PD20W Charger

Instructions and Product catalog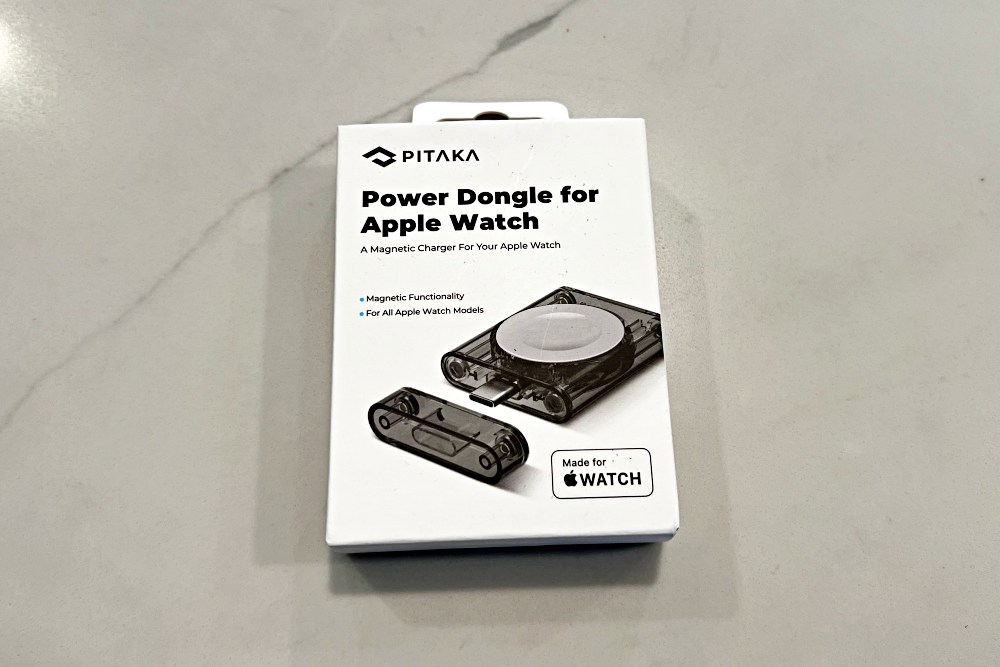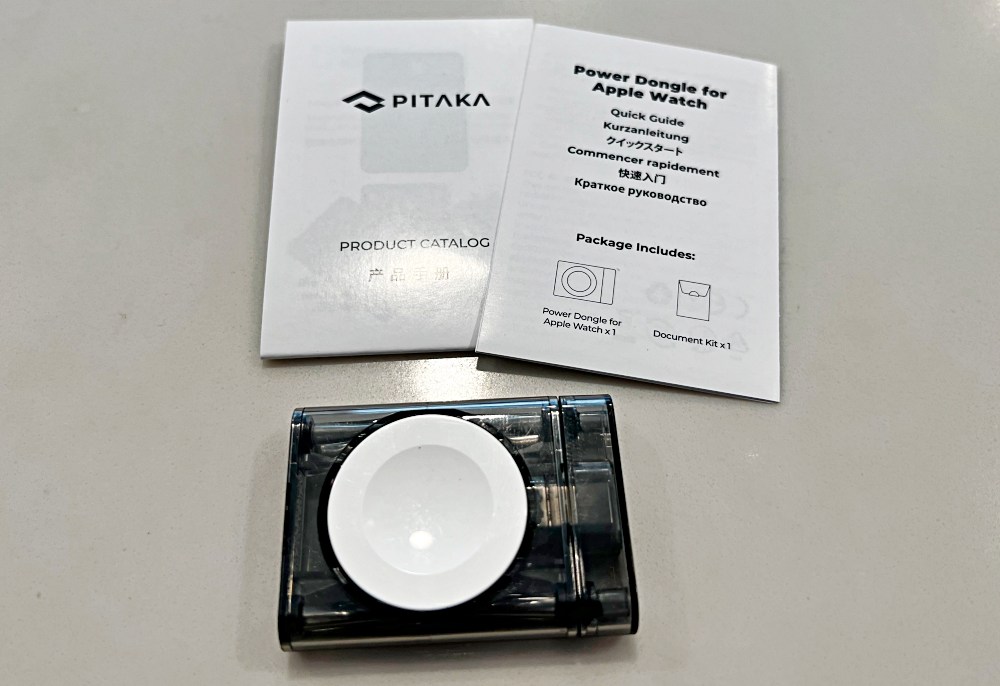 1 x Power Dongle for Apple Watch
Instructions and Product catalog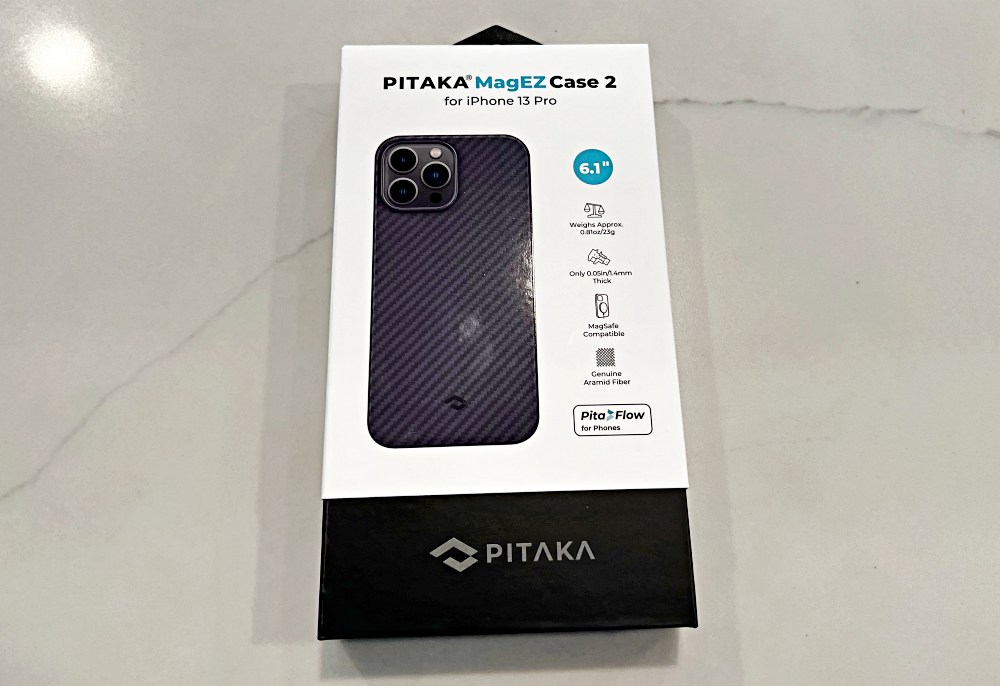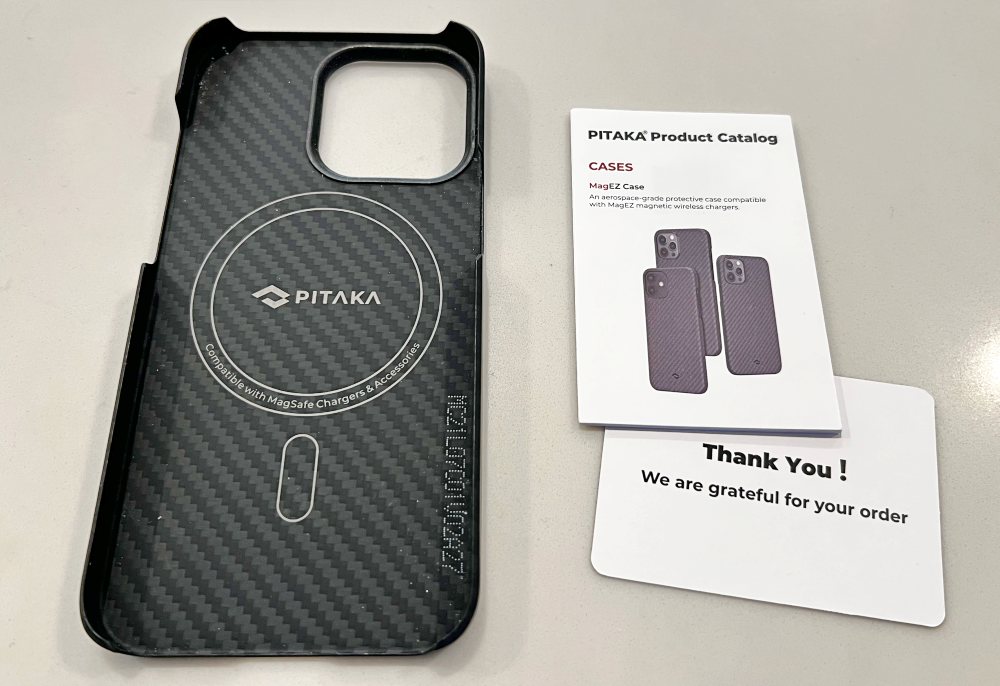 1 x MagEZ Case for iPhone 13 Pro
Product catalog and Thank You card
Hardware specs
Materials: Aramid fiber, Zinc alloy
Dock: Type C Port Input: DC 9V/2.22A
Dock: Type C Port Output: DC 5V/2A
Dock: Type C Port for Dongle Output: DC 5V/1A
Dock:

Wireless Earbuds Output: 5W | Tx Distance ≤8mm | Tx Efficiency ≤75%

Battery: 4000mAh capacity
Battery: C Port Input (during wireless charging): DC 5V/2A
Battery: C Port Input/Output: DC 5V/1.5A
Battery: Wireless Output: 5W
Dimensions: 76 x 76 x 111.8mm
Weight: Dock – 170g | Battery – 106g
Design and features
The core functionality of the MagEZ Slider is a rechargeable MagSafe Battery that slides into place and functions as a MagSafe stand for your iPhone. Any time the battery is docked, its charge is being topped off.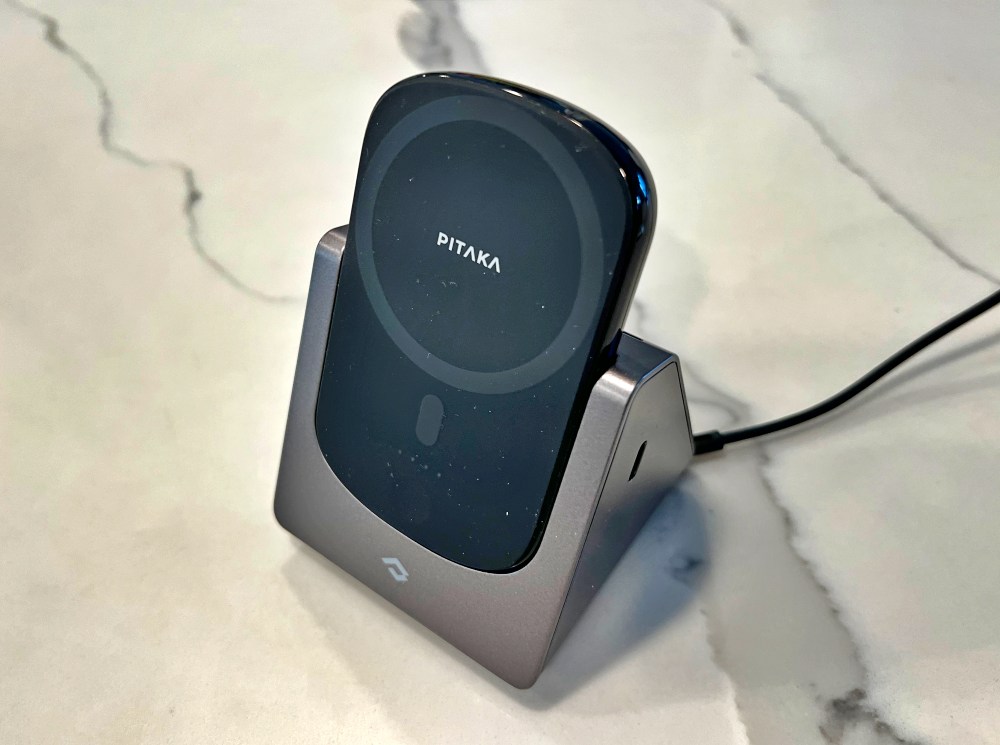 There's a USB-C port on the right side that allows Pitaka's Apple Watch Dongle to be attached and function as a pedestal for your Watch.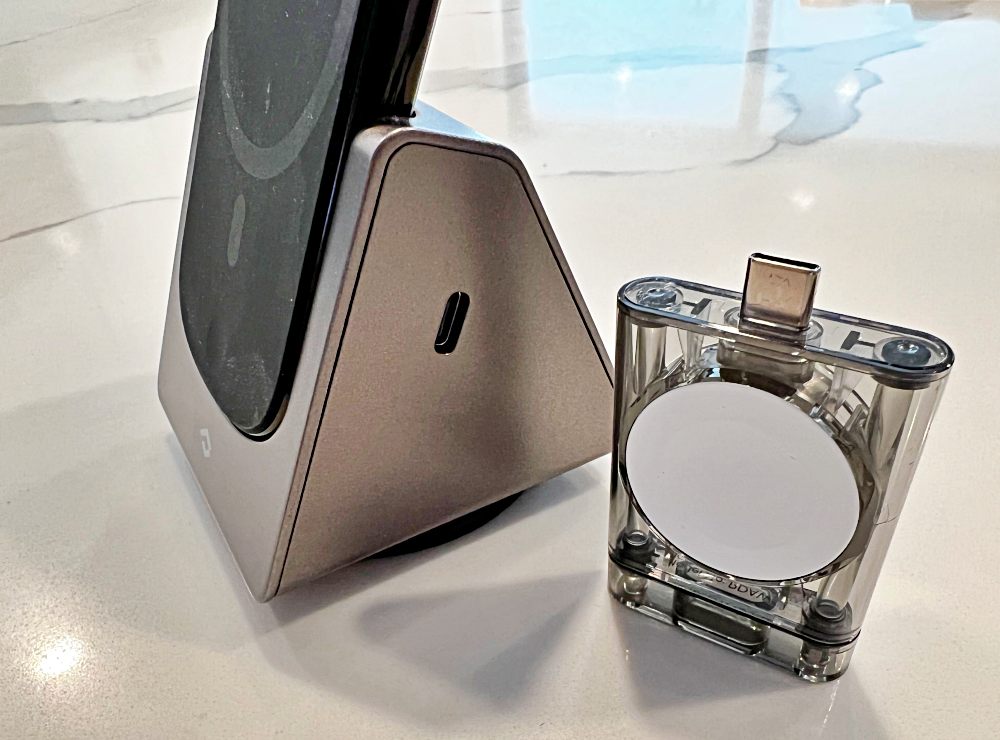 The back of the battery is covered with Pitaka's signature Aramid fiber material to correspond with their cases (and most of their other products).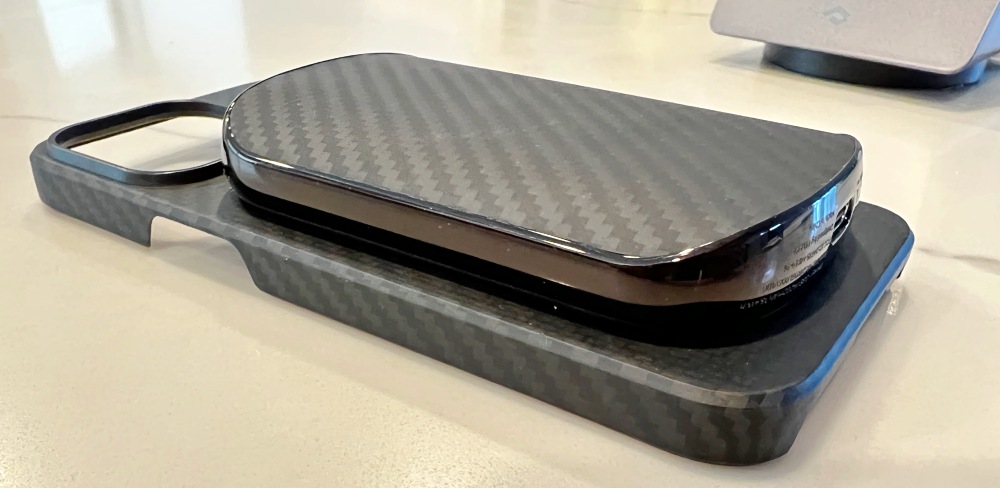 Setup
Assuming you've already figured out where you'll set up the MagEz Slider, go ahead and connect the USB-C cable to the port on the round base (not the upper right side where the watch dongle attaches).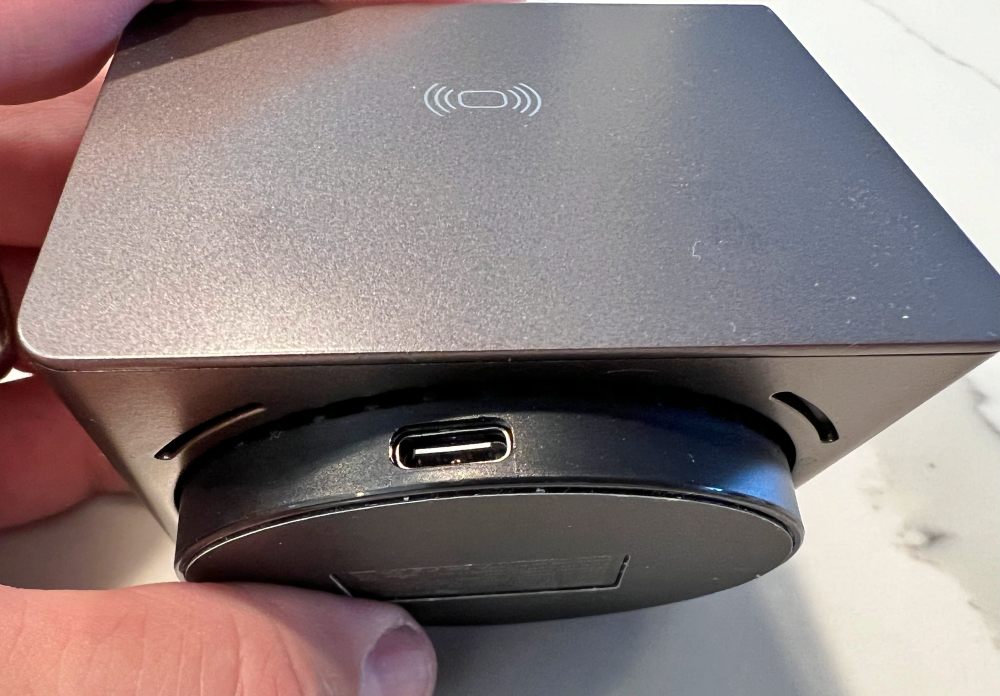 Attach the included wall adapter and connect to power. You can now re-dock the battery if you removed it during install as well as connect the dongle if you plan on charging a watch.
Performance
I'm a fan of a lot of Pitaka's products, especially their cases. I think I've had one for each iPhone release over the past 5-8 years. They're thin, light, sturdy and with the addition of MagSafe compatibility, easy to recommend if those descriptors meet your needs. Likewise the MagEZ battery is also a great product.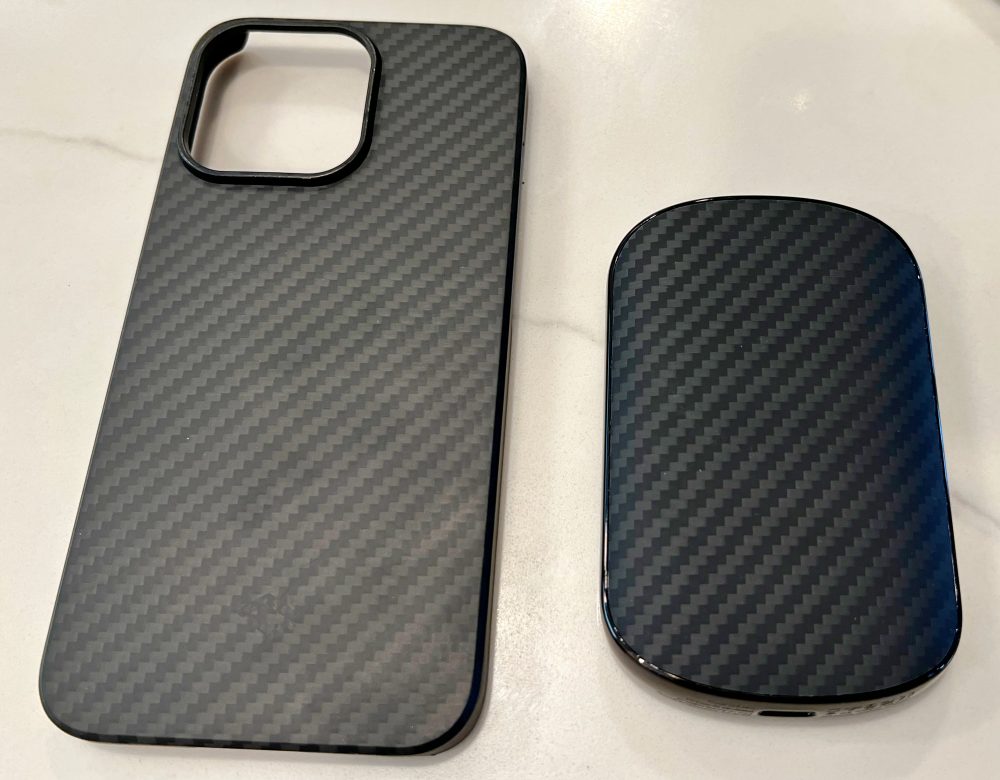 Above you can see the battery has a USB-C port on the bottom that it uses to charge up when docked. In the below image you can see the grey circle and lower vertical clocking magnet signifying the MagSafe functionality. Just below that are 4 LEDs and a stealthy button that are behind the soft rubberized surface that protects your phone. I've highlighted the button's location because it is not called out on the product at all. Pressing once, lights up the LEDs to show you the current charge status. This is a big improvement over Apple's MagSafe battery which does not have a way to show the charge without putting it on the iPhone to see status on your phone's screen.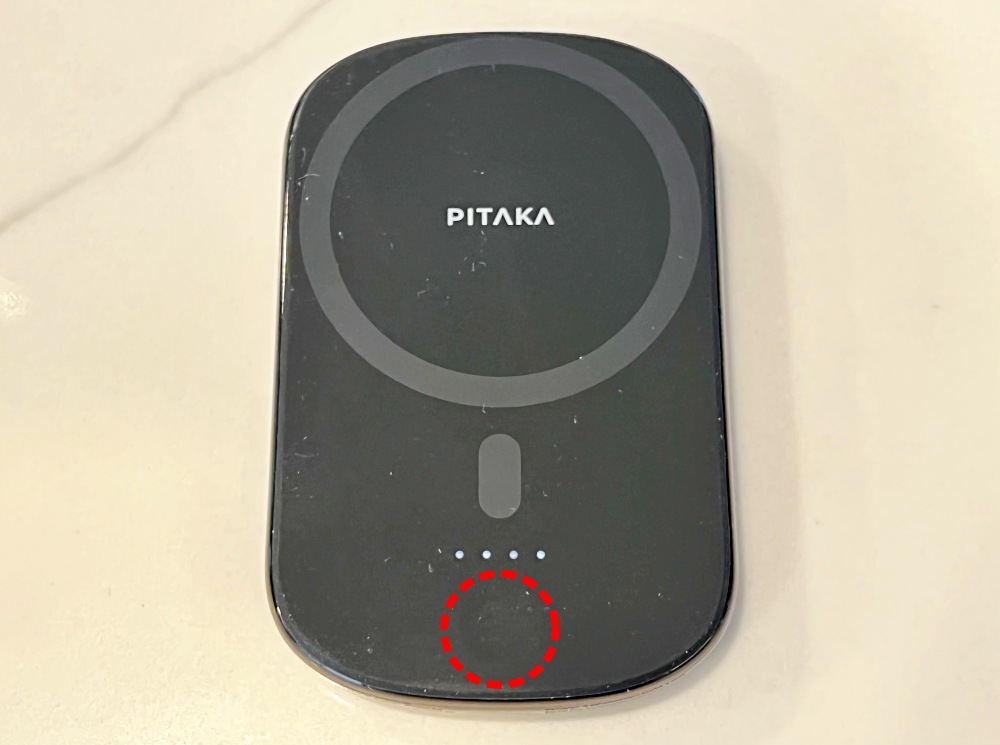 The Apple Watch Dongle is a cool little unit that's designed to be portable. The cap is magnetic and attaches to the other side of the dongle when not in use.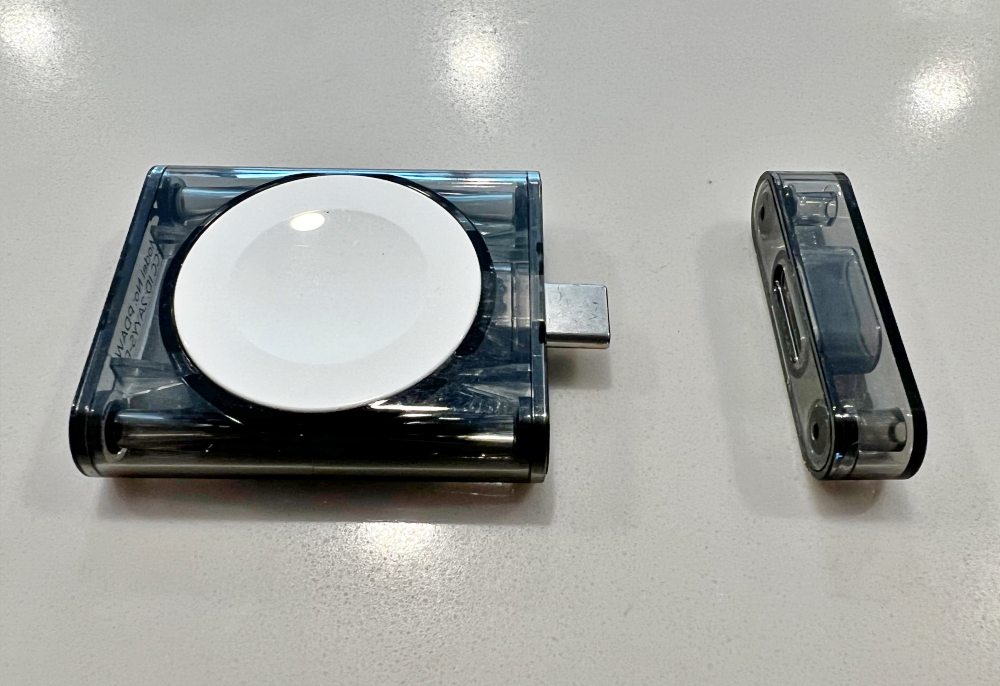 The tinted clear case is kind of cool, but scratches easily as you can see below. The completely different aesthetic however feels totally at odds with rest of the MagEZ Slider. It is sold as a separate, compatible item, but definitely feels like a last minute add as a result. Even more frustrating is that it charges super slow. Better than not being able to charge a watch at all, but plan on leaving it put for a while.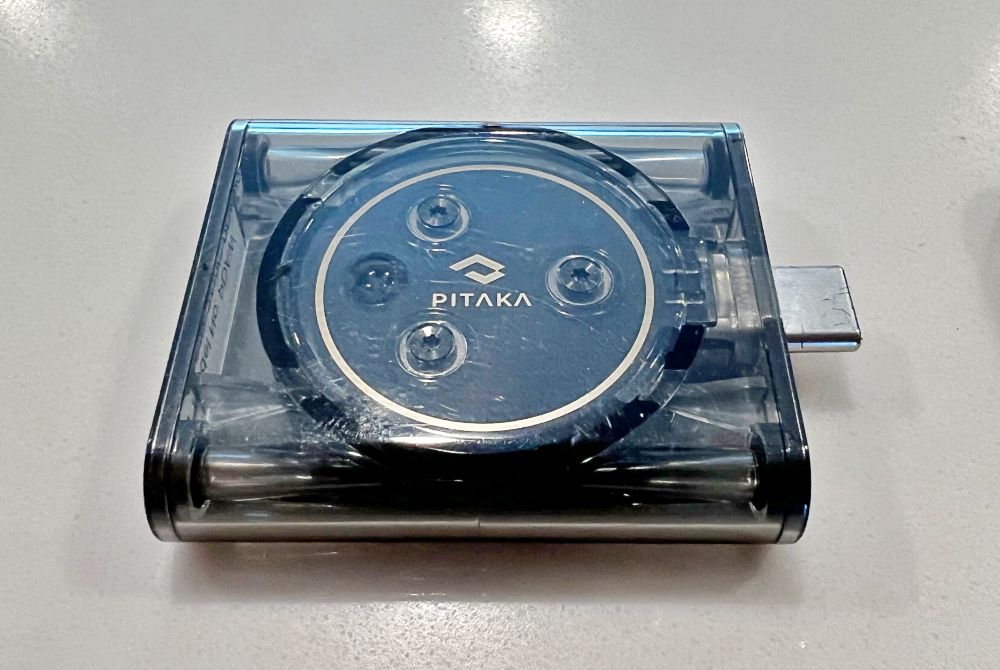 One of the cooler features is how the charging cable enters the product below the rotation function. This means you can adjust the angle to your heart's content without the cable moving at all.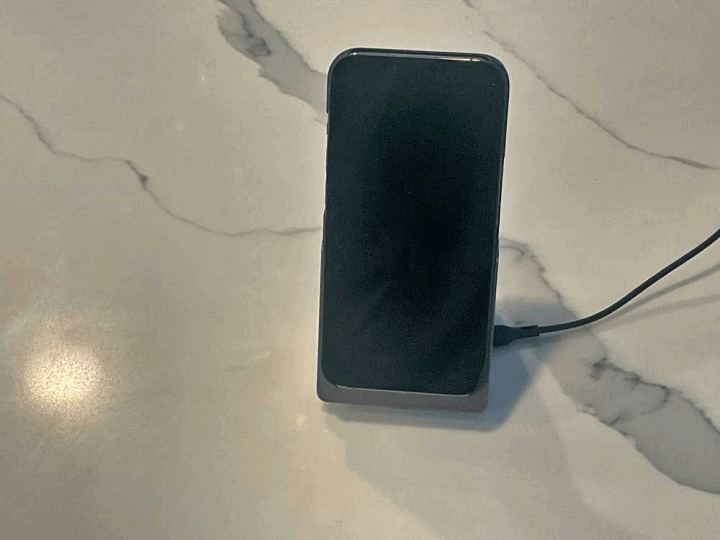 Another is how they've solved charging for AirPods on the back of the stand. The included magnetic earbuds stand can be flipped 180º to rest at two different heights to help center your particular earbuds over the charging coil. It's a nice touch. You can see that here along with a few other notables in this video.
All is not perfect though, and I have three main complaints. First, the rotation or fidget spinner function is way too easy and the stand has a little wobble left to right. While it might be fun to spin and sound cool with its subtle clicking, it makes using your phone on the stand incredibly difficult as it just spins with every touch. If you get the urge to swat it and watch it spin, be prepared to pick up your AirPod case from wherever it gets flung to. The second issue is the watch charger. The watch's weight tilts the stand to the right slightly and metal watchbands exacerbate the issue. Then there's the slow charge time of at least 3 hours. Skip the adapter. Third, the adhesive on the underside is not like the nano-sticky material on their other products. It's more similar to bad double stick tape and while it holds well, you'll find some of it stays on your table surface when you remove the product later. Not sure why they'd change material when what they use elsewhere works so well.
What I like
Dockable MagSafe battery that acts as a phone stand
Dock rotation above cable connection
AirPods charging spot
MagSafe phone compatible (with or without a case)
What I'd change
Rotation needs resistance so screen tapping doesn't spin stand
Watch charging is sub par. Slow and heavy bands cause module to sag
Adhesive is too strong and leaves residue behind on table surface
Final thoughts
It's a bummer, but I prefer Pitaka's previous generation charger which I reviewed in 2020 called MagEZ Juice. This new version tries to do too many things. While some of them are great like the wireless earbuds charging, others like the overly-loose rotation and bad adhesive keep this from being a solid upgrade. There are also better ways to charge your watch than adding an additional $50 to the cost here.
Price: $129.00 ($179.00 with Power Dongle for Apple Watch)
Where to buy: Pitaka and Amazon
Source: The sample of this product was provided by Pitaka