We use affiliate links. If you buy something through the links on this page, we may earn a commission at no cost to you. Learn more.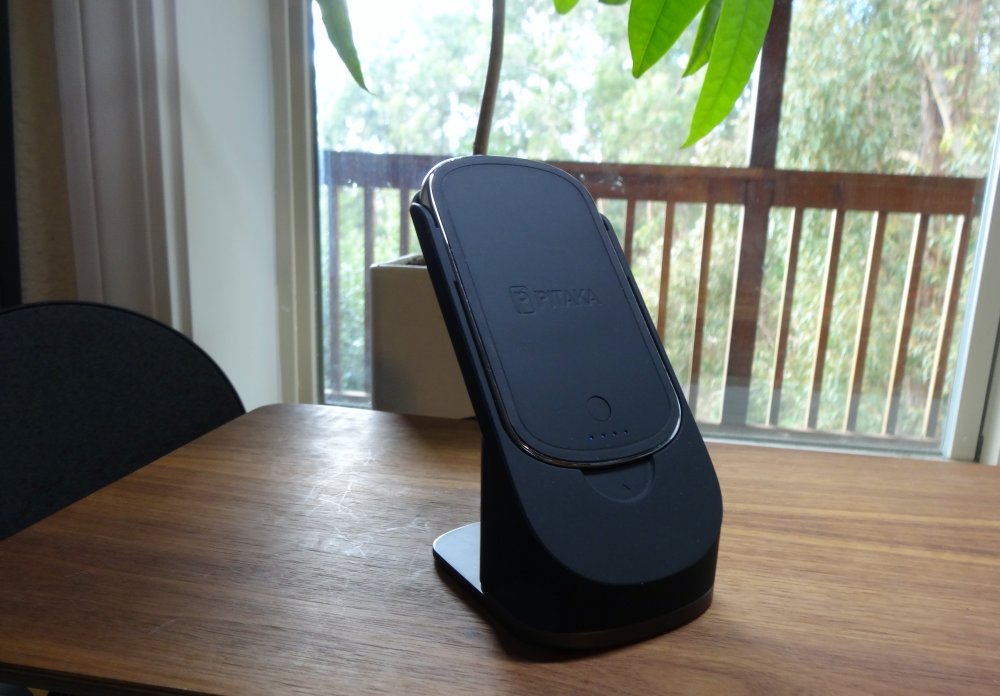 REVIEW – Remember when you used to be able to buy extended batteries for your mobile phone? You could remove the battery cover and the small stock battery and pop in one double the size in exchange for a new bulge on the back. You may also fondly remember the docks that came with palm pilots and the like that kept you charged while providing a bit more functionality to your device at your desk. The latter is definitely still around in new form factors, but the first seems to have vanished when most phones shifted to non-replaceable batteries. Well I've been reviewing the MagEZ Juice from Pitaka and it's brought both of these things back to the front of my mind. Let me tell you all about it.
What is it?
The MagEZ Juice from Pitaka is a desktop wireless charger with removable magnetic powerbank to use on the go.
What's in the box?

From left to right above
User manual/Thank you card
Adhesive magnetic plate
Device templates for plate
MagEZ Juice (portable battery)
MagEZ Juice (desktop stand)
Power adapter
Hardware specs
Power: Input/output/wireless output – DC 5v/1A
Wireless Power Transmission: ≤8mm, 75% efficiency – Qi compatible
Powerbank dimensions: 105 x 60 x 12mm
Design and features
Pitaka's MagEZ Juice is a phone dock designed to look good on your desk while taking up minimal space.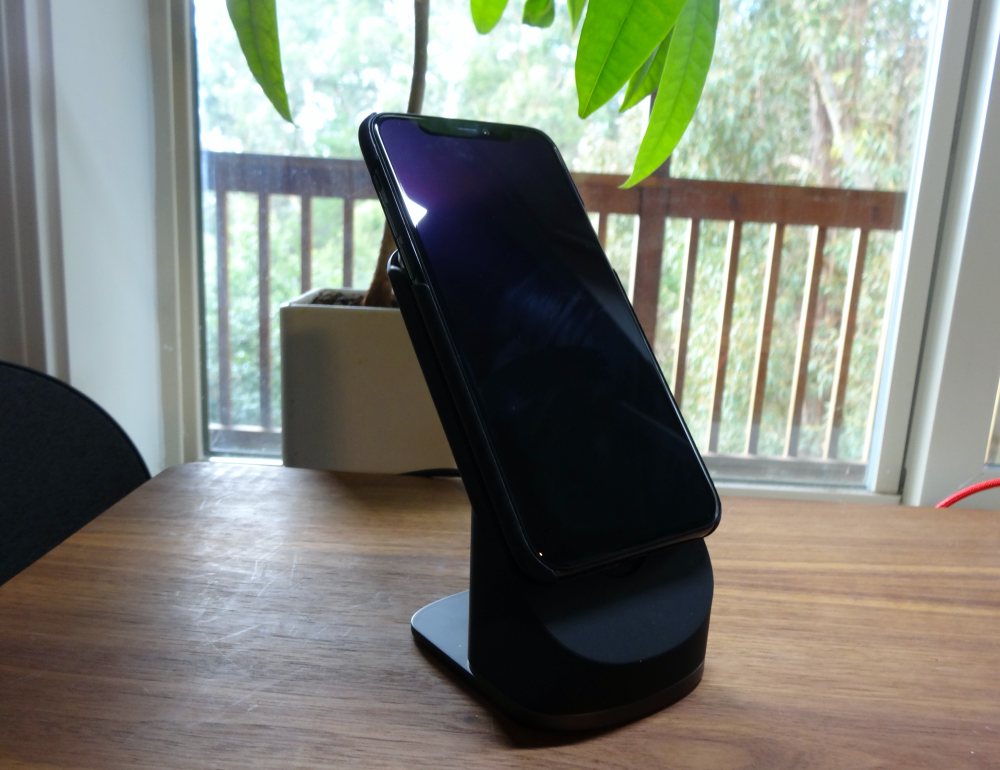 Your phone sits at a 45º angle when perched atop, and as long you position the dock well and within reach, offers great usability while your phone is charging.
Because the MagEZ relies on magnets (and specifically placed ones at that) to hold your phone in place, you need to have a Pitaka case (or the adhesive magnetic plate) on your phone for the system to work.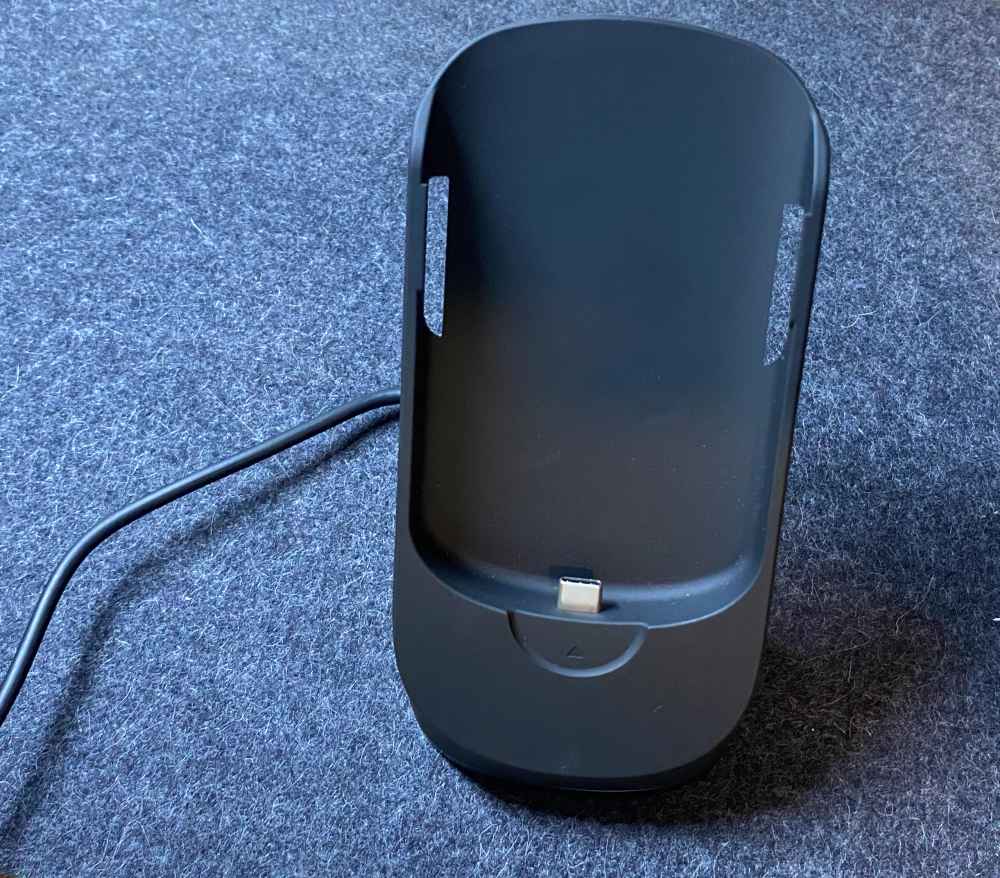 Electrically, the battery charges through a USB-C connector at its base, but charges your phone wirelessly.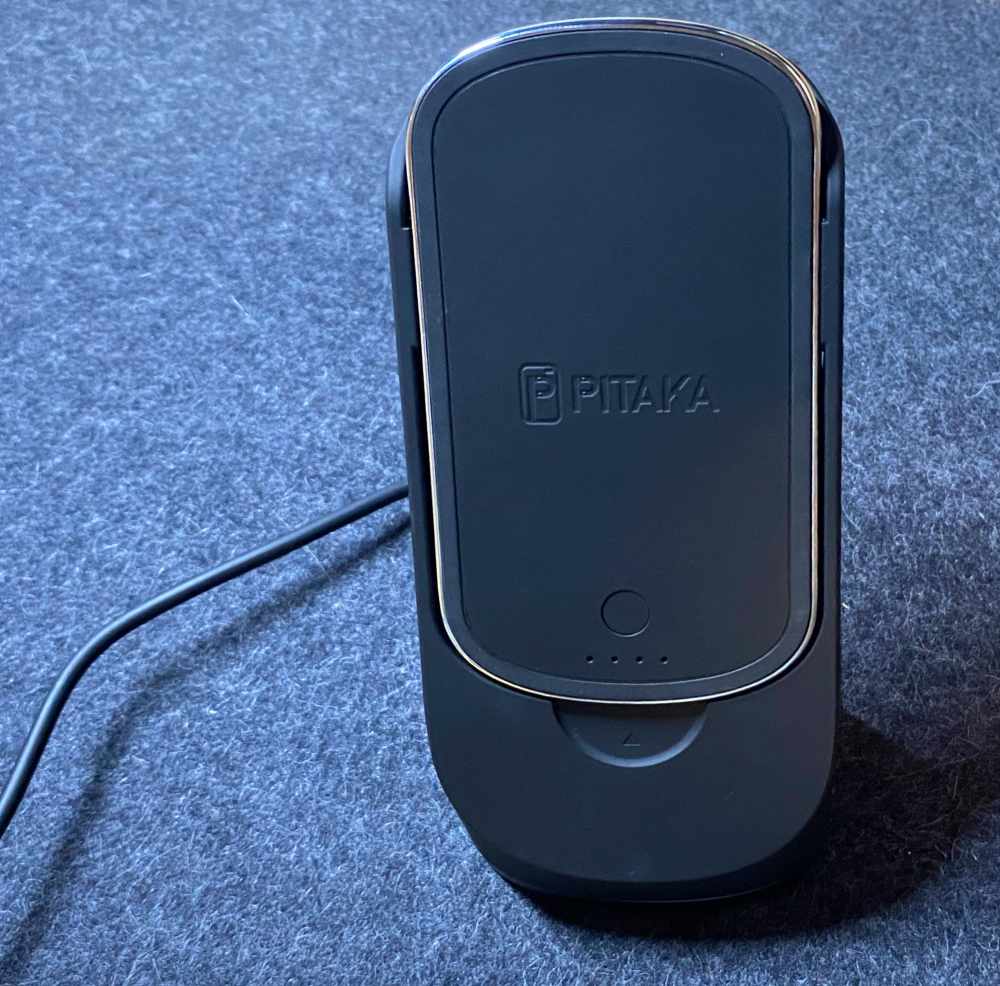 It has pass through charging meaning that both the battery and your phone are charging simultaneously. Ergonomically, if you lift your phone straight off the battery stays docked to the stand. If you slide your phone back and away, the battery disconnects from the stand and stays magnetically attached to your phone. It's a pretty elegant and intuitive solution.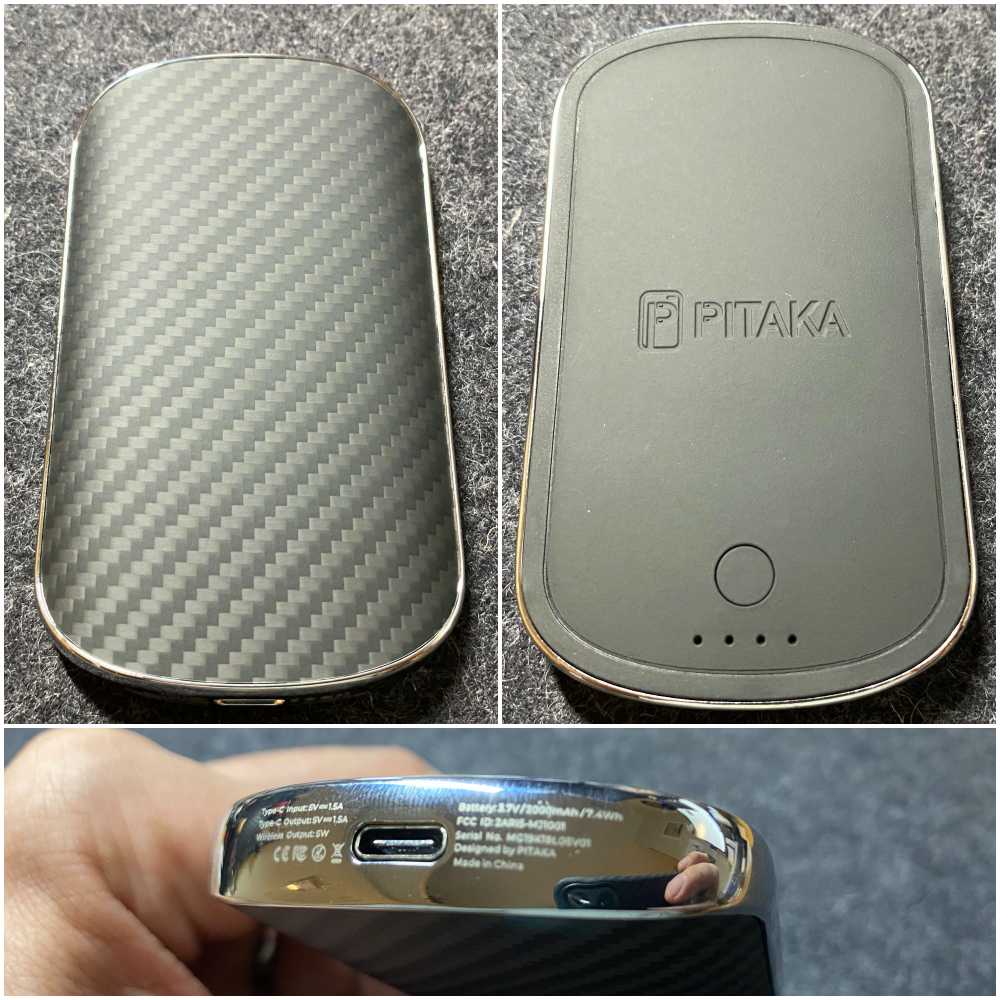 Pitaka's favorite Aramid material covers the back with a gentle curve that feels great to hold. The face is smooth and slightly rubberized with the power button and LEDs at the bottom edge. On the bottom is a USB-C port which is used to charge the battery, but can also be used as power output.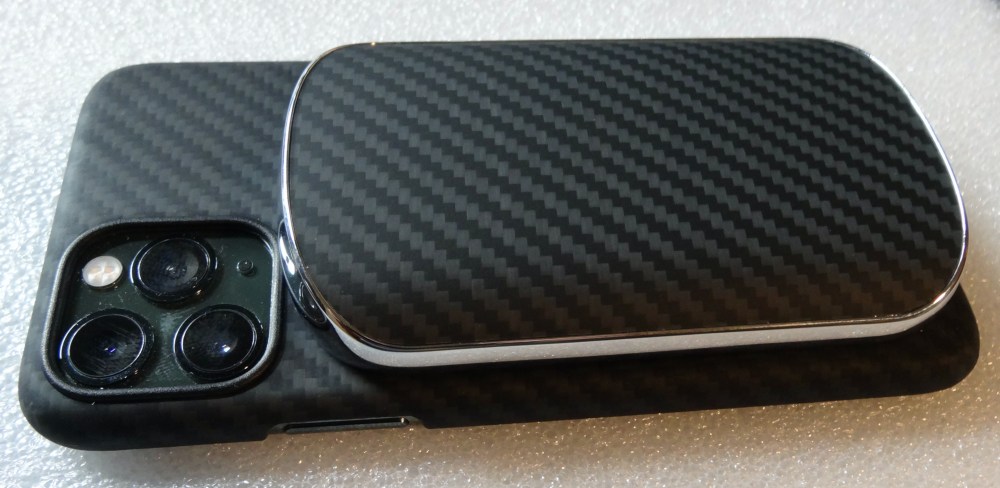 The battery is slightly undersized in width compared to an iPhone 11 Pro and runs the length from the camera to the bottom of your phone.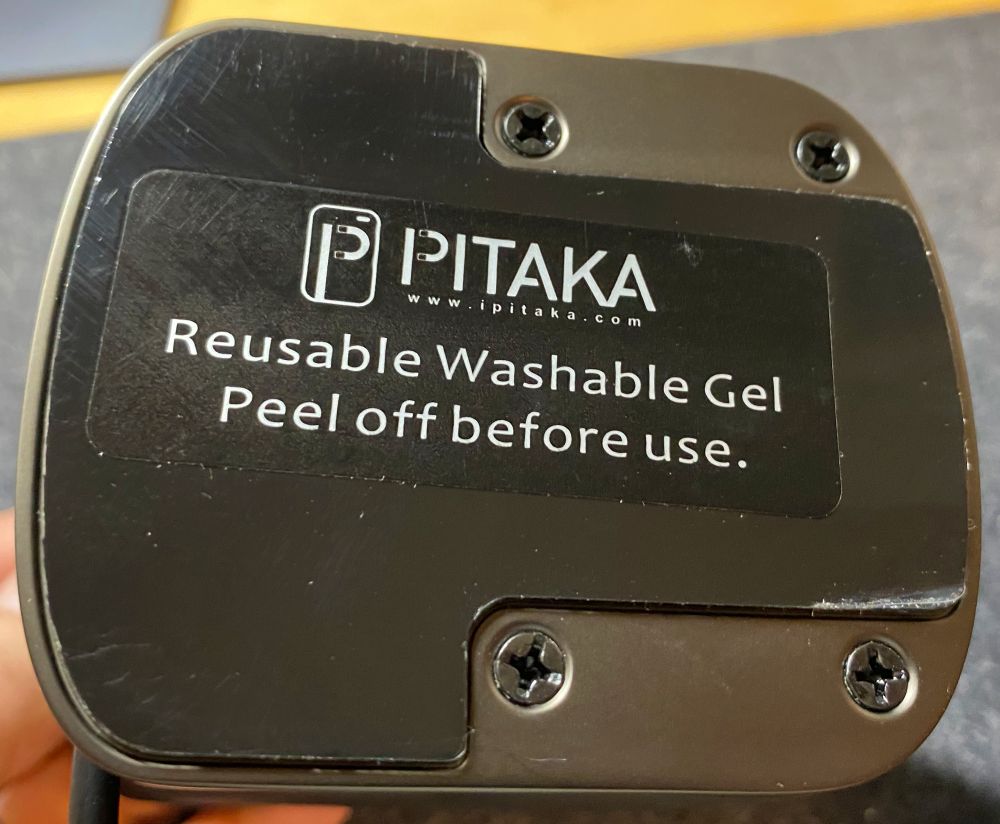 The underside of the dock has a nano-suction material to help it stay put. Just peel back the protective plastic to use it. If it stops staying put, you can wipe it down to get it sticky again.
Setup
Let's setup the dock first.
Find a good location for the dock on your desk or nightstand. (Tip: Leave the sticky base covered until you lock your position).
Connect the tethered USB-C cable of the dock to the included power supply and to a power outlet.
Slide the Pitaka battery into the dock from the top so that the USB-C port slides onto the USB-C connector of the dock.
The LED lights will come on to let you know the battery is charging and the dock is now ready to use.
Now you'll need to prepare your phone.
If you have a Pitaka case, go ahead and snap it on your phone. For this review, Pitaka provided their MagEZ case for my iPhone 11 Pro. It's available for iPhone 8 and on as well as a number of Galaxy phones from Samsung.
If Pitaka does not make a case for your phone, want to use your own case or just don't like cases, Pitaka has included an adhesive magnetic plate that you can place on the back of your device or device case. Pitaka included some templates for common phones, but the key is that you want to center their plate over your device's charging coil. Good luck!
Once your chosen solution is in place, you can now place your phone on the dock and it will magnetically center and start charging.
On the go.
Lift straight up (90º from the face of the dock) to disconnect your phone.
Slide your phone away (45º from you) to have the battery come with your phone.
Slide the battery away (45º from you) to remove the battery if your phone is not docked.
Charging.
If docked your phone (and the battery) will charge automatically. This also works on the go if you connect USB-C to the battery.
If mobile, you will need to press the button on the magnetic face of the battery once to start charging; double click to stop. This does mean you need to remove from your phone to activate, deactivate.
It will also charge almost any USB powered device if you bring your own cable.
It can be charged from any USB power supply, but will not charge from a laptop or iPad.
Performance
I'm admittedly a Pitaka fan, and I really like this product. Here's all the stuff Pitaka got right…
The build quality is great. From the dock, to the battery, the adhesive plate and the guides. It's all top notch. If you already have any Pitaka products, the MagEZ Juice just extends the ecosystem. I like being able to get to my desk, set my phone directly on the MagEZ dock and know that it's getting charged while having my phone within reach and sight to interact with.
Getting up to run to lunch with just the phone or grab the battery too for a long day out is a split second choice that's super easy to make. Having the battery right there under the phone makes it really hard to forget.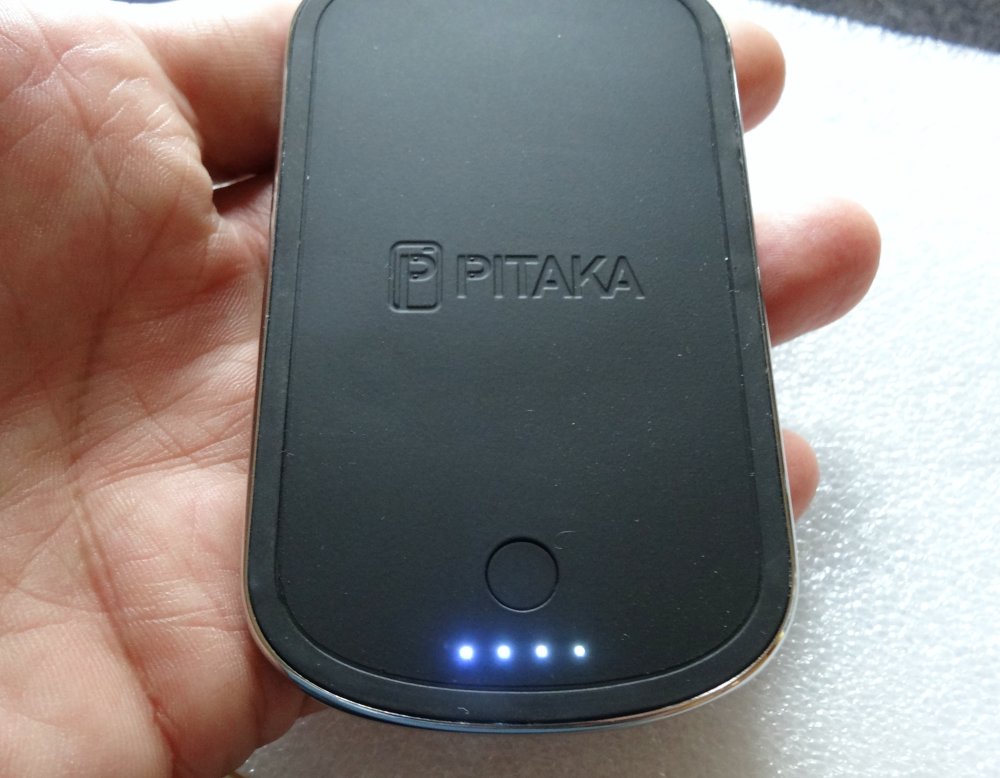 I like that the battery then sits dormant waiting for you to decide when to turn it on. The 2000mA capacity of the battery is not going to give you a full charge on anything but some headphones, but it will save your bacon in emergency situations, especially if you keep USB-c source cables in your go-bag for all your other devices.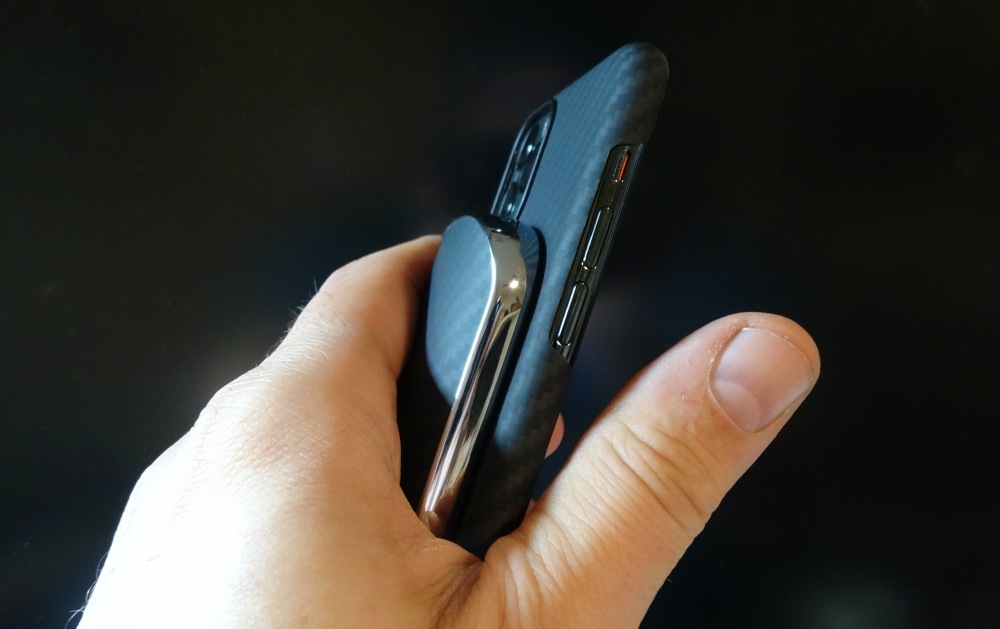 When the battery is in place on your phone, especially on a Pitaka case, it really feels integrated, secure and super-hand friendly. It's what reminded me of those extended battery packs on phones all those years ago. But unlike those it can be removed in a heartbeat and stowed in your bag when not needed or depleted.
As much as I like the MagEZ Juice, there are some things that you'll want to know and some things that could be improved.
First, the dock only works as a dock if the battery is in place. It is both the magnet and the wireless charger, so if it is still in your bag the dock is useless. This happened to me more than I would care to admit. Hopefully your bag is close.
I'd buy a second battery in a moment if they were sold separately, which they are not for some reason. I can easily see swapping them on the dock so one is always charged. The MagEZ kit does come in two colors however, the difference being the color of the trim on the battery. Gunmetal or Silver (which I received).
Second, the dock (with battery) only works with a magnetic solution on your device, be that Pitaka case or adhesive plate. This one's a bit more frustrating for me as I do change my case frequently. If the dock had a small ledge to allow a phone to rest it could work provided the charging coils align properly.
Lastly, a point which I mentioned quickly in the setup section. I'm not sure of the exact internal logic, but it does not seem possible to charge this battery via USB-C from another battery powered device (unless that device is connected to it's own power supply). This is probably a fringe scenario anyway.
What I like
Desktop functionality
On-the-go magnetic battery
Battery dockability
What I'd change
Stand needs a small ledge to allow devices without a Pitaka solution to charge
Ability to buy the MagEZ battery by itself
Final thoughts
Backup batteries are a necessary evil, and it's usually when you don't have one on hand that you need one the most. Pitaka's MagEZ Juice provides that battery and a habitual use scenario that almost guarantees that you will leave the house with one that's fully charged. That makes this worth more than the sum of its parts, even with the few concerns.
Price: $89.99
Where to buy: Amazon
Source: The sample of this product was provided by Pitaka