We use affiliate links. If you buy something through the links on this page, we may earn a commission at no cost to you. Learn more.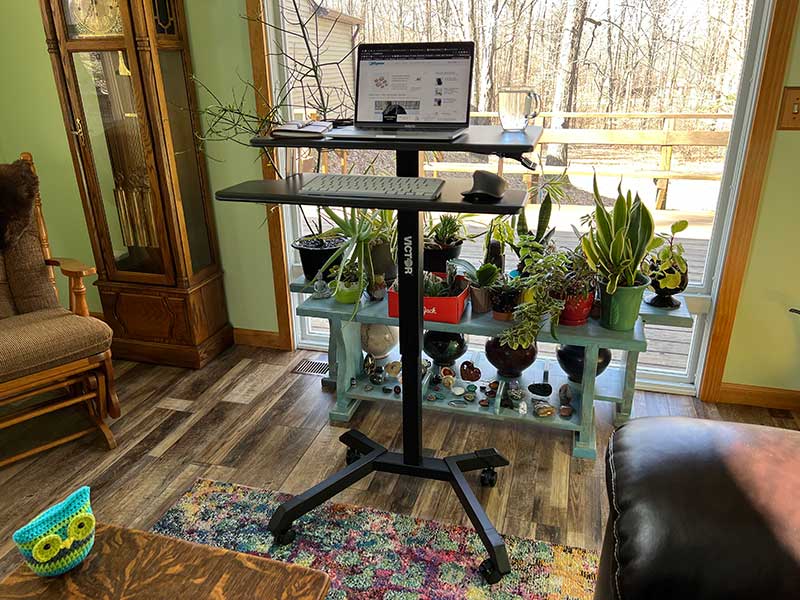 REVIEW – Standing desks are a healthy alternative to sitting all day but some standing desks need an existing desk and other standing desks are large and need dedicated office space. If you've been looking for a smaller standing desk, today's review might be exactly what you're looking for. It's the Victor Tech High Rise Mobile Standing Desk. Let's check it out.
What is it?
The Victor Tech High Rise Mobile Standing Desk is a small standing desk on wheels that you can easily roll from room to room.
What's in the box?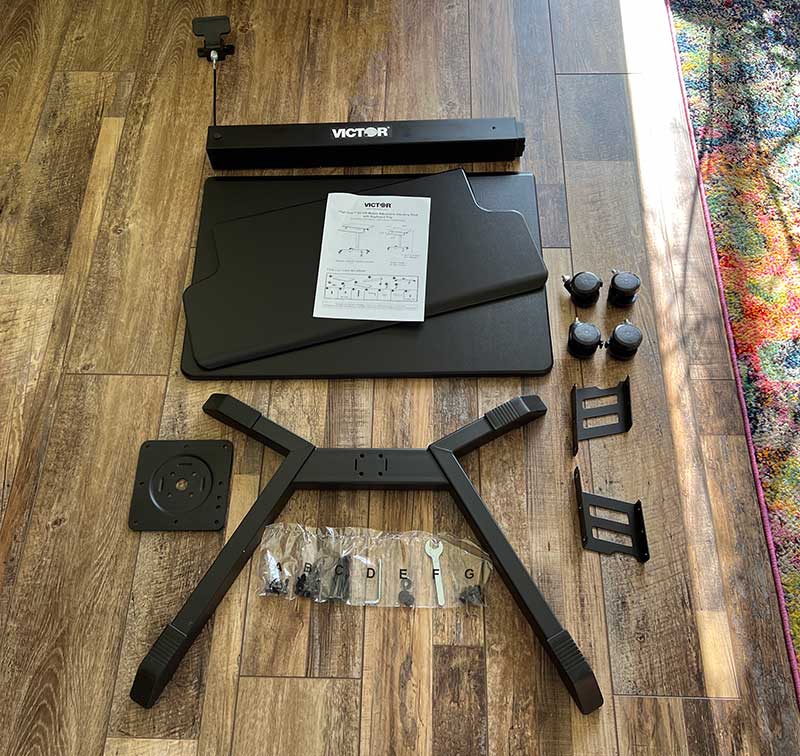 Victor Tech High Rise Mobile Standing Desk parts
Tools
Design and features
The Victor Tech High Rise Mobile Standing Desk arrives unassembled, so you'll need to set aside about 30 minutes to put it together. It's also helpful if you have another person help you with the assembly but it's not mandatory. Tools are included with the desk but I found that I needed a Philips screwdriver with a larger tip for easier assembly. I found it odd that some screws/bolts are Philips and some use an Allen wrench (included).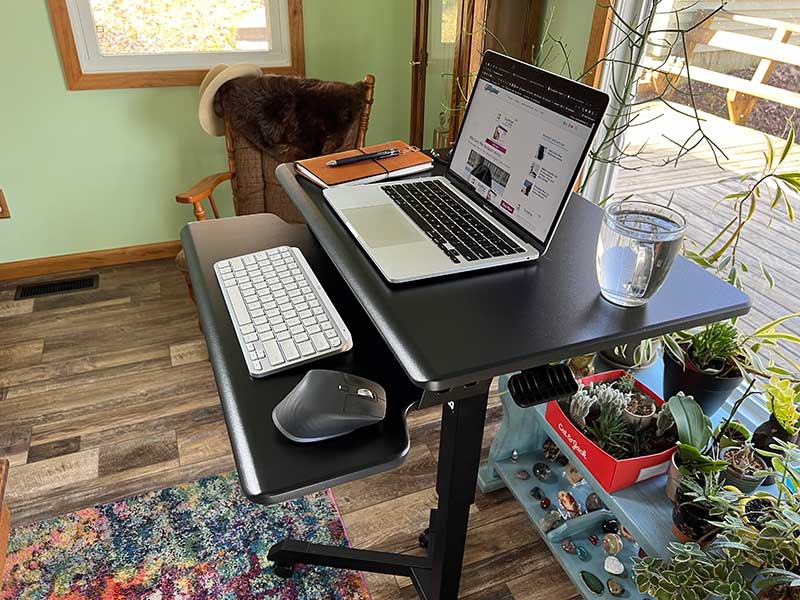 And here we have the finished desk. As you can tell, the Victor Tech High Rise Mobile Standing Desk has a two-tier design. The primary platform for your laptop, tablet, etc, and then there's a smaller keyboard platform that is wide enough for a full-sized keyboard and a mouse.
On the right side under the top platform, there is a lever that is used to raise and lower the desk.
The desk is mounted on a 4-wheeled hydraulic pedestal stand that allows the height of the desktop to be 29.5 inches when fully collapsed. and 45 inches when fully expanded.
I find that I have to add some real downward pressure on the top of the desk to lower it. I also find that it's easier to lower the desk when the top is cleared off so you can lean on it.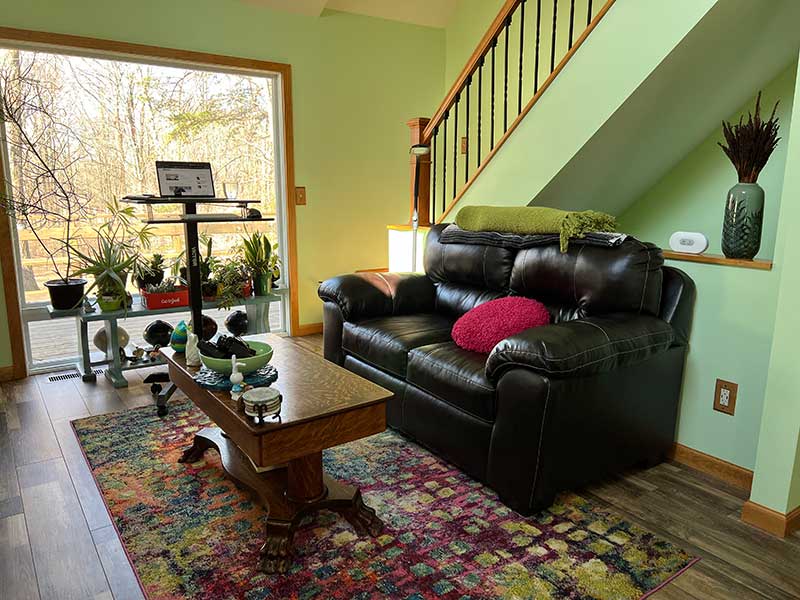 Like many people, I've been working from home since March of 2020. My office is in my basement and has 1 small window that I can't really see out of. Using the Victor Tech High Rise Mobile Standing Desk, I can relocate to the main floor where I have an awesome view of my yard where deer and turkey wander in semi-regularly. I also have a bird feeder and enjoy watching birds as I'm working on my next review. And the bonus is that I can stand instead of just sitting all day long.
The position of the locking wheels also allows for using this desk while seated too as there is room for your feet to be under the desk. It's worked great positioned in front of the rocking chair that you see in the image below.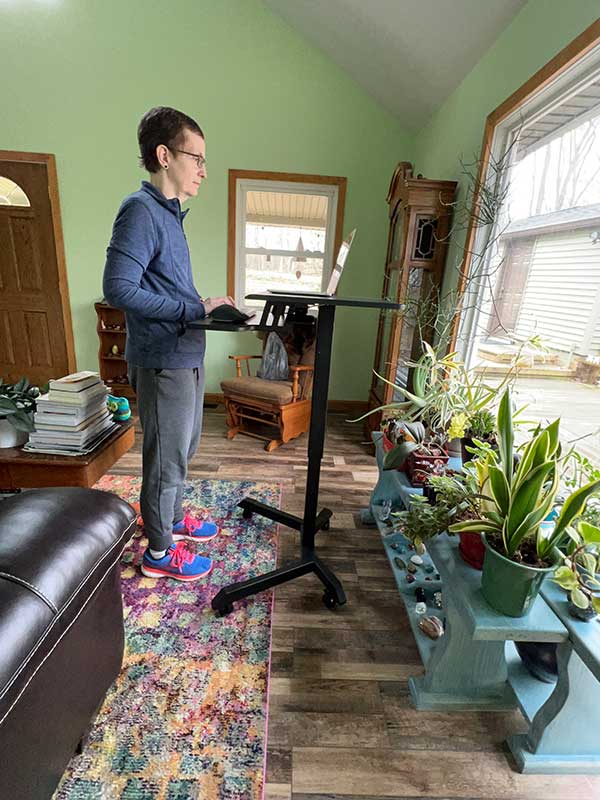 In the image above, I'm standing in front of the desk with it fully raised. I am 5'6″ tall and as you can see, the desk at the perfect height for me to type. According to best ergonomic practices, you should have your arms at a 90-degree angle to the keyboard and that's the angle of my arms when using the keyboard platform. That means that people taller than me will have a less ergonomic setup…
The desk is stable but it does jiggle slightly when I'm touch typing using the Logitech MX Keys Mini keyboard on the keyboard platform.
What I like
Easy to assemble
Small enough to stow in a corner
Good height customization
What I'd change
Need a version of the desk that can go even higher for taller people
Final thoughts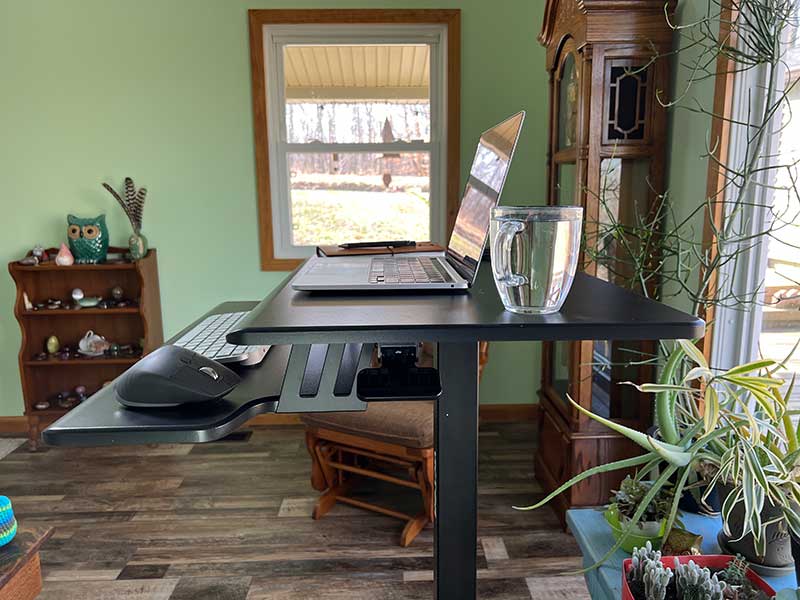 I have found that the Victor Tech High Rise Mobile Standing Desk has been a nice addition to my WFH setup. It allows me to relocate to a different (more scenic) area in my home as well as get out of my chair several times during the day. As long as you're not too tall, I think this standing desk is very nice.
Price: $213.99
Where to buy: Victor Tech
Source: The sample for this review was provided by Victor Tech.