We use affiliate links. If you buy something through the links on this page, we may earn a commission at no cost to you. Learn more.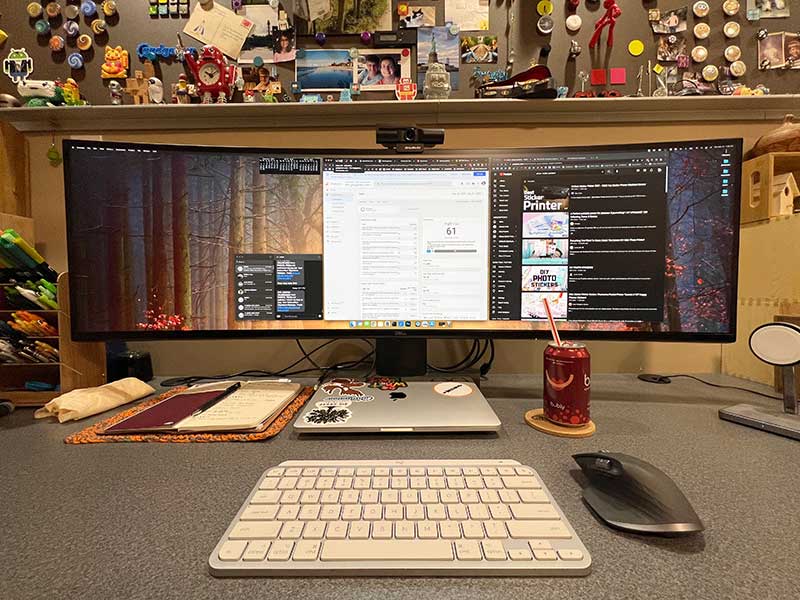 REVIEW – Unless you're a tablet purist and only use an onscreen keyboard for all of your text input, a physical keyboard will be one of your most-used computer/laptop peripherals when you want to get real work done. Logitech's line of MX keyboards and mice have long been my favorites and today I'm excited to show you the latest keyboard from Logitech that I've had the chance to test. It's the Logitech MX Keys Mini keyboard (macOS version). Let's get typing!
What is it?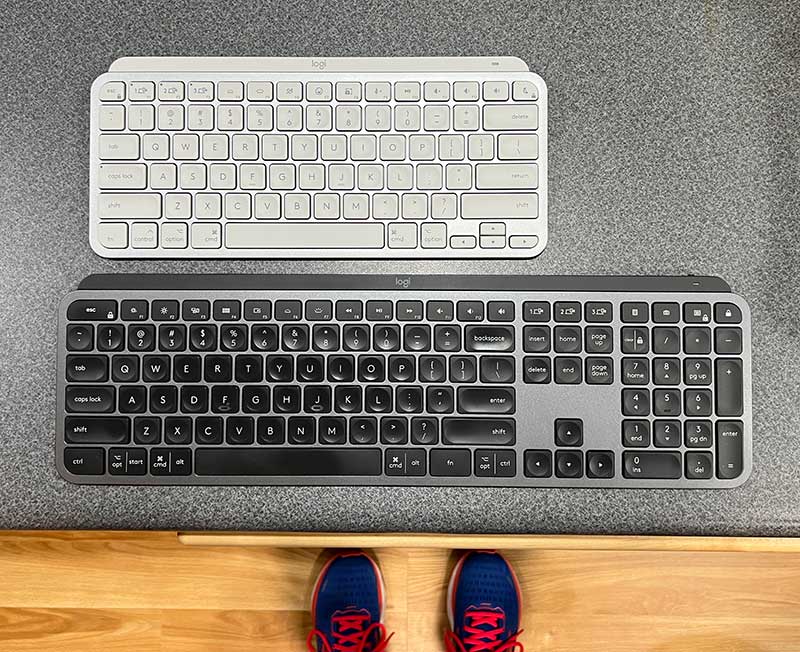 The Logitech MX Keys Mini is a Bluetooth keyboard that is a smaller version of the full-sized Logitech MX Keys keyboard that has been my favorite keyboard and daily driver since I reviewed it back in 2019. This pairs with your computer or tablet using Bluetooth or you can also use it with the Logi Bolt USB receiver (sold separately).
What's in the box?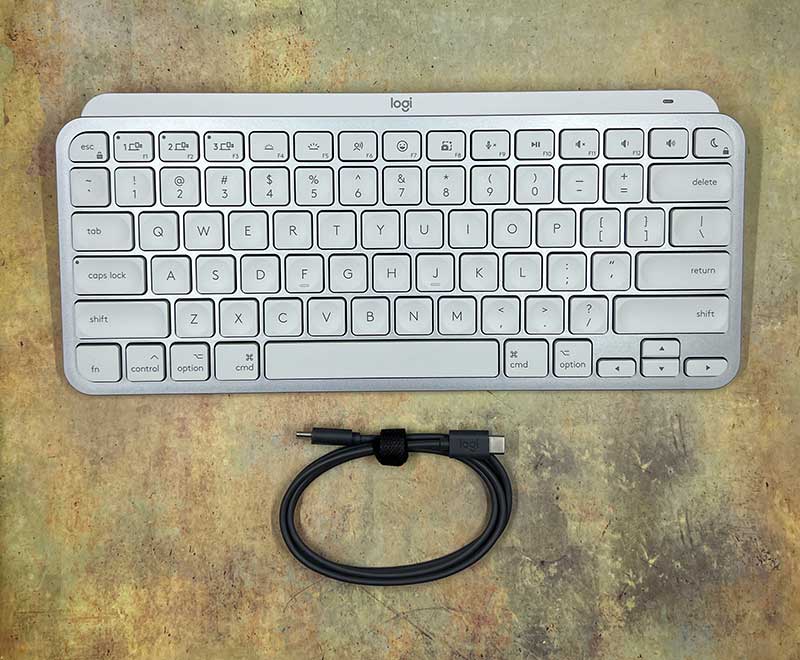 Logitech MX Keys Mini keyboard
USB-C charging cable
Design and features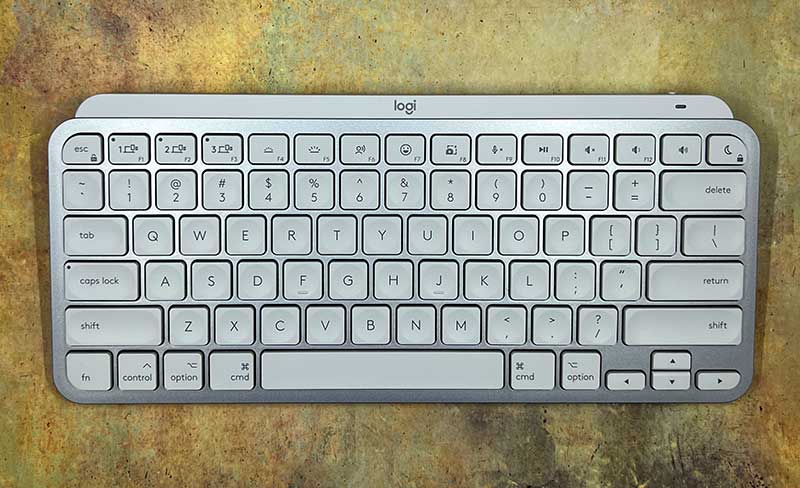 As I showed in the 2nd picture of this review, the Logitech MX Keys Mini keyboard is pretty much a shrunken-down version of the original MX Keys keyboard. It's easy to see that the Mini keyboard is a QWERTY style keyboard but is missing the number pad, full-sized arrow keys, as well as the grouping of 9 keys that include input switching keys, Insert, Home, Page Up, Delete, End, and Page Down keys.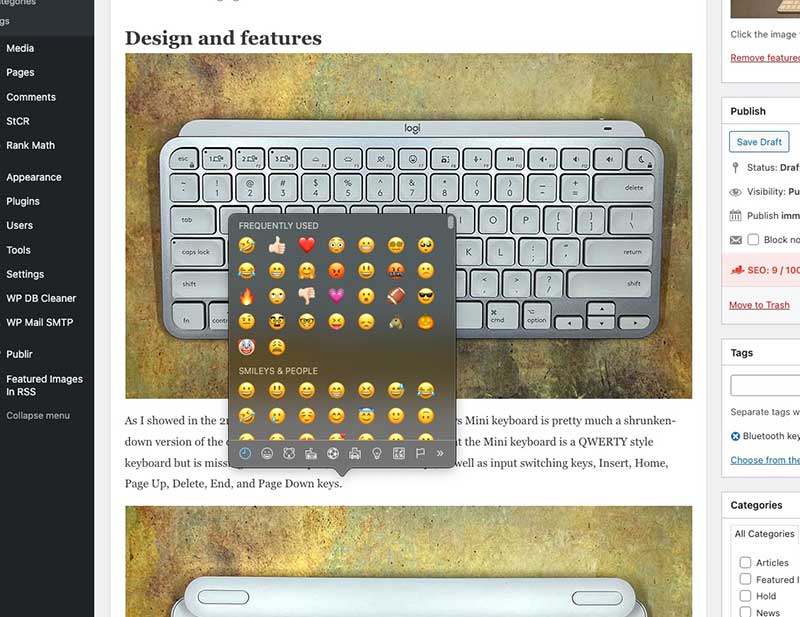 Those are the keys that are missing, but the top row of keys on the Mini includes the input switching keys that allow you to use this keyboard with up to 3 devices, backlight adjustment keys, dictation toggle key, emoji selection key, screenshot selection key, microphone mute key, play/pause key, speaker mute, volume adjustment buttons, and a do not disturb toggle button.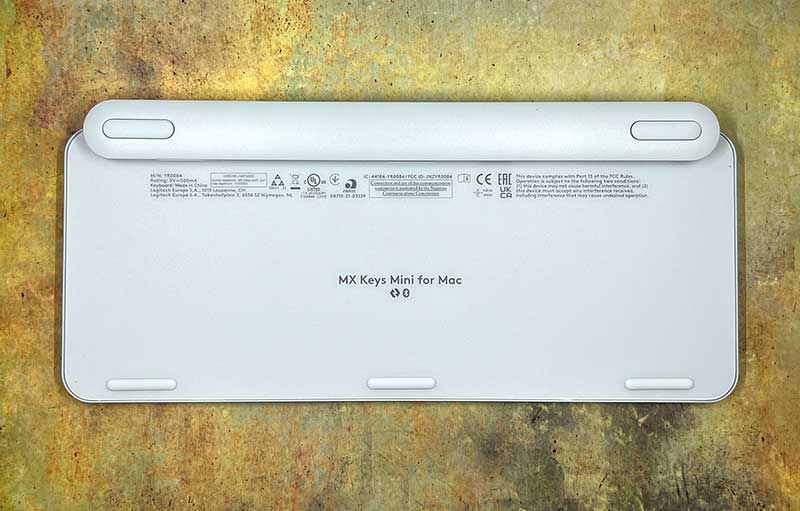 The bottom of the MX Keys keyboard has rubber feet that keep the keyboard from sliding around on your desk.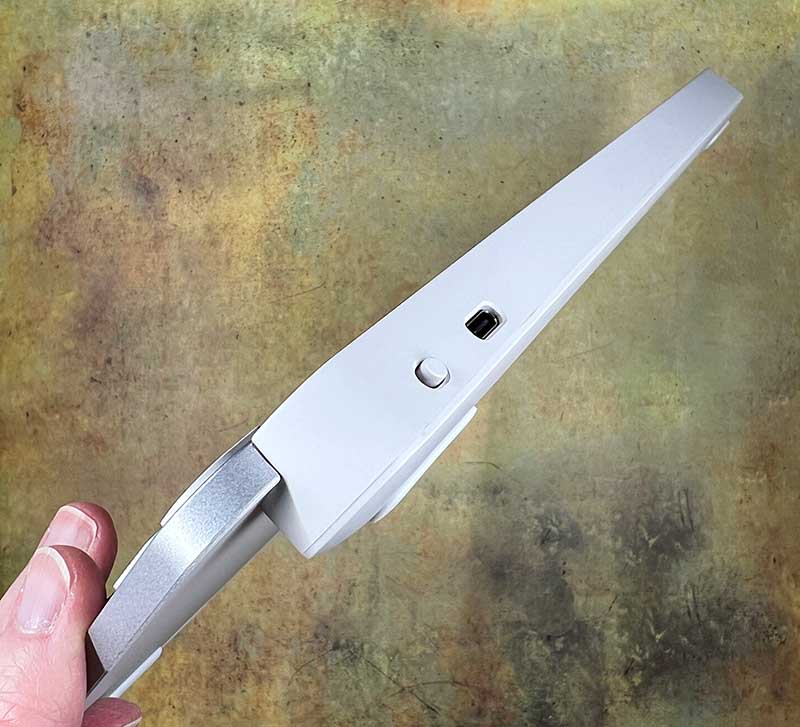 On the top edge, you'll find a power switch and a USB-C charging port. You will be able to use the MX Keys Mini for up to 10 days per charge if you keep the backlight on, but if you turn it off, the keyboard can be used for up to 5 months per charge!

The universal version of the Logitech MX Keys Mini keyboard is available in grey, graphite, black, and rose. But the Mac version of the MX Keys Mini is only available in grey (as shown here). Although it looks like the frame of this keyboard is made of aluminum, it's actually made of plastic. I think that it's cool that the plastic parts in MX Keys Mini include certified post-consumer recycled plastic. 30% for graphite and black and 12% for grey and rose.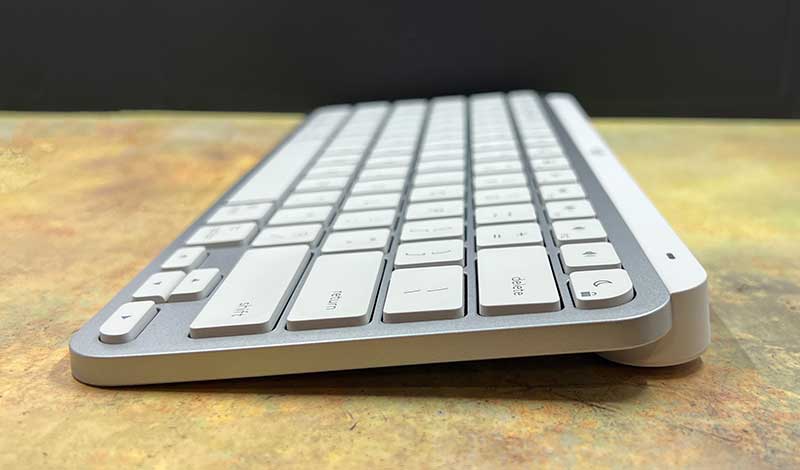 Since I've already been a fan of the Logitech MX Keys keyboard, there hasn't been a learning curve to using the Mini version. The keyboard layout, key size, etc, feels identical except for two things. The first thing I've noticed has to do with the do not disturb key in the upper right corner. You can see it in the image above, it looks like a moon. The problem is that I often accidentally press that button without realizing it and it sets my MacBook and my iPhone to do not disturb. That means that I'll miss incoming notifications until I realize what's going on.
That brings me to issue (for me) number 2. On the universal version of the MX Keys Mini, the do not disturb button is the DEL button. I have a Delete button on my full-sized version of the MX Keys and I really miss it. If you're a macOS user, you know that there isn't a dedicated button that works the same as a delete button on a PC. Yes, there's a button labeled delete on Mac keyboards, but its function is to backspace one character to the left. On a PC, the delete button deletes the character on the right and the backspace key deletes the character on the left. Yes, you can get the same functionality as the PC delete key on a mack by pressing FN+Delete, but I like having 2 separate dedicated keys.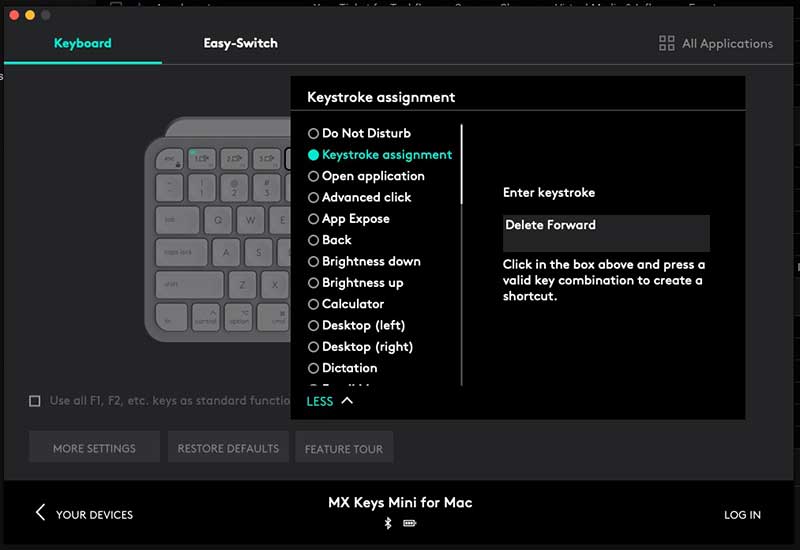 As luck would have it, you can remap any of the function keys using the Logi Options software. So I just remapped the do not disturb button to the key combo of FN+Delete and voila, happiness achieved!
See and hear it in action
What I like
Same Logitech goodness but in a smaller form factor
Media and other special keys
Comfortable typing
What I'd change
Offer it in graphite, black, and rose like the PC version
Final thoughts
The Logitech MX Keys Mini keyboard is another great keyboard from Logitech. I like that I have more desk space compared to using the full-sized version and it feels great to type on just like the full-sized version.
Price: $99.99
Where to buy: Logitech and Amazon
Source: The sample for this review was provided by Logitech.