We use affiliate links. If you buy something through the links on this page, we may earn a commission at no cost to you. Learn more.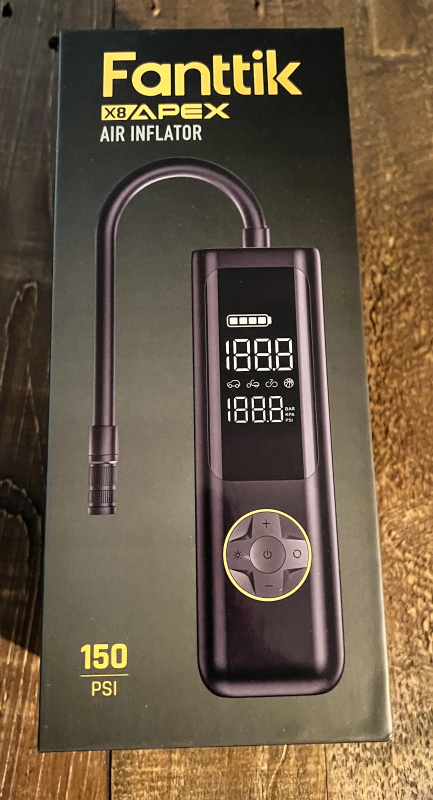 REVIEW – With 2 cars and 3 bikes in my garage, a tire inflator is a very necessary tool. Since I use my garage as a workshop, the cars are usually parked in the driveway and exposed to the very cold winter temps. During this past winter after prolonged exposure to extreme cold, there were a few days when the car tires needed air. A portable tire inflator is a perfect solution for cars and of course bikes. Let's take a look at the Fanttik X8 APEX Tire Inflator Portable Air Compressor.
What is it?
The Fanttik X8 APEX Tire Inflator Portable Air Compressor features 2X Faster Inflation, and up to 150PSI Cordless Tire Inflator with LCD Dual Screen. It is suitable to be used for Cars(Gas/Diesel/Electric), E-bikes, Balls, bicycles and, Motorcycles. It also includes a built-in battery bank for charging devices.
What's in the box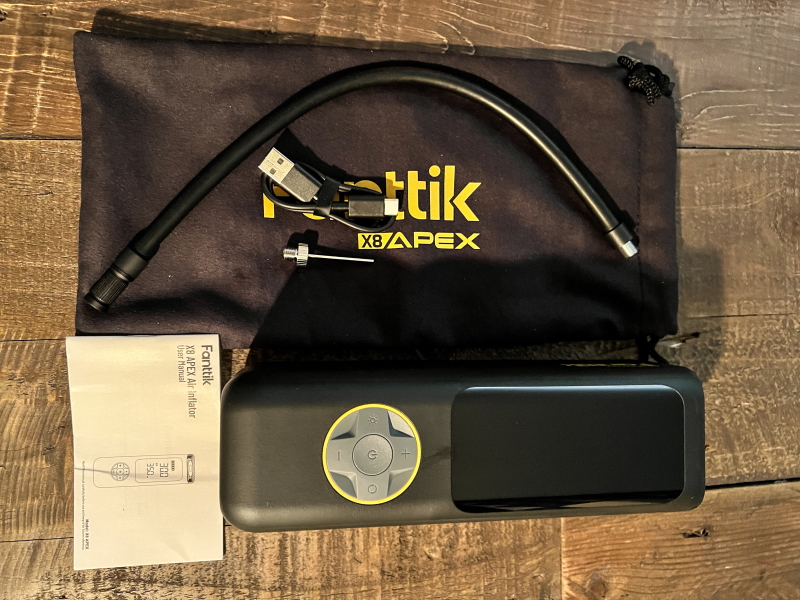 1 x Fanttik X8 APEX Tire Inflator Portable Air Compressor
1 x Air Hose
1 x Ball Nozzle Adapter
1 x Carrying/Protection Pouch
1 x User Manual
Design and features
Features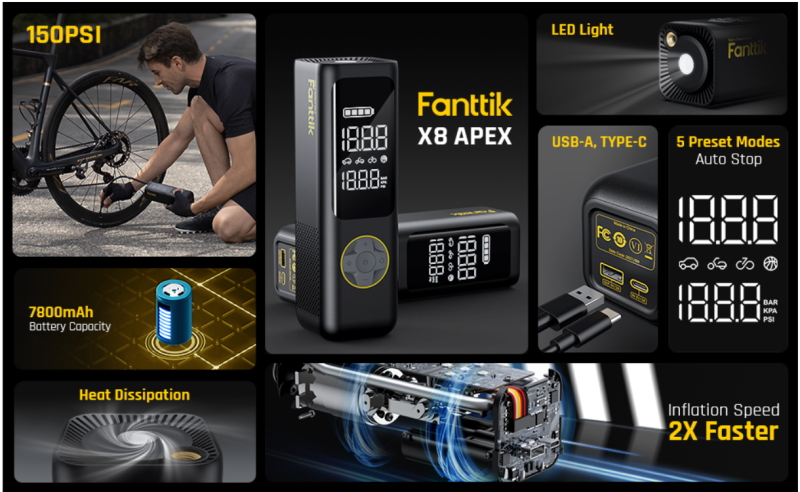 2X FASTER INFLATION: The powerful X8 APEX tire inflator has a built-in high-performance chip that can quickly inflate tires and provide max pressure of 150 PSI and air flow of 32L/Min. It takes only 14s to pump up one road bike tire(0-45PSI), less than 6 minutes for one 205/55 R16 car tire(0-36PSI).
DURABLE WIRELESS INFLATION: Come with the rechargeable 7800mAh battery, the X8 apex does not require an external power supply while working and can provide a wireless continuous runtime of up to 40 mins. Perfect for inflating cars, motorcycles, bikes, balls, and other inflatables, including new-energy vehicles like Tesla.
OPERATION STATUS IN A GLANCE: The large LCD dual display shows both real-time pressure value and preset value, convenient to read and observe the tire pressure status. 5 preset modes with auto-stop give you smart inflation. No need to worry about over-inflating your tire.
AUTO DETECT AND SHUTOFF: Preset the value you want and the air compressor will automatically shut off when the pressure is reached, so you don't have to worry about overinflating or low tire pressure anymore.
MORE THAN A TIRE INFLATOR: On the top of this air pump is a 3-mode LED light providing convenience for you to inflate and change tires in the dark. On the bottom, there is a 5V/3A USB-C input port and a 5V/2A USB-A output port, making it an emergency power supply for your phone. Besides, its compact size can be easily fit in your car, bicycle rack, or backpack.
This tire inflator has a LED screen that takes up most of the front face and the control buttons below the screen. On the top of the inflator, there is a light and an attachment for the air hose. On the bottom, there is the USB charging port for charging the inflator and for charging external devices.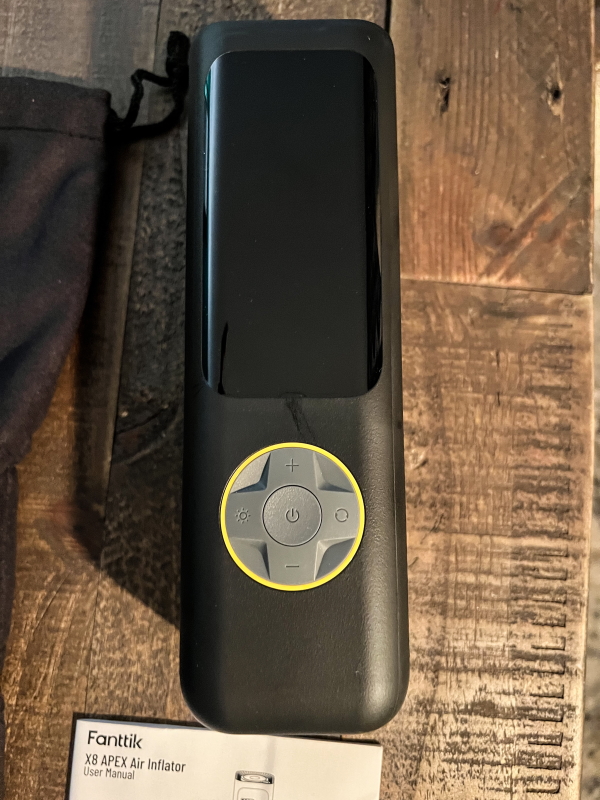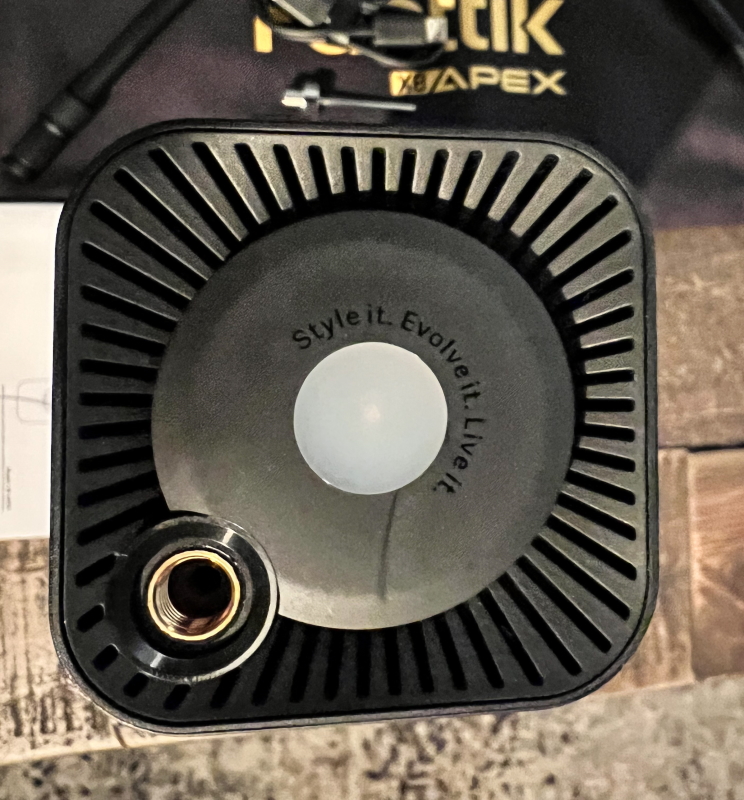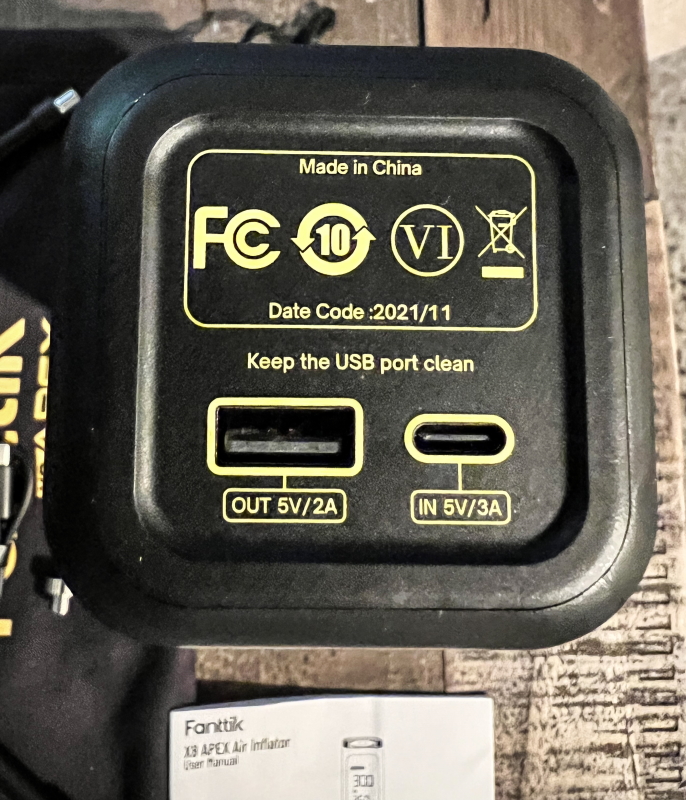 Performance
The first thing to do is to fully charge the device. I recommend using the USB cable with an AC adapter as opposed to plugging it into some charging device with a USB port. The AC adapter method charges the device much faster. once charged, you are ready to use it.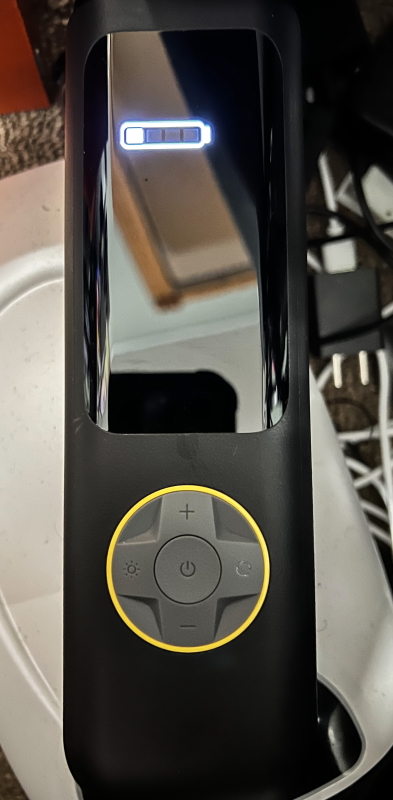 Switch Modes: Click the Mode button to switch between the five inflation modes. Long press the Mode button to cycle through psi/bar/kpa. The number on top of the screen indicates the real-time pressure in the inflated device, and the number on the bottom indicates the preset pressure.
(1) Manual mode: When in the manual mode, no mode icon is selected on the screen. The preset pressure value is adjustable, and the value and unit will be saved. Adjustable Range: 3-150psi / 0.2 – 10.3bar
(2) Car Mode: Default 2.5bar / Adjustable Range: 1.8-3.5bar
(3) Motorcycle Mode: Default 2.4bar / Adjustable Range: 1.8-3.0bar
(4) Bicycle Mode: Default 45psi / Adjustable Range: 30-145psi
(5) Ball Mode: Default 8psi / Adjustable Range: 4-16psi
For this demonstration, I used the inflator to put air in the tires of my wife's bike: (The LED looks like it is flashing in the video but it is not. That effect is likely due to the refresh rate).
Overall the Fanttik X8 APEX Tire Inflator Portable Air Compressor works very well and will be a great addition to our road trips!!
What I like
The solid build quality
The built-in battery bank
The ease of programming and use
The included carrying/protective sack
What I'd change
I would prefer a quick release end on the air hose.
Final thoughts
The Fanttik X8 APEX Tire Inflator Portable Air Compressor is a nice compact and portable inflator that works for a variety of scenarios. It is well built and performs well. It is also very easy to program. Well done.
Price: $119.97
Where to buy: Amazon
Source: The sample for this review was provided by Fanttik.