We use affiliate links. If you buy something through the links on this page, we may earn a commission at no cost to you. Learn more.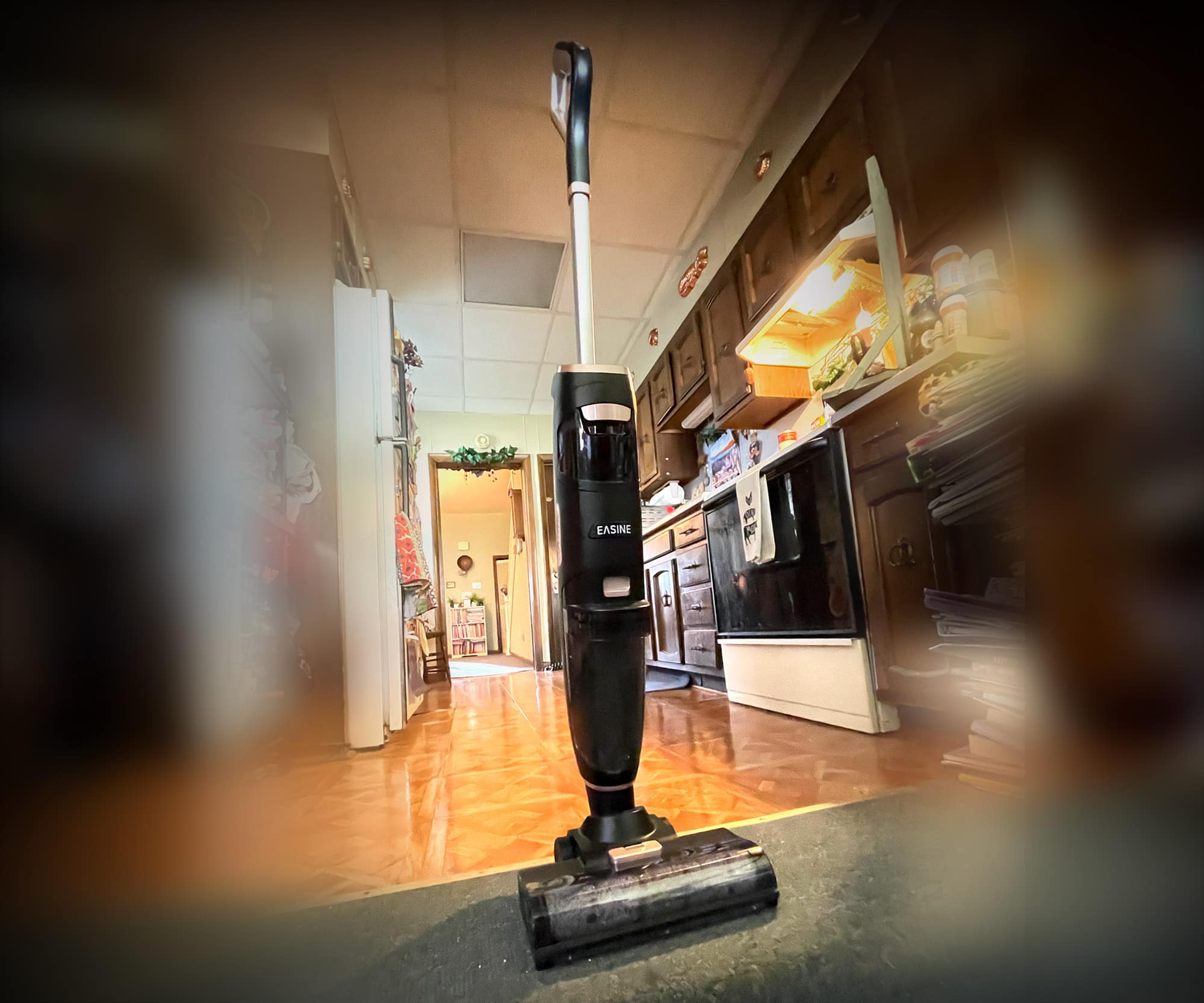 REVIEW – Household hard surfaces seem to be the norm in many modern homes and keeping them clean is a struggle… but does it have to be? So today, we're taking a look at ILIFE's new EASINE W100 Cordless Wet Dry Vacuum cleaner.
What is it?
The ILIFE EASINE W100 is a wireless wet/dry vacuum cleaner that works on a wide array of hard floors and even low-height carpets.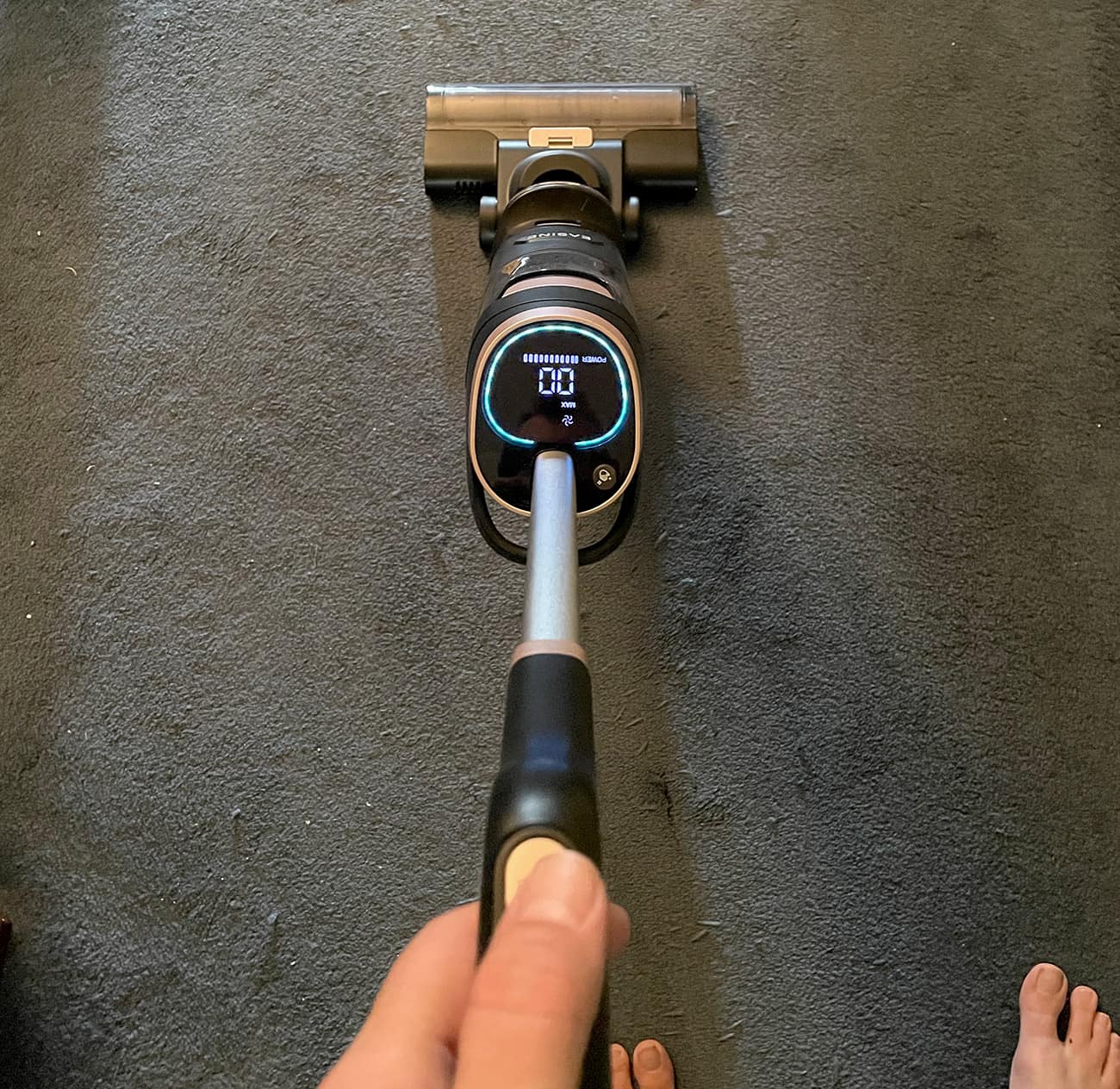 What's in the box?
ILIFE EASINE W100 Vacuum
Charging dock
HEPA Filter
Docking Station
Power Adapter
Cleaning Tool
Cleaning solution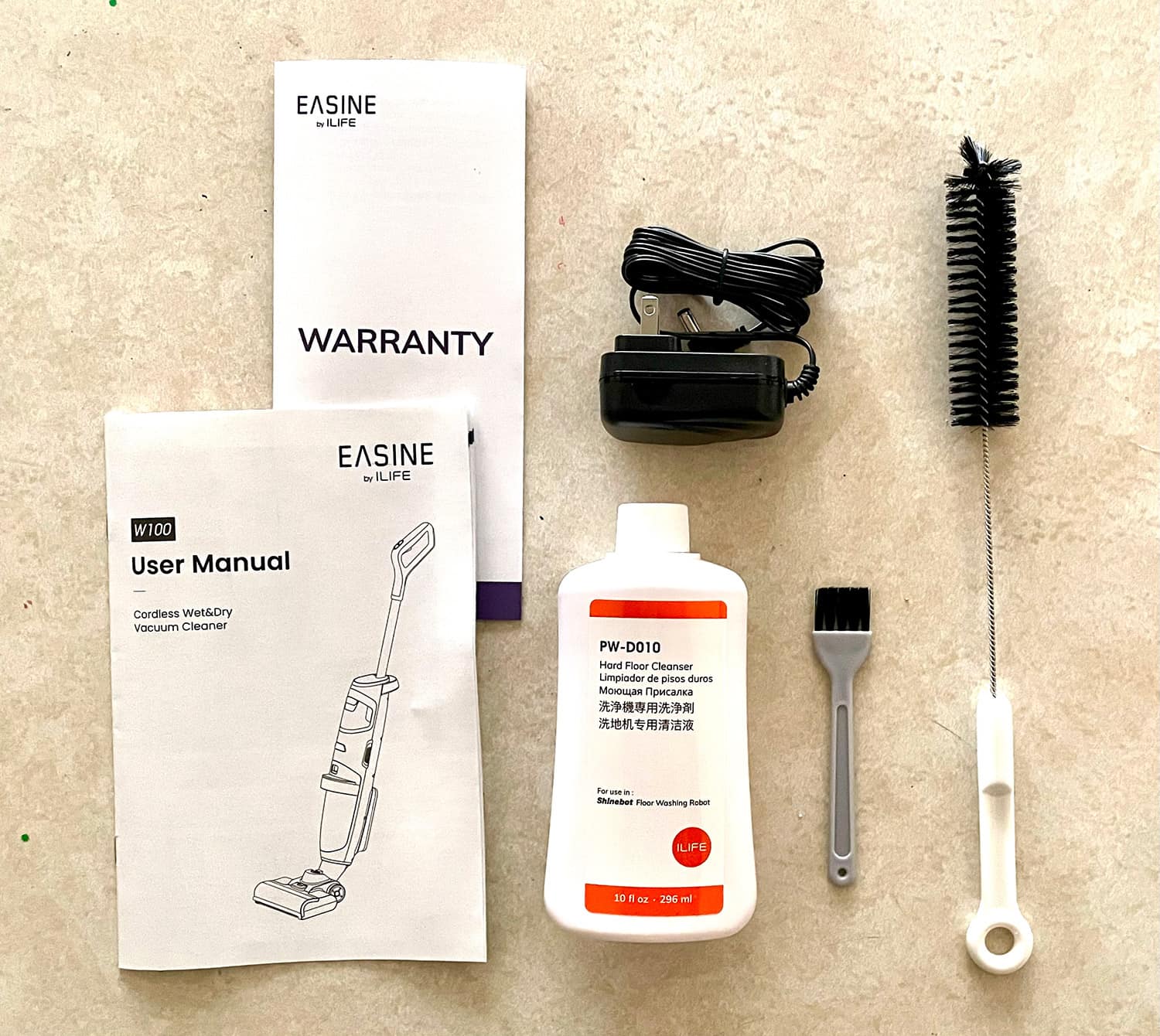 Hardware specs
All-in-One Cordless Wet Dry Vacuum Cleaner
29 x 12 x 11 inches
14.00 lbs
One Button Self-Cleaning
Multi-Surface Floor Cleaning
3000mAh battery capacity, 30 Mins Runtime
Dual Tank Technology
Capacity of clean water tank: 0.6L
Capacity of dirty water tank: 0.5L
Advanced LED Display
Smart Voice Assistant
ILIFE Cleaning Solution
6000Pa Suction in Max Power Mode (5000Pa in "normal" mode)
3-in-1 Charging Dock
Design and features
Before I received the EASINE W100 Wet Dry Vacuum from ILIFE, I had never owned a device that could suck up wet spills from my floors. Seeing as how I have only 2 uncarpeted rooms in my house, I hadn't considered anything other than a traditional broom and mop for regular cleaning. So I was interested to see how a cordless wet vac would affect my normal cleaning cycle, which is admittedly lax.
The W100 has an overall sleek and modern look with its shiny black and clear plastic body and bronze accents. Weighing in at a mere 14 pounds (maybe 15 with a full water tank) it's extremely lightweight for a vacuum, and actually not much heavier than a waterlogged traditional mop. The fact that ILIFE was able to keep the weight down and allow the runtime to stay at up to 30 minutes is impressive.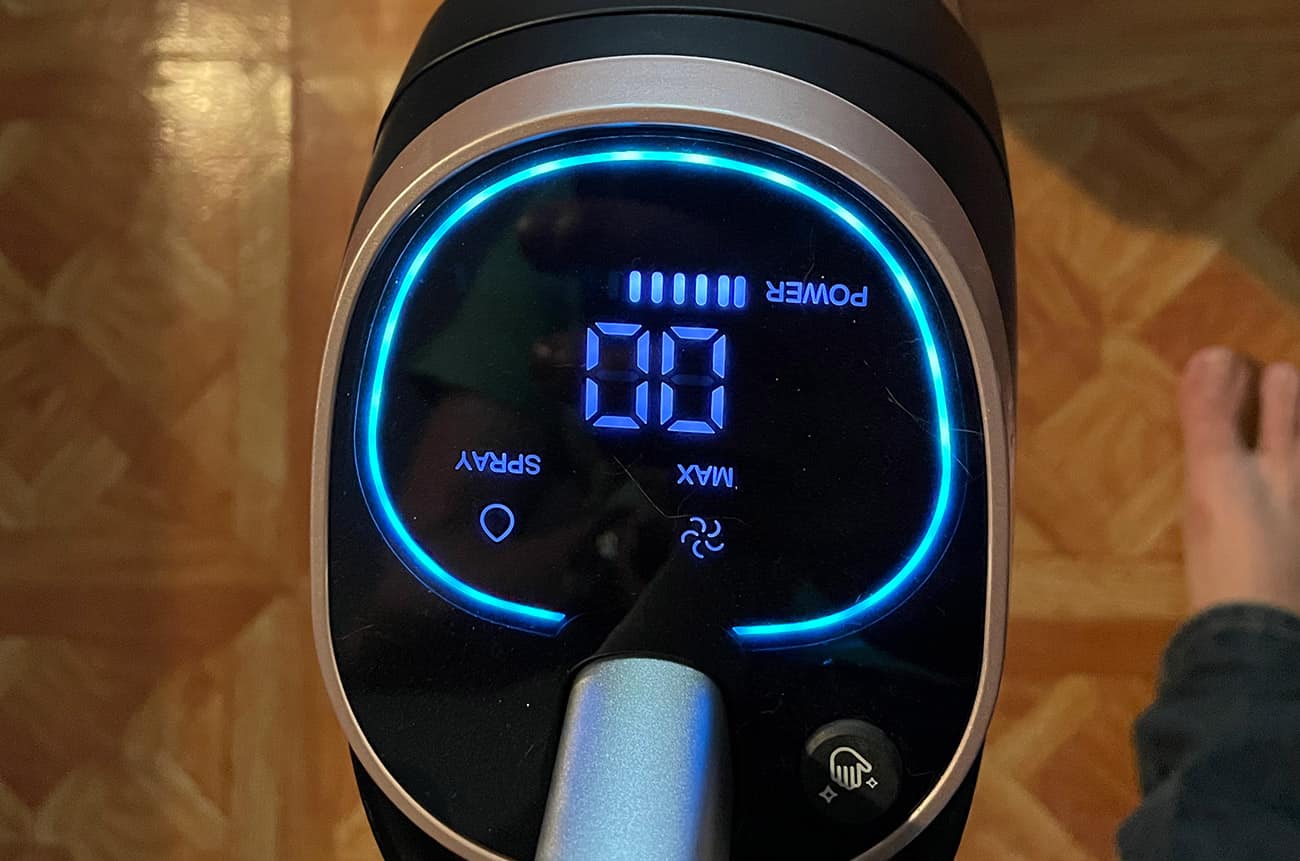 There are two buttons on the top of the handle, one for powering the device on and off, and one to toggle high and normal modes. I typically used high mode since none of my floors are all that large, might as well get the most bang for my time.
I like the LCD display on the W100, which keeps track of how many minutes you've been using it, displays the battery life, shows you if you're running in high or normal modes, and will also display if the dirty tank is full.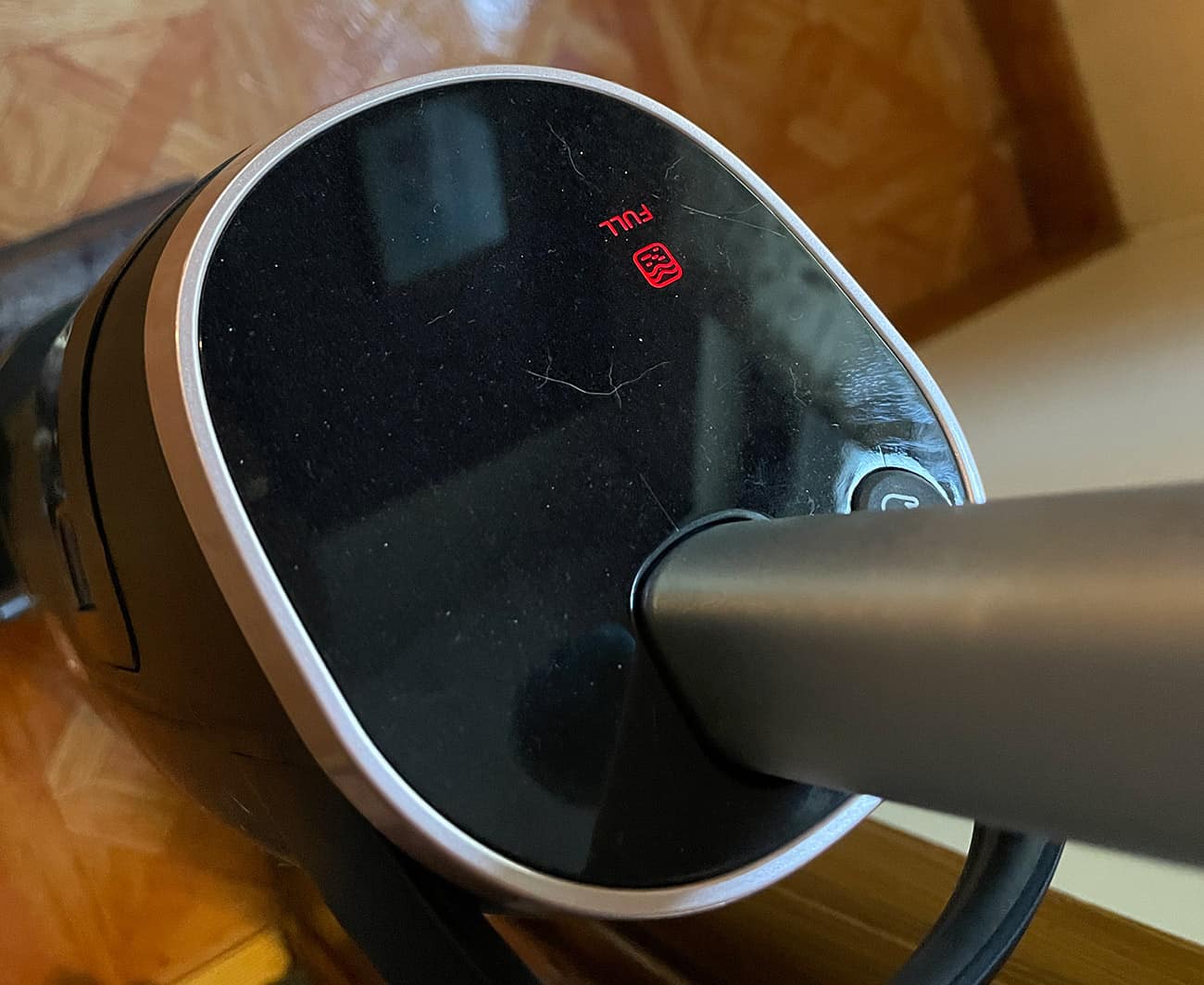 The only problem is that while using the device, which is really the only time you'd care about these statistics, the entire display is upside down. I can understand how it's more aesthetically pleasing to view the front of the vacuum and see this information right side up, but in actual use standing behind the vacuum, all that pertinent information is flipped and it's sort of annoying to look at.
In order to get a good idea of how the W100 performed throughout the review period, I reached for it every time I encountered a scenario that I'd usually use a broom, mop or even a paper towel. These were all what I'd consider "normal use" cases, as opposed to the extreme cases you'd see in a commercial like sucking up an entire 12 ounce bowl of cold cereal.
Dry Vacuuming
In the instances where you need a quick sweep of a hard surface area, the W100 is much quicker and easier to use than a broom and dustpan, hands down. Typically while sweeping I'd get these floaty bits of dust and hair that stick in the broom bristles or blow away from the resulting pile. With the W100, it sucked up most of that scattered debris, which is really nice. I'd have to say that this was the most useful aspect of the vacuum.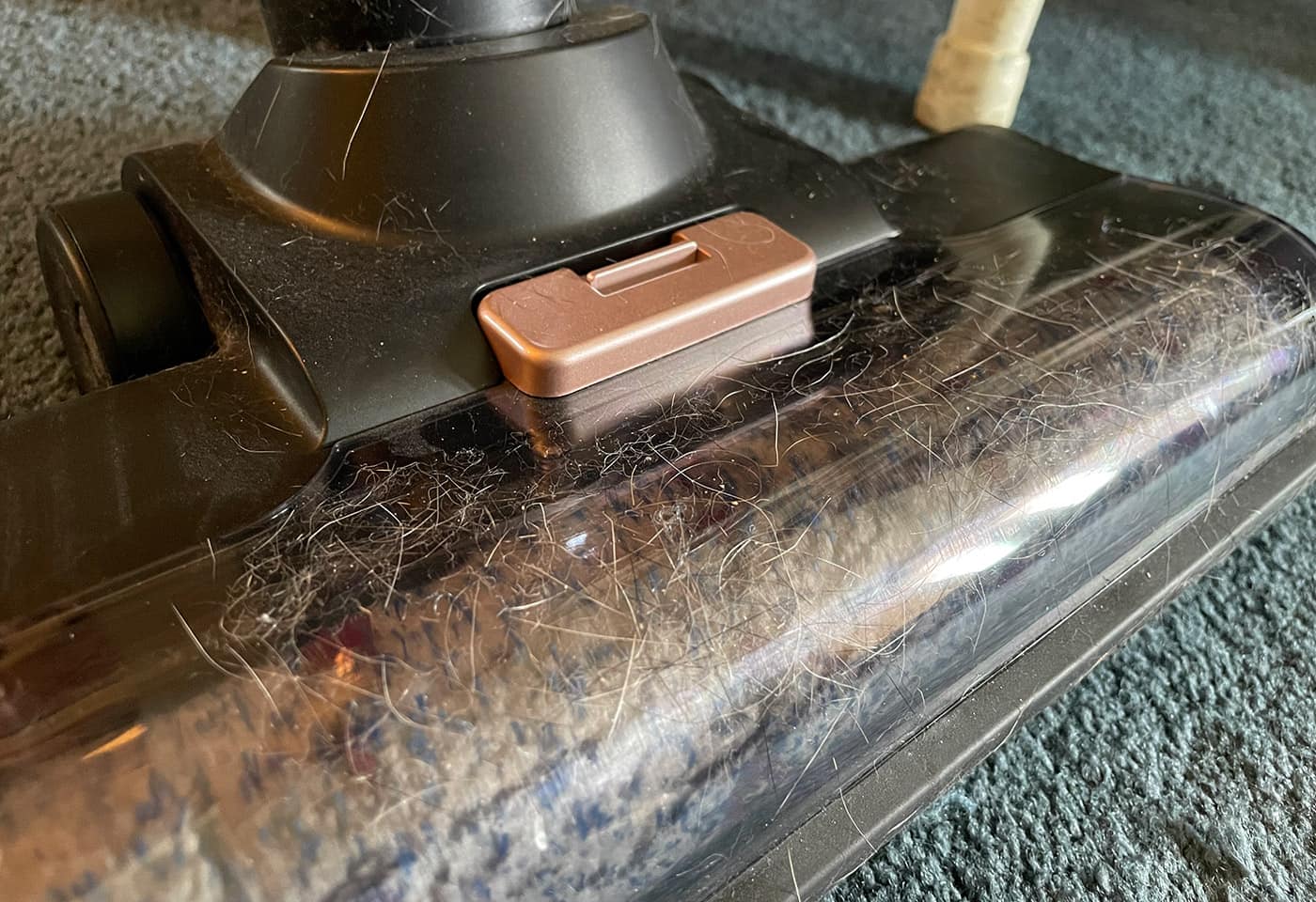 I have a very low-height carpet area next to the kitchen that can get pretty messy due to a litter box in that area. Having two cats will do that. But the W100 can actually handle sucking up litter bits, dust and cat hairs. On the roller itself, which is primarily a cushy microfiber surface, there are a couple dozen or so clusters of stiff bristles that help in pulling in some of the larger bits on the floor.
I noticed that the plastic housing of the W100 tends to attract hair and dust due to static electricity, necessitating a periodic wipe down. In fact, cleaning up dust and litter bits and cat hair on that firm carpet area caused a rather large buildup in the area after the HEPA filter and before the "dirty tank." I think it's less of a design flaw and more of a bad use case for the device.
But if you think about it, if I had nothing but hard floors in my house, there would be tons of hair and dust and bits of litter just floating around on the surface, and a lengthy dry vacuum session with the W100 would end up largely the same… clogged up bits of hair that one has no choice but to pull out with your bare hands.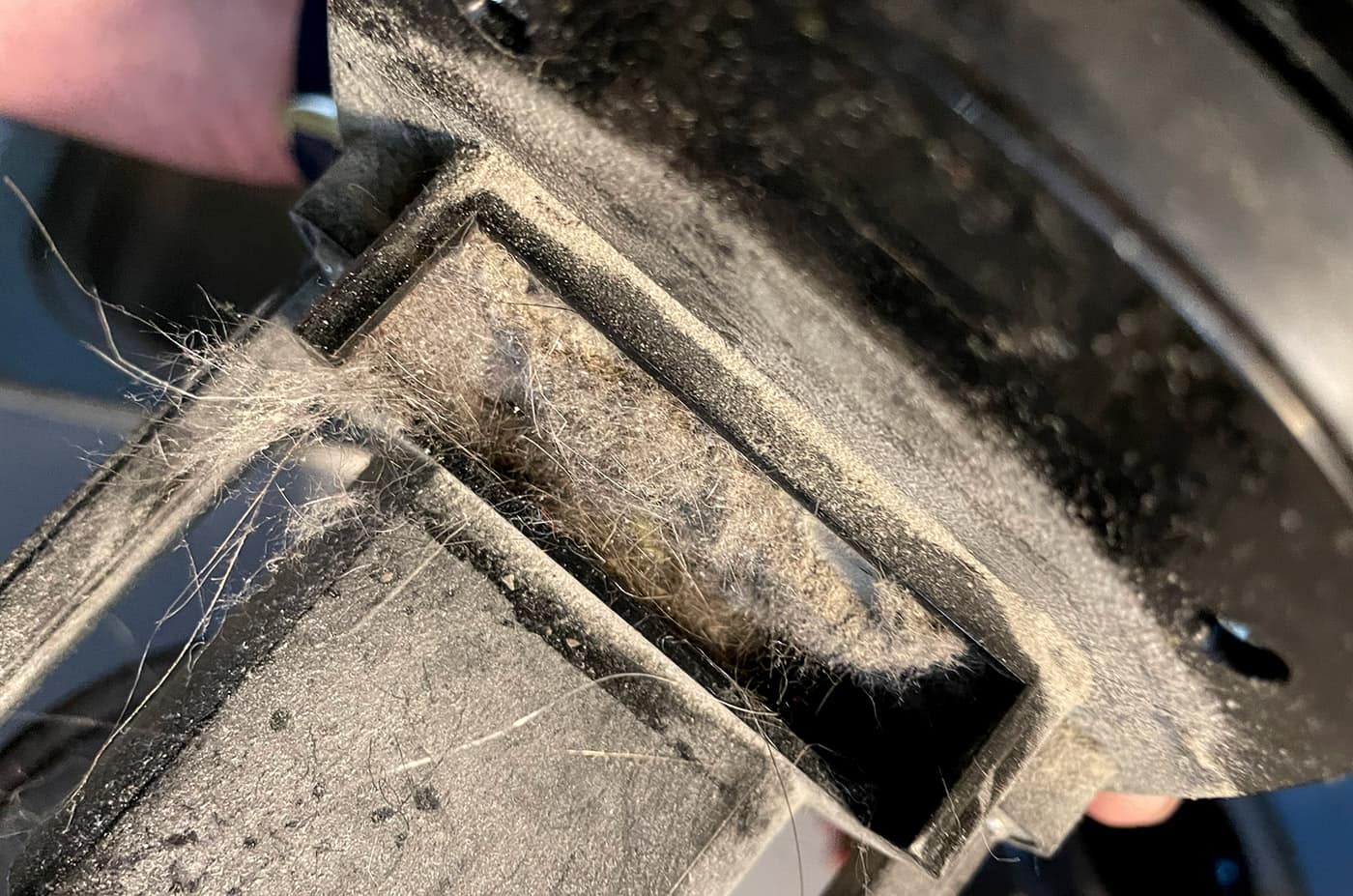 So I'm a bit torn on the W100's use as strictly a dry vacuum. On one hand, it beats using a broom and dustpan, but I've never had to physically touch dust and dirt as often as I have had to do after using this device. The vacuum cleans the floor, and I clean the vacuum, so who's the real hero, here?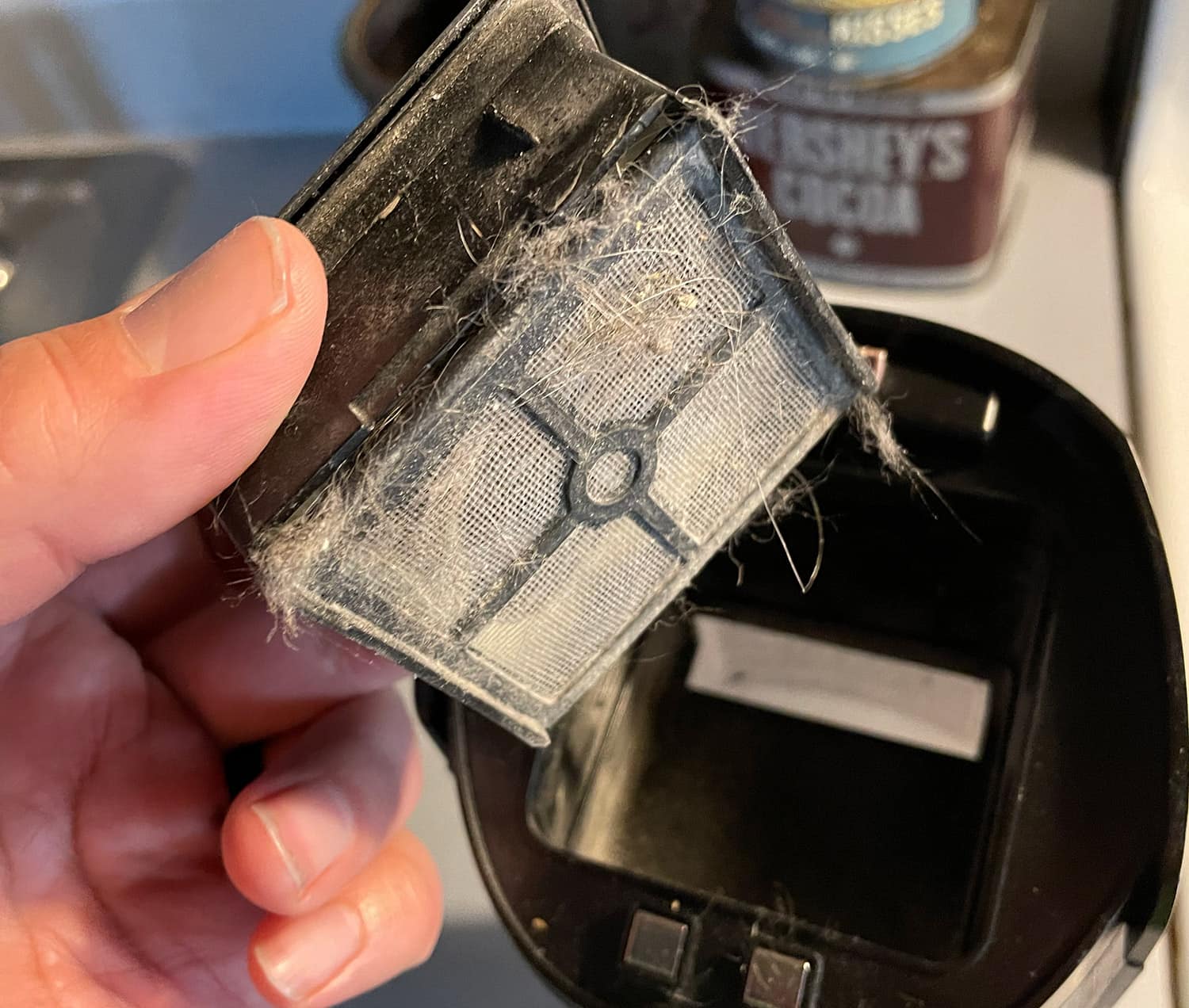 Wet Vacuuming
I actually didn't get a chance to mop up any big messes, like the contents of an entire coffee mug, and to be honest I wasn't really in the mood to purposely upend a bowl of soup just to see if I could suck it up in the W100. I did use it for occasional spills, and, wouldn't you know it, it works great for things like that. If you actually feel like fetching the vacuum vs. simply grabbing a paper towel to wipe up the mess.
Again, I'm divided on the idea.
Personally, we don't have many floor spills in my place. And the amount of time and energy required in getting the vacuum, running it to suck up the mess, using some of the cleaning solution from the wet container to double clean the floor, and then running the self-clean, disassembling the dirty water tank to dump the mess in the sink and rinsing that out, and finally removing the brush to set aside to dry… that's a tall order compared to simply grabbing a paper towel, wiping it up and throwing it away.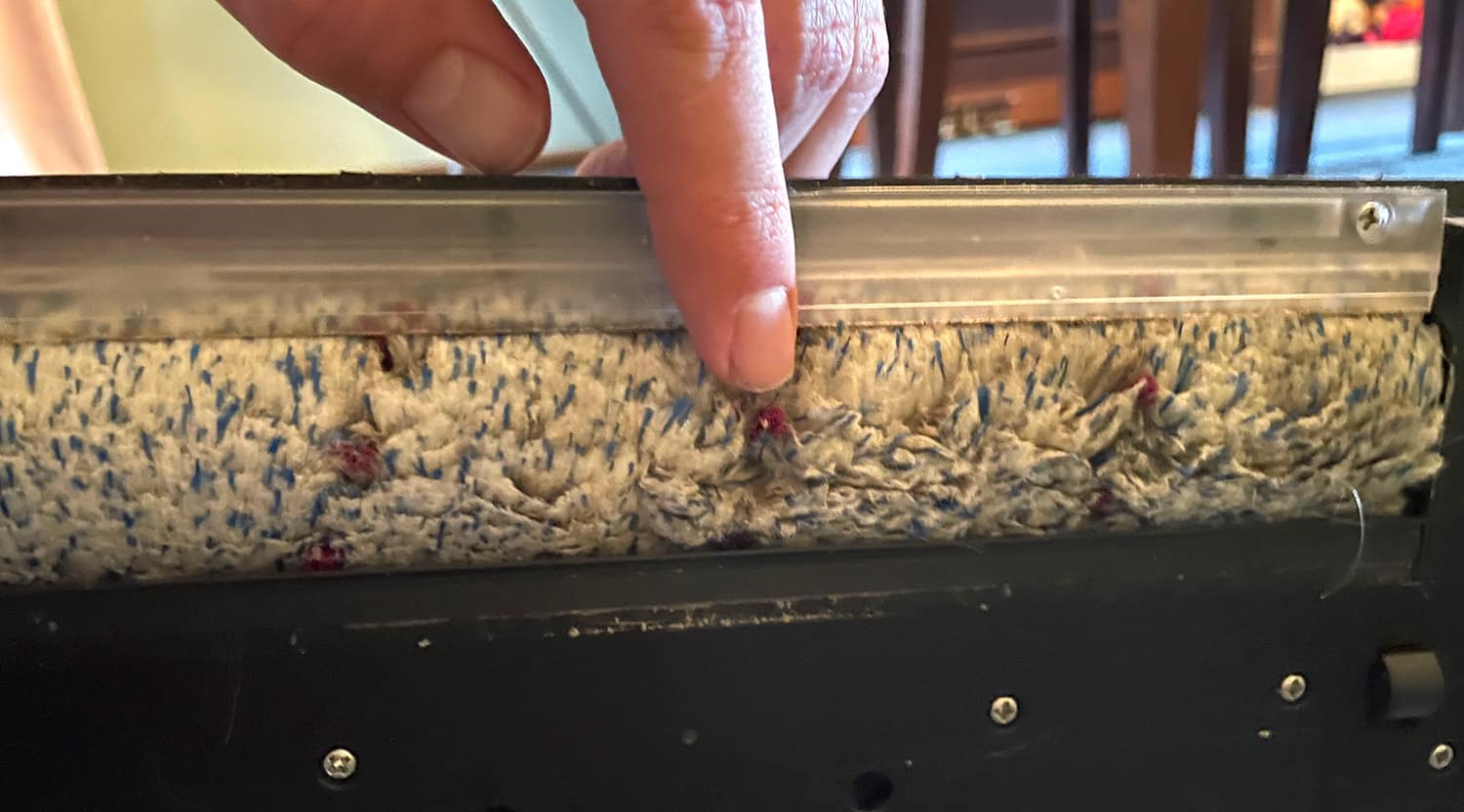 For large spills, there doesn't seem to be a clear definition of what the W100 can handle vs. something you wouldn't even want to attempt. Milk and cereal? Perhaps. I'd hate to clean out the dirty tank after that. I don't have a garbage disposal in my sink, so thinking about dumping an entire bowl of cereal into the sink and having to mash soggy Fruit Loops down the drain seems really gross.
Also, having any amount of milk on a microfiber roller seems like it would be positively disgusting after a few days, even after a good self-clean cycle.
And what about a more viscous variety of mess, like a cup of chili or chunky soup? Is that something you can suck up? Again, thinking of cleaning the inside of a vacuum after that seems like so much more work than working on the mess on the floor itself.
Wet Mopping
If you're thinking about replacing a traditional mop with the W100, this is a use case that seems to make the most sense. ILIFE includes a small bottle of concentrated cleaning solution for mixing with water in the clean tank. There is a large trigger positioned just under your index finger that controls the spray of clean water while the device is running, allowing you to spot clean dirty areas on the floor.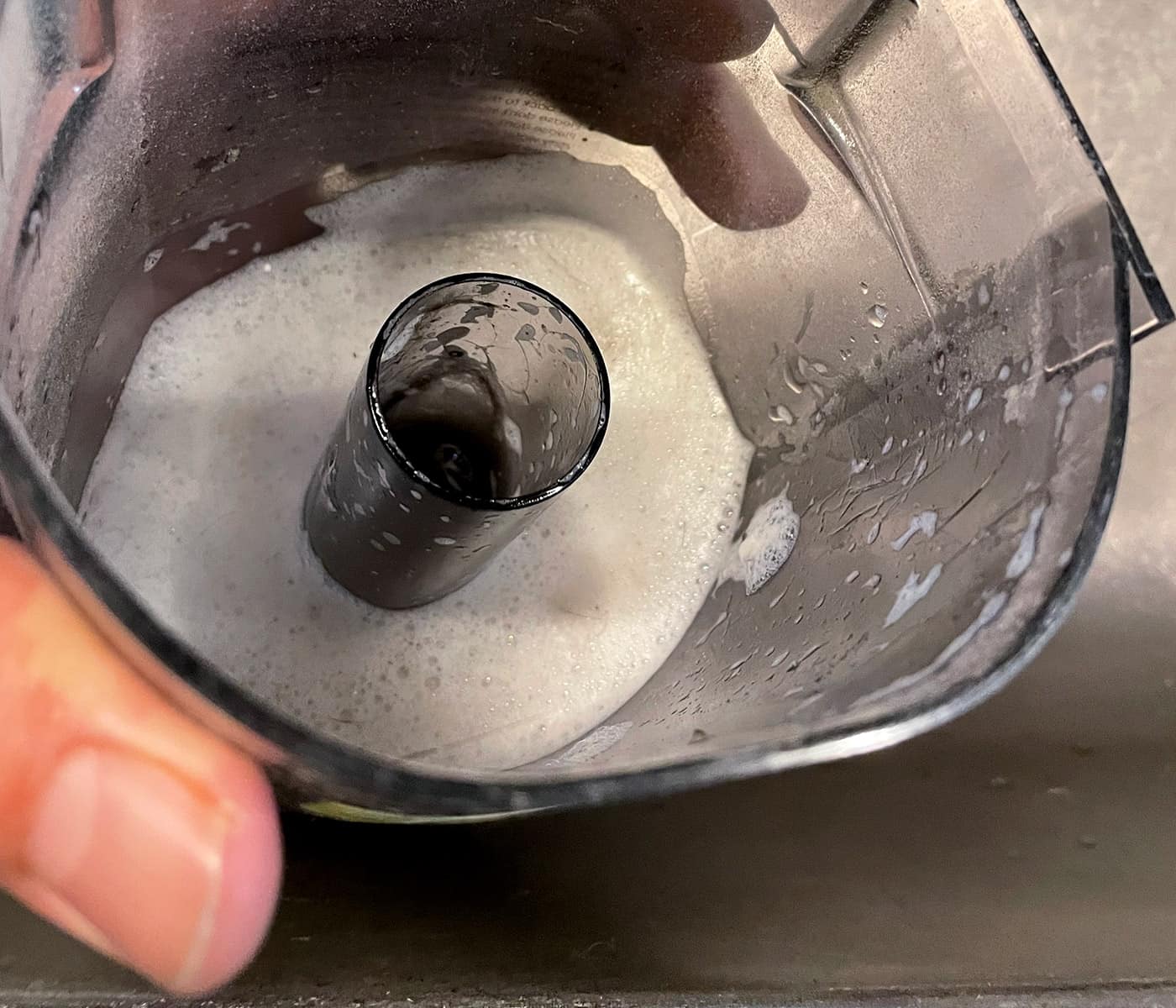 This trigger is a bit too large in my opinion, and it's very easy to accidentally press. It's not terrible, especially if you're typically using the W100 on hard surfaces, but it's something to keep in mind if you are trying to do a quick dry vacuum run. Any amount of accidental wetness coats the roller, spreading it around the floor, and also mixes with the dust and hair, creating damp clumps inside the dirty tank.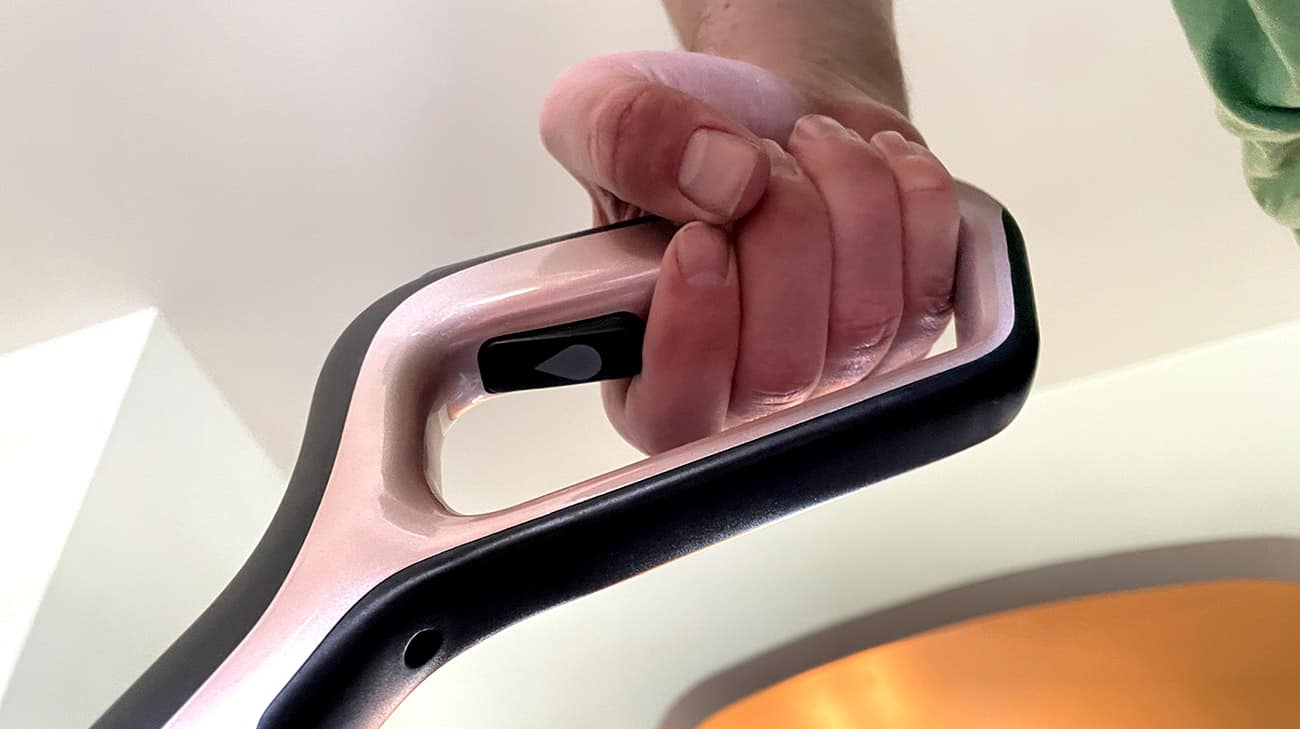 But forget that, for now. In a contest between a traditional mop and bucket vs the W100, I would have to say the W100 wins. The trigger causes a fine mist to spray on the floor, and the rapidly spinning microfiber roller polishes away sticky messes, dirt, and scuff marks. It works at least as well as a regular mop and doesn't make the floor as wet, reducing drying time.
So long as your floor is relatively free from visible debris prior to mopping, the resulting mess in the dirty tank is easily dumped down the drain and rinsed out.
Self-Cleaning Mode
The W100's charging station includes a quick self-cleaning mode. Simply pressing the button on the device sets a timer for 60 seconds where the water from the clean tank saturates the roller and sucks up the resulting mess. You still need to remove and rinse the dirty tank after this, and also remove the wet roller. There's a convenient stand for the roller to be placed in for drying.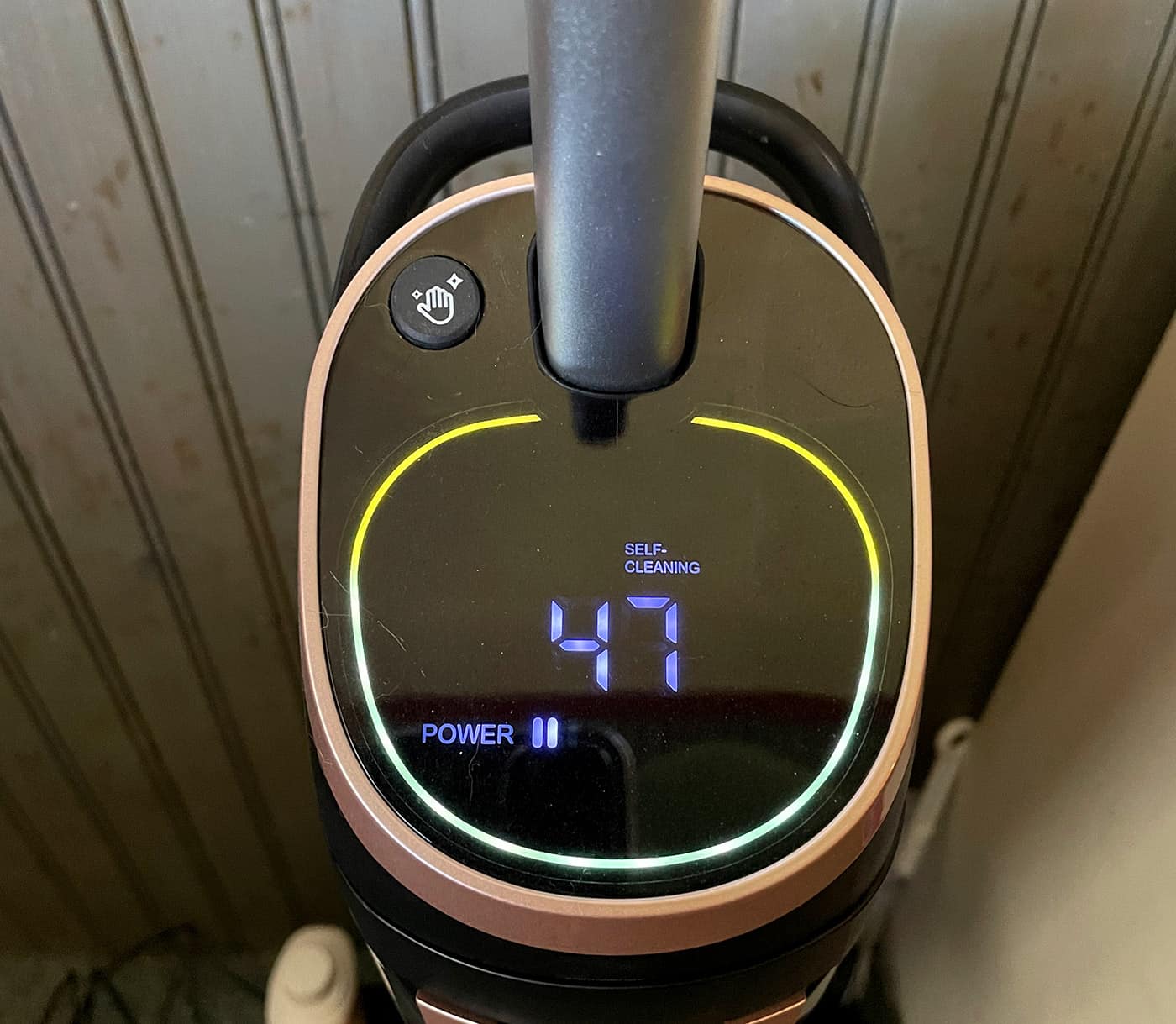 And trust me, you definitely want to remove the roller to avoid mildew from growing inside it. I neglected to do this at first and oh, the smells… that sharp old sponge odor. This is exactly why I'd be hesitant to clean anything that could fester within the depths of the cloth roller.
What I like
Wireless and lightweight
Filter and brush are 100% cleanable and reusable
Self-cleaning mode is nice
Actually does work on some low-height carpets
What needs to be improved
Fairly expensive!
Brush could contact the floor better
Hair/debris can easily get caught just under the filter
High amount of cleaning the device itself
Final thoughts
Through many of my tests, the W100 performed adequately, but overall I wouldn't say the W100 it would be a necessary replacement for a mop or broom, especially for the asking price.
Cost aside, the W100 does make the prep work for mopping much quicker, and increases the likelihood I'll mop my kitchen and bathroom on a more regular schedule. I'd have to say the value really shines if you happen to have nothing but hardwood floors in your house and you wanted to use the W100 for vacuuming vs. broom sweeping.
I just hate having to clean up a mess with a device that itself takes almost as much time to clean up as the mess would without it. It's faster to use the W100, but then again I never have to post-clean my normal carpet vacuum or broom.
Price: $299.99
Where to buy: ILIFE and Amazon
Source: The sample of this product was provided by ILIFE.