We use affiliate links. If you buy something through the links on this page, we may earn a commission at no cost to you. Learn more.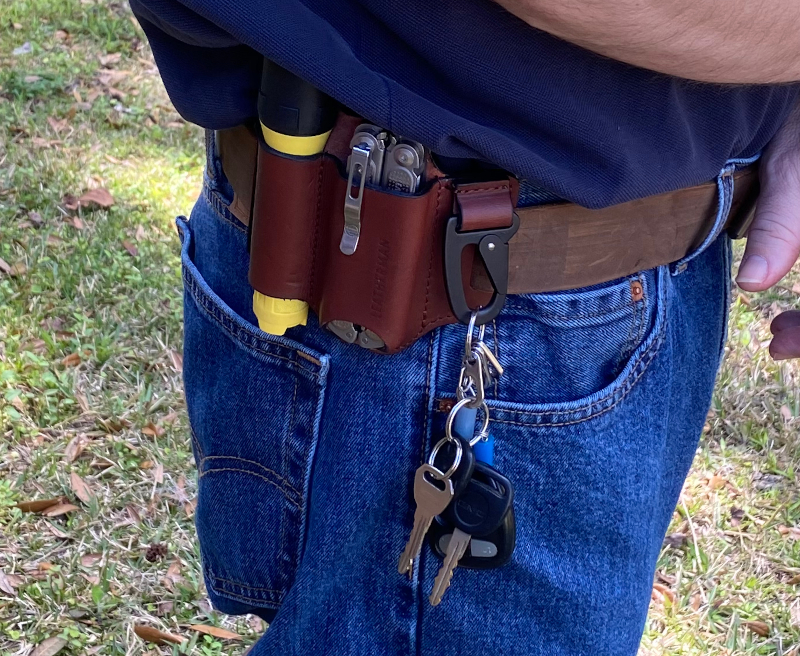 REVIEW – Leatherman brand multi-tools have been part of my EDC since long before EDC became a mainstream term to describe what we carry with us every day.  The problem that I've faced has been the tradeoff between pocket space and functionality–the most useful tools often took up too much space in my pocket, even when using a pocket clip.  The Leatherman Ainsworth EDC Sheath aims to fix this problem and provide a place for me to carry a flashlight while I'm out and about.
What is it?
The Leatherman Ainsworth EDC Sheath is a premium-quality, belt-worn sheath that will hold your favorite multi-tool and a flashlight (or similarly sized cylindrical object). The sheath also has a clip for your keys.
What's in the box?
The Ainsworth EDC Sheath arrived wrapped in tissue inside the now standard Leatherman style package.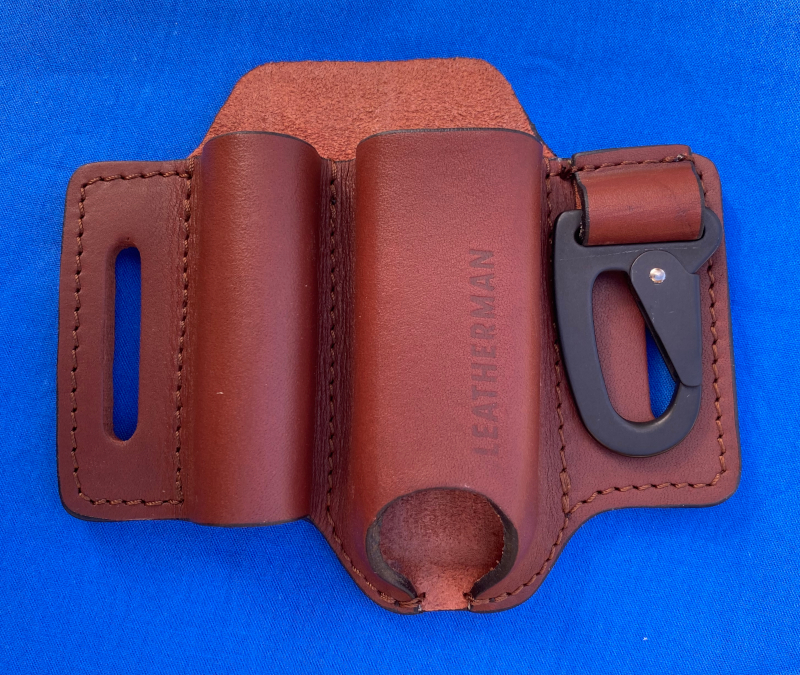 I also received a handsome Red Wing Heritage belt that compliments the sheath and holds my pants up (an important function since I've recently lost weight, and most of my pants will no longer stay up without some support).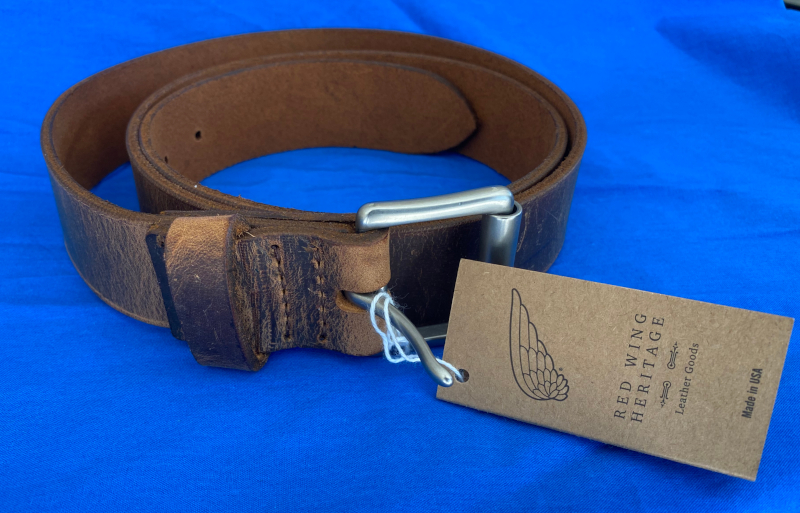 Hardware specs
140 mm wide
113 mm tall
25 mm thick
Leather is 3 mm thick (doubled in places)
Belt slot accepts belts up to 38 mm wide  (approximately 1.5 inches)
Flashlight holder accommodates flashlights 16-18mm in diameter
Medium size sheath holds the following Leatherman brand multi-tools (or similar tools)
Bond, Charge, Crunch, Curl, Free P2, Free P4, Rebar, Rev, Sidekick, Skeletool, Wave, Wingman
Large size sheath holds the following Leatherman brand multi-tools (or similar tools)
OHT, Signal, Super Tool 300, Surge
Design and features
Setup
The intended setup is to thread the Leatherman Ainsworth EDC Sheath onto your favorite belt while running the belt through your belt loops and then simply slide your favorite Leatherman multi-tool into the center pocket, slide your favorite flashlight into the side pocket, and clip your keyring into the metal clip.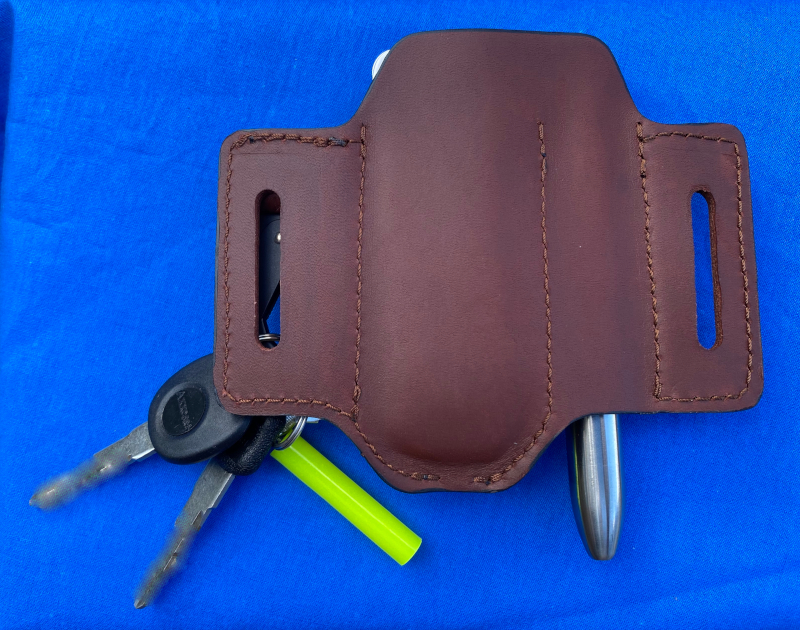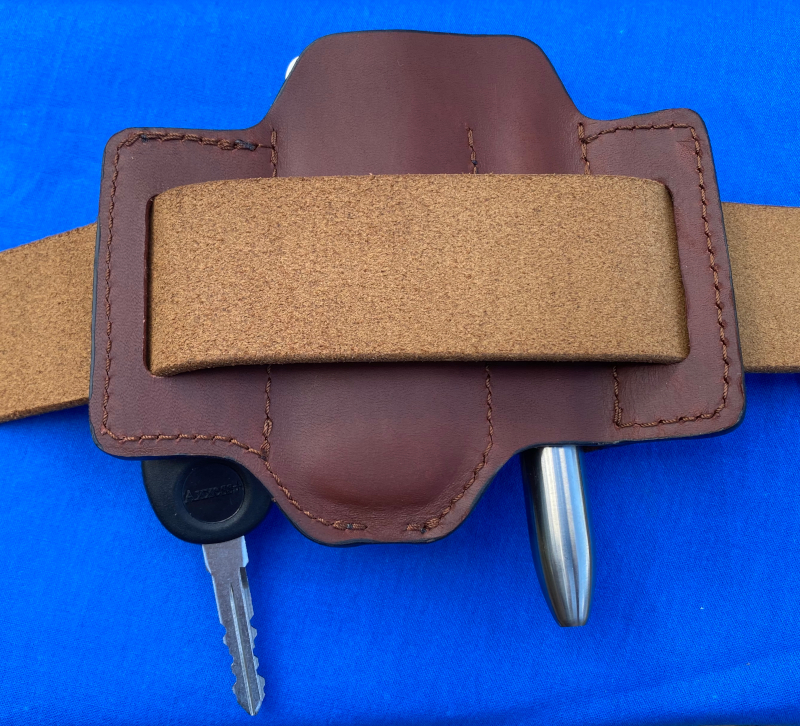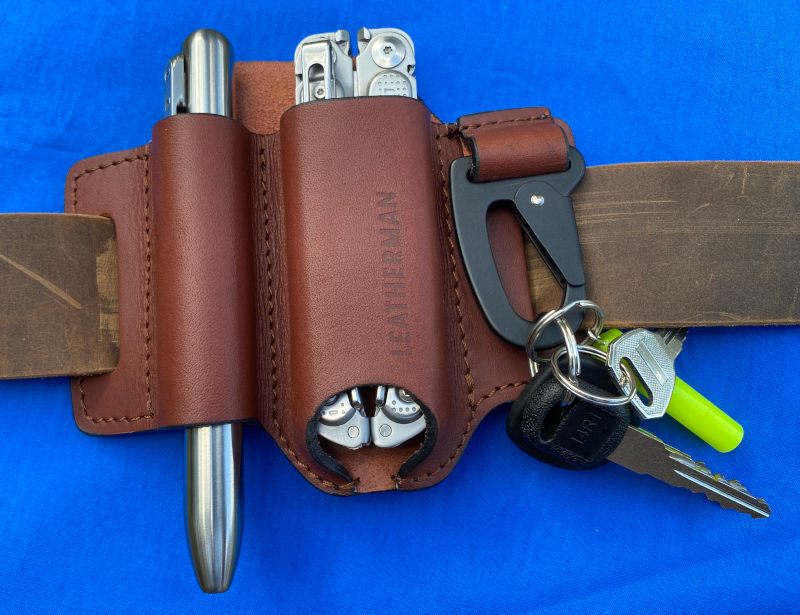 My setup didn't go quite that smoothly. I was chagrined to find that none of my regular-use flashlights fall into the 16-18mm size range and so were either at risk of falling out or wouldn't fit down into the flashlight holder (no, I did not take this as a sign from the universe that I needed to purchase a new flashlight).  I did have a bolt-action marker that fit nicely, but since I don't carry that on a regular basis it wasn't really a good thing to use for testing.
Customizing
My solution was to utilize old-school leather fitting techniques to customize the fit of both the flashlight holder and the tool pocket.  One of my current favorite flashlights is a yellow Streamlight Polytac X which is larger than 18 mm, but looked like it would work.  My customization involved wetting down the Leatherman Ainsworth EDC Sheath's flashlight and multi-tool pockets and using long and short sockets (3/4″ size, 3/8″ drive for those playing along at home) from my tool chest to slightly stretch out the flashlight sleeve to the right size and placing a plastic-wrapped multi-tool (Free P4 in this case) into the tool pocket and letting everything dry overnight.  This mimics the process of daily wear over several months (or years) and allows the leather to form itself to your tools.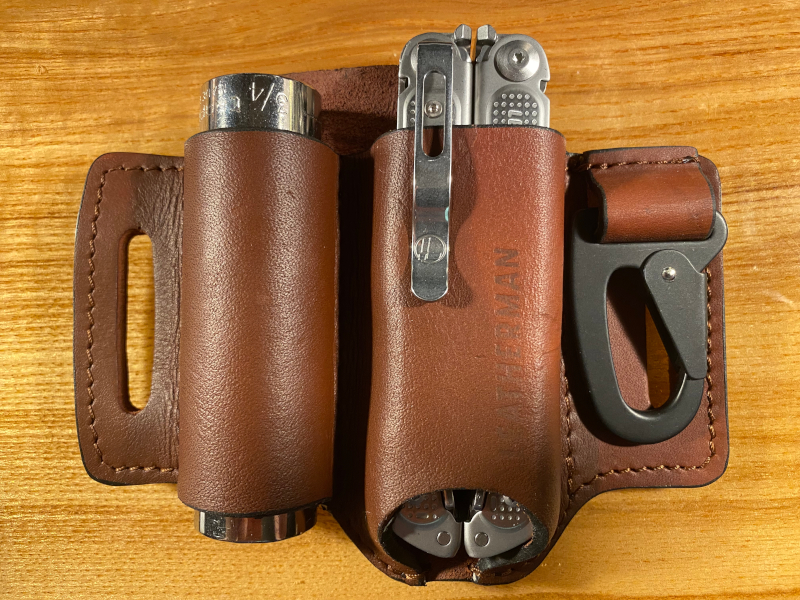 Post-customization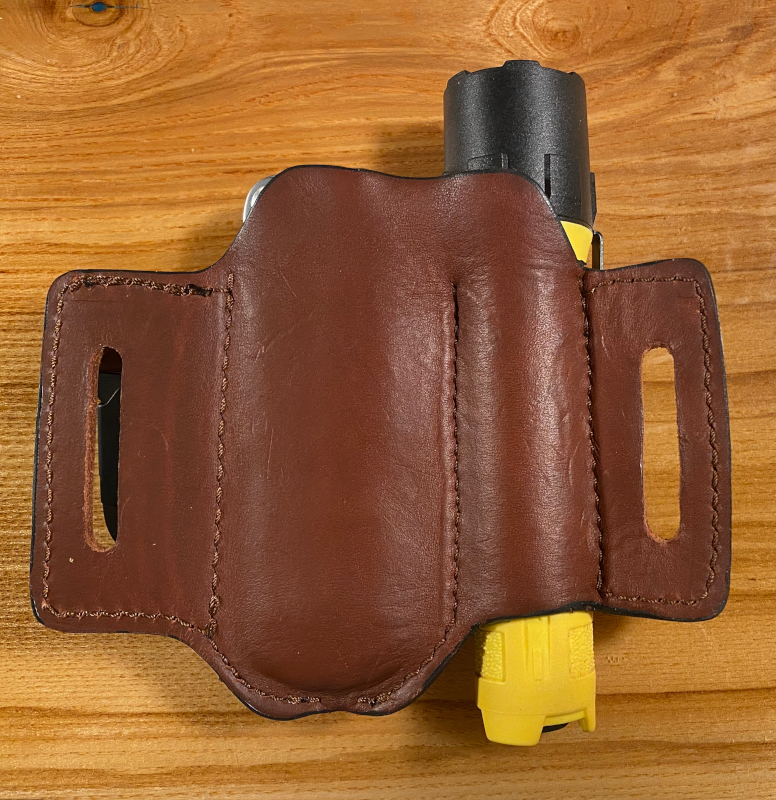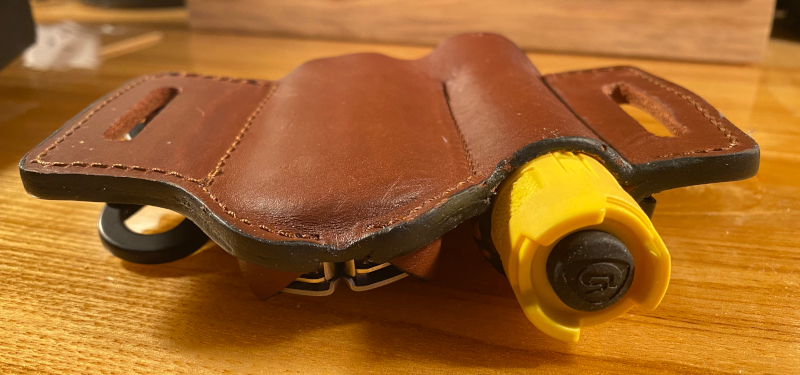 I'd say my flashlight and P4 fit nicely in their new home.
Performance
I tested many of my various multi-tools (Wave – various generations, Free P2, Free P4, Free K4, Skeletool, Signal) and can confirm the size / fit recommendations are correct.
Wave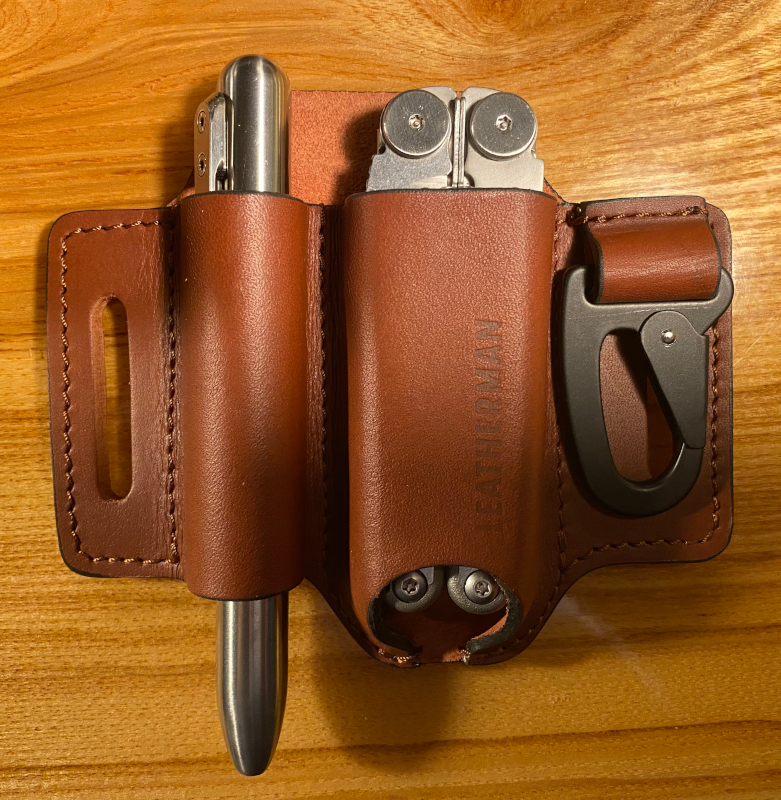 Skeletool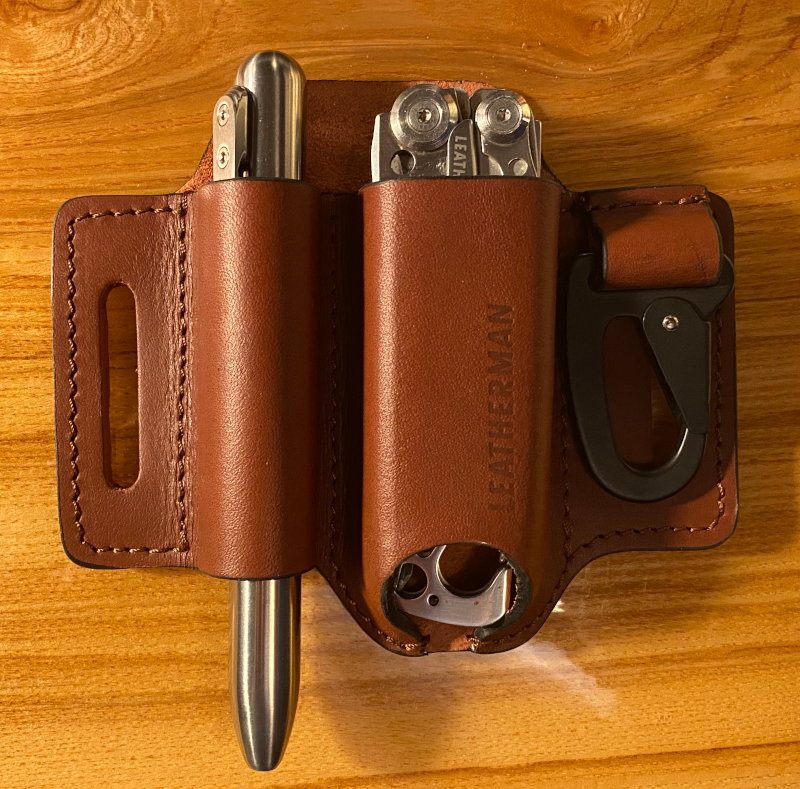 Free K4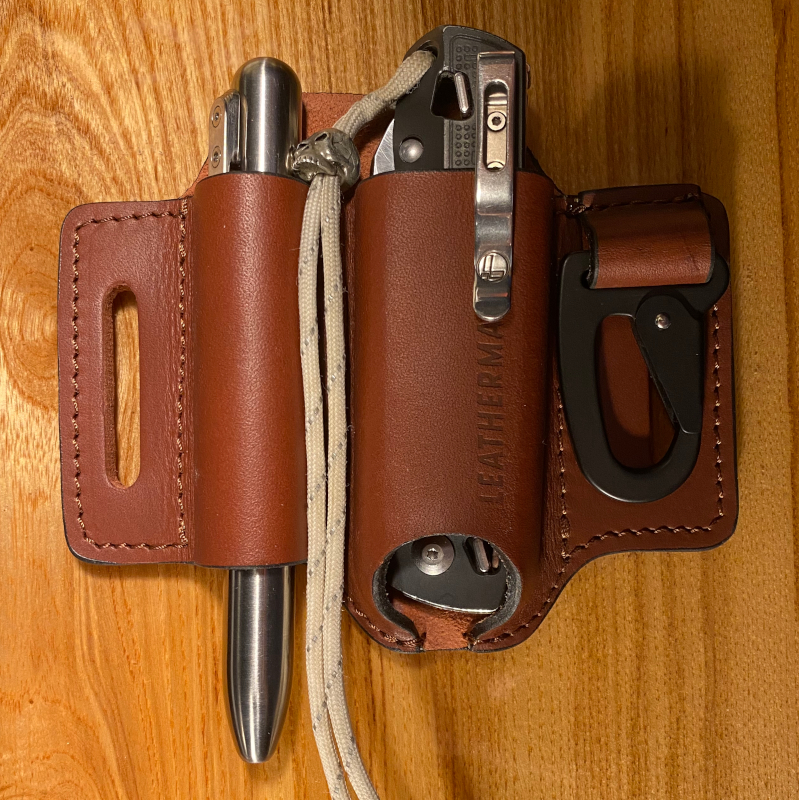 Free P4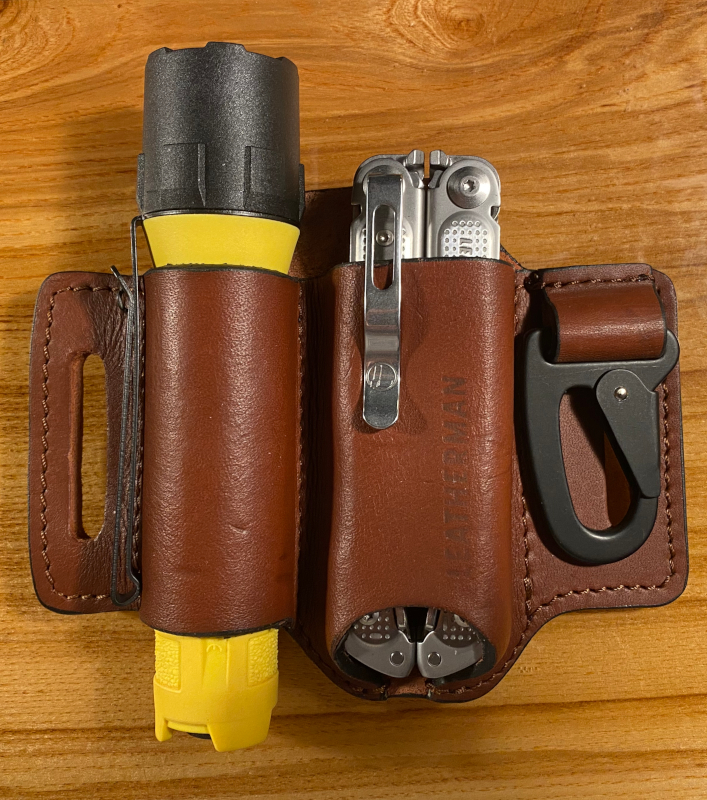 Signal (not even close — get the larger version)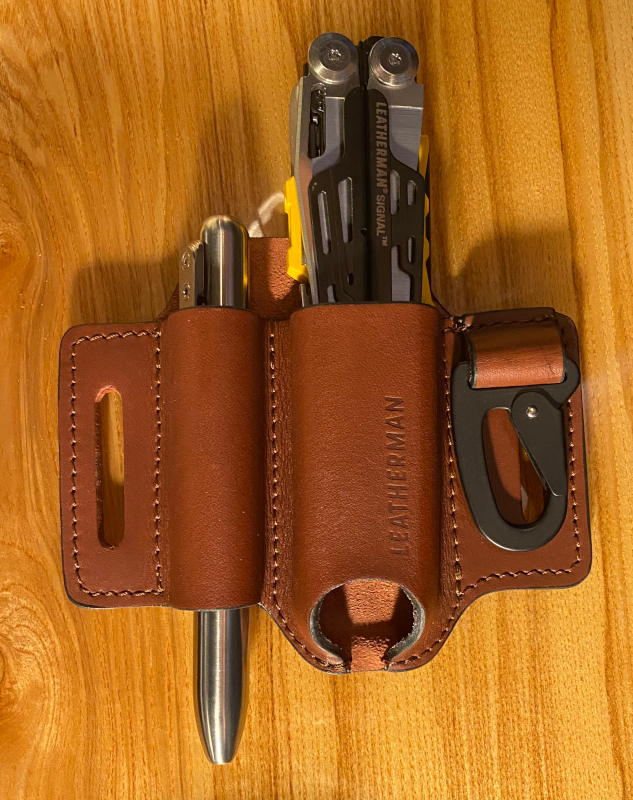 As I mentioned above, I chose to carry my P4 and Polytac X in the Leatherman Ainsworth EDC Sheath.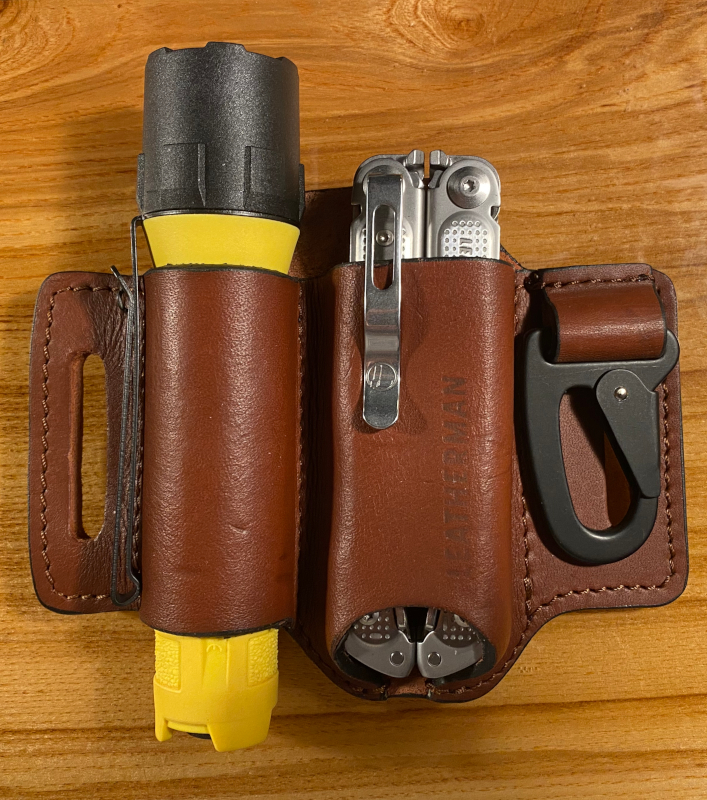 I normally carry my phone on my right side and my multi-tool on my left, but the position of the key clip more or less dictated that I carry the sheath on my right side.  Because of the belt loop placement on my jeans, I have to thread my belt through the rear slot on the sheath, then through my belt loop, and then back out of the sheath.  While inconvenient, it does keep the sheath in place.
I drive a computer most days, but I did try the Ainsworth EDC Sheath out to see how well it works in my "everyday world."  My keys lasted about 20 minutes on the clip before I wanted to throw them across the room.  Once I removed them, I didn't really notice the sheath after the first hour–I had subconsciously adjusted my position in my chair.
In addition to my computer jockey testing, I also wore the Leatherman Ainsworth EDC Sheath out camping, on weekend excursions to various home improvement stores, farm supply stores, large retail stores, and working in the yard. After three weeks of wearing the sheath 3-4 days a week, I noticed that the sheath had definitely conformed to my body and vice-versa.  I find myself tucking my keys down into my pocket to keep them from swinging around and jingling, but this is something that I do when I just clip my keys to my belt loop with a carabiner.  I have not had any instances of either the flashlight or multi-tool accidentally coming out of the sheath, but have had to struggle to overcome muscle memory when unclipping my keys (I normally use a carabiner that stays on the keychain).
The Ainsworth EDC Sheath does its job and has held up well, but I haven't fully adjusted to having my multi-tool on my right side. I also stopped using the keyring clip after about a week.  It just isn't part of my normal habits.  I think Leatherman would be well served by offering a version without the key clip and maybe a "left-handed" version for those who, like me, choose to carry their multi-tool "goofy-footed."
I don't think that I will continue to use the Ainsworth as an EDC tool and it will be relegated to being my daily tool dock on my desk and will only be worn when I'm out on activities with my scouts.
What I like
Good quality leather and construction
Holds both multi-tool and flashlight
Molds to your EDC tools.
What I would change
Make a version without the key clip
Offer a "left-handed" version
Make a version with a slightly larger flashlight holder
Final thoughts
The Leatherman Ainsworth EDC Sheath is another quality product from Leather Tool Group.  There are no design or execution defects, but it doesn't quite meet my EDC needs / carry preferences.  However, if you are someone who is used to using a belt-mounted clip to carry keys and carry your multi-tool in right-hand-draw configuration, then this might be the sheath you are looking for.
Price: $84.95
Where to buy: Leatherman Tool Group and Amazon has a smaller one tool version
Source: The sample of this product was provided by Leatherman Tool Group.