We use affiliate links. If you buy something through the links on this page, we may earn a commission at no cost to you. Learn more.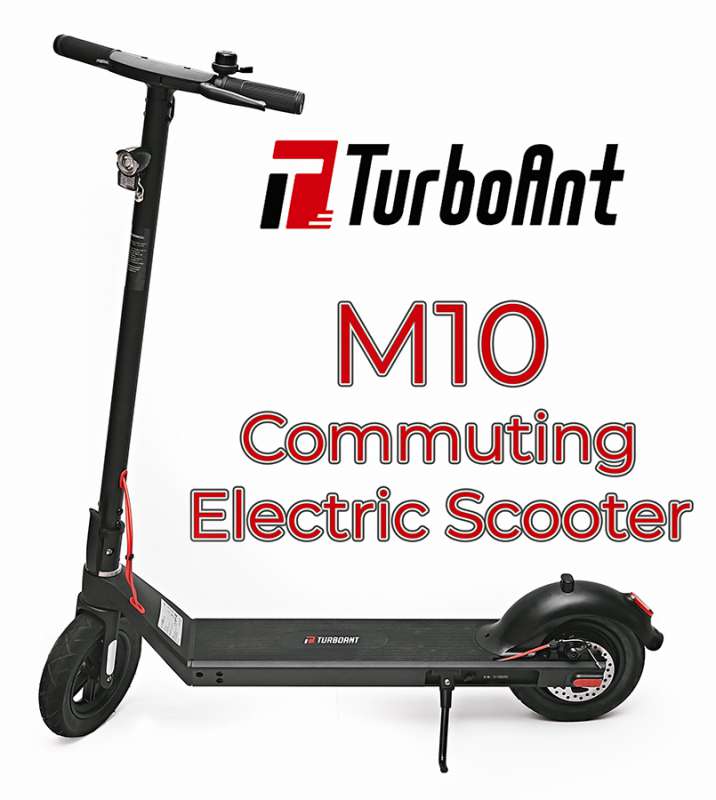 REVIEW – If you have ever had the pleasure of riding an electric scooter then you know how fun they can be. Not only are they fun to ride but they are a great alternative for transportation, especially if you are going a distance that seems too far to walk and not worth taking a car to that destination. Electric scooters are a great way to get around, especially in some of the bigger cities which do have scooters available to rent with a smartphone app. However, if you have your very own electric scooter such as the TurboAnt M10 Commuting Electric Scooter then you don't have to bother renting one since you can ride the M10 scooter any time you want. You can choose to use the TurboAnt M10 electric scooter as a means of transportation to a destination or you can just ride it around for fun.
What is it?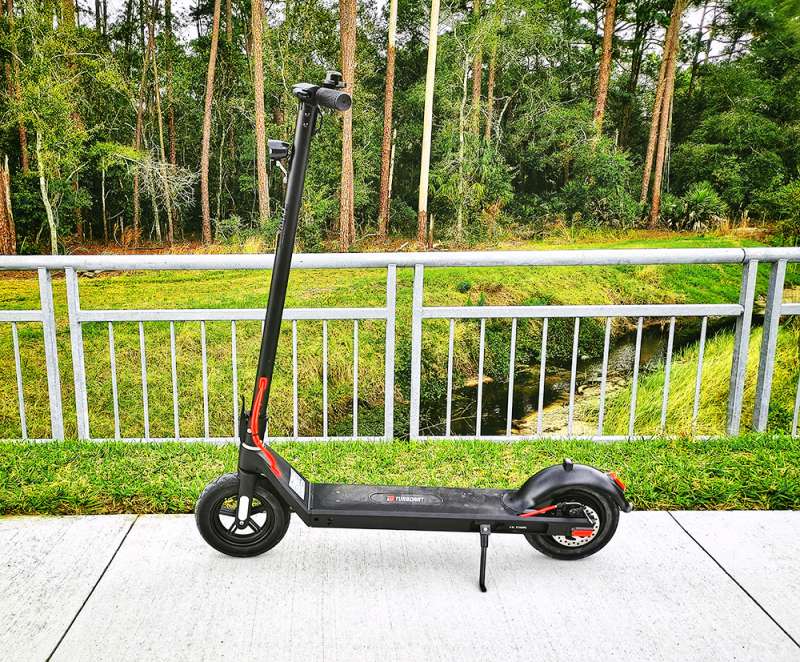 The TurboAnt M10 electric scooter is like a regular stand-up kick scooter with a handlebar and a skateboard-like deck. But as the name states, the M10 is electric rather than a manual scooter that you propel with your foot. The M10 allows you to travel up to 18 miles on a single charge and can go up to speeds of 20 MPH (32 km/h). And unlike the smaller kick scooters, the M10 has bigger air filled tires to help make for smoother riding on various surfaces, and especially on hard pavement.
What's in the box?
TurboAnt M10 Electric Scooter
Charging Adapter
Bike Bell
Manual
Information Booklet
Hardware specs
Frame Material- Aluminum alloy
Unfolded Dimensions –  42.1 × 17.7 × 46.1 in (1070 × 450 × 1170 mm)
Folded Dimensions-  42.1 × 17.7 × 15.5 in (1070 × 450 × 393 mm)
Tires- 10-inch pneumatic, with inner tubes
Net Weight- 29.8 lb (13.5 kg)
Waterproof Level-  IP54
Handlebar Width 17.7 in (45 cm)
On-Board Computer-  LCD display
Deck Length- 20 in (50 cm)
Deck Width-  6.1 in (15.5 cm)
Safety Warning- Bell
Headlight- 2 W white LED
Taillight -Red LED
Ground Clearance-  4.1 in (105 mm)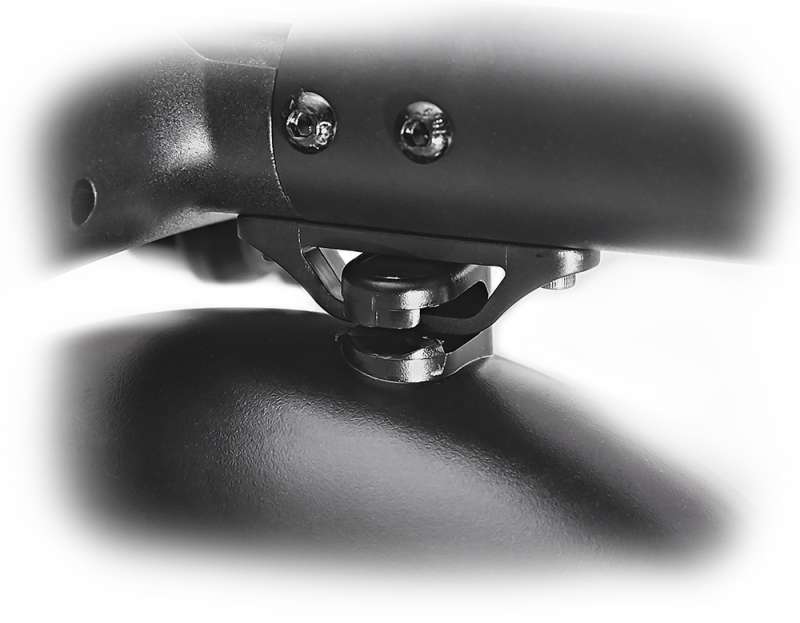 Design and features
Because the TurboAnt M10 electric scooter has an alloy metal frame, it has a solid and sturdy feel when riding it. The M10 Scooter only weighs 29.8 lbs. (13.5 kg) so it's not very heavy at all to pick up and carry when folded. When folded, the clip on the handlebar post hooks onto a small section on the rear fender to keep it locked down and in place.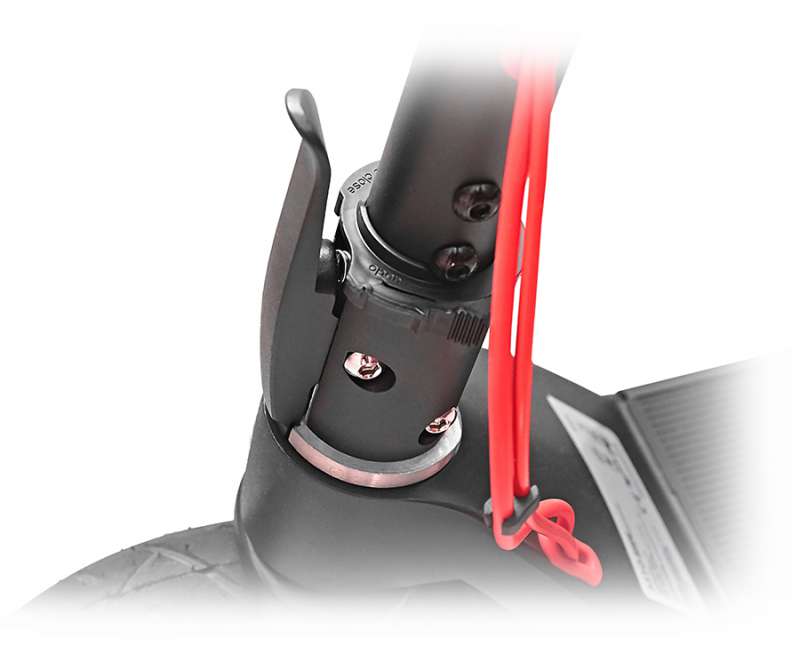 After unfolding and locking the handlebars in place, there was never any play nor did the handlebar stem ever feel loose. The handlebar post felt solid in its upright position. The locking lever mechanism on the post was strong and secure. I found that it was very easy to lock and unlock the handlebar post thanks to the simple locking lever at the base of the handlebar stem. Plus, there is an extra safety dial lock that you can twist to prevent the lever from accidentally unlocking. The handlebar isn't adjustable so it only has one height which means that you are stuck with the height that it is at. However, the height position of the handlebar seems sufficient enough for most users.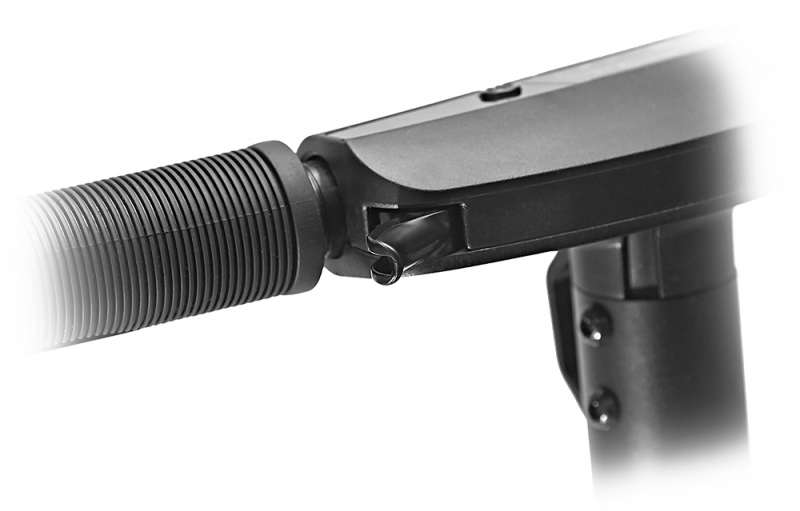 Continuing with the handlebar, there is a finger throttle for the scooter that is located at the front of the right handle which I felt was in perfect placement for my finger to squeeze. The finger throttle was another component that felt solid considering it's a small moving part. It wasn't obtrusive in any way and was fairly easy to reach and squeeze.  I find that the finger throttles are more ergonomic than the thumb throttles. I feel with the thumb throttles on the handlebars that it puts stress on your hand while trying to push your thumb rather than pulling with your finger. On the left side of the handlebar is the brake lever which is a much larger lever than the throttle. Being a larger lever makes it easier and quicker to grab when you really need to use it. More on the brakes later.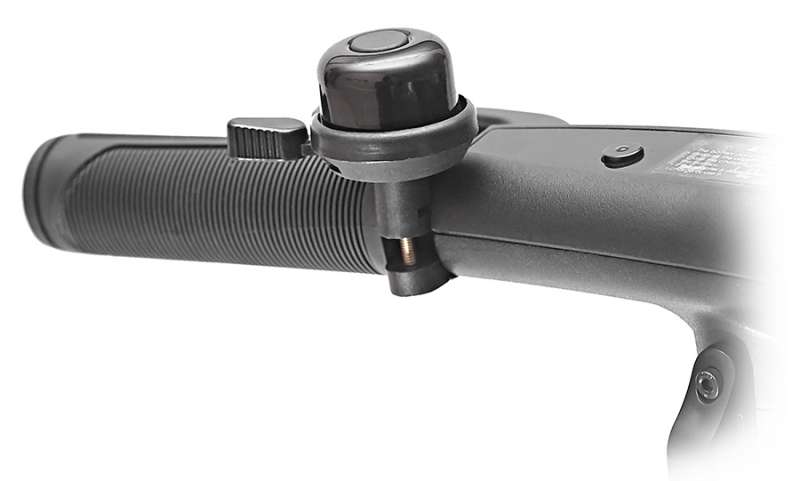 There is a small bike bell that you can place on the handlebar which I thought was a nice touch. I'm glad that the bell was included, however, I was thinking since this scooter is electric that maybe a small horn that beeps may have been more fitting.  Also, I think it would have been nice if a small, low-profile mirror was included as well to place on the handlebars so the rider could easily check behind them without turning around as they are riding.
Although the TurboAnt M10 electric scooter's deck is wide, it is not wide enough to place your feet side by side. You probably could if your shoes can fit on the deck that way, but it is actually better and safer to have your feet positioned with one foot in front of the other. You will get a much better balance with your feet staggered apart. Plus, it will allow you to shift your weight properly as well.
There are three modes that you can choose when riding this scooter. There is the Eco Mode, Comfort Mode, and the Sport Mode.
In Eco Mode, the scooter has a slower speed reaching up to 6 MPH. This is meant for first-time users to get used to riding the scooter and to stay at a slow speed. Next, is the Comfort Mode in which the speed is a little faster reaching up to 9 MPH. In this mode, mileage and battery life are extended making for more energy-efficient travel. And lastly, the Sport Mode has a higher speed reaching up to 20 MPH. According to the TurboAnt website, this mode "gives a more time-saving ride when you need to travel long distances." For now, I just keep the scooter in Sport Mode since I am not doing any energy-efficient traveling. Plus, I find it fairly easy to control my speed with the throttle, anyway.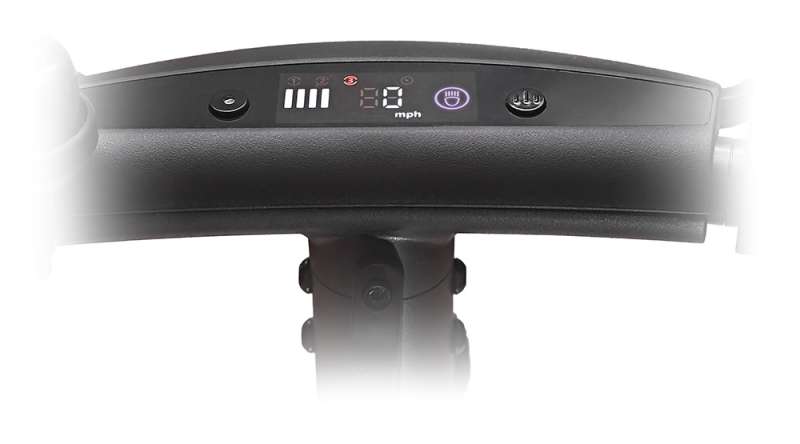 The TurboAnt M10 electric scooter has a maximum range of 18 miles. Keep in mind that to get that maximum mileage you need to be in Comfort Mode since it will give you a more optimized use of the battery. However, factors such as road conditions, terrain, weather, load, etc. can affect the battery life as well. Speaking of weather, the M10 Scooter has an IP54 rating, so it only has a small degree of water- resistance but should withstand riding in light rain for a short amount of time.
You'll want to make sure that you pay attention to your battery status on the LED display screen because you do not want to be out on a ride and then find yourself with a scooter and a dead battery. Even if you had the charger with you, it would take five hours to fully charge the battery. Having an extra battery to swap out the dead would be ideal, unfortunately, the M10 Scooter does not have a removable battery.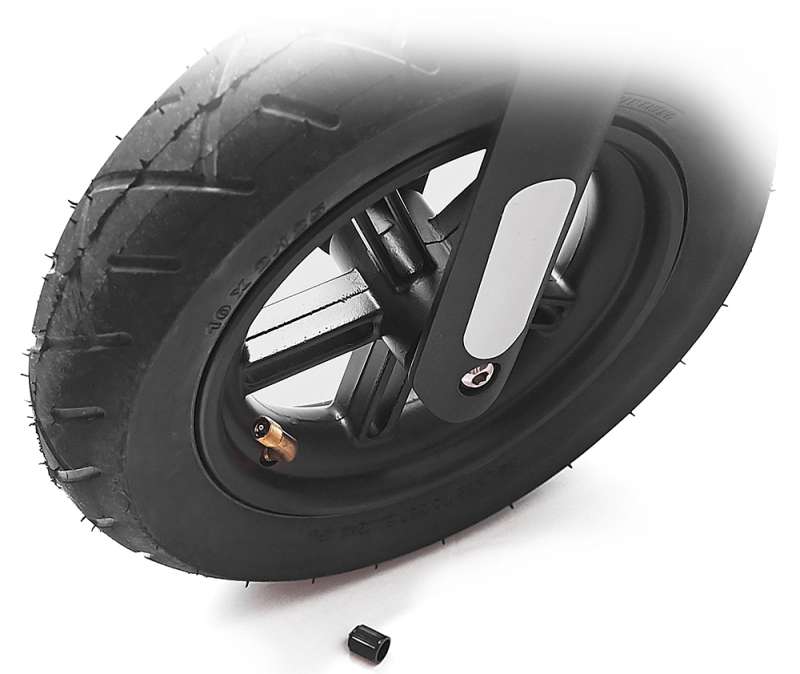 Although there isn't any suspension on this scooter, it does have 10″ in. pneumatic, or air-filled, rubber tires to give the scooter a nice smooth ride. And it's great that I can add or decrease air in the tires if I need to. These rubber tires do help when riding the scooter on and over various surfaces and terrains. Riding over things like grass, twigs, dirt, etc. was no problem. I found that when riding over speed bumps, cracks, and other imperfections in the road, the ride wasn't hard or jolting thanks to the pneumatic tires.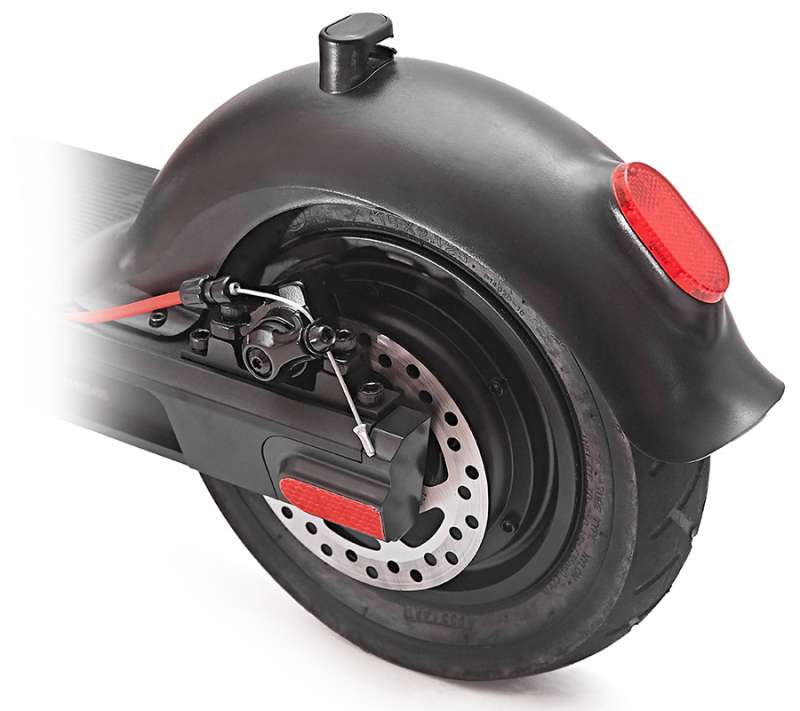 The TurboAnt website states that the M10 has a Dual Braking System: a rear disc brake and an electronic braking system. Both are activated when the brake lever is applied. However, as the disc brake is visible I can see it working, however,  I cannot confirm about the electronic brake since I cannot see it activated. But all I know is that when I pulled the brake lever, the brakes seem to do a good job. Just know that the brake cable is adjustable so you can change the tension for the brake lever. The brake cable tension seem fine to me right out of the box so I just kept it where it is at. I guess I could have fully loosened the brake cable to test the electronic braking system but maybe I'll test that out another day.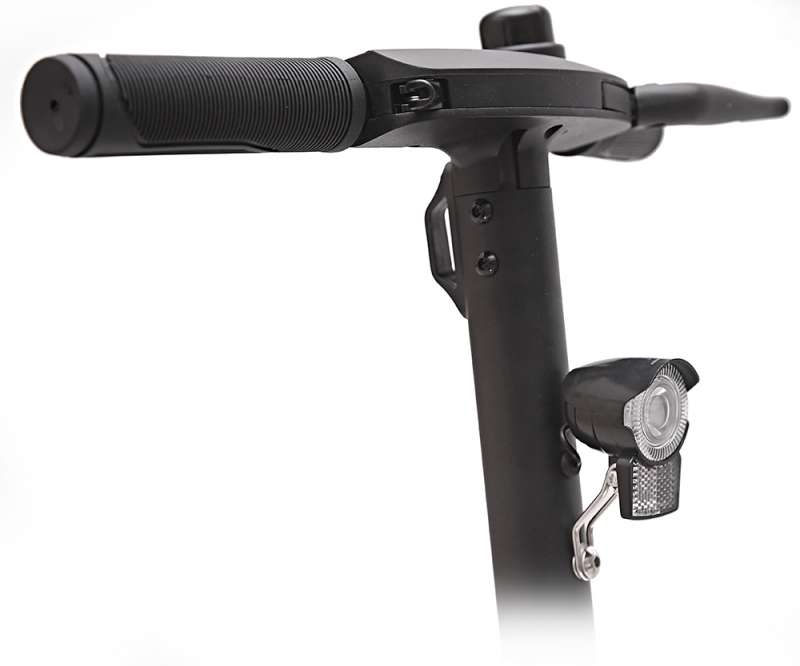 On an additional note, there is a brake light on the rear fender that illuminates when you apply the brakes. This is a nice added safety feature, especially in those low light conditions. Plus, there is an adjustable 2 watt LED headlight on the handlebar post in case you need it. The On/Off switch for the headlight is located right next to the display screen. And just so you don't have to lay the scooter down on the ground when you are not riding it, the scooter has a convenient kickstand right along the scooter's deck.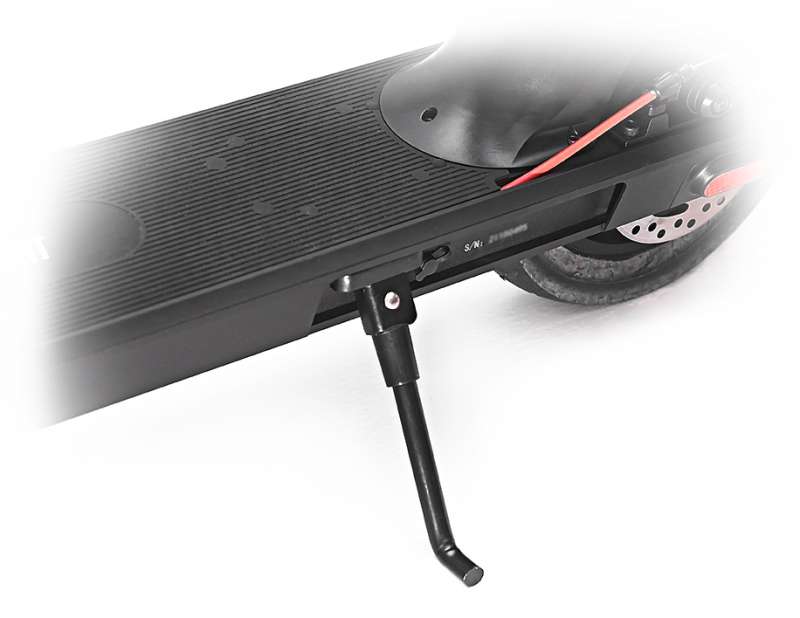 Directly next to the kickstand is the charging port for the battery. It has a rubber port cover to help prevent water and dust from getting inside the charging port. You may want to make sure that the port is covered after you charge the battery because you don't want any water in the port that could cause any electrical problems or possibly develop rust inside the port.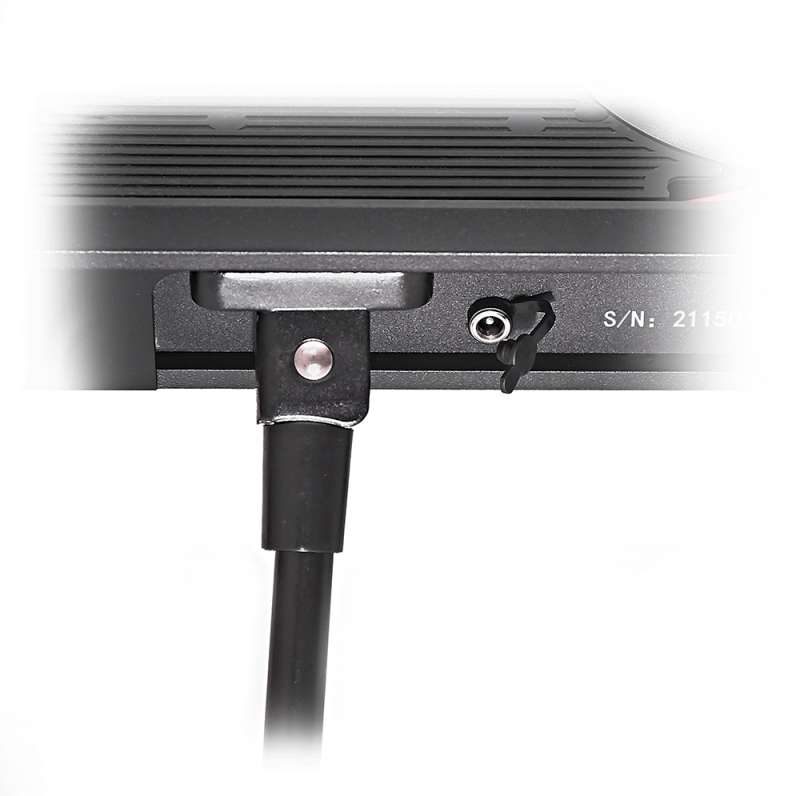 Performance
One of the features that I really liked on this scooter was the Cruise Control. After you accelerate and as you keep your finger on the throttle for 6 seconds, the scooter sets the Cruise Control for the speed you are going. This is helpful when you have a long stretch of road ahead and you don't want to keep squeezing the throttle with your finger.
The TurboAnt M10 electric scooter is powered by a 350 watt motor on the rear wheel. Acceleration was steady and not abrupt so it didn't feel like the scooter was going to launch away from me if I squeezed the trigger at full throttle. As long as you hold on to the handlebars the scooter won't get away from you.
On smooth flat pavement, the M10 could reach up to 20 MPH, however, I could feel it struggle a bit and decrease in power if I went up a significant incline. The M10 has a 15° Climb Capability so power and speed will decrease when you ride on that incline or higher.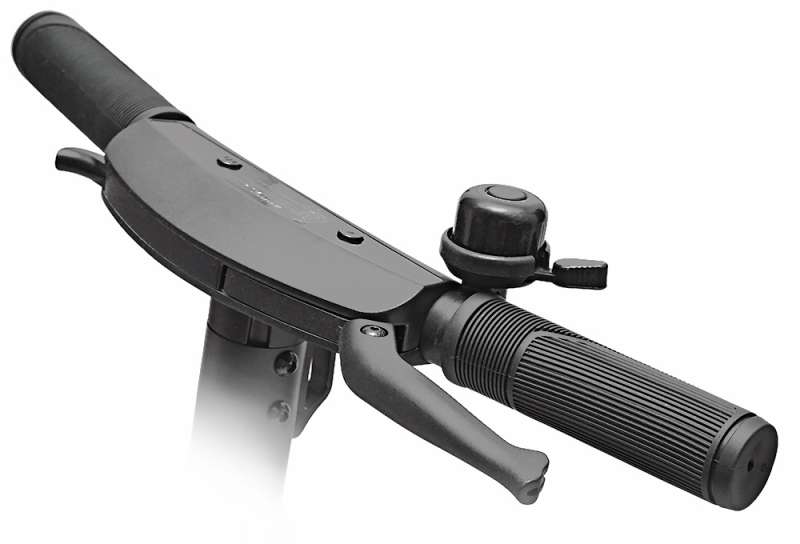 What I like
Pneumatic air-filled tires
Sturdy and solid frame
Cruise Control
LCD Info Screen
What I'd change
Add electric horn
Add removable battery
Add a small rearview mirror
Final thoughts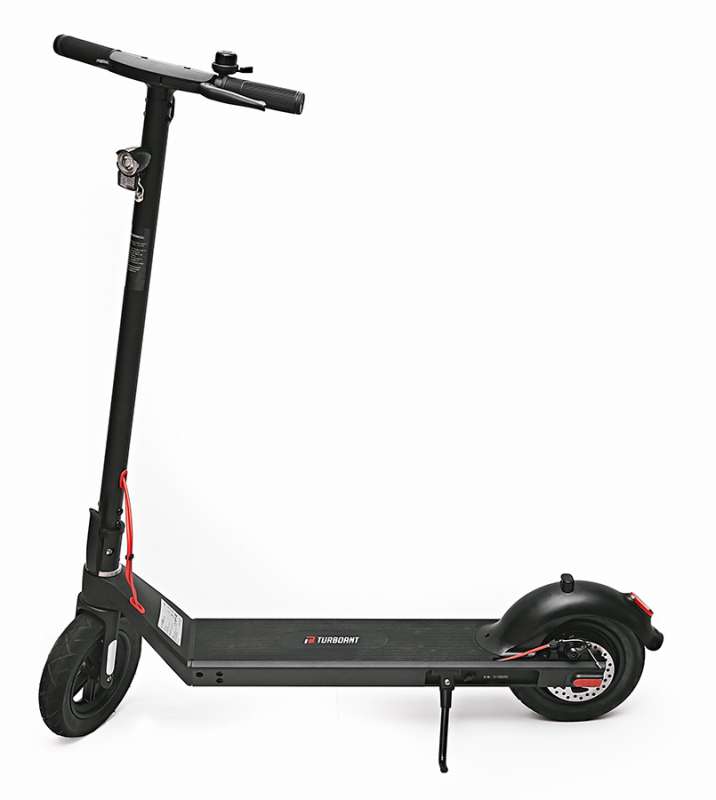 I really enjoyed riding the TurboAnt M10 electric scooter. Not only is it fun to ride but it was actually relaxing in some sort of weird ASMR way. I guess during the times I took the scooter out, there wasn't much traffic so it seemed less stressful kind of have the road to myself. Plus, the road I was on was new and the lanes were wide and the area had some nice scenery. Would I feel the same if I took the M10 Scooter into the city with more traffic? Perhaps, but I think I would still have fun on this scooter, just as well.
With the sturdy and solid frame of the M10 Scooter and its pneumatic tires, driving through a variety of surfaces shouldn't be a problem. With the trigger finger throttle, you can easily and comfortably drive the scooter at variable speeds up to 2o MPH. Although the M10 does not have any suspension, the air filled tires make for a smooth ride. So, whether you ride the M10 as a commuting scooter in the city or riding for fun on the trails or just around your neighborhood, the TurboAnt M10 Commuting Electric Scooter is definitely fun to ride. And since the M10 Scooter doesn't take up that much room, you can stow it in your car's trunk and take it out for a ride when the feeling hits you. Just remember to always ride responsibly.
Update 8/12/22
About a month ago, I went to ride the scooter but it wouldn't turn on. There was only a beep when I pressed the power button. It wouldn't turn on. I contacted Silvia at TurboAnt and let her know the problem. She was very helpful. It was a process but we cleared things up. They wanted me to check the voltage from the battery to the AC
charging adapter. Fortunately, I had a voltmeter I had bought from the thrift store some time ago. I never used one but wanted to start learning how to use one, anyway. I had to ask their technician how to use it. lol
With some instructions from their tech department, I checked what I could and they wanted me to take and send photos of the results. They concluded that the battery was bad and they sent me a brand new one. Needless to say, the new battery started right up and the scooter is running strong so far.
Although it was a process to troubleshoot, Silvia and TurboAnt were really helpful and took the time and effort to help fix the problem.
Update 1/29/23
Just wanted to update you and let you know that I have another issue with the battery on the Turboant M10 Scooter. The battery is not charging again. And this is the new one they sent not too long ago last August. I reached out to Silvia about it. She just mentioned that the battery has an issue but didn't mention what the issue is.
Here is her reply:
We get feedback that your battery has an issue again, which must make you disappointed.
But we would like to tell you that the warranty on a battery is 6 months. Here is the warranty policy:
https://turboant.com/pages/warranty

So you need to buy a new battery this time if there is any issue with your battery. For it, we can help you apply for the biggest discount of $30.

If you need it, please let us know so that we can help you prepare for the discount code. Thanks.
Their battery doesn't seem to be very reliable. Looks like I may have to buy a battery to get the scooter operational.
Price: $449.98.
Where to buy: TurboAnt Website (You can save $50 by using the coupon code: GD50)
Source: The sample of this product was provided by TurboAnt.