We use affiliate links. If you buy something through the links on this page, we may earn a commission at no cost to you. Learn more.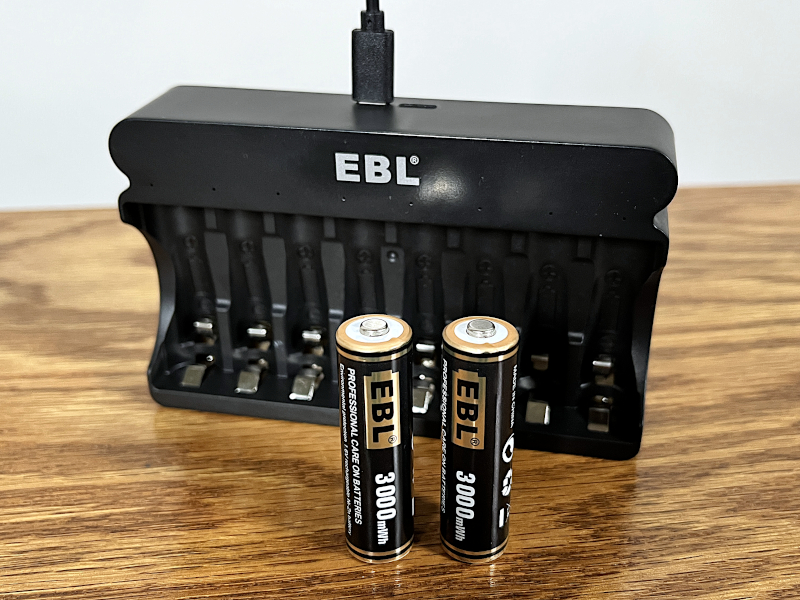 REVIEW – You're familiar with standard alkaline AA batteries from companies like Duracell, and you are probably familiar with rechargeable NiMH AA batteries, like these from Energizer.  They are all the same size (diameter 14.5 mm, length 50.5 mm) and have a standard range for voltage (1.2 to 1.5v), though their capacity can vary widely (typically from 1000 to 2800 mAh).  What you may not know is that there are a host of other types of AA batteries that use different materials internally, each having slightly different properties and uses.  Today I'm going to be reviewing NiZN AA batteries from EBL.
What is it?
This is a set of 8 rechargeable Nickel-Zinc (NiZN) AA batteries with a charger.  They have a 3000 mAh capacity, use 1.6v, and can be recharged 1000 times.  EBL has been delivering batteries and chargers for 24 years, and their mission is "to deliver the highest quality and most reliable batteries possible."  They are headquartered in China.
What's in the box?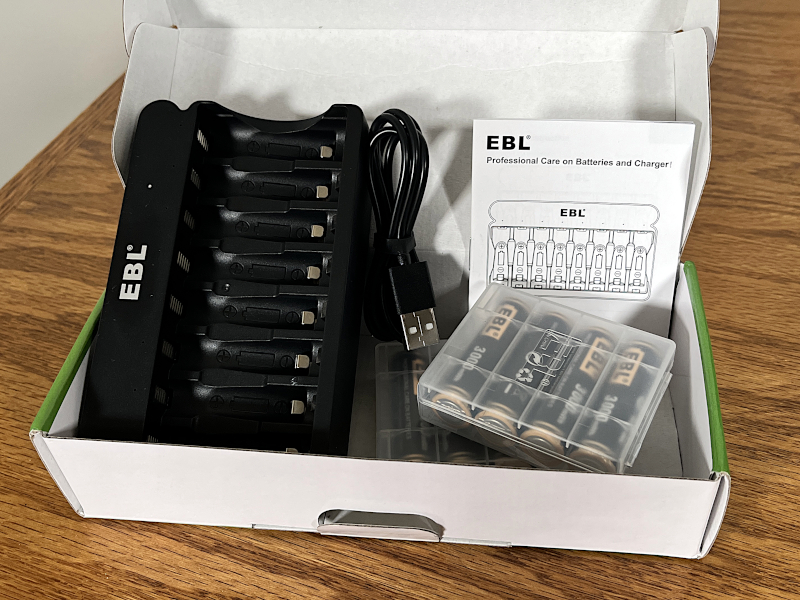 8 batteries in 2 plastic cases
The charger
A micro USB cable
User manual (with 4 pages of English instruction)
Hardware specs
The specs of the batteries are:
Battery Type: NiZN AA
Voltage: 1.6V
Capacity: 3000mWh
The specs of the charger are:
Input: DC 5V/2A
Output for AA: DC 1.6V 1500mA
Output for AAA: DC 1.6V 600mA
Design and features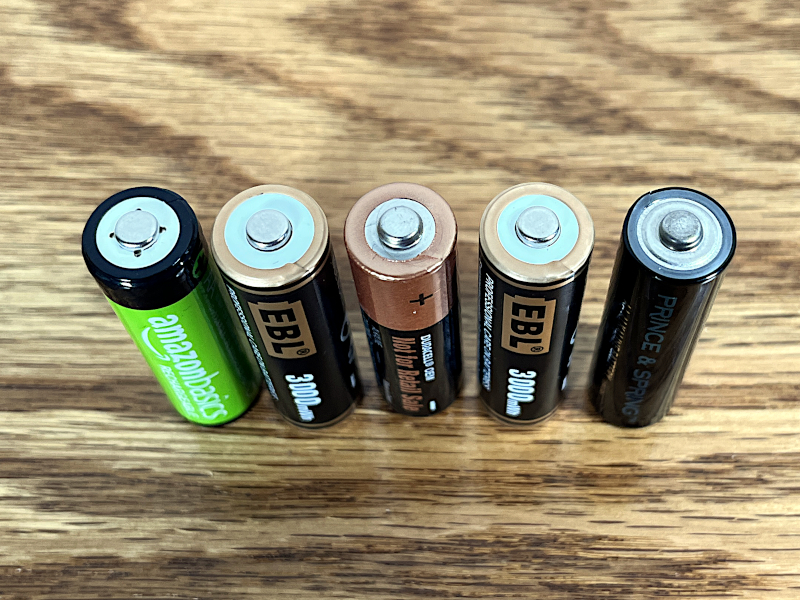 At a glance, these appear to be normal AA batteries with an attractive black and gold design.  The size, however, is not the same size as standard AA batteries; the height is identical, but the diameter is slightly wider.  Some gadgets have very tight spacing for their batteries, so these NiZN batteries could get stuck if I'm not careful.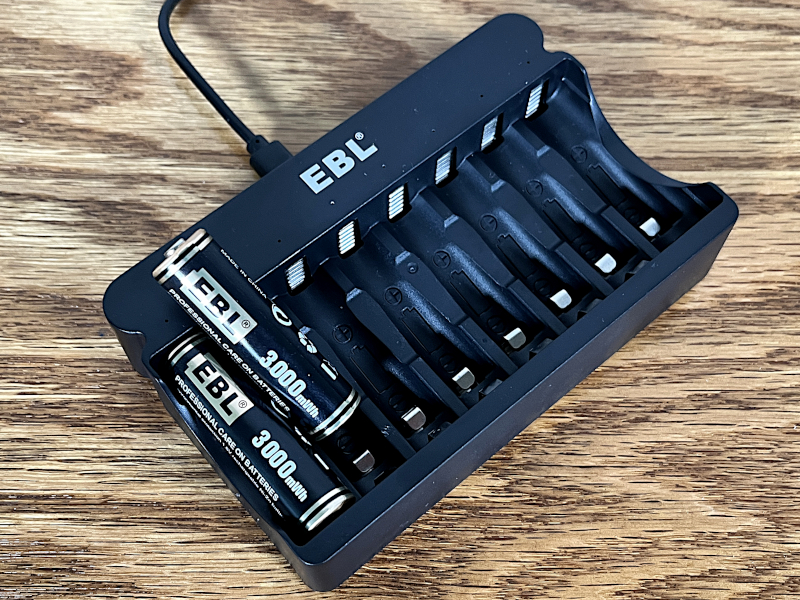 The charger is made of plastic and has a matte black color.  It's a very simple, open-top design that is typical of chargers.  The charger can recharge all eight batteries at once, and its size is not much bigger than the batteries themselves.  It can also charge AAA NiZN batteries, though none are included in this package.
One word of caution:  This charger is only designed for NiZN batteries; don't use this with other types of batteries, and don't put NiZN batteries in other types of chargers.  I wish the batteries and the charger had a bright warning icon or label to this effect, as I think it will be all too easy for me to forget at some point and make this mistake.
Installation and setup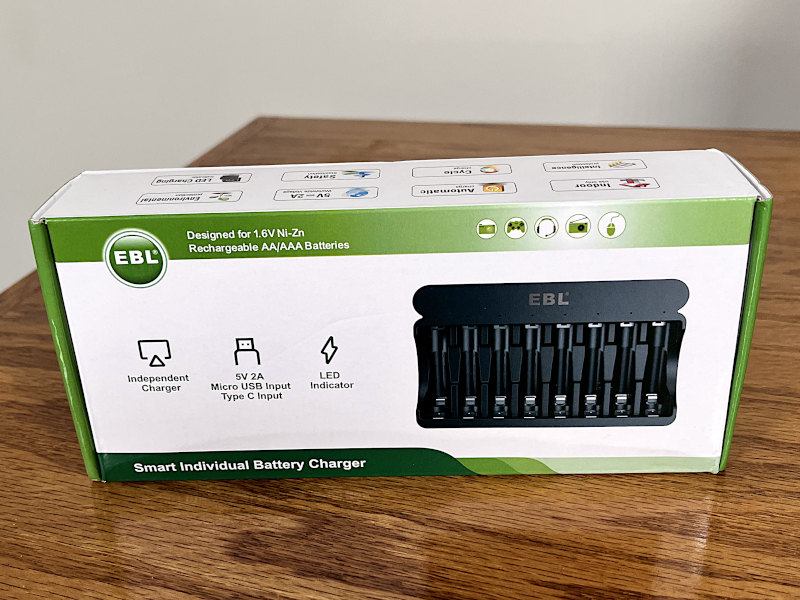 The batteries and charger arrived in a small, cardboard box.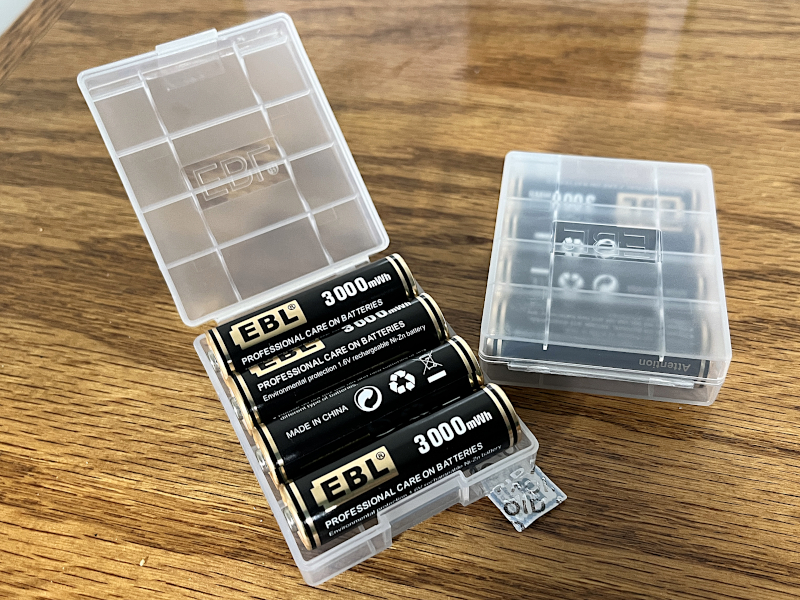 The batteries were in a pair of plastic cases and the charger in bubble wrap; EBL did a good job protecting everything while in transit.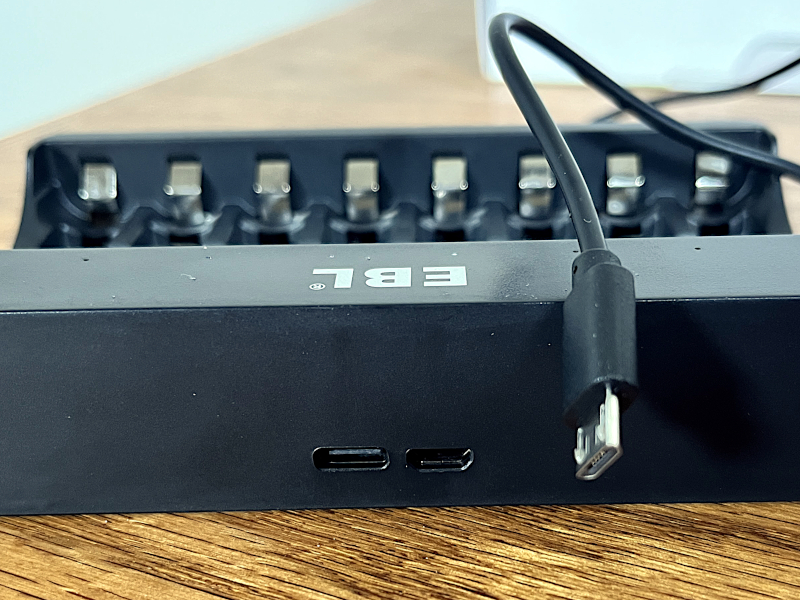 Using this charger could not be any simpler.  I opened the plastic cases, removed the batteries, and popped them into position, taking care to put the positive terminal on top.  The charger has ports for both USB-C and micro USB. Unfortunately, EBL took a short cut here and only included a micro USB cable, which is quite out of date at this point.  I wish that they would drop the micro USB port and include a USB-C to USB-C cable instead.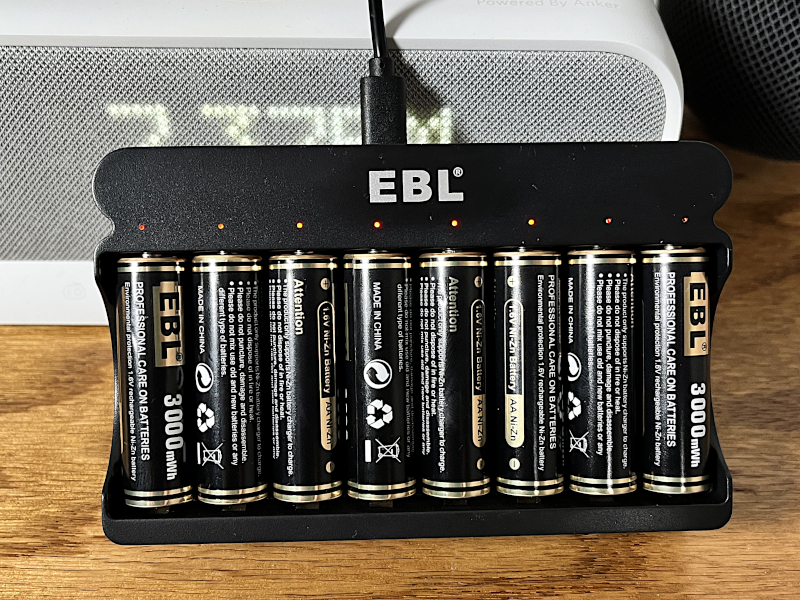 I plugged the USB-A side into my Soundcore Wakey and the micro USB into the top of the charger.  While charging, small LEDs above each battery turned red; when finished, they turned green.
Performance
Because these are NiZN batteries, there are a few differences from the alkaline or NiMH batteries that I typically buy.  One, it has a nominal voltage of 1.6v, which is higher than normal AAs.  When freshly charged, their terminal voltage can be slightly higher, around 1.85v, which can be hazardous to some gadgets.  I need to be careful not to use them in any gadget whose circuitry could be sensitive to this higher voltage.  Two, these batteries are ideal for high-drain devices, anything that uses a lot of power in a short period of time, like a portable video game player, a radio-controlled toy, or an external camera flash.  Three, historically NiZN batteries have not held their charge very well once they've been cycled more than 50 times.  Time will tell whether this is true of these batteries.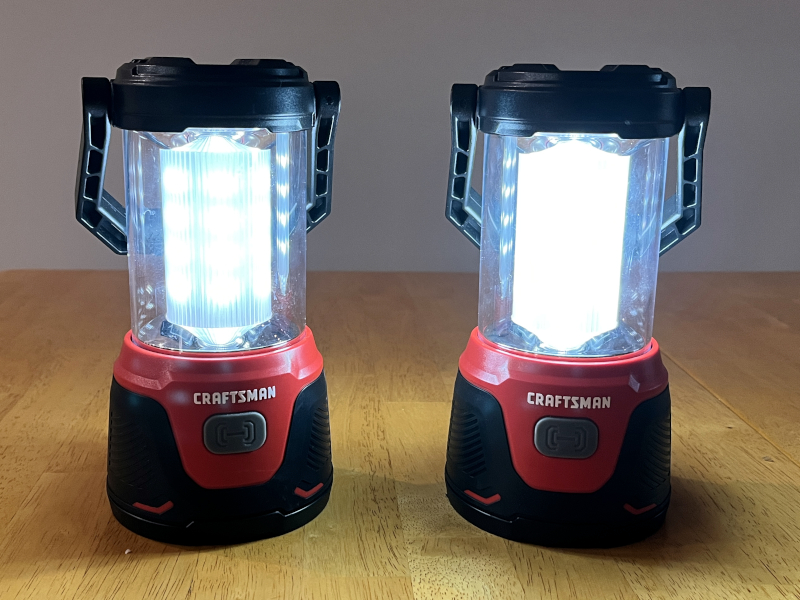 I tested the batteries in two devices.  The first device was a pair of Craftsman LED lanterns.  They're designed for camping, but we tend to use them in the backyard while grilling on our Breeo.  We often grill after the sun has set, so these lanterns are perfect when we need to check how well done our meat is or to see while eating.  Each lantern takes six AA batteries, and on the highest setting can put out 500 lumens, more than bright enough to light up the back porch.  When I replaced the alkaline batteries in one lantern with EBL's NiZN batteries, I could see the difference.  At each of the four settings, the lantern with the NiZN batteries was noticeably brighter than the one with alkaline batteries from Duracell.  In the photo above, the lantern on the right has the NiZN batteries.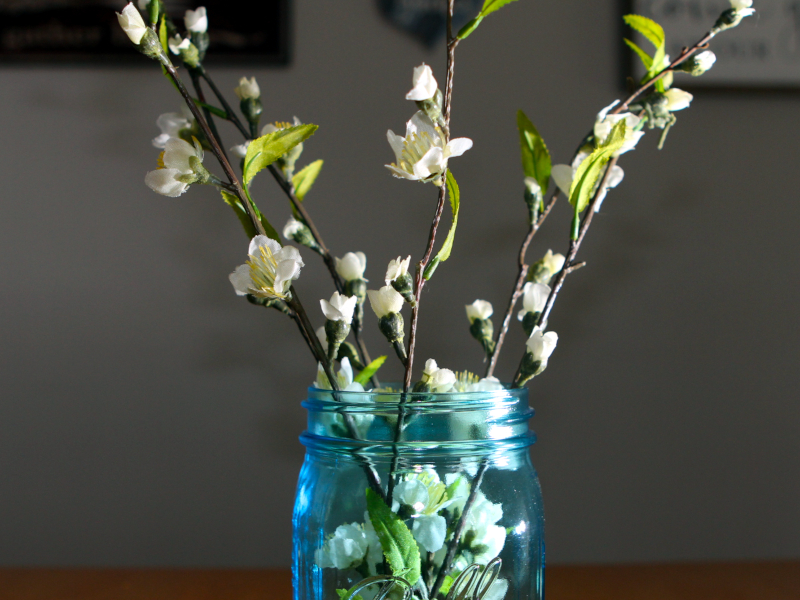 The second device was a Speedlite 430EX II, an external flash for my Canon DSLR camera that uses a set of four AA batteries.  When repeatedly shooting flash photography, the batteries in my flash can drain in a hurry.  The NiZN batteries had no problem powering the flash, even when firing repeatedly.  I can't tell that the pictures were brighter when compared to alkaline batteries from Duracell, but they worked without any problems.  I would be happy to bring a couple sets of four to a photoshoot.
What I like
Eight batteries
The ability to charge all eight at once
Extra power for those gadgets that can use it
What I'd change
Prominent warnings to avoid using these batteries in other chargers and other batteries in this charger.
Final thoughts
NiZN batteries aren't for everyone, but if you have a high-drain device, they can provide the power you need.  I found that EBL's batteries did a great job powering my lantern and my Speedlite, and despite their slightly larger diameter, I didn't have any problems removing them from these gadgets.  The charger's very simple design worked exactly as expected.  If you need a mess of NiZN AA's, then I recommend looking at this gadget from EBL.
Price: $30.29
Where to buy: EBL and Amazon
Source: The sample for this review was provided by EBL.