We use affiliate links. If you buy something through the links on this page, we may earn a commission at no cost to you. Learn more.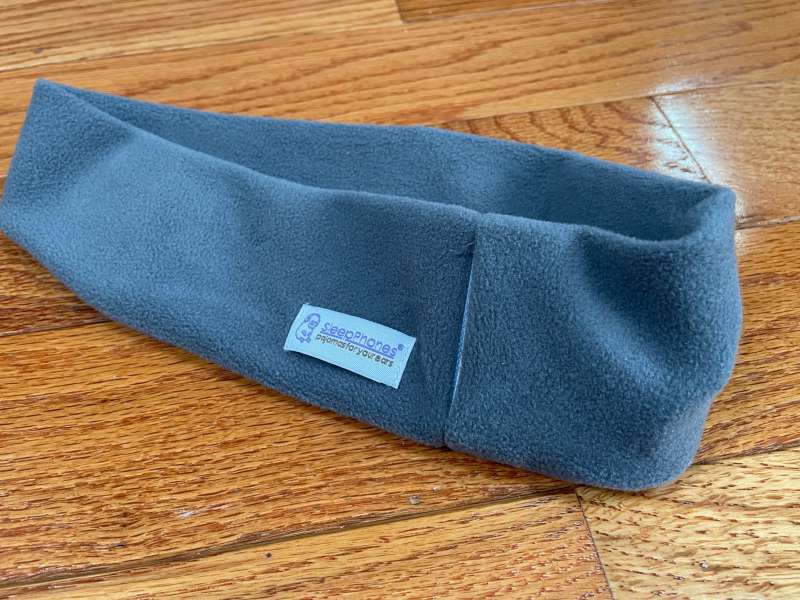 REVIEW – I reviewed an earlier version of SleepPhones about 18 months ago and loved them. Can AcousticSheep "make a better mousetrap" of their already impressive offering? Awwww yeah!….
What is it?
SleepPhones are Bluetooth wireless headphones enclosed in a soft, comfortable, stretchy headband.
Hardware Specs
Bluetooth®: 5.0 AAC receiver
Micro-USB charging and headphone socket
Wireless Range: 15-30 feet (5-10 meters)
Rechargeable Battery: Full charge lasts 24 hours
Charging Time: 4 hours via micro-USB cable (included)
Frequency Range: 20Hz-20kHz
Fabric: 95% polyester, 5% spandex, pre-shrunk, and non-pilling
Compliance: CE, RoHS, FCC compliant
Safety: Ultra-low power, safe RF emissions
Limited one-warranty
Made in the USA from globally sourced components
Fleece and Breeze headbands are available.

What's in the Box?
Headband
Bluetooth receiver
Ear "speakers" with micro-USB connection (shipped inside the headband)
Micro-USB charging cable
Instruction manual

Design and Features
In September of 2020, I reviewed the previous version of Sleepphones here and liked them very much. Since then, I have used them virtually every night. They have held up well, are still comfortable, and sound as good as the day I removed them from the box. Of all of the products I've reviewed, Sleepphones are the ones I use most frequently – all night, every night.
The previous incarnation of Sleephones lasted a full night, plus a few hours. On the rare occasion, I forget to put the receiver module on the charger, I could plan on eight hours one night, then three or four more hours the following night for 12 or 13 hours, better than the 10-hours called out in the specifications.  I have not observed any decline in battery life. The only issues I've had is some minimal fraying of the headphone USB connector (it still works) and the foamy pad on the back of the Bluetooth receiver got a bit sticky but was easily cleaned.

Think about that… A pair of headphones, crushed by the weight of a ponderous cranium, rolled around on a firm pillow like a steamroller (I'm a very restless sleeper),  used for 8+-hours every night, plugged and unplugged daily for 18 months and they still work as well as they did on day one. Why aren't all headphones made this well?
Along comes 2022 and the folks at AcousticSheep have introduced a new Sleepphones incarnation with all of the features of the previous version, but with Bluetooth 5.0, battery life has been dramatically improved. I ran my tests over four days and found the battery life well exceeding the 24-hour specification. With audio played at low to moderate volume, my stopwatch clocked out at an impressive 41 hours! No other pair of wireless headphones I have comes even remotely close. In addition to already being foldable, and compact, not needing to bring an additional USB charger for multi-day trips makes SleepPhones wonderfully suited for travel. For those only using their Sleepphones a few hours a day, I would imagine more than a week between charges. Spectacular!
Packaging is safe and secure.

Charging is complete in about four hours courtesy of a micro-USB socket. The headphone "speakers" share the same socket.



A red LED visible through the receiver's grey rubbery body glows red during charging and extinguishes when charging is complete. The same LED flashes about once per four seconds when connected and rapidly during pairing.

Controls on the receiver are identical to the previous version. Up and down arrow buttons change the volume and double clicks advance or reverse tracks. The center button turns the receiver on and off, plays and pauses tracks, and initiates pairing.

Needing much less time tethered to the charger, I imagine fewer stresses on the Bluetooth receiver and headphone connector which should lead to a longer lifespan for all the components as well as the headband.
Another improvement is the inclusion of a velcro strip to seal the opening for insertion and extraction of the receiver and, if necessary, the speakers. I turn quite often in my sleep and observed on rare occasions (twice in 18 months) that the receiver in the previous version might partially extract itself from the headband. Although the receiver never came completely out, adding the velcro should eliminate the possibility. It also keeps the receiver secure inside the headband with less movement around the perimeter. In the week I've used the new version, the receiver hasn't budged.


As with the earlier versions, the headband is washable after removing the receiver and speakers.



In my tests, I was able to move around my home about 35-feet from the Bluetooth source, an iPhone 12 Pro, and remain connected without dropouts.

The sound is equally as good as the previous version. For some of my evaluations, I enjoyed listening to a varied playlist with classical, rock, and vocal selections. For extended listening, Sleepphones comfort can't be beaten. That being said, the fleece headband is very warm so consider your choice if you prefer things cooler or will be using them during a hot afternoon jog. Speaking of exercise, few headphones can compare to the security of Sleephones – since they wrap around the user's head, they stay in place during even the most vigorous activities.

Of course, the beauty of SleepPhones is for sleep. They are uniquely designed to be comfortable regardless of the wearer's position. I'm a side sleeper and probably put the maximum weight possible onto the flat speakers without discomfort, made even more impressive because I use an improbably hard pillow.  Still, after eight hours of sleep, I did not experience the same "ear fatigue" as I have with other over-the-ear headphones.

Special thanks to my wife for modeling!
What I Like
Insanely long battery life!
Crazy comfortable
Washable headband
Good sound
What I Would Change
Somewhat pricy, but well worth it!
Final Thoughts
There are a ton of sleep headphones available out there and I have used many. None have the colossal battery life or are as comfortable, durable, or sound as well as SleepPhones. I have them to thank for many nights of peaceful slumber and dearly love them! Thank you, AcousticSheep!
Price:  $99.95
Where to buy:  SleepPhones and Amazon
Source: The sample for this review was provided by AcousticSheep.