We use affiliate links. If you buy something through the links on this page, we may earn a commission at no cost to you. Learn more.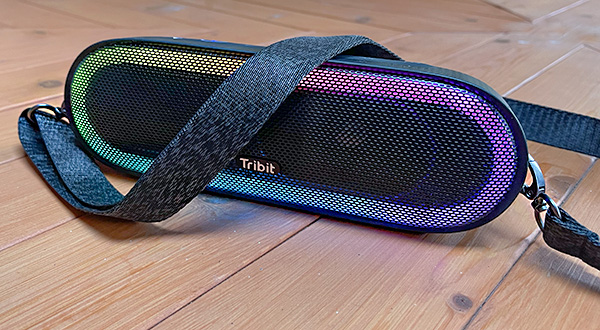 REVIEW – Do you like music? Do you like disco? (Not judging) Do you like clubbing? Do you not like your budget? If so, we may have the perfect personal portable Bluetooth speaker – the Tribit XSound Mega. Why is it perfect? Technically, it's not, but it may be perfect for your needs.   

What is it?
The Tribit XSound Mega speaker is a pill-shaped speaker that is (IPX7) waterproof, has Bluetooth 5.0, equalizer choices, long battery life, a shoulder strap, can be linked to other Tribit speakers, and even comes with a built-in light show!
Specs
Weight: 2.25 lbs.
Size: 9.8 in X 3.4 in X 3.14 in (H X W X D)
Battery: 4000mAh X2
Charging time: 4 hours
Playtime per charge 20 hours
Bluetooth: 5.0
Power: 30 watts

Design and features
The Tribit XSound Mega is the big brother to other Tribit XSound speakers (Tribit makes many Bluetooth speakers). It is a mid-sized pill-shaped portable speaker that will last all day while playing tunes at a more-than-respectable volume. 
It's fairly sturdy, but I wouldn't call it rugged. It can be tossed around at a camping trip—but it's a bit too refined to be abused. And it does look refined. It comes dressed for the party wrapped in an easy-to-grip rubberized shell fronted by a painted metal grill. Tribit also included a shoulder strap making it super easy to carry for long distances.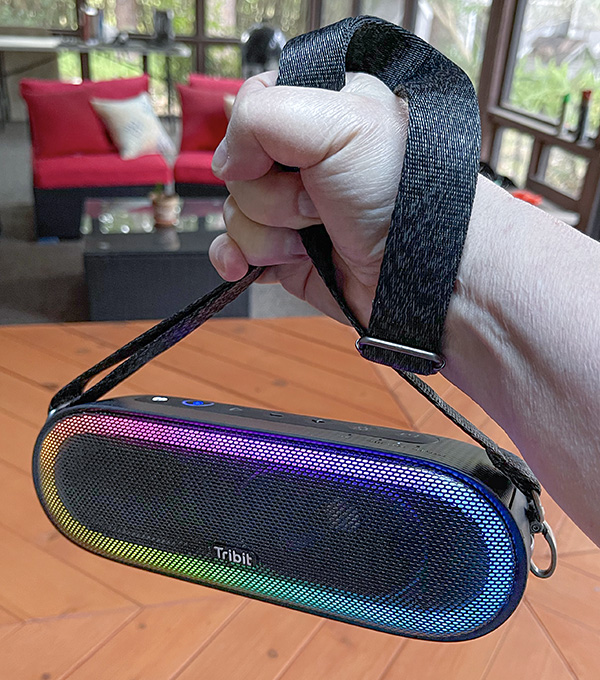 IPX7 waterproofing means you can confidently take it to the pool, ocean, wherever you will find water (remember to rinse it off if used on the beach—salt will eventually destroy anything). The IPX7 rating means that the XSound Mega can remain submerged underwater at appx. 3 feet for 30 minutes and still work properly. However, this rating does not mean the speaker is dustproof. Oh, it also floats, so if it falls into the pool or a lake, you can just reach down and grab it.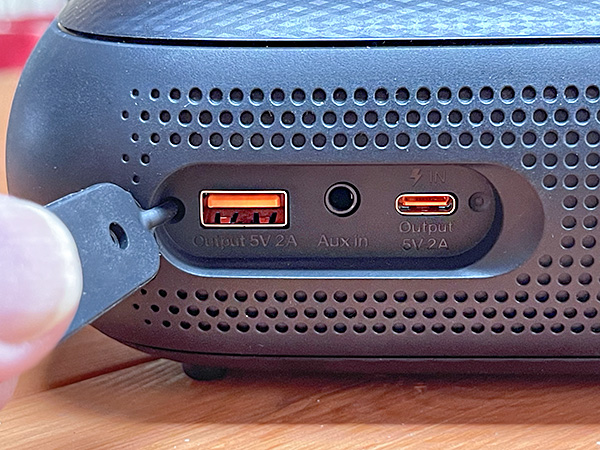 The XSound Mega sports some interesting functions. The rear of the speaker has a water-sealed section housing a single 5V USB A output port, a single 5V input/output USB-C port, and an AUX mini-plug port for hardwiring to an audio source. Both USB ports can be used to charge USB-powered devices, so you can be charging your smartphone while it supplies audio to the speaker. That's cool. The USB-C port is also a charging port for the speaker itself. Battery life is rated at 20 hours—depending on conditions and volume.
Never miss one of our posts again. Sent MON, WED, and FRI with the latest gadget reviews and news!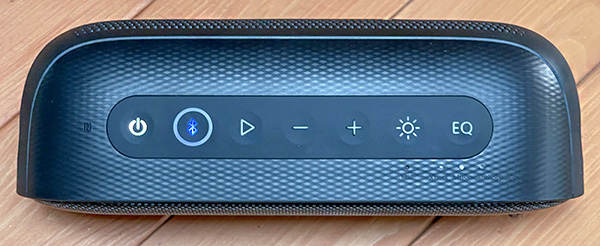 The top of the XSound Mega has a logical layout of buttons. From Left to right are: On/off, Bluetooth pairing, Play/pause/skip, Volume down, volume down, Lighting (yes, lighting), and EQ. All the buttons are flush with the speaker and protected by a rubberized cover. They're easy to push. 
The EQ button has three pre-programmed settings: XBass, Music, and Audiobooks (finally!):
XBass: This setting pushes the bass to the front. It's might be a preferred setting if you are a bass head, but really, the XSound Mega isn't big enough to shake things up. Also, Xbass muddies the audio too much for my tastes. 
Music: This is the obvious setting for music listening. It provides the most accurate representation and gives equal impact to the low, middle and high frequencies—for a speaker this size. Most users should set it to the Music EQ and forget it.
Audiobook: As an Audiobook junkie, I really appreciate this setting. Too many portable speakers ruin the audiobook experience with bass that muffles voices. The Audiobook setting accentuates the mid-high frequencies so it's easier to understand speech without having to crank the volume. You can't appreciate this setting until it's gone.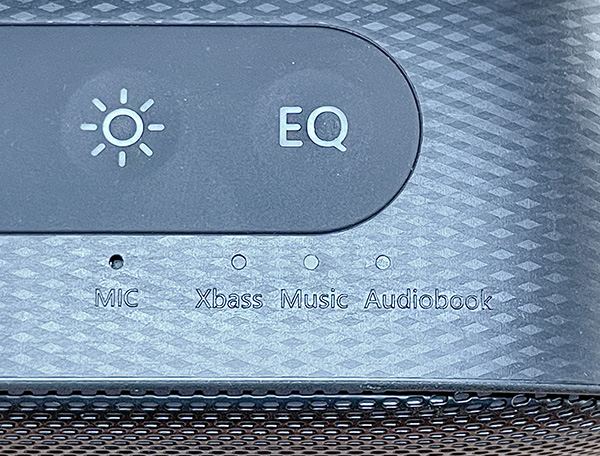 You can easily see which EQ setting is being used by tiny lights next to small text embossed into the speaker. For some reason, the light for the Audiobook setting doesn't work. It's not a big deal to me, but it could be a warranty issue for some.
Then there is the Lighting button. The lighting that rings the speaker just under the grill is cool—if you're 13 years old. There are four lighting choices: a constantly circular-moving rainbow light show, two "racing" lights that chase each other around the speaker front, a light that pulses and changes color to the music playing, and finally, Off—as in no lights. Needless to say, I leave the light setting off.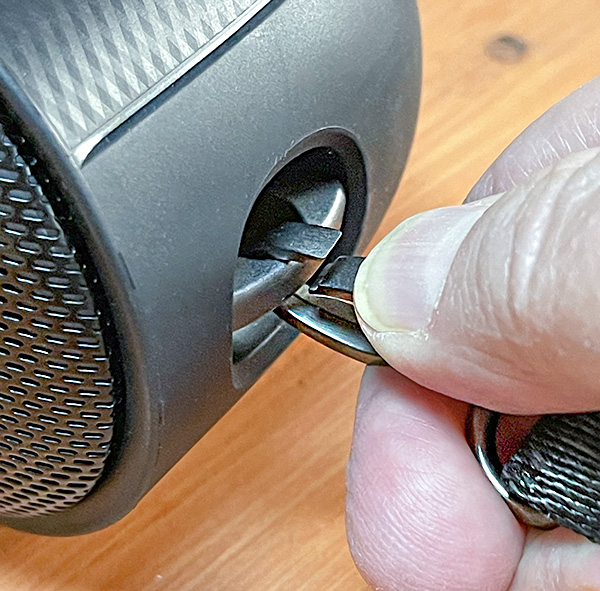 The Tibit XSound Mega can be paired with up to 100 speakers. Talk about a wall of sound! Of course, no one would ever spend about $10,000 on 100 portable speakers, but hey, it could happen. Note that if you want to pair two XSound Mega speakers together, they will not pair for true left/right stereo—unlike the StormBox speakers, which can pair for true stereo.
As with other Tribit speakers, audio quality is better than most speakers in this price range, sometimes a lot better. Whether I have music or my mentioned audiobooks playing, I can enjoy the audio without becoming distracted by harshness or distortion. In fact, the only noticeable distortion came with the Xbass setting set at nearly full volume. Other than that, the XSound Mega sounded great in many situations. 

What I like
Great sound for audiobooks
Waterproof
Floats
Easy-to-understand EQ
The light show—if you're a kid
What I'd change
The light show—if you're an adult
Xbass could be better
Tribit offers a better sounding speaker for not much more money

Final Thoughts
I've reviewed a few Tribit speakers (StormBox Micro, StormBox Pro, and the Home Speaker—with its own light show. I appreciate the effort Tribit puts into their line of speakers and their commitment to quality that exceeds the price. If asked to recommend a Tribit speaker, I would choose the StormBox Pro hands down. It's about 20 bucks more than the XSound Mega without a light show but sounds much better. However, if your budget is tight and you want a decent-sounding speaker for music and spoken content—or you have a child who would love a light show timed to their music, then the Tribit XSound Mega is the speaker for you.
Price: $99.99 US
Where to buy: Amazon
Source: The sample of this product was provided by Tribit.