We use affiliate links. If you buy something through the links on this page, we may earn a commission at no cost to you. Learn more.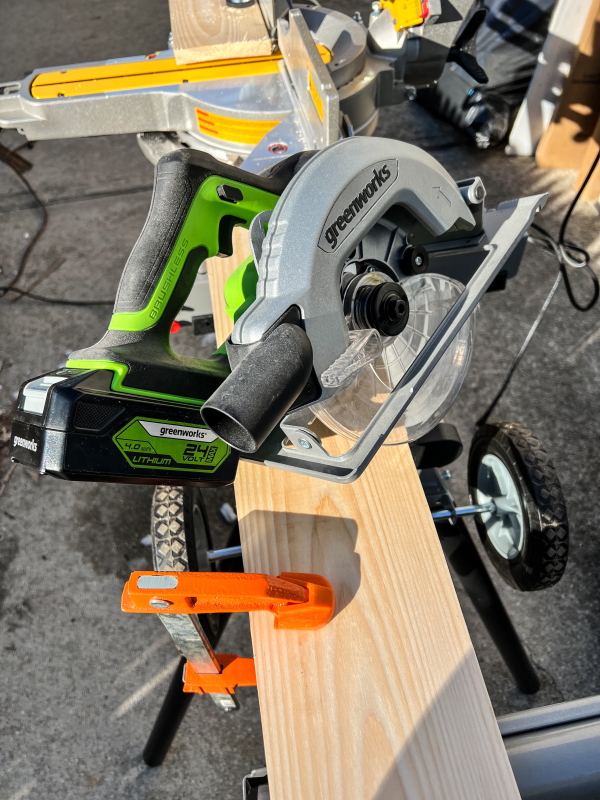 REVIEW – For some time now I have been writing about my DIY work in my new home and my DIY skills. I have also repeated that I fully believe that the end product and result directly depend on having the right tools for the job. In many instances, having the right tool as a cordless tool can not only be a great advantage but usually becomes the go-to tool of choice if it performs well enough to manage tasks similar to those that a corded tool can master. Let's see what this Greenworks Cordless 24V 7-1/4" Circular Saw can do.
What is it?
The Greenworks Cordless 24V 7-1/4" Circular Saw features an efficient 24V brushless motor that provides good torque, quiet operation, and long life. The high-speed motor (4,500 RPM) with a 24-tooth carbide-tipped blade provides fast and clean cuts. There is a 0-45° bevel cut capacity with bevel stops that allows users to cut common and uncommon angles, an electric brake stops blade rotation when the trigger is released for added safety, a spindle lock for quick and easy blade changes and a convenient built-in LED illuminates the cutline, eliminating shadows for a clear cut. Max Cut Depth @ 90 : 2.48 in. | Max Cut Depth @ 45 : 1.69 in.
What's in the box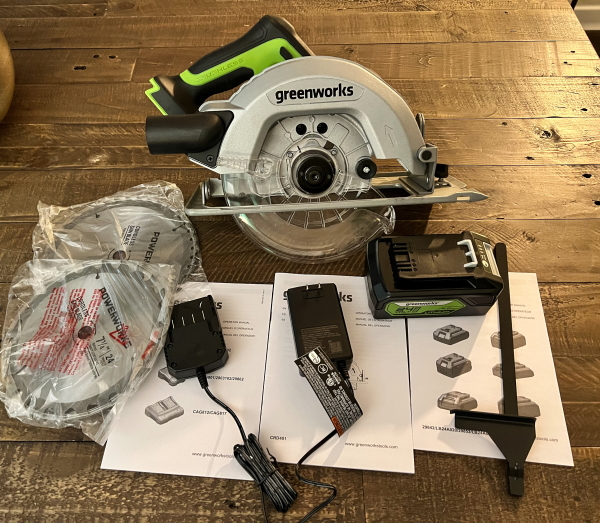 1 x Greenworks Cordless Circular Saw
1 x 24V 4Ah Battery
1 x 2A Charger
1 x 24T Saw Blade
1 x 40T Saw Blade
1 x Dust Connector
1 x Parallel Guide
1 x Allen Key
Design and features
Features


Powerful & Durable: Greenworks 24V 4Ah battery provides more power and longer runtime than most other 20V and 18V tools. A Brushless motor delivers up to 4500 RPM to make aggressive cuts.
Cut Capacity: 0-50° bevel angle; Large cutting capacity of 1-11/16'' at 50° and 2-1/2'' at 0° for a variety of cutting applications.
Clear Cutline: Built-in LED light illuminates your workspace. Included dust port for use with a vacuum provides better visibility.
Design for Safety: Electric brake stops the blade after the trigger is released for added safety; Double safe switch enhances safety.
What you get: 7-1/4" 24V circular saw, 4Ah battery and 2A charger, 1×24T saw blade for cutting wood, 1×40T saw blade for cutting plastic and plywood, dust connector, Allen key, parallel guide.
Satisfaction: Greenworks power tools come with a 3-year tool & 2-year battery limited warranty and friendly customer service.
Specifications
POWER SOURCE: battery powered
VOLTAGE: 24V
MOTOR SPEED: 4500 RPM
MOTOR TYPE: BRUSHLESS
BATTERY CAPACITY: 4AH
BEVEL CAPACITY: 50°
CUT DEPTH: 2-1/2" AT 90°
ELECTRIC BRAKE: YES
This circular saw is made of plastic, rubber, and metal and includes the Allen key to change the blade bevel angle adjustment knob and a safety release trigger. The battery, battery charger, and parallel guide are also included.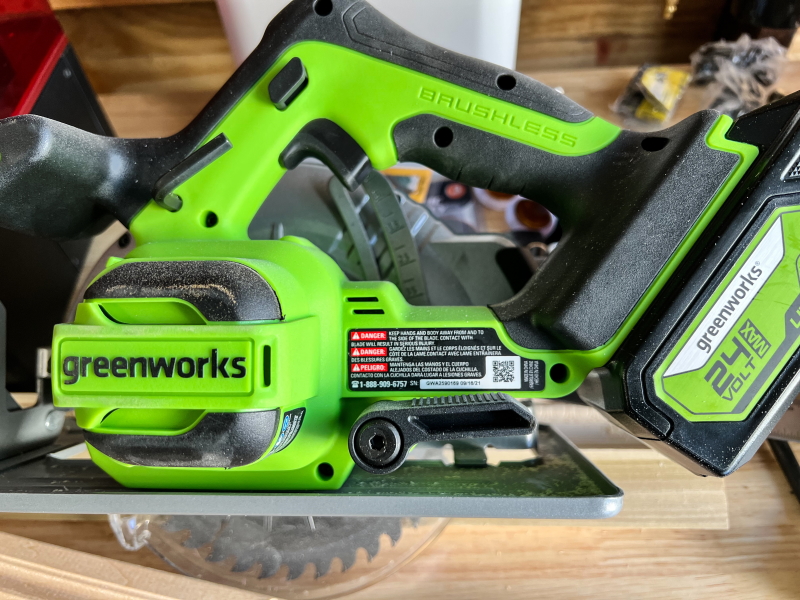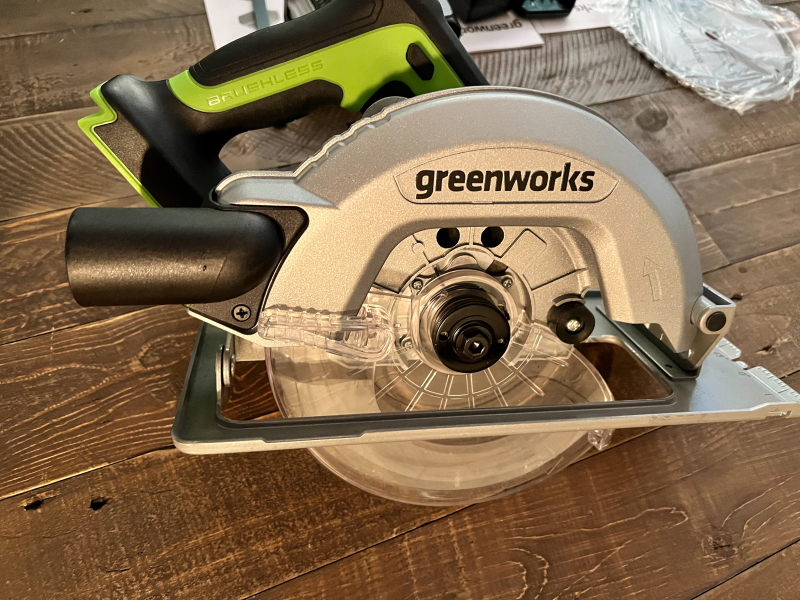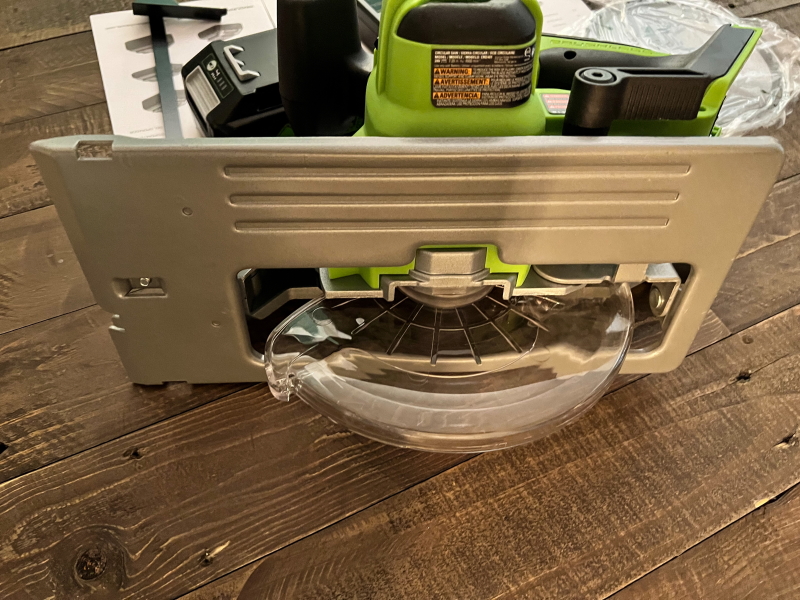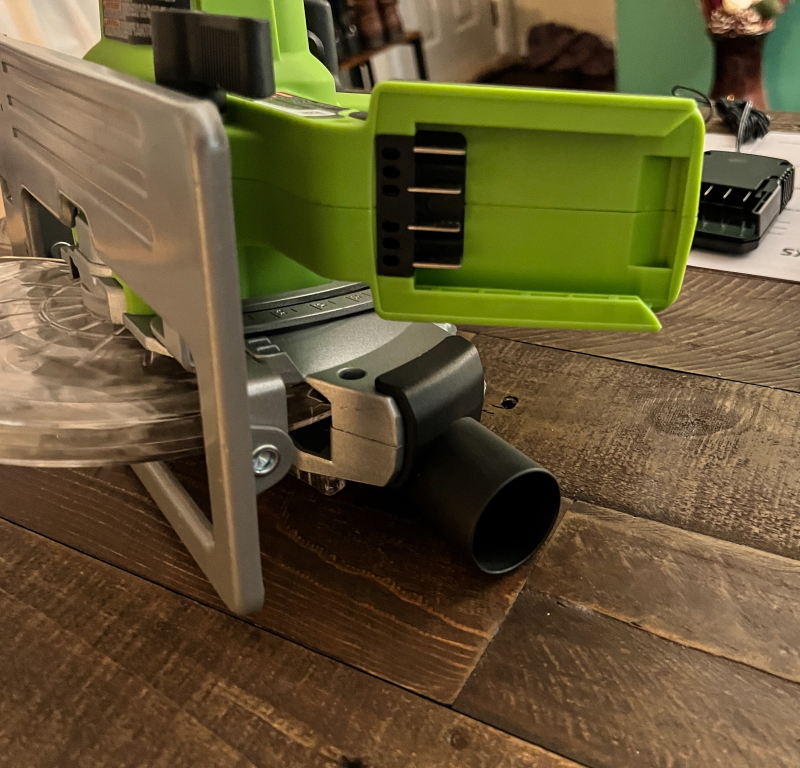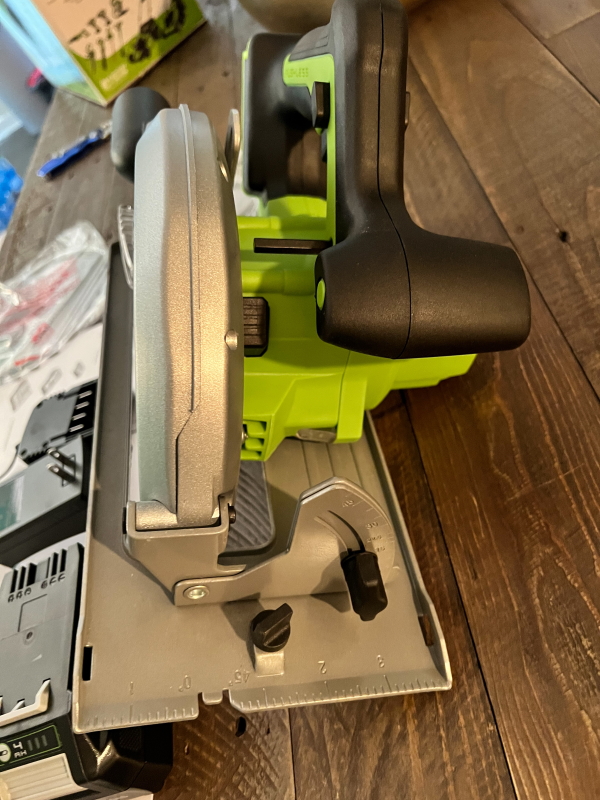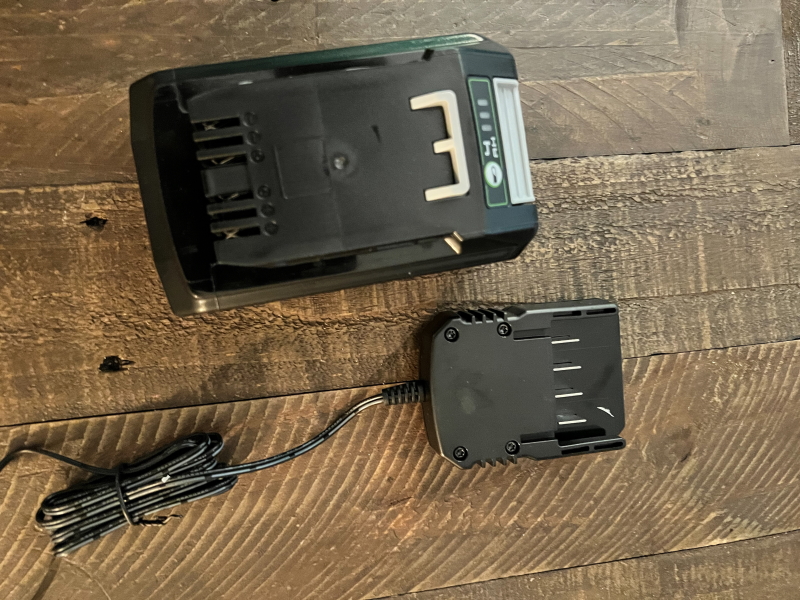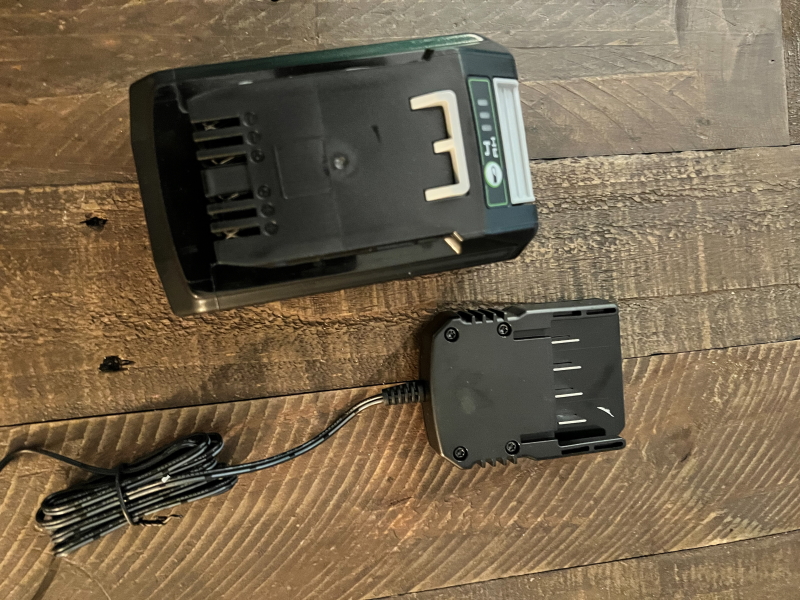 Performance
The first thing I did was fully charge the battery, which is standard for any cordless device. This saw came with 2 blades for cutting wood. One has 24 teeth and the other 40 teeth. They both cut wood except that the one with the 40 teeth gives a cleaner cut. More teeth = cleaner cut with less or no ragged edges. The Allen key to install or remove the blade comes with the saw and inserts in the handle.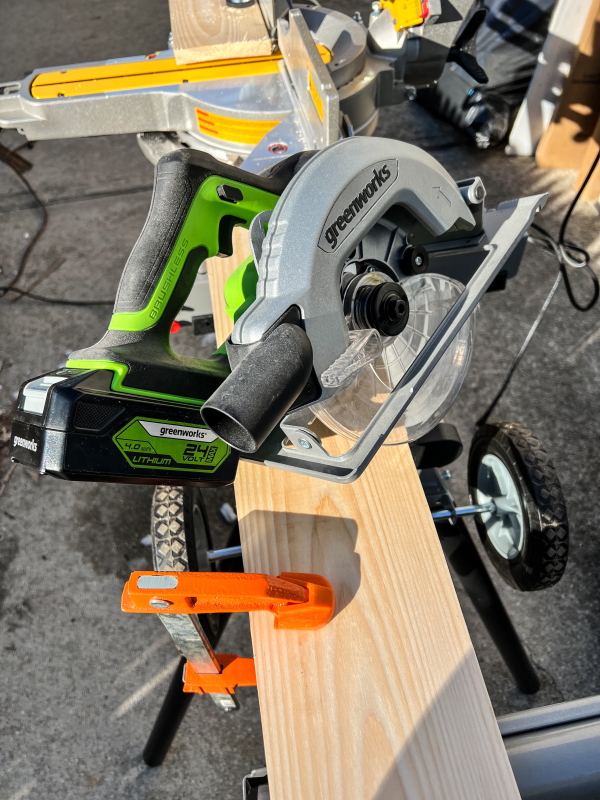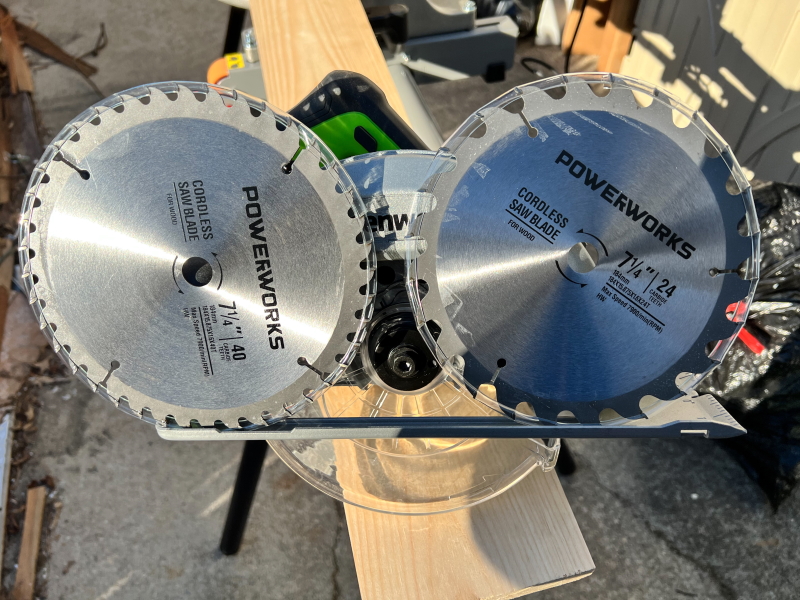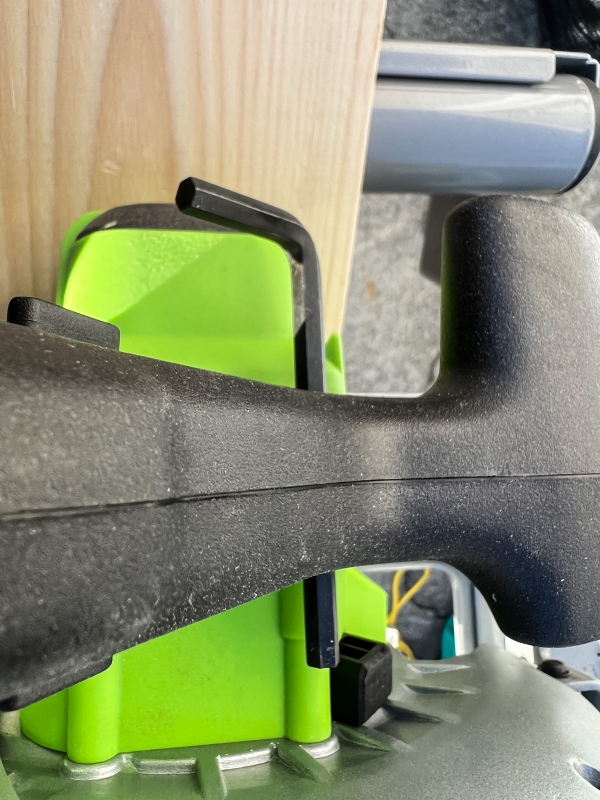 There is a spindle lock button behind the handle that locks the saw wheel so that you can turn the Allen key.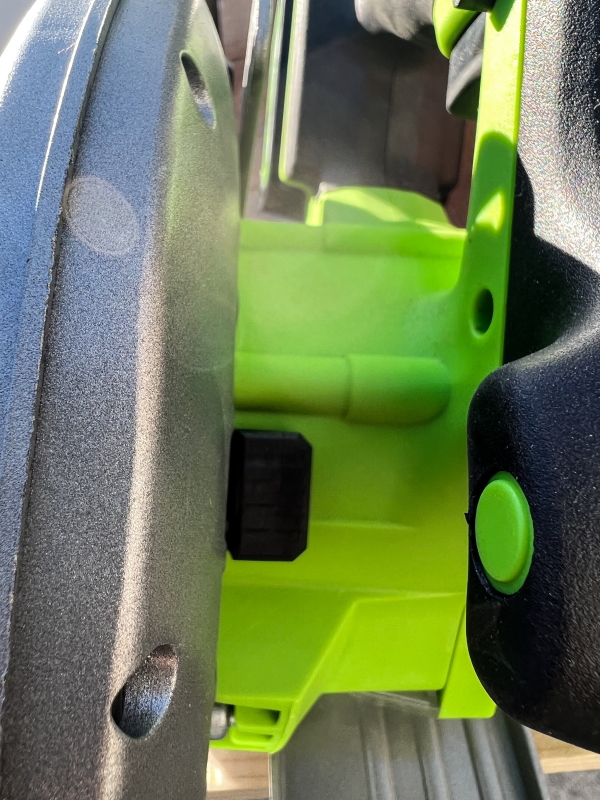 Once I attached the blade, the next step was to test it out. I used it outdoors only, so I did not need/want to attach a vacuum to it. It cuts wood well. I tried a few thicknesses and a few different types of wood and it worked well. I also like the light that helps my aging eyes to see where I am cutting. I have another DIY project coming up and this saw will be priceless for that job. Overall, it performs well. and the battery seems like it will last for a while. I will purchase another battery so that I have at least two which I'm my opinion is par for the course.
What I like
The build quality
The features
It is comfortable to use
Cuts well
What I'd change
It does what a cordless circular saw should do
Final thoughts
Although in most cases powered corded tools offer more power, cordless tools have been getter better with each model and version and in most cases have proven to be adequate for jobs previously designated for corded tools. The Greenworks Cordless 24V 7-1/4" Circular Saw is no exception. And, as a fan of cordless tools, it fits right in with the other tools in my workshop. It cuts well and has more than enough power for every job I have tested it on. Obviously, there is always a need to have several charged batteries when using these tools for long periods of time and for numerous cuts. IMHO, I give this circular saw a well done!!
Price: $139-with battery kit ($15 coupon currently available; $99.98 tool only – Amazon), $99 -tool only (Greenworks)
Where to buy: Amazon, Greenworks Tools website
Source: The sample for this review was provided by Greenworks.