We use affiliate links. If you buy something through the links on this page, we may earn a commission at no cost to you. Learn more.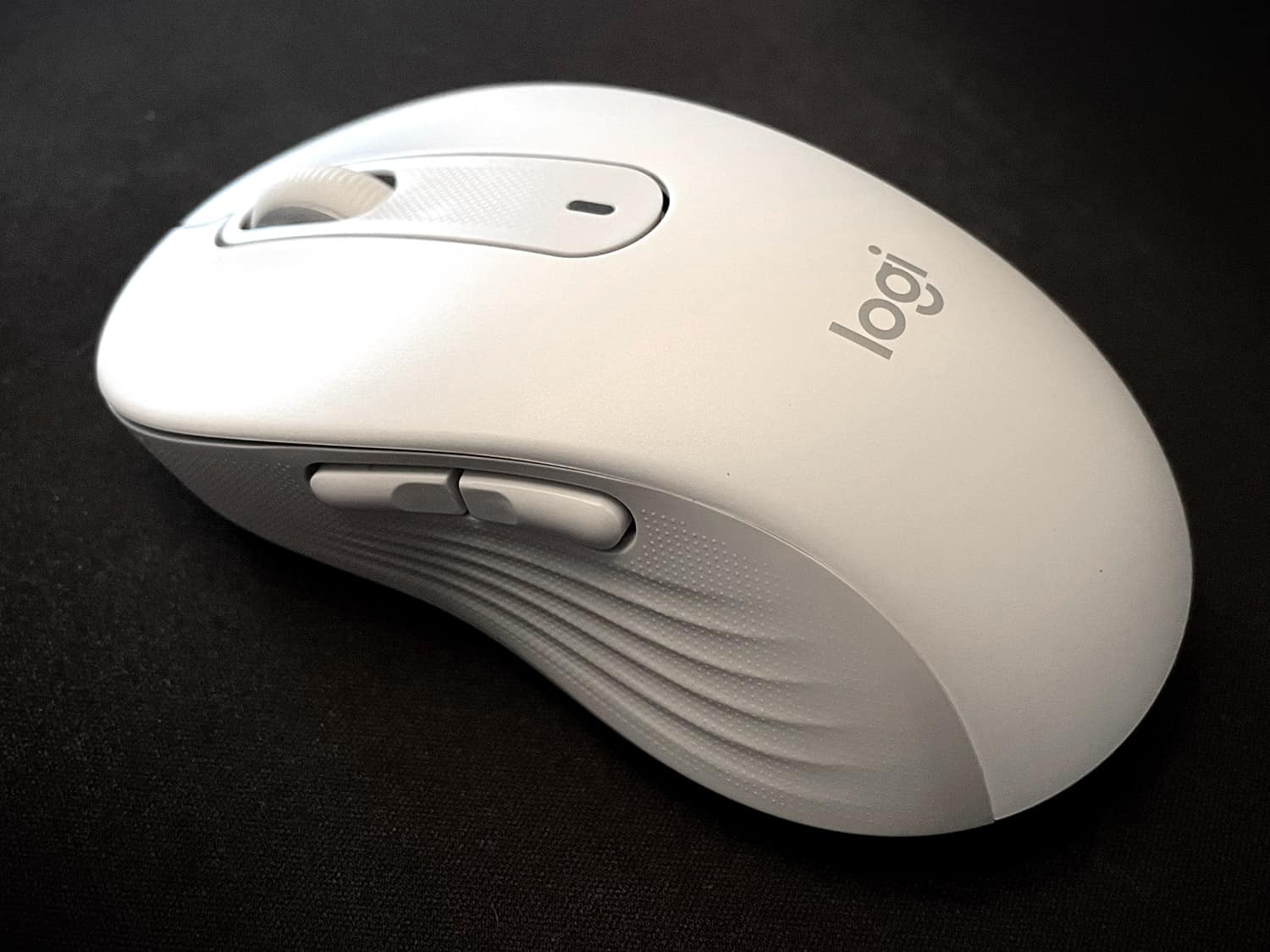 REVIEW — Say you want to make a mouse, and you toss in these requirements into a bag and shake it up: silent operation, wireless, comes in multiple sizes, is for lefties or righties, has five different colors, and most of all, cheap. What you end up with is the Logitech Signature M650 Wireless Mouse.
What is it?
The Logitech Signature M650 is a wireless mouse that comes in two sizes, right or left handed option, and is available in 5 colors. It also offers dual wireless connection via Bluetooth or Logo Bolt USB receiver.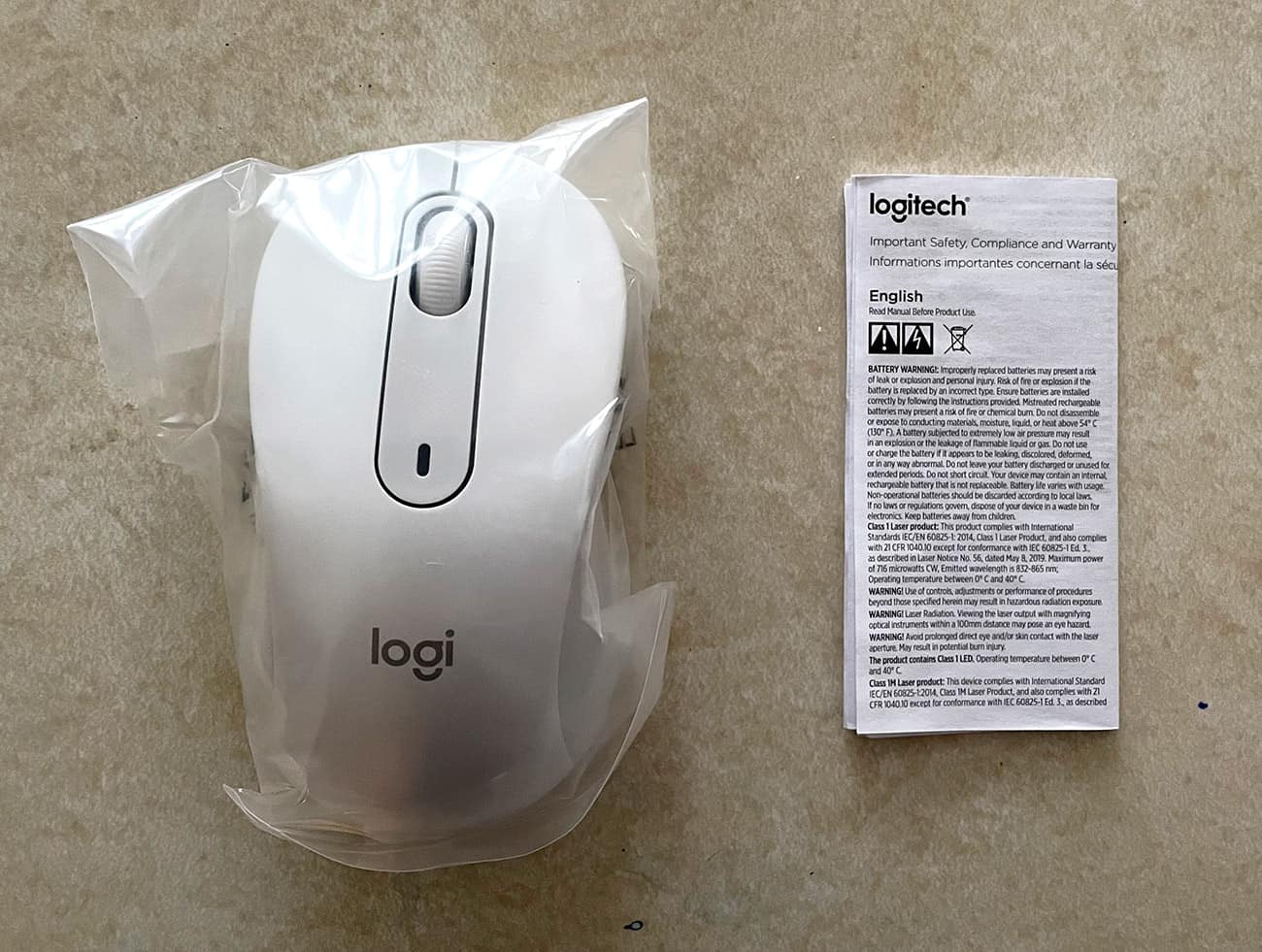 What's in the box?
Wireless Mouse
USB Receiver
1 AA Battery
User documentation
Hardware specs
Sensor technology: Logitech Advanced Optical Tracking
Nominal value: 400 dpi with up to 4000 dpi
Number of buttons: 5 (Left/Right-click, Back/Forward, Scroll-wheel with middle click)
SmartWheel scrolling
Connection Type: Logi Bolt USB Receiver or Bluetooth low energy technology
Battery type: 1 x AA battery (included)
Battery life with Logi Bolt USB Receiver: up to 24 months Battery life with Bluetooth: up to 20 months
Wireless range: 10 m (33-ft) wireless range
1-Year Limited Hardware Warranty
The M650 comes in two sizes, I was sent the large size to review and it fits my hand perfectly. It's also available in a left or right hand configuration, which switches the location of the thumb buttons.
Signature M650 — Regular Size
Height: 4.22 in (107.19 mm)
Width: 2.43 in (61.80 mm)
Depth: 1.49 in (37.8 mm)
Weight: 3.57 oz (101.2 g)
Signature M650 L — Large Size
Height: 4.65 in (118.19 mm)
Width: 2.58 in (65.63 mm)
Depth: 1.64 in (41.52 mm)
Weight: 3.93 oz (111.2 g)

Design and features
Aside from the Apple's Magic Mouse that came with various iMacs I've owned, I've almost exclusively used Logitech mice. And after years of multiple mice, I've got to say right up front that Logitech really nailed it with their M650 Signature Mouse.
Naturally, when designing a peripheral, you have to take into account the multitude of hand sizes, whether the user is right or left handed, and dive into color options. Logitech took a smart approach by creating 3 option categories and allowing the user to customize their choice.
Left or right handed? Large or small hands? What's your favorite color? And do you like to use a low-power USB dongle or good ol' Bluetooth? That last one's a trick question, because both of those are available no matter the size or hand configuration.
I received the large option for this review and it fits like a glove. The sides of the mouse are coated with a grippy, rubber surface as well as several ridges for added traction.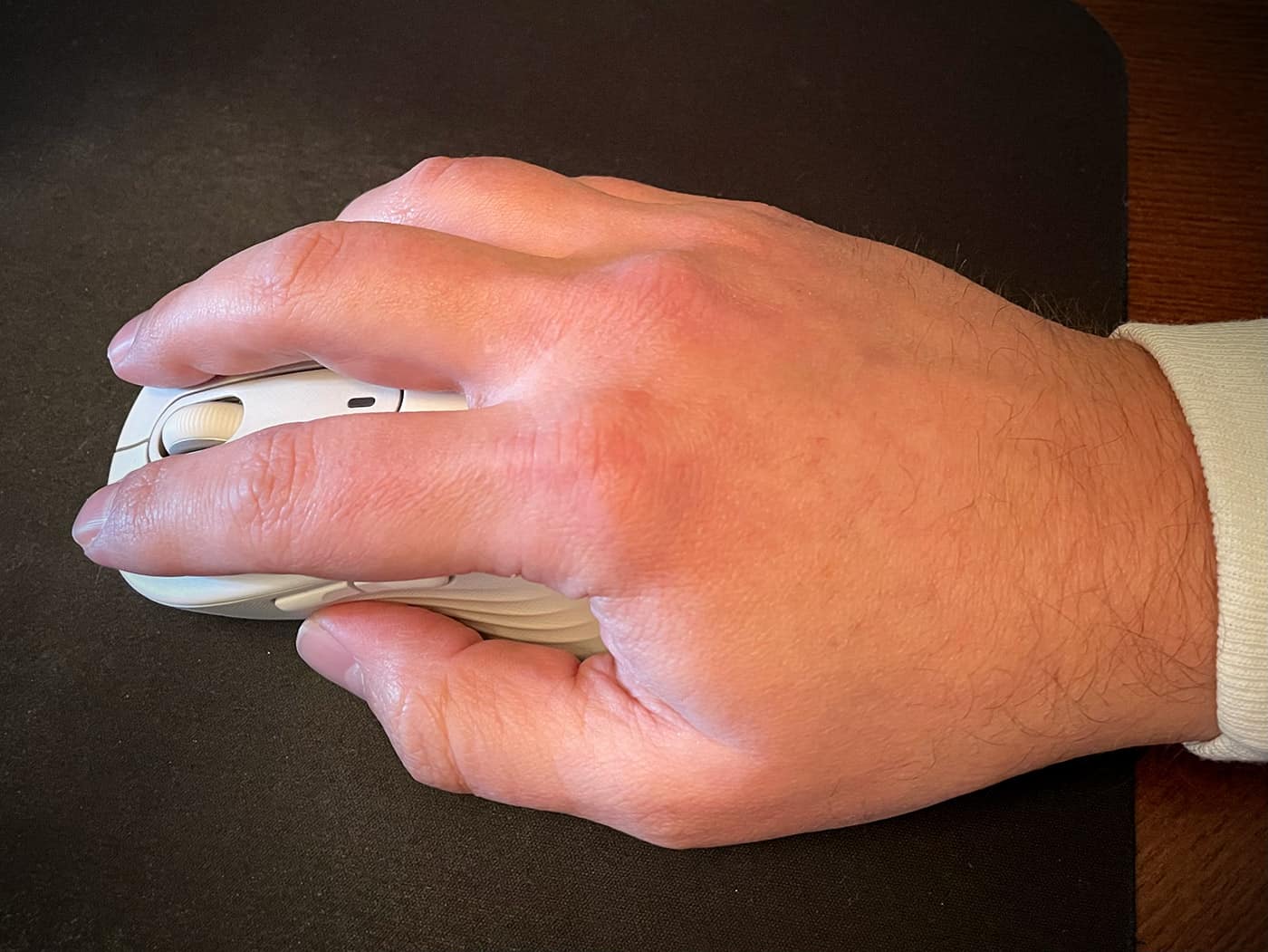 The side buttons rest just over my thumb and are immediately accessible. Everything just feels "right," there are no seams in the surface that subtly cut into your hand all day and no weird angles. Just lovely ergonomic curves. Perhaps I got lucky and happen to have a perfect fit with this mouse.
Naturally, there are left and right mouse buttons in the standard configuration. These are also a nice shape. There's a subtle lip at the top edge of the buttons, sort of giving your fingertips a clue as to where the end of the mouse is.
The buttons are almost silent. It's awesome. I love it. I don't know why, but I was almost expecting to miss hearing a click as audible feedback, but there's enough of a tactile feedback to register it without the noise.
I don't mind clacky sounding keyboards, but I've learned that there's no reason to hear a hollow mouse click a million times day. In a room with average ambient noise, you'd barely hear the M650 clicking next to your head.
Centered between buttons is a nicely textured scroll wheel. I think this is the first Logitech mouse I've used with their SmartWheel scroll wheel, but I do like it. It's very easy to turn; it reminds me of the smoothness of a weighted, bearing mounted scroll wheel.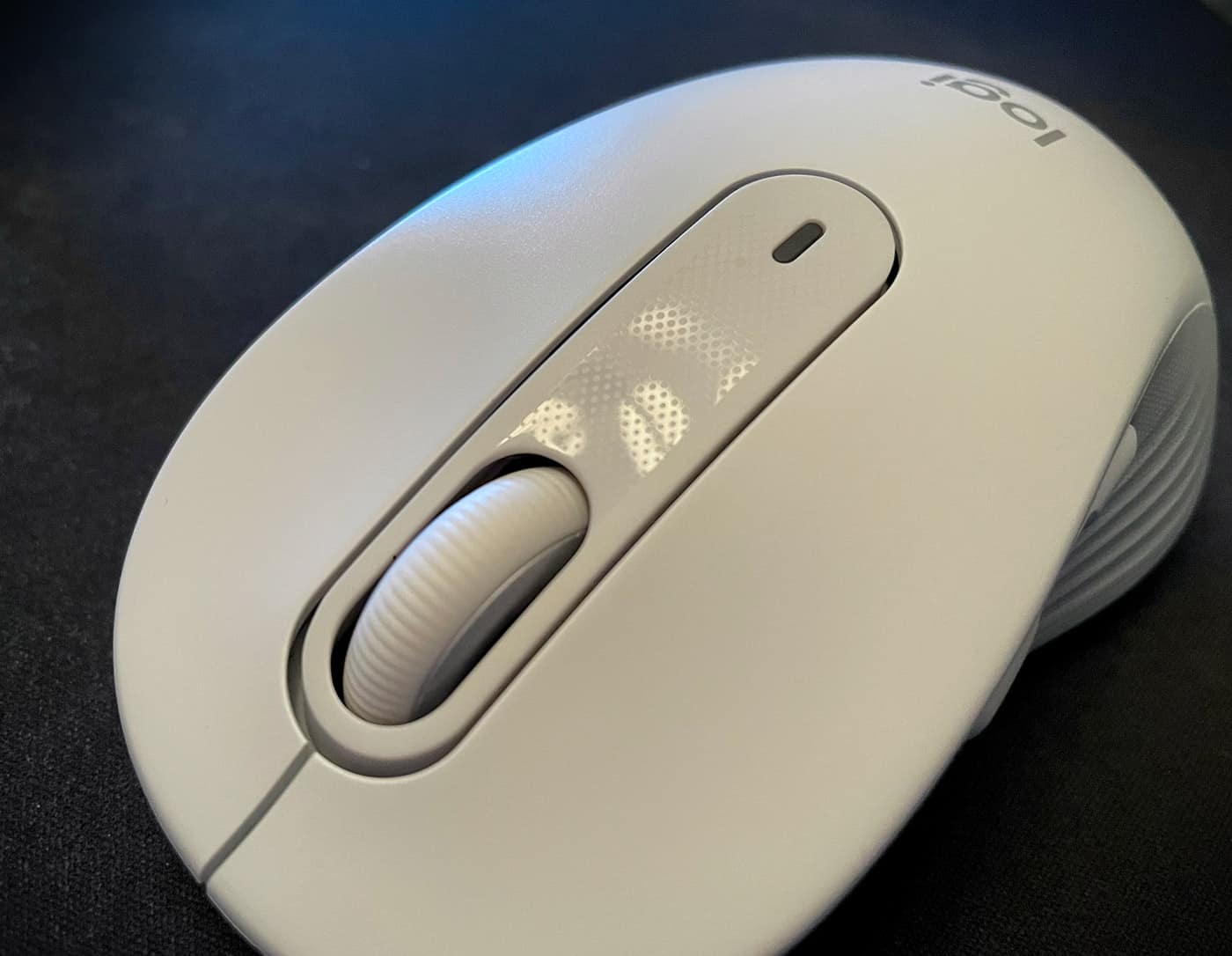 There are subtle tactile bumps while scrolling, which also feels right, just enough to give some feedback. There's a bit of added tech to this SmartWheel, you can give it a little nudge and the scrollbar responds in kind, while giving the wheel a good spin is enough to rocket a website right down to the footer.
The SmartWheel can be depressed to use as a 5th mouse button. The function of all the buttons can be customized via Logitech's software.
Like the buttons, it is also extremely quiet. How many times have you been in an office or waiting room and overheard "ooh let me just see here" and heard a mouse wheel grind out a sound like a baseball card slapping bike spokes? This is a good scroll wheel. Sorry. SmartWheel.
Flipping the mouse over reveals an on/off switch, a pairing button, and the battery cover. Inside that cover is a slot for 1 AA battery (which is supposedly able to power the mouse for up to 2 years), and the "Logi Bolt" USB receiver.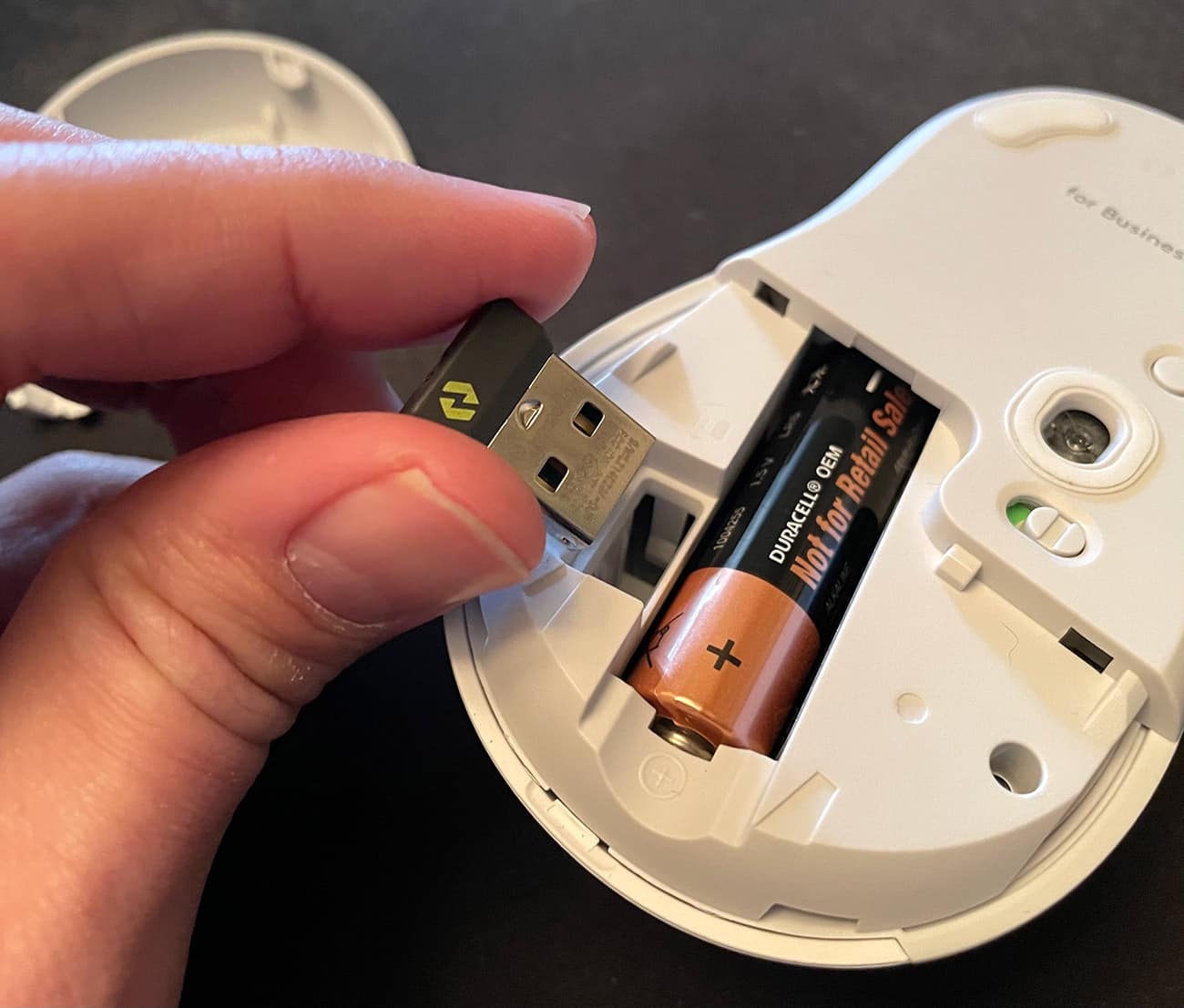 The M650 can be paired to your computer using this USB receiver, which only comes in USB-A flavor, which is bad news for laptops with USB-C only ports or … OR … Bluetooth. Thank the gods of technology, I can finally use a Logitech mouse with my MacBook without having to chain together a hub or converter to connect their old Unifying Receiver. Just pair it up in your Bluetooth options and boom.
Now, connecting it via Bluetooth does use more power than the USB Receiver. Logitech claims to get up to 20 months with Bluetooth and up to 24 months with the receiver with one AA battery, so it's a moderate savings in power if you can tuck away the small USB dongle. Either way, that's a ridiculously long time. I remember chewing through 2 AA batteries every couple months with an Apple Mouse, back before they started making them with rechargeable batteries.
Having that notch to store the receiver is nice, I think Logitech's been doing that for a while, now. Overall, I'm struggling to come up with a negative point in using this mouse. There could be more buttons, maybe? I don't really use a bunch of macros mapped to extra thumb buttons, and I think the normal set of 5 is plenty for most people.
There's no DPI adjustment to speak of, being able to switch between 400 and 1600dpi, for example. That's always seemed like a nice-to-have for situations like gaming, or needing to swap between large and small motions. But then again, this mouse is only $40. It's just about perfect for that price range.
What I like
Comfortable and nearly silent
Bluetooth or USB dongle connection
Extended battery life
Very affordable
What I'd change
Couldn't think of anything
Final thoughts
The Logitech Signature M650 mouse is unequivocally one of the best mice I've ever used at this price point. It's accurate, comfortable to use for hours on end, and most importantly finally breaks the curse of requiring a USB dongle while still keeping it as an option. I can't think of a thing I'd change.
Price: $39.99
Where to buy: Amazon
Source: The sample of this product was provided by Logitech.