We use affiliate links. If you buy something through the links on this page, we may earn a commission at no cost to you. Learn more.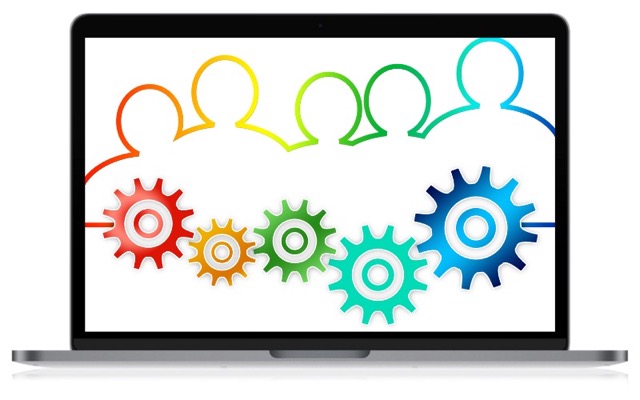 REVIEW – When the Gadgeteer team decided to do another round of "Gear we're using" posts I was concerned because I've been using pretty much the same gear for the last two years. I documented my Work from Home setup exactly a year ago as I write this and that hasn't changed at all. Since I rarely go out, my EDC post from 2018 still covers everything that's in my GoRuck backpack as it sits unused in my closet.
However, since I took up gunsmithing and sport shooting in 2020 I have amassed a ridiculous amount of gear related to both hobbies. So, for my Shooting Range Edition of "Gear we're using" I've included everything I usually bring with me on a typical visit to my local range.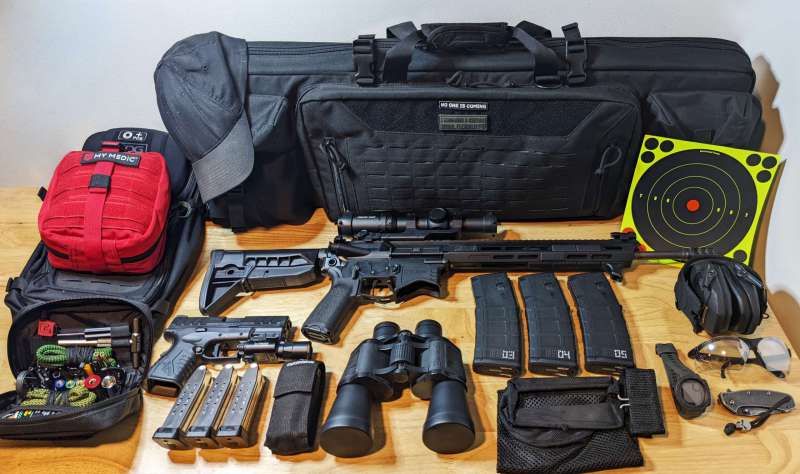 I've included brief descriptions of my gear choices and why I like them. Links for all of the gear are listed below the photos and at the end of the article. Let's start with the most important piece of gear, my rifle.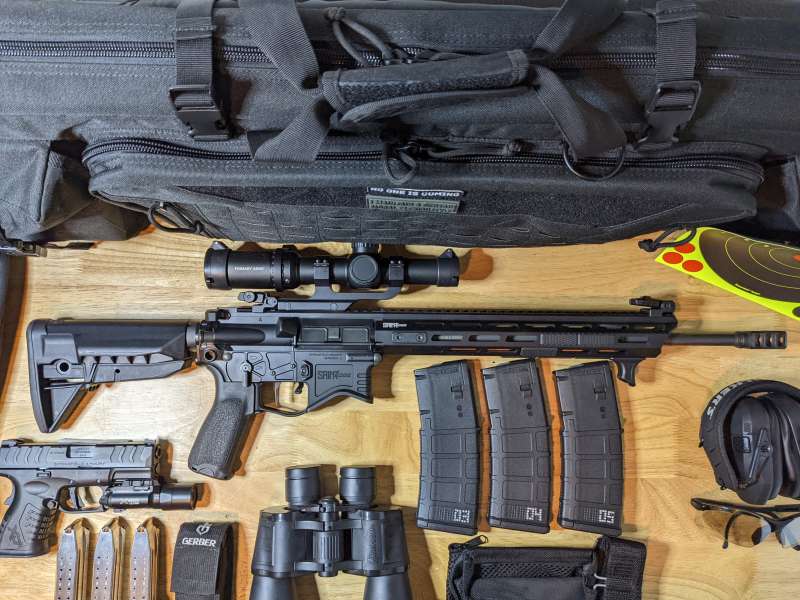 For my first rifle, I wanted something that was simple, affordable, dependable, and light. After tons of research, I settled on the Springfield Saint Edge chambered in 5.56. The Saint Edge met all of my criteria and is a dream to shoot. I keep it as stock as possible with the only additions being the excellent Primary Arms SLx 1-6 Scope and a Slate Industries Handstop.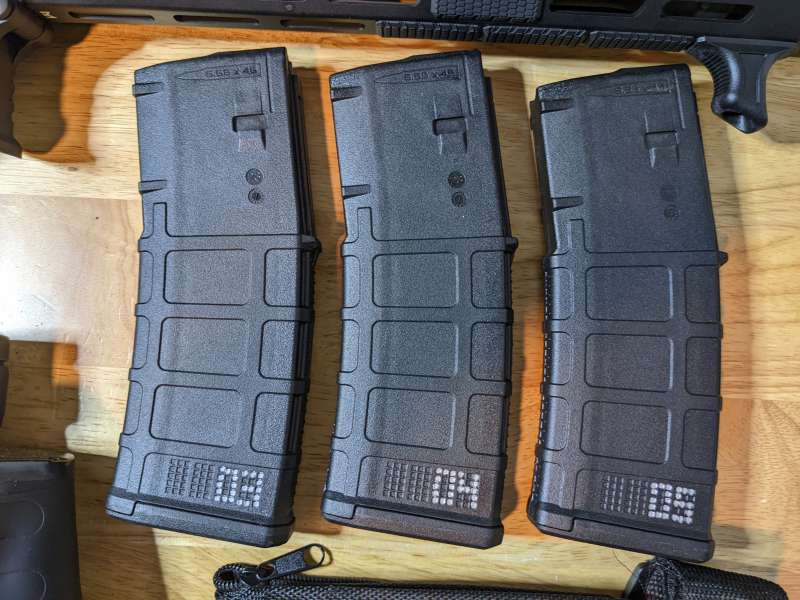 Magpul absolutely owns the magazine sector and their stalwart PMAG 30 Gen M3 sets the standard for every other polymer magazine manufacturer to chase. Light, affordable, and very dependable I always pick these mags up when they are on sale.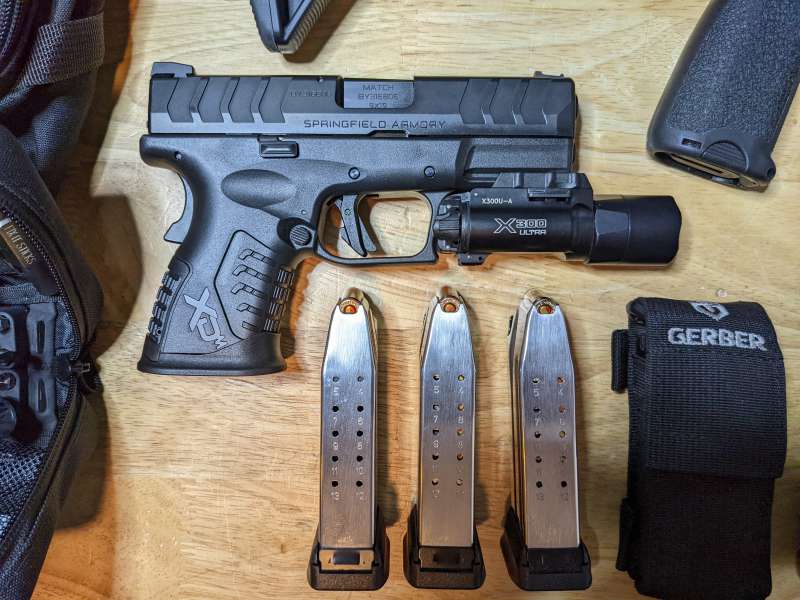 After falling in love with my Saint Edge rifle, I naturally looked to Springfield's handgun line when I was ready to try out pistol shooting. I chose this Springfield XDM Elite because even though it's a compact with just a 3.8 inch barrel, it handles like a full-sized handgun. As my everyday carry and my home defense weapon, I keep the XDM Elite totally stock except for a SureFire X300 Weaponlight. The XDM Elite Compact 14-rd Magazines with the +1 extended base pads make getting and holding a proper grip on the Elite that much easier.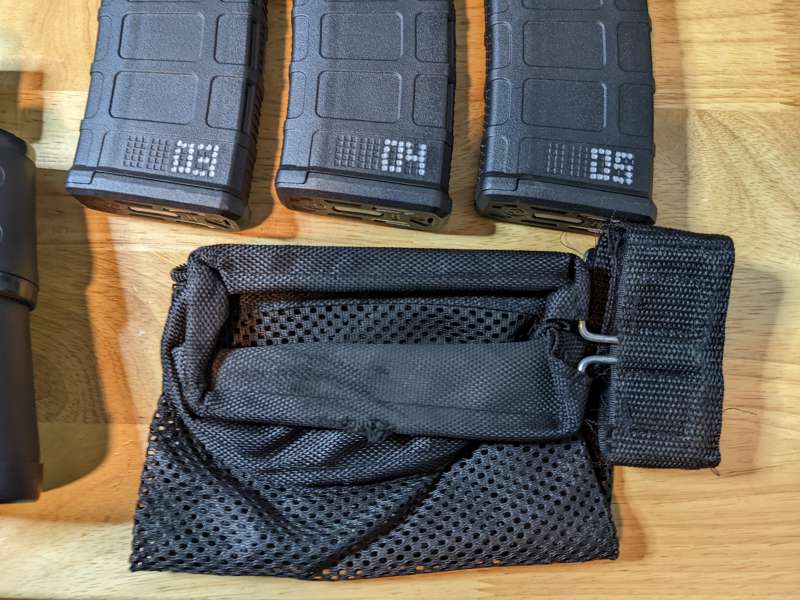 When I'm at the range I like to be as courteous as possible to shooters in the adjacent lanes. A big part of that is making sure that my expended shells don't land on or impede other shooters. By attaching the inexpensive Feyachi Brass Shell Catcher to my Springfield rifle I'm able to keep my shells from annoying other shooters and it makes clean up or "policing your brass" a breeze.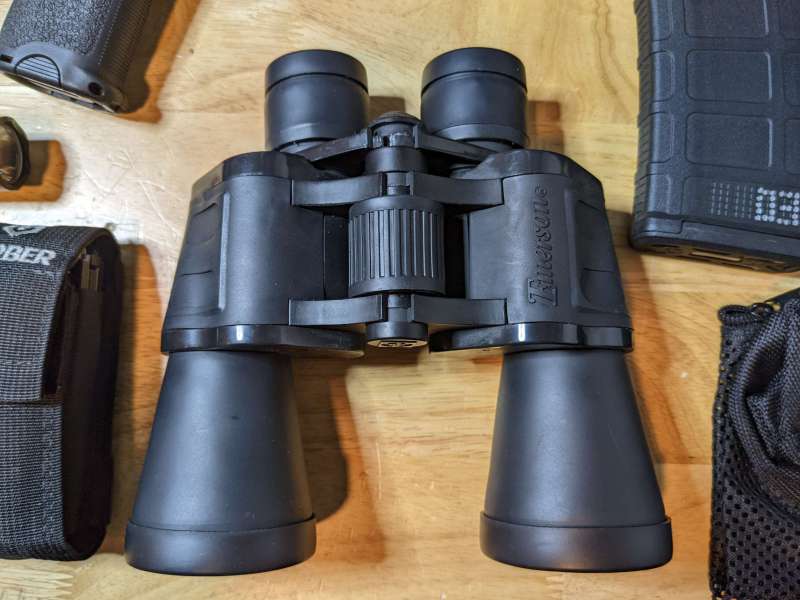 I'd like to say that I need these Emerson Binoculars to check out all of my bullseyes at 1000 yards, but the truth is they make it easier to target shoot and zero my rifles at 25 and 50 yards, which are the distances I shoot most often.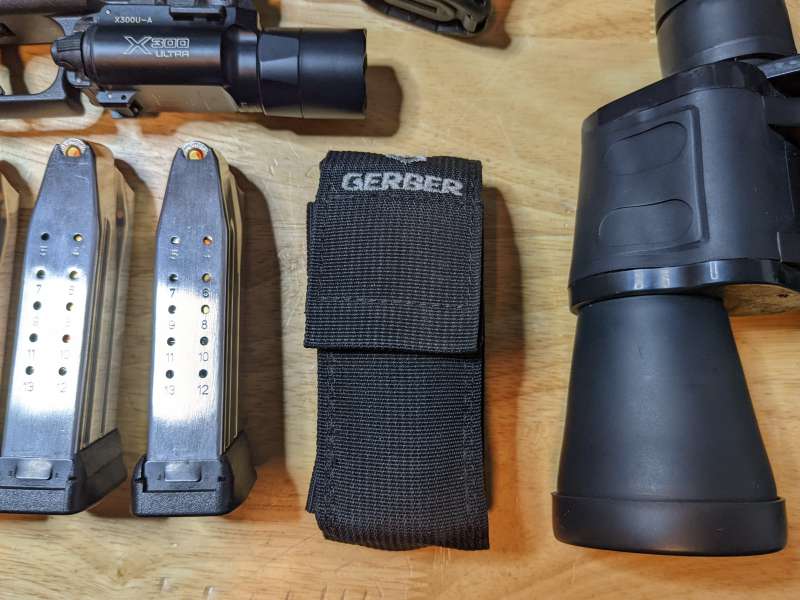 I've found there's rarely a situation where having a Gerber multitool around isn't a good idea and the range is no exception. At the range, I keep my Gerber Center-Drive Multitool on my belt and when I need to make a quick adjustment I have 13 bits and a set of pliers immediately at the ready.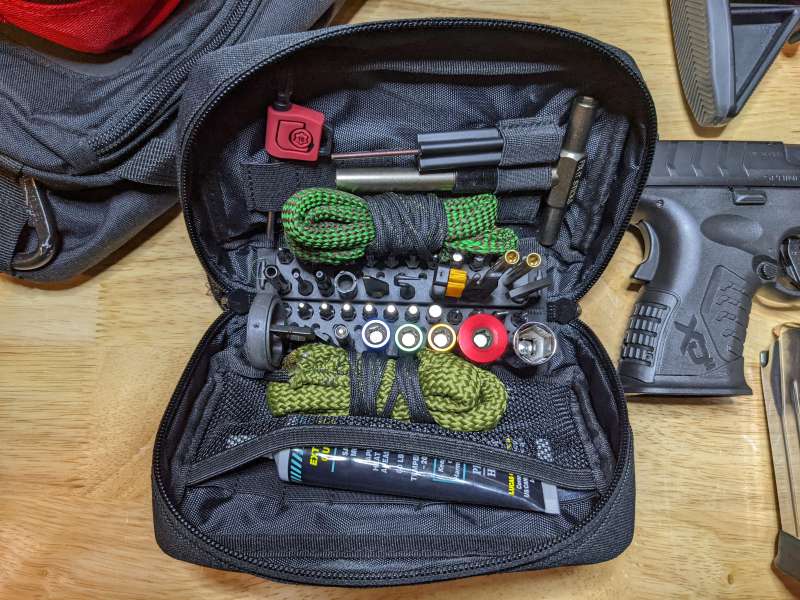 Along with the Gerber, I don't do anything firearms-related without my Fix It Sticks – The Works Gun Kit which I reviewed back in April 2021. This kit has everything I'd ever need to fix, troubleshoot, or maintain whatever firearm I've brought out that day. One of the things I mentioned in my review that I love about this kit is that there is plenty of room and compartments for your own additions. I usually keep a Glock Takedown Tool in there for popping out pins, a small Leatherman Rail Pocket Tool for AR work, two Hoppe's Boresnakes for cleaning, and some Lucas Gun Grease as well.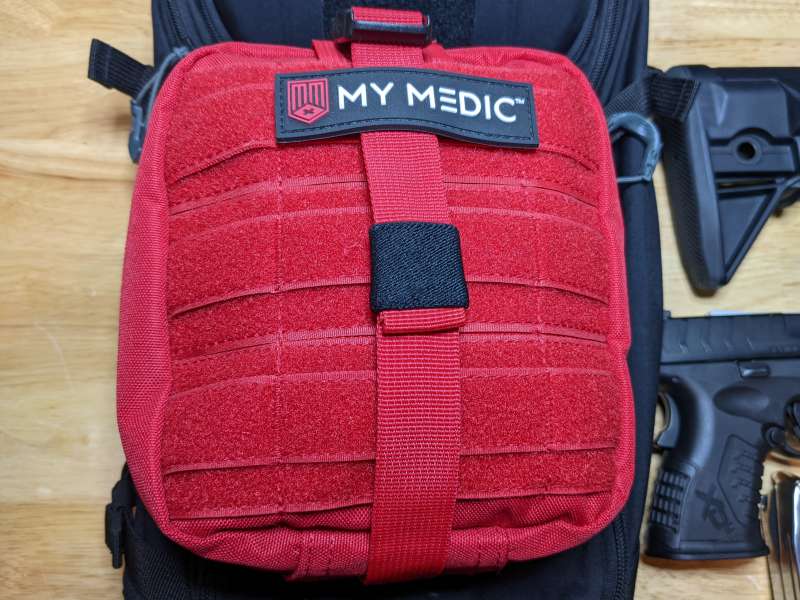 Another recent review item of mine that I always have at the range is the My Medic MyFAK First Aid Kit (check out my review here). Even though any good range should have an extensive medical kit, having your own is just the responsible thing to do.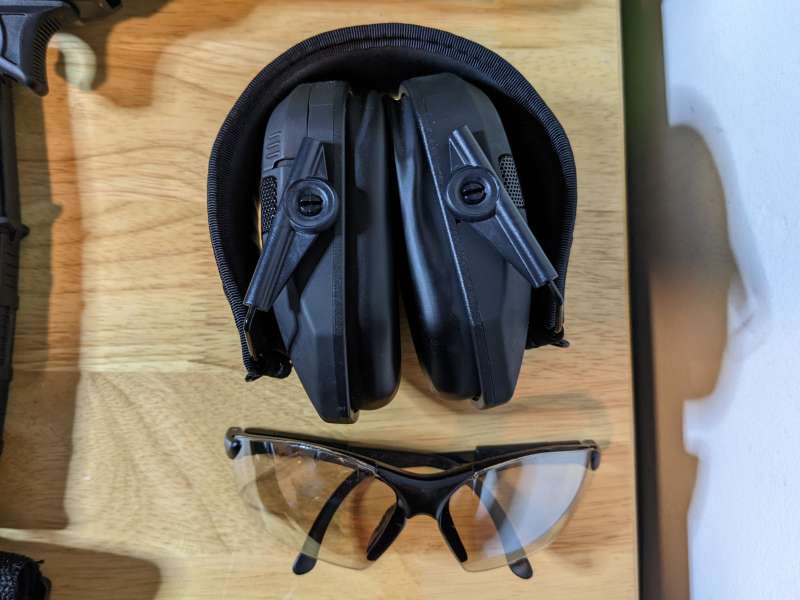 Good eye and ear protection are absolutely required safety gear at any range. In fact, you can't step onto a firing line without these two items. I opted for the Walker's Razor Earmuffs for hearing protection because they allow you to hear your surroundings while protecting you from higher decibel sounds. For eye protection, I went with the inexpensive but effective Radians Revelation Shooting Glasses.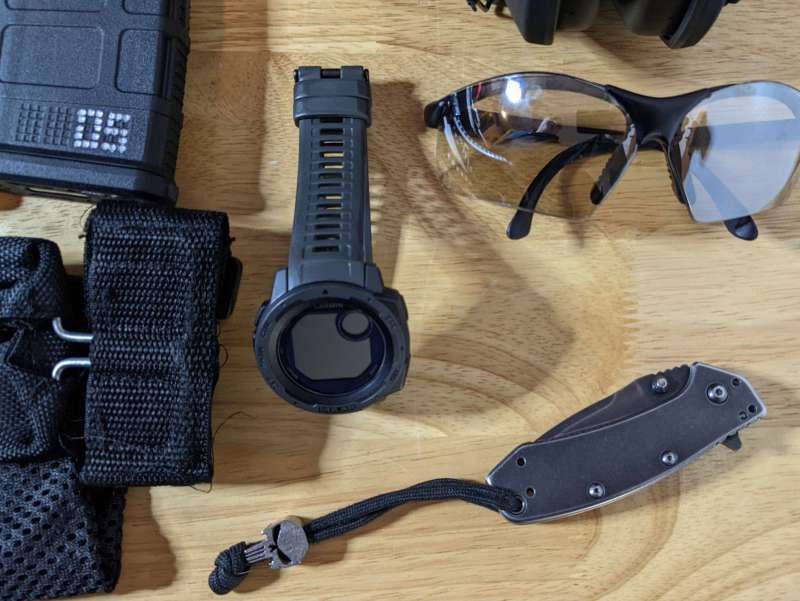 I literally never leave home without my Garmin Instinct Watch and Kershaw Cryo Pocket Knife so obviously they're essential range gear.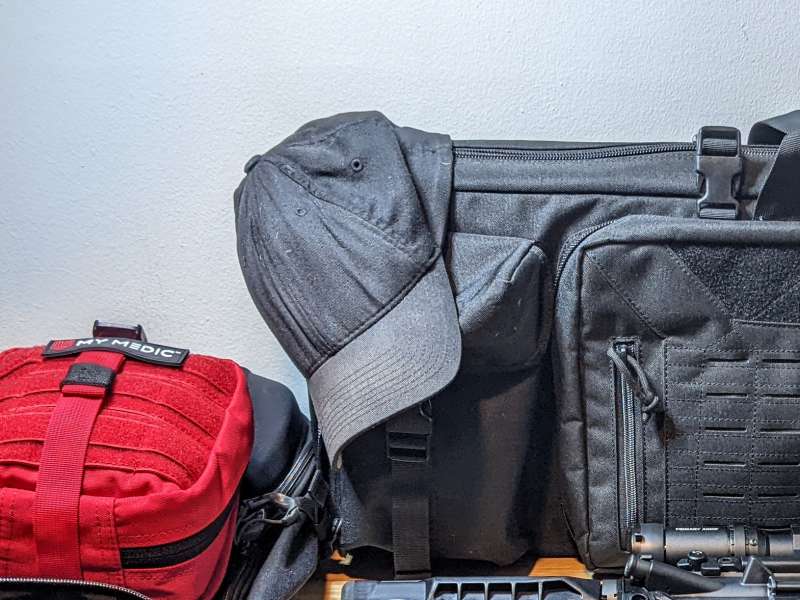 As comfortable as my Walker headphones are, they tend to irritate me after an hour or so. While I'm not much of a hat person in general, I do wear this Flexfit Cap at the range for comfort and for blocking glare on the rare sunny Pacific Northwest day.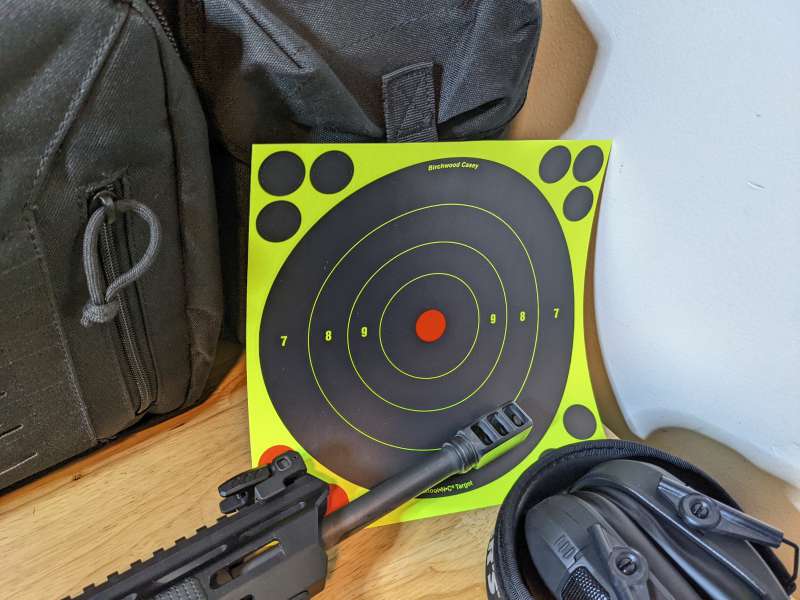 You can't enjoy a day at the range without something to shoot at and gauge your performance and these Splatterburst Targets are great for that. Each impact shows up as a bright fluorescent green splotch making it easy to see your progress and my frugal side loves that I can patch up the holes with extra stickers to get a few more rounds out of each target.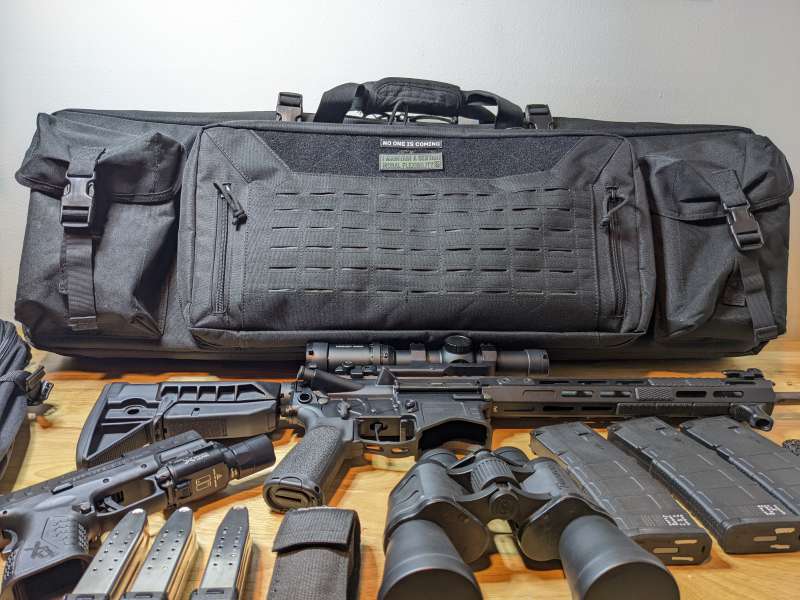 All of this gear has to get safely transported from my tiny apartment to the range somehow and the Savior Equipment Long Rifle Bag takes it all. I chose this bag because of its incredible sturdiness, massive capacity, and ability to safely secure it with case locks. Every firearm and piece of equipment listed in this article will fit into this cavernous bag. That includes ten fully loaded Magpul PMAGs and an additional rifle. Additionally, the Velcro section on the outside of the pack allows me to display my collection of morale patches. Two patches that I love are the 30 Seconds Out Self-Reliance Patch and the Ranger Up Moral Flexibility Patch which also happens to be my favorite quote from a beloved John Cusack movie.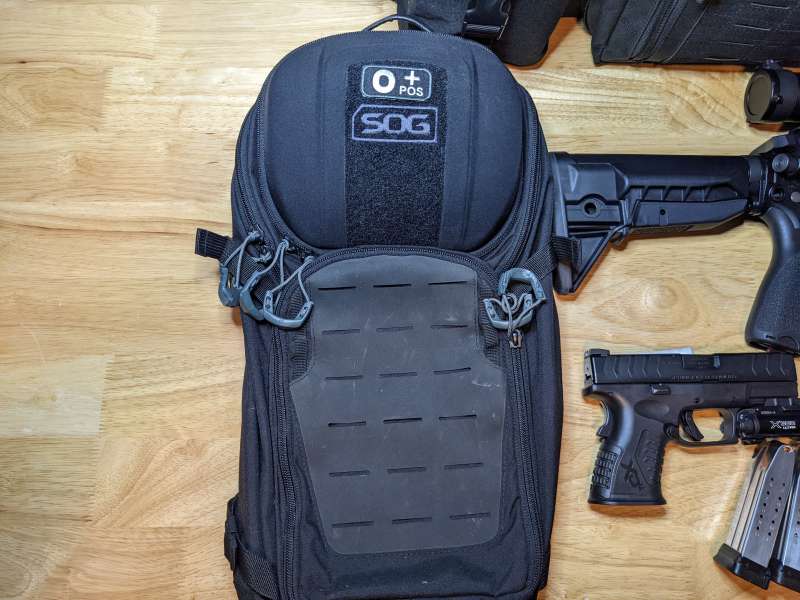 While I can physically fit everything into my rifle bag, I like to keep items I need handy in a separate backpack. My SOG Ranger 12 Hiking Pack is small enough to not weigh me down and big enough to fit my headphones, med kit, eye protection, and binoculars with room to spare. Plus, it also has a Velcro section for my MilSpec Monkey Blood Type Morale Patch in case anyone is looking for a donor.
Well, that's pretty much all of my range gear. I wish I could say that's all the shooting gear I own, but there is so much more. Sport Shooting is a super fun but very addictive hobby, and I encourage everyone to try it out at least once at your local range.
Full Gear List Links
You can also check out the rest of the Gadgeteer team's favorite gear of 2022 articles.