We use affiliate links. If you buy something through the links on this page, we may earn a commission at no cost to you. Learn more.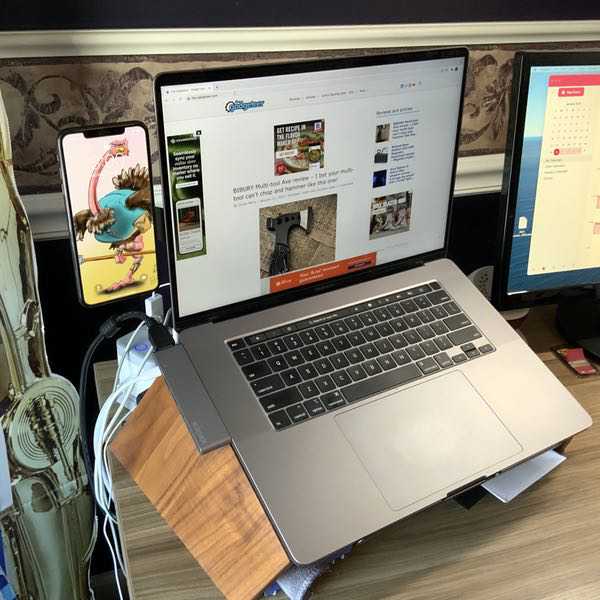 REVIEW – I am always fumbling for my phone while I am working. It's awkward. But look at me now! My laptop and my phone are living in perfect harmony thanks to the Rolling Square Edge Kit. This kit not only mounts my phone next to my moneymaker, but it adds some extra features as well. Let's find out more. To the review!
What is it?
The Rolling Square Edge Kit is an accessory kit designed to mount your phone to your laptop… with options.
What's in the box?
I've got the whole Rolling Square Edge Kit lineup for my testing which includes the mounting arm, a USB-powered MagSafe wireless charger, and an attachable light to use for video conferences. You can also buy a carrying case for your gear.
Hardware specs
CNC machine aluminum construction
N52 Magnets
The Edge light has a max of 280 lumens of brightness with three levels of control and a 140 MaH battery capacity
The Edge Universal Wirelss Charger provides 7.5w, 10W, or 15W output
All accessories are USB-C compatible (cables included)
Design and features
The Rolling Square Edge Kit comes in a variety of configurations & packages, but they all start the Edge Mount. The Edge Mount is a slim aluminum arm you'll attach to the back of your laptop via an adhesive strip on the base. The arm then rotates out, using a magnet on the arm to mount your phone. It's a slim, solid little piece of gear that you'll barely notice on the back of your computer when it's in the closed position.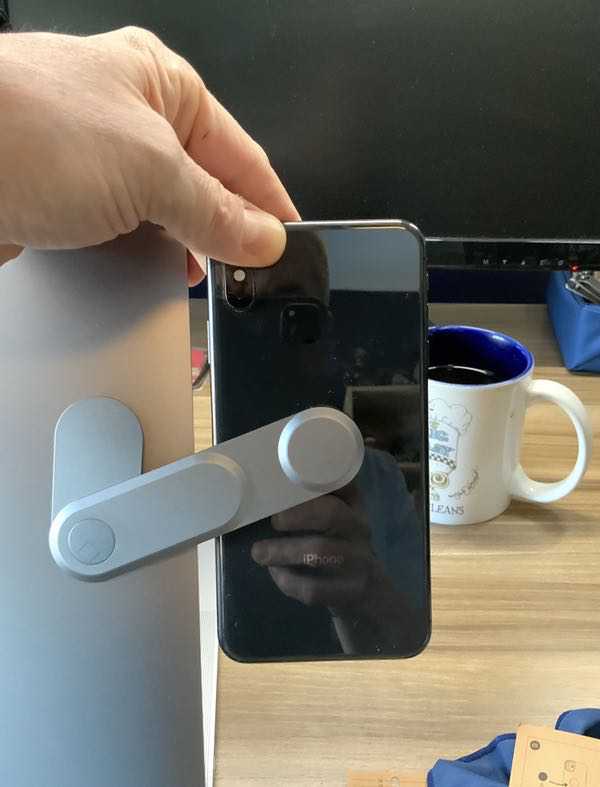 This is the full Rolling Square Edge Kit, which includes a number of nicely designed accessories. That white bit of plastic helps you remove the mount from your laptop if you want to take it off. You'll also get a second adhesive pad so you can stick it on another device. In addition to these bits, you'll get an adhesive magnet you can mount on the back of your phone for extra grip.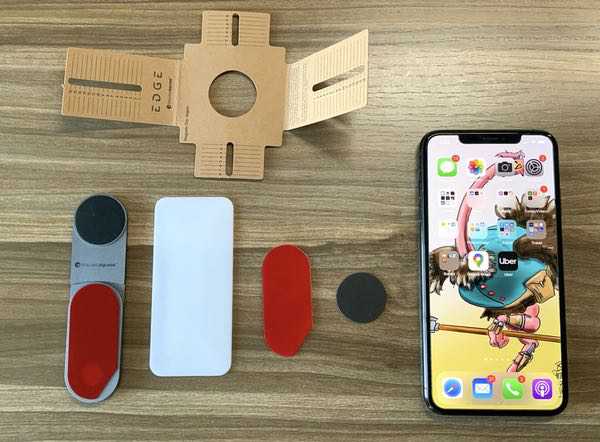 That printed cardboard tab is a guide you'll use to center your magnet on the back of your phone.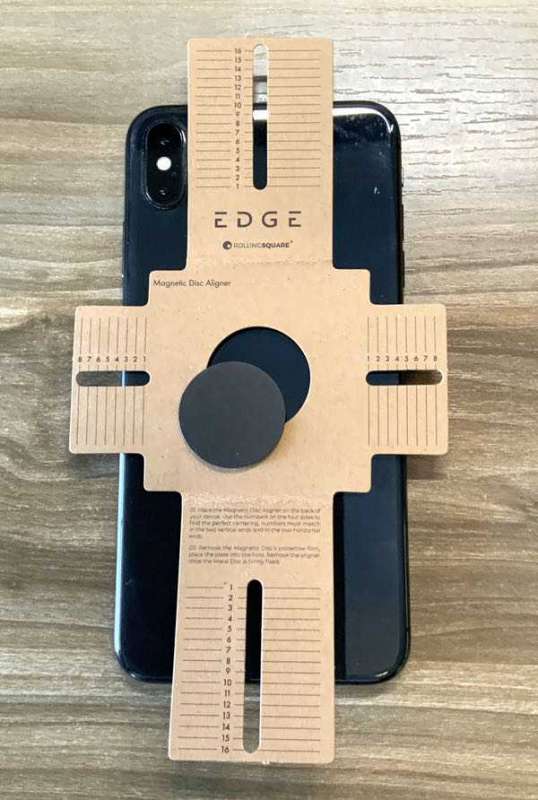 The kit is ideally compatible with MagSafe devices, which may not need the extra magnetic grip. For those of us with older phones like mine, that extra magnet helps to keep it in place. This can be mounted on your phone case as well.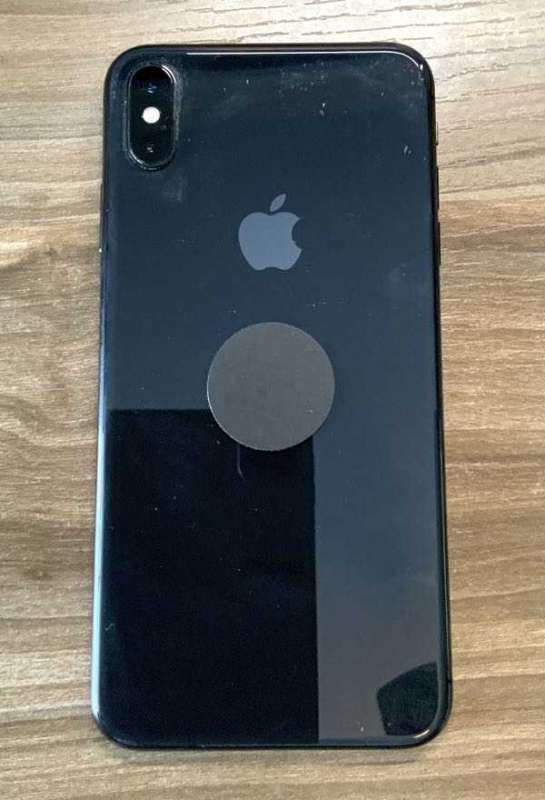 Once you're set up you just swing out your arm, pop your phone into place, and away you go!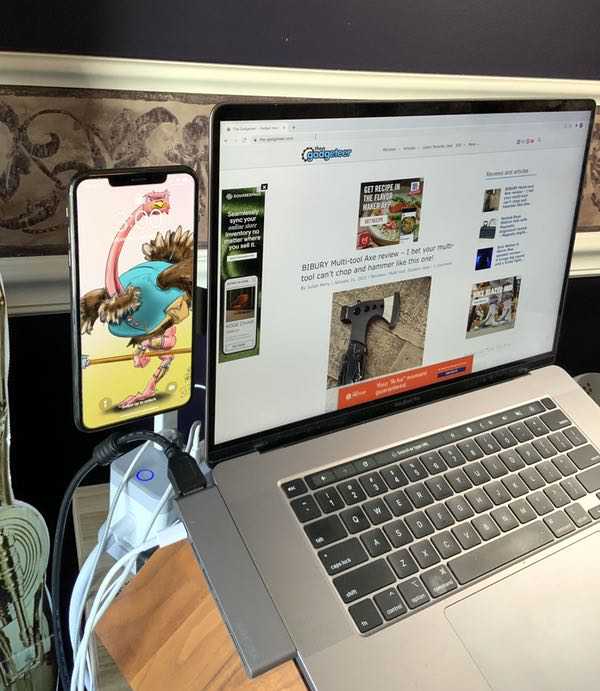 The universal wireless charger is an upgrade over the basic mount that adds a magnetic, USB-C powered wireless charging disc to your arsenal. Like the mount kit, the wireless charger kit includes a guide to place that extra magnetic ring if you need it.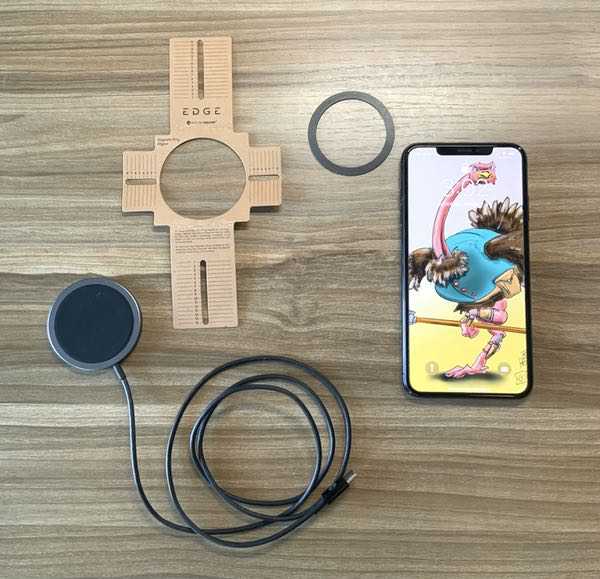 Here's what the magnetic ring looks like compared to the basic magnetic disc. Note that you won't need both if you've opted for the wireless charger, as the ring locks into a beveled edge on the charging disc.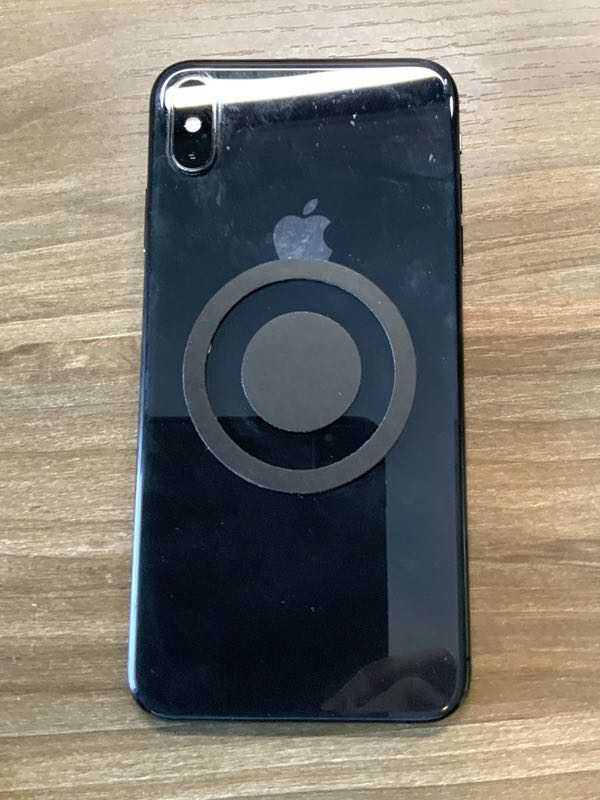 The wireless charger connects to the mounting kit via the magnet on the arm, while you plug the USB-C cable into whatever power source you have hooked up. I have a multiport adaptor for my MacBook Pro that I am showing here.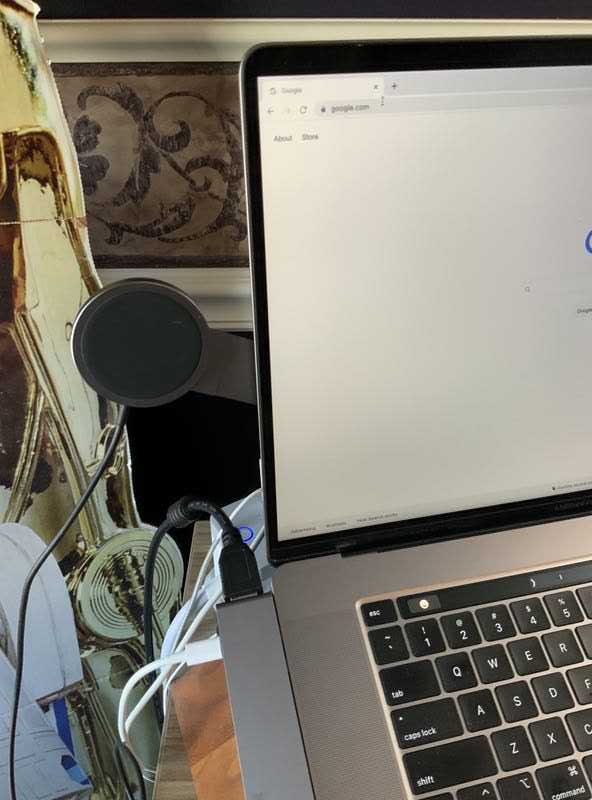 Now you pop your phone in place, and you'll be getting juice on the regular.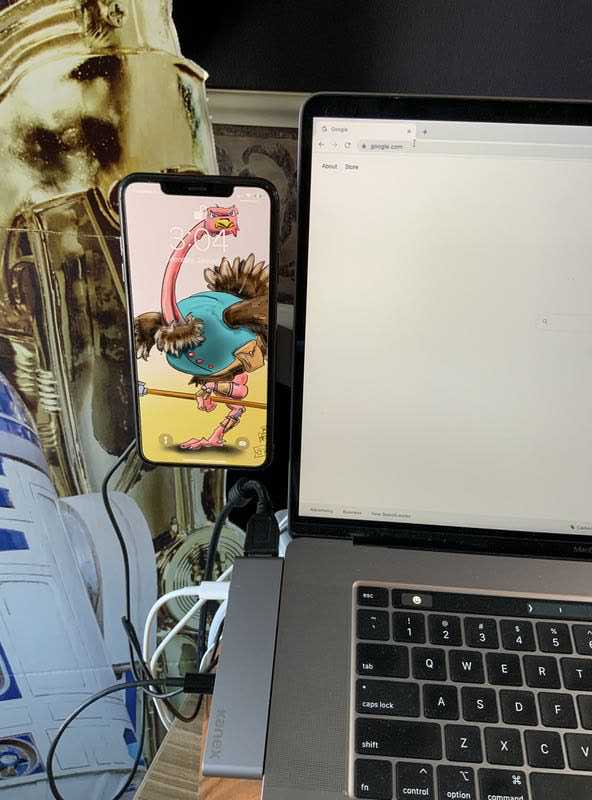 This is what the rig looks like from the back side.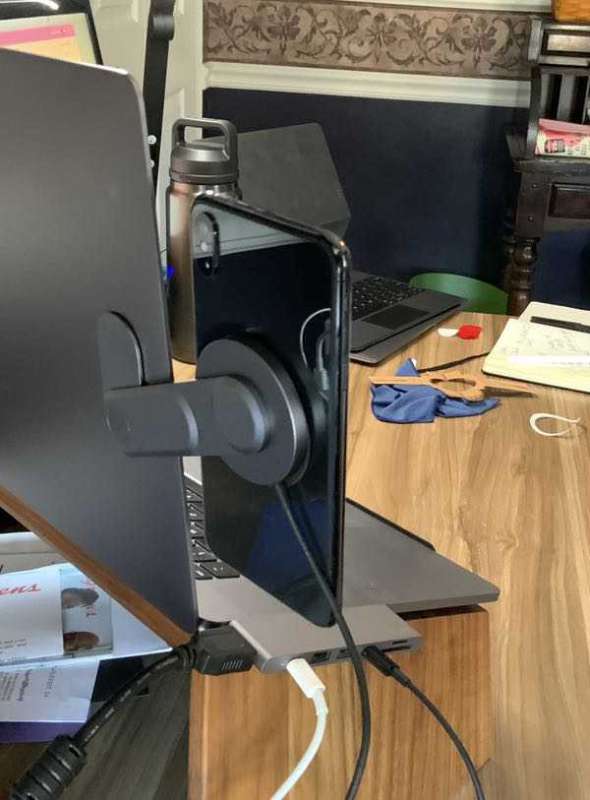 The final accessory is the Edge Light, and LED light disc that also mounts on the Edge Mount Kit. This kit comes with a USB-C to USB-C cable that is used to power the light.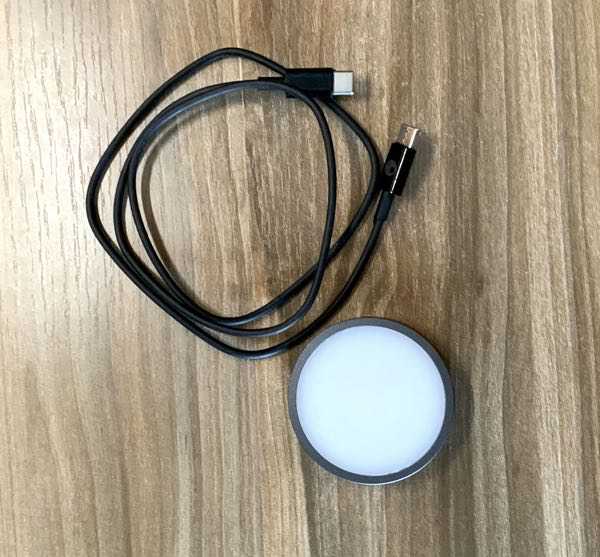 This also connects to the Edge Mount. You've got a button on the Edge Light that enables three different brightness levels. This light also has it's own battery, so you can disconnect it and use it on its own on or off the mount.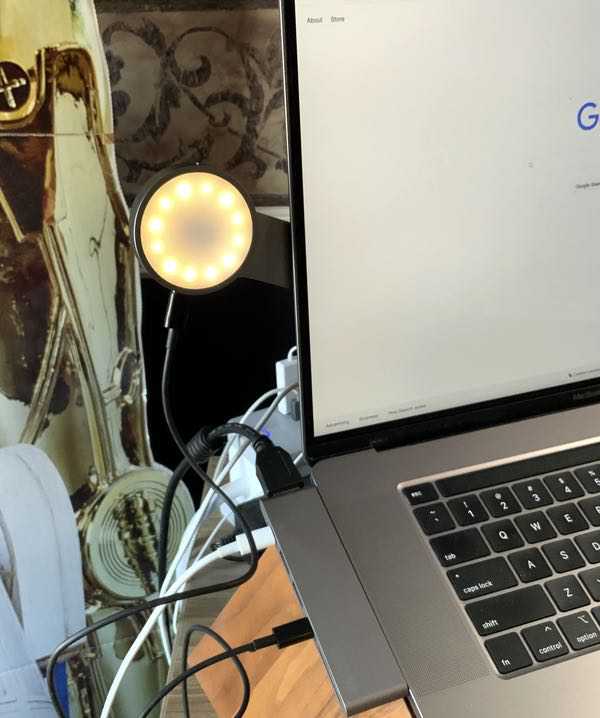 Finally, Rolling Square offers a slim carrying case for all of your cables and accessories.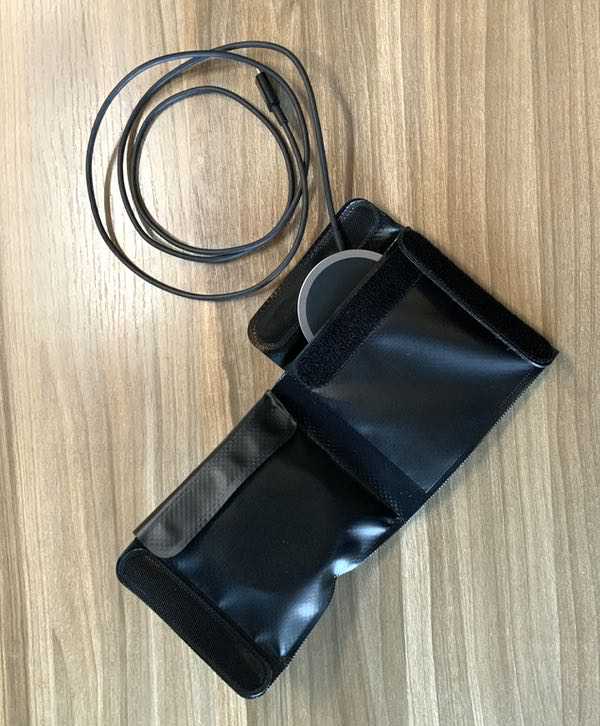 Performance
The Rolling Square Edge Kit is a deceptively solid piece of gear. The mount kit itself is only 4.5 mm deep despite its solid construction, and it anchors firmly to your laptop. It's slim enough that it won't get in the way when you're sliding your moneymaker in and out of your bag, but solid enough that it won't pop loose if it gets knocked around. All the components are well made, lightweight, and solid performers if you're continually on the go. No issues or concerns to report there.
If you're constantly juggling your phone and your laptop, you're going to love this rig. Whether I'm at work or home I'm continually reaching for my phone to manage music, check e-mails, play podcasts, Googling stuff… you name it. The Rolling Square Edge Kit is great for keeping my phone in one place where it's always easily accessible. I find this particularly useful at work or my home office where desk space is always at a premium. If you're dual-screening on your laptop while gaming or watching movies, you'll also find this really useful instead of fumbling for your phone on the coffee table or when it falls between the cushions. It's also great for visits to the coffee shop, or waiting for your flight to board. You need one less hand to manage all of your things.
I also find the accessories to be well-designed for integration into the core package. The wireless charger saves you one extra accessory to carry around and works on or off the mounting arm as a standalone wireless charger (you'll still need to keep it plugged into a power source). The light pod provides strong, focused lighting for web conferences that I have found very handy when I find myself in random places where lighting isn't so great. The light will also work off the mount kit and can be used wirelessly once it is charged. The carrying case is a nice option for commuting and travel, and it's under 10 bucks. It's worth it as an add-on to keep all the parts managed, especially if you have the full kit.
We do have to have a discussion about device compatibility, however. The Edge products are best paired with iPhone MagSafe devices (12 and up) that feature internal magnets. If that's what you've got you're ready to snap it in and go right out of the box, no extra magnets are required.
If your phone is not MagSafe compatible, however, things get a bit tricky.
My phone is an iPhone XS max, so it doesn't have those built-in magnets. The mounting guide was great for centering the included adhesive magnets perfectly on the back side of the phone, but I found that the phone would slowly slide down off the magnet over an extended period of time. I expect this is due to the fact that my phone is on the heavier side and has a slick surface. I had better luck when I attached the magnets to my phone case, but then I could not take advantage of the wireless charging module.
We did test the Rolling Square Edge Kit extensively on my son's iPhone 12 (without the extra magnets) and had none of these problems. The bottom line is that you'll want to check your phone for optimal compatibility.
What I like
Slim, elegant solution to managing your phone in conjunction with your laptop.
Well made and simple to install.
The additional accessories available in the kit work seamlessly with the base mount and do their respective jobs well.
What needs to be improved
Not compatible with all phones.
Final thoughts
I really like the design and execution of the Rolling Square Edge Kit. It solves a common device management problem, and you can take full advantage of all the components in a well-integrated solution. Just remember that this kit is best paired with the newer MagSafe iPhones; you'll want to check for compatibility on older devices.
Price: $19.00 for the base mount, up to $74.00 if you buy the whole kit. The light and charger can also be purchased separately. The pouch retails for $19.00 (currently on sale for 50% off), and you can buy additional replacement adhesive components and magnets.
Where to buy: Rolling Square Edge Kit product page (use coupon code: ROLLINGSQUARE10 to save 10%)
Source: The sample of this product was provided by Rolling Square.