We use affiliate links. If you buy something through the links on this page, we may earn a commission at no cost to you. Learn more.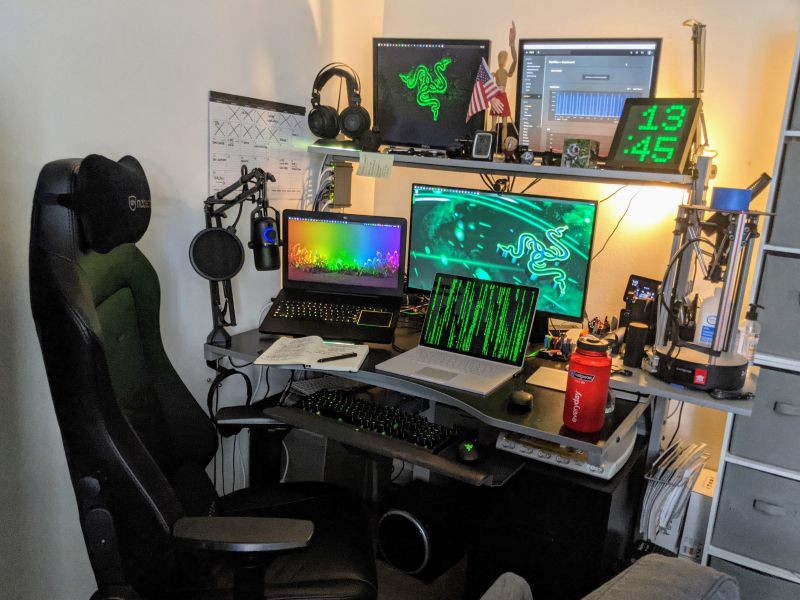 ARTICLE – Having spent the majority of my life living and working in NYC, I've gotten pretty adept at making the best of small spaces. From the tiny one-room apartments I used to live in, to the slightly less tiny studios and startups I've worked for, space in NYC is always at a premium. Now that I live in Seattle, I've been able to spread my wings (a little), but old habits die hard and space is still an issue. Luckily, I work for Microsoft, and even before March of 2020, when we shifted to remote working, working from home was a big part of the culture. I have teammates living in a few different timezones who I have yet to meet in person. I have also freelanced quite a bit throughout my entire professional life, so I've had decades to perfect my home workstation.
The backbone of my entire setup is the IKEA Jerker desk. I bought this desk around 20 years ago and have moved it dutifully across the country several times as well as all over NYC. The IKEA Jerker has long since been discontinued by IKEA but has developed a pretty fanatic fanbase. I was totally unaware of its popularity until I went on Craigslist a few years back to try and find some replacement screws. A Google search for "IKEA Jerker Desk" will turn up a number of fan sites, Facebook Groups, Pinterest boards, and Subreddits all devoted to this home office unicorn. As you can see, I maximize every square inch of the Jerker as well as its shelves.
While sitting at my desk, I enjoy the amazing comfort and support of a Noblechairs Hero Gaming Chair. I went with the Hero mainly because it's designed for people with bigger frames, has great lower back support, and is comfortable for long periods of time. The Hero recently replaced an old no-name office chair that I've had longer than the Jerker. A friend gave me that chair after a move, with him having used it for years before that. It has since been relegated to my workshop and my back is the better for it.
I have two main computers on my desktop at all times, my personal 17″ Razer Blade Pro and my work-issued Microsoft Surface Book 2. My main monitor is a 27″ Razer Raptor which is supplemented by two 19″ Dell Flat Panel Monitors. During work hours, the Surface Book 2 is connected to my Targus USB-C Universal DV4K Docking Station and takes over the Raptor as well as one of the Dell monitors. The second Dell Monitor displays the status of my Plex Home Media Server which runs on an older Apple Mac Mini and is controlled via an Apple Magic Trackpad. After work hours, I switch the dock over to the Razer Blade Pro.
Along with the monitors, the dock allows me to use all of my peripherals with my chosen computer. These include my Razer BlackWidow Elite Mechanical Keyboard, Razer Naga Trinity Gaming Mouse, and Razer Nari Headset (sense a trend?). When my Surface Book 2 has control of the dock I use a Razer Atheris Wireless Mouse for quick access to my Razer Blade Pro which is usually streaming Spotify during workdays. I also have an older Apple Mac Pro and Wacom Intuos 3 tablet that I connect to the dock when working on freelance imaging jobs.
For audio and video conferencing, I rely heavily on my JLAB Audio Talk USB Microphone, which I reviewed back in July, as well as a Microsoft LifeCam. To keep abreast of the news and also control my smart home devices, I have a small Echo Show 5 and my Pixel 3, not pictured because it's also my camera, which sits and charges on a Google Pixel Stand. I make sure to always have my 32 oz. Nalgene full and close at hand to keep me hydrated through long work and gaming sessions. For fun, I have a Divoom Pixoo Pixel Art Digital Frame, which displays the time as well as random pixel art, and my old DeltaGo 3D printer, which I'll randomly use to print out little gadgets and doodads. I find that the sound of the printer working is quite soothing, plus it reminds me of the opening credits of Whiz Kids (look it up).
I'm really big on note-taking and a devotee of the Bullet Journal Method, so I would be completely lost without my Leuchtturm1917 Hardcover Notebook and my coveted Inventery Bolt Action Pen.
That's pretty much my entire current configuration. I'm always adding or removing new components, but since space is so tight they have to really prove their worth to wind up sticking around. I've provided links to the major mainstays of my setup at the end of the article.
And of course, I would be totally remiss if I didn't mention the most essential part of my work from home setup, my incredibly patient and tolerant co-worker and couch warmer, Addy.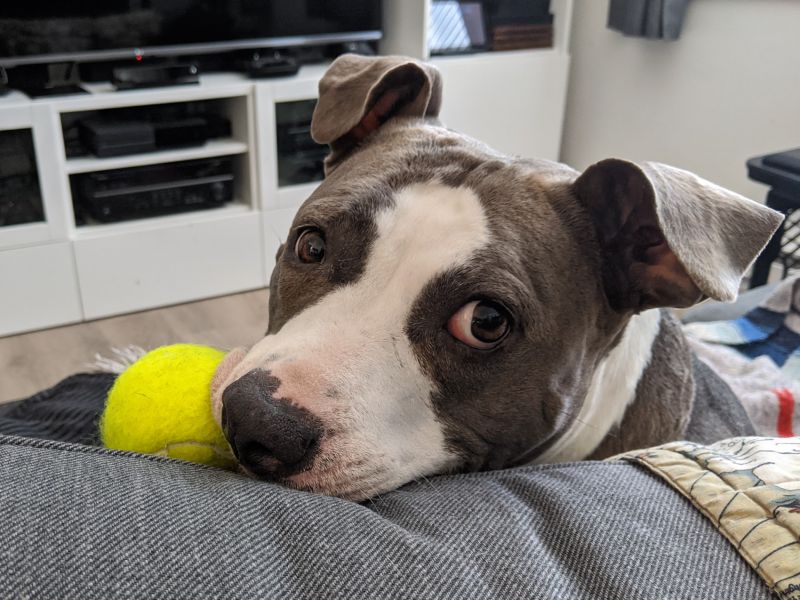 My Work-From-Home Setup with links
Be sure and check out the other WFH setup articles in this series.