We use affiliate links. If you buy something through the links on this page, we may earn a commission at no cost to you. Learn more.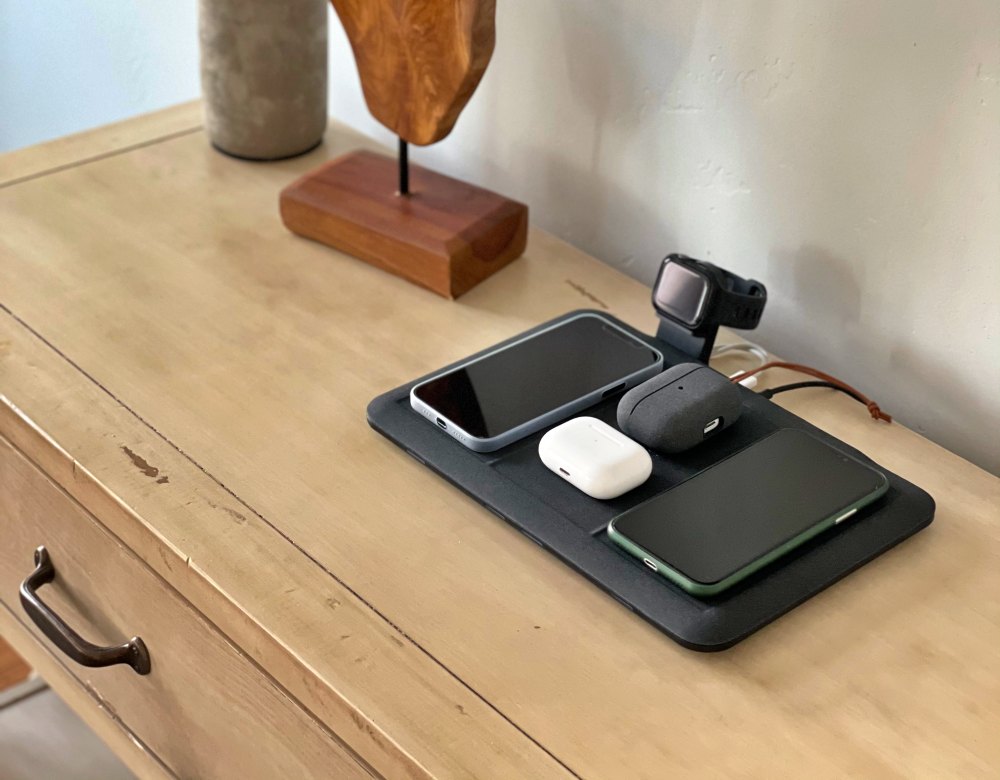 REVIEW – Chances are increasingly good that that your phone supports wireless charging, and probably your earbuds too. It's not hard to find chargers out there, but options dwindle the more charging spots you need. That selection further reduces when you want it to be attractive as well. Enter the 4-in-1 Charging Mat from Mophie. This one ticks all the boxes.
What is it?
The 4-in-1 Wireless Charging Mat is a large platform style charger aimed at Apple ecosystem users with locations for multiple phones, chargeable AirPod cases and an Apple Watch (if you bring your own charger). It works just fine for non-Apple devices too.
What's in the box?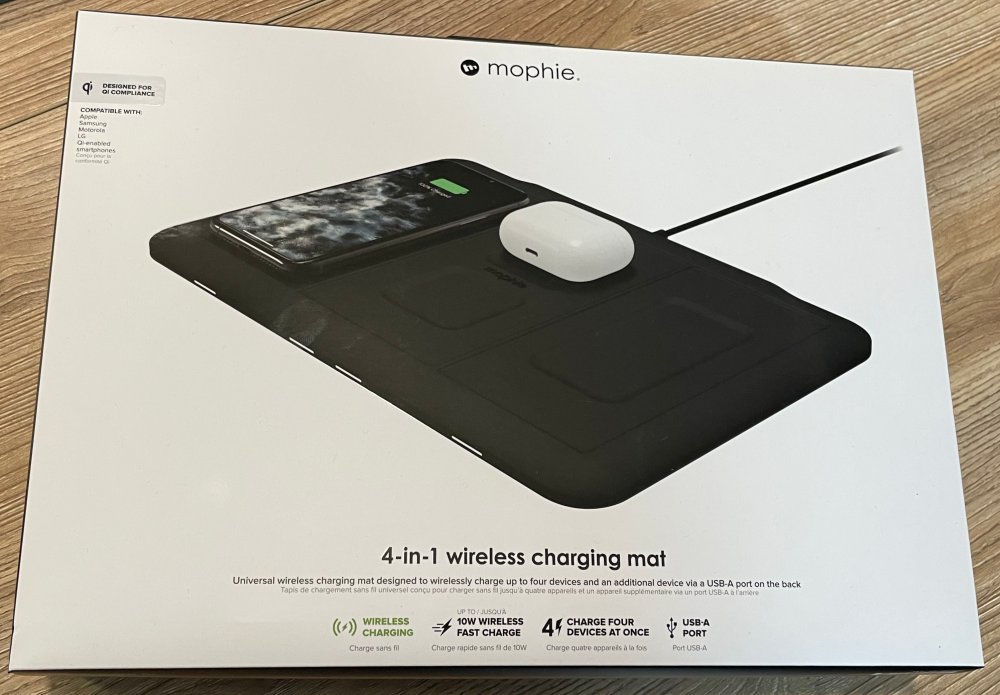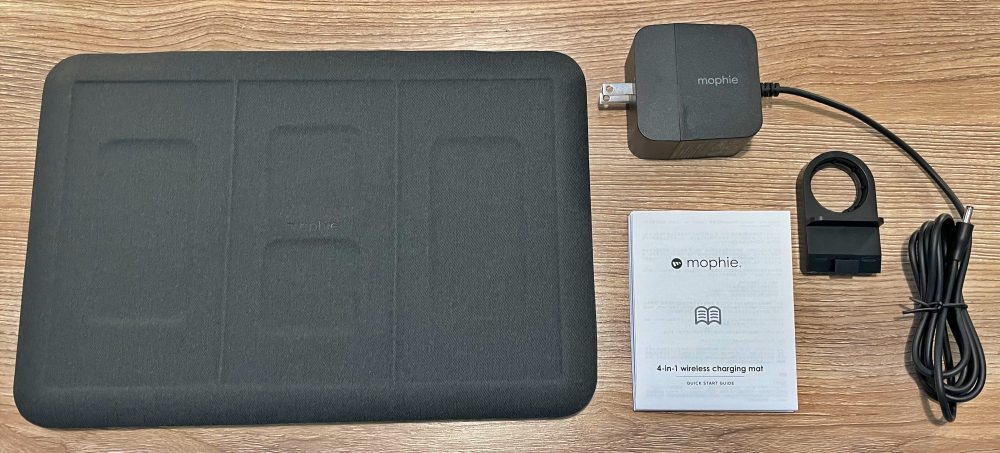 Wireless Charging Pad
Adapter for an Apple Watch Charger
Wall Adapter
Quick-Start-Guide
Hardware specs
Devices: Charge up to 4 Qi enabled devices at up to 10W each
Apple Watch: Included adapter holds your charger and your watch perfectly
Case Compatibility: Will charge through cases up to 3mm thick
Qi Alignment: Debossed device outlines let you find the sweet spot by feel
Indicators: Four LEDs on the front edge let you see you're charging
Aesthetic: Fabric cover
Design and features
The Mophie 4-in-1 Charging Mat is a sophisticated looking charger with a dark grey fabric cover and defined wells for specific device types.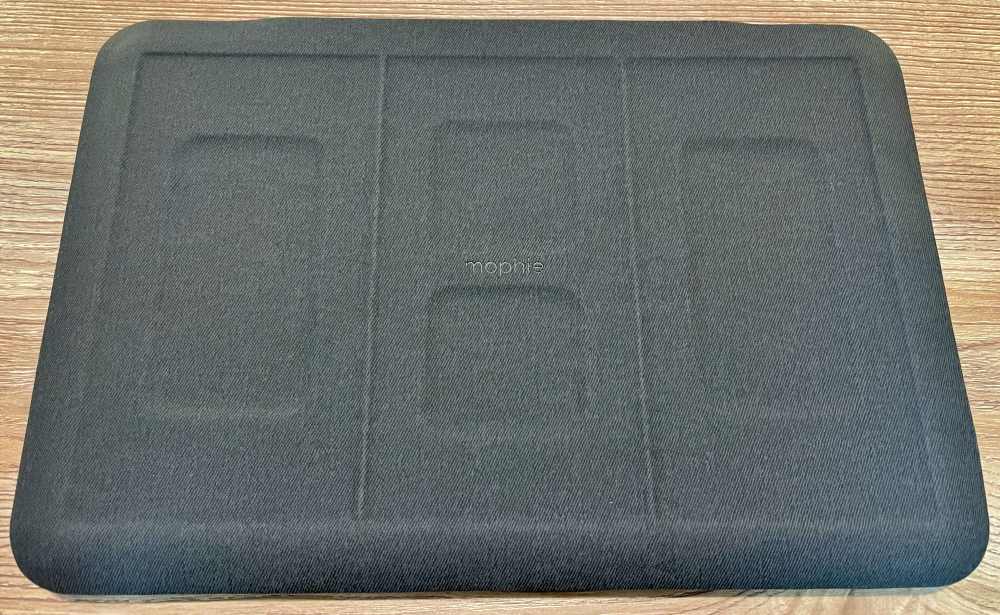 It's roughly the same dimensions as a sheet of paper and just under 1/2″ thick with the option to add an Apple Watch pedestal on the back left side.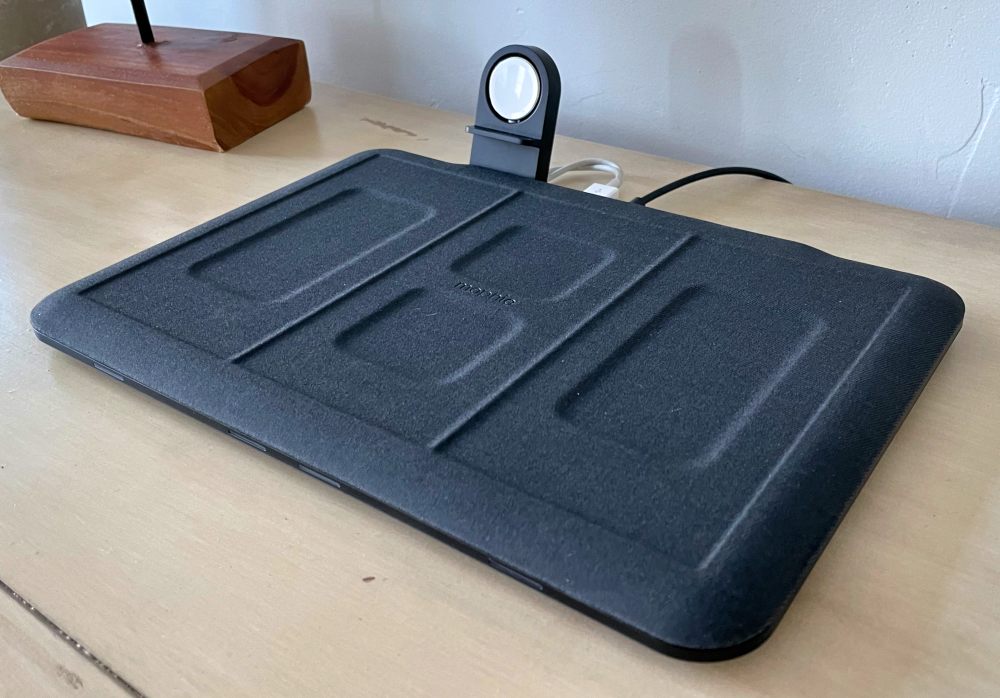 Four LEDs on the front edge illuminate temporarily as you place devices letting you know charging is underway.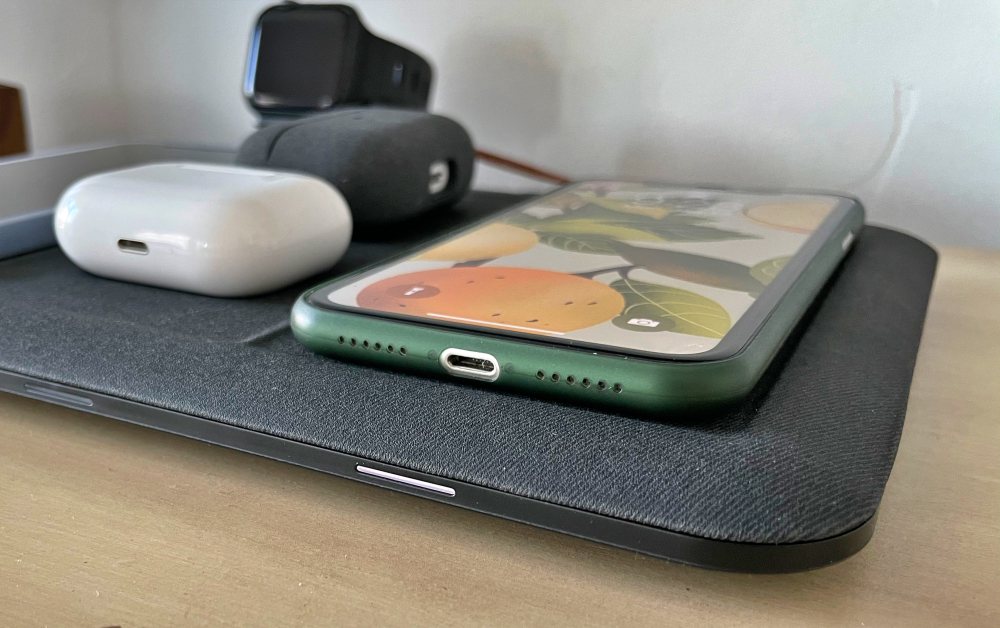 A USB-A port on the back is required for connecting the Apple Watch charger, but otherwise lets you connect another device.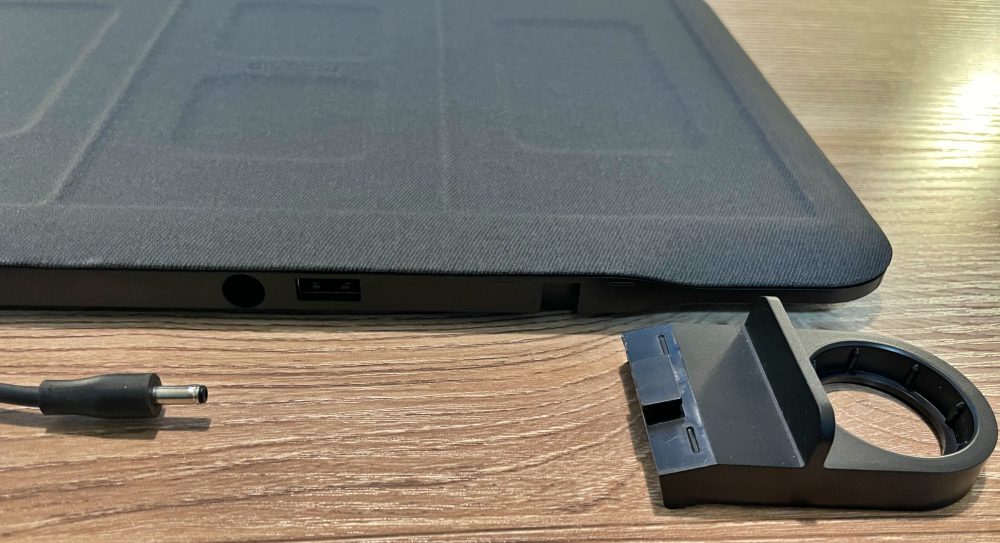 The underside has a big silicone pad to keep it in place along with full perimeter venting to get rid of built up heat.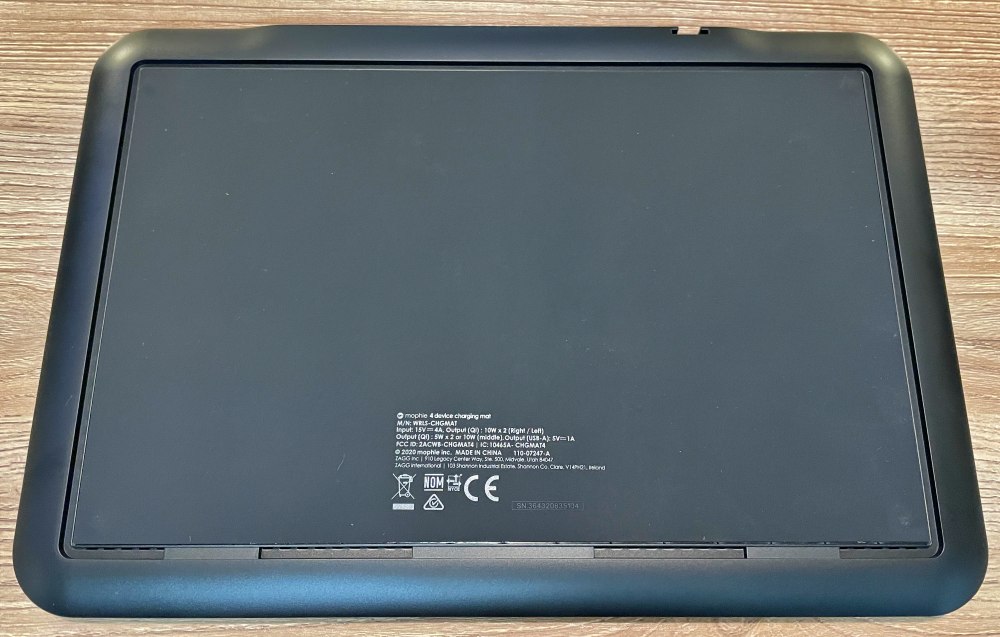 Setup
Connect the power adapter to the wall and the power cord to the port in the back. Congrats! You're ready to start charging things.
If you have an Apple Watch you'll need to press your own charger puck into the small pedestal, then slide that into its keyed location from below. You can see the compression ribs inside the pedestal that keep the charger securely installed.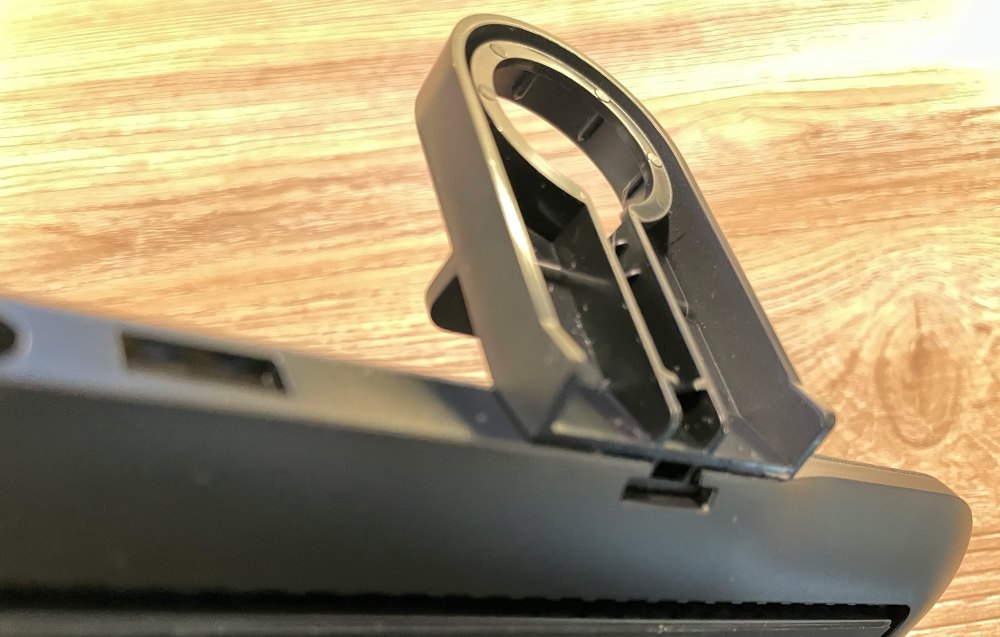 Connect the USB-A to the port on the mat. I used the short 0.3m Watch charger that I usually use for traveling as it has a much shorter cord, but even that one needed a loop to clean it up as you can see below. Also note that USB-C versions of the Watch charger will not work here.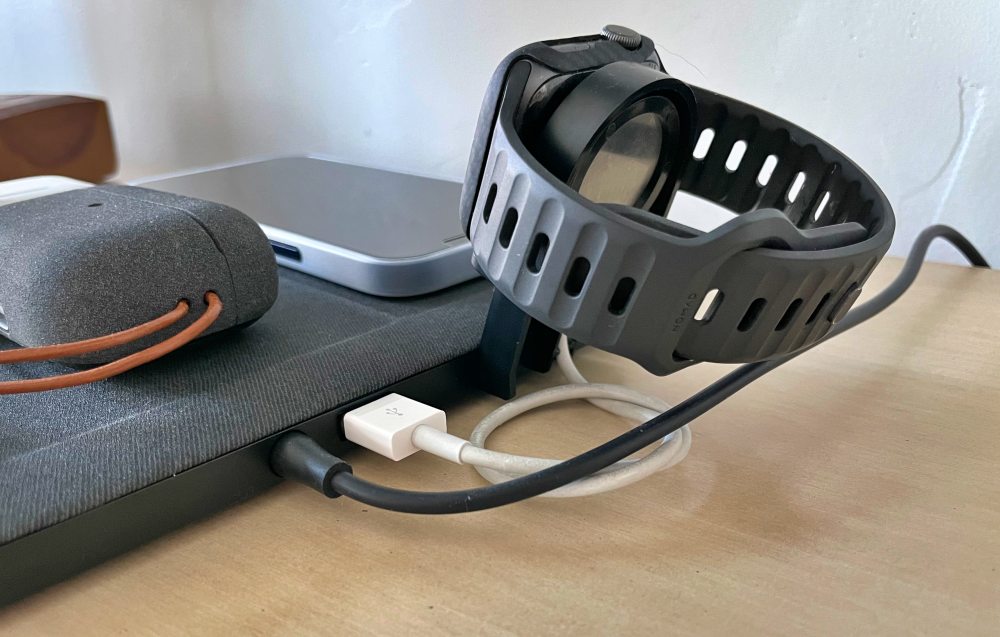 That's pretty much it. The defined wells on the mat help you pinpoint charging for different device types and the LEDs confirm charging for anything that doesn't have its own indicator or screen to light up.
Performance
Make sure you've got enough real estate as this charger isn't small, but almost all of its surface area charges something and looks good doing it.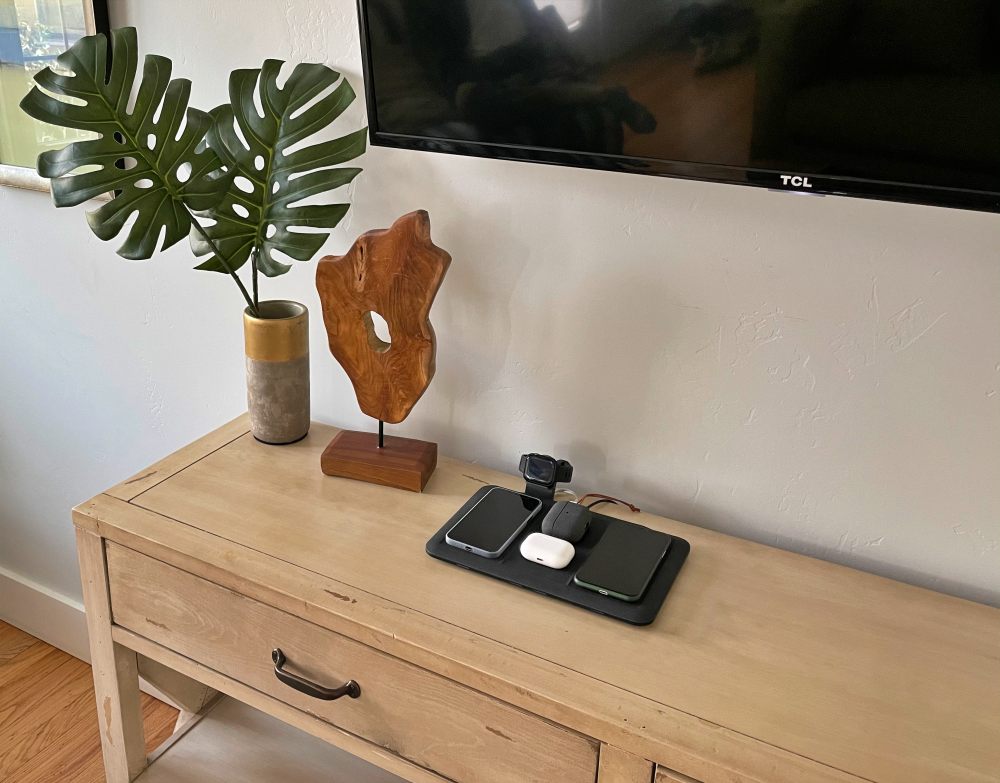 The fabric top is definitely one of the touch points that's hard visualize. It's a twill-like fabric with a warm touch and cool texture.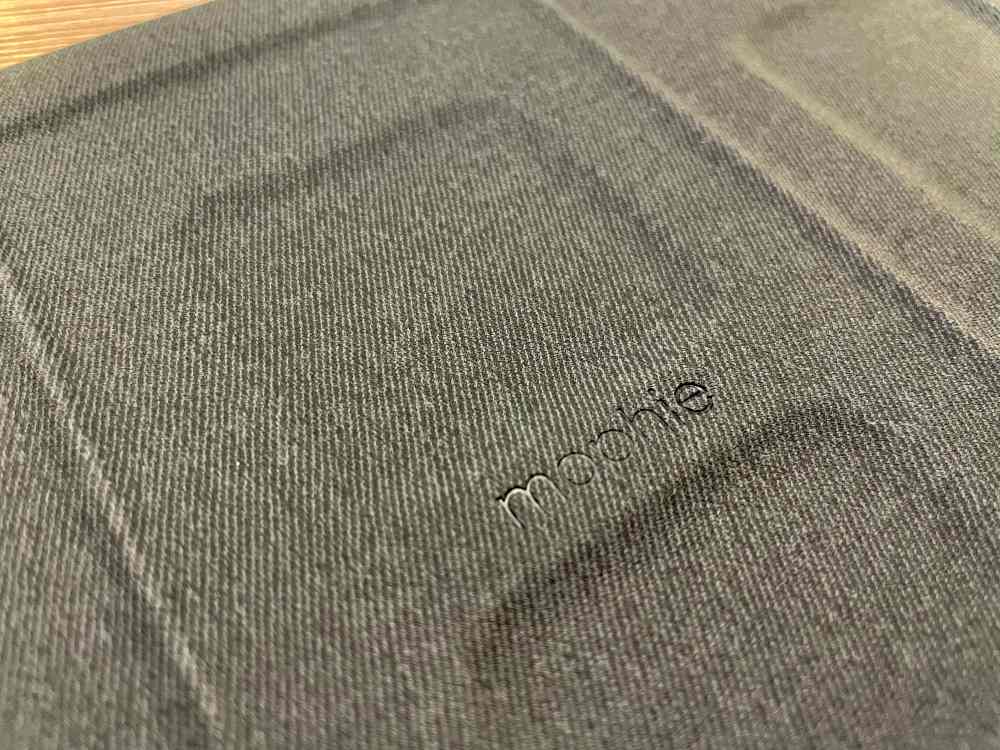 The Apple Watch pedestal works like you would expect. Just make sure that you realize you need a charging cable to donate to the cause as it does not come with the charger module itself.
It's really easy to get AirPod cases perfectly positioned into either of the center wells. It obviously won't charge your AirPods if you don't have a wireless charging case, but can't hurt to mention it.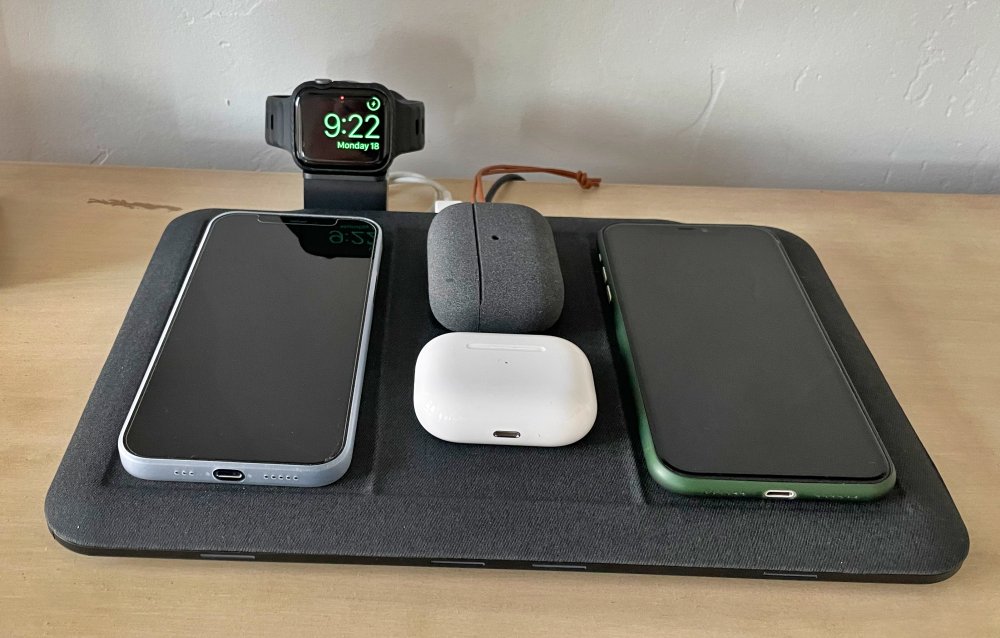 A Qi compatible phone charges right away in the left or right positions. Even the center channel works great (if you aren't charging smaller things there). The generic phone shapes helped my iPhone 12 Pro work just as well as the other 12, 11 and SE phones in the family.
I've been wearing my Apple Watch while sleeping lately, so with this charger set up in my office, it's really easy to drop my Watch on the pedestal for a top off as I start work each morning.
The LEDs on the front are great for visual confirmation that charging is underway. The light times out after about 25 seconds which is nice if you're using this in a dark room or where you sleep.
What I like
Quality look and build – this thing is sturdy
Removes a lot of charging cables for anyone with multiple devices
Minimal wells/forms guide device placement
What I'd change
Apple Watch adapter could have a cord wrapping feature
Final thoughts
While Mophie's 4-in-1 Charging Mat is not inexpensive, it's a great solution for small to large families with phones and earbuds that need charging. It definitely helps that it looks good and isn't something you feel you have to stash in a drawer before company comes over.
Price: $149.95
Where to buy: Amazon
Source: The sample of this product was provided by Zagg Brands