We use affiliate links. If you buy something through the links on this page, we may earn a commission at no cost to you. Learn more.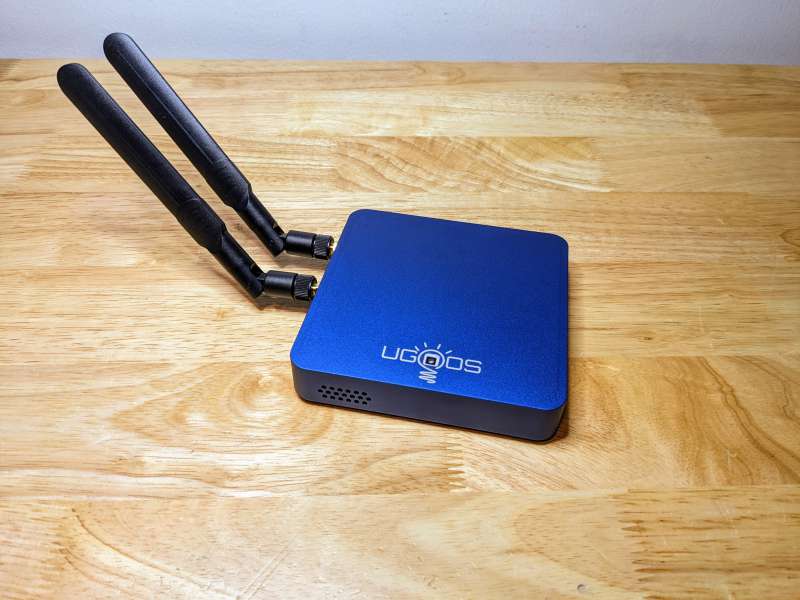 REVIEW – Since "cutting the cord" years ago I've had the opportunity to try out pretty much every TV media box. I've run my media collection and streaming apps through Rokus, TiVos, Amazon Fires, Chromecasts, Xboxes, Playstations, Macs, PCs, Smart TVs, and my all-time favorite, Nividia Shields. Just know, the Nividia Shield hands down outshines them all. I also like to tinker and occasionally experiment with media apps and services that are a bit off the beaten path. To play around like that, locked devices like Shields and Rokus won't suffice. Luckily, there are tons of media boxes on the market that let you take a bit more control and the UGOOS UT8 Pro Android TV is one such device.
The UT8 Pro runs Android 11 and packs a big punch tech-wise, sporting enough RAM and processing power to be considered a mini-PC. All of that power comes at a price though, specifically $159.90. While the UT8 Pro is jammed with processors and ports galore it is quite buggy and not compatible with some popular 4K streaming apps, so it may not be the right choice for most cord-cutters.
What is it?
The UGOOS UT8 Pro is an Android TV media box with 8GB RAM, 64GB of internal storage, and the ability to stream 4K video. The UT8 Pro runs Android 11 and connects to the internet via WiFi or a gigabit ethernet port. This media box also boasts Bluetooth 5.0, a powerful Rockchip RK3568 processor, and support for the newest WiFi 6 protocol.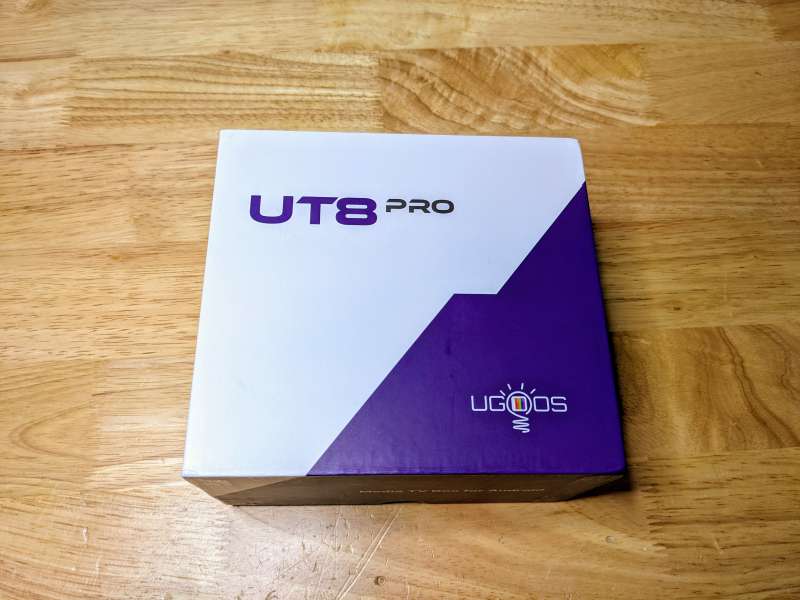 The UGOOS UT8 Pro Android TV arrives safe and secure in a sturdy cardboard box with plastic insets protecting the unit and its ports. The box details all of the UT8 Pro's specifications along with its contents.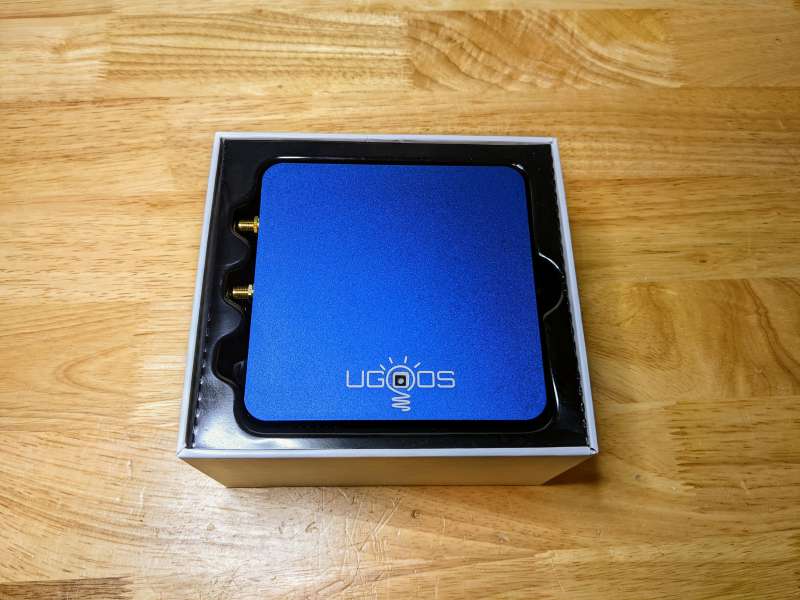 What's in the box?
UGOOS UT8 Pro Android TV Box
Remote Control
5V Power Supply
HDMI Cable
2 Dual-Band WiFi Antennas
User Manual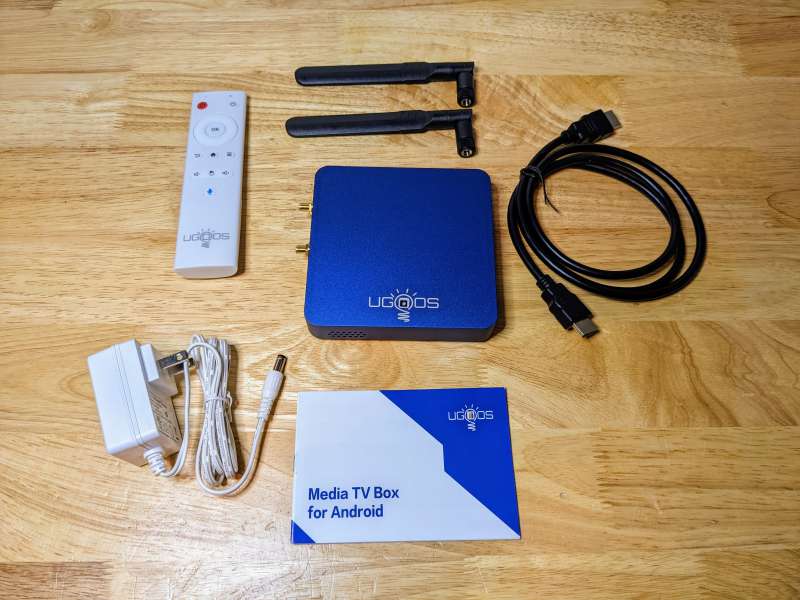 Hardware specs
Processor: Rockchip RK3568 Quad-core Cortex-A55 processor with NEON and FPU
GPU: Mali-G52 2EE with OpenGL ES 1.1 to 3.2, Vulkan 1.1, OpenGL 2.0
Memory: 8GB DDR4
SDRAM: 4GB
Internal Storage: 64GB (EMMC)
Storage Extension: MicroSD Card up to 32GB (SD2.X, SD3.X, SD4.X, eMMC ver5.0)
OS: Android 11
Wireless Connectivity: IEEE 802.11 a/b/g/n/ac/ax WiFi 6 2×2 MIMO
Network: IEEE 802.3 10/100/1000M Ethernet
Bluetooth: Bluetooth 5.0 with LE technology
HDMI Output: HDMI 2.1 Type-A [email protected] max resolution, CEC/HDR/RTC Supported
Ports:

2 – USB 3.0 ports
1 – USB 2.0 port
1 – USB 3.0 OTG port
1 – HDMI 2.1 port
1 – 3.5mm audio out
1 – 3.5mm aux input
1 – Optical (SPDIF) port
1 – Gigabit LAN port
1 – TF Card slot

Supported Video Formats: VP9 Profile-2, H.265 [email protected], H.264 AVC [email protected], H2.64 MVC, MPEG-4 [email protected], WMV/VC-1 5P/MP/AP, MPEG-2 MP/HL, MPEG-1 MP/HL
Supported Audio Formats: MP3, AAC, WMA, RM, FLAC, Ogg
Remote Control: IR Bluetooth remote with Voice
Dimensions: 4.57″ (11.6cm) x 4.57″ (11.6cm) x 1.1″ (2.8cm)
Power: 5V 3A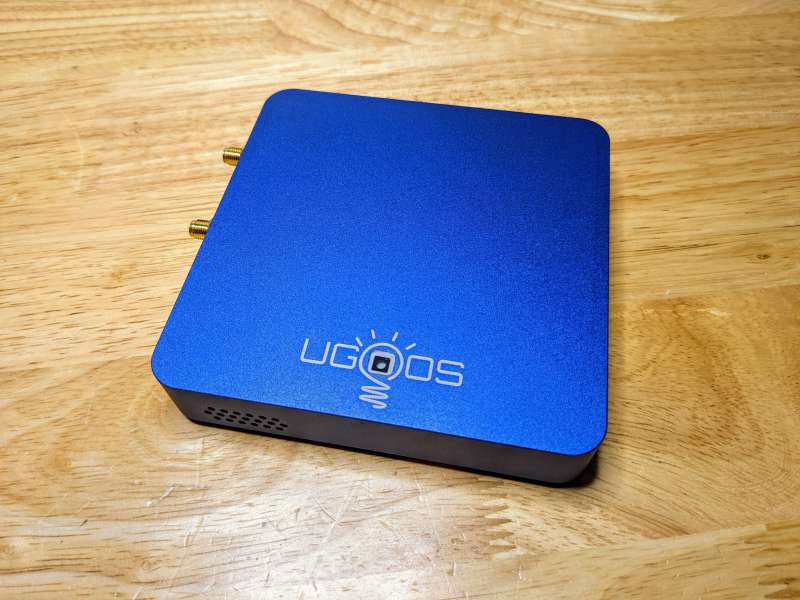 Design and features
The UGOOS UT8 Pro is a smartly designed media box with a lot of clearly labeled and easily accessible ports. At about 4.5 inches square and 1 inch tall it barely takes up any shelf space at all. The build quality is outstanding with the solid textured blue aluminum case instilling confidence since most set-top boxes are cased in black plastic.
The front of the UT8 Pro is clean except for a small set of vent holes. The top of the unit sports the UGOOS logo with a power indicating LED hidden inside the center.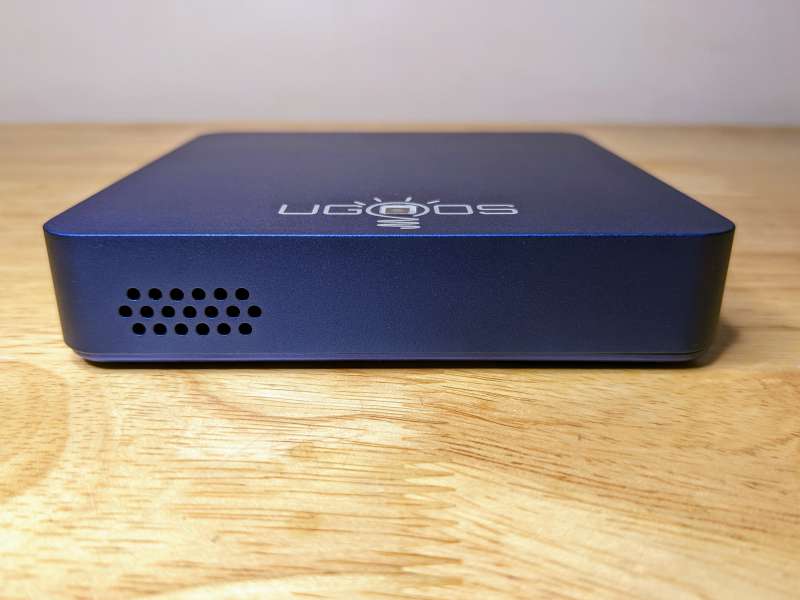 Going around the UGOOS UT8 Pro Android TV counter-clockwise will find the first set of ports. These include the 3.5MM Aux-in and Audio-out ports, the TF Memory Card slot, the USB 3.0 On-The-Go (OTG) port, and a single USB 2.0 port.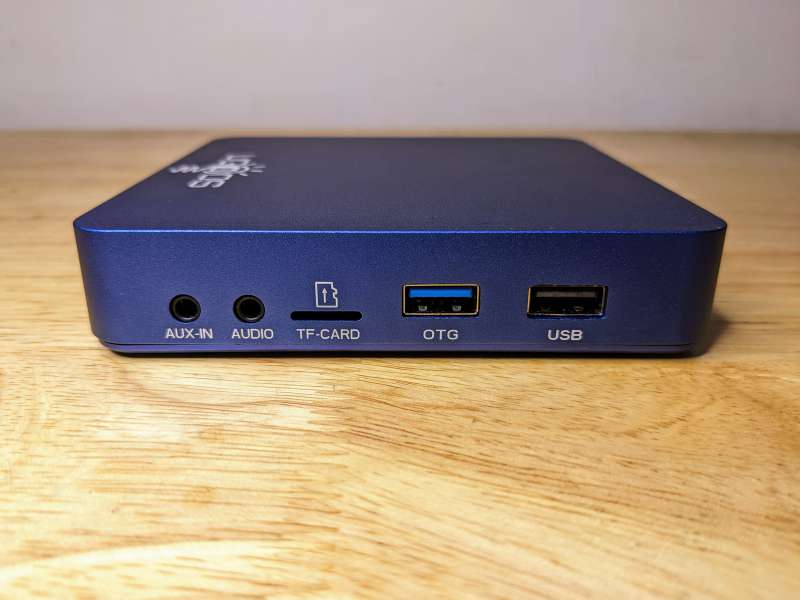 Continuing around to the back of the UT8 Pro reveals the Gigabit LAN port, two USB 3.0 ports, an HDMI port, an Optical Audio SPDIF out port, and the input for the 5V power supply.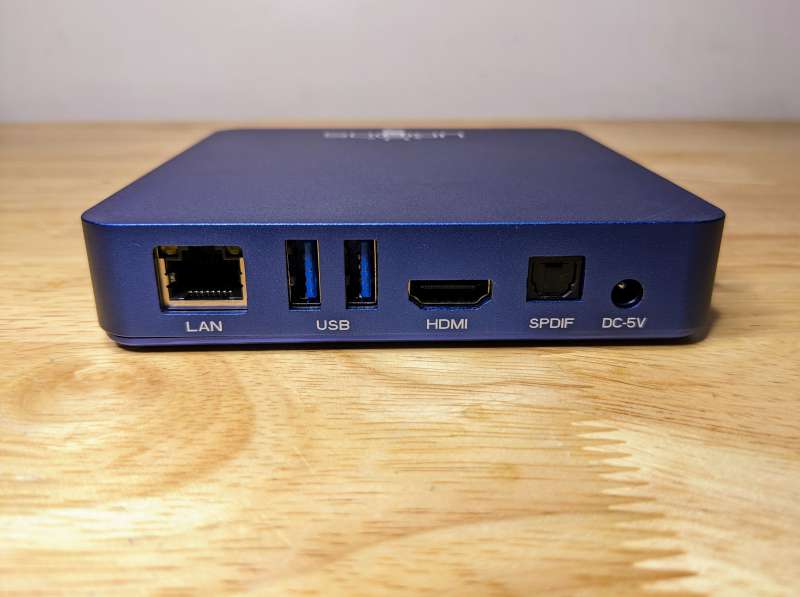 And finally, the left side of the UT8 Pro houses the two WiFi antenna ports, a few more vents, and the power button.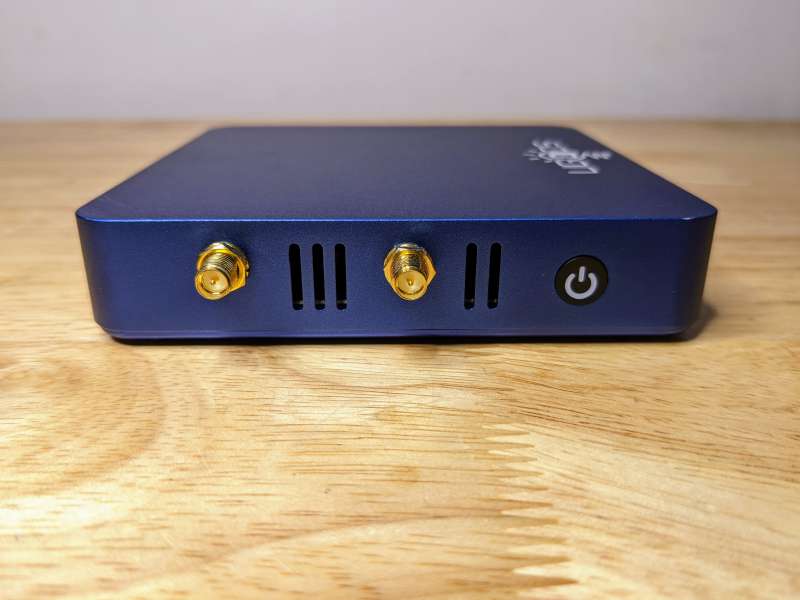 The underside of the UT8 Pro is basically one large vent with two small reset pinholes, one labeled Recovery and one Maskrom. There's isn't any mention of these in the included manual, but on the UGOOS blog, I found guidance on how these are used to reflash the unit's ROM.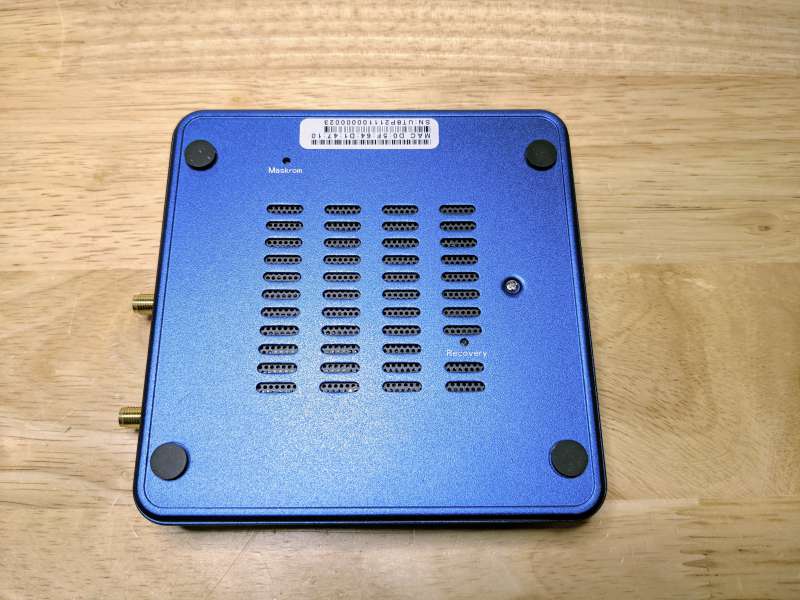 The UGOOS UT8 Pro Android TV ships with two dual-band WiFi antennas that are adjustable on every axis, which makes getting a strong WiFi signal that much easier.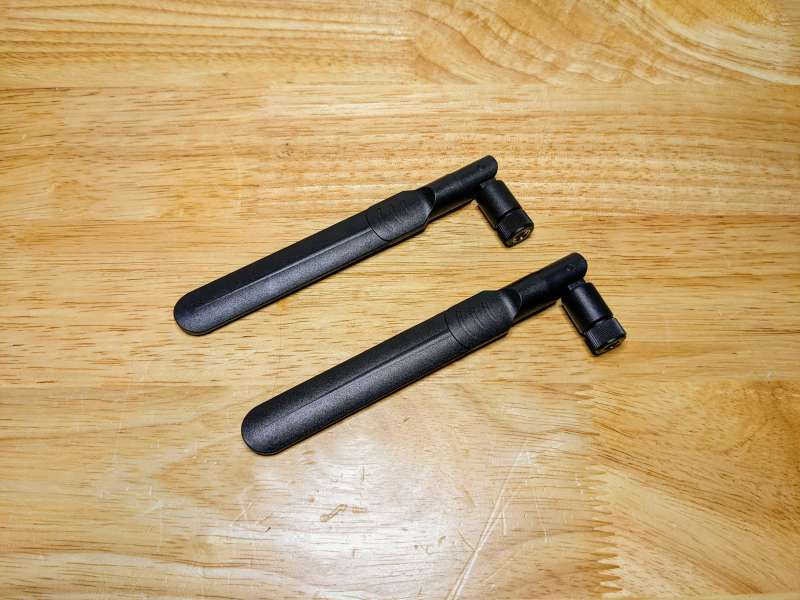 In addition to the antennas, the UT8 Pro ships with an HDMI cable, which is a nice touch especially at this price point.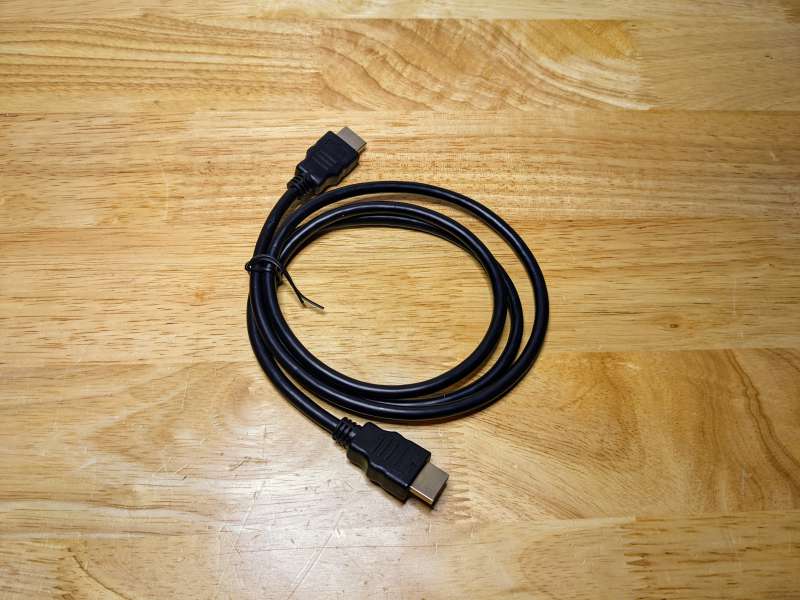 UGOOS also includes an infrared/Bluetooth remote with the UT8 Pro. The remote is pretty straightforward but has some advanced functionality you can access through the remote menu in the UT8 Pro settings. Along with infrared and Bluetooth, the remote also has a built-in mic for use with Android's Google Assistant. The remote takes two AAA batteries that are not included.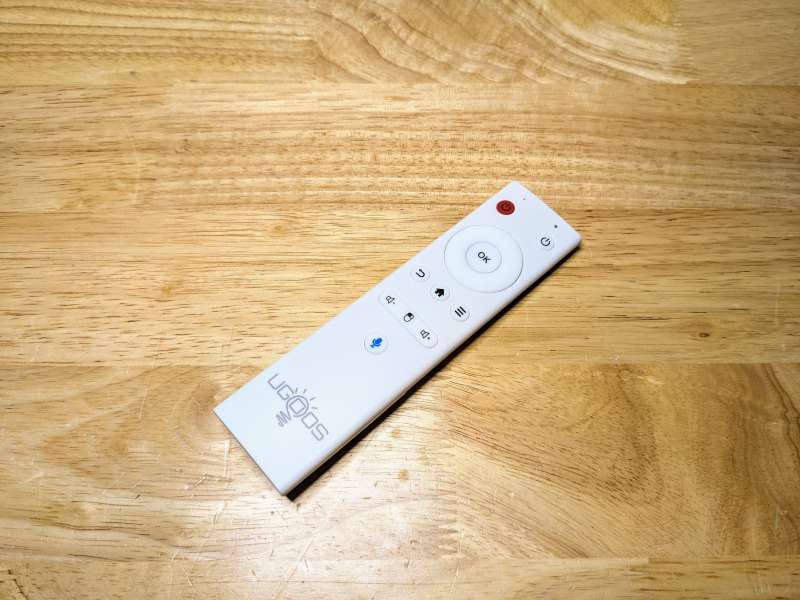 After the remote batteries are in, the two antennas are installed, and the power supply to the unit is plugged in, the UT8 Pro is ready for set up.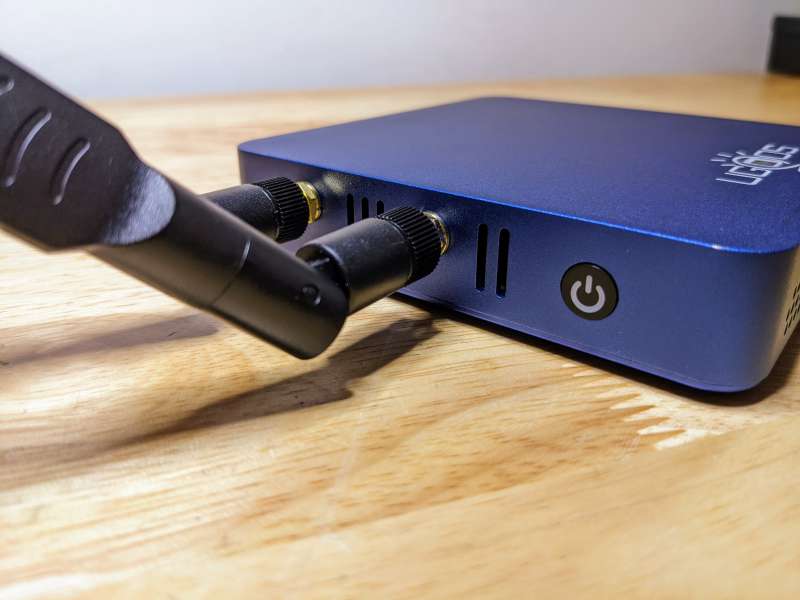 Setup
Once powered up and connected to a screen, the green LED on top of the UT8 Pro will light up indicating the unit is operating.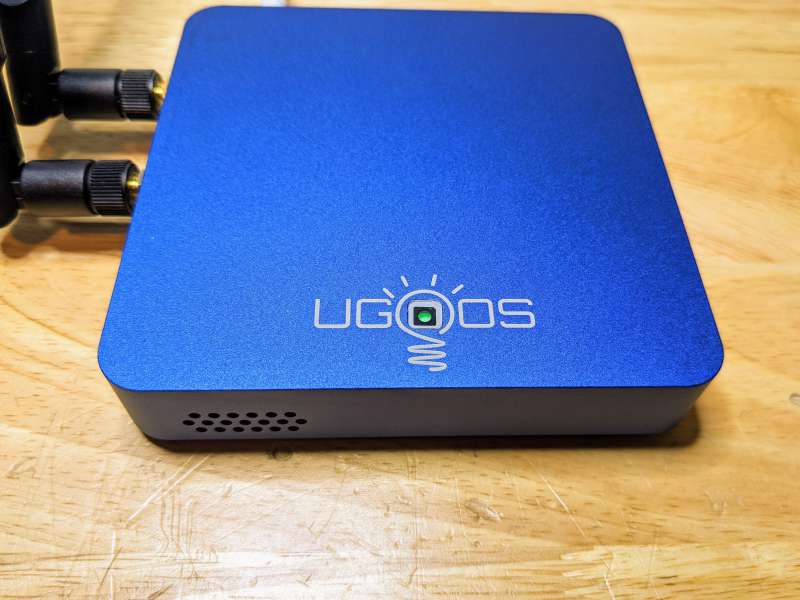 Setting up the UT8 Pro from here is very similar to setting up any other Android device or phone. The Android screens walk you through the initial setup.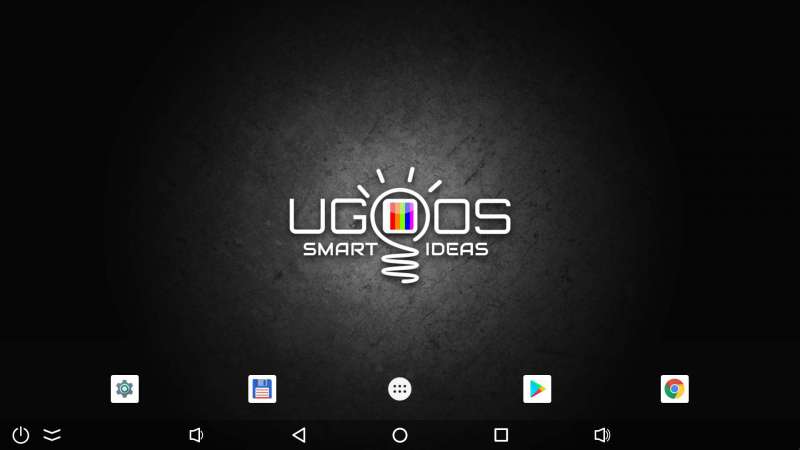 The first setup step you're walked through is pairing the remote to the UGOOS UT8 Pro Android TV. Following the instructions on the screen, hold the Volume Up and Volume Down buttons simultaneously until the UT8 Pro finds the remote and pairs with it. I found out pretty quickly though that the remote is not an ideal way to navigate all of the required setup menus for the UT8 Pro. Plugging in a keyboard and mouse made setting up and using the UT8 Pro a lot easier.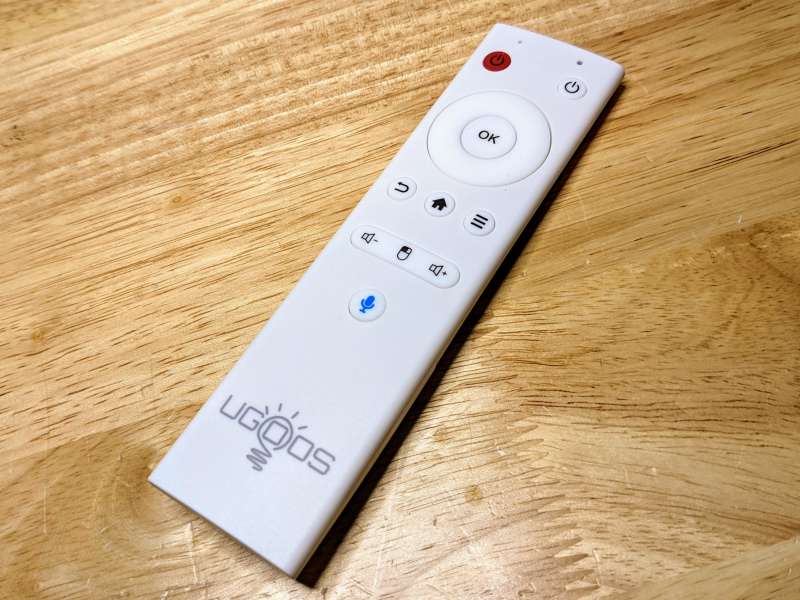 Next, I took some time to install the apps I planned to test the unit with, but first I synced it to my Google account to make things easier. The UT8 Pro ships with a few standard Android system apps along with a few UGOOS additions such as the UGOOS Remote Server and Total Commander file manager.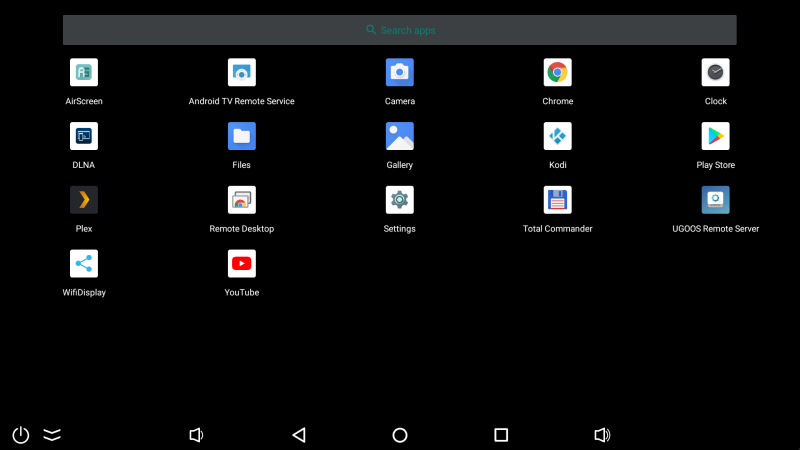 The Google Store experience is the same as on any Android device, but you'll find that a lot of apps you're used to installing on other Android devices are uninstallable on the UT8 Pro. Netflix and Disney+ for instance will not install. I also was unable to install Plex Media Server, my media streaming app of choice, which was a huge disappointment because I really wanted to test out the Rockchip processor to see if it could handle the memory-intensive video transcoding that Plex requires. Oddly enough though the Plex player app installed fine. So, I am able to access my current Plex server with the UT8 Pro but not able to run one from the unit.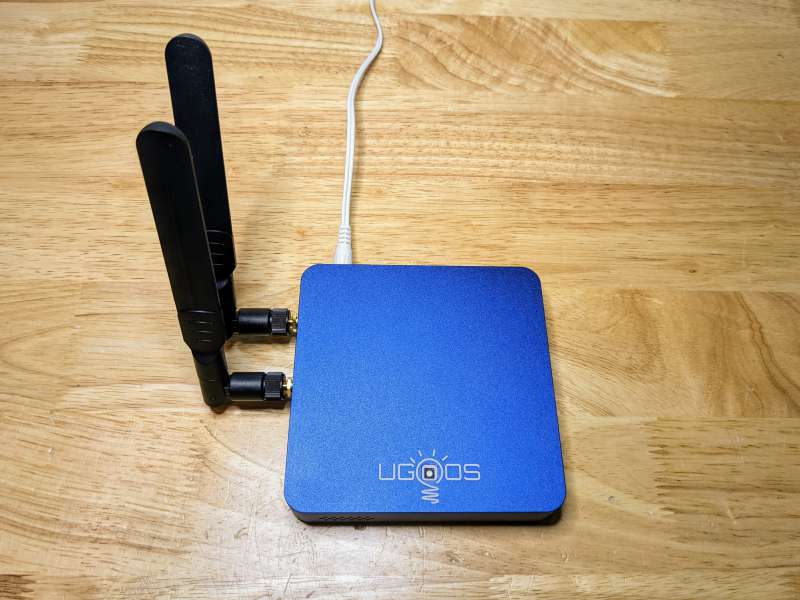 Performance
For initial testing, I connected the UGOOS UT8 Pro Android TV to a Dell monitor on my workbench so I could get all of the apps I wanted to use installed and configured. Start-up on the UT8 Pro is amazingly fast, but that's to be expected with such a powerful processor as the RockchipRK3568 running a barebones Android 11 OS.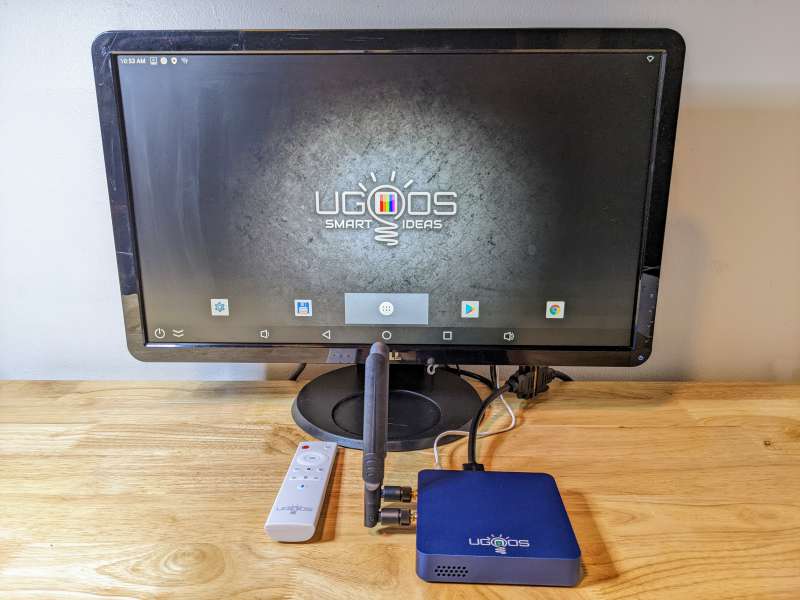 The menu and settings for the UT8 Pro are stock Android 11, with a few options specific to running the device in Android TV mode.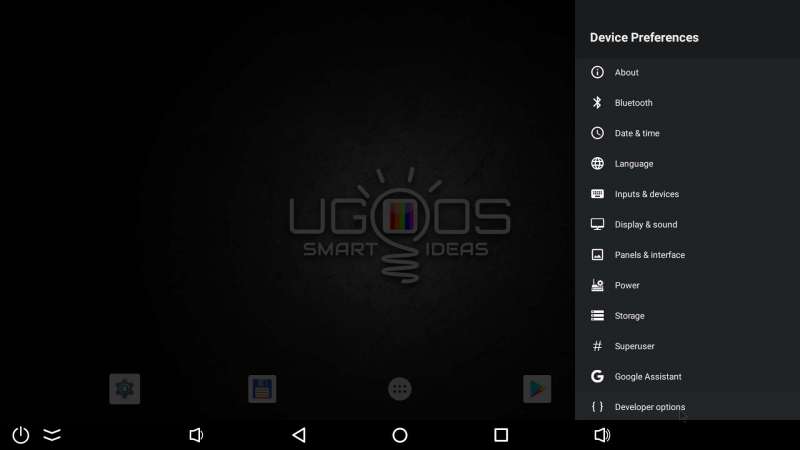 All of the normal OS information is available on the UT8 Pro as well as the ability to easily Root the device and sideload APKs from sources other than the official Google Store. This is great for those who are interested in building a bespoke media box experience.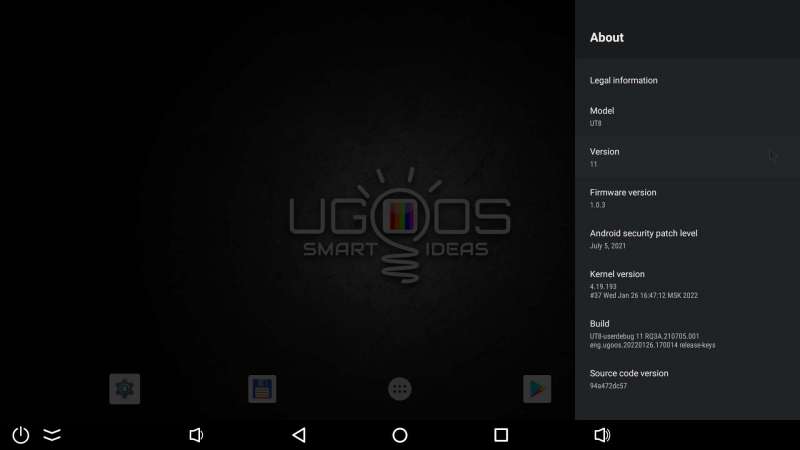 One menu option I really appreciated that isn't normally found on other Android builds was the Hardware monitor. This allowed me to have various data points on the screen at all times such as CPU load and temperature, RAM details, network usage, IP information, and other video and audio readings.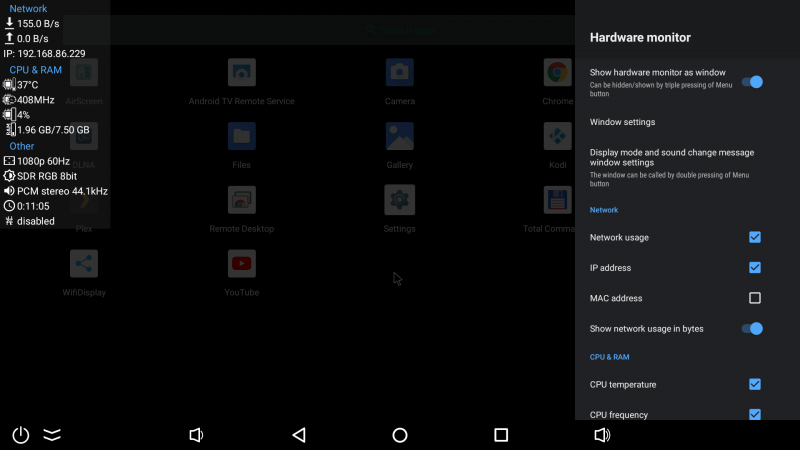 Before I got too far installing apps and customizing the UT8 Pro, I checked for a software update from UGOOS. The fact that there are Over The Air (OTA) updates for the UT8 Pro really adds to its value since UGOOS can address issues and bugs without having the user manually download and update fixes, and boy are there a lot of bugs. Along with not being able to install some apps, I frequently had otherwise stable apps work one minute and then unexpectedly crash.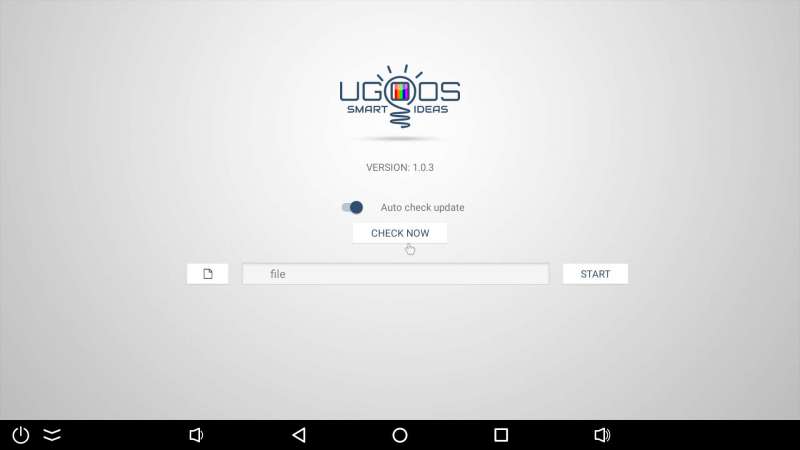 Apps like Kodi, a media box mainstay, would crash at random times, stop video playback after a few minutes, or simply restart.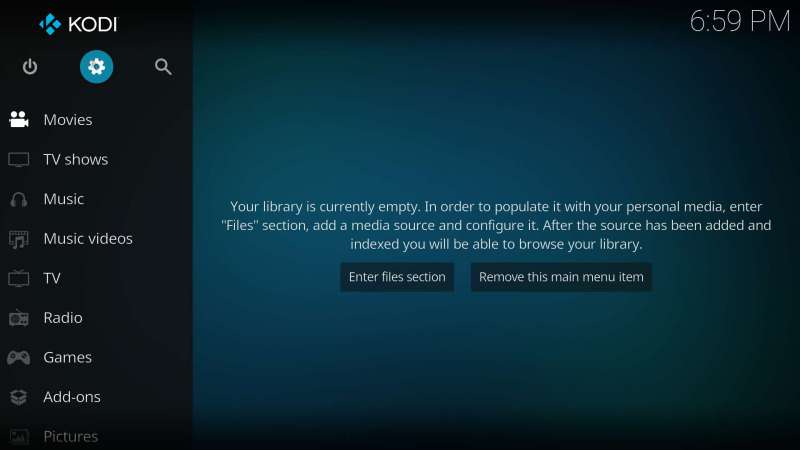 Plex as well would play videos for about 5-10 minutes and then stop and exit the app with no apparent reason why.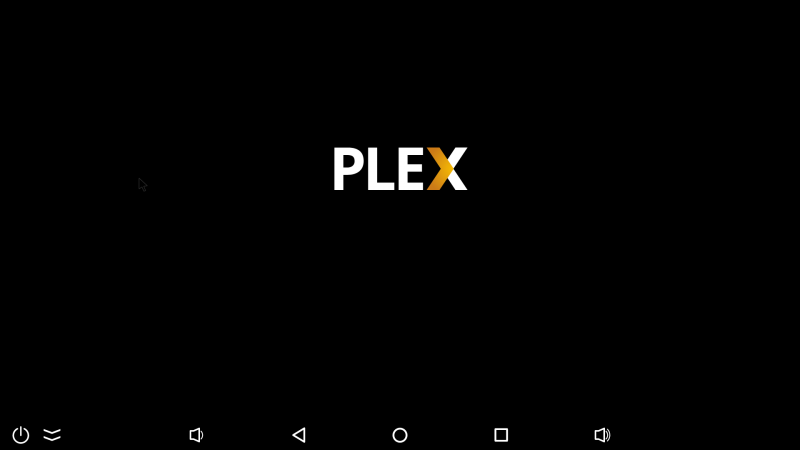 I ran several benchmarks apps on the UT8 Pro and it always scored pretty high, so the problem is definitely not processing power. Most likely it's that the software is still too buggy for stable performance, which is a shame because the UT8 Pro's impressive hardware has a lot of potential.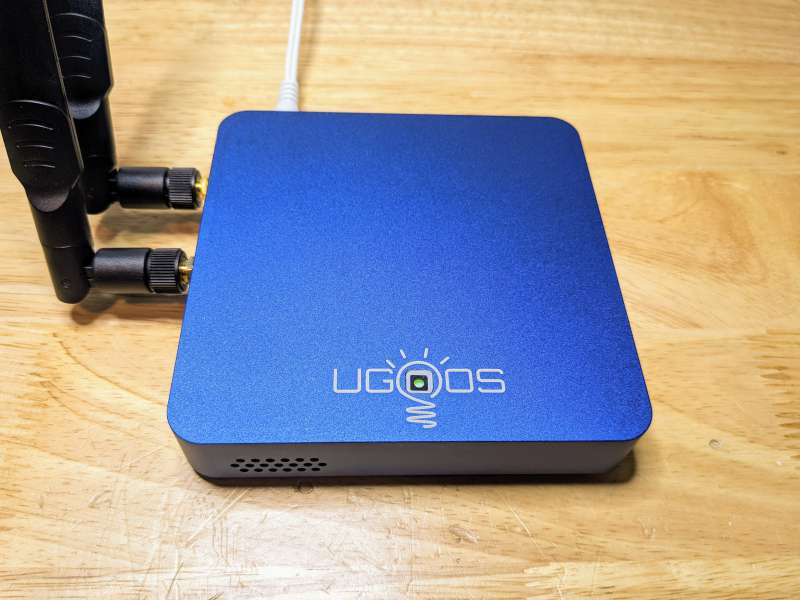 Overall, I really wanted to love the UGOOS UT8 Pro Android TV, but it's just too unstable to be of much use as a media streaming box let alone a media server. Hopefully, UGOOS continues to release OTA updates addressing major issues like app stability and compatibility in the near future.
What I like
Solid aluminum construction
Includes Bluetooth remote and HDMI cable
Ability to root the device and sideload APKs
What needs to be improved
Buggy and inconsistent performance overall
Not compatible with some official 4K streaming apps like Netflix and Disney+ as well as Plex Media Server
Remote doesn't always work with onscreen options
Final thoughts
The UGOOS UT8 Pro Android TV looks great on paper, but unfortunately, it doesn't deliver the goods in practical use. From a buggy UI that isn't always compatible with the included remote, to inconsistent performance and crashes with a number of well-known apps, to straight-up incompatibility with 4K official versions of Netflix and Disney+, the UT8 Pro is not at all ready for prime time. The ability to easily root the device and sideload APKs makes up for some of the shortcomings, but not enough to justify the $159 price tag when for not much more you can buy the flawless Nvidia Shield. UGOOS may be able to fix most of the performance issues with future OTA updates, but with so many other capable set-top boxes out there I'm not sure it's worth waiting for.
Price: $159.90
Where to buy: UGOOS
Source: The sample of this product was provided by UGOOS.