We use affiliate links. If you buy something through the links on this page, we may earn a commission at no cost to you. Learn more.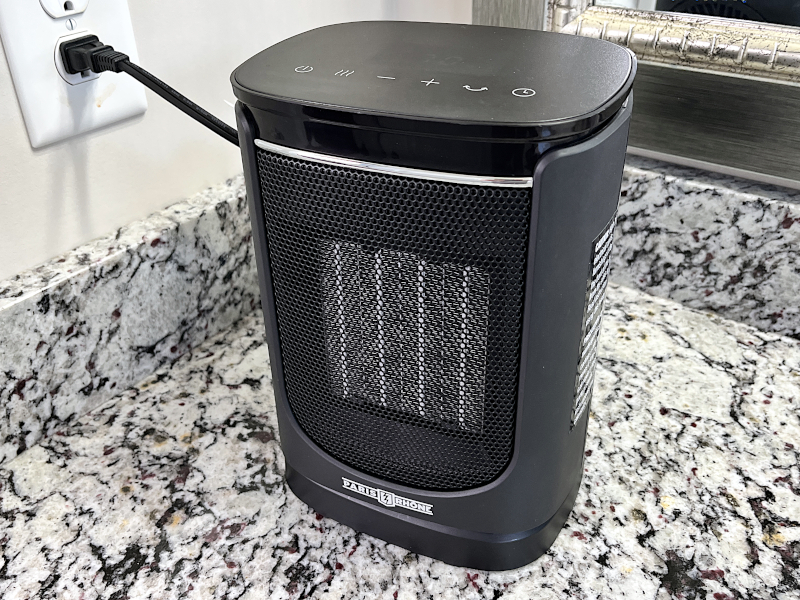 REVIEW – Winter is here!  Temperatures have been unseasonably cold this January, sometimes dropping into the 20's overnight.  This means that my bathroom is inevitably much too cold in the mornings, and I need something to take the edge off.  In this review, I'll be looking at the newest space heater from PARIS RHONE.
What is it?
This is a portable, ceramic space heater from PARIS RHONE.  It has an LED temperature display, a timer, and tilt protection.  PARIS RHONE's goal is to "create products to add convenience to customers' daily life and improve their life quality."
What's in the box?
PARIS RHONE Space heater
Manual (with 15 pages of English instructions)
Hardware specs
Power: 900 or 1500 watts
Temperature Control: 1-degree increments
Temperature Range: 41 to 95 degrees
Oscillation Range: 70 degrees left to right
Dimensions: 6 x 6 x 10 inches
Weight: 3.9 lb
Design and features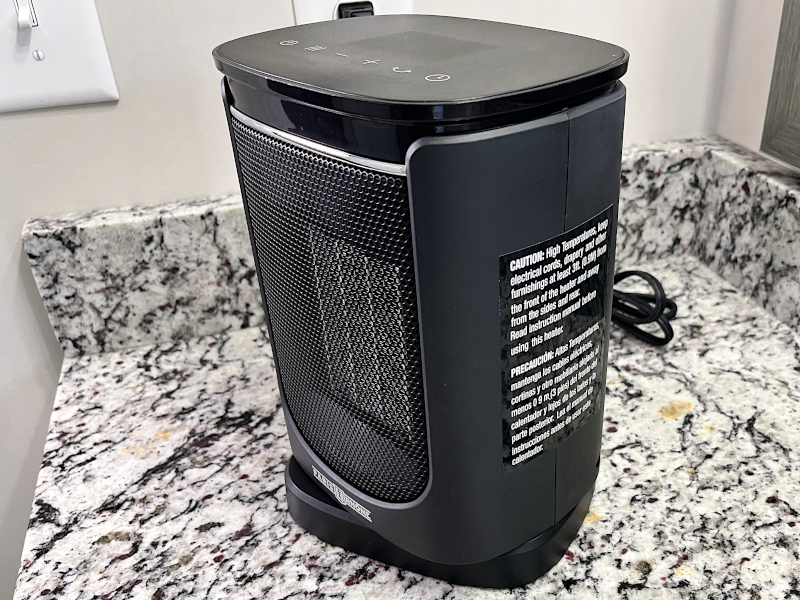 The PARIS RHONE Space Heater has a design that is very typical for a small space heater.  It's an upright, rectangular block with gently curving sides.  It's made of matte black plastic except for the grill on the front.  There's a huge warning sticker on one side and a fan entrance and inset carrying handle on the back.  Perhaps the most distinguishing feature is that there are no knobs or dials anywhere.  The controls, which are on top, are capacitive and are only marked by six graceful icons.  When plugged in, a small red LED is lit.  When powered up, a digital display with the temperature settings are seen.
Installation and setup
The heater arrived in a very sturdy box.  I pulled it out and removed the plastic bag.  I found the manual to be a pleasant read.  It is laid out well, has helpful graphics, and explains everything.  At only ten inches high, the heater is small enough to sit on a counter top, so I promptly put it in our main bath.  Full disclosure:  The manual warns that this heater isn't designed for bathrooms, which can have moist air and where it can fall into a sink or a tub.  Even so, this is where I need a heater, so this is where it went.
Performance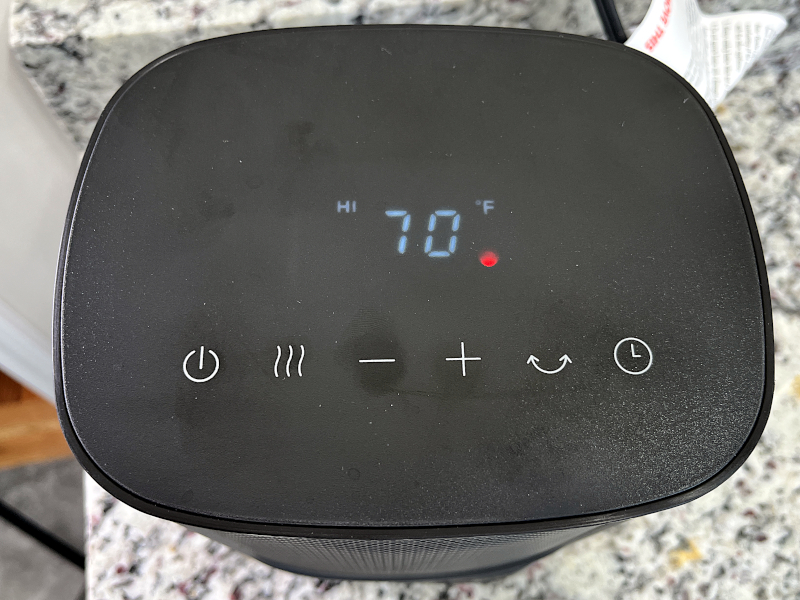 Whenever the PARIS RHONE Space Heater is plugged in and turned on (using the "on/off" button), it sets the default temperature to the max, which is 95 degrees.  Pressing the "minus" button repeatedly will lower it in one-degree increments until it arrives at the desired temperature; similarly, the "plus" button raises it.  Whenever the heater is turned off and then turned on again later, it remembers the desired temperature.  If, however, the heater is unplugged from the outlet, it forgets this temperature and must be reset again.  I like that it retains the value when turned off, and I wish it would do the same when unplugged.  (Ironically, the manual says that the heater should be unplugged any time that it is not in use.)
As seen in the picture above, dust tends to gather on the flat surface that's the top of the heater; the use of capacitive controls instead of buttons or knobs makes it super-easy to wipe down with a moist cloth.
The "wavey lines" button rotates among the three modes, high, low, and fan.  The high mode draws the most power (1500 watts) and heats the room the quickest.  The low mode only draws 900 watts, and thus is more energy efficient, but takes more time to heat a room.  The fan mode is just a low speed fan, which is not very useful.  The heater works well.  As expected, a fan pulls in air from the back, blows it over the heated ceramic, and then pushes it out the front.  Standing in front of the heater, I can definitely feel the wonderfully warm heat that it blows out.  Mmmmmm.
The heater has a built-in thermostat, so when the ambient temperature reaches the desired temperature, it shuts off; it will turn on again when it drops below that temperature.  The metal grill on the front of the heater quickly becomes very hot, even when the temperature is only set to 70 degrees.  This heater isn't safe to be near small children or pets.
PARIS RHONE's Amazon page says that this heater is "perfect for small spaces," but doesn't define what size room it can handle.  I typically set it to 76 degrees and gave it a few minutes before showering.  It can heat our main bath, which is about 55 square feet, quickly and easily; in the master bath, which is about twice that size, it struggles to get it to this temperature.  For bedrooms and larger rooms, I would either try PARIS RHONES's 16-inch heater, or, for better efficiency, I would get an oil radiant heater, like this one from De'Longhi that I recently bought for my home office.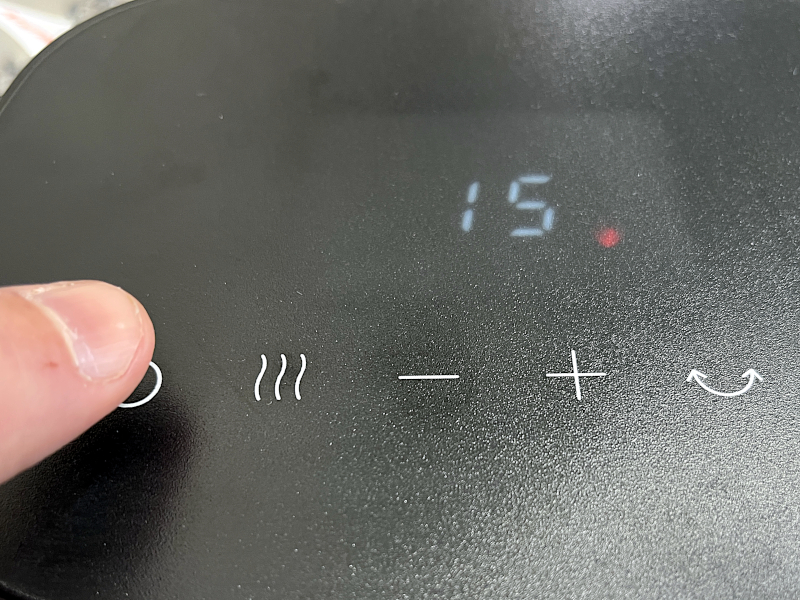 When the heater is on, pressing and holding the "on/off" button for a full second again doesn't actually turn the heater off, at least not right away.  The heating element turns off, but the fan continues to run for another 15 seconds, counting down on the display, before actually turning off.  There's no explanation of this "feature" in the manual, and I don't like it at all.  When I turn the heater off, I want it to turn off now.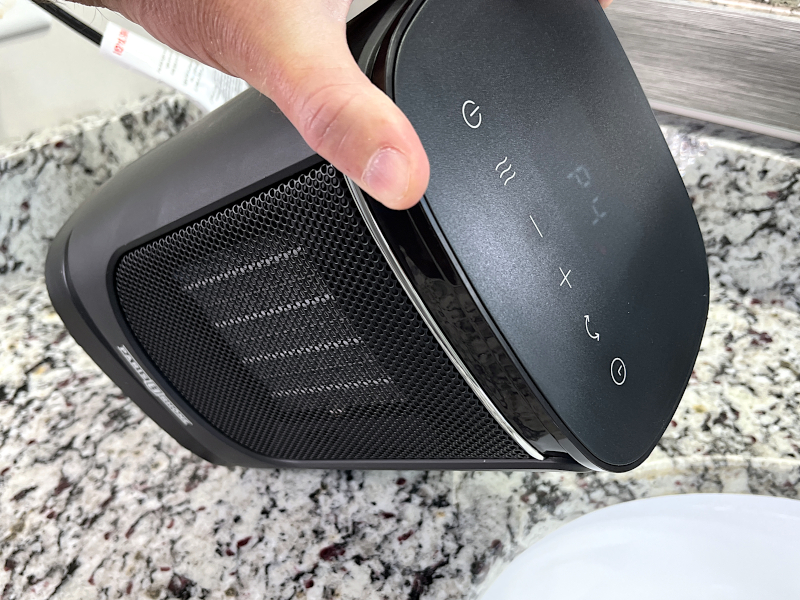 The tilt protection feature works in a similar manner.  If the heater is turned over while running, once it reaches a 45-degree angle, the tilt protection kicks in.  The digital display changes to "P4" — this is not a helpful error message — the gadget begins beeping, and the heating element turns off.  Inexplicably, the fan continues to run for 12 seconds, after which time it still doesn't shut down completely, as the display continues to show P4 and the red LED remains lit.  If the heater gets knocked over, I want it to turn off instantly and completely rather than continuing to run; I would prefer the heater to have a physical kill switch, like the one on the bottom of this Trustech space heater.  If we still had little kids at home, I would not use PARIS RHONE's space heater in my house.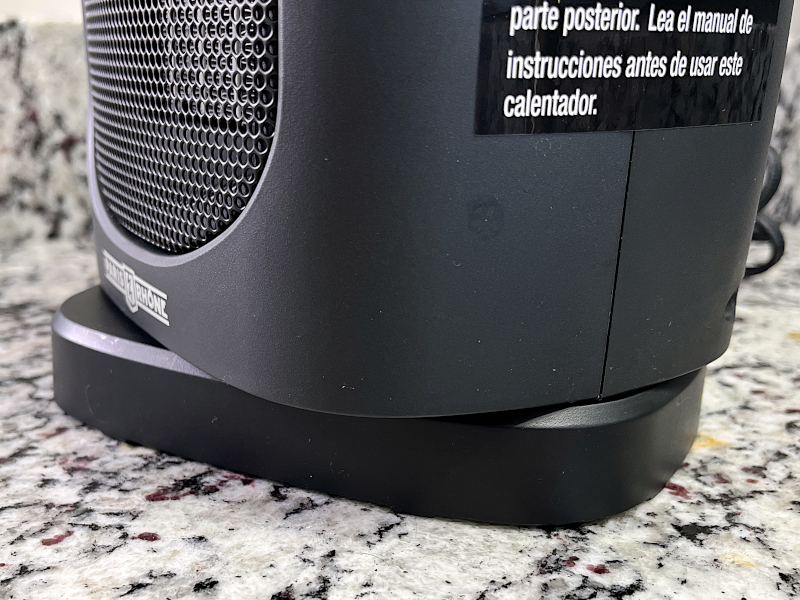 The "oscillate" button causes the heater to rotate back and forth horizontally, but in a small bathroom, I don't think this feature really makes any difference at all.
Normally I turn the heater on before I need to shower and then turn it off as I am leaving the bathroom.  It can, however, run on a timer.  Each press of the "timer" button adds one hour of runtime (up to 12 hours) before it automatically shuts off; pressing and holding the button cancels the timer.  As I am never in the bathroom for an entire hour, this feature isn't helpful to me.  Perhaps I would use it more if I could set it in 15-minute increments.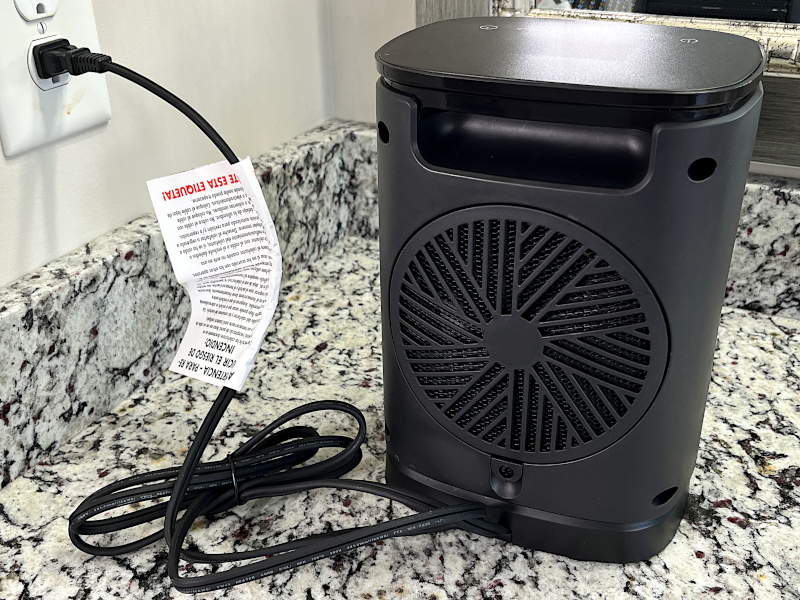 The back of the heater has a small, built-in handle for carrying, though the heater is so light the handle isn't really necessary.  There's a small screw at the base of the fan cover; when removed, it allows access to the filter and the fan blades for cleaning.  Just remember to unplug the heater before doing any cleaning.
PARIS RHONE's space heater has an overheat protection feature.  According to the manual, when the ambient temperature reaches 122 degrees, it will beep and flash an error code.  Their Amazon page says that the heater will automatically shut off, and the manual asks that I unplug it.
Note that PARIS RHONE has two different space heaters on the same page.  This review is for the 10-inch one, not the 16-inch one.
What I like
Compact size, clean design
Plenty of warm air
Digital temperature display
Capacitive controls
What I'd change
Remember the last temperature after being unplugged
Turn off immediately when off is pressed
Physically kill power to the heater when tilted
Final thoughts
When winter is a bit too cold, PARIS RHONE's space heater is a nice way to heat a small room in your house.  It has worked well in our bathrooms, heating the smaller one easily and taking the edge off in our larger one, even though it's technically not designed to be used in bathrooms.  The controls are simple to use, and I appreciate the digital display, the capacitive interface, and the built-in thermostat.  I wish that this heater turned off immediately when I press the off button and when it is turned over.  If we had kids or pets still at home, I would not use this heater, but for just my wife and I, it's ok.  Overall, I like this heater, and I'm glad to have it.
Price:  $49.00
Where to buy:  Amazon or PARIS RHONE's online store
Source: The sample for this review was provided by PARIS RHONE.