We use affiliate links. If you buy something through the links on this page, we may earn a commission at no cost to you. Learn more.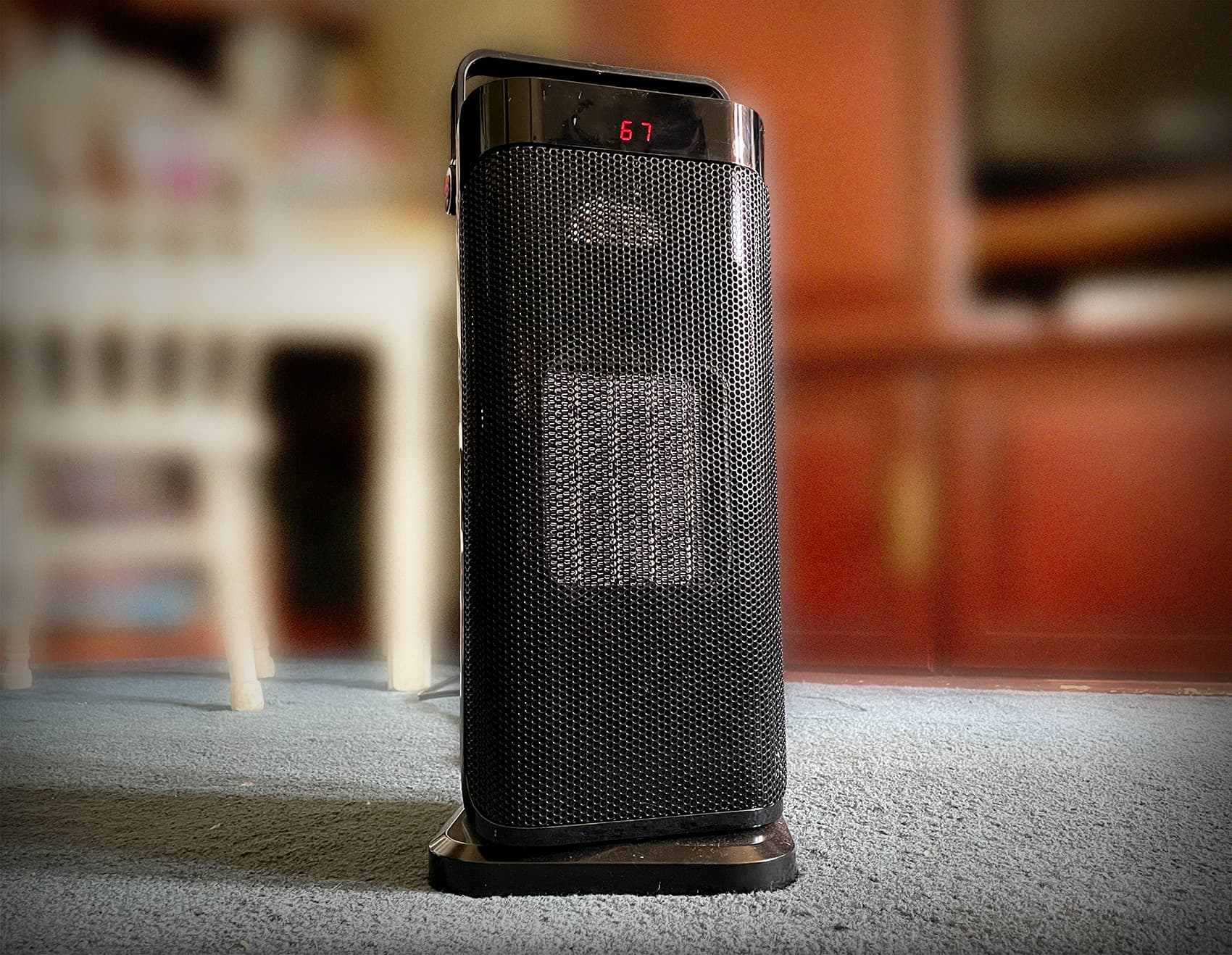 REVIEW – We're getting into the winter months and the central thermostat is starting to creep up to keep your home cozy. But wouldn't it be nice to save a little bit of money and only heat the room you're in? The Trustech 1500W Space Heater could be just the thing you need.
What is it?
Trustech's Space Heater is a small, fast-heating ceramic electric heater with 1500W and 750W modes, capable of quickly and comfortably heating a small bedroom or office.
What's in the box?
1500W space heater
Remote
Quick-start guide
Hardware specs
9.1 x 6.7 x 17 inches
5.63 pounds
1500W/750W/Fan modes
Up to 12 hour timer
120º oscillation
50 to 95 degrees thermostat
Overheat protection
Tip-over shut off switch
70dB operation noise
Design and features
With the pandemic stretching into the cold months, many of us will continue to work from home and more or less be forced to run the heat all day just to keep the work environment bearable. That could end up being an added expense that a lot of us didn't count on.
I hate having to run the furnace and heat up the entire house just to regulate the temperature in the one room I'm in all day. Whenever I hear that heat kick on, I switch into "dad mode" and look for ways to double up on clothes, close unneeded vents, or any other way to keep that heating bill from munching into my budget.
Grabbing a small space heater for your bedroom or home office is a great way to save some money, and Trustech's small space heater is a solid heating solution.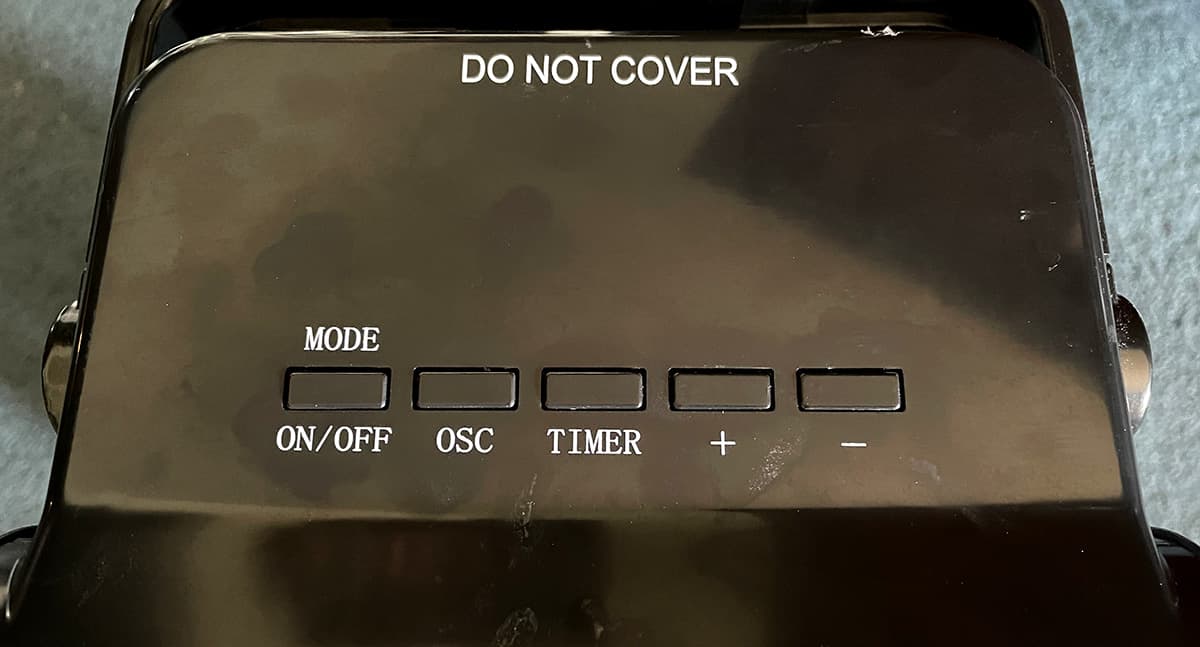 This 1500 watt ceramic heater has a footprint of 9″x7″, and is only 17″ tall, so it could fit just about anywhere.
The controls are dead simple, as is the remote (which I promptly misplaced, so here is an image provided from the Amazon page). This space heater can operate under High Heat (1500W), Low Heat (750W), or fan. The fan itself isn't very strong, emitting a gentle breeze that can only be felt a few feet away, so don't count on it to do much in regards to circulating air.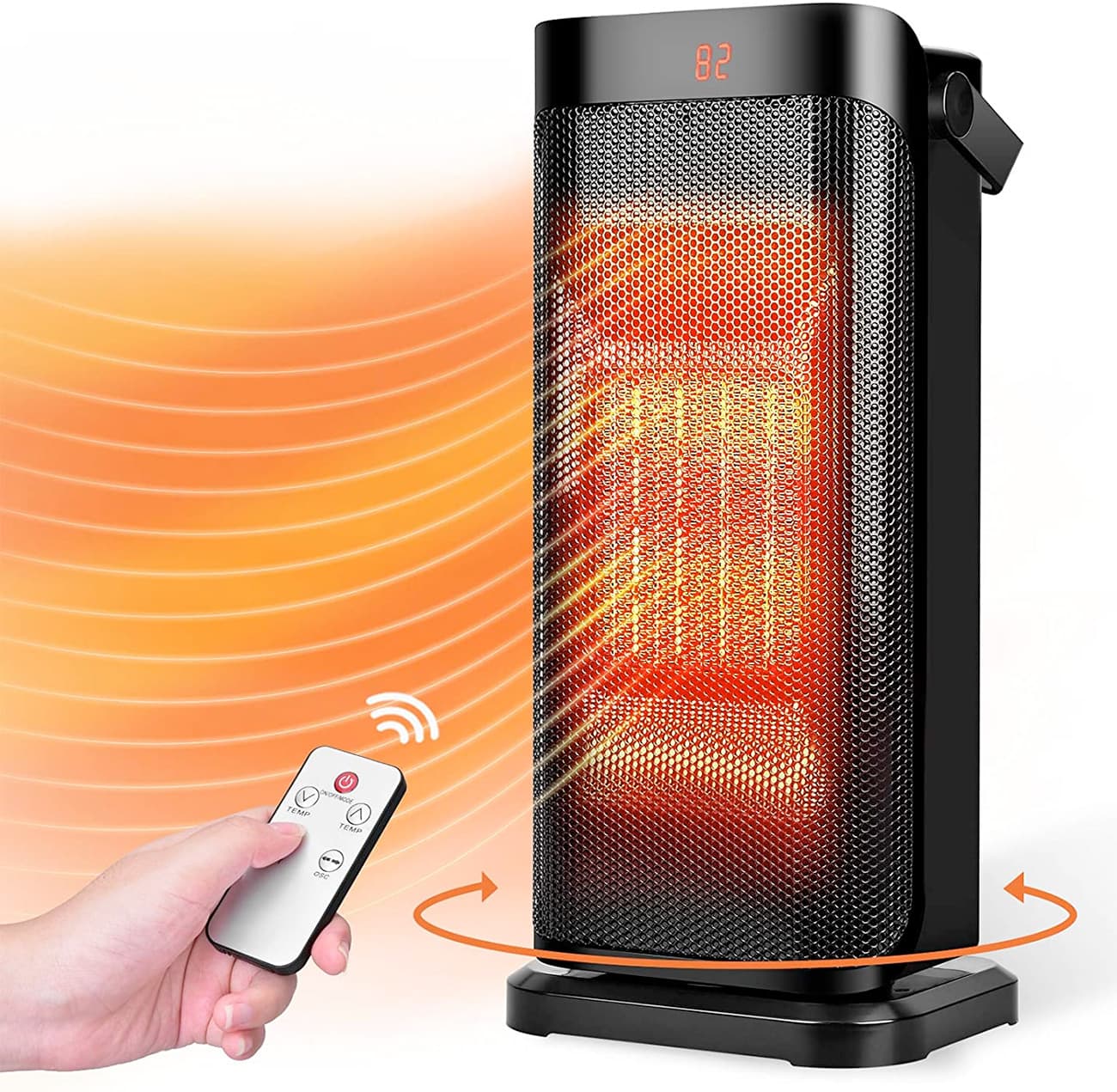 Every action from the remote or controls on the unit itself emits a loud beep. Every degree in temperature change. Every button press. I get providing an acknowledgment of input, but man, getting this thing turned on and set to the right temperature is about 15 loud beeps in succession, it's a bit ridiculous.
There is a 120º oscillation function which does help in dispersing the heat evenly throughout the room. And there is a shut-off timer that can be set from 1 to 12 hours, if that's something you happen to be looking for. I usually just shut off the heater when I leave the room for the day, since it heats it up so quickly anyway.
There's a thermostat that detects ambient temperature and switches the heating elements on or off to regulate the temperature to your selected preference. Although I don't think it would be possible for this heater to get an entire room up to 95º, that's how high the thermostat goes. I usually kept it around 80º and I don't think the room ever got that hot, it simply pumped out enough heat to keep things comfortable, so you might have to play around with that to get your "perfect" temp setting.
The front of the heater doesn't get too hot to the touch since the heating coils are behind a couple of layers of ceramic grilles. All the same, Trustech added an auto shut-off switch on the bottom of the heater that disrupts power in the event of a tip-over. Truly tech you can trust.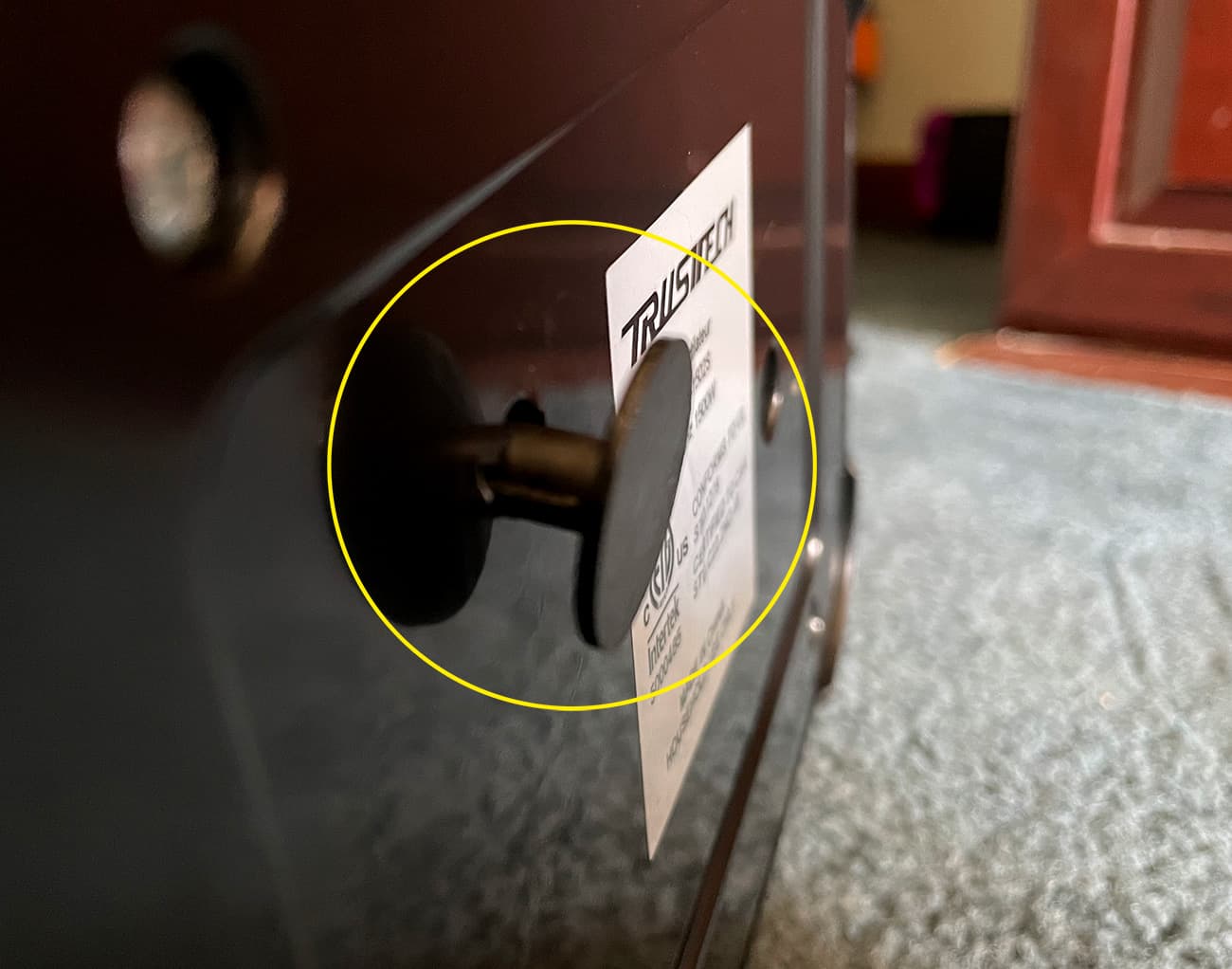 In normal use, this heater can comfortably warm a small room or small home office, even more so if you have a door you can close to trap the heat. I have it set up in a living room with an attached dining room, and there's definitely a noticeable drop-off in temperature once you get about 10′ away from the space heater. I wouldn't expect it to warm an entire floor of a house.
In my experience, I found the heater rattles for the first 5-10 minutes of use until all the heating elements are warmed up and expand. It's probably due to the fact that there is a lot of plastic in the body and, given the size of the heater, there's a lot of vibration with the fan inside. It does go away. If it didn't, I'd have to give it a hard pass. I have a thing with rattly fans and inconsistent sounds, your mileage may vary.
Also worth mentioning is that despite the claims on Trustech's Amazon page, the heater is pretty noisy. You'd think this thing would be pumping out a ton of wind for as loud as it is, but the internal blades are tiny. It seems louder than a box fan, to me. Measuring it with my Apple Watch, I got around 70dB of fan noise from the heater. For comparison's sake, my basic box fan upstairs, on medium, is around 60dB. It's a steady hum, though, which tended to be ignorable. Still, if you need silence, then you're going to want something else, like a radiator or kerosine heater.
Given some nitpicky complaints, I think the Trustech space heater is a thrifty way to keep your small spaces warm this winter.
What I like
Heats up a small room quickly
Perfect size/power for a bedroom or office
Oscillation is a nice touch
What needs to be improved
Rattles for the first few 5-10 min of operation
Input beeps are crazy loud
Fan is pretty noisy
Final thoughts
If you're in the market for something that can keep your bedroom or home office warm in the frigid winter months, Trustech's heating solution might be just the thing you need. It's dead simple to operate, heats up quickly and as long as you're not trying to heat the whole downstairs, will work great for your small spaces.
Price: $69.99
Where to buy: Amazon
Source: The sample of this product was provided by Trustech