We use affiliate links. If you buy something through the links on this page, we may earn a commission at no cost to you. Learn more.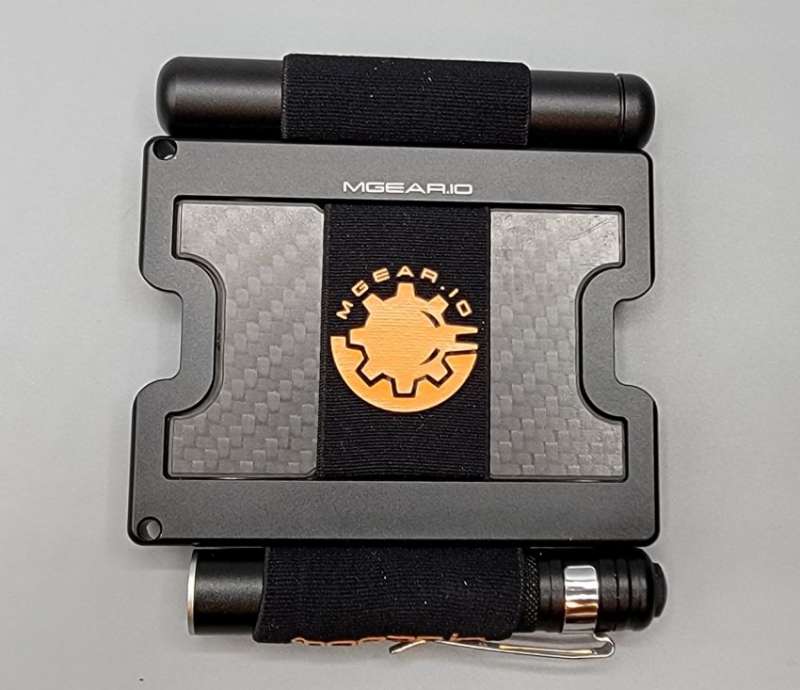 REVIEW – I like to think I'm a bit of a minimalist in the area of everyday carry.  While lots of women carry tote style handbags, I prefer a wristlet or no purse at all, just a wallet and my phone in my pocket.  Don't get me wrong:  I like a fancy handbag as much as most, but I hate carrying large bags.  I've even had handbags that sent me to physical therapy because they tweaked my neck and shoulders.  So to that end, I'm always trying to find a lightweight wallet that can move from my work bag to my wristlet and still keep me organized at the checkout counter. For the last month, I put the MGear Gadget Wallet 3.0 to the test and I learned some interesting things about myself and minimalism.
What is it?
The MGear Gadget Wallet 3.0 is a customizable wallet with elastic straps that can hold EDC accessories
What's in the box?
So, so much was in this box!
Reuseable storage tin and velvet pouch
The MGear Gadget Wallet 3.0 itself
Wallet accessories:  multitool card, storage tube and flashlight
32-inch ball chain
Extra front plate
Spare parts and allen wrench (screws and side plates)
Instruction booklet
Warranty card
MGear.IO sticker
Specifications:
71mm wide x 92mm tall x 11mm deep (without any side accessories)
Each side accessory adds 13-17mm to the width (depending on accessory)
Weight: 60 grams (without accessories)
Solid machined aluminum frame
Carbon fiber front, back and side panels
High strength spring steel tension plate
High strength flexible nylon band
High strength screws
Features:
1-5 card interior capacity
Swappable front and backplates
Elastic band for cash & accessories (additional 1-5 cards outside capacity )
Ball chain necklace (free for a limited time)
Limited lifetime warranty
As their website says, the MGear Gadget Wallet 3.0 is the most customizable wallet in the world, so I had a lot of decisions to make when I ordered!  Their website lets you choose what material and color you want for the frame, which comes in silver and black.  The carbon fiber front plate is swappable and comes in a variety of colors.   You can choose to have one of their images printed on the plate or one that you upload.   I chose the Gadgeteer logo, which they color printed.  If you want something less flashy, you can also choose to have the image engraved on a stainless steel plate instead.  I found the interactive wallet builder really easy to use and it gives you a good idea of how the finished wallet will look.
On either side of the wallet are elastic loops that can hold a variety of accessories that you can order.  You can choose from a mini LED flashlight, a storage tube or a bolt action pen.  I chose the flashlight and storage tube.
The website also offers accessories that can be carried in the wallet with your credit cards and those choices include a couple of different kinds of multi-tools, a Fresnel lens, a combination RFID card with survival information on it, a combination RFID card with measurement and conversion information on it and a 32 Gb flash drive.  I chose a multitool for mine.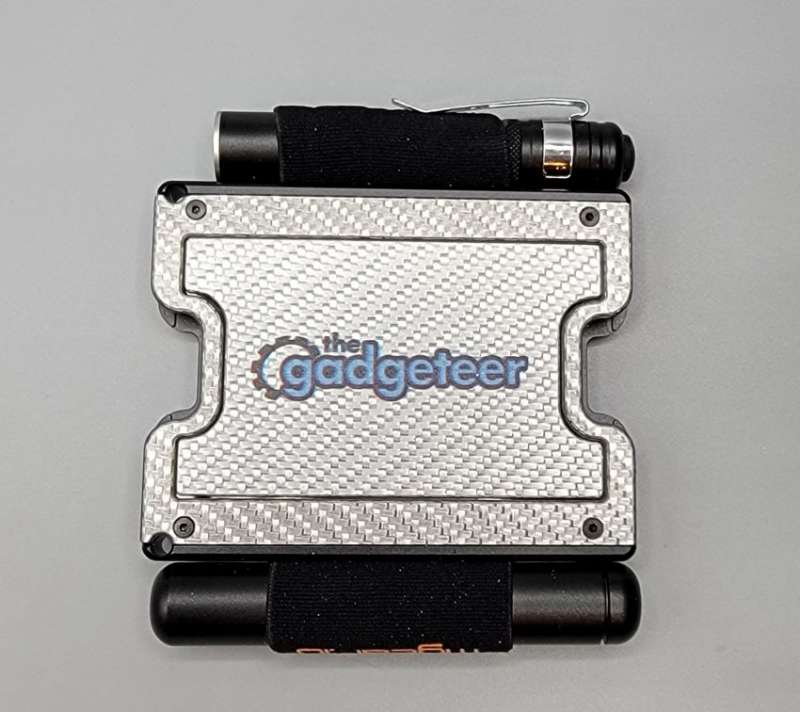 About a week later my wallet arrived and I was impressed with how well the wallet looked!  I was in a hurry when I ordered it, and I just took a tiny screenshot of the Gadgeteer logo from a webpage and I was worried that it wasn't big enough or clear enough to look good.  I think it turned out really well!  The wallet certainly feels solid.  It's heavier than my Tyvek wallet that I normally carry, and thinner, but it feels like you could drive over it and everything would be fine.  I should note, though, that customization comes with a price.  This wallet was pretty expensive.  Again,  it will last a very long time, but this is not a wallet for a bargain hunter.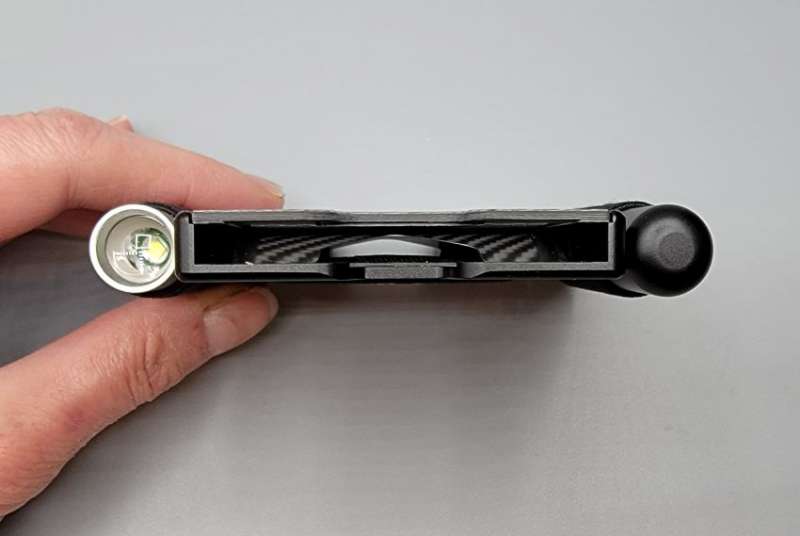 Immediately I could tell that I was going to have to be selective about what cards I would carry around, because it just doesn't have the capacity that a regular wallet has.  That's not necessarily a bad thing – the less I carry, the less likely I am to misplace my cards and the more likely I am to find the one I want quickly.  I loaded it with what I thought was the bare minimum:  driver's license, ATM card, AAA Card, insurance card, Visa card, and the Tesla key card.   I tried to fit my new super cool 18-in-1 multitool in there and that was impossible.  That was a bummer. I decided to swap it out for the insurance card and the AAA card and just take a picture of those with my phone in case I need them.   Another option is to attach the multi-tool to a key ring and carry it that way (there is a hole in the tool in case you need to do that).  I don't carry keys anymore, though, so it's not a solution that works for me.  Now that I have my 18-in-1 multitool at the ready, I can slice open boxes and open bottles whenever the need presents itself.    It is less likely that I'll use some of the other functions, like the fish scaler and the wood saw, but hey, I'm a city girl.  Those opportunities don't present themselves that often in Los Angeles.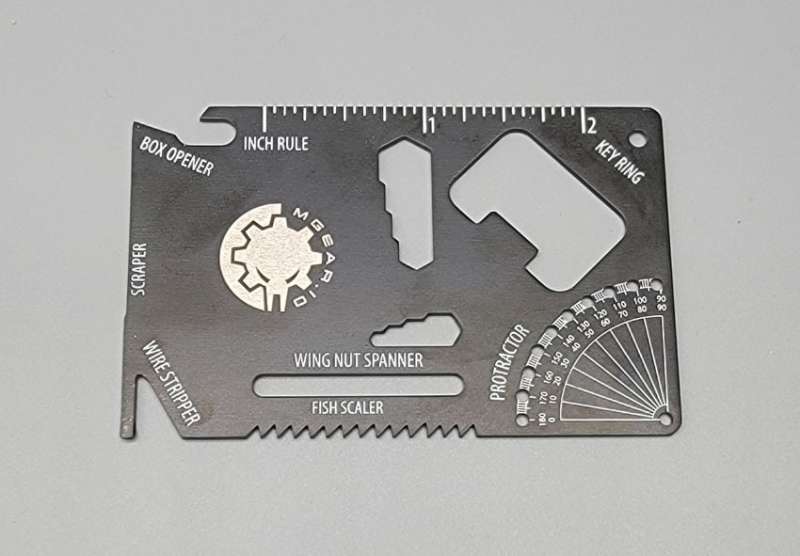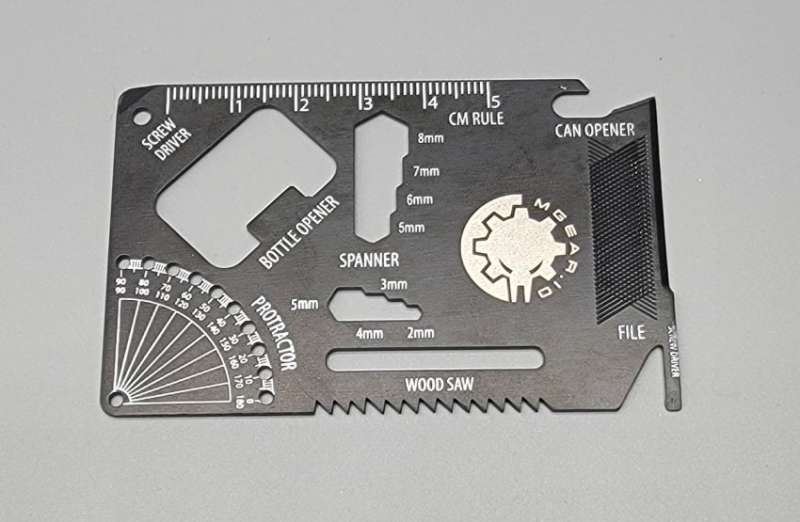 In my old Tyvek wallet, I have a skinny Tile tracker that's a little thicker than a credit card.  Since credit card space is at a premium with this wallet, I swapped it for a regular Tile fob that I attached to the hole in the wallet with a short ball chain that I had on hand.  The wallet shipped with a 32-inch ball chain, which I used when I went skiing to attach it to my ski jacket so I didn't accidentally drop it off a chair lift, but for everyday use, I don't use it.   It's long enough to use it to hang the wallet around your neck, which might be good if you are traveling or in a sketchy area.   For the sake of the review, I also tried to attach a split ring through the hole in case people wanted to attach their keys that way, but the hole really isn't big enough for that. The keyring attached but it was rigid because of the curvature of the split ring.   I think you'd have a hard time finding a split ring that would work.  The ball chain worked great, though!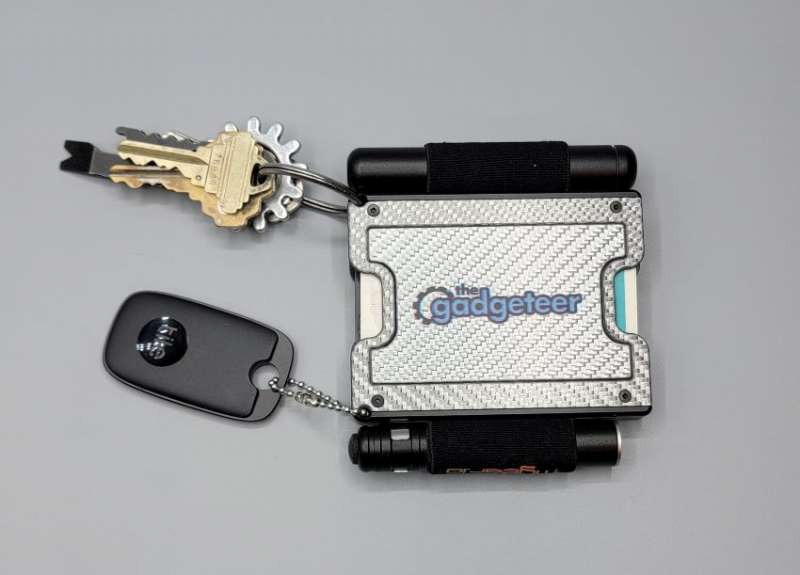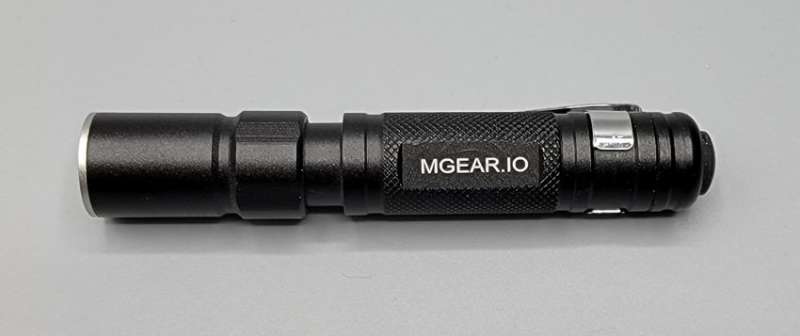 The side accessories I chose were the flashlight and the storage tube.  The flashlight is nice and has a lens to focus it wide or narrow, depending on your need.  It runs off of one AA battery and I think for most uses I'd just leave it on the wallet when I use it because the elastic that attaches it to the wallet is pretty snug.  It casts a nice bright light for such a tiny flashlight, and like the wallet itself, it's very well made and will last a long time.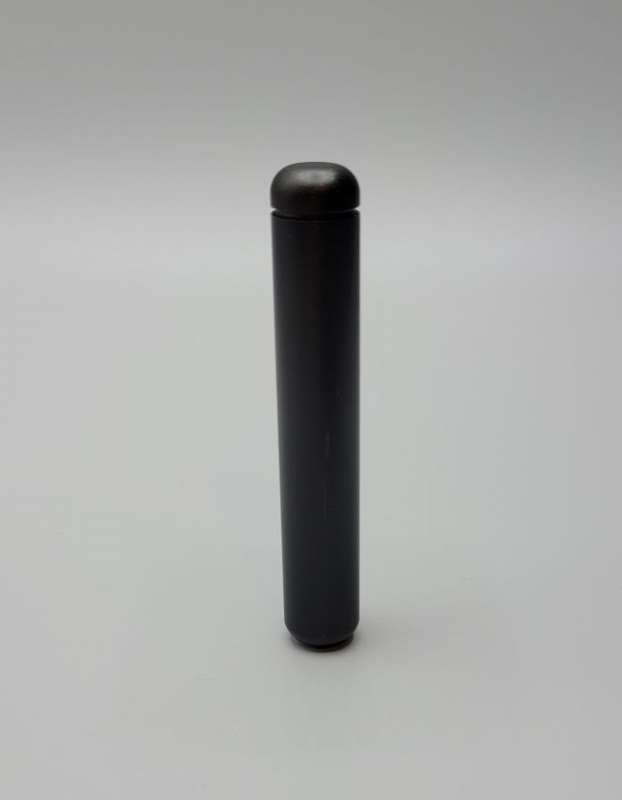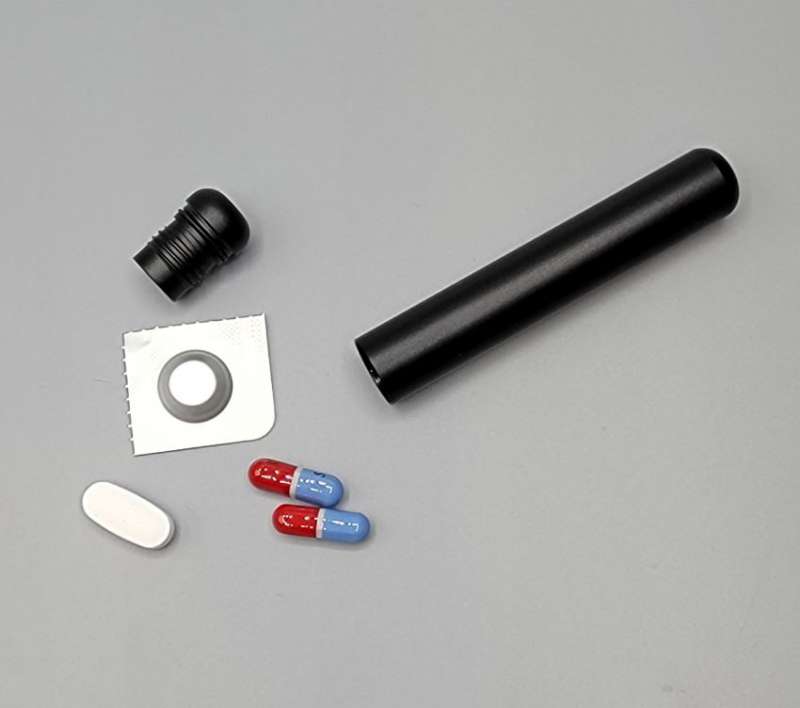 The other accessory I chose is a storage tube that I bought for my medications.  I suffer from migraines and when I feel them coming, I can sometimes head them off if I take some magnesium and a little Tylenol.  If they get away from me, I have a crumbly little rapid release pill that I can also take.  I like to have all of those things with me because I never know when I'll feel them come on.  I found that the little stainless steel tube will hold one magnesium and six Tylenols, but the crumbly little prescription pill isn't a great choice for the tube.  It has to be stored in its foil packet so it doesn't rattle around and that packet doesn't fit into the tube well.  I could have jammed it in there, but I knew that trying to un-wedge it from the tube with an impending migraine would not help my condition.  It's alright, I often go places without the little crumbly pill and I keep them all over the place in case I need one, so it's not a deal breaker for me. One note about this accessory is that the tube is a bit harder to fit under the elastic loop due to its rounded shape.  You can do it, but for me it's a two-handed job.  Like the flashlight, I'll probably try to access the medication in the storage tube without removing it from the wallet because I'm pretty lazy.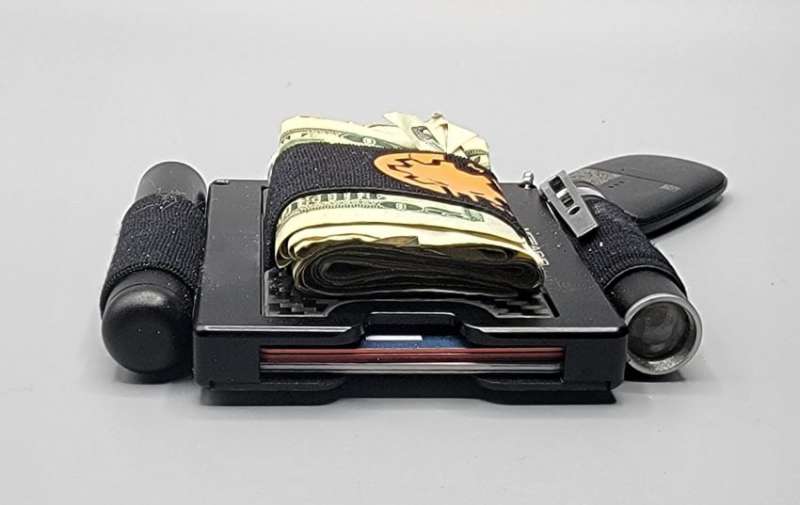 There is an elastic loop on the outside that you are supposed to use for your "folding money" or more cards.   I tried to like that part of the design, but I have way too many bills sometimes and I wound up with a money mound on top of the wallet.  I think if you're a true minimalist, you'll be fine, but between my own shopping and my son bringing me the change from his misadventures, I tend to accumulate a big wad of cash. I felt flustered trying to wrestle the wad out of the elastic strap at the checkout counter (and then back in).  The strap works, but for me, it wasn't the best experience in day-to-day use.
I think where the MGear Gadget Wallet 3.0 might find its home is at my workplace, where we use keycards almost exclusively.  This wallet would hold all my keys, I could have an emergency dollar or two slipped under the money elastic, and I'd have emergency Tylenol and a handy flashlight available (which is great because I'm frequently watching movies and dropping things at work).  I could keep it in my work bag and maybe attach it to it via the long ball chain that came with it.
What I like
Customization
Build quality
What I'd change
Final thoughts
The MGear Gadget Wallet 3.0 is great for true minimalists who appreciate having a well-crafted accessory or two attached!
Price: $55 and over, depending on the customization. As configured $136
Where to buy: MGear.IO
Source:  The sample for this review was provided by MGear.IO