We use affiliate links. If you buy something through the links on this page, we may earn a commission at no cost to you. Learn more.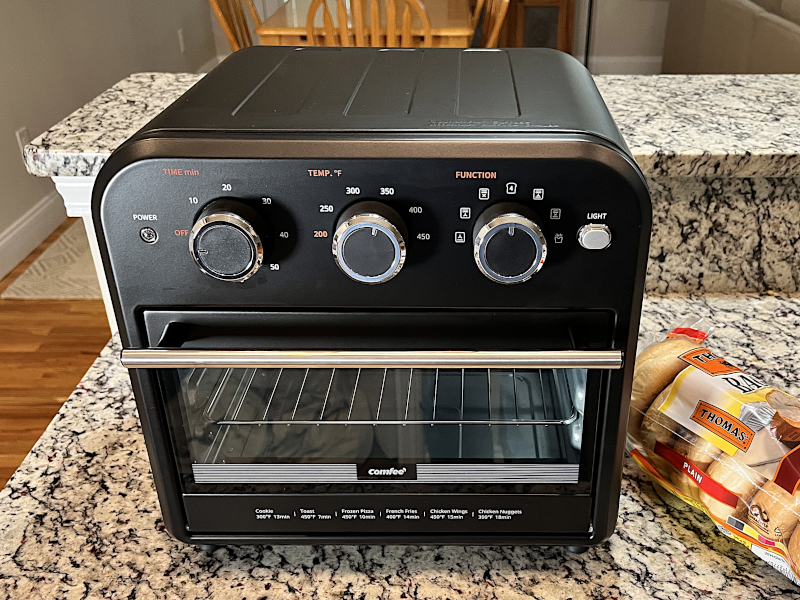 REVIEW – In our kitchen, we have a limited amount of counter and cabinet space, so there's only room for so many appliances.  When new appliances come along, some find a place in our kitchen, but some do not.  Two of the appliances that we use regularly are an air fryer from Cosori and a toaster from IKICH.  In this review, I'm hoping to replace these appliances with a single appliance, thus freeing up some precious space in our kitchen.  Will the Air Fry Oven Toaster from Comfee do the job?  Read on to find out.
What is it?
Comfee's Air Fry Oven Toaster (AFOT) combines three appliances—a toaster, an air fryer, and an oven—into one.  It has seven functions for cooking, a large capacity, and multiple trays.  "Comfee is a professional manufacturer of small home appliances."  Their goal is to offer "a full range of home appliance with an ultimate trendy design paired with simplistic functionality and very intuitive handling."  Comfee is a brand of the Midea Group, a Chinese electrical appliance manufacturer.
What's in the box?
Air fry oven toaster
Four trays
Instruction manual
Hardware specs
Capacity: 13.6 L
Dimension: 1 x 13.5 x 12.6 inches
Temperature Range: 200 to 450 degrees Fahrenheit
Power: 1300 Watts
Design and features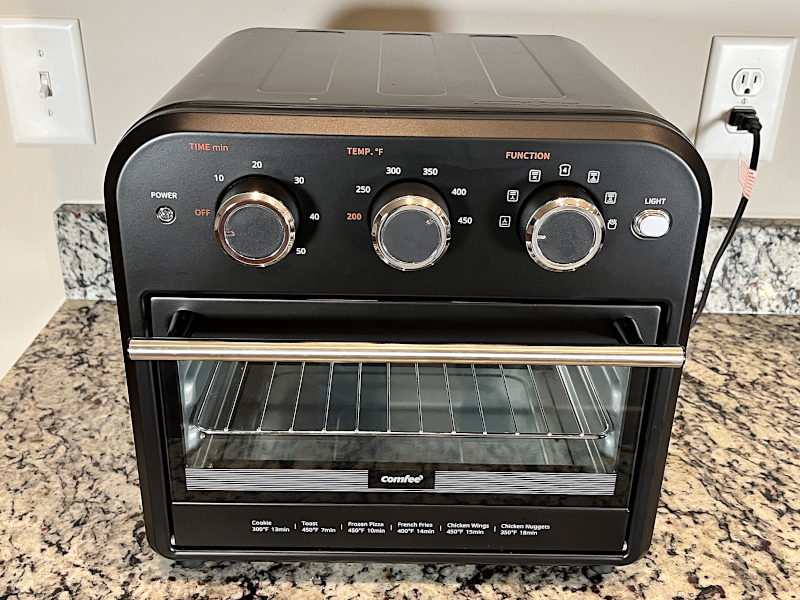 The Comfee Air Fry Oven Toaster is about the same size as our air fryer.  It's completely black in color, except for the chrome finish on the knobs and the handle.  It's made mostly of metal, similar to our toaster, and has air vents on each side.  It has a squat, cubic shape with rounded corners on top.  The front is dominated by three large round knobs and a glass panel that exposes the interior.  Overall, its design is simple and pleasant, very similar to other gadgets in this space.
Installation and setup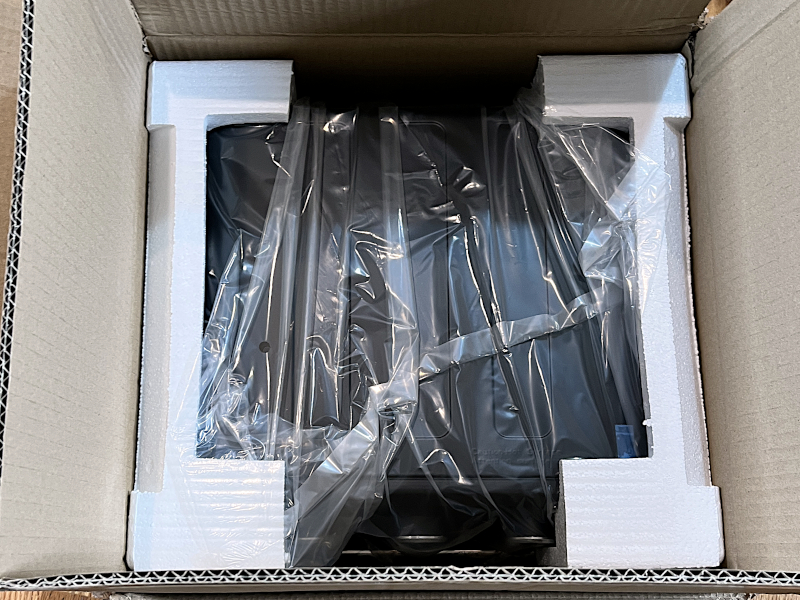 The AFOT arrived well protected; it was double-boxed and in styrofoam inserts.  After I removed everything from its packaging, I read through the manual.  For the most part, the manual is well-written and clear.  In some places, however, it has glaring problems.  One paragraph has sentence fragments randomly rearranged.  Another references a rotisserie spit, forks, screws, and a removal tool, parts that do not come with this gadget.  Comfee would do well to hire a good editor for their manual.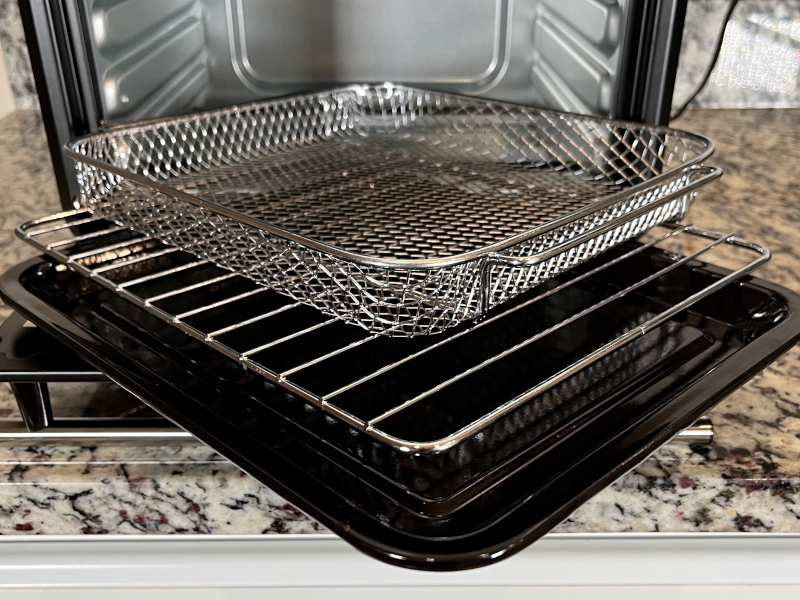 There are four trays that come with it.  The crumb tray goes on the very bottom and collects crumbs, much like in a toaster, and I always leave it in.  The others I use only as needed.  The air fryer basket is for air frying foods, the baking tray is for baking, and the wire rack is for everything else.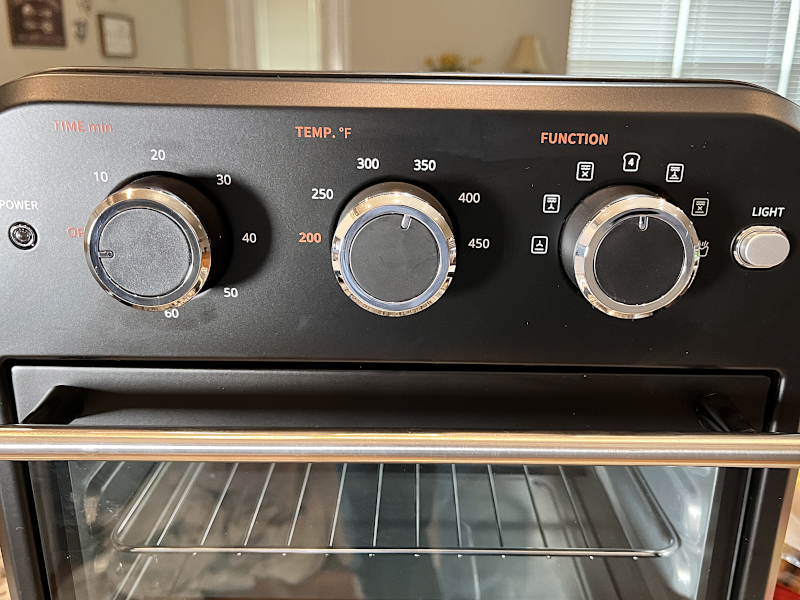 Using the AFOT is simple.  I put my food on the proper tray, and then I select the function, the temperature, and the time.  The AFOT has seven cooking functions, but other than the one for toast, the icons around the knob are not intuitive (at least not to me).  To make matters worse, there's no explanation of them whatsoever in the manual.  The only thing I could find was a picture on their website.  The temperature varies from 200 to 450 degrees Fahrenheit.  The timer, which is unfortunately analog, varies from 10 to 60 minutes.  Having reviewed kitchen gadgets with analog timers before, I can tell you that I far prefer digital ones for their precision.  The moment that I turn the time knob, the AFOT turns on, and the power indicator light turns orange.  To turn it off, I either let the timer run down or grab the time knob and crank it back down to 0.  I would prefer an off button that immediately stops the AFOT.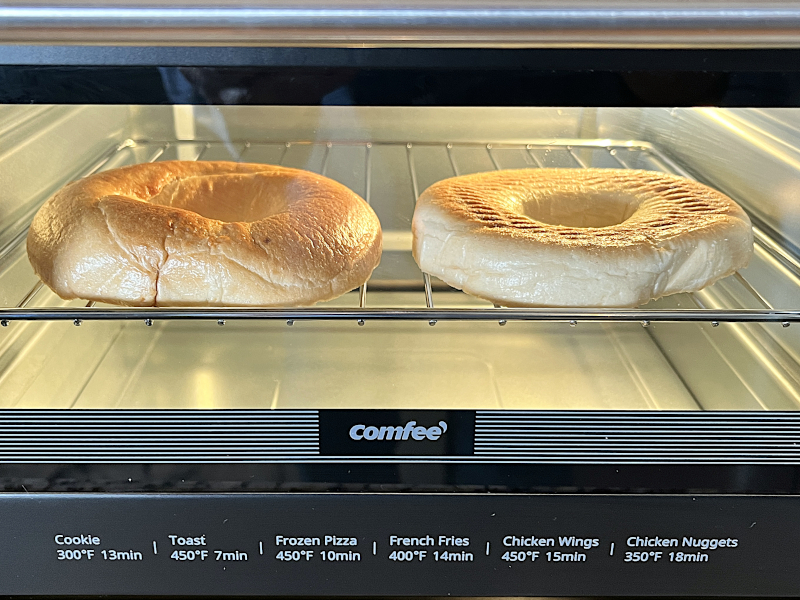 If I want to look into the AFOT while it's working, I can press the light button and see through the glass pane.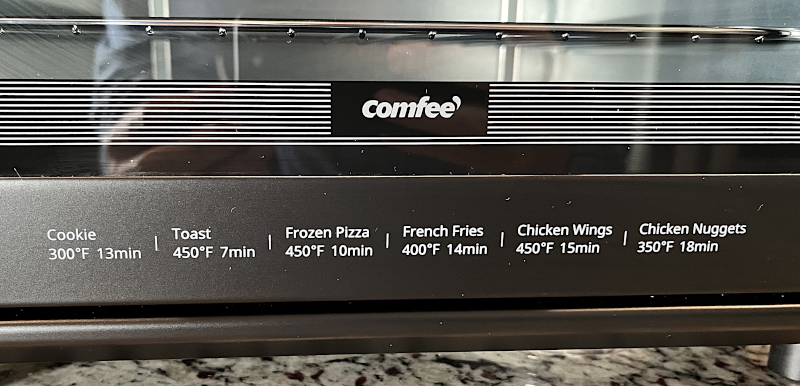 This toaster oven is a no-frills model.  There are no presets or settings that automatically set the right time, temperature, and function for me.  How do I know what settings to use?  The only hint that Comfee gives are these six recommendations found below the door; even then, they forgot to specify the right function to use.  It would be really helpful if Comfee would provide a much longer list of recommended combinations (along with the function, please) in their manual.  One other missing feature is a half-way timer.  When using an air fryer, it's typically a good idea to shake up the contents of the basket when half way through; because Comfee used an analog timer, there's no way to do that.
Performance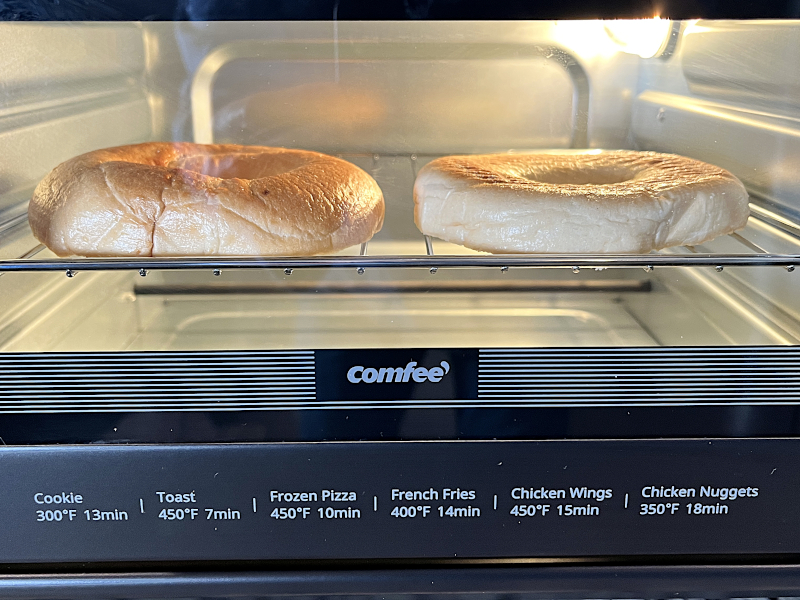 To put the AFOT through its paces, my wife and I tested it with six common foods that we would expect to cook with this appliance.  First, we toasted some bagels.  Bagels are perhaps the most common food that we toast in our toaster, so I gave it a try.  I set the function to toast and then followed the recommendation for toast.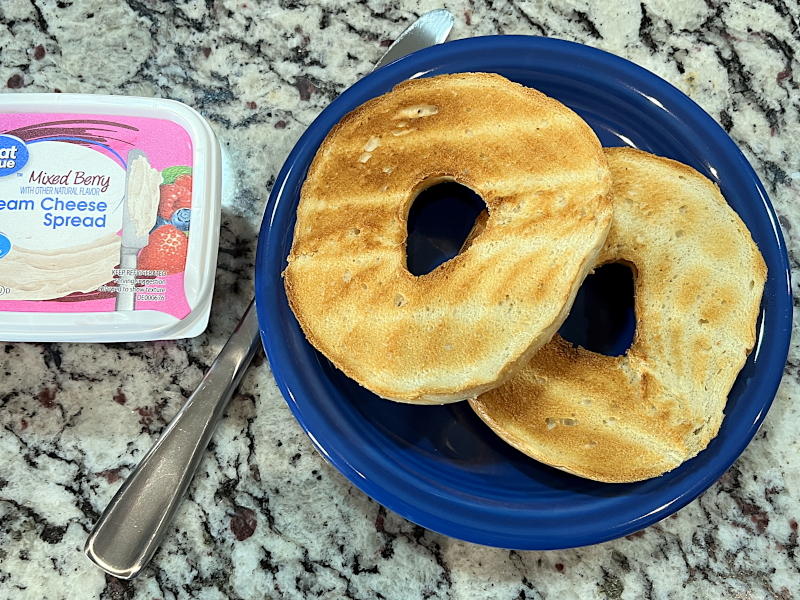 It turned out perfect!  It was lightly toasted and slightly golden, which is exactly how I like it.
Second, we air fried chicken tenders and sweet potato fries.  I put everything in the basket, put on the middle shelf, and set the function to air fry.  I followed the recommendation for chicken nuggets and shook them up half way through.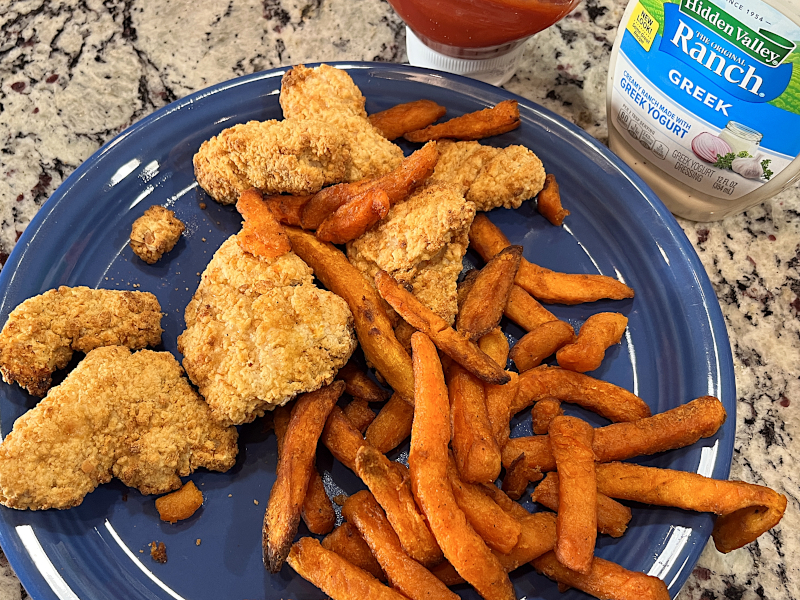 Though the fries were perhaps a bit underdone in the middle, they turned out really well and made for a delicious meal.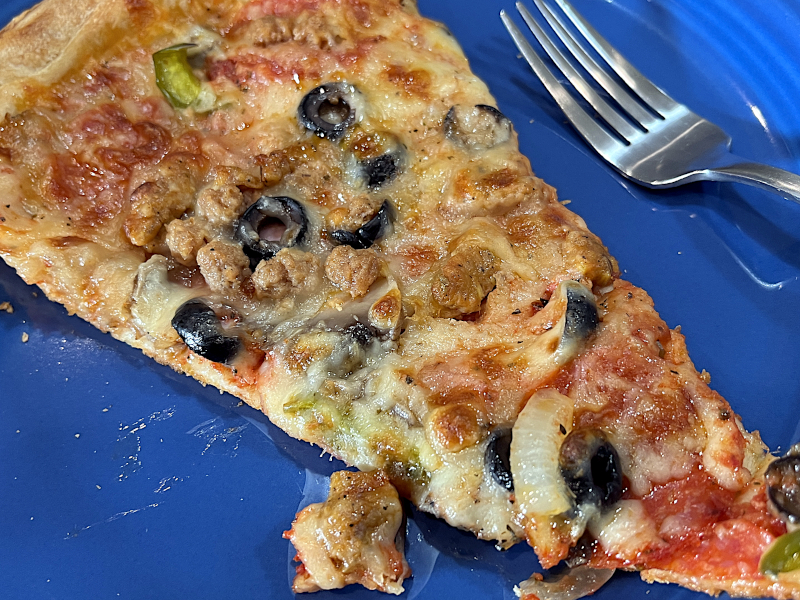 Third, we decided to try the warm feature on leftover New York style pizza.  Oh, this was a dream!  The crust was lightly crunchy again, and the cheese on top was wonderfully melty.  It was so much better than reheating pizza in the microwave.  Full marks to the Comfee Air Fry Oven Toaster for this feature!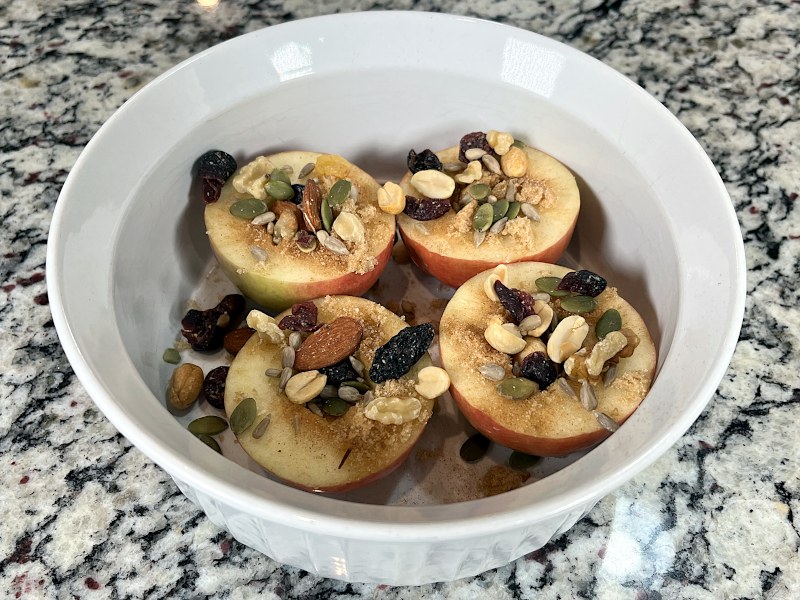 Fourth, we decided to bake some apples.  I loosely followed this recipe from food.com, which includes instructions for a toaster oven, but modified it to have more toppings.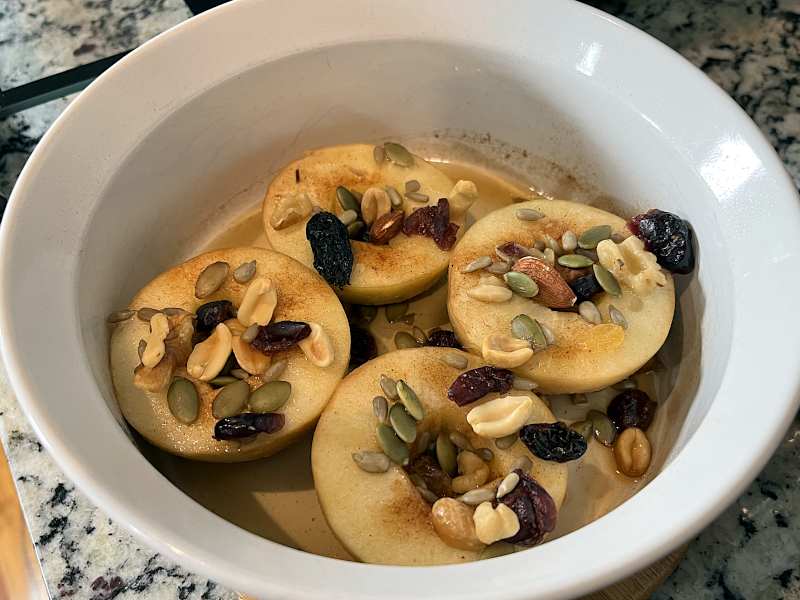 The results were most delicious!  I probably should have left it in for a couple more minutes, as the apples were still a bit crunchy, but it was really good.  The AFOT did a great job baking these apples.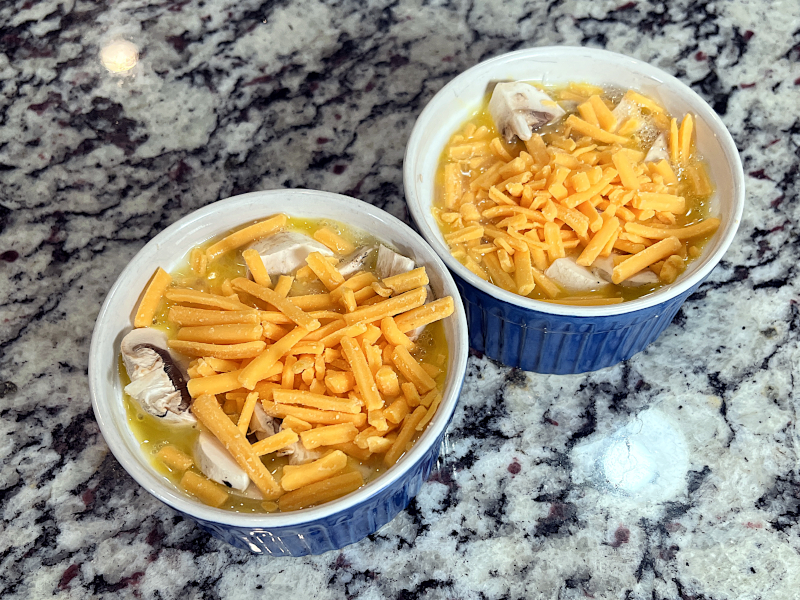 Fifth, we based some eggs in ramekin bowls, loosely following this recipe.  My wife prepared the eggs and topped them with cheese.  She set the AFOT to bake on 400 for 10 minutes.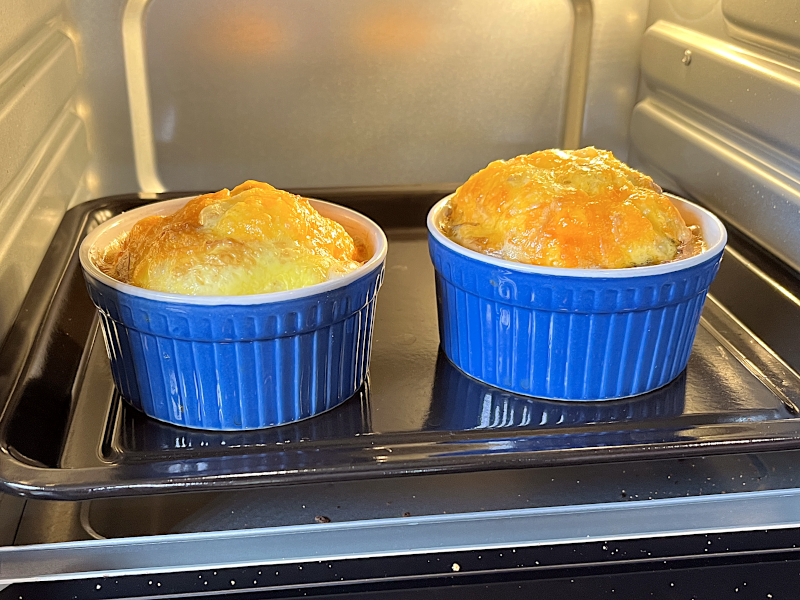 The eggs came out perfect.  They were slightly crunchy on top but nice and fluffy inside.  Served with bacon, it made for a delicious breakfast.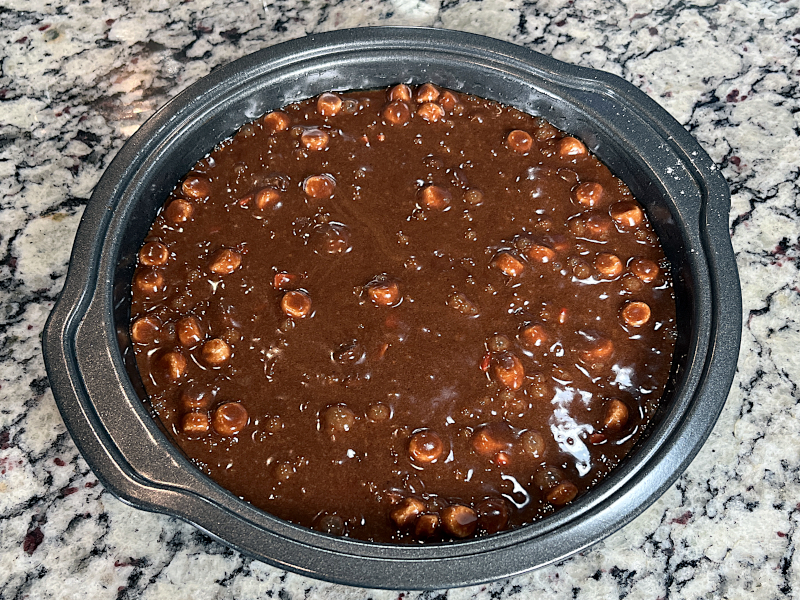 Finally, we decided to bake some brownies.  My wife used this recipe and added some peppermint hot cocoa morsels.  Everything fit into an 8-inch round baking pan, and she set the AFOT to bake on 325 degrees for 35 minutes.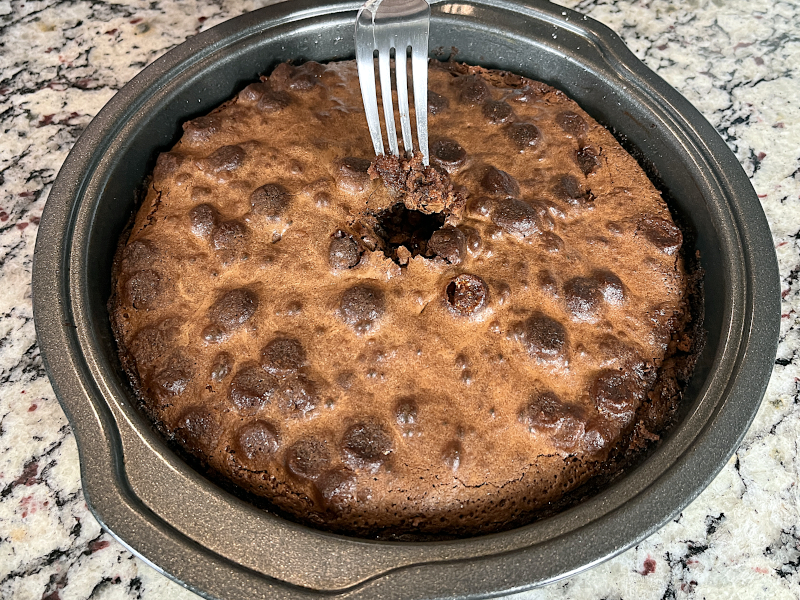 At first glance, my wife thought she had overdone it, but as with the eggs, the top was slightly crunchy, while the insides were still slightly gooey.  They were amazingly yummy, and the peppermint flavor was a nice addition.  The AFOT did a nice job baking this little dessert.  We plan to crumble them up and serve over vanilla ice cream for company tonight.
In summary, I would describe the Comfee Air Fry Oven Toaster as "a jack of all trades but master of none."  It can do a lot of things, but it doesn't do any of them better than our single-function appliances.  This is mostly due to the fact that this is an entry-level appliance; higher end ones have many more features, such as digital controls and helpful presets, but they can cost more than three times as much.
Will we keep the AFOT?  Will it replace our air fryer and toaster?  We gain some things and lose others, so we'll need to decide if gains outweigh the losses.  What would we gain?
The biggest thing that we gain is more space in our kitchen, since we would replace two appliances with one.
Since we don't have a toaster oven already, we would gain bake, broil, and warm features.
We would gain flexibility, as we can set the time and temperature for each function that we use.
What would we lose?
We would lose the convenience of presets, and thus would have to learn the right settings for the things we want to heat.
We lose some time, because the trays that are included are not dishwasher safe, and so we'll have to wash them by hand.
We also lose air fryer capacity. The included basket is about one-third of the size of the one in our air fryer.
The final verdict?  We decided to keep Comfee's Air Fry Oven Toaster!  Gaining extra space in our kitchen is a big deal, and we like the extra features that come with having a toaster oven.  I think we'll appreciate them even more next summer, when we can bake for two without having to turn on the oven and heat up the house.  The air fryer and toaster have been relegated to the garage.
What I like
Air fryer, toaster, and oven all in one appliance
Simple, clean design
What I'd change
Replace the analog timer with a digital one
Add an automatic timer halfway through air frying
Use English words instead of icons for the functions
Include trays that are machine-washable
Final thoughts
The Comfee Air Fry Oven Toaster combines a toaster, an air fryer, and an oven into one gadget.  Though it lacks the advanced features of a high-end product, the analog controls are sufficient to get the job done.  My wife and I found that it toasts, air fries, warms, and bakes very well.  This appliance has earned a coveted place in our kitchen, and we look forward to using it for years to come.
Price: $94.99
Where to buy:  Comfee's online store and Amazon
Source: The sample for this review was provided by Comfee.