We use affiliate links. If you buy something through the links on this page, we may earn a commission at no cost to you. Learn more.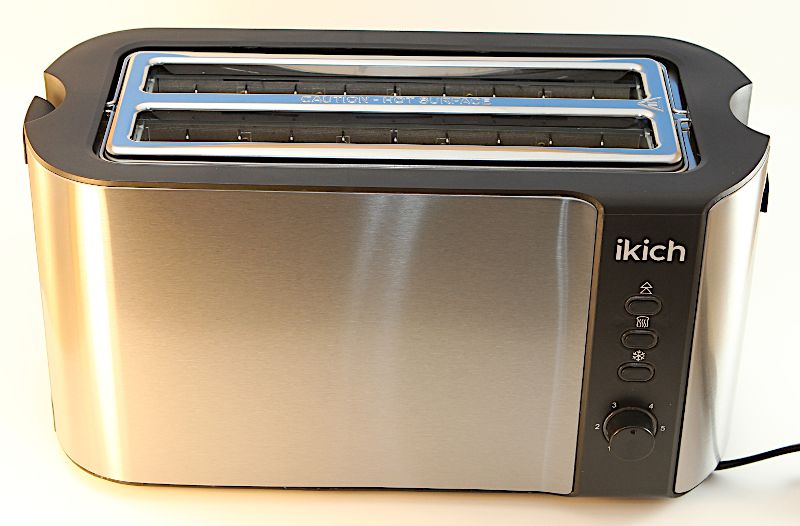 REVIEW – Some items are so fundamental that every kitchen really ought to have one.  I think the toaster is one such appliance, and this is why I am reviewing a newly released toaster from IKICH.
What is it?
As the name suggests, the Long Slot is a toaster with two long slots that are able to toast 4 pieces of bread at once.
What's in the box?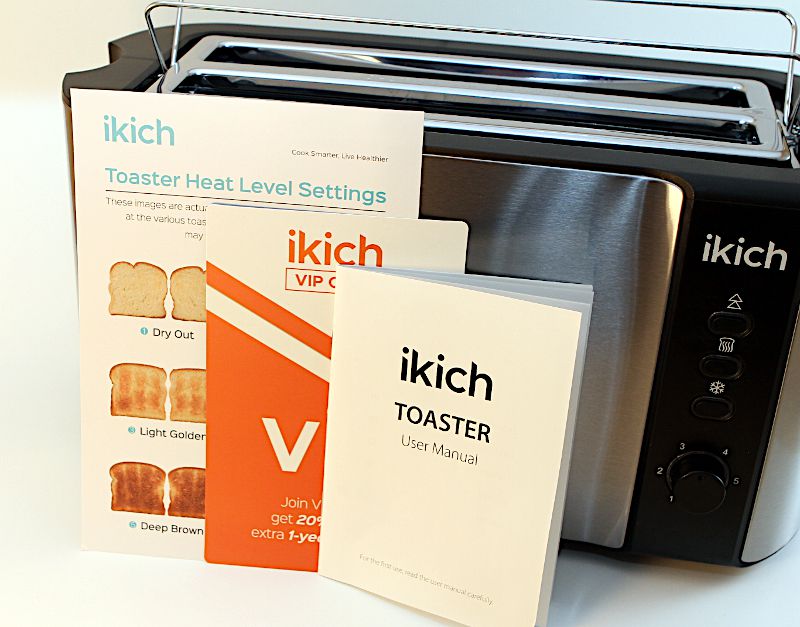 The toaster
A user manual with 5 pages of English instructions
A support card
A heat level settings card
Hardware specs
Dimensions: 14.6 x 6.6 x 7.7 inches
Weight: 4.3 pounds
Design and features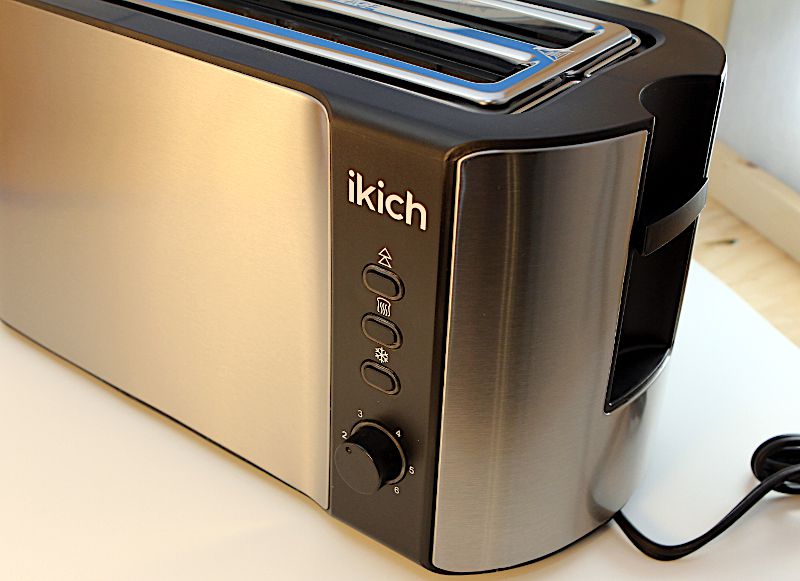 The Long Slot is a stainless-steel toaster that will look nice in any modern kitchen.   It's a "longer rather than wider" design with levers on both sides that encourage you to pull it out onto the counter when you use it rather than leave it pushed up against the wall.  It's nice to be able to toast four pieces at once, helping to ensure that the whole family eats breakfast at the same time, and the longer slots work great with bread slides that are a non-standard size, like those from rye or ciabatta.
Installation and setup
There's really nothing to setup; all I had to do was put it on a counter and plug it in.  Thankfully the IKICH toaster neither tries to connect to my WIFI nor requires a mobile app to work.
Performance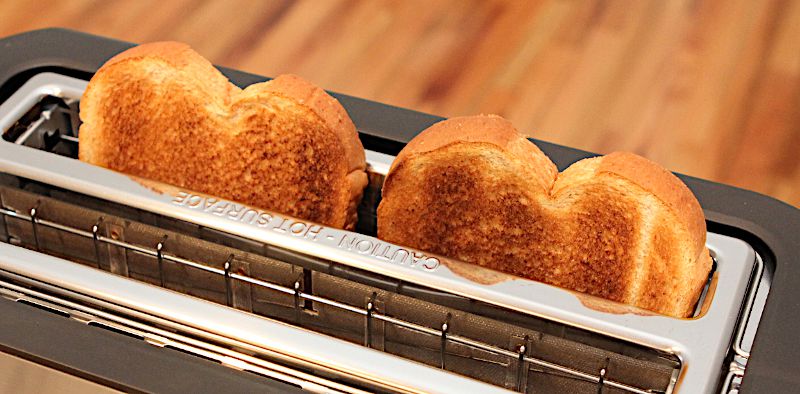 The basic use of the toaster is just what you'd expect:  Put in the bread, push down the lever on the right side, and wait for toast to pop up.  There are six heat-level settings, from #1 to #6, and I started with the dial right in the middle (#3.5).  First toast out was perfect, a light golden-brown color!  It should be noted that the Long Slot does not toast evenly; the side of the bread facing in is always darker than the side facing out.  While noticeable, this difference isn't significant, and it's certainly not enough to ruin the toast.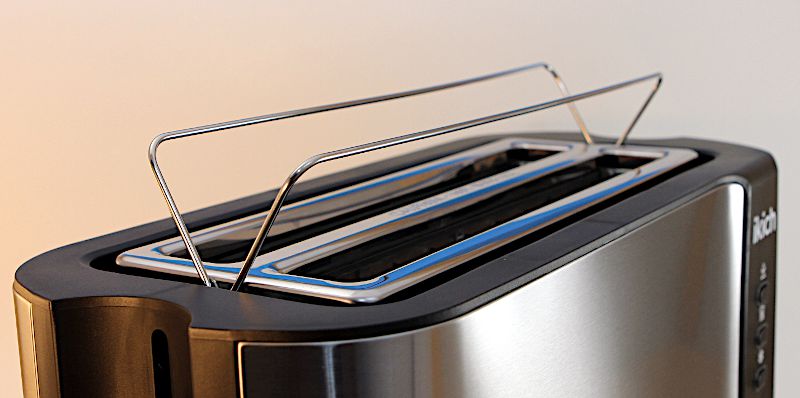 On the left side is another lever that pops up the heat rack.  Although slots on this toaster are long, they are not very wide.  It won't fit, for example, a good thick bagel from our favorite bagel place, Brueggers.  To solve this, I can press the level on the left side, and a warming rack pops up.  I used this with a croissant, and it did a very nice job of quickly heating it all the way through.  This is much better than popping it into the microwave, which tends to dry out bakery items and leave them chewy.  This is a handy feature.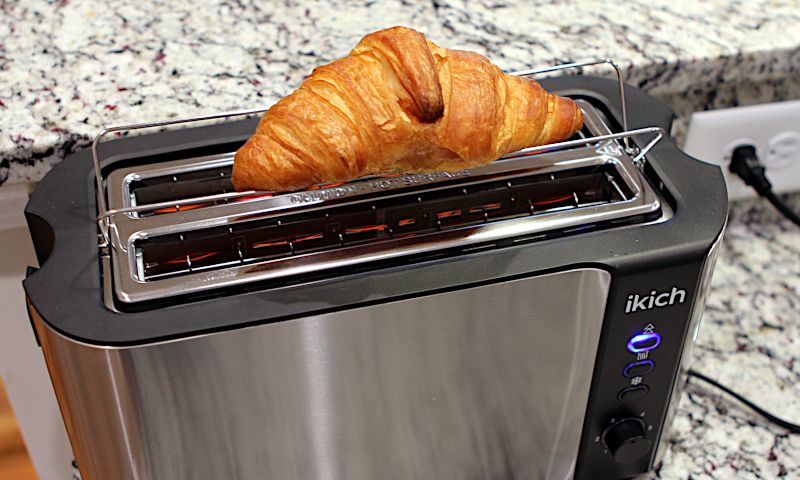 IKICH's toaster also has a defrost mode, where you put in slices of frozen bread and it runs longer and hotter to both defrost and toast them.  I pulled a loaf of wheat bread from the freezer and gave it a try, and I must say I was pleasantly surprised at how well that worked.  The toast looked much the same as normal bread on the normal setting.  Unfortunately, this is where things got a little weird.  The next morning, I went to use the toaster again, intending to test the difference between the lowest heat setting (#1) and the highest (#6).  The lowest setting, however, turned the bread to a light golden color, and the darkest setting burned the bread, forcing me to press the cancel button and eject the bread before my fire alarm kicked in.  I've toasted a couple dozen pieces of bread over a period of two weeks, mostly wheat bread and cinnamon raisin bread, and used the defrost mode as well, and I am able to confirm ever since using the defrost mode the first time something changed in the toaster.  At every setting, it's a lot hotter than it initially was.  For me, perfect toast used to be at #3.5, now it's at #2.  The hottest setting (#6) is now unusable, leaving bread blackened and burned.  I can't explain what happened, but it appears that the toaster has not completely disengaged from defrost mode.  Nothing that I've tried, including unplugging the toaster, has fixed this issue.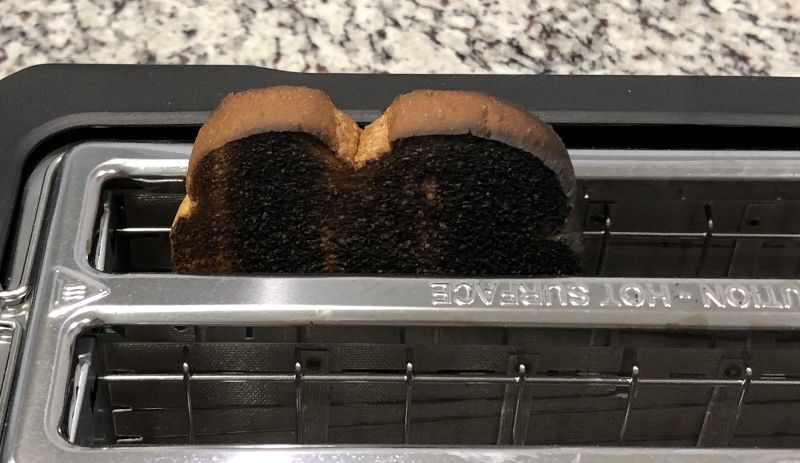 The final button is a reheat button, which is for quickly reheating toast has set out too long and cooled down.
Extra Features
The Long Slot has detachable bread tray, which is handy for disposing of all those crumbs that inevitably accumulate at the bottom of the toaster.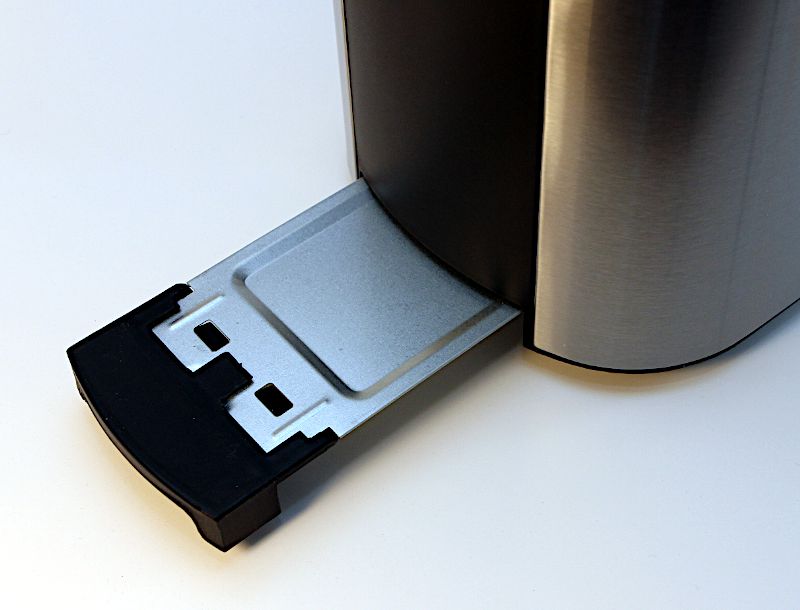 What I like
Attractive design
Yummy toast!
Heat rack
What I'd change
Strange behavior after defrosting
Final thoughts
IKICH's Long Slot toaster is popular at my house; we've certainly enjoyed a lot of toast the last three weeks.  Although it still works well for me on the lower settings, I'm not really able to recommend this toaster.  Toasters should not change how they work after using the defrost mode, especially when that change causes it to burn bread.
Price:  $46.99
Where to buy:  IKICH or Amazon
Source: The sample for this review was provided by IKICH.