We use affiliate links. If you buy something through the links on this page, we may earn a commission at no cost to you. Learn more.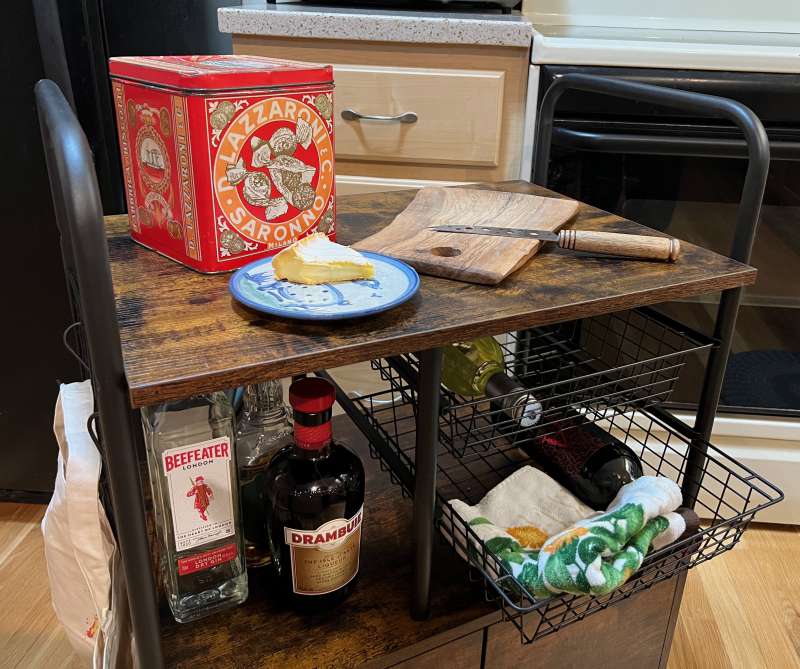 REVIEW – Can furniture be a gadget? I get this type of question from friends who visit the site after asking about a device I'm using and reading the review. I think it can, just like alarm systems, home automation, or car tech. Anything that lets you tweak and alter your life, to me, at least, can be considered a gadget. So, currently, I am revamping my entire living space. The kitchen/den area is currently my main focus since I spend so much time there. Today's item for review is a trolley from Yitahome, a manufacturer that offers many products for different areas of the home. It's a bit of a cross between a serving cart and a microwave table, with a nice, fully enclosed storage area on the bottom and two wire drawers, in addition to a taller area for bottles or utensils.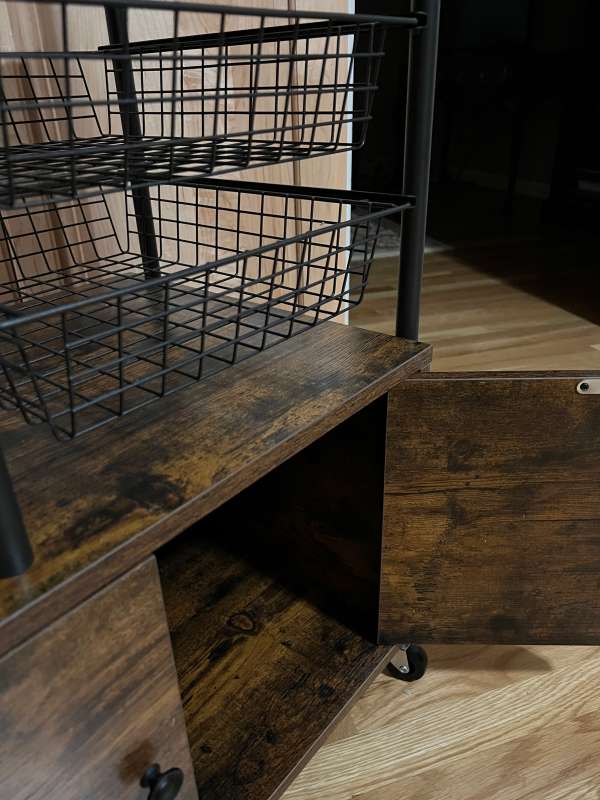 What is it?
A metal-framed cart with wooden storage and wire shelves, designed for kitchen use.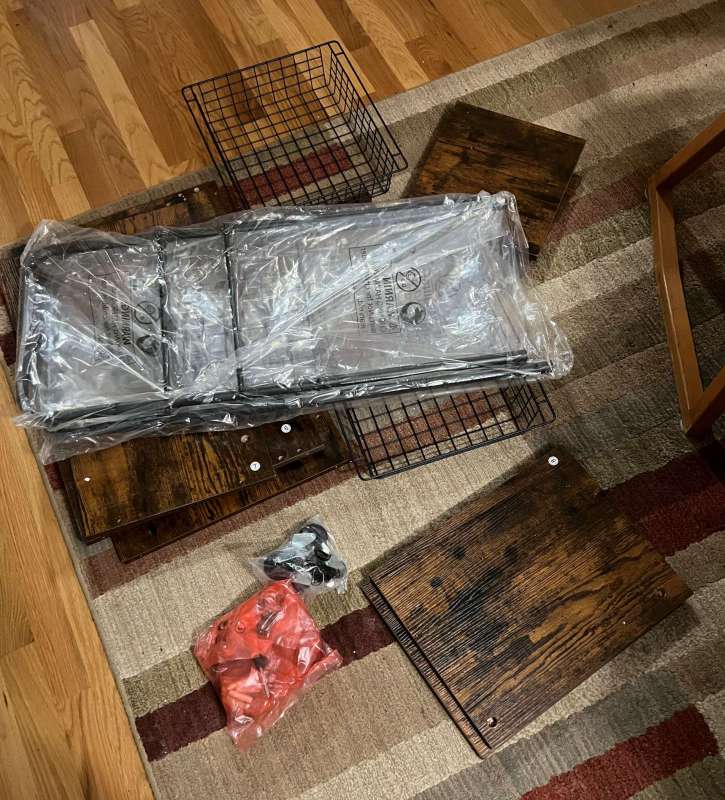 What's in the box?
Metal frame (3 pieces)
2 Wire drawers
MDF with pre-drilled holes
hardware kit
casters
tools and instructions

Hardware specs
From Amazon listing
KITCHEN CART WITH STORAGE: Crafted from black metal frame & PB board provides high carrying capacity for kitchen storage; the rustic industrial style lends a touch of elegance & freshness to any culinary space. Size: 22.4 x 15.7 x 34.6 Inch.
MAXIMIZED STORAGE SPACE: The bottom enclosed cabinet features a large capacity, allowing you to store kitchen tableware, microwave oven, and bracket & keep all essentials neat and clean.
FLEXIBLE MOBILITY: 360° industrial wheels are easy to move and can bear heavy loads without breaking, sturdier other plastics; 2 of them are lockable to ensure high stability when stopped; a large handle lets you move the cart or hang towels for easy access.
CONSIDERATE DESIGNS: 2 pull-out baskets can hold wines, bowls & dishes for easy access & better ventilation; and side hanging wire with 4 hooks also allows you to hang utensils, spoons, towels to help you work more efficiently.
EASY ASSEMBLY: Comes with clear instruction & tools so that you will never get stuck in assembling; we strive to provide customers with great products and service. Any problem will be solved promptly to your satisfaction.
Design and features

Setup
The first thing you have to do with any KD furniture project is to unpack and inventory everything. This not only gives you the chance to catch things like damaged-in-shipment pieces or missing items but also to assess the materials and their preparation. I was impressed by this trolley from the first piece I pulled out of the box. It was one of the sides, and it was so heavy that I couldn't slide it out of the box with one hand.
Reading through the instructions gave me further cause to be excited about this item. They are presented in a 2-color manual, printed on heavy glossy stock with clear, accurate diagrams, neatly folded and saddle-stitched. (There are no words, only diagrams with arrows and part numbers.) The only text is on the back, in clear, easy-to-read lettering with their help desk contact info.
Performance
As I went through the assembly process, I became more aware of the care the design team took with the parts and instruction manual. Each part is in a numbered bag, and every page of the instructions tells you how many of each part number you're going to need. Very nice!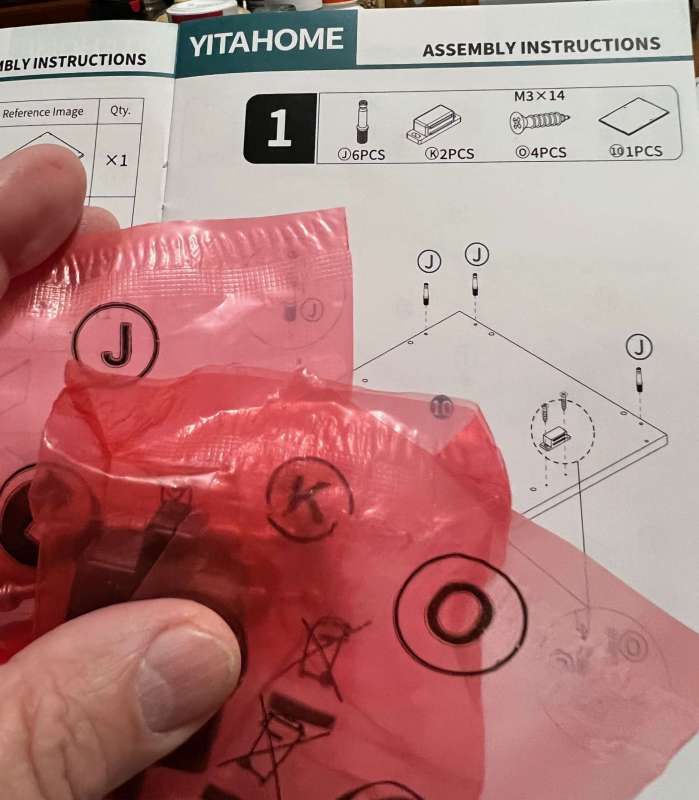 All the pieces were able to be assembled as the diagrams indicated. There were a few extra parts, but no missing items. The provided tools were adequate for assembly. I did use a rubber mallet for tapping in the spring-loaded lower pivots for the doors, and my experience has led me to always use wood glue where dowel joins are involved.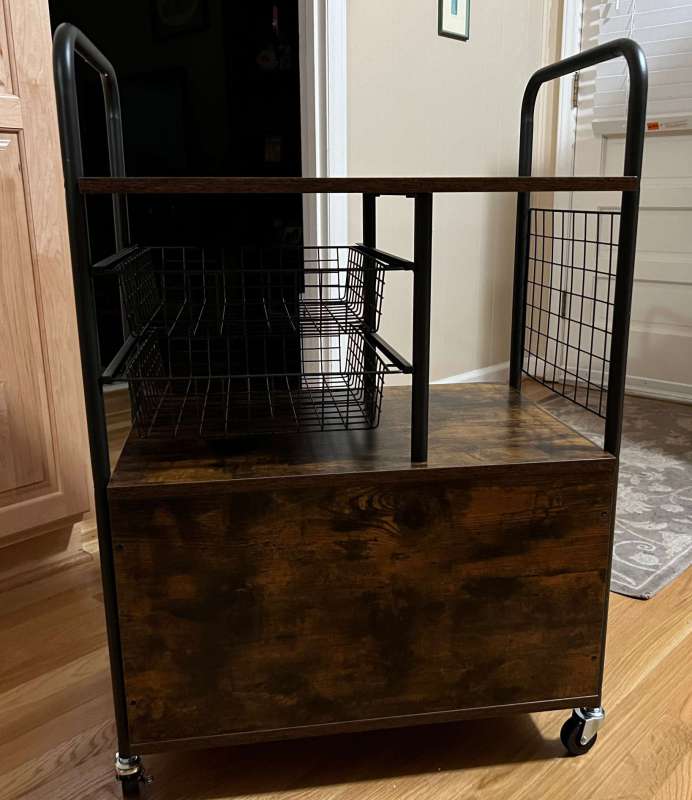 The trolley itself is great as a table-side serving cart. It's not tall enough to use for mixing drinks or prepping food while standing, but it's great for moving plates to and from a table while seated. With the swinging doors, serving dishes or other odd-sized pieces would be easily at home within the large storage space. The wire drawers could accommodate trivets, mitts for hot plates, or towels for mishaps. The wooden pieces are finished on all sides, so there is no "back" that you'll want to put against the wall. (Rear side of the cart is in the above photo.) There are four hooks that can be added to the grid on the open side of the metal side rack for towels, serving utensils, etc. It's a very versatile little cart.
There are two casters that have locking features, and the instructions direct them to be on opposite corners. This allows the cart to be locked in place easily from any side, making the cart a stationary place from which to serve. This gives a host/ess a lot of stability with a table full of guests.
What I like
All inset pieces are straight and neatly placed
The size is good for the price
Finished product is solid and steady
What I'd change
You have to assemble it. (I know – this can't be changed, but we can dream of self-assembling furniture, right? We're Gadgeteers!)
Styrofoam flakes from packaging are a nuisance to clean up.
Final thoughts
I have put together many, many knock-down (KD) furniture kits. We have done it so often in our household that my adult daughters no longer call me for help – they do it themselves, and very well. (They sometimes call me to help them carry the boxes upstairs, but not for the assembly portion!) I tell you this to say I know decent quality KD furniture by the feel, and I know junk. This is not junk. The wood is very heavy-duty, the hardware is well made (not stamped from cheap metals), and the welds on the frame are clean and neat. I didn't reach for my heavy mill file once!
Second only to office layouts, I think kitchen furniture evolves quite a bit as our lifestyle changes. Who here has never changed their dining table, microwave cart, or countertop item layout? When you move to another place or have someone move in or out due to college or other family changes, you frequently take a few tries at how things will work and change them as your life moves forward. A key piece in this for me has been kitchen carts. Some of them, I've used in the kitchen, some have moved to other places in the house as life changed. I still use the first microwave cart we got almost 40 years ago in the shed as a tool bench, but it also spent time on a carport at a previous house as a table for a portable grill set up after its microwave duties had been passed on to other furniture. Because it is a quality piece, it's still in use. I think the same fate will befall this trolley. It's roomy, flexible, and well-designed. Who knows where it will be this time next year, but I bet it'll still be in use!
Price: $138.84 on Amazon, $159.99 on company site (with free shipping)
Where to buy: Amazon or company webpage
Source: The sample of this product was provided by Yitahome.