We use affiliate links. If you buy something through the links on this page, we may earn a commission at no cost to you. Learn more.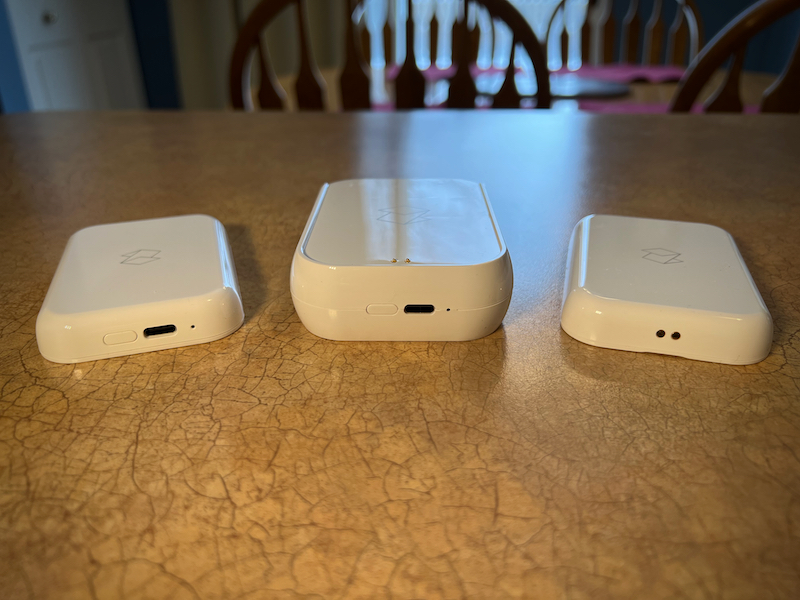 REVIEW – Do you suffer from phone battery anxiety, that nagging fear that your phone is going to run out of battery at any moment, causing you to charge it up every chance you get? You could carry around a portable battery pack but those are usually too bulky or low in capacity, plus you have to keep a cable with you to keep it plugged in. What if you could magnetically attach a small battery pack to the back of your phone so you can charge it when you need without the hassle of running a cable to your pocket or trying to juggle two separate devices with a cable between them? Zero has a solution in the form of their new Wireless Qi Pad and Travel Cube.
What is it?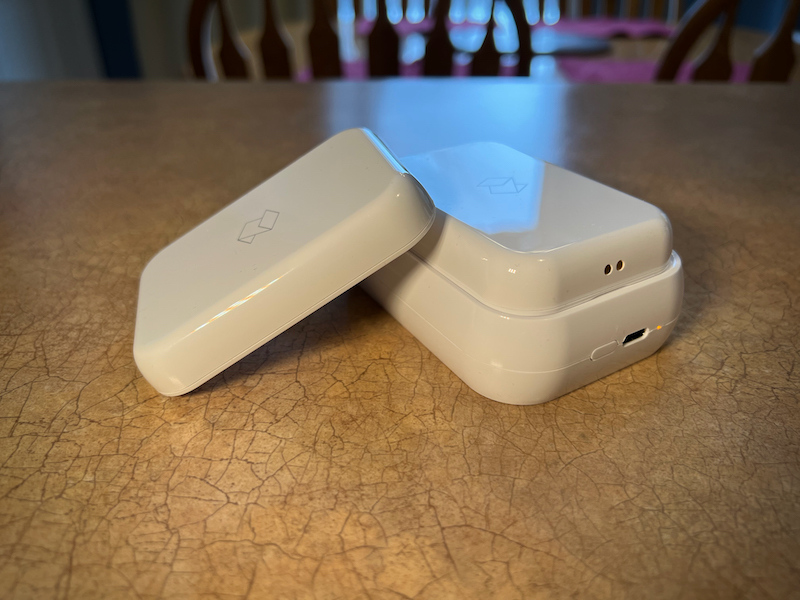 Zero's Wireless Qi Pad is a small battery bank that is designed to magnetically attach to the back of a phone for wire-free charging on the go. Their Travel Cube is a large capacity battery bank and dual-sided Qi charger in one, allowing you to charge external devices over USB-C and charge up to two of their Wireless Qi Pads to help keep your devices ready for whatever comes.
Zero sent me two of their Wireless Qi Pads and a Travel Cube. There is a third product in this lineup, the Home Dock, which has two slots for recharging up to Wireless Qi Pads and a separate Qi pad built-in for charging a phone or other Qi-enabled device.
What's in the box?
Wireless Qi Pad
Zero Wireless Qi Pad
Magnetic Pad
USB-A to USB-C cable
Welcome Guide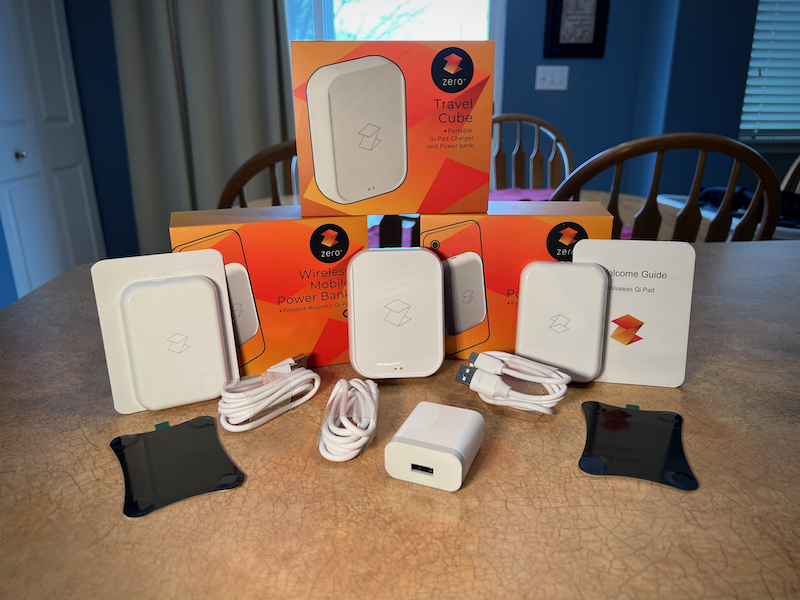 Travel Cube
Zero Travel Cube
Wall Charger
USB-C to USB-A cable
Carrying Pouch
Welcome Guide
Hardware specs
Wireless Qi Pad
Battery Capacity: 3,000 mAh
USB-C

 

Input: 5V / 2A
USB-C Output: 5V / 2A
Qi Output: 5W
Weight: 102g / 3.5oz
Item Model Number: ZERO-QI-3000
Product Dimensions: 80 x 60 x 13.5 mm / 3.15 x 2.36 x .53 in.
Travel Cube
Battery Capacity: 10,000 mAh
USB-C

 

Input: 5V / 2A
USB-C Output: 5V / 2A
Weight: 192g / 6.7oz
Item Model Number: ZERO-TC-10000
Product Dimensions: 95 x 70 x 25 mm / 3.7 x 2.7 x 0.9 in.
Design and features
The Wireless Qi Pad and Travel Cube are small, rounded rectangle-shaped devices made from glossy white plastic. The Qi Pad is just over half an inch thick and the Travel Cube is just about an inch thick. One of the sides of the Qi Pad is flat; this is the side that sits up against the back of your phone and outputs the charge, and it also has two metal contacts that line up with two contacts on the Travel Cube for recharging. There are two additional contacts on the end of the Qi Pad for charging in Zero's Home Dock. On the other end of the Qi Pad is a USB-C connector for input or output, a button to check the battery status and turn it on, and a three-color LED to indicate charge status.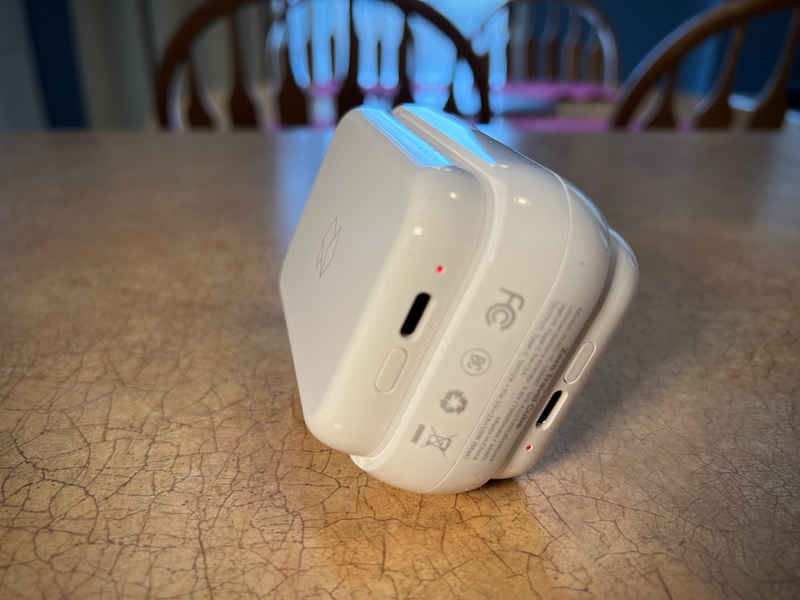 The Travel Dock is like a larger version of the Qi Pad, except it has two flat sides, each with two metal contacts for powering the Qi Pads. The USB-C connector, button, and LED are all present at one end and function the same as with the Qi Pad. The flat sides on the Travel Dock include a raised lip around three edges to help keep the Wireless Qi Pads in place while charging.
Installation and setup
For simply using either of these battery banks as a battery, the only thing that needs to be done is to charge them up before use. The Travel Cube comes with a 5V/3A USB-A power adapter, or you can use a standard USB charger to charge it or the Qi Pads.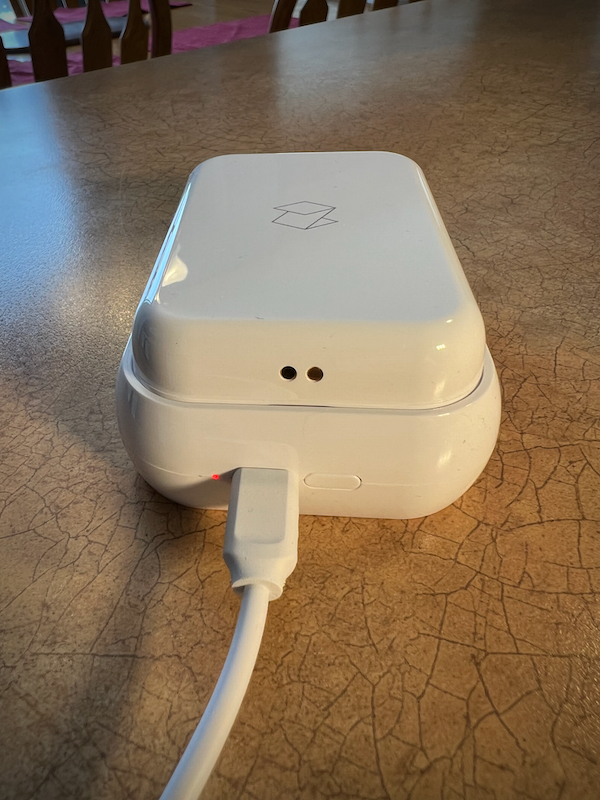 If you want to use the Wireless Qi Pad magnetically attached to the back of your phone, they come with a magnetic pad that sticks to the back of your phone and magnetically grabs onto the Qi Pad to keep it lined up correctly with the Qi coil in your phone. The magnetic pad comes with a thin layer of plastic film that needs to be removed, exposing a sticky pad, which is the part you attach to your phone. Thankfully this sticky surface isn't so sticky that it attaches and can't be removed. In my testing I was able to attach and remove it several times to get the position just right without an issue. I can't say how long this will stay stuck to a phone but I would think as long as you're not super rough with your phone it should last a long time. Zero says you can use tape to remove lint or other debris from the sticky surface or clean it with clean running water (no soap) and let it air dry to help make it sticky again.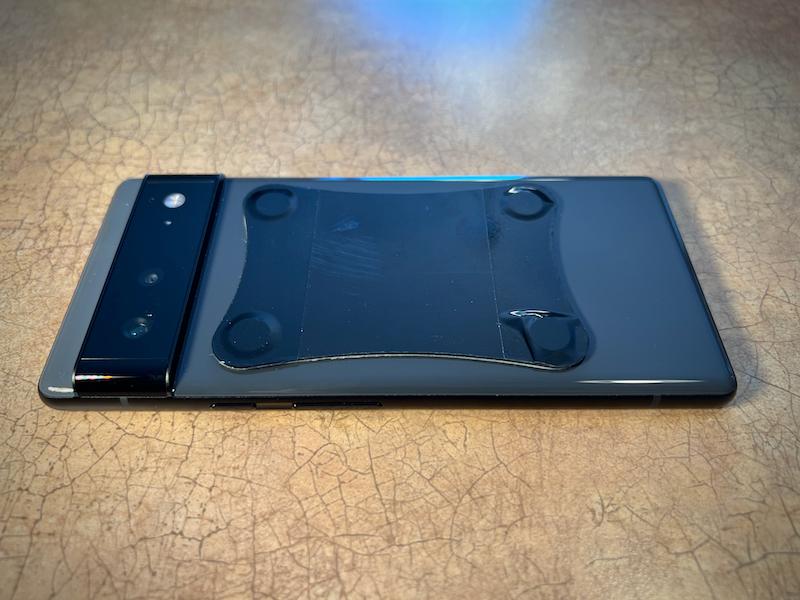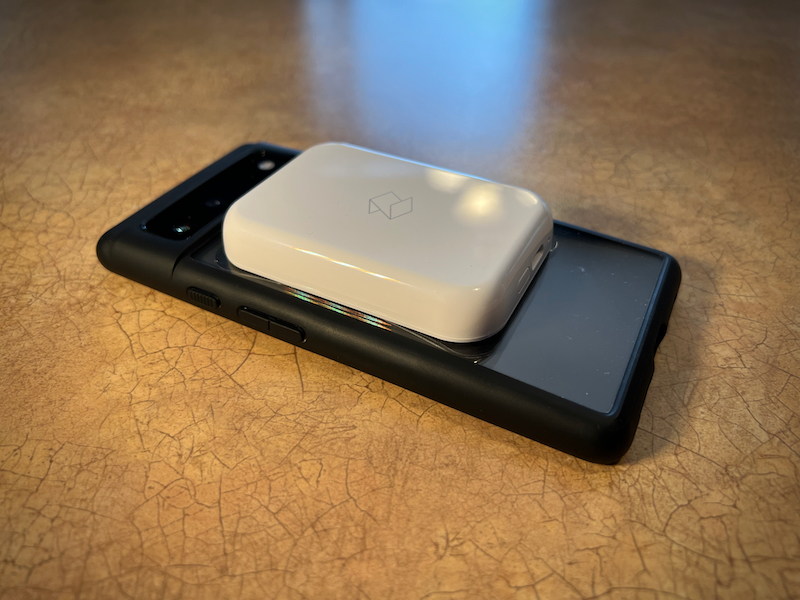 Zero says you can use a case up to 4 mm thick with the Wireless Qi Pad. I attached one of the magnetic pads to the back of my Google Pixel 6 and put the case on and the magnets held the battery pack to charge the phone through the case without any noticeable difference in charging speed (vs. another 5W Qi charger, in other words not super fast but usable). The case did bulge slightly at the sides of the phone, which isn't ideal but I could live with it as a tradeoff for having the ability to charge with a battery pack at the back of my phone rather than having to keep a cable and battery in my pocket all the time.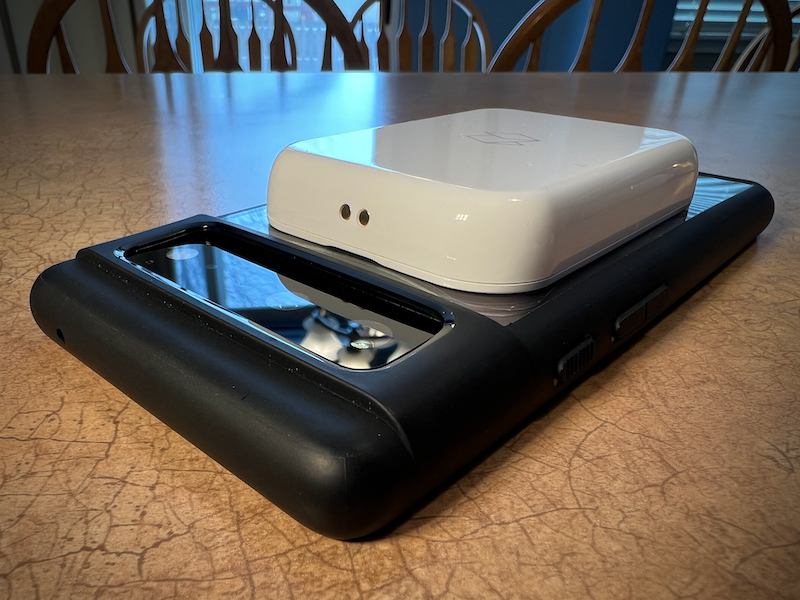 In Use
Using either of these products couldn't be easier. Remembering to charge them is probably the hardest part. If it's not in front of me every day I'll probably forget to keep them topped up, but thankfully lithium-ion batteries keep their charge for a long time so I don't have to remember to charge them every week if they're not being used. If you don't mind carrying around a cable, there's nothing else to do other than plugging in your phone when it gets low. If you want to use it attached to the back of your phone, as long as you've attached the magnetic pad, all you need to do is place the battery pack on the back of your phone and press the button to turn it on. The total amount of charge you'll get will depend on the size of the battery in your phone, as well as how low the charge was when you attached the Qi Pad. For my Google Pixel 6, which has a 4,614 mAh battery, it should charge up to about 65% from being dead. My iPhone 13 Pro Max has a slightly smaller battery so it would get closer to 70%. With the Travel Cube and a cable, I can get more than two full charges for either phone or charge them both to 100% and still have capacity left over.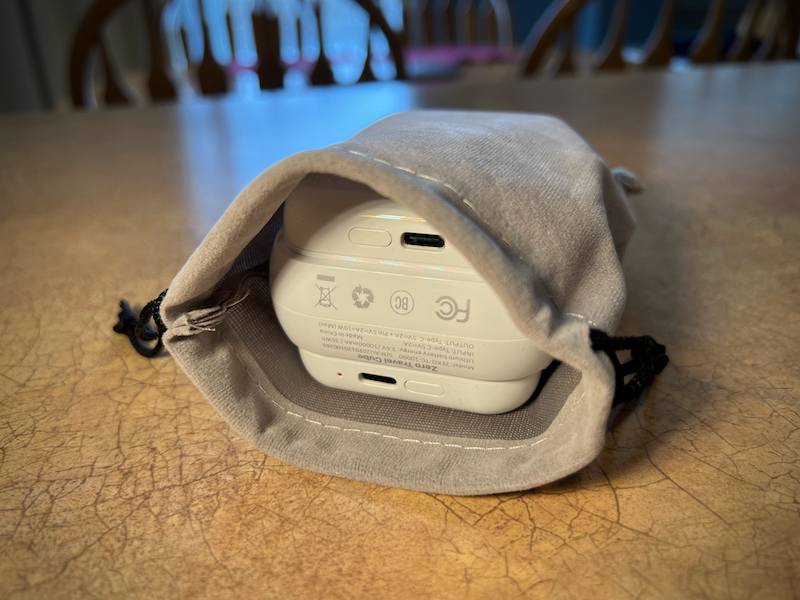 Each of the battery packs has a button to check the level as well as to turn it on. The LED indicator has three colors to indicate charging status and charge level: while charging the LED is red; when fully charged it turns green. For checking the battery level, red indicates 20% or less, orange is 21% – 79%, and green is 80% – 100%.
Carrying around a phone with a battery pack stuck to the back of it can be a little tricky, but it's a major convenience compared to having a cable running to a battery pack in your pocket. I would say most people's hands won't have a problem getting holding a phone with one of these battery packs on the back. It's slim enough to not be too bulky. It will take up a lot of room in a pocket if that's where you keep your phone, and would also be a little tricky to put in and take out of your pocket while keeping the battery attached, but it's something you can get used to as long as your pocket is loose enough to hold both. If you use a purse or everyday carry bag then I don't anticipate the combined size of a phone and battery pack to be an issue at all.
Having both a wireless Qi pad and a USB-C connector on the Qi Pad is a convenience in multiple ways. First, you can charge the Qi Pad itself by USB-C or with the Travel Cube. Second, if you have a phone that isn't Qi-compatible, or uses a case that gets in the way of the Qi coil, you can still charge the phone with a USB-C cable. You can also charge other devices such as Bluetooth headphones or an iPad or Android tablet with the USB-C output. Third, you can charge a phone via Qi and use the USB-C output to charge another phone or device at the same time. Sure the 3,000 mAh capacity isn't going to fully charge these devices, but if you need a little bit extra to get through the rest of the day, this is a great capability.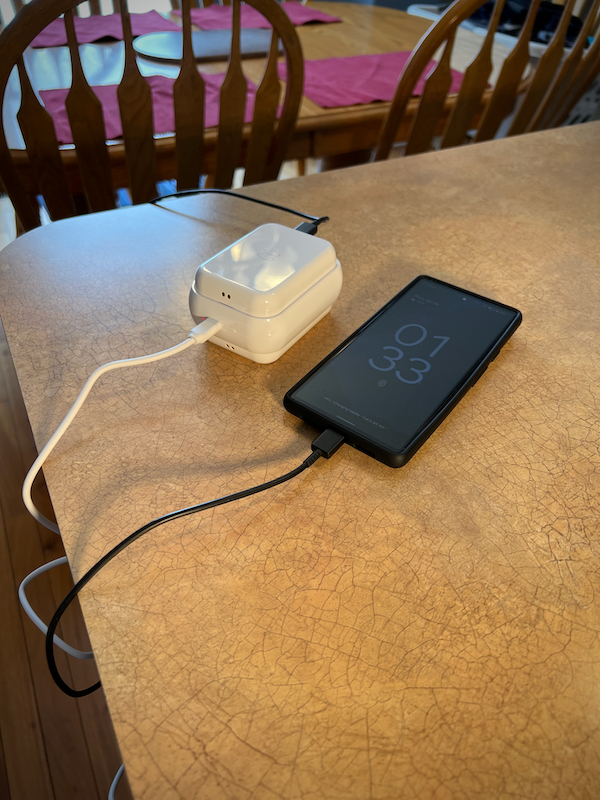 Charging multiple devices at the same time is possible with the Travel Cube as well, although it's a little different. You can use it to charge up to two Wireless Qi Pads while also using the USB-C output to charge a phone or other device. You can also use the Wireless Qi Pads to output charge to other devices while they're being charged on a Travel Cube, so theoretically you could be charging up to five devices – all three battery banks and two phones or a phone and Bluetooth headphones, or something similar.
What I like
Travel Cube includes a 5V/3A charger
Convenience of charging a phone without extra cables
Multiple charging options with Wireless Qi Pad and Travel Cube
2A output over USB-C to charge devices more quickly when necessary
What I'd change
I'd like to see a MagSafe version for recent iPhones
A black option
A USB-C charger rather than the USB-A charger and USB-A to USB-C cable
Final thoughts
Keeping a phone, Bluetooth earbuds, tablet, etc., charged up all day is a necessity for so many of us. Zero has given us a convenient way to keep our devices charged without too much bulk or hassle.
Price: Wireless Qi Pad – $49.99, Travel Cube – $59.99, Home Dock – $59.99
Where to buy: myzerocharge.com
Source: The sample for this review was provided by Zero. For more information visit their site.