We use affiliate links. If you buy something through the links on this page, we may earn a commission at no cost to you. Learn more.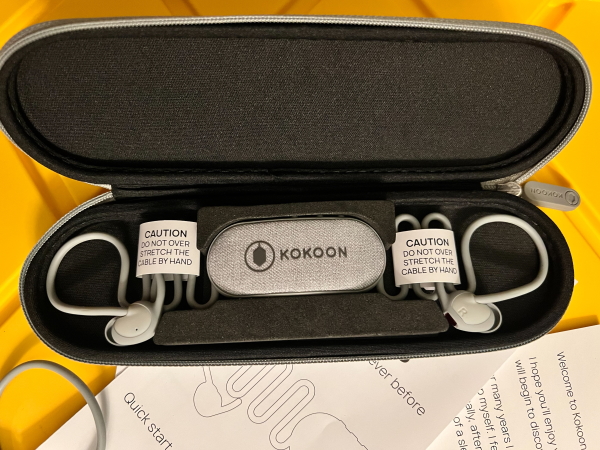 REVIEW – For the past 15 to 20 years, I have struggled with chronic insomnia. In an effort to get some kind of a restful night, I use a combination of medicinal sleep aids along with any device that I can find that can calm my mind. I have found that the sounds of rain and thunder or the ocean with heavy surf work well for me, but wearing conventional headphones or earbuds defeats the effort because of the discomfort they create as I change positions during sleep. A couple of years ago I tested and reviewed the Kokoon headphones that offered the experience in the form of quite flat headsets but eventually and likely due to carelessness on my part, they broke. Since they broke I have not been able to find a true and better replacement until now. Enter the Nightbuds from Kokoon!!
What is it?
The Nightbuds from Kokoon feature soft and tiny earbuds that fit snugly in your ears and are perfect for side sleepers. The accompanying  MyKokoon app allows you to listen to your favorite relaxation audio from anywhere. The Nightbuds are Bluetooth and include sleep sensors that will detect you falling asleep, and fade and turn off your audio. You can also use the Nightbuds to listen to music, for phone calls, and use as headphones for any other Bluetooth-enabled audio device.
What's in the box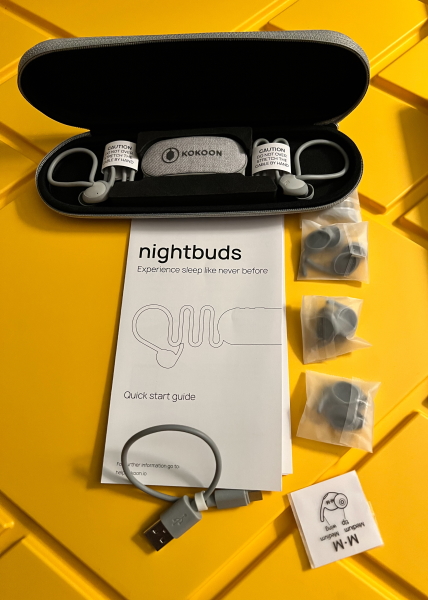 1 x Nightbuds from Kokoon
1 x Nightbuds Carrying Case
4 x Pairs of Silicone Sizing Tips
1 x USB-C Charging Cable
Design and features




The Nightbuds are a simple design. There is a control box in the center equidistant between the left and right earpieces. It contains the electronics and the on/off/pairing and volume up/down buttons. The control box is covered in a soft but seemingly durable fabric on the outer side away from your skin, and soft rubber on the side closest to the skin. On one edge of the control box, are the buttons and the USB-C charging port is on the other. The cables with the earpieces on each side are coiled, and Kookoon includes a warning that you should NEVER stretch the cables. 4 additional sizes of silicone ear tips are included.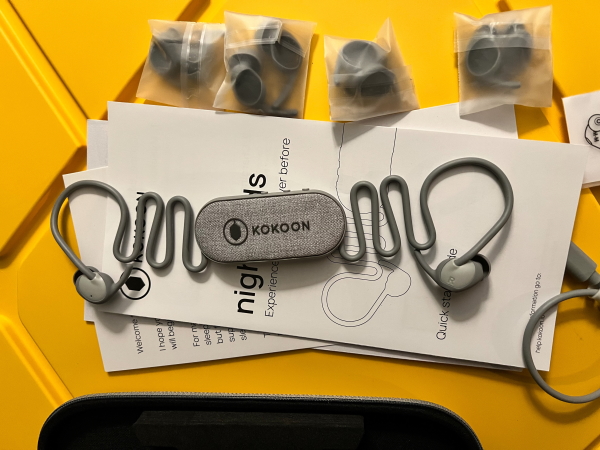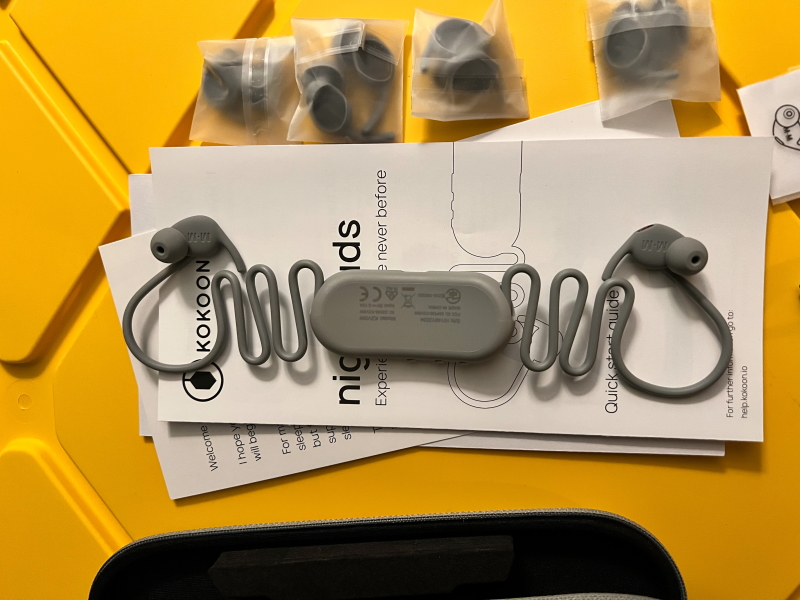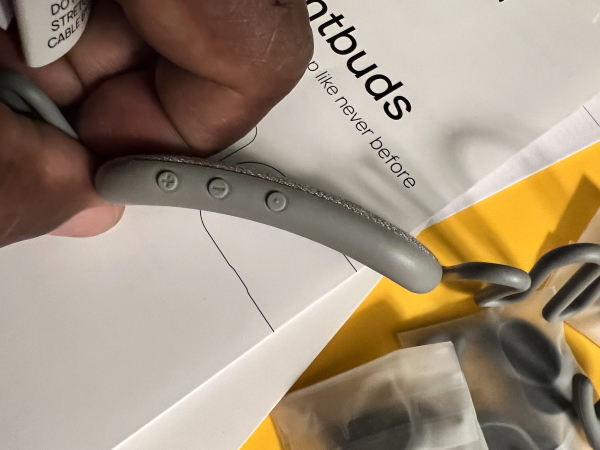 Performance
The first thing that I did was charge the Nightbuds to a full charge. This is standard practice for me with any battery-powered device. I then downloaded the MyKokoon app, and follow the instructions for the simple and easy setup and connection process. Once connected, I tried a couple of the silicone sizing ear tips, and as it turns out, the ones that come pre-installed work best for me. Then it was time to try the comfort and listening experience.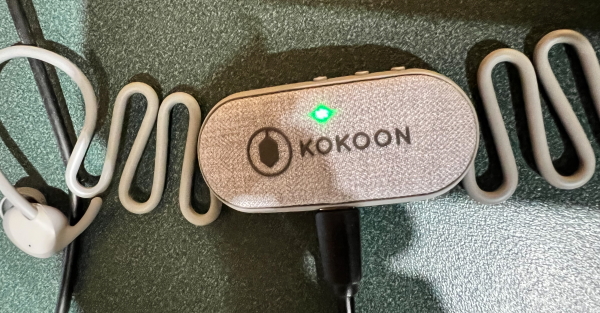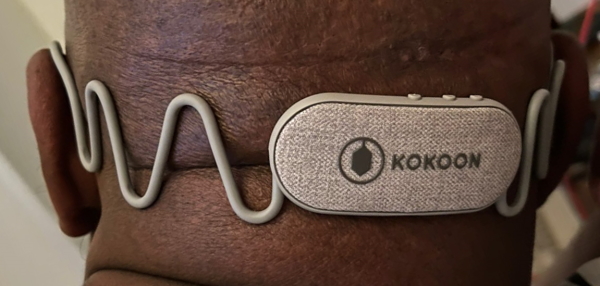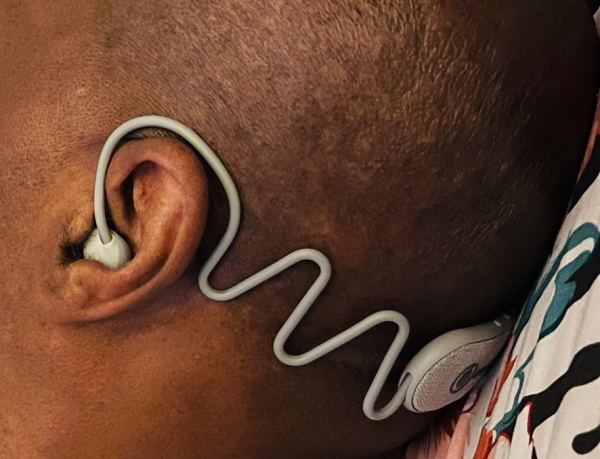 Manufacturer Statement:
"What makes nightbuds special?":
"Our built-in sensors can gather information about your sleep and sleep quality, to feed into the app.
By shining an infra-red light on the skin, the sensor can be used to measure your heart rate and its variability, which has been clinically proven to correlate with physical, mental, and emotional stress.
The MyKokoon app analyses this information and produces a daily summary of your sleep; this includes sleep efficiency, length, and quality."
Here are some screenshots from the app:
Overall, I love these Nightbuds and I use them every night to help with my insomnia. The audio quality is good and I love the sound options for relaxation and sleep. My personal favorite is the rain and thunder sound option. I also like that you can set bedtime and wake-up times albeit that I just like to let the sounds keep going and allow the phone alarm to wake me up. While this device can be used for regular music listening and even for phone calls, I keep it for bedtime. It really helps me and it is so comfortable that I forget that I am wearing it. I also like the sleep reports that provide some insight into the quality of sleep and the trend. Hopefully, the coiled cable will maintain its integrity for years to come. maybe on the next model, they will make the cables removable so if damaged they can be easily replaced.
What I like
The simple design
The very comfortable fit
The sound quality
The app and features offered via the app
The battery life
What I'd change
Time may reveal something, but for now, it works for me.
Final thoughts
I have to start by saying that I am a big fan of Kokoon because I think that they design their products the right way to assist with an issue that I believe many people struggle with. The sound quality of their products is good and so far these Nightbuds have been a fantastic solution for me. While I realize that this is not a perfect fit and solution for all, for me, I give this device a well-done and two thumbs way up!!!
Price: $224
Where to buy: Kokoon website
Source: The sample for this review was provided by Kokoon