We use affiliate links. If you buy something through the links on this page, we may earn a commission at no cost to you. Learn more.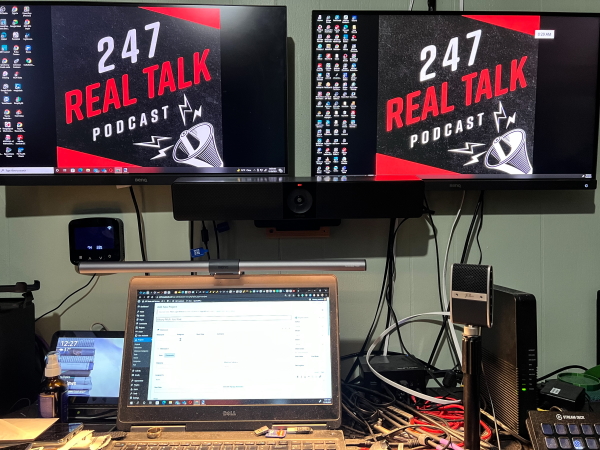 REVIEW – As I get older, I find the need to wear my reading glasses whenever I am working on my computer, which is for many hours each day. I have also found that when I work at night, I need a dedicated light over the monitor and keyboard so that I can see the keyboard and what I am actually typing. At home, I use a 17″ laptop as my primary computer and I have multiple USB hubs and other peripherals attached to the built-in ports. I need a light that can attach to the monitor and extend past the width of the screen to give me light over the laptop and the immediate surrounding area. I have been using a 14″ screenbar light, but it is clearly not long enough. Enter the BenQ ScreenBar Halo LED Monitor Light!!
What is it?
The BenQ ScreenBar Halo LED Monitor Light features a Wireless Controller, Adjustable Brightness and Color Temperature, Eye-Care, No Screen Glare, and is USB Powered. It also works on curved monitors.
What's in the box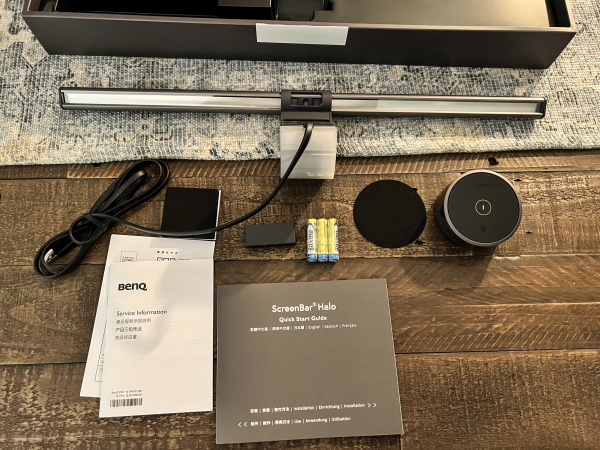 1 x BenQ ScreenBar Halo LED Monitor Light
1 x Pack of AA batteries
1 x Set of Curved Monitor Adapters
1 x User Guide
Design and features
Features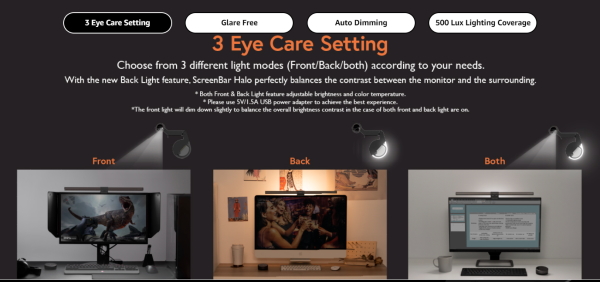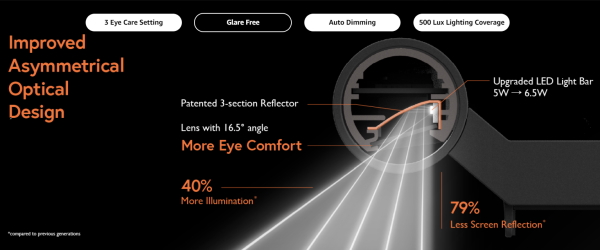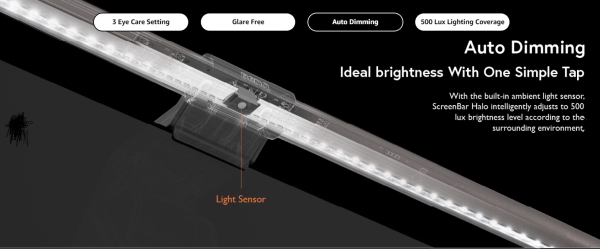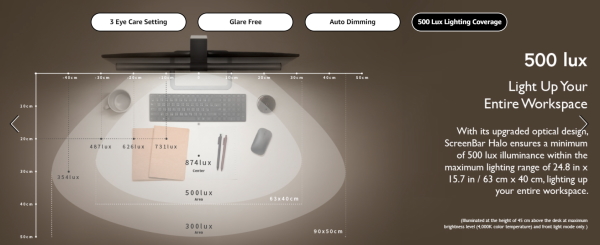 INTEGRATED BACKLIGHT: Our newly integrated backlight design enhances overall eye comfort, no matter in screen if you are working or relaxing entertaining. Adjust it to your preferred brightness or color temperature and then set it as "My Favorite" via the smart wireless controller according to your needs.
3 EYE CARE SETTING MODES: Its dimmable Front and Back Light complement each other to reduce glare to a minimum and increase eye comfort as much as possible. The upgraded asymmetrical optical design ensures no reflected glare on your screen.
SMART WIRELESS CONTROLLER: Customizable and stepless lighting allow you to switch modes and adjust brightness and color temperature levels. Over 100 stepless levels for work and leisure. Personalized adjustment: 3 modes (Front, Back, Front& Back Light).
SPACE SAVING: Unlike your normal desk lamp, ScreenBar Halo is powered via USB. The patented clip design mounts on top of almost any monitor, saving valuable space on your desk, no lamp base or extra wires to mess up your workspace.
FITS CURVED MONITORS: ScreenBar Halo is designed with its unique weighted clip to fit most monitors. It is compatible with curved monitors from 0.28″ to 2.36″ (0.7 to 6 cm) thick and >=0.25″ (0.63 cm) bezel width.
SCREENBAR HALO: Also comes with a special accessory for curved monitors to reduce glare from either side of the light bar. It is most compatible with 1000R-1800R curved monitors from 0.28″ to 1.57″ (0.7 to 4 cm) thick. USB cable length is 1.5m. (5.9 inches)
PLEASE NOTE: ScreenBar Halo reaches optimal use with a power supply of 5V/1.5A. If used with an insufficient power supply, the light may flicker or only the Front Light will light up.
Specifications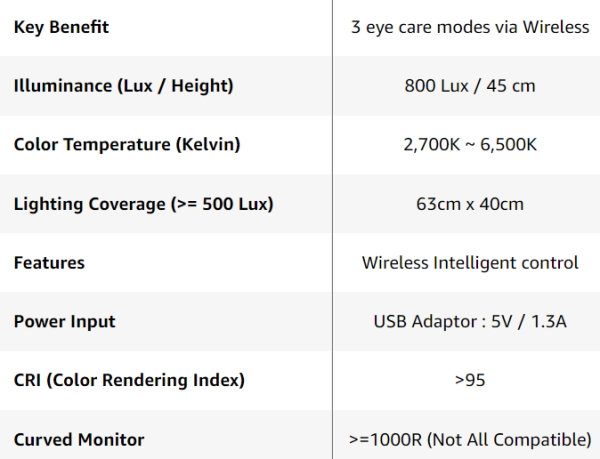 The lamp back and holder are made of metal. There is a soft velvet surface where the lamp rests on the monitor. On this lamp, there is a backlight on the rear. The lamp connects via USB-A. The remote takes 3 AA batteries and has a touch surface for control.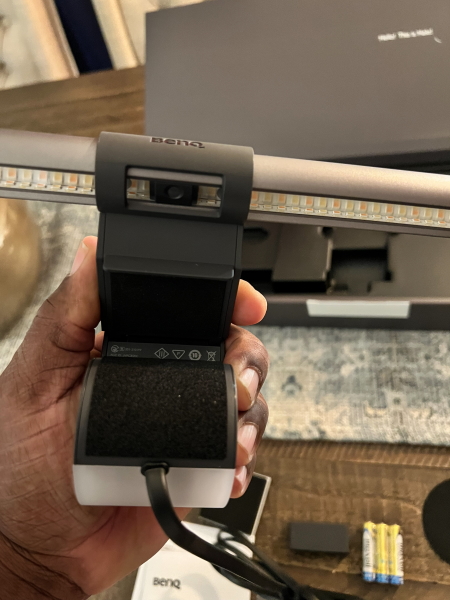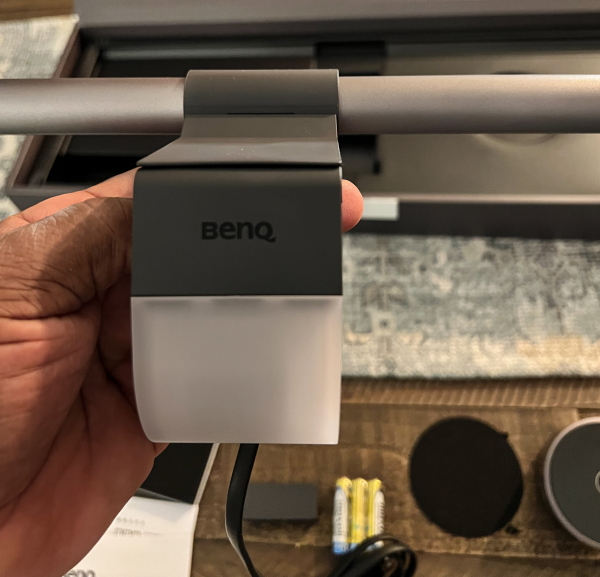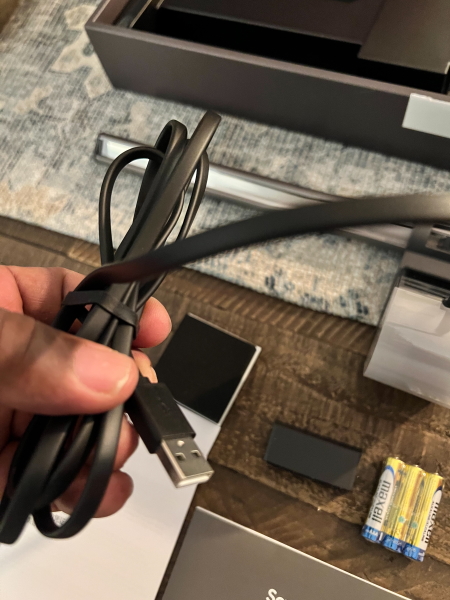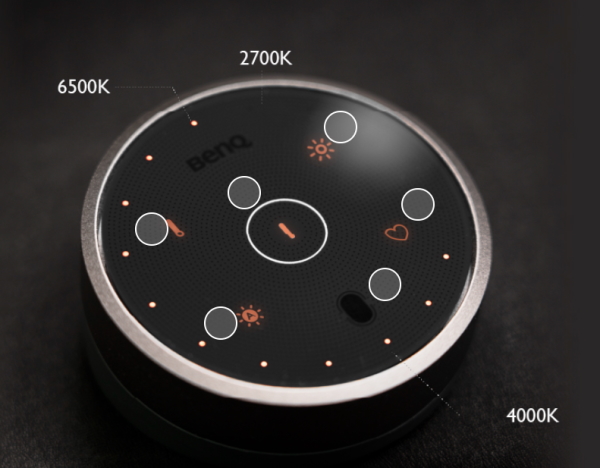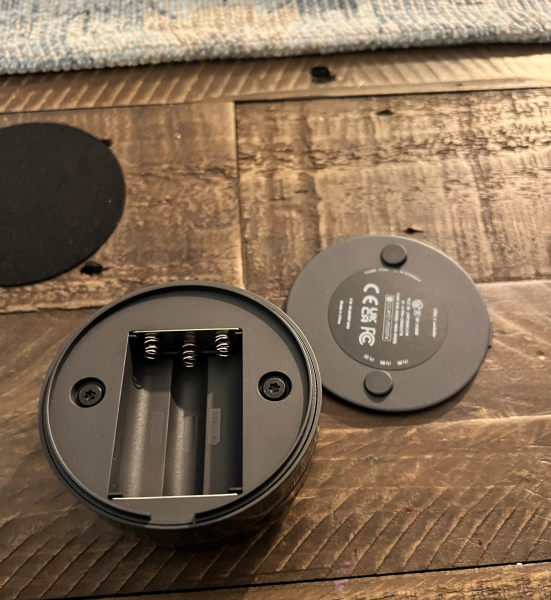 Performance
Setting up this light is quite simple and straightforward. Just basically rest in on the monitor in the center, adjust it until it is at the angle that you need, and plug in the USB-A cable. It is plug-and-play. The rest of the experience happens via the use of the wireless remote control.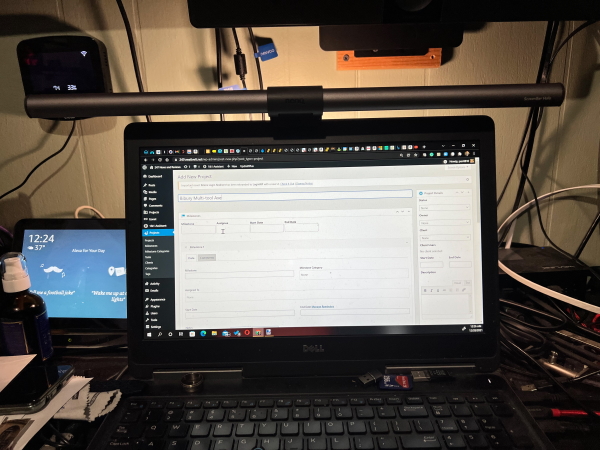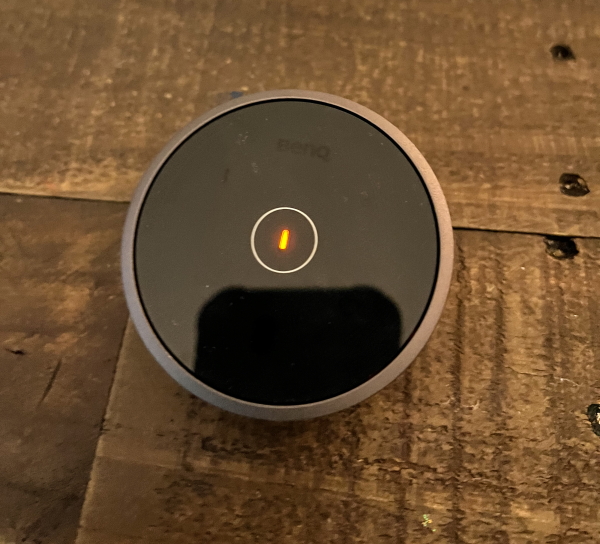 The touch remote is easy to use and is very responsive. The selective options are on the touch surface and the top half of the remote also rotates for adjustability.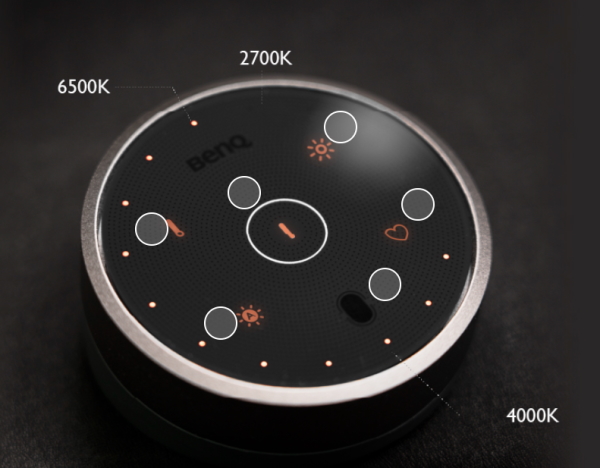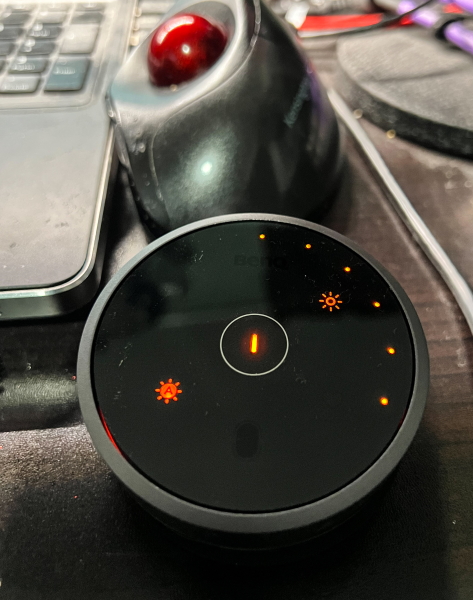 I did not have the right lighting and set up to make a great video for this product, so here is the official video from BenQ followed by some footage of me actually using it:
This light bar works well and is easy to use. The ability to select the intensity and level of light makes it applicable to the ambient lighting in any environment.
What I like
The build quality
The light adjustability
The universal adaptability
The quality of the light it delivers
The length of the light
The backlight
What I'd change
Final thoughts
Before I give my final thoughts, I must disclose that I am a huge BenQ fan. If you look at the main photo of this review, you will see that even the monitors that I have mounted on the wall are BenQ. IMHO, BenQ has always produced quality products and this light is no exception. I have used it with ease and success since the day I opened the box, and it actually replaced another BenQ light that was not wide enough for the evolving needs of my eyesight. I give this light a very well done and two thumbs up!!
Price: $179.00
Where to buy: Benq and Amazon
Source: The sample for this review was provided by BenQ.