We use affiliate links. If you buy something through the links on this page, we may earn a commission at no cost to you. Learn more.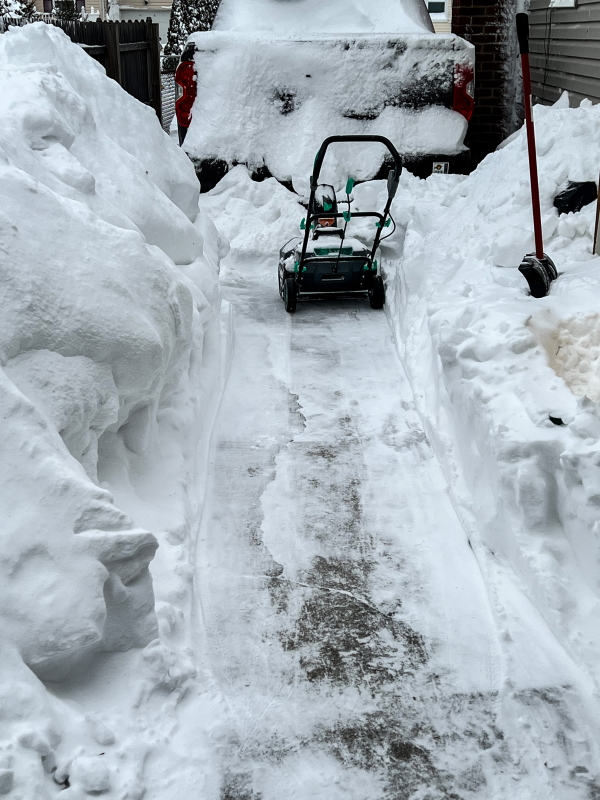 REVIEW – Here we go again with another Litheli product test and review. This time around, I am checking out the LitheLi 40V Cordless Brushless Snowblower. Last winter I shoveled through at least 3 sizeable snowstorms, and I vowed that I would not do the same this year. In early October of this year, Litheli sent me their 40V  snowblower to test and it just sat in my garage for what seemed like forever since snow just seemed to stay away from Long Island, NY. But, as expected, this past weekend, a Nor'easter decided to visit and it did so with much ferocity dumping more than 2 feet of snow around my neighborhood. Because of snowdrifts, I ended up with more than 4 feet in some areas around my home. Finally, it was time to break out the Litheli and see what it is made of!!
What is it?
The LitheLi 40V Cordless Brushless Snow Blower features a Chute & Deflector to pile up snow in the desired direction. It has a 180° rotating chute by crank and 8-angle deflector within 45° to offer quick snow removal It also features two 5W LED headlights and 7-inch rubberized wheels to deliver a safe grip on slippery ground.
What's in the box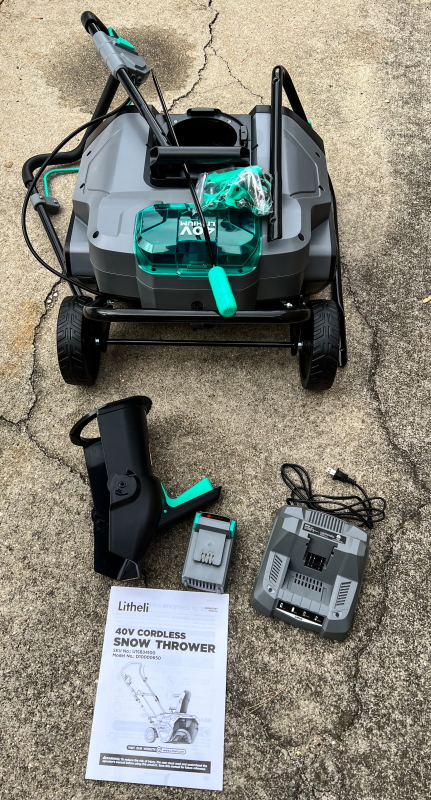 1 x LitheLi 40V Cordless Brushless Snow Blower
1 x 4.0Ah 40V Battery Pack
1 x Charger
1 x Hex Key
2 x Cable Clips
4 x Handle Locking Knobs
1 x User Manual
Design and features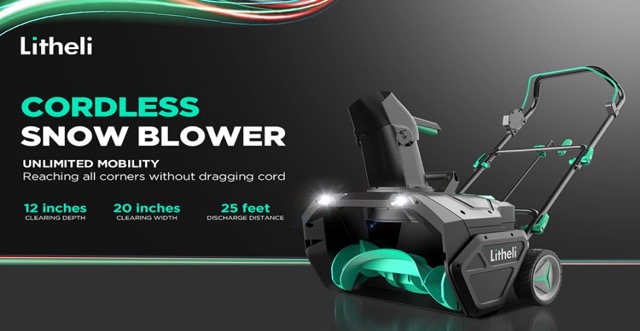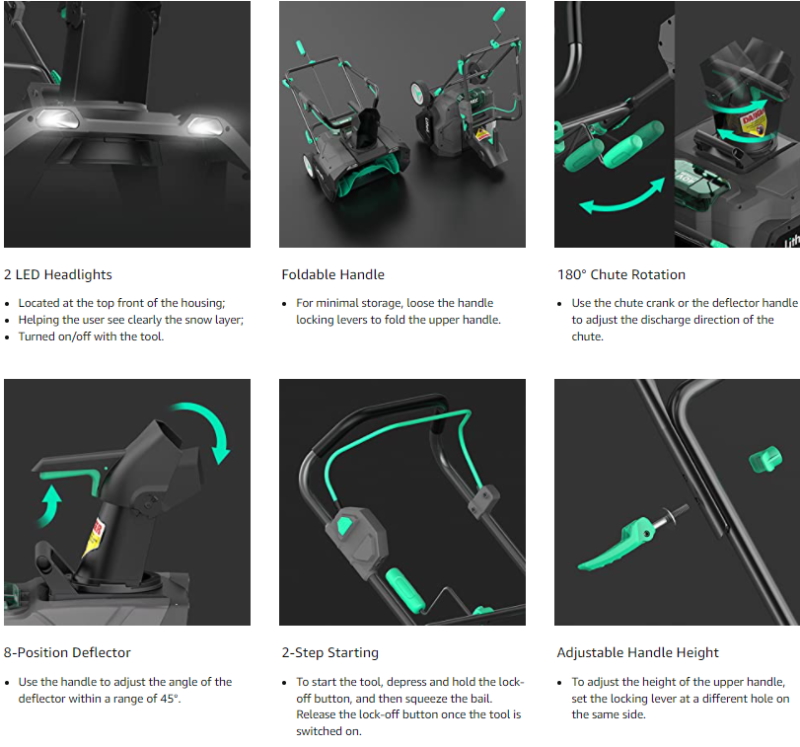 Battery Power: 1x4000mAh high-energy-density Lithium-ion battery ensures strong and fade-free power feed. This 40V battery also works with all Litheli 40V tools. Eliminating the pollution and noise by gas and corded models, this cordless machine can clear snow on driveways, sidewalks, and patios without the limit of cord.
Brushless Motor: Brushless motor can make almost full use of the battery charge, and requires almost no maintenance. This thrower eats snow up to 20″ wide and 12″ deep and blows it up to 25′ far.
Ergonomics: 2 LED headlights that turn on/off automatically. 7″ wear-resistant wheels move swiftly on tough terrain. Dual-action starting protects the user from accidental activation. The upper handle can be folded for minimal storage, and also be extended for taller users. The chute can be turned 180° by the crank, and the top deflector can be set at 8 angles within 45°.
Safety: ①Check the battery temperature if the machine does not start or work. Allow the battery to warm up indoors and try again.②Thoroughly wipe off the snow from the machine after use, and keep it dry in storage.③Tool performance of snow removal differs according to actual snow conditions. 【Perfect for Powder Snow】
Max 5Y Warranty: Industry-leading warranties: 5-year for tool + 3-year for battery & charger. 24/7 customer care
Specifications
Starting Method: Push Button
Speed/s: None
Power Steering: No
Chute adjustment: Remote (180-degree turning radius)
Headlight: Dual LED
Heated handlebars: No
Stage Type: Single-Stage Cordless
Battery Type: 40V 4.0Ah Lithium-Ion
Plowing Capacity: 500 lbs/min
Clearing Width: 20 inch
Intake height: 12 inch
Throw Distance: 15-25 feet
Weight: 37 pounds
Warranty: Max 5-year machine, Max 3-year battery/charger
The snowblower comes almost completely assembled with only minimal additional assemble needed. It is made of metal, plastic/ABS. There is a battery compartment that holds the battery and a spare. There is also a handle on top of the main body behind the Chute and Deflector that makes it easier to lift and transport.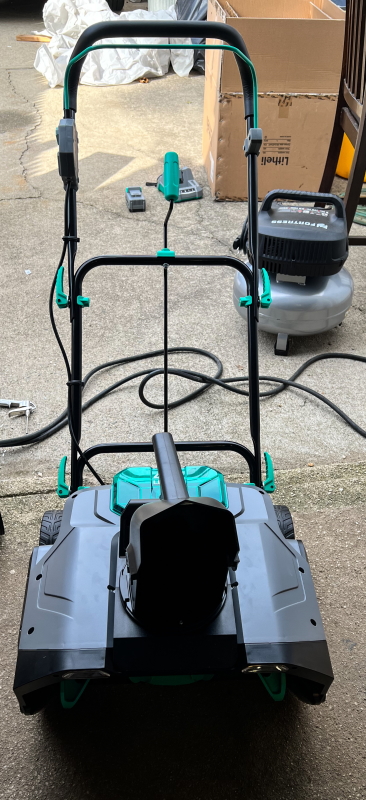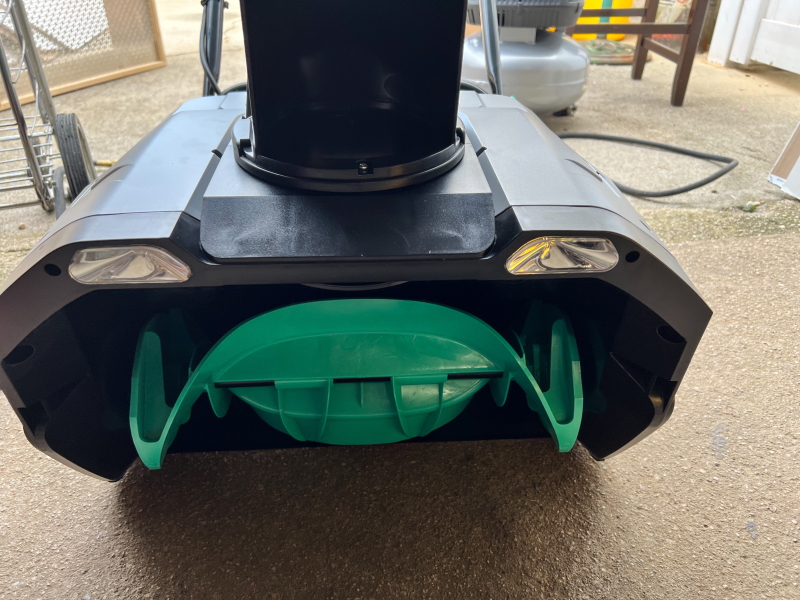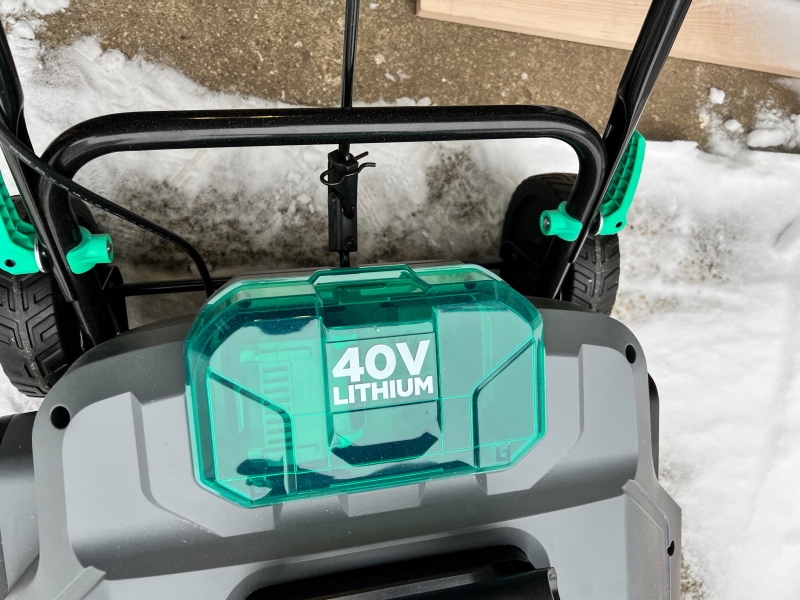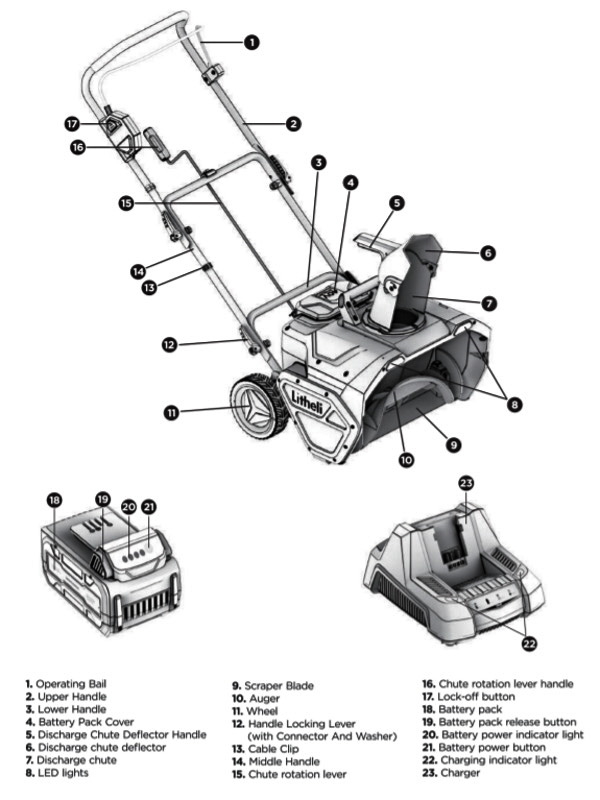 Performance
The snowblower arrives partially assembled. The only assembly needed is to secure the handle, cable clips, and attach the chute and deflector. After that, you charge and insert the battery and you are ready to go.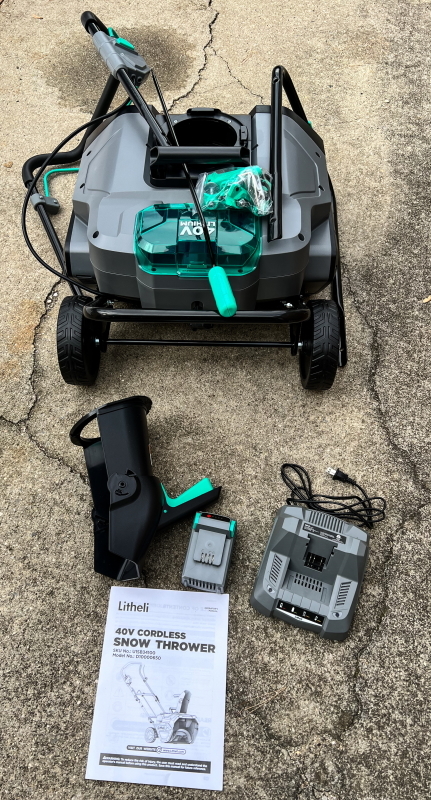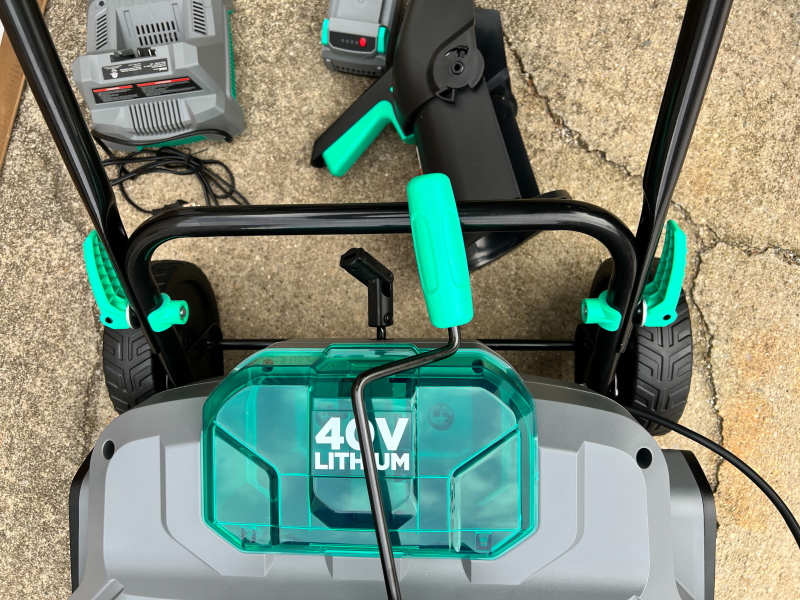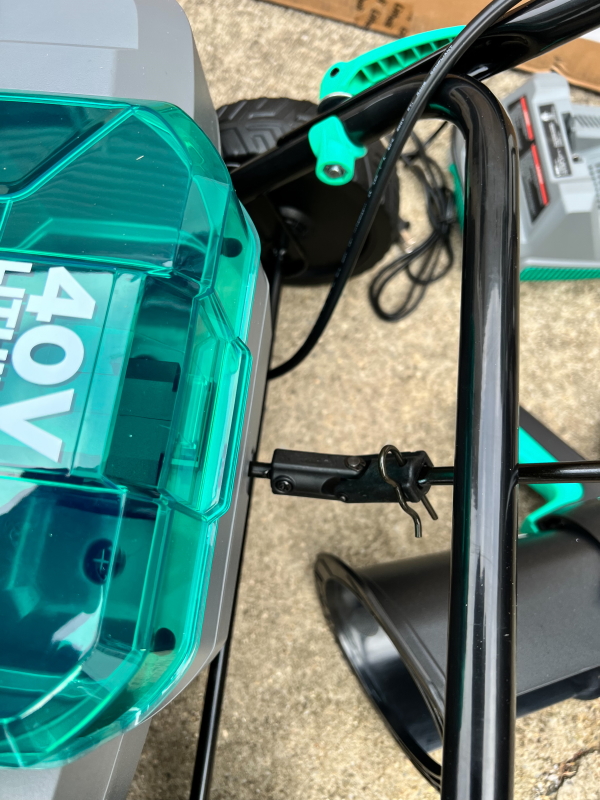 I inserted a spare battery in the space designated for that so I could easily switch batteries when necessary.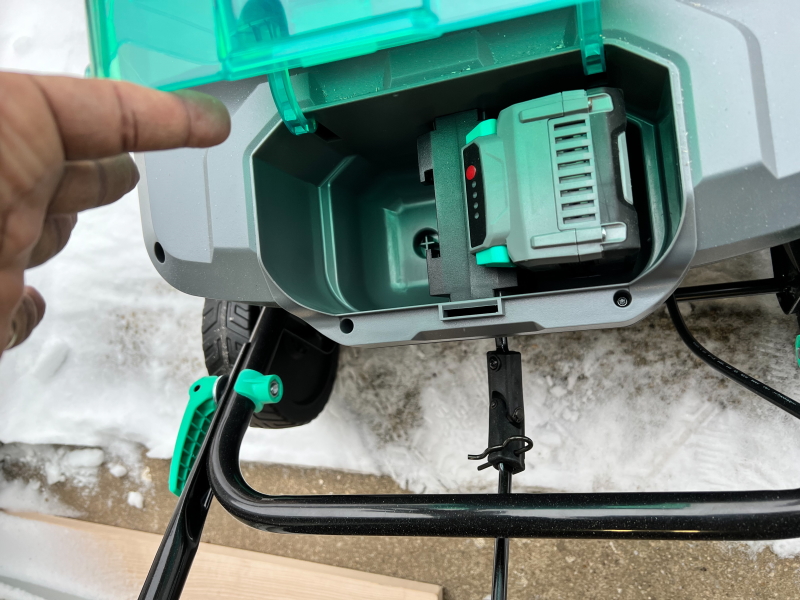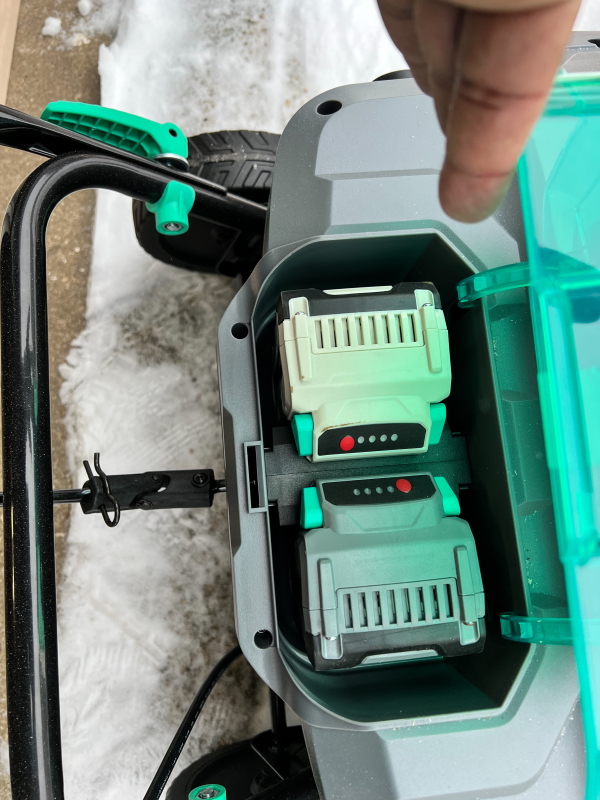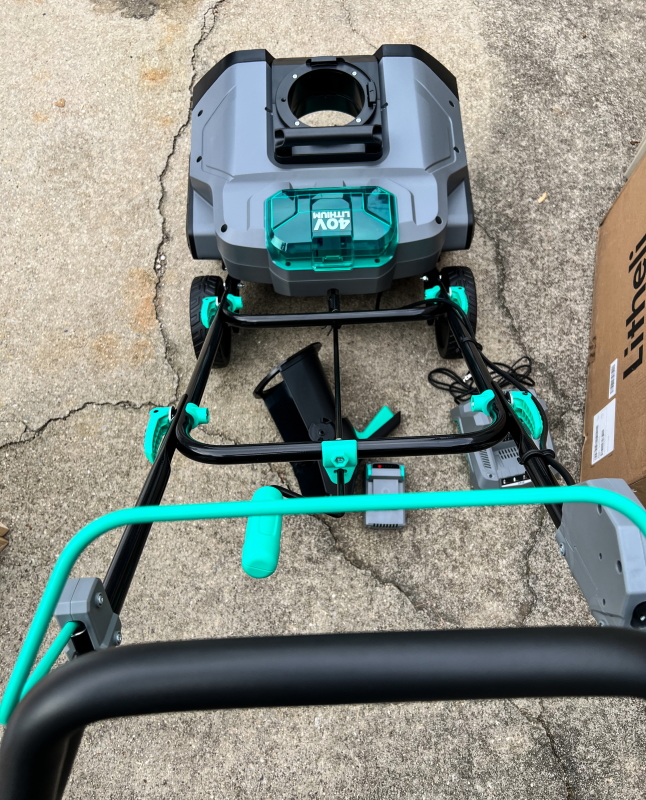 Next, it was time to step out into that daunting snowstorm/blizzard and tackle the heaping 2+ feet of snow. To operate you simply push the button on the side of the handle, and while being pushed, you squeeze the operating handle. Here is how things went:
As you can see from the photos below, and from the video above that it was a slow and tedious process because of the height of the snow, but the result was great. The snowblower was easy to maneuver and did not create any strain or stress on my body. The only downside was that I needed about 6 batteries to finish the job, obviously because of the amount of snow. Luckily, I have other 40V Litheli products and I had enough batteries that I purposely charged the night before in anticipation of the need.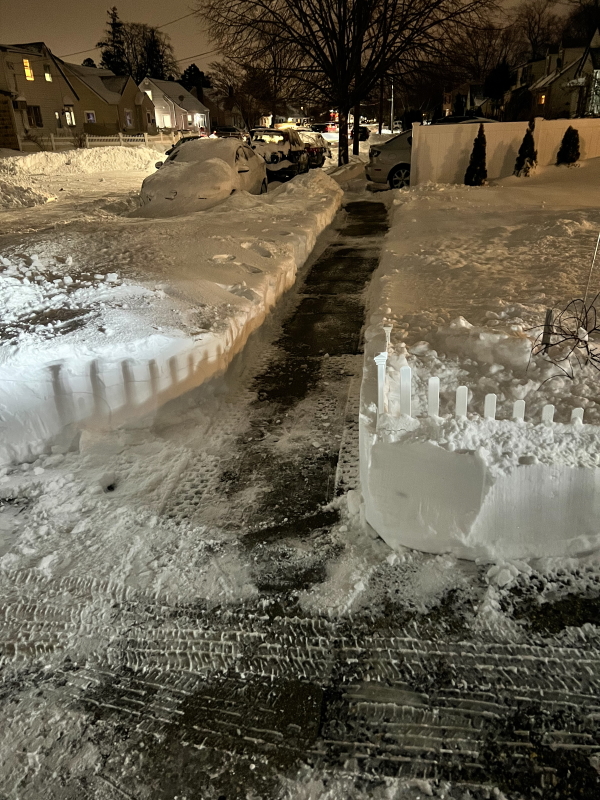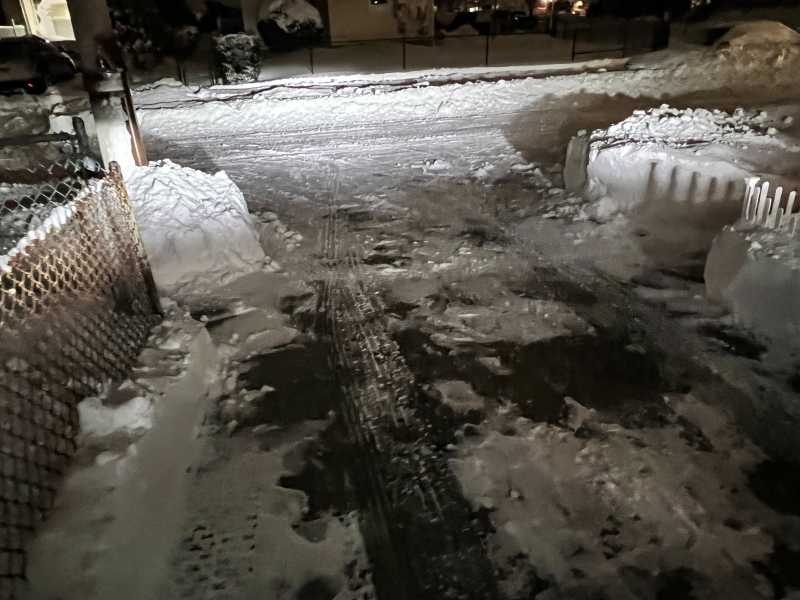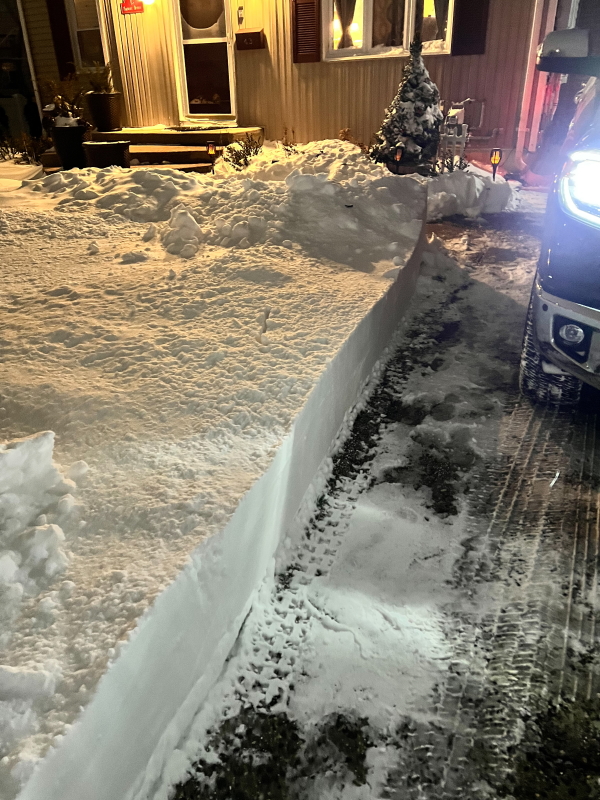 What I like
The sleek design
That it is lightweight
That it is cordless
The ease of use of the Chute and Deflector
The performance
What I'd change
I would like to see 2 batteries included and instead of the second battery storage, I would like to be able to have 2 batteries connected with the ability of the snowblower to switch from one to the next. This would create more longevity.
Final thoughts
When I first assembled this snowblower, it seemed somewhat lightweight and I had serious doubts about its ability to actually perform as advertised. I was even more concerned that it would be useless against the 2 plus feet of snow that fell during this first snowstorm this year. I am happy to say that much like all of the other Litheli products that I have tested, this snowblower did not disappoint. It performed very well right alongside the several gas-powered snowblowers that my neighbors were using and so much so that they came over to get a closer look. The only category that I lost in was longevity since their gas power outlasted my batteries. So, I know that I need to have about 6 batteries if I have to go up against 2 or more feet of snow. Otherwise, I once again give Litheli a well done and two thumbs up!!
Price: $399
Where to buy: Amazon
Source: The sample for this review was provided by Litheli.