We use affiliate links. If you buy something through the links on this page, we may earn a commission at no cost to you. Learn more.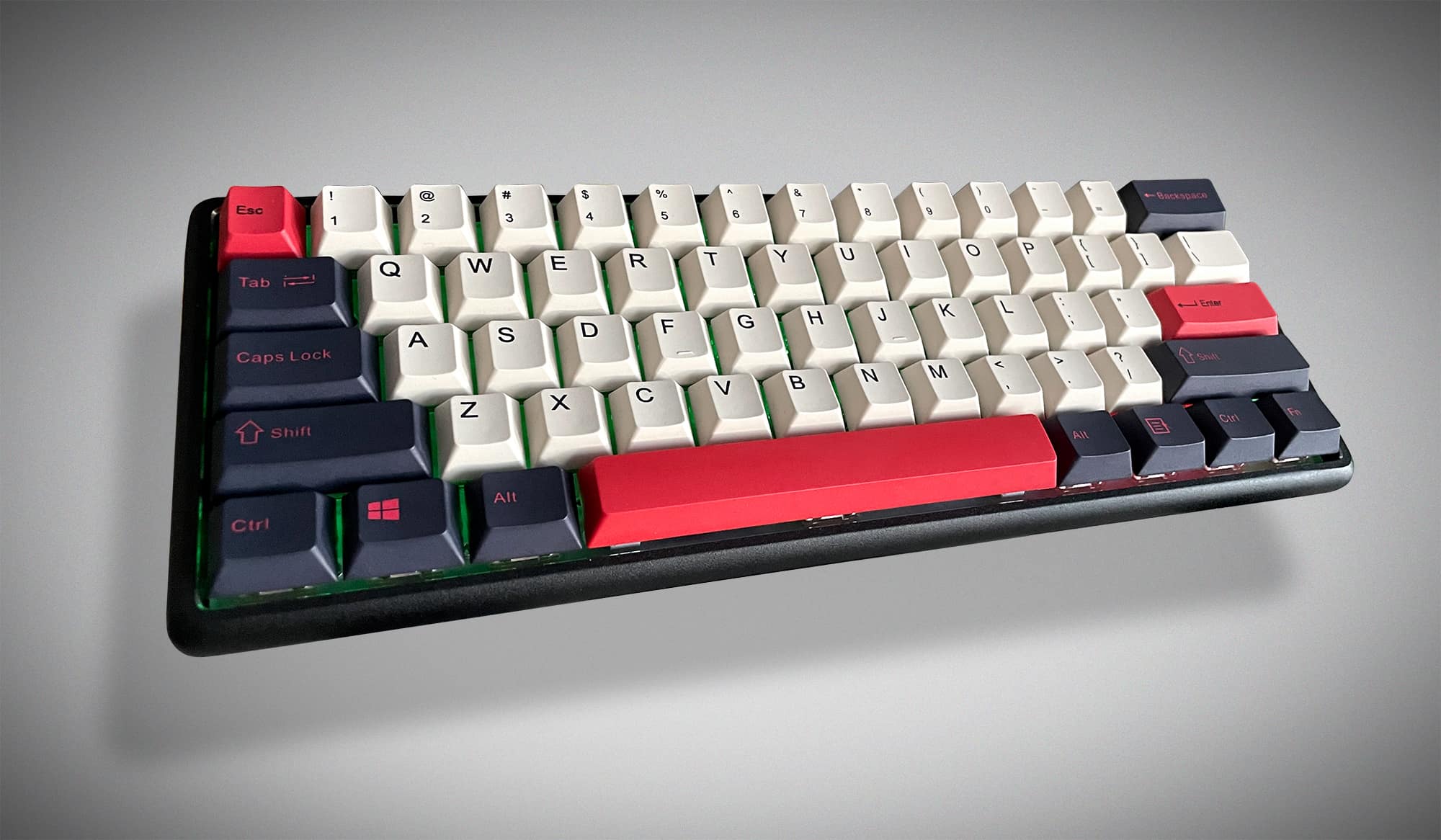 REVIEW – What do you get when you take a full-size keyboard and whittle it down to a minimal viable product, and then add in a bunch of actually-useful features? Something like the Epomaker Lite 60% Aluminum Mechanical Keyboard.
What is it?
The Epomaker Lite is a 60% sized gasket-mounted aluminum mechanical keyboard with hot-swappable switches, RBG backlighting, a heavy CNC aluminum body, and Bluetooth/wired connection for up to 4 devices. It supports Mac or PC and the keys are customizable through a downloadable application.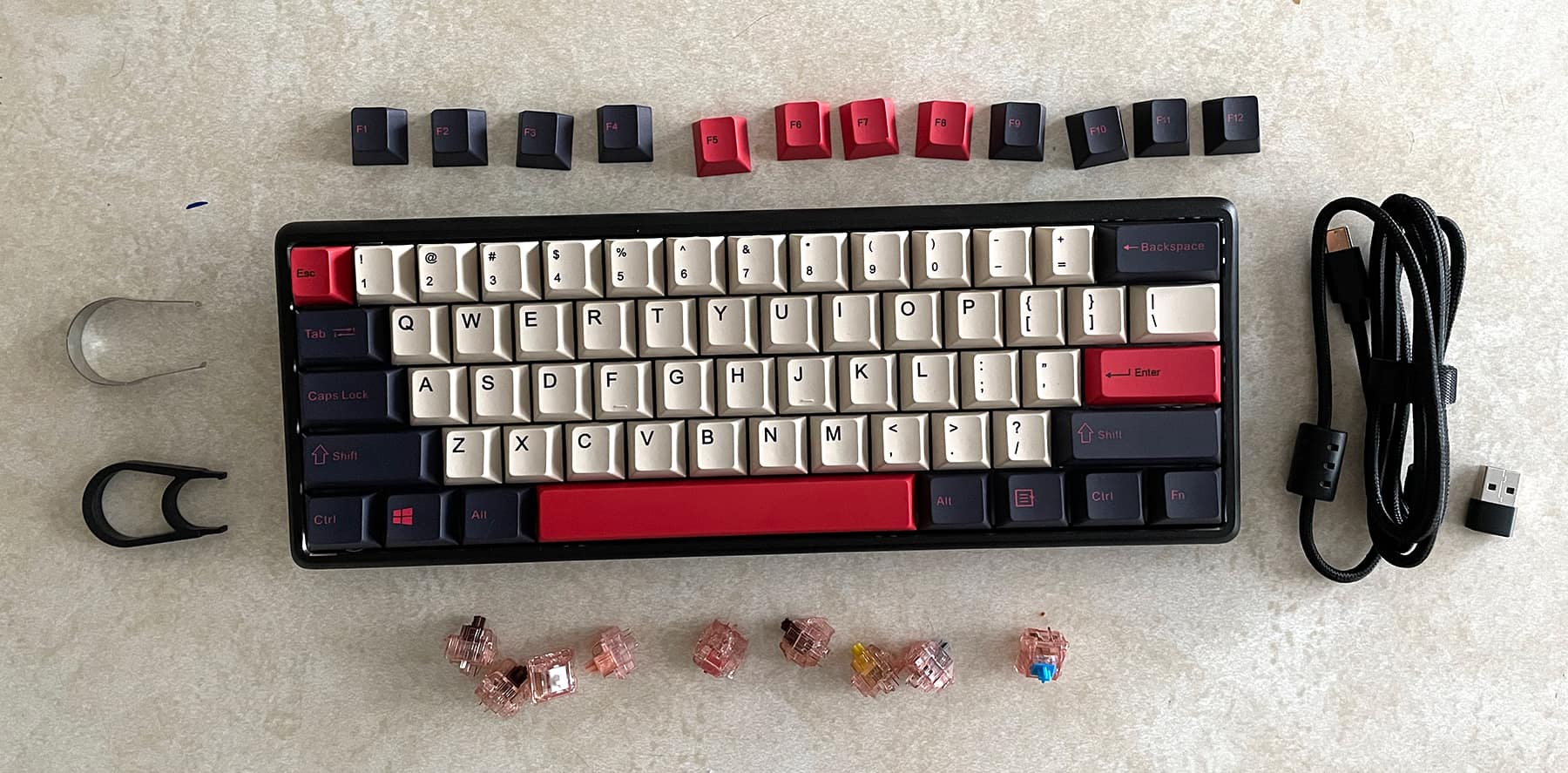 What's in the box?
Epomaker Lite keyboard
USB-C cable
USB-C to USB-A adapter
key and switch removal tool
Hardware specs
61 keys (60% Compact)
Dimensions (LxWxH) 298.4 x 101mm x 25.4 mm
Weight 1.6 pounds
Keycaps Dye-Sub PBT
shallow gasket structure for firm and stable typing experience
silicone pad to cushion each keystroke and dampen the sound
CNC-machined aluminum body with a polished and sandblasted finish
hot-swappable keys and switches
Epomaker Chocolate switches included
swappable plates
USB-C wired or Bluetooth 5.1 connections (up to 3 wireless devices and 1 wired for a total of 4 devices)
4000mAh battery lasts up to 80 hours
RGB backlit with 9 default lighting effects, customizable through software
Support Android, iOS, macOS, Win
ANSI/ISO Layout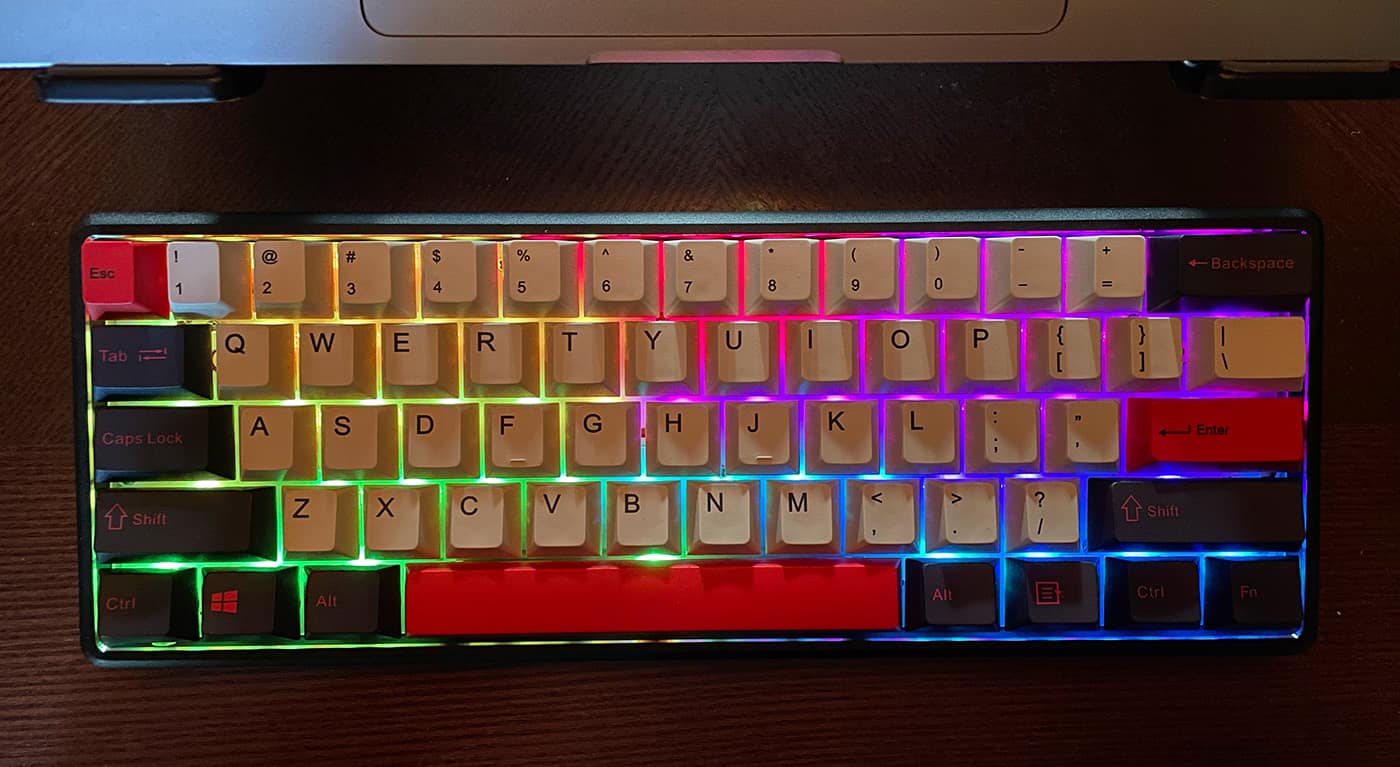 Design and features
Having used (and reviewed) several mechanical keyboards in the past few years, one tends to form preconceived notions as to what an unfamiliar keyboard will deliver. Clacking keys with plenty of bounce. Those tall keys with plenty of travel harken back to the days when keyboards came in an all-beige palette and could be banged away mercilessly before a monochrome black and green CRT.
The Epomaker Lite mechanical keyboard captures all of that nostalgia in a tiny, super solid package.
Mighty. Small.
When I first received the keyboard, I had some reservations as to how I would go about a normal workday using a 60% keyboard. One of the unique aspects of pretty much anything below a 65% key configuration is the removal of both the function keys and the arrow keys. I found a good article here that explains the difference between keyboard layouts.
Now, I can get by without function keys, for the most part… but I had to balk at the realization that I would no longer have arrow keys to use for precise positioning of design elements in several Adobe applications. And, spoiler alert, that's the one thing that I missed the most.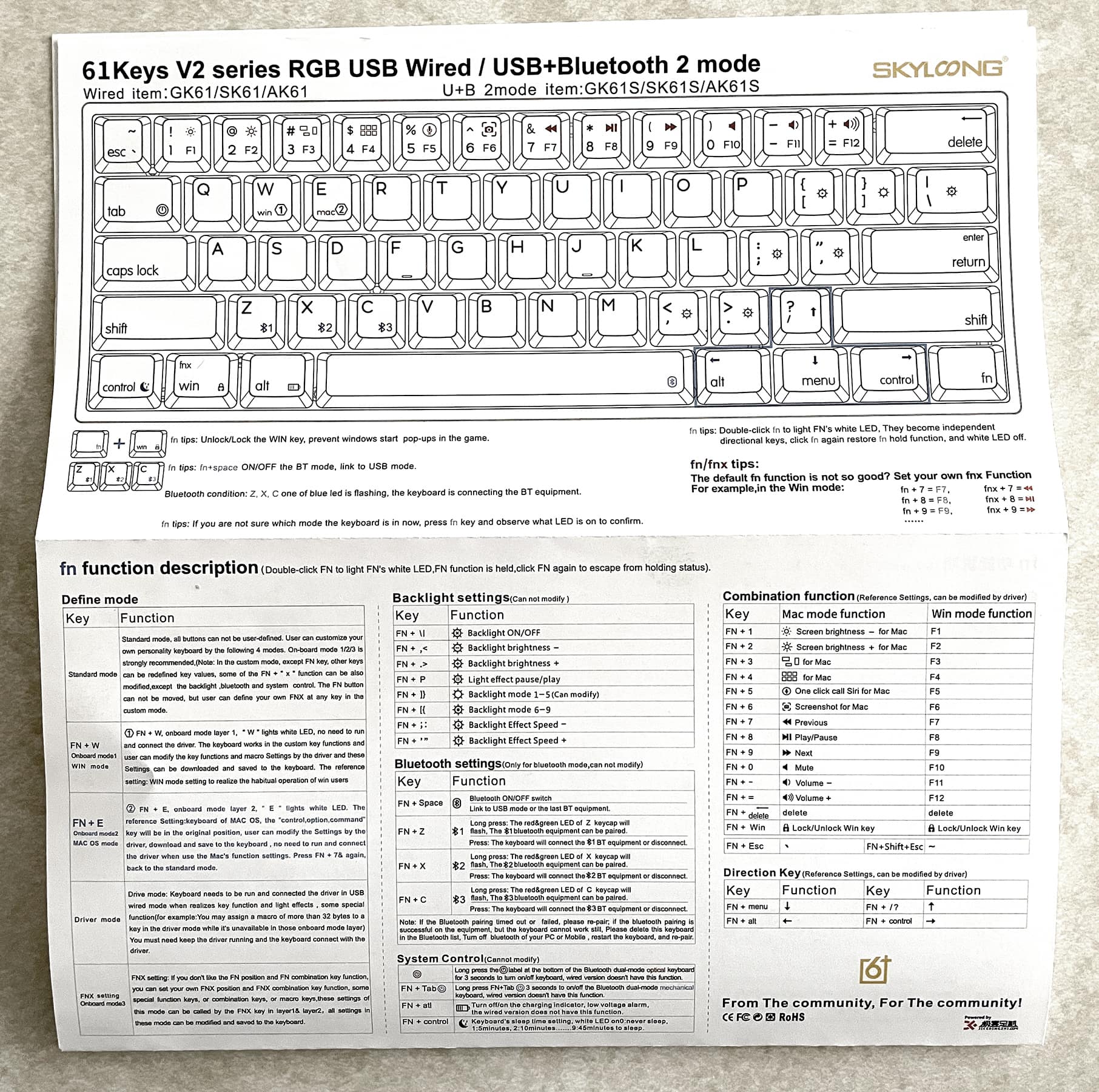 Looking at the overall constructions of the Epomaker Lite, this is one hefty little keyboard. The entire body is one uniform aluminum case, precision cut and sandblasted to a matte finish. It's cold, heavy, and rock solid. It doesn't budge at all under my tapping fingers.
The red-white-black key color combination I received is nice and has a nice 80's aesthetic, like the colors on a Nintendo controller or pocket calculator.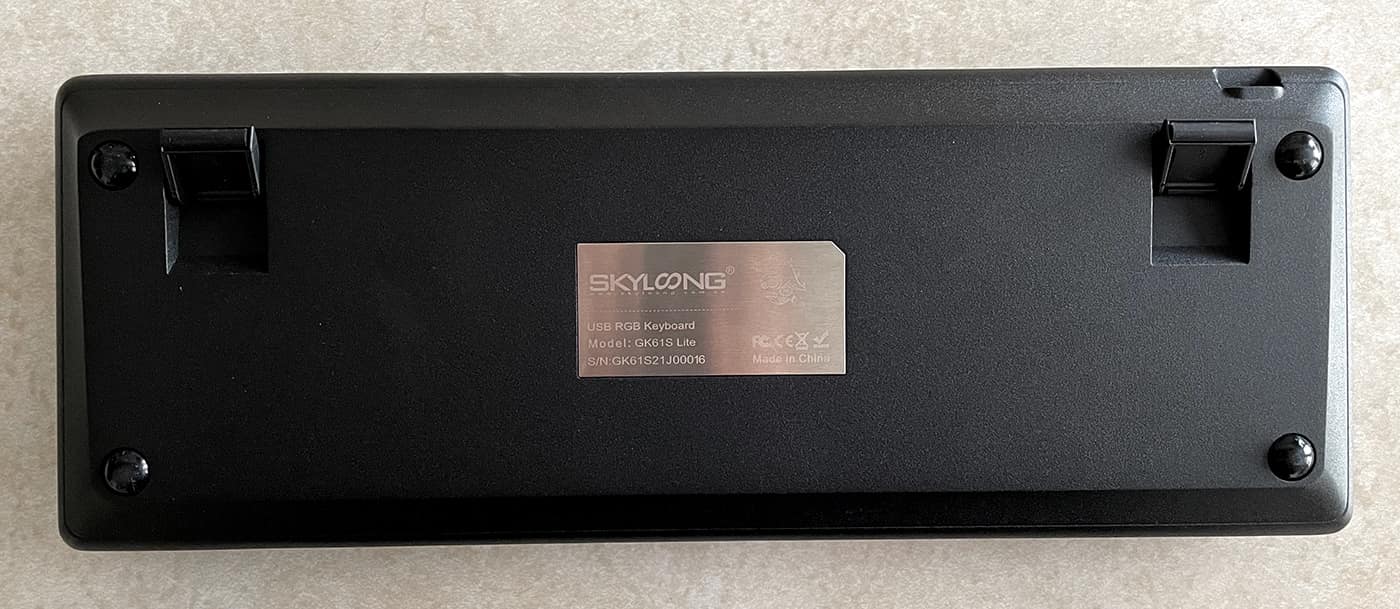 The bottom of the keyboard has four rubber contact points to prevent slipping. There are also two little flipper feet on the bottom to very mildly raise the angle of the keyboard toward you. They're almost useless and seem easy to snap off and lose.
New Sound Glory
The Lite comes preconfigured with Epomaker's "Chocolate" switches, which I believe are their own variant of brown type switches. They have good travel, high bounce, and slight resistance. They're not "clicky" like the blue type switches, but not completely silent, either. I think they're one of the most comfortable switches I've used, personally. I love the fact that the keystroke registers at about halfway down, eliminating many of the accidental keystrokes that I've experienced with lighter switch types.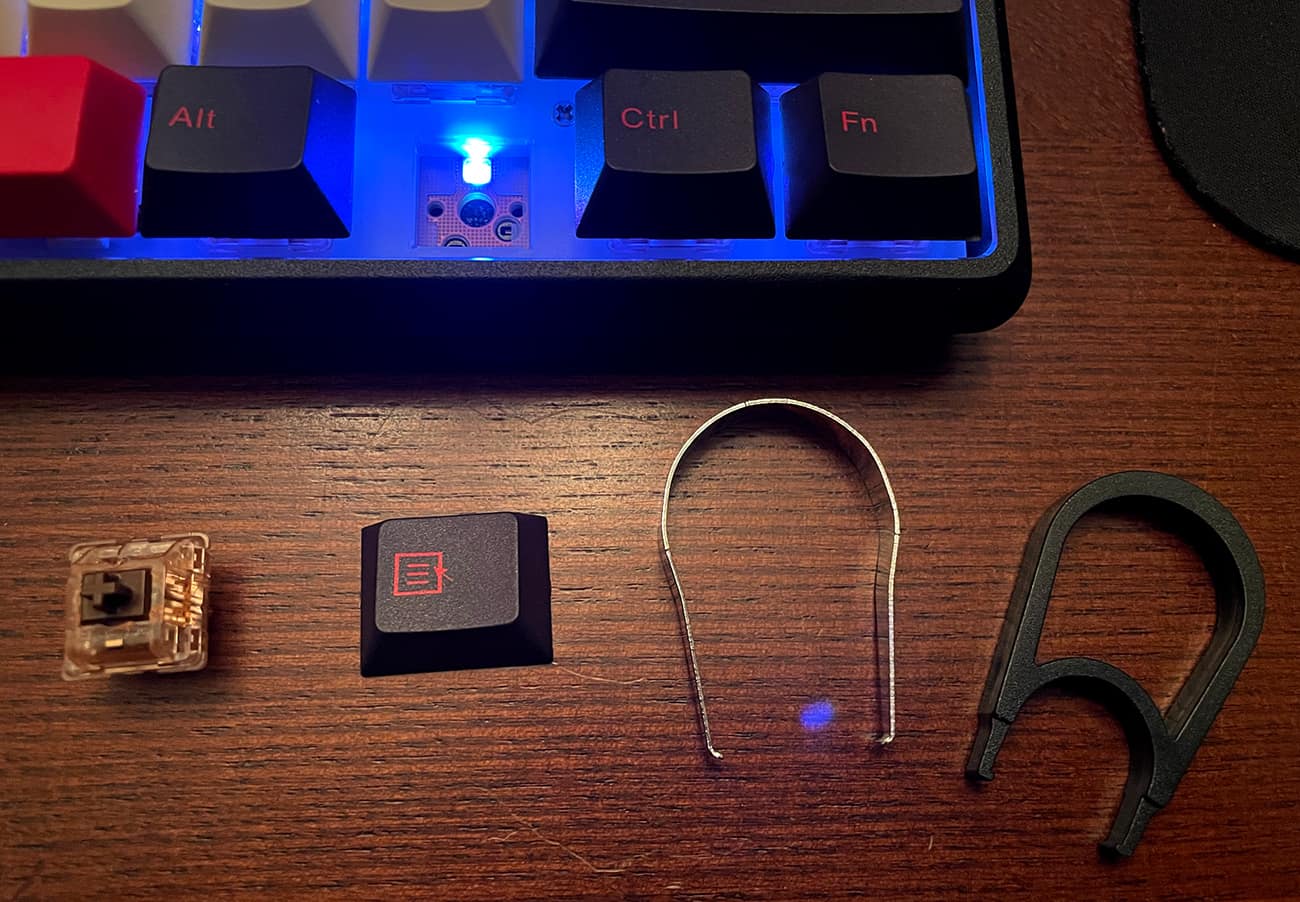 You can be very deliberate and forceful with your typing. It sounds silly, but there's something very cathartic about typing with "purpose." I use Apple keyboards almost exclusively, whether built into a laptop or one of their small external Bluetooth keyboards, and the keys on those things are like little black chicklets with virtually no travel. They're good. But if you type a lot as part of your job, you really do owe it to yourself to try out a mechanical keyboard sometime and find a good type of switch you like.
Customize All The Things
The Epomaker Lite features hot swappable keys and switches. They were kind enough to supply a bevy of switches to test out the swapability and get a sense of what each switch type feels like.
They also included a whole row of function keys, in case you'd want to swap the number row with the supplied function keys. I imagine there's a use case for this, perhaps a custom key configuration where F keys are used more often than actual numbers.
There is a downloadable application that allows you to substitute basically any key on the keyboard… for instance, I noticed that even in Mac mode, which basically swaps the position of the control/command keys, the left option key wasn't working the way it should. So I downloaded and somehow figured out how to change the key layout to perfectly emulate the command-option-control keys that I'm used to using.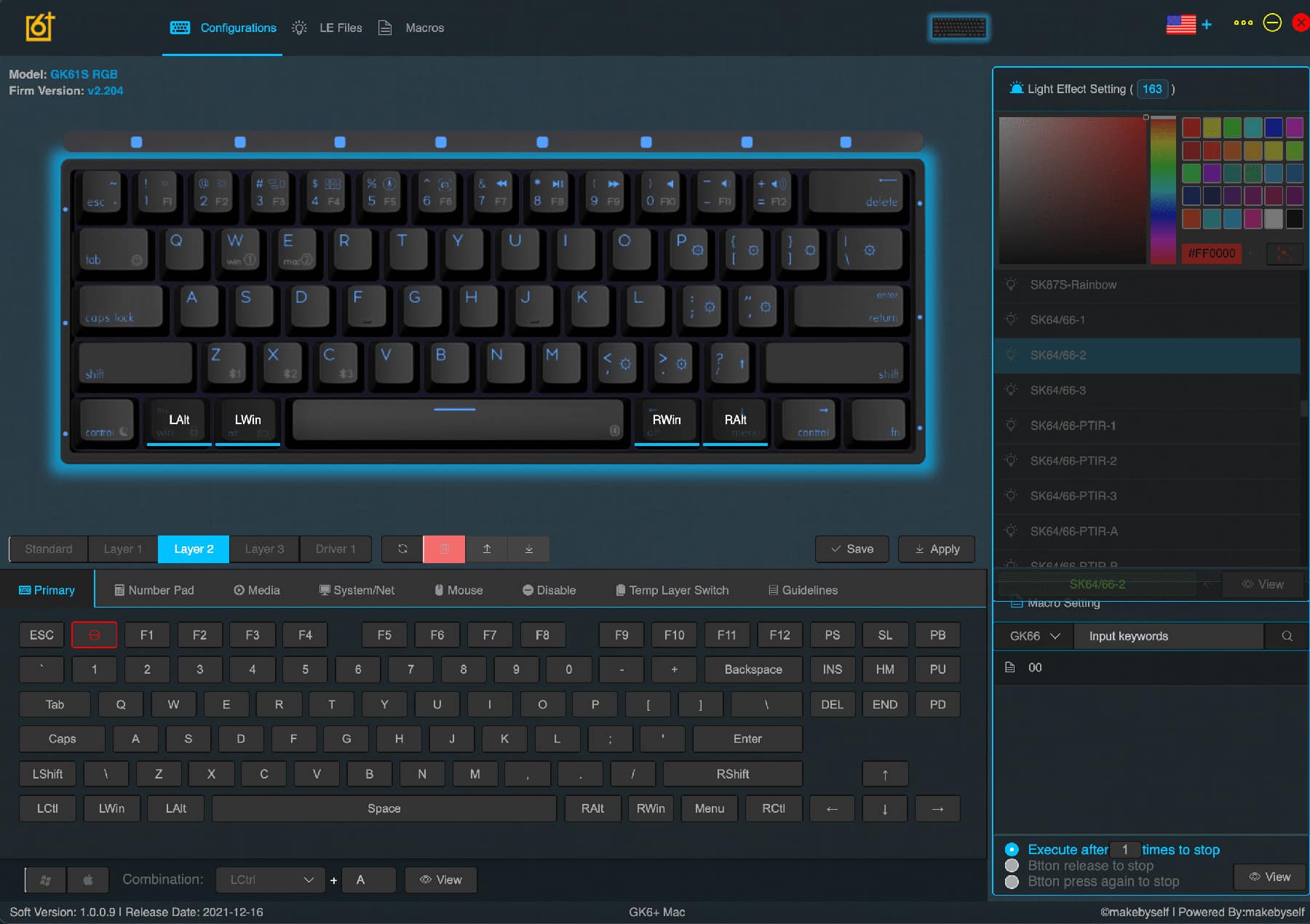 You can use the application to create macros and personalize the RGB backlight as well, but I didn't really get into that since there's no real documentation for the software. It's pretty terrible.
The RGB backlight is a nice touch. It provides a splash of color in a dim room, but it barely gives off enough light to easily see the characters/numbers on the keys themselves. This was only problematic until I got used to the layout.
There are several nice touches with the lighting, for example, one of the default settings has a green glow, except for a red glow under the question mark key and three keys below it, which function as the arrow keys when the FN key is held down. It's a handy visual reminder of where these all-important keys are. I almost exclusively used this backlight setting because of this.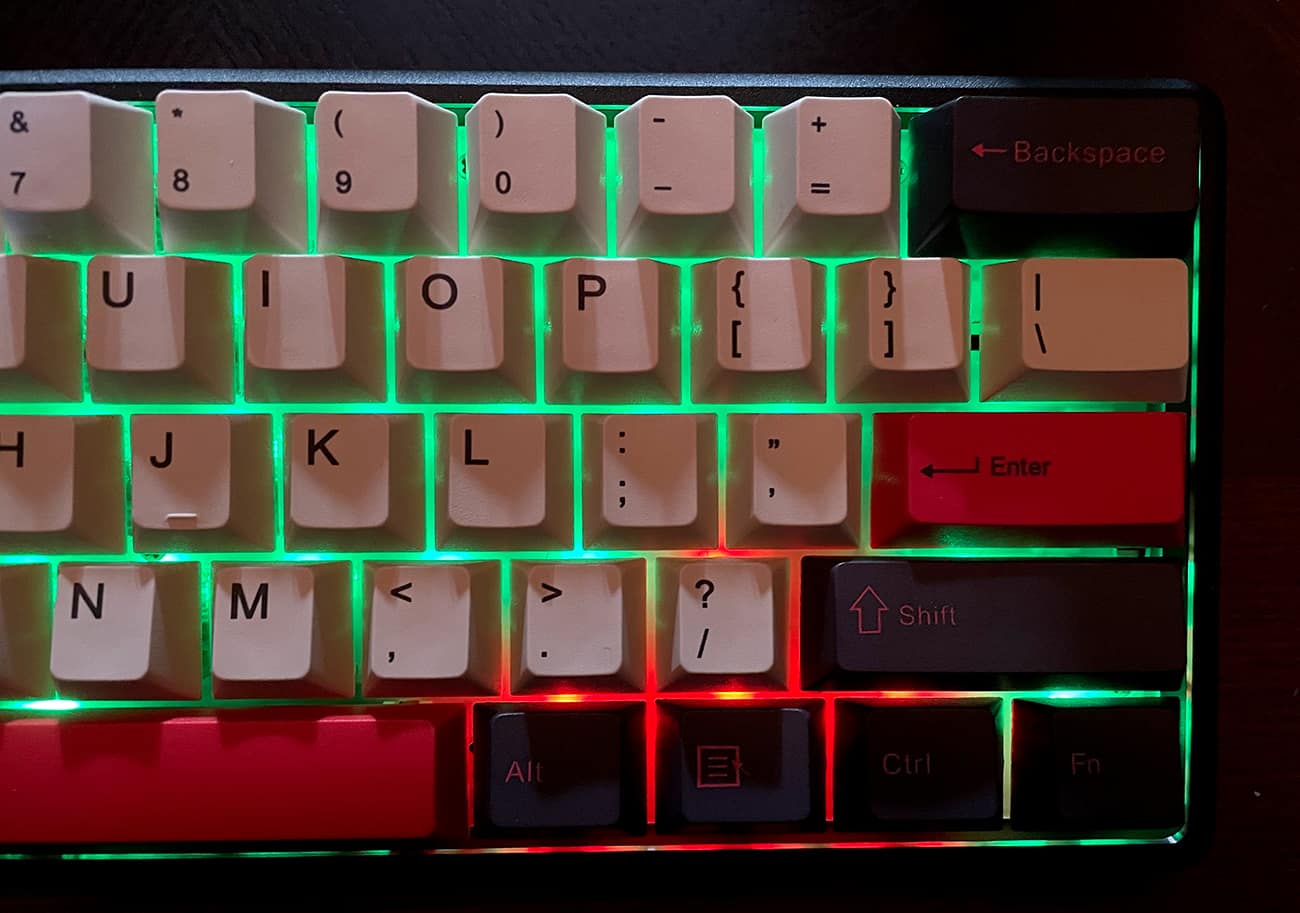 Holding down the FN key causes the E or W backlight to glow white, acknowledging if you're in Windows or Mac mode, and also causes the Z, X or C backlight to glow blue, letting you know which device you are currently connected to. A nice detail. The quick-swap works well. I can easily switch between typing on my laptop to jotting down a quick note on my phone, and back to the laptop, all without an external switch or swapping cables. It's lovely.
The other backlight settings are your standard distracting rainbow cascade nonsense that I can't imagine anyone would use outside of a photo of their gaming rig. You can adjust the brightness of this backlight or turn it off altogether if it's not really your thing.
But What's Missing?
I realize I've gotten pretty far into this review without really mentioning what it's like to actively use a 60% layout keyboard for an entire day. I was surprised how quickly I adapted to the height of the keyboard, the pressure required for typing, and even the noise that the keyboard makes. It quickly becomes background sound — to me, mind you. The fact that even without the super-clacky blue switches, this thing makes much more noise than a standard keyboard could absolutely be a nonstarter for anyone with officemates within earshot.
One thing I didn't get used to was the lack of arrow keys. Even the smaller arrow keys on modern Apple keyboards are at least something. I think I could get used to holding the FN key to activate the inverted T combination of keys next to the space bar as arrow keys, but muscle memory is hard to break. Especially with design software.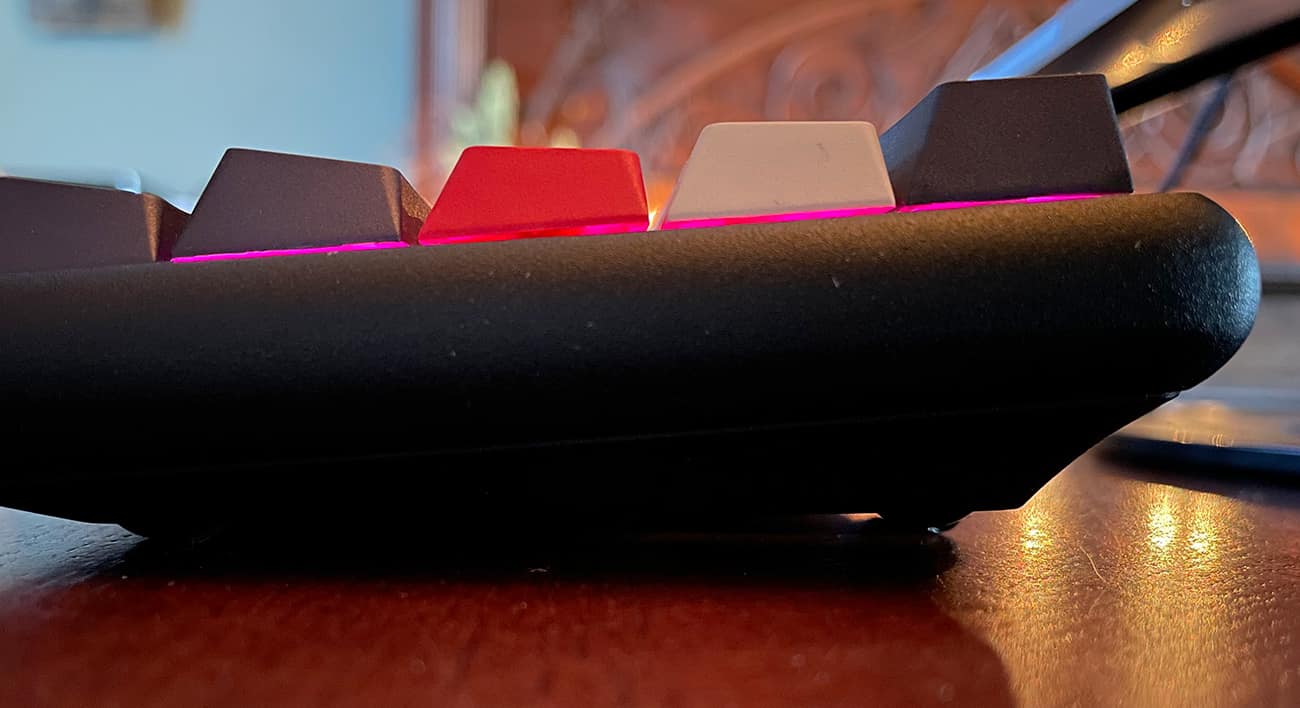 I practically live in Photoshop and InDesign all day, and not having arrow keys to quickly access to precisely position objects, adjust kerning and leading, move the text cursor around, and dozens of other uses … I just couldn't handle it. Having to lift up my hand, grab the mouse, and manually manipulate tiny sliders in text palettes was painful. Plus, there are a fair amount of function key combinations that I missed using.
Typing is problematic in this regard as well. Say for instance you want to quickly select several words to copy and paste to another line… having to use one finger to hold down the FN key while another finger taps on keys that aren't the right size for arrow keys, while the other hand holds down shift-option to highlight entire words at a time… it's just not possible with this keyboard, since the FN key also triggers those keys to do something else. It just didn't work the way it should.
So I had to use the mouse a lot more often than I like. You'd be surprised just how little you have to use a mouse once you get really adept at keyboard combinations, and any detriment to that made me feel like I was walking through molasses.
For my work, specifically, I don't think I can continue to use it.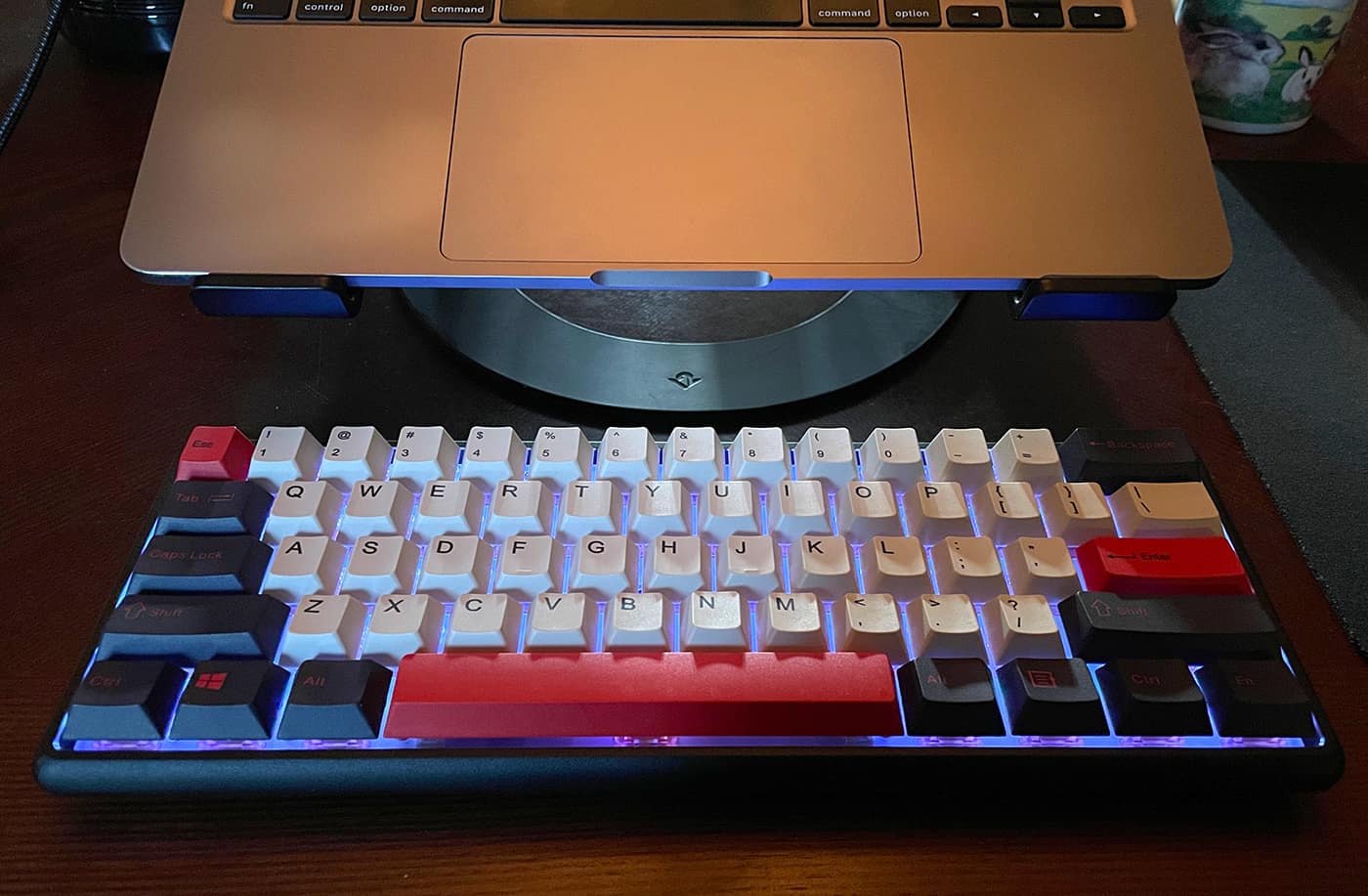 While it sounds damning, that one large, negative point is really an indictment toward 60% layout keyboards on the whole, and not specifically the Epomaker Lite. It's strange to use a keyboard that's not build for people who type for a living, but here we are. Certainly, this size is much more applicable for gaming being compact, programmable, and small enough to keep out of the way of wide mouse movements.
What this keyboard does well, it does really well, and if you can get past the limited number of keys and arcane FN key combinations, then what you're left with is a superb typing experience and a solid little keyboard.
And yes, I of course typed this entire review using the Lite, and it was a delight. I think I'll keep it within reach so I can swap over to it when I do more long-form typing or non-work use. Or if I snag an iPad in the future to pair with this keyboard as my writing station. One can dream. As long as I don't have to do a lot of text selection, the Epomaker Lite is an absolute joy to write with.
What I like
Immovable, hefty construction
Included switches are perfect, in my book
Budget priced
Easy pairing/switching between multiple devices
What needs to be improved
60% size might not be best suited for everyone — I miss my arrow keys!
Software is very difficult to figure out
Flip-up feet on the bottom are worthless
Final thoughts
While the compact size of the Epomaker Lite might leave some out in the cold, anyone who is interested in an excellent typing experience really owes it to themselves to give this keyboard a shot. It's got customizable everything, solid performance, good looks, and sits on the lower end of the cost spectrum.
Price: $119 Kickstarter Backer price
Where to buy: You can find out more about the Epomaker Light keyboard here, or back the Kickstarter through January 25th 2022 to secure your order. Shipping starts in April 2022.
Source: The sample of this product was provided by Epomaker.