We use affiliate links. If you buy something through the links on this page, we may earn a commission at no cost to you. Learn more.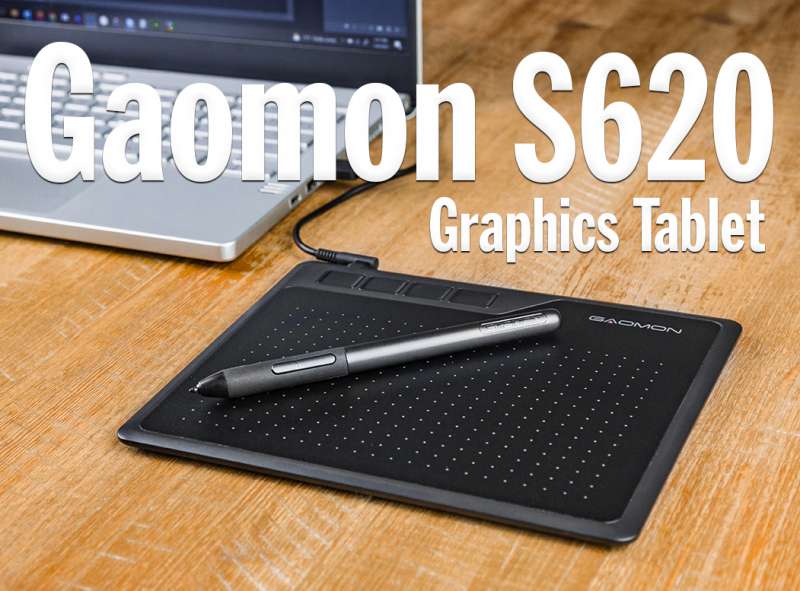 REVIEW – For me, using  the computer mouse is fine for everyday use such as web browsing or checking my emails, but during the times I am editing photos or creating designs, I want to be more precise and have better control of the cursor. Times like this are when having a graphics tablet comes in handy. Although there are high end graphic tablets that many professional designers use, you don't need an expensive or excessive one. You just need a graphics tablet that gets the job done. This is where a graphics tablet like the GAOMON S620 comes in. Not only can this graphics tablet get the job done, but it also has features that come in handy and help you with your creative process. Plus, this graphics tablet is easy on your wallet.
What is it?
The GAOMON S620 is a graphics tablet designed for any digital artist that allows for more precision, comfort, and flexibility when using their computer, laptop, and even their Android smartphone.
This graphics tablet is perfect for use with drawing, painting, sketching, or design programs. And since you control your computer's cursor with the included battery-free pen, you can use the S620 tablet for other programs and applications when you need to write using the stylus pen. The S620 is also compatible for use with games such as osu!, a free-to-play rhythm game.
The GAOMON S620 is compatible for use with Windows and MacOS.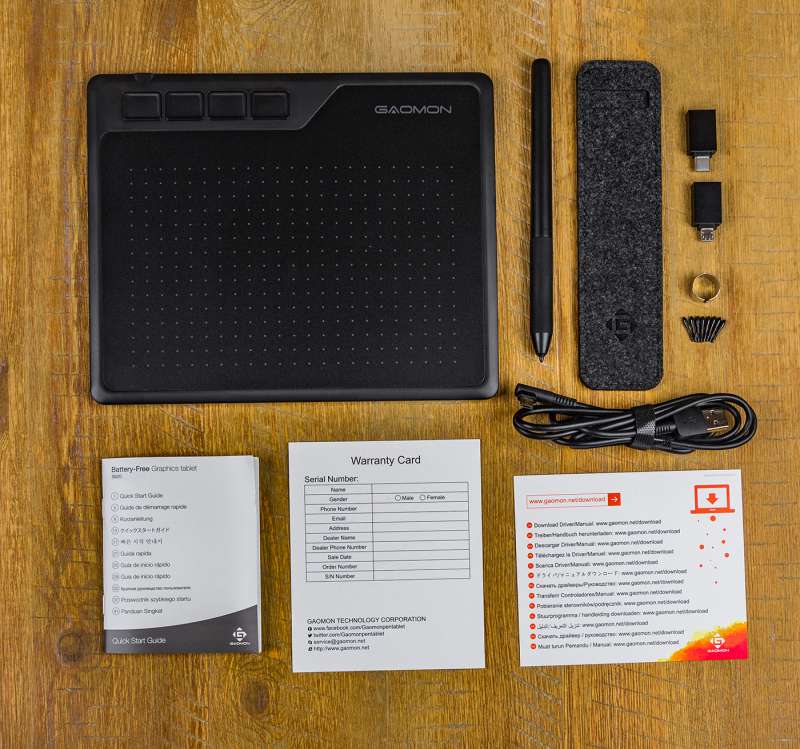 What's in the box?
S620 Graphics Tablet
AP32 Stylus Pen
Felt Pen Case

(not included)

Pen Nibs

(not included)

Pen Nibs Clip

(not included)

Micro USB Cable
Quick Start Guide
Warranty Card
Driver Download Card

OTG adapter shown above is NOT included (you can buy one yourself)
Design and features
The GAOMON S620 Graphics Tablet can be used with a computer, laptop, tablet allowing the user to have more control over the computer's mouse. A feature that I liked about the S620 is that it can used with your Android smartphone, but more on that later. Having better control over the mouse makes this graphics tablet ideal for graphics designers, artists, photographers, engineers, writers, or anyone who can benefit from using the stylus pen to help make working on the computer more productive and efficient.
The tablet is thin and sturdy and doesn't feel flimsy at all. Its dimensions are 8.3 in. x 6.9 in. x 0.31 in. (211mm × 174mm × 8mm). The GAOMON S620 plugs into your computer with the Micro-USB cable which supplies power to the tablet. This S620 needs the Micro-USB cable for power and connection since the tablet doesn't have Bluetooth capability, which is a shame because I think it would have been handy to use this graphics tablet wirelessly.

I currently use a Wacom Intuos Pro that I have been using for several years and I am basing my opinions in comparison of the GAOMON S620 to my Wacom Intuos Pro. So, with that in mind, I thought the GAOMON stylus pen had a decent weight to it and didn't feel too light like some stylus pens I've used before. The pen also has a nice grip to it and although it has a smooth finish, the pen doesn't feel slippery. I could use the pen for long periods of time without any feeling of it sliding from my fingers. I felt that there was really no noticeable difference between the GAOMON pen and my Wacom pen in weight, performance, or comfort.
On the side of the pen, there is a rocker switch which acts like the buttons on a mouse similar to the Left and Right buttons. Within the GAOMON app settings, you can change and customize the rocker switch to assign certain actions for each button.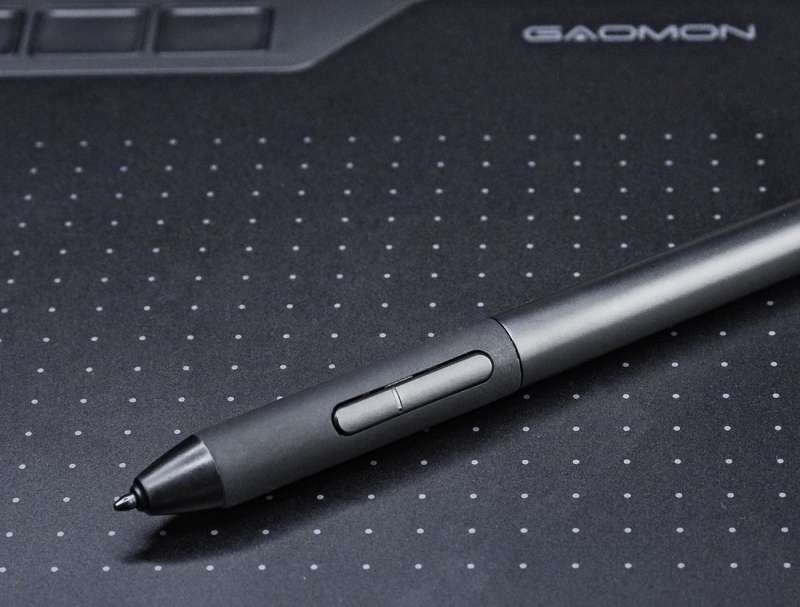 The pen has a pressure sensitivity of 8192 levels. The levels of the pen let you control the pressure of the pen's stroke lines which is useful in design and art programs like Photoshop or Corel Draw. Light pressure creates thin and soft lines, whereas harder pressure creates thicker and more opaque lines. Having pressure sensitivity in a graphics tablet helps the artist create more natural and true to life strokes like if they were using a traditional pen or pencil on a sheet of paper. Although there are other graphics tablets with different levels of pressure sensitivity, there are also graphics tablets that don't have any. So, your best bet is to get one with sensitivity levels so you can really benefit from the use of a graphics tablet like the S620.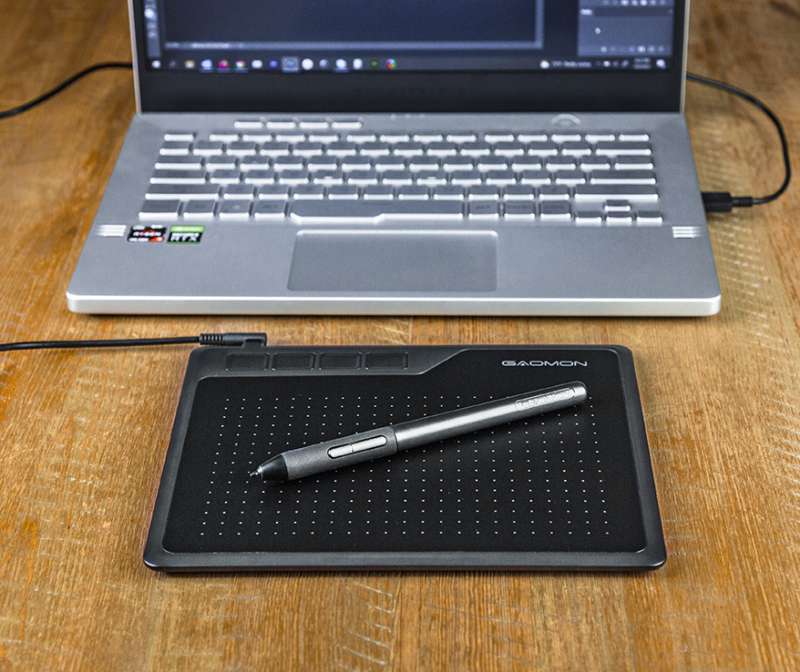 The S620 has a Points Per Second (PPS), also known as Reports Per Second (RPS), of 266 PPS. Basically, this is the speed of information per second between the graphics tablet and the computer. So, technically, the higher the PPS speed the less lag there is. I think the average PPS is around 200 and with this graphics tablet having 266 there was very little lag that I noticed.
The GAOMON pen has a sensing height, or reading height, of 10mm and the pen is battery-free so there is no need to charge or need to change out any batteries for the pen.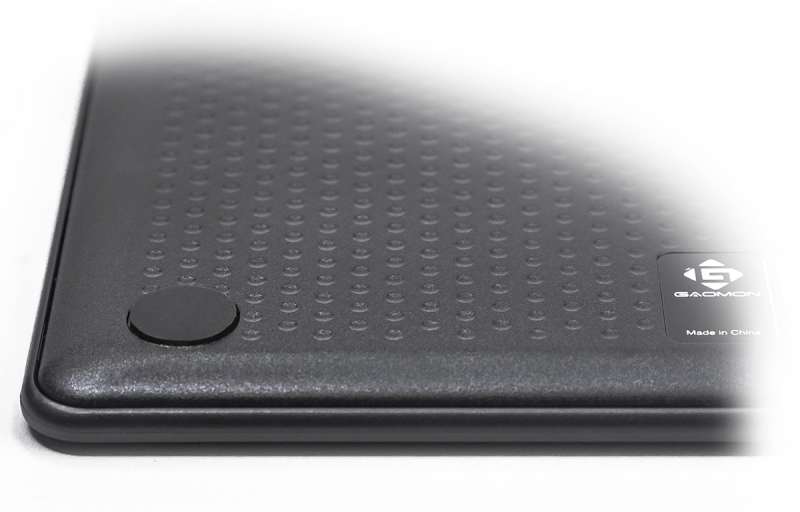 The S620 has a working area of 6.5″ in. x 4″ in (165mm x 102mm) so you should have plenty of surface room to work on and still have a small footprint of the tablet so it won't take up much room on your desk or work area. The S620 tablet also has four rubber non-slip pads underneath to help prevent the tablet from sliding on desks, tables, and other smooth surfaces.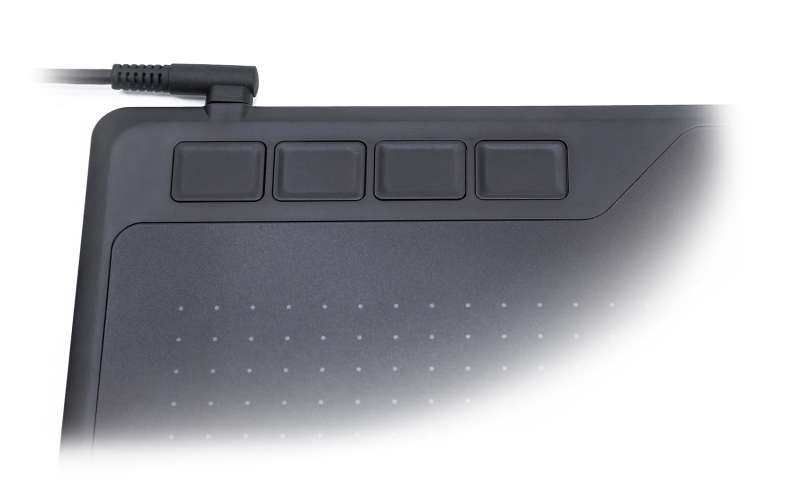 The S620 has 4 programmable Express keys that you can assign as shortcuts to make your workflow simpler and smoother. Having these shortcuts can definitely help streamline your workflow. Assigning the Express keys was fairly easy to program. You can just click on the GAOMON desktop icon and it will bring up the settings for the tablet and pen. There you can assign the Express keys. And there seem to be plenty of options for executable functions from the keystrokes of the keyboard to multimedia selections. These Express keys were a nice feature considering many other graphics tablets I've seen in this price point don't have Express keys. One thing I found lacking was that the GAOMON graphics tablet does not offer touch features so there is no ability to use any kind of gestures like pinch and zoom, scroll, or swipe.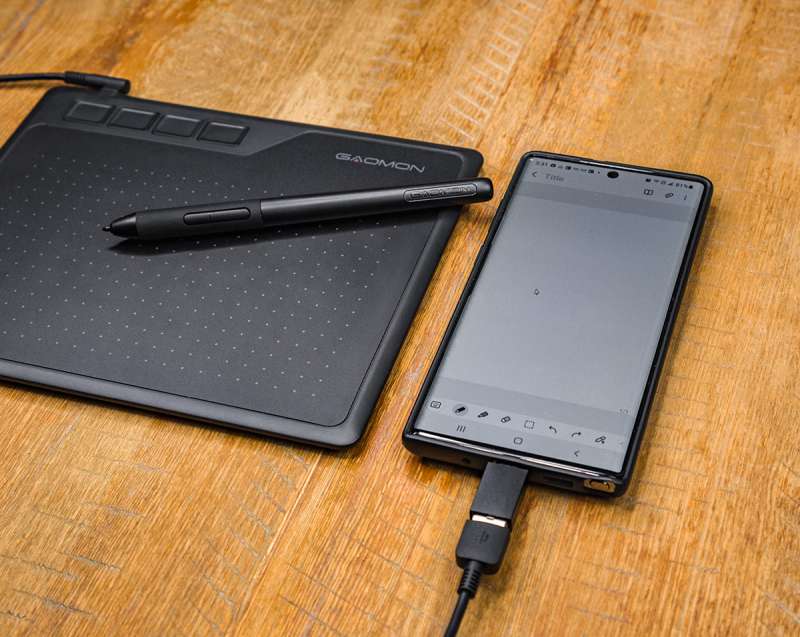 One neat feature of the S620 is the ability to connect to my Samsung Note 10+ smartphone with a USB-C OTG (On The Go) adapter (not included). An OTG adapter makes it possible to connect the S620's full-size USB cable to plug into my smartphone.  I was able to try out the S620 on my LG Tablet, both running Android operating systems. Unfortunately, I didn't have a Lightning OTG adapter so I wasn't able to try it out on an iPhone. At this time, the S620 graphics tablet doesn't support iOS.
Using the S620 tablet on my Samsung Note 10+ phone was interesting. I was able to use the pen as a mouse to navigate through my phone fairly easily. My Samsung has an included S-Pen stylus but its super thin as compared to the pen of the S620, which is larger and feels more comfortable to use.
I found that even though using the pen of the GAOMON S620 had better control than with the Samsung S-Pen, it still takes some getting used to. My lines weren't as straight and controlled as I would have liked and you could still see some shakiness in my drawings. However, with the Sketchbook app I have on my phone, it has a feature to assist in making perfect circles and straight lines with shapes but when it comes to freehand, I guess practice makes perfect, all in all, I found using the S620 with a smartphone an interesting concept.
Unfortunately, the pen buttons and the Express keys don't work when connected to a smartphone or tablet. I think it would have been a plus if they did. Maybe down the road, a firmware update will allow them to work. Keep in mind that your phone needs to be in Portrait mode rather than Landscape mode for the Active Area to cover the whole screen.
Performance
The S620 graphics tablet was responsive and the buttons on the pen worked without any problems. In comparison to my Wacom pen, the GAOMON pen performed the same. The only major difference I can tell is that my Wacom pen has a more flared barrel at the middle and an eraser feature on the end of the pen. The GAOMON pen doesn't have an eraser on its end.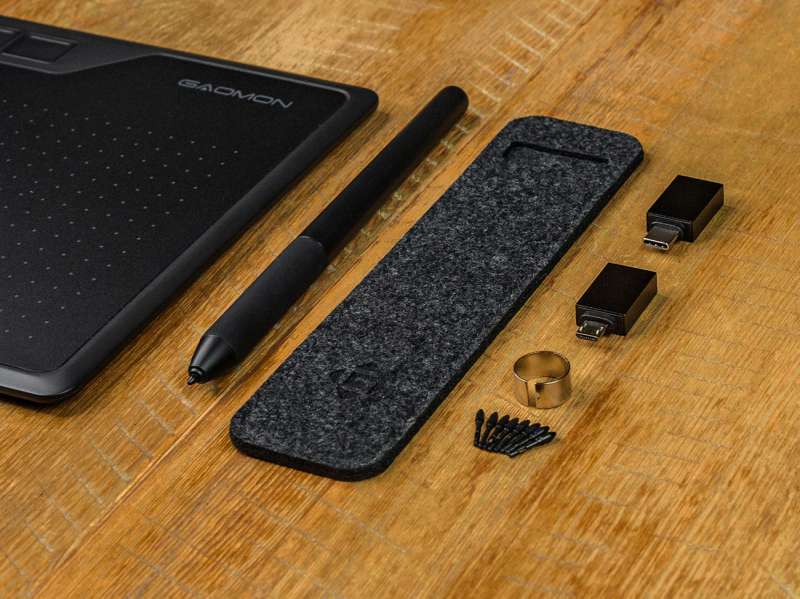 GAOMON included a nib remover, so you're able to switch the pen nibs out when it gets overused. Over time, the friction of the nib sliding on the tablet surface causes the nib to become worn out. There are plenty of extra nibs included to last you a while. Note that the USB-C OTG adapter shown in the image above is NOT included with the tablet.
On a side note, there is no pen stand included which is a shame because it is nice to keep your pen in a secure place when you are not using the pen. It can be a pain when you go to put your pen down on the tablet and it rolls away, or under some scattered papers, or worse, rolls off your desk. Anyway, having a pen holder would have been a nice addition. Several years ago, I bought the XP-Pen G430S, a smaller compact graphics tablet, which didn't come with a pen holder either. Soon after I eventually got a pen holder for the XP-Pen because I learned early on the value of having a pen holder.
What I like
Lightweight pen
Responsive tablet
Use with smartphone or tablet
Express keys
What I'd change
Include a pen holder
Add pinch and zoom feature
Add Bluetooth for wireless connectivity

Final thoughts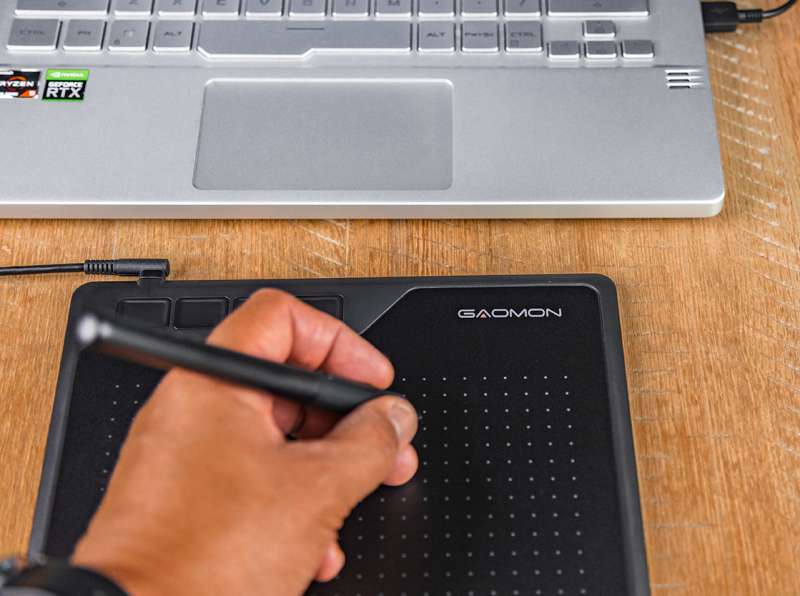 The S620 worked well when used with both my laptop and my desktop. Although, I enjoyed using the S620 with my Samsung Note 10+, I couldn't see myself using it with my phone for long. For me, the phone's screen was just too small to do elaborate work on. However, the GAOMON S620 would be sufficient to use with a smartphone considering what you are working on isn't too detailed oriented. This tablet may not have all the bells and whistles as some other tablets, but what the S620 offers would be enough for anyone, from a beginner to a professional, to use. The addition of the programmable Express Keys adds value to this graphics tablet and having these Express keys as shortcuts can help streamline your workflow.
For its modest size and features, the GAOMON S620 Graphics Tablet performs well and gets the job done. I find that it works just as well as my Wacom Intuos Pro minus the extra features of the Wacom. So, if you have only a limited space for a graphics tablet at your work area, or if you just need a smaller portable tablet on the go, then the S620 would be a good alternative to a larger graphics tablet.
Price: $39.99
Where to buy: GAOMON Store and Amazon
Source: The sample of this product was provided by GAOMON.