We use affiliate links. If you buy something through the links on this page, we may earn a commission at no cost to you. Learn more.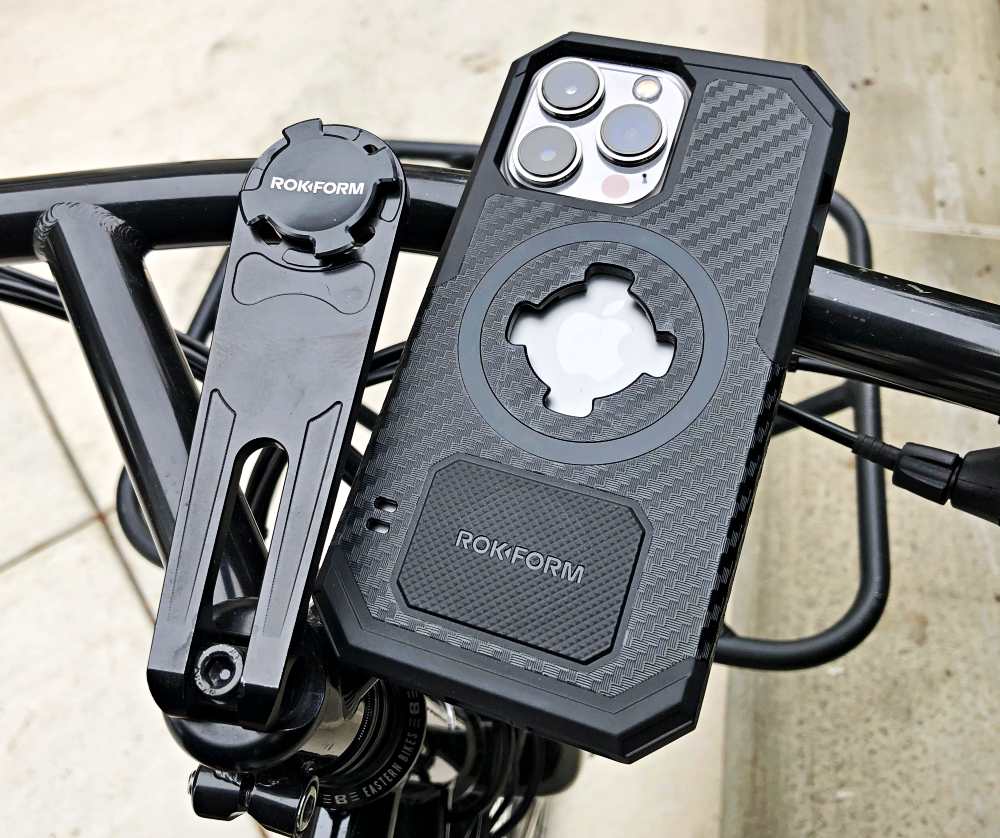 REVIEW – There are lots of so-called "Rugged" cases out there available for a variety of phones. Rokform has been making them for a long time and simply put, they make them differently. I got the chance to put the aptly named Rugged Case for iPhone 13 Pro into regular rotation and find out what their newest version had to offer. Here's how that went.
What is it?
The Rugged Case from Rokform is a highly protective case that's MagSafe compatible, has a built in mounting system and additional magnets that enable mounting to almost any metal surface.
What's in the box?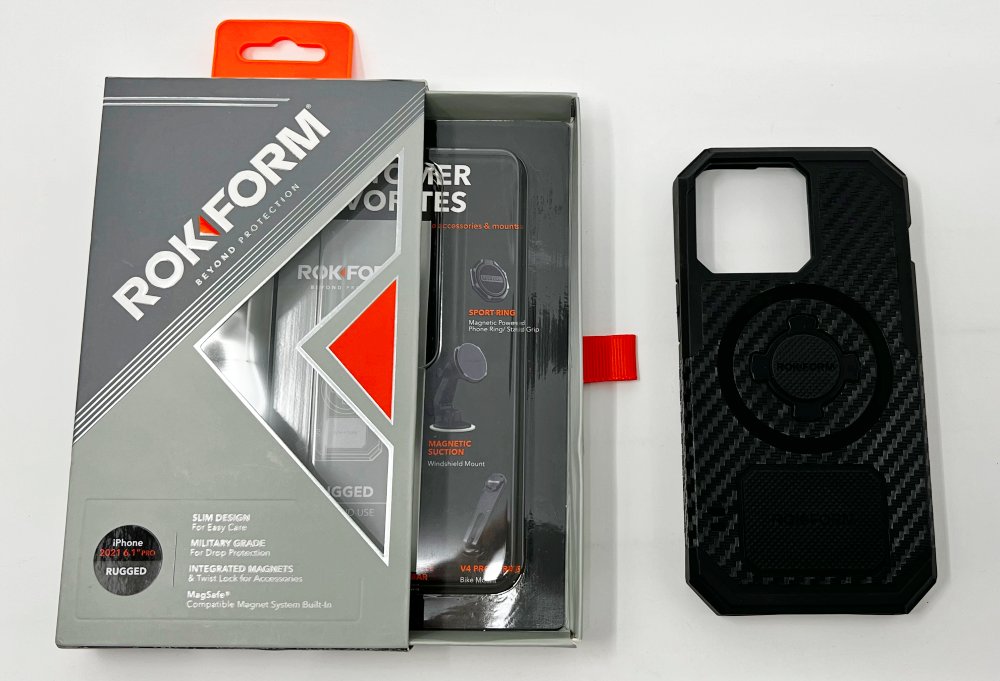 Rokform Rugged Case
Removable center-mount magnet
Hardware specs
Magnets: Two industrial strength magnets (one removable) and a MagSafe compatible array
Mount: Roklock® twist-lock mounting system built in, compatible with all RokLock accessories
Drop Protection: 4x the MIL-SPEC 801G-516.6 standard protecting your device 360º from 6 sides
Materials: Carbon fiber textured polycarbonate and grippy TPU
Design and features
It's obvious that Rokform's has a different angle on aesthetics for the Rugged case. Beyond the 45º angles on the corners, the combination of materials, textures and shapes come together to make a unique case.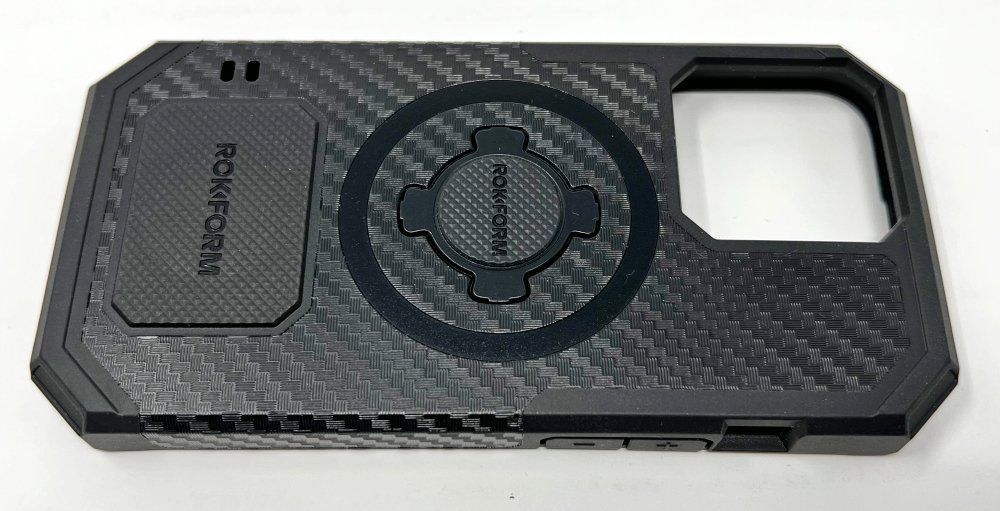 As you can see above, the most immediately noticeable features are the RokLock center-mount inside the MagSafe ring and the textured rubber rectangle hiding a magnet just below it. Inside is a microfiber layer with a hexagonal print to keep the back of your iPhone safe.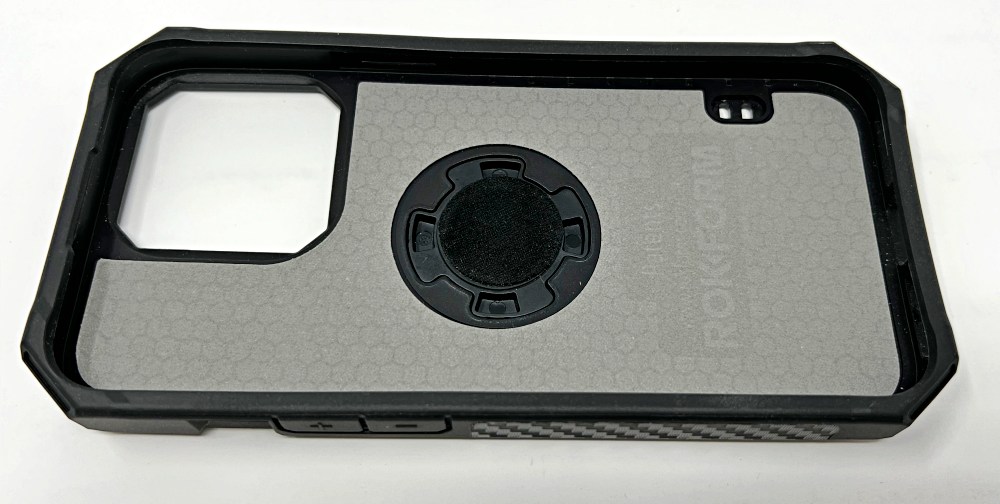 Never miss one of our posts again. Sent MON, WED, and FRI with the latest gadget reviews and news!
You can remove the center "plug" to reveal the RokLock interface.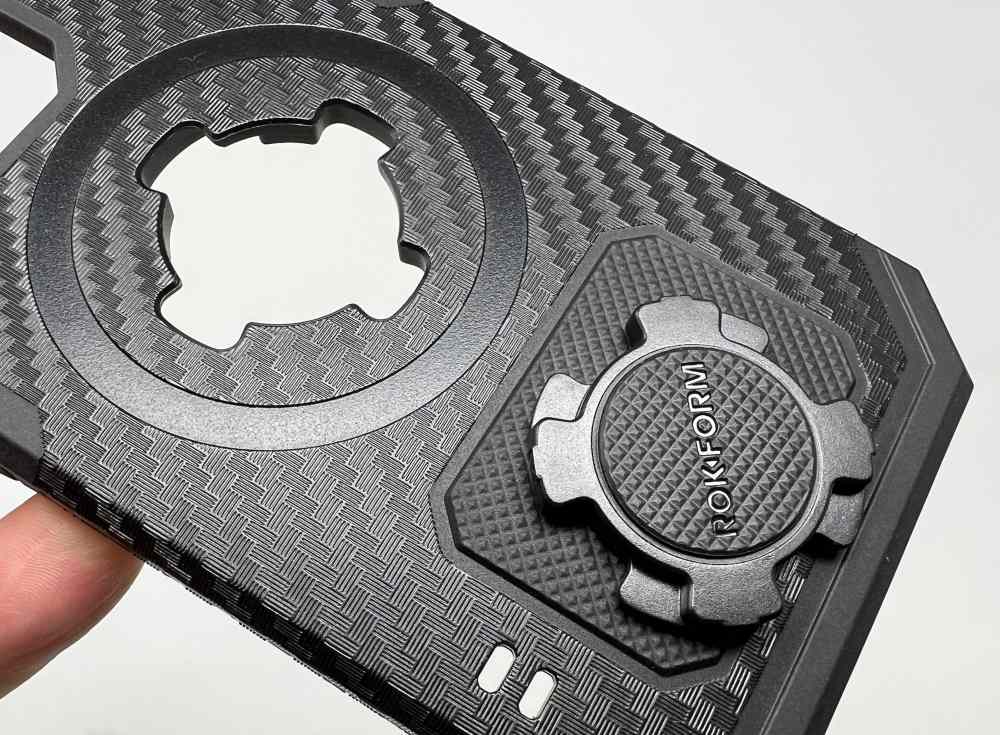 The buttons are well protected but still easy to activate.

Setup
Installing the case isn't hard, but you'll need to start with the bottom half of your phone since the case is much more rigid on that side. Then it's just popping the top of the case into place.
If you want to use the RokLock mounting system with any of the available accessories, or if you want to be able to charge via Qi or MagSafe, you'll need to remove the magnet at the center of the MagSafe circle. To do so, remove your phone from the case and then push the center magnet from the outside towards the inside until it pops free.
Performance
You can immediately tell that this case is more durable than most. It's also one of the heavier cases you're likely to come across as a result of the two included magnets. One in the lowest 3rd of the case and one in the center of the MagSafe ring that's removable. Both have a textured rubber surface that sits a little proud of the rest of the back.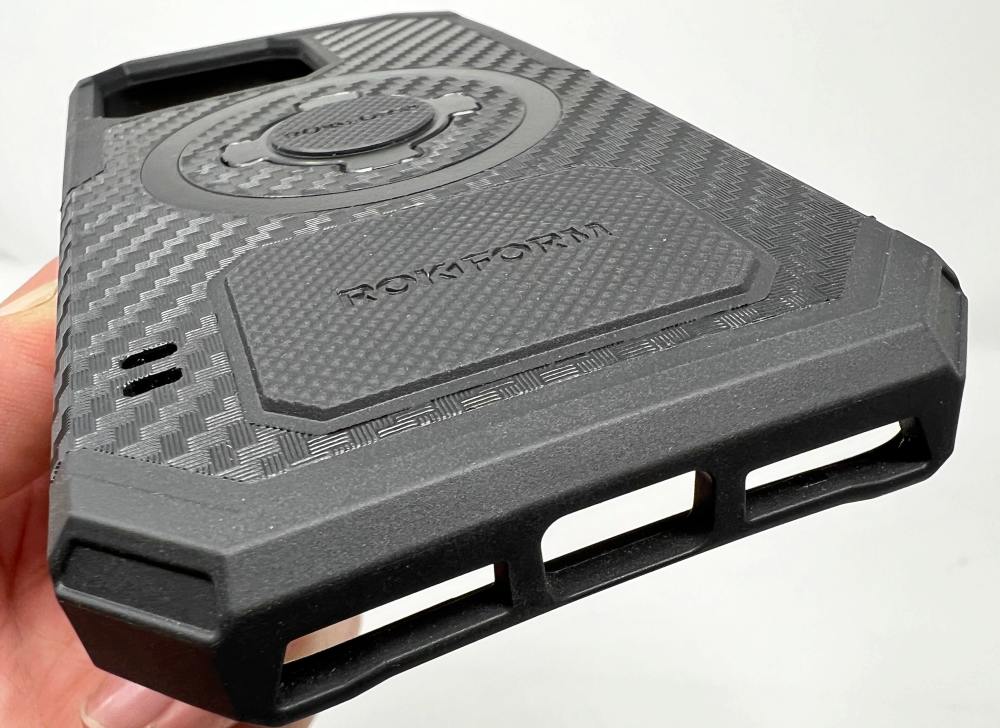 Those magnets enable a number of new use cases which you'll discover as you use it. You can attach your phone to almost any ferromagnetic metal surface like steel, iron and even some (but not all) stainless steel appliances. It can be super handy to just stick your phone to your tool cabinet while you follow instructions for some process you just looked up on Youtube. Or making sure you can't accidentally knock your phone off the metal table at the cafe because it's holding on for you. If you like to keep your phone in your front pocket, you'll also occasionally find your pants pocket get magnetically attached to your car. Yes, it's awkward.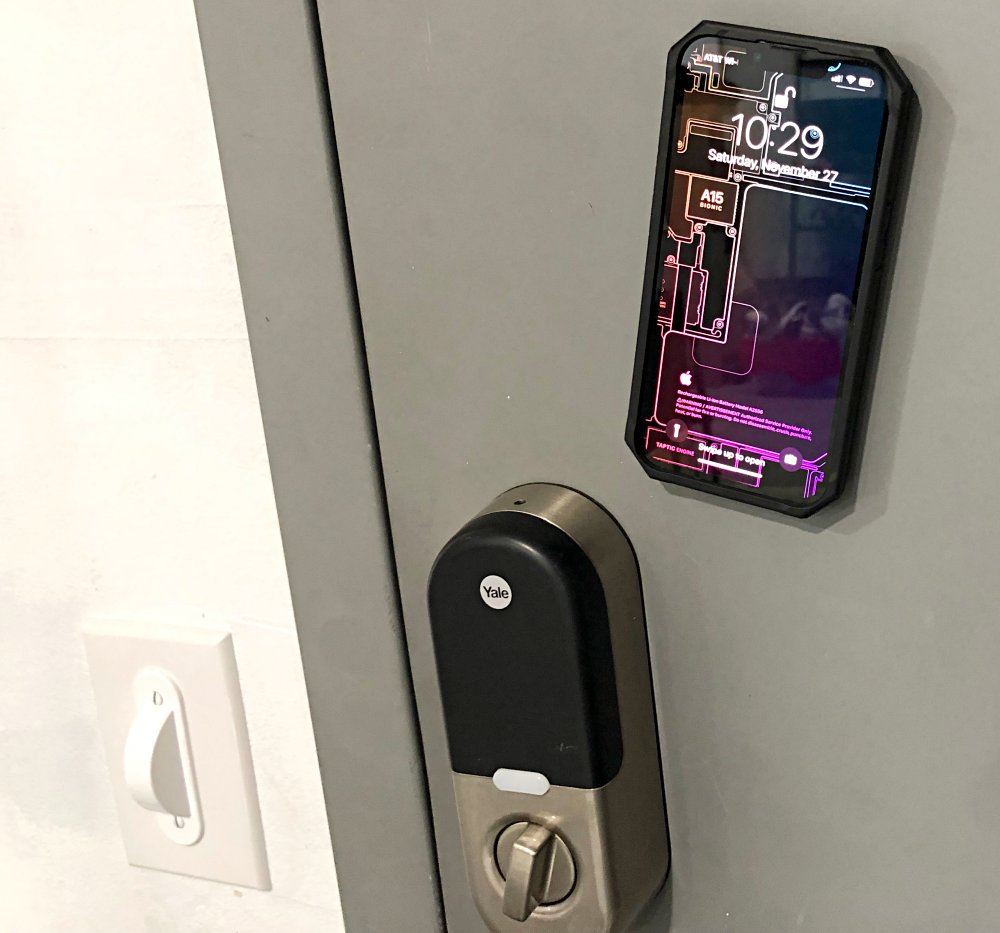 One of my favorite features is the RokLock interface. It's compatible with all of Rokform's twist-lock solutions which range from windshield to bicycle to motorcycle mounts. I've had the bike mount on a number of my bikes over the years including the newest V4 Pro Series Bike Mount which currently lives on my commuter eBike.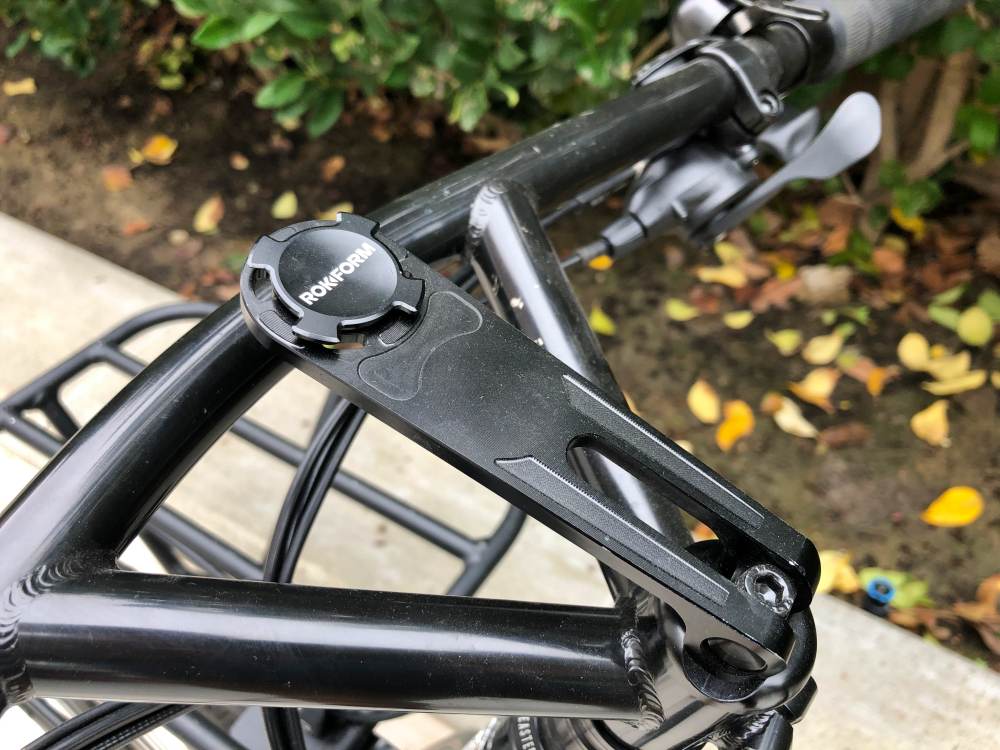 It's a rock solid solution that uses a 1/8 turn to lock the interface and then the magnets in the case and the mount align for further retention.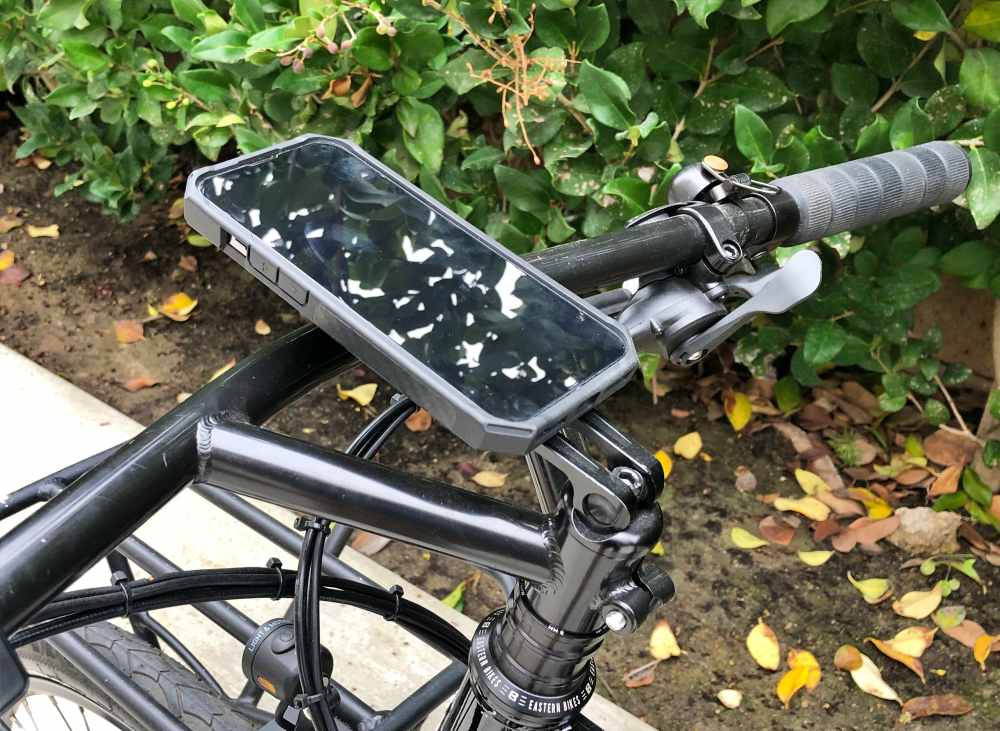 You can see a bit more of what's going on from the underside. The round silver magnet visible here was directly centered over the lower magnet on Rokform cases prior to MagSafe. Adding MagSafe to the case designs pushed that lower case magnet further down, so now the alignment is off a bit. There's still plenty of magnetism in addition to the RokLock mechanical interface, but you'll notice that as you go to place the case the magnets auto-center in a way that does not align properly for RokLock so you have to fight the magnetism a bit to lock it in. Not a big deal, but annoyingly noticeable.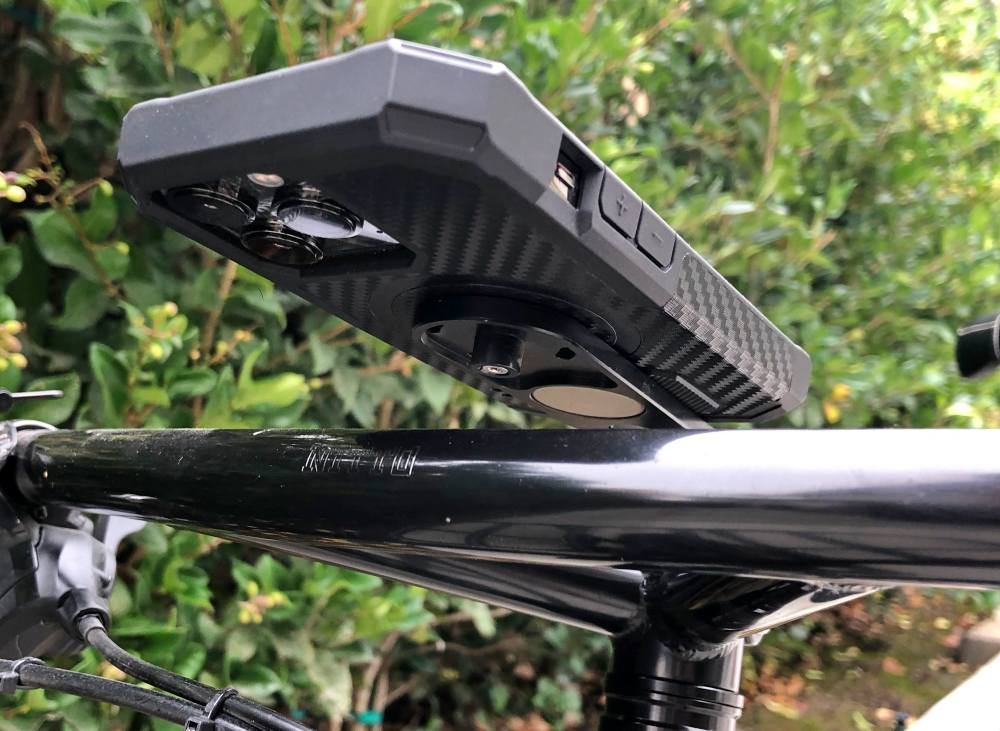 In case you're wondering how robust the RokLock system is, here's a video from 2021 with the iPhone 12 Pro Crystal Case mounted to my eMTB bike. This was a fun day biking where I overshot a landing and got a bit crooked in the air, took a big impact and tumbled but my phone never budged.
The first time you drop it you'll notice it sounds different. The combination of polycarbonate and TPU protects all sides and those corner hits sound quite a bit softer. I don't advise dropping your phone for fun, but you'll be glad to have that extra level of protection.
The one drawback of the center magnet is that it disables, or at least interferes with wireless charging. So unless you only charge with cables you'll want to take it out. You'll also need to remove it to use any of the twist lock accessories. This sets up a viscous cycle of installation and removal if you want double magnets, but also want to charge wirelessly or use the RokLock mounts. The good news is that even just a single magnet at the bottom is strong enough to mount your phone magnetically and then the RokLock is open for use and wireless charging is go.
What I like
Burly construction and unique angular shape
Serious protection for your phone
Compatible with screen protectors
What I'd change
Would like to be able to remove the center magnet without having to remove the phone
Bummer that the Bike Mount Magnet is off-center with the new MagSafe cases
Definitely one of the heavier cases out there at 70g without the center magnet in place
Final thoughts
The Rugged case from Rokform is easily one of the most protective cases you can get for your new iPhone. The built in magnets provides some cool mounting opportunities and with the available bike, motorcycle and car mounts it'll go wherever you need it to. If the additional weight doesn't bother, this might be the case for you to Rok.
Price: $59.99
Where to buy: Rokform and Amazon
Source: The sample of this product was provided by Rokform