We use affiliate links. If you buy something through the links on this page, we may earn a commission at no cost to you. Learn more.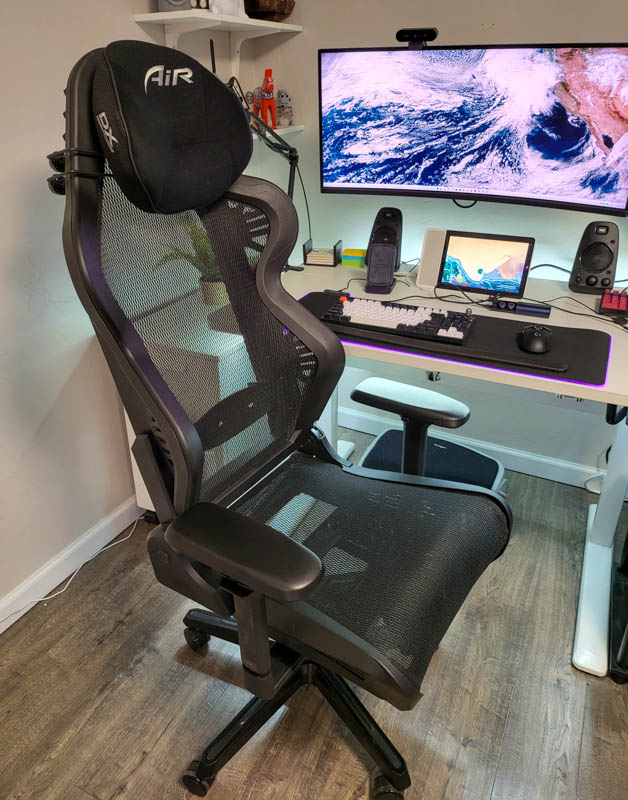 REVIEW – Most of you are probably familiar with "gaming chairs" or "racing chairs", given their massive popularity in recent times. You can't watch a streaming gamer without seeing an eye-catching chair at some point, but in my experience looks don't always equal comfort. I've tried so many different office chairs over the years that I've lost count, but when I switched to working remotely full time almost a decade ago I immediately found out that an office chair that is "comfortable enough" for a few hours can become a torture rack when used for 8+ hours a day. Price doesn't always equal comfort as well, I've had some $500+ chairs that were out-comforted by $200 Ikea high-back office chairs. My ideal office chair needs to be comfortable enough for long work or gaming sessions, and if it can keep my back and behind from getting sweaty, then that's a bonus. I prefer high-back office chairs and need lumbar support or my spine will be hurting by end of day. The DXRacer Air Breathable Mesh Gaming Chair seemed to tick most of my boxes, so I was excited to give it a go. After several weeks of constant use (sometimes 12+ hours a day) I can confidently say that this is a great chair for many people, but probably not all. Chair comfort seems to be pretty subjective, and a couple of things limit the body shape and size that will find this model comfortable.
What is it?
The DXRacer Air Breathable Mesh Gaming Chair is a chair. It has wheels to glide around on hard floors (you'll want a hard mat or different wheels if you're on carpet). It is a chair with shoulder and hip supports akin to a sports car seat (hence the "Racer" moniker). DXRacer has used a new high durability mesh design for the seat and back for better airflow and comfort.
What's in the box?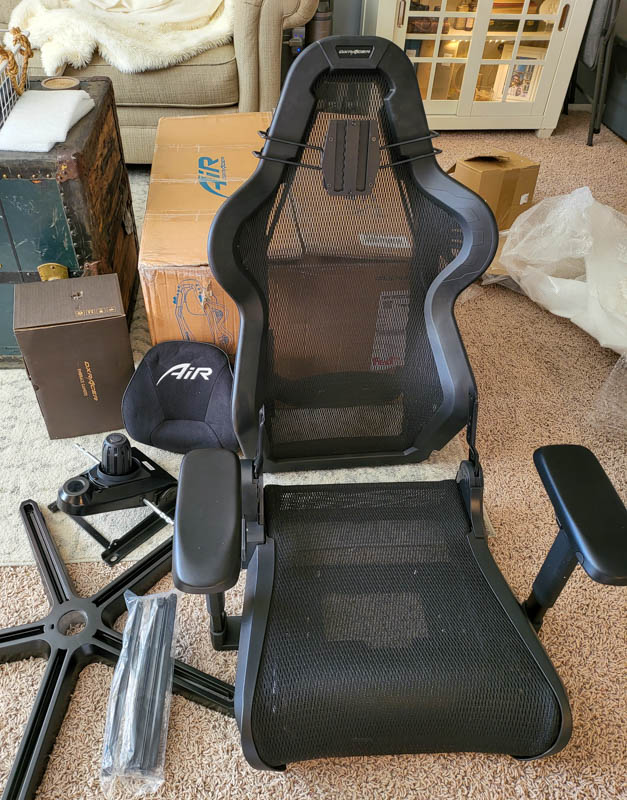 DXRacer Air Breathable Mesh Gaming Chair
Manual
Installation tool
Hardware specs
Recommended User Weight: Up to 250 Lbs (113 Kg)
Recommended User Height: Up to 6'2″ (1.88 M)
Chair cover material: Highly Resilient Mesh
Armrests: 4D Adjustable (XYZ direction plus horizontal plane tilt locking adjustments)
Gas Lift Class/Specification: Class 4, 70/40 (G1-01-N0-70(40)mm)
Base: 5-arm Aluminum (B1-03-W0-R350mm ; B1-22-Q1)
Casters: 60 mm Caster/PU
Back Angle Adjustment range: 135°
Adjustable Headrest
Adjustable Lumbar (height)
Metal Frame
Weight: 46.96 lb / 21.3kg
Warranty: 2-year for Accessories, Lifetime for Frame
Eco-conscious: Less Harsh Chemicals/REACH Certificate
ANSI/BIFMA Standards: Meets/Exceeds
Installation and setup
Installation was pretty straightforward, the included manual was easy to follow. After simply pushing the casters into the base, you flip it over and install the plastic trim strips on each spoke of the base. Pay attention to instructions here, I put one in the wrong end first and had to pry it out: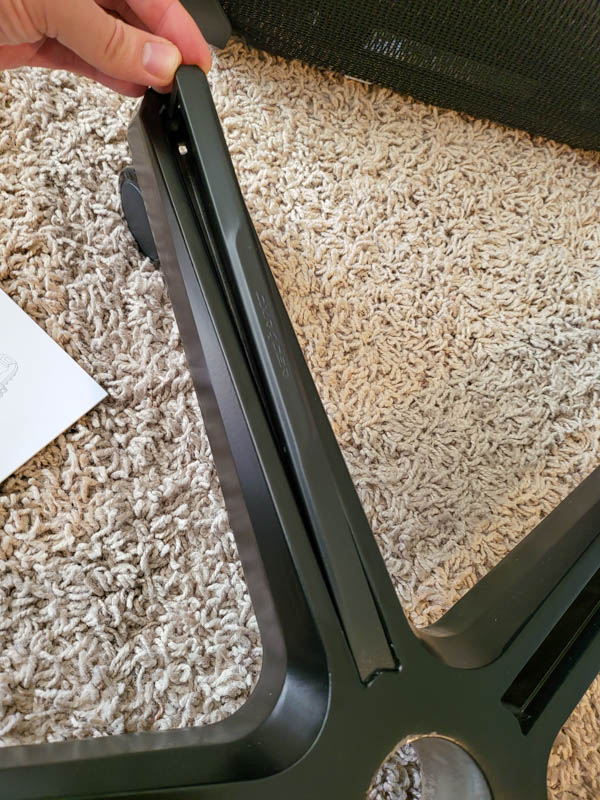 Next up you simply drop the gas lift into the center of the base.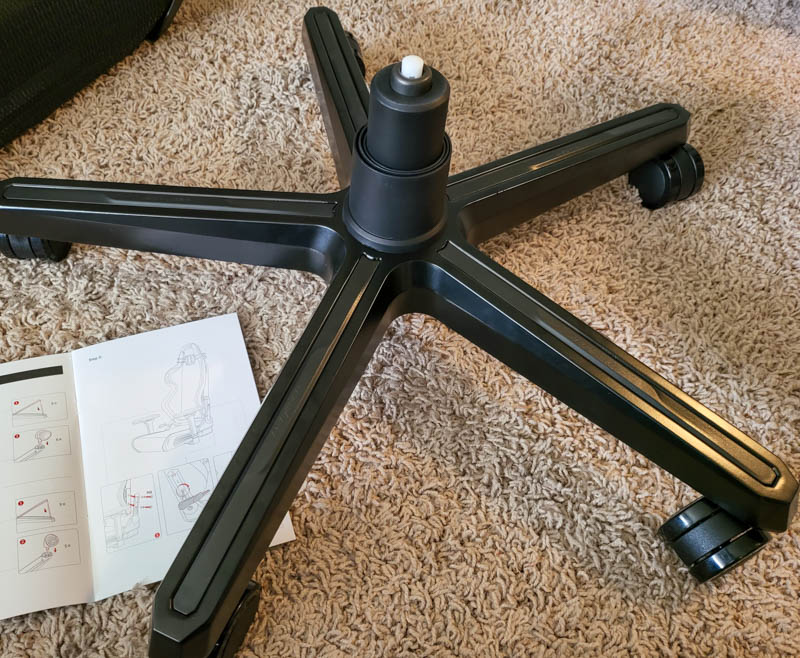 The included tool for installation was one of the better ones I've encountered. Often these cheap installation tools are of such soft metal that they strip immediately, I usually grab my toolset and use my own stuff instead of the included tools but in this case, it worked great. The seat back screws onto the seat base with a pair of screws, then this connection point is covered by a snap-on plastic trim piece. I love it when companies pre-install screws and washers so I don't have to hunt for "Screw G and washer 4" for each slot.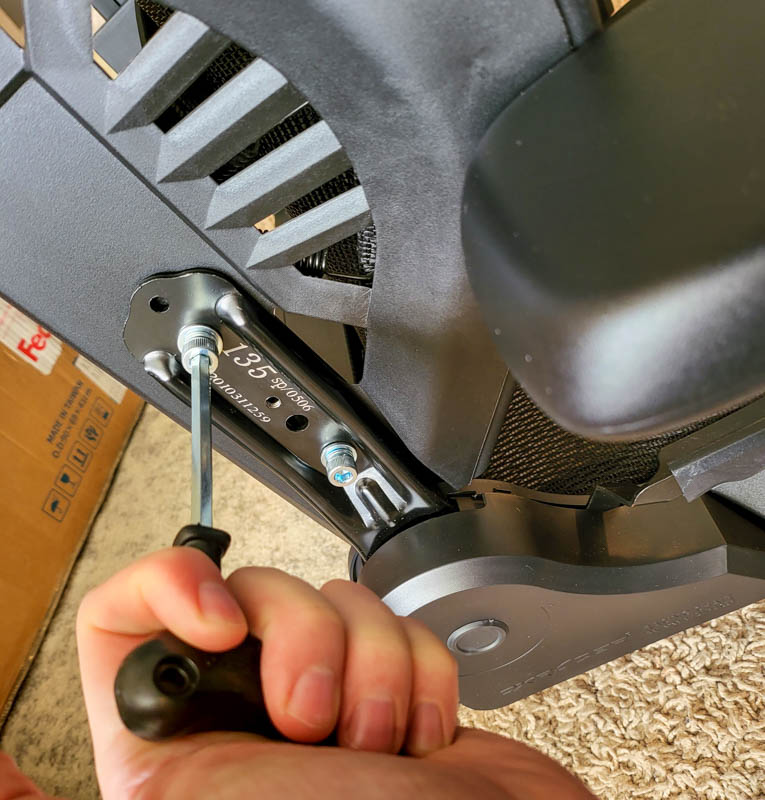 The armrests were already attached to the seat base, but they do have a few millimeters of adjustment if you find them to be too wide: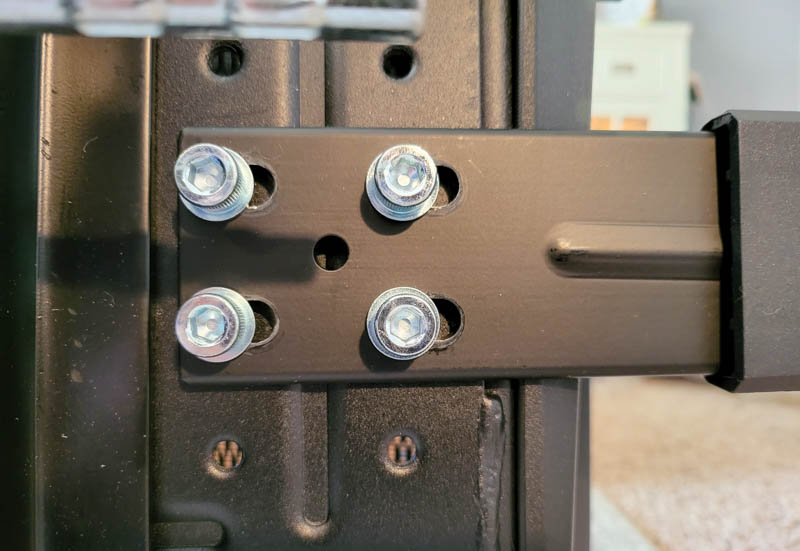 The plastic levers simply slide onto protruding posts: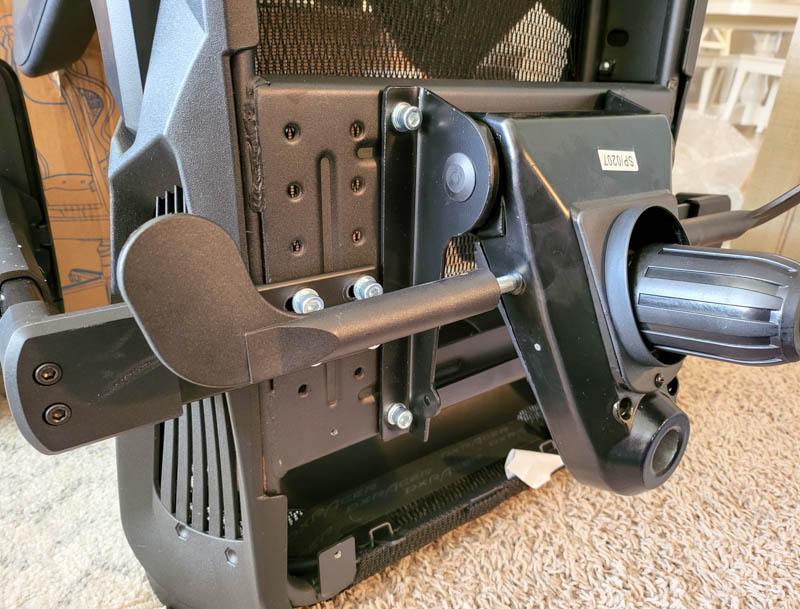 And once you have the upper portion of the seat all put together, you simply place it on top of the gas lift: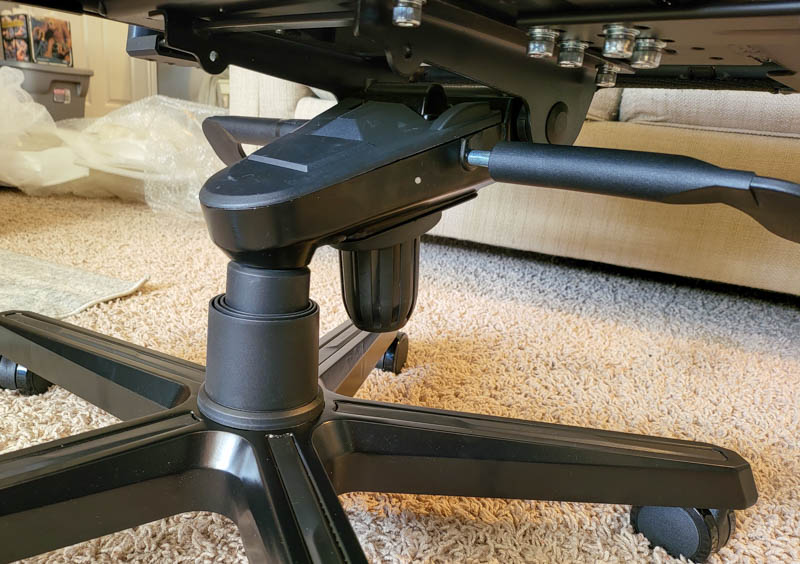 At this point, you can sit on the chair once, and the friction will keep the base and seat together (I lifted it and took it down a few flights of stairs with no worry of the base falling off). Total assembly time was under 30 minutes solo, and would have been a bit quicker with 2 people.
Design and features
First of all, my biggest regret is that I opted for the all-black version of the chair. After seeing the other color options, I wish I'd tried something a bit more flashy: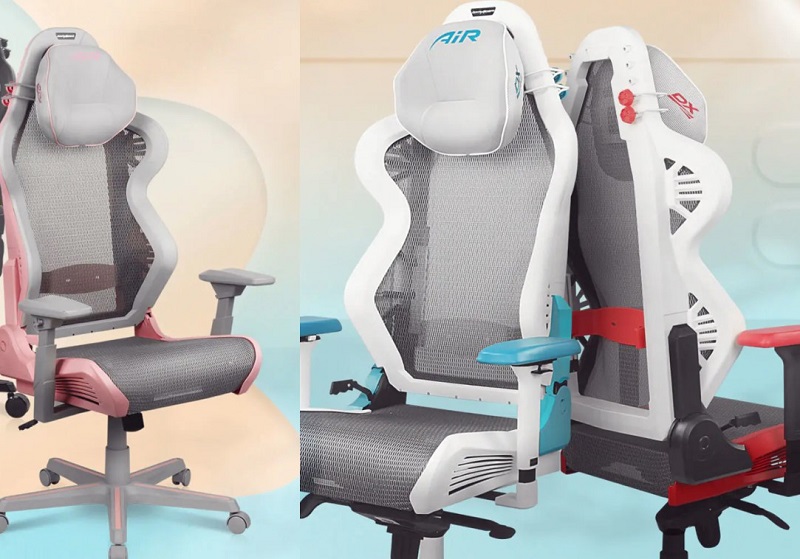 That said, the all-black version looks great. The chair basically looks like DXRacer took their existing popular racing chair models and converted it to have an all-mesh design.  It also has some springs under the seat to aid ergonomics (these appear to be stretching the mesh tighter in strategic locations. Stitching and finish are good, I didn't notice any major flaws or blemishes.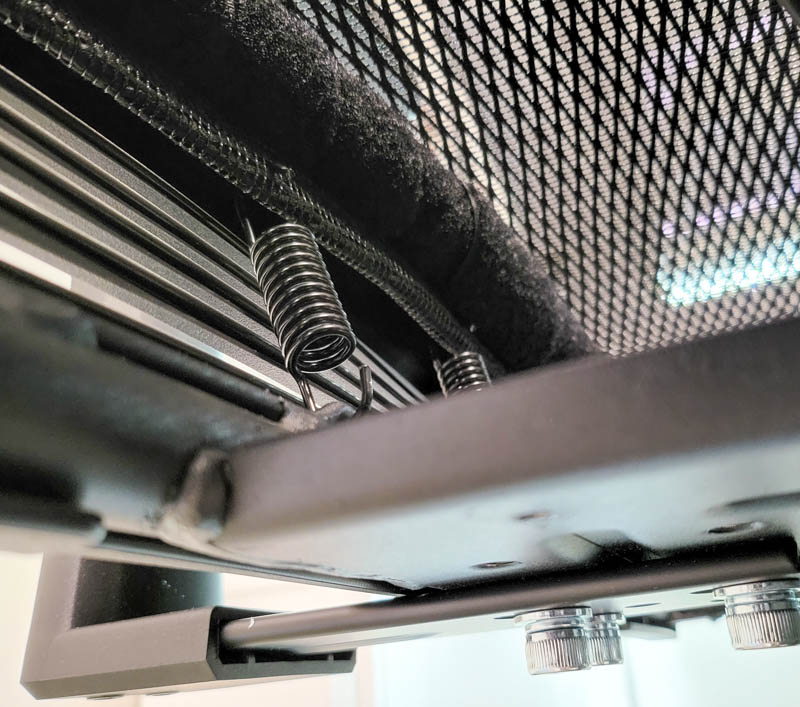 The mostly aluminum base is quite sturdy and solid. The center strip of each spoke of the base is plastic and on different colorways are different colors.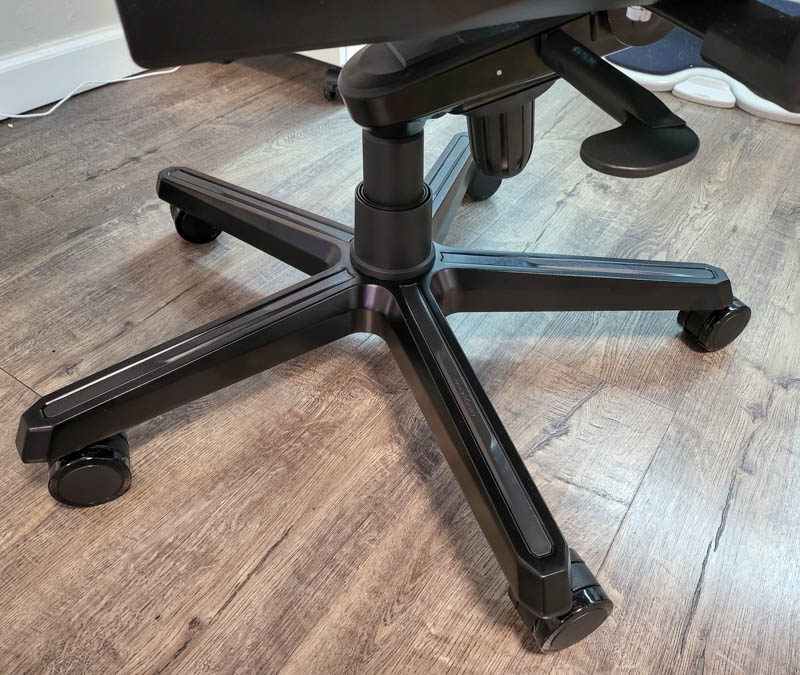 The armrests are fully adjustable (up/down, in/out, forward/back, and a swivel tilt along the horizontal plane). Each of these adjustment options lock and are unlocked by pressing a button. These had the same range of movement as most other chairs I've used, I could easily lock them into a comfortable position as I shifted during the day. The armrests are topped with a padded plastic that was fine for all day use and easy to clean.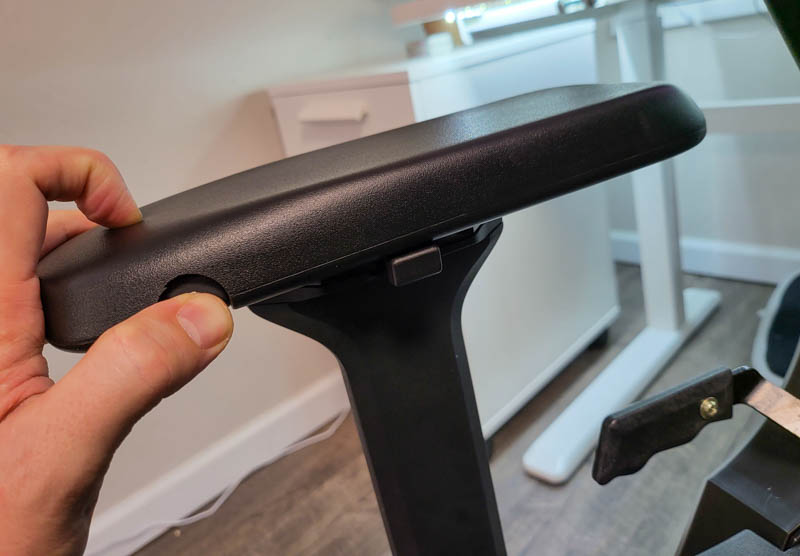 The lumbar support has a pretty decent adjustment range, and is moved by simply sliding it up or down. The amount of lumbar support can't be increased or decreased, but by moving the location it feels more and less supportive as needed. The lumbar support bar is built out of plastic, I would have liked to see metal here, but it does seem to be a sturdy plastic so hopefully, it will last.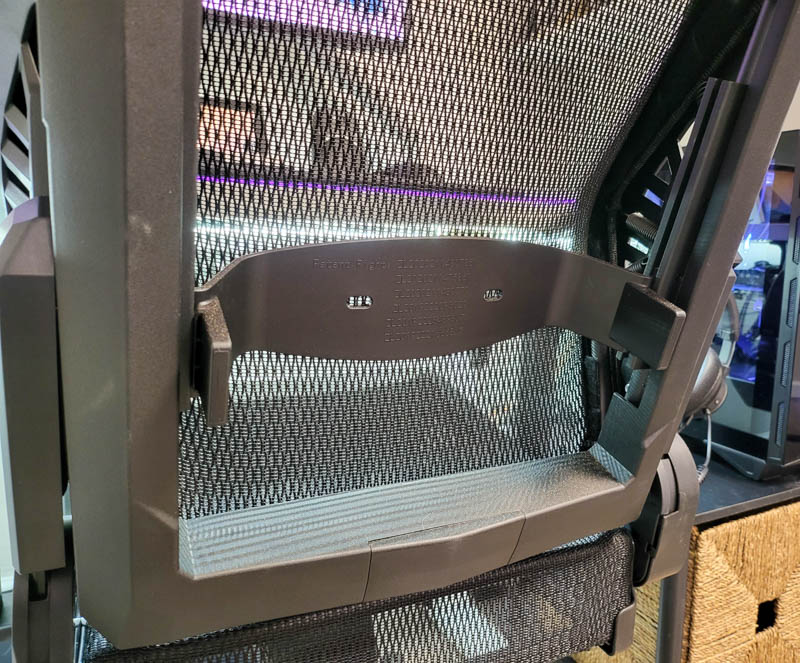 The headrest pillow is a very comfortable memory foam with a plush exterior. It can be adjusted up and down on a clicking track and it stays in place. It was just on the edge of where I'd want it, but I'm an inch over their recommended height so I would expect that. At the highest setting it is still great for all day use, but an inch more "track" would probably be just a tiny bit better for taller users.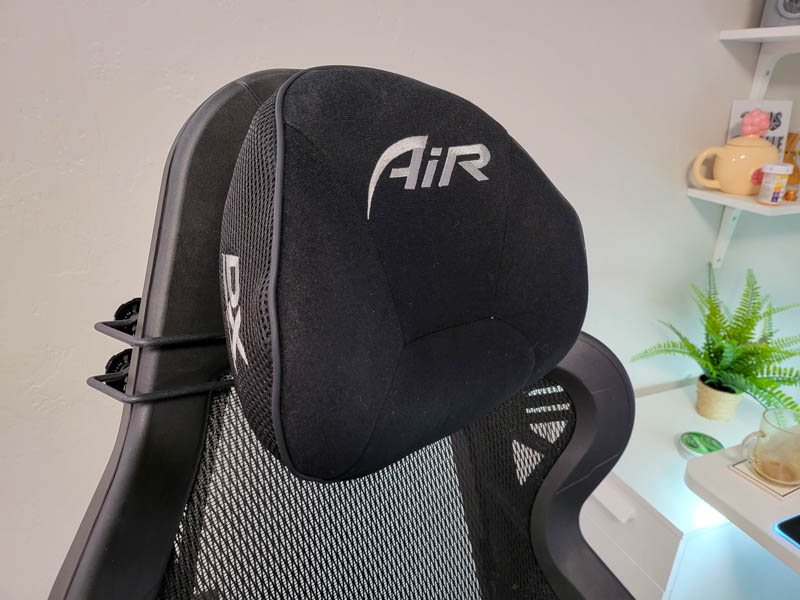 They could have easily accomplished this extra headrest movement by allowing you to remove the headrest's default location and screw it in on a higher location (there are functional screw holes higher up, but the head rest bracket is a fixed size and doesn't work on any other position besides the bottom holes. DXRacer does sell accessories like a detachable foot rest or laptop/tablet holder, so maybe these are used for some type of accessory?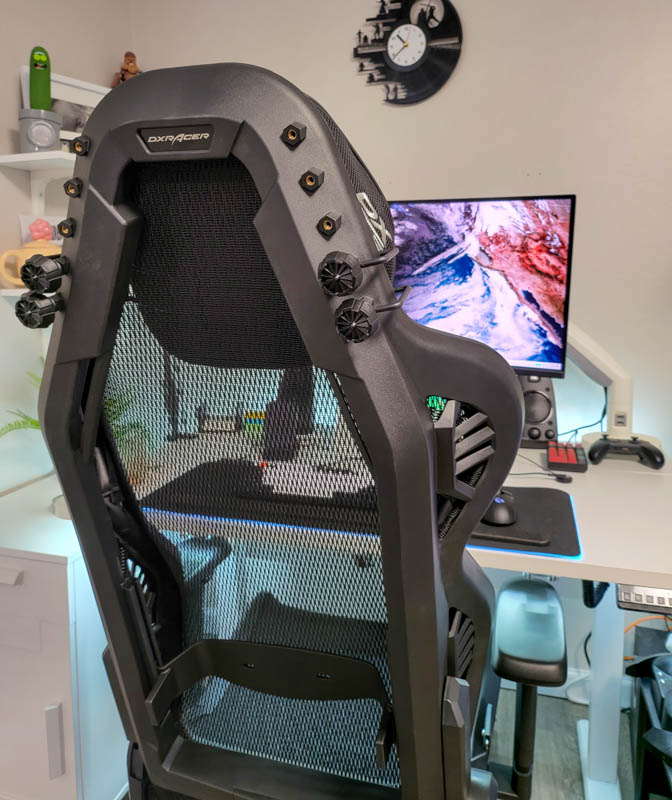 The entire seatback reclines to 135°. The lever in the photo below adjusts that, and is similar to manual car seatback adjustment levers. Fully reclined was too far for me to use comfortably for anything but a nap. The ability to adjust this helps with all-day comfort, I often switch between nearly 90° and a more reclined position to minimize strain on my aging body parts.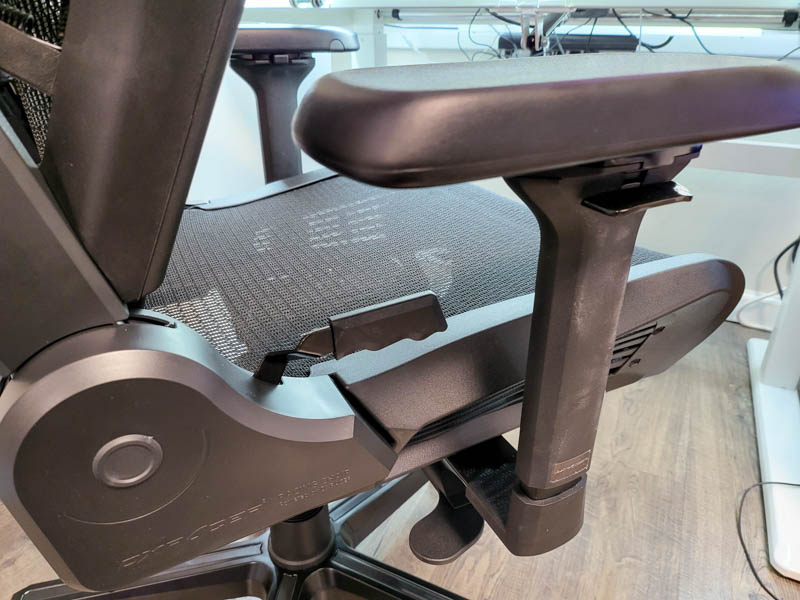 The casters are some of the smoothest casters I've ever scooted around on. They feel effortless, I love them.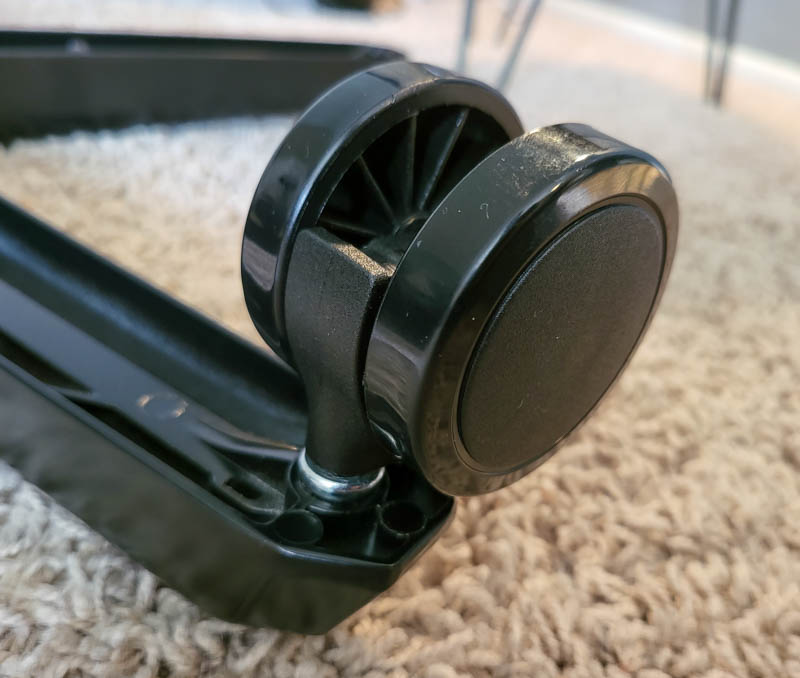 I haven't even talked about the mesh yet! 5 minutes into using the DXRacer Air Breathable Mesh Gaming Chair I was shocked to find my back and bottom to be ice cold. My office is usually pretty cold in the fall and winter, but previous chairs resulted in sweaty… parts. This was the polar opposite, it felt like I had air conditioning washing over my back half. In a room with a normal temperature, it feels great. If you have normal to warm rooms, you're going to love the mesh material, but if it's cold then you might have to start using a space heater or wearing layers. The mesh was comfortable to sit in for long periods too, with my previous memory-foam padded chair I would get pressure points after many hours, but while the DXRacer Air is firm I never felt that same pressure or numbness.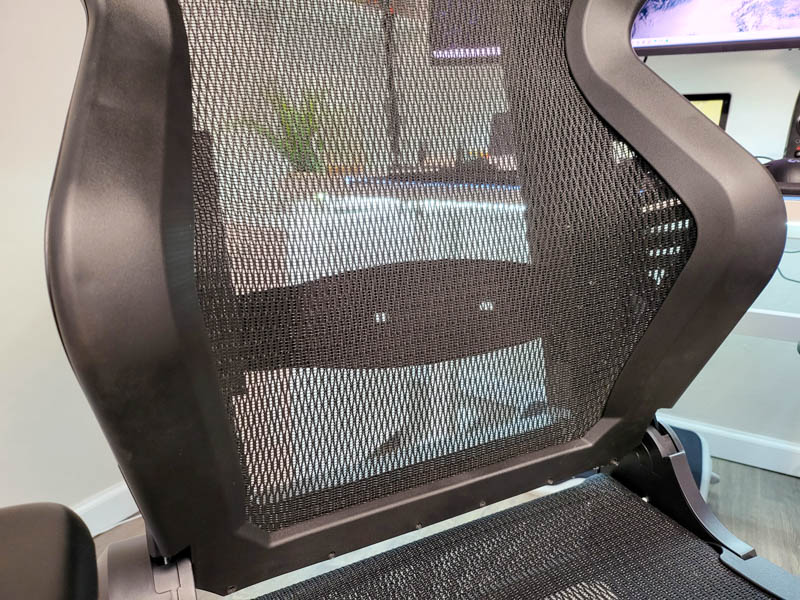 The shoulders and hips area of the chair have fairly aggressive support. As long as you fit within this support area you'll like it, but my wide shoulders were right on the edge of comfort here. Another inch or two of shoulder or waist weight gain and I'll probably be uncomfortable in this chair. For reference, I'm a 6'4″ and ~210 lbs with a hybrid athletic/dad-bod build. I was worried that the mesh seat would bow and feel like I was sinking to the middle, but they have managed to design it in a way that stretches it flat.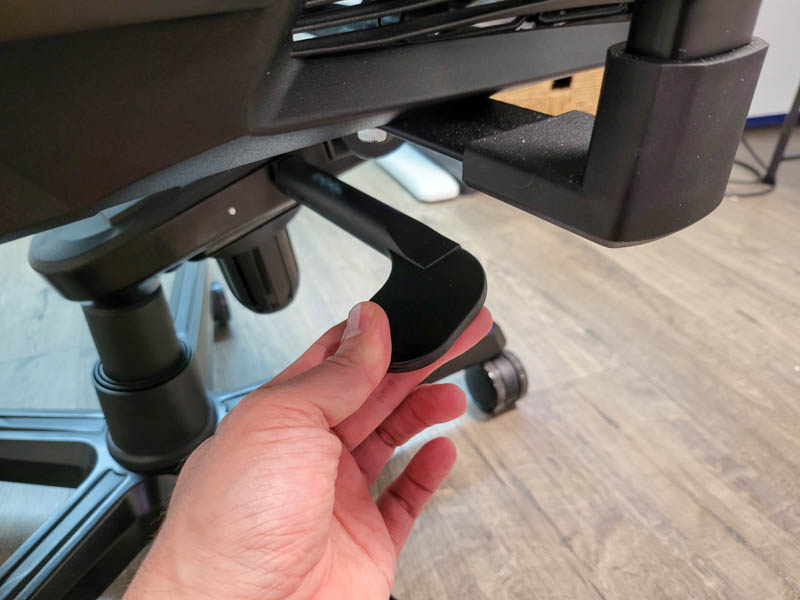 There are two levers on the DXRacer Air Breathable Mesh Gaming Chair, one to adjust height and the other to lock/unlock the leanback tilt of the chair. Combining the back-tilt option with the leanback-tilt results in a huge variety of positions. It's easy for me to find a comfortable one and to switch it up as the day goes on. The amount of spring resistance to leaning back can also be adjusted, but I found it to be a bit too weak for my liking; I simply lock the chair in place to my desired spot.
Fit and finish are excellent, I had no creaking parts or wobbly bits. It feels like a product built to last a long time, and they back the chair with a 2 year warranty plus a lifetime warranty for the frame. I have a feeling that I'll be using this for years to come!
What I like
Back and derriere cooling
Decent lumbar support
All day use comfort
What I'd change
More adjustable headrest
More lumbar adjustability
Hip and shoulder support might be too aggressive for some body types
Final thoughts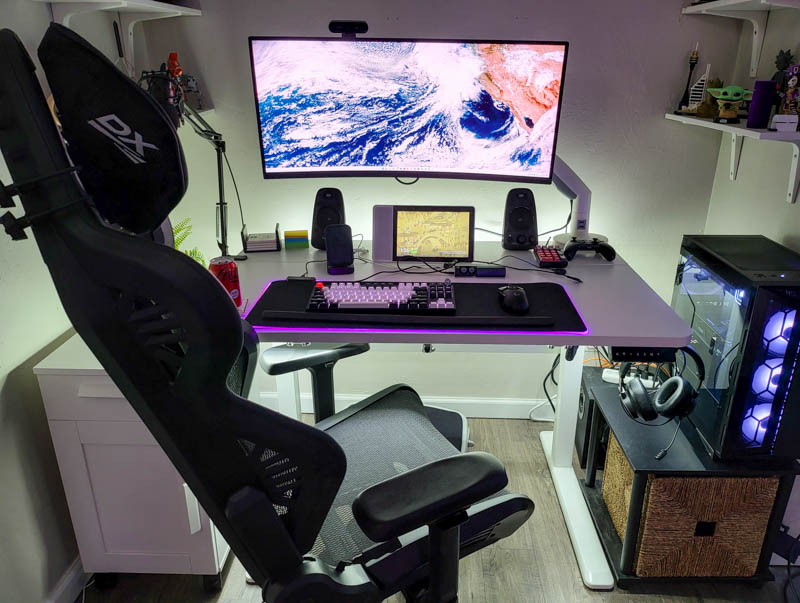 The last racing style chair I used was uncomfortable in many ways: it squeezed my hips, the seat padding was insufficient and hot, the lumbar support was just a pillow that was too large, and it was just miserable to use for more than an hour. The DXRacer Air Breathable Mesh Gaming Chair is only ~30% more expensive than my previous racing chair, and is comfortable on top of keeping all my back parts cool. DXRacer has attracted a large following in the last few years, and after using the DXRacer Air Breathable Mesh Gaming Chair, I can see why. Good looks and good quality justify the price for me ($499 at time of review).
Update 6/10/22
This chair has remained my daily driver for over 6 months now, and it's still working as well as the day I assembled it. I've had no broken parts, and best of all the seat doesn't seem to be stretching or sagging at all. With all of my previous foam-seated office chairs, I've had issues at the 6-18 month mark when the foam starts to compress to the point where it's not as comfortable for long stretches anymore. With the DXRacer Air Breathable Mesh gaming chair, it's not quite as comfortable as a cushy foam seat on day 1, but it is much cooler on your tuchus, and it seems like long term it will hold up better than all but the most premium of foams.
Price: $499
Where to buy: DXRacer and Best Buy
Source: The sample for this review was provided by DXRacer