We use affiliate links. If you buy something through the links on this page, we may earn a commission at no cost to you. Learn more.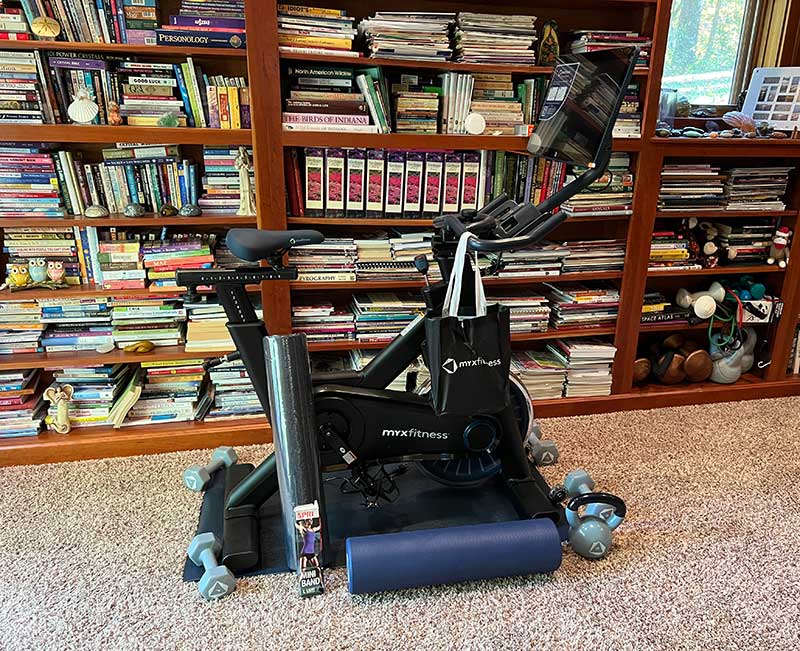 REVIEW – I walk for 20 minutes 2 times a day on the treadmill and do strength training 4 times a week using a TotalGym. I've been doing this for years and although it helps to keep me active, and relatively fit, doing the same thing day after day, week after week, month after month, and so on, it can get boring. So when I was given an opportunity to test the MYXfitness MYX II Plus fitness bike, I was excited to try a new piece of fitness equipment. Let's check it out.
What is it?
The MYXfitness MYX II Plus is a professional quality stationary exercise/fitness bike that you can use to workout to live and on-demand classes from Beachbody On Demand and Openfit subscription fitness services.
What's in the box?
MYXfitness MYX II Plus fitness bike
21.5 Touchscreen display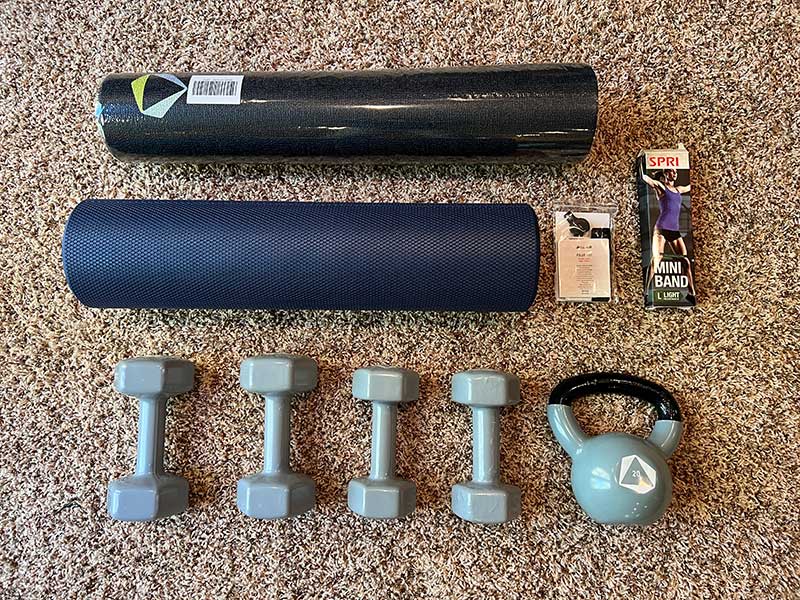 Foam roller
Yoga mat
Polar OH1 heart rate monitor
SPRI mini band exercise band
Hand weights
Kettlebell
Hardware specs
Bike dimensions: 54″ L x 21″ W x 47″ H
Bike footprint: 3′ 4″ L x 1′ 7″ W
Weight: 150 lbs
Rider height range: 4′ 11″ – 6′ 8″
Rider weight capacity: 350 lbs
Q-factor: 165mm
Pedal diameter: 18mm
Seat height and depth adjustability: Yes
Handlebar height and depth adjustability: Yes
Cycling shoes optional: Yes
Design and features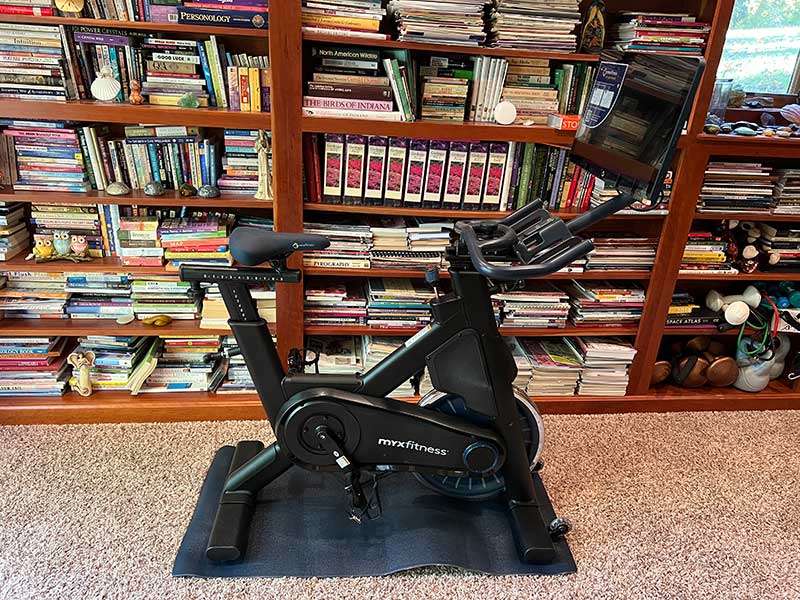 The MYXfitness MYX II Plus is a professional quality Star Trac spin bike and no, you don't have to assemble it yourself. Your purchase of the MYXfitness MYX II Plus fitness bike includes white-glove delivery service which means that they come into your house and completely set up the bike just like you see in the first image of this review. You don't have to assemble anything. When they delivered mine, it was pretty much already assembled. They just rolled it into the house where I wanted it set up and added all the final touches.
When the delivery people leave your house, you're instantly ready to hop on the MYX II Plus bike and take your first ride after you sign up for an account through the touchscreen. Although you can ride this bike without an MYXfitness subscription, you would be missing out on what makes this bike so great. But more about that later. First, let's look at the bike itself which is available in black or white.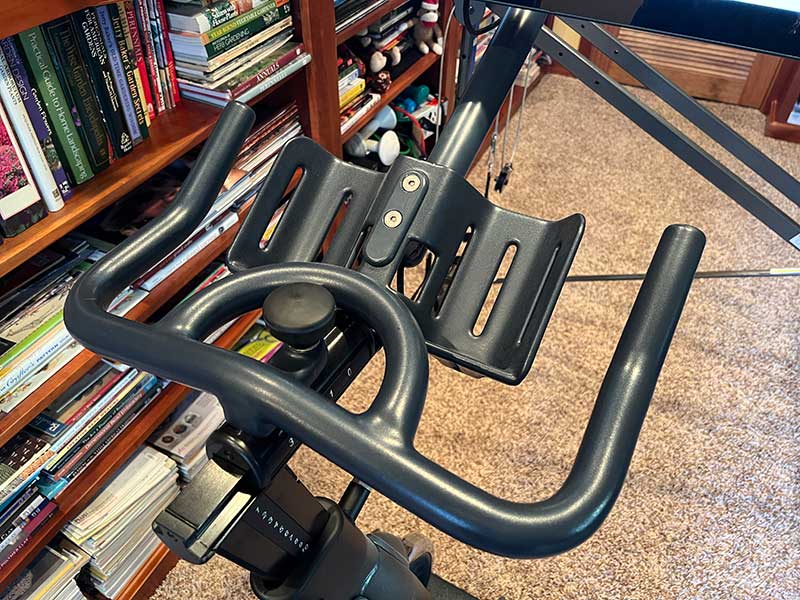 The MYX II Plus has racing-style handlebars that have a soft rubbery coating. There are various handhold areas that you can use during different ride styles.
You'll also notice that there are two large bottle holders. I use one for a water bottle and the other one for my phone.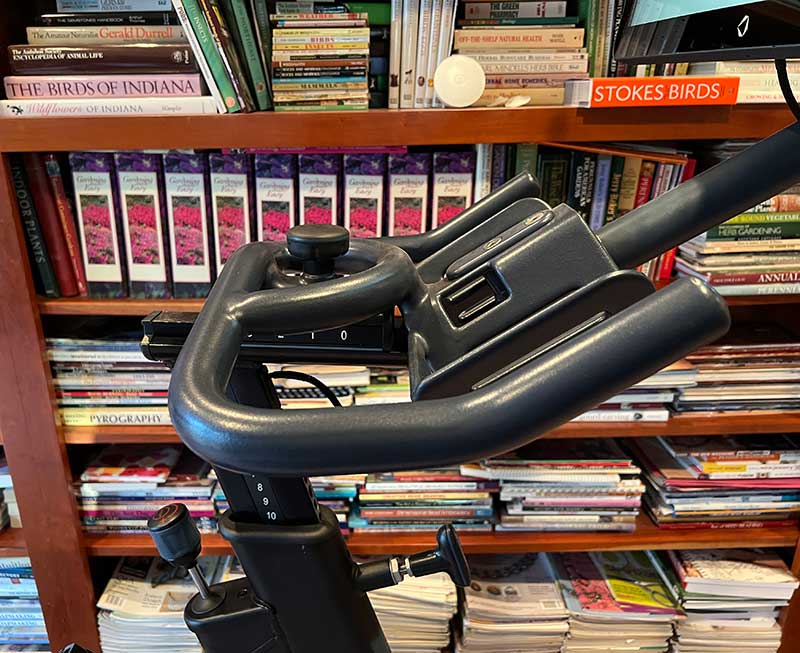 In the center of the bars is a knob that you can use to adjust the distance between your body and the bars. There's also a knob that will let you adjust the height of the handlebars. The third knob in the image above and below is the resistance knob which adjusts how easy or hard it is to pedal the MYXfitness MYX II Plus fitness bike.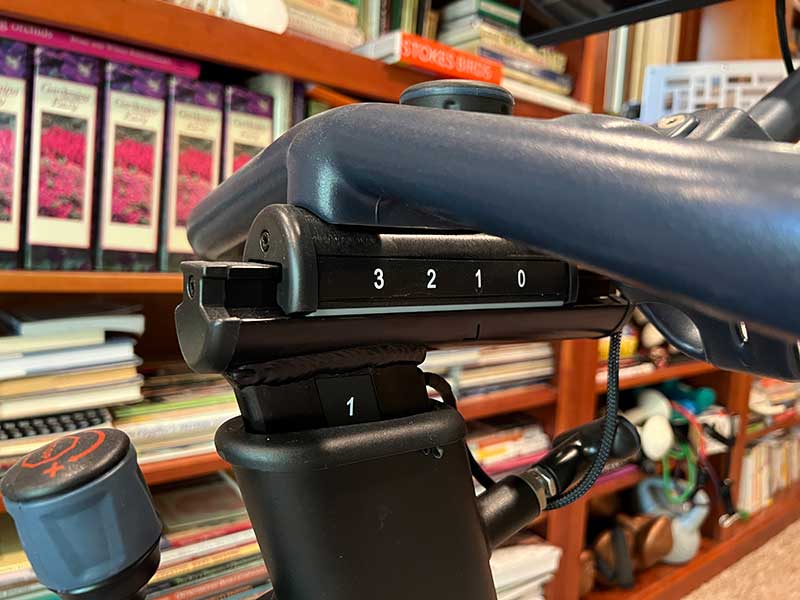 Adjusting the height of the handlebars is pretty difficult to do on your own due to their weight with the attached touchscreen and the fact that the adjustment knob is spring-loaded and has to be pulled out before you can lift the handlebars with the attached screen.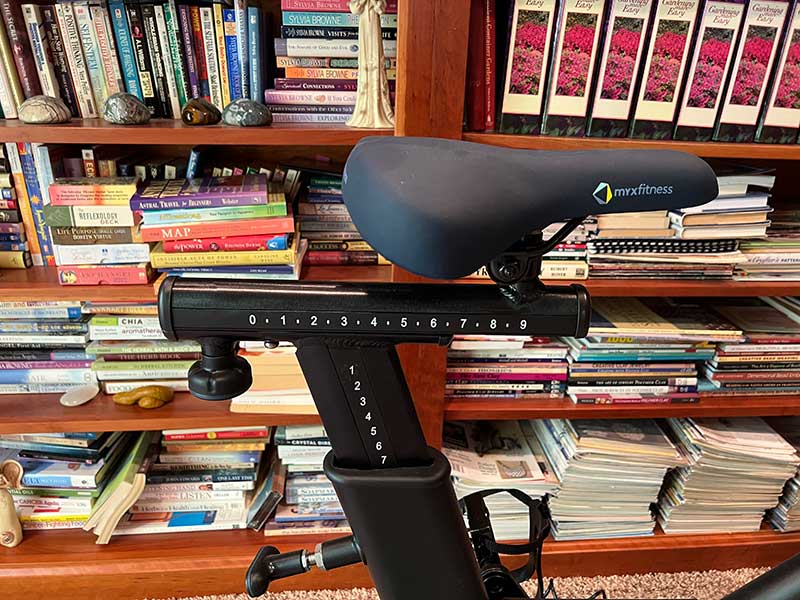 The MYX II Plus seat/saddle is also racing style. Just like the handlebars, you can adjust the vertical and horizontal settings.
I hadn't been on a bike in decades and found the seat to be pretty uncomfortable to sit on. I bought a padded cover from Amazon which I thought would help but didn't.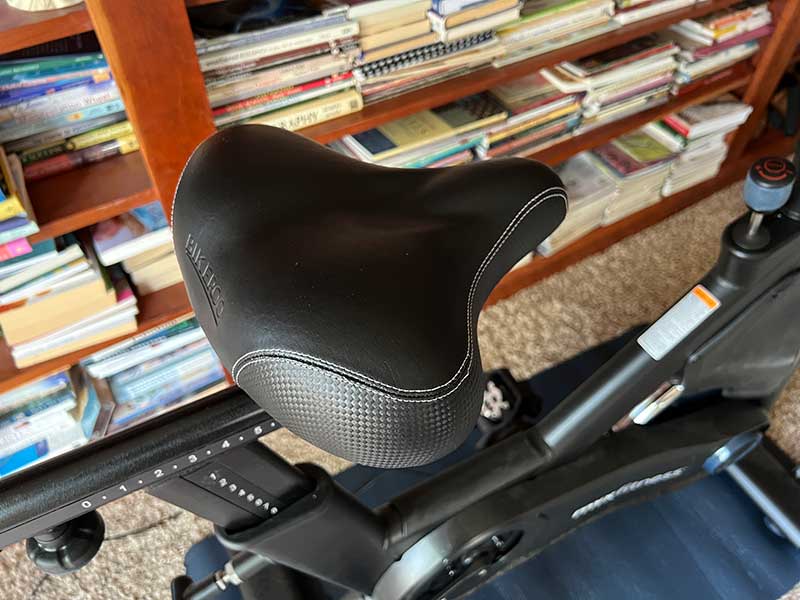 I then bought a much wider and more cushioned replacement seat again from Amazon which made a big difference in comfort for my bum. 😉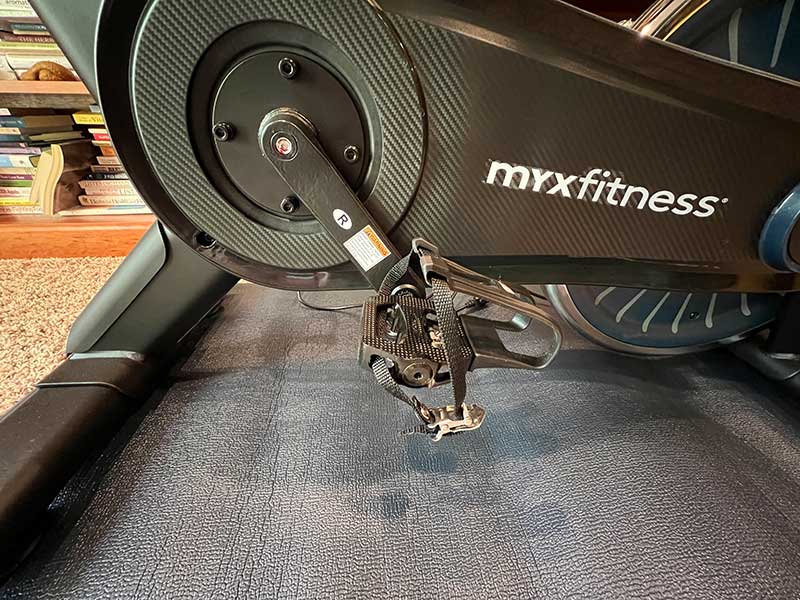 The pedals on the MYX II Plus have clips but, you don't have to have special shoes to use them. I just wear my regular Brooks sneaks with no problem. My first instinct was to remove the clips but I think it's better to leave them on especially when you ride out of the saddle. That way you won't have to worry about your feet/shoes won't slip off the pedals when you're doing sprints.
Openfit and BODi Workouts
The MYXfitness MYX II Plus fitness bike is great by itself but the real benefit is when you pair the bike with the Openfit and/or BODi workout subscription services. With either or both of these services, you get access to a huge selection of workouts both on and off the bike.
Openfit
$39/mo. (1 month free with the purchase of the MYX II Plus)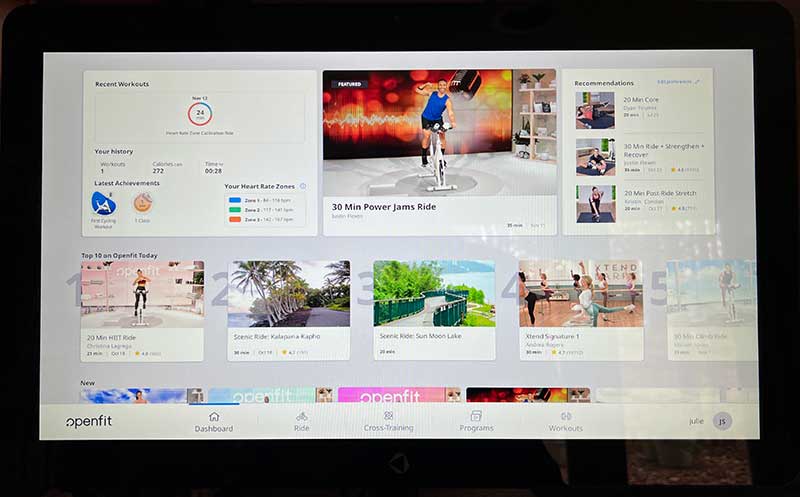 With Openfit, you'll be greeted with your main dashboard on the touchscreen. In this view, you'll see a report that shows your past workouts, which includes how much time you've spent working out and your heart rate zone information which is an important aspect of the Openfit system.
The dashboard will also show you recommended, top daily workouts, and new workouts that you can quickly tap to start a workout. How many workouts are there in total? There are 1000's, with new ones being added weekly.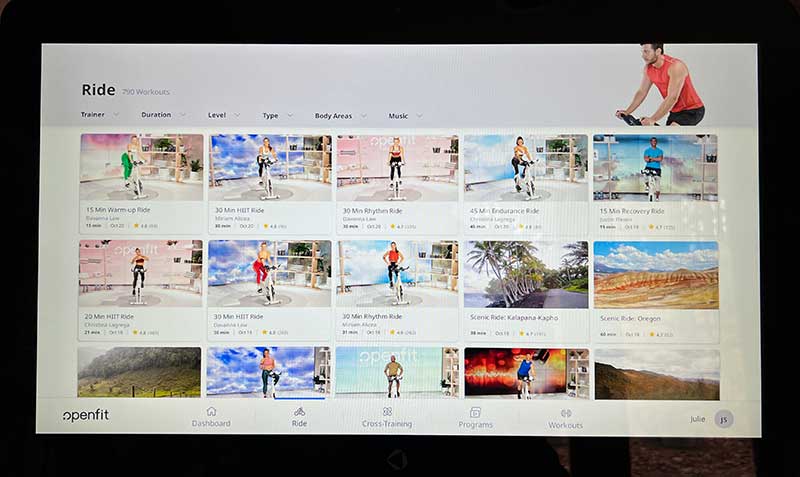 There are riding workouts because duh… bike. But they aren't just ride fast for 30 mins and you're done. The on-demand workouts are led by dozens of trainers who lead you through the workout and tell you when to tighten the resistance knob, when to pedal out of the saddle, etc.
Then there are rides that let you ride in scenic locations from all over the world. With these rides, you take control of the resistance part of the ride as you're in control.
Also note that you can sort the workouts by type, duration, level, and even the trainer and background music style.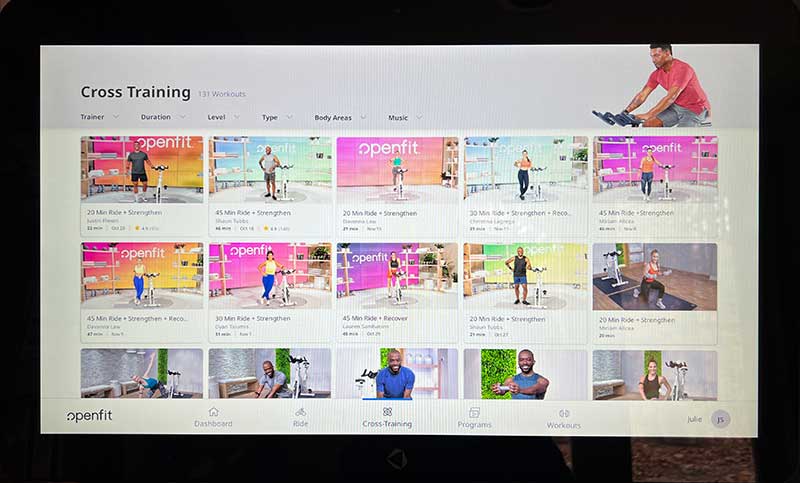 You can also choose cross training workouts that combine strength exercises with weights or your own body weight and riding the bike.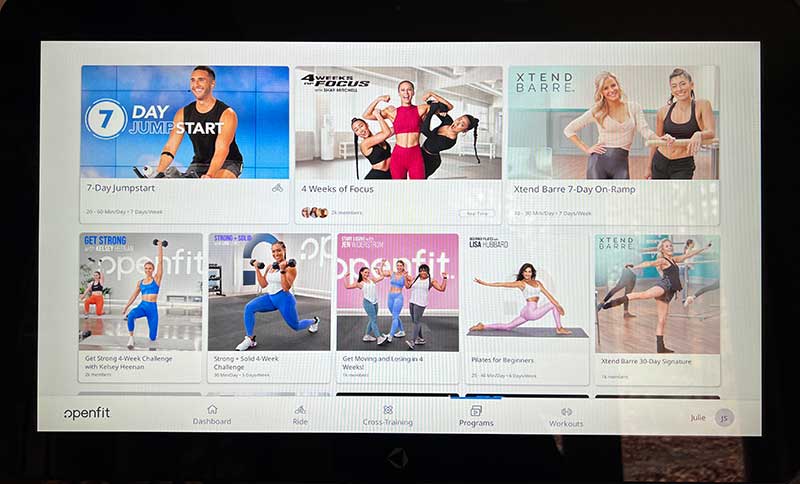 There are workout programs that you can do as well, that are a collection of workouts that span days or weeks.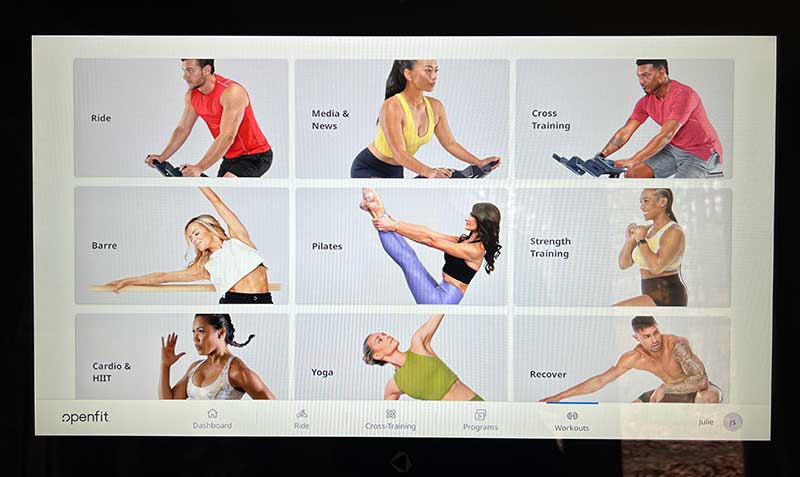 You're not going to be bored with the MYXfitness MYX II Plus fitness bike and the on-demand workouts because there are so many types to choose from and if you want to ride and watch news? You can do that too!
You are probably wondering about live group classes/workouts and that can be done through the mobile Openfit app, but right now it's not available on the MYX II Plus bike using OpenFit but will be in early 2022.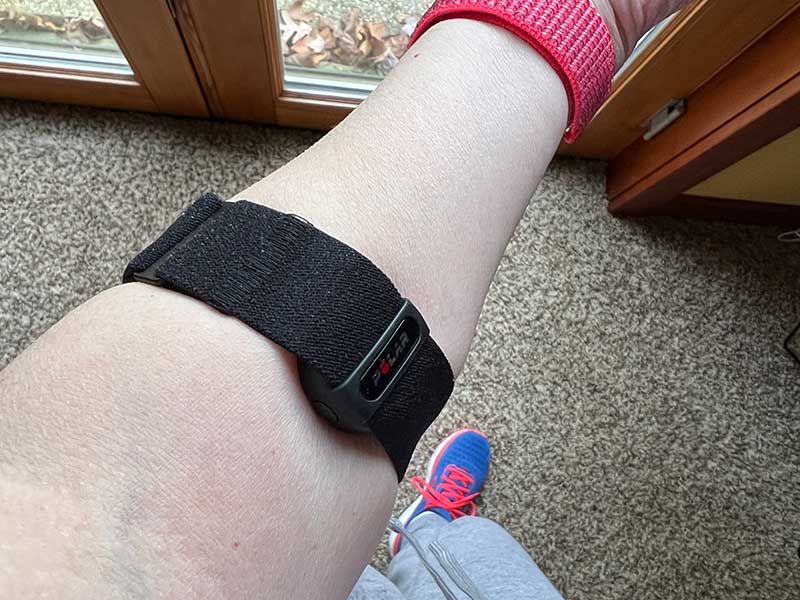 As mentioned earlier, a wearable Polar heart rate monitor is included with this fitness bike. You can also use an Apple Watch if you have one and prefer it. The workouts track your heart rate instruct you to keep your heart rate in specific zones as you workout.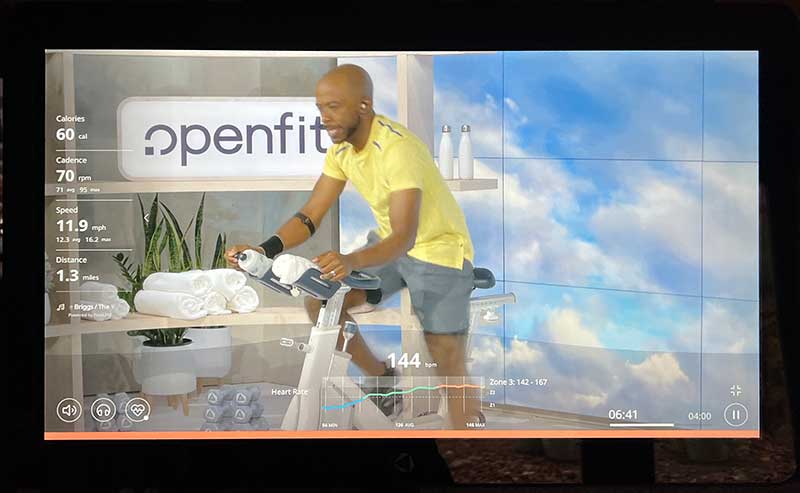 While you work out either riding or off the bike, you'll see a live status of the calories that you've burned, the cadence, speed, and distance.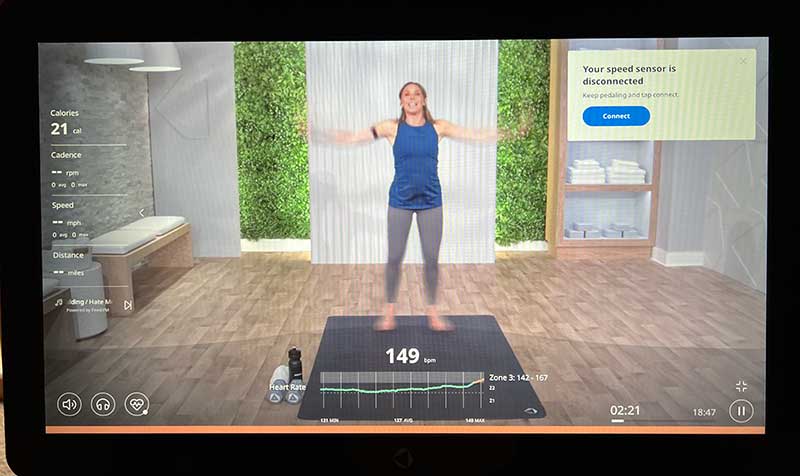 Then at the bottom of the screen, you'll see your live heart rate and the zone you're in. Depending on the zone, you're burning fat or glucose.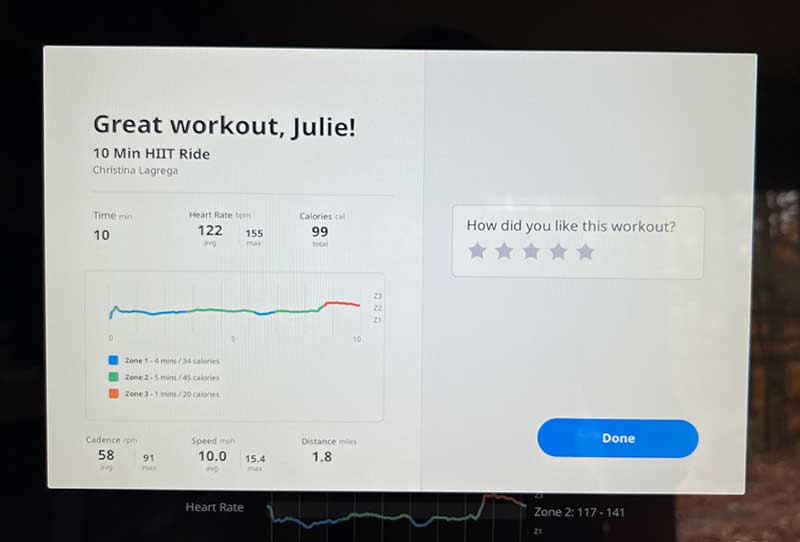 When the workout has ended, you'll be presented with a report that shows you how long you worked out and the heart rate zones, and the time you were in each zone.
Openfit is a great option for those looking for more boutique, one-on-one coaching with on-demand classes ranging from mediation to cross training and off-the-bike workouts. The heart rate zones help to customize your workout experience and allow you to track your progress. The app also provides access to workouts with real-time feedback like for walking or running workouts, and it allows you to take your workouts on the go and are away from home. In addition, workouts that are done through the mobile app sync with the bike and vice versa, so you can monitor and track all of your workouts in one place.
BODi (Beachbody)
The BODi subscription is $29 a month. The BODi subscription is actually just $19.95 a month; however, there is a $99/year fee for Beachbody On Demand. If you break down the $99/year fee into monthly payments and add this to the separate BODi $19.95 monthly payment, this adds up to the $29/month fee.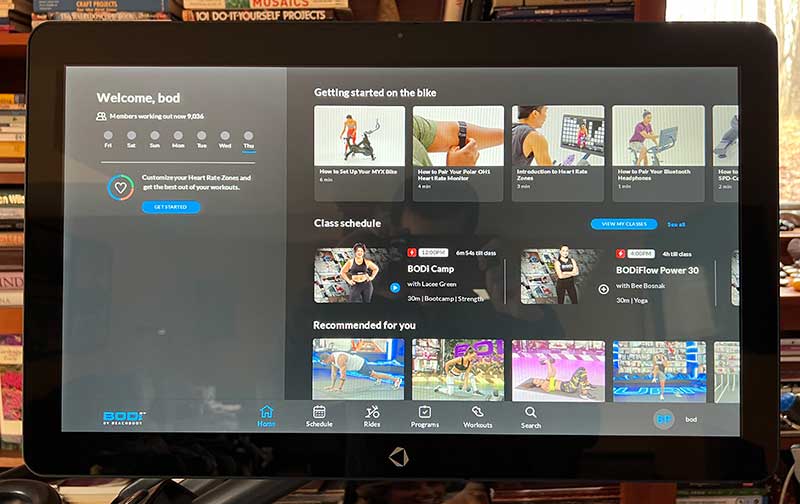 Like Openfit, there is a dashboard that shows your past workout info and shows recommended workouts as well as shortcuts to go into Schedule, Rides, Programs, and Workouts.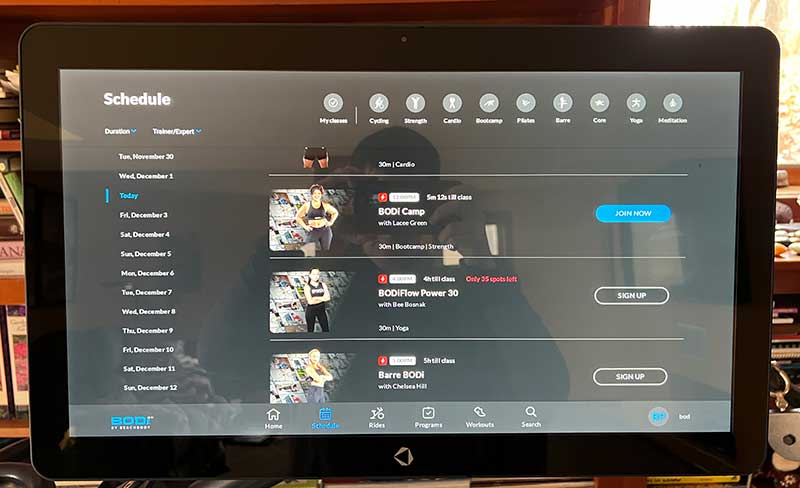 The Schedule section is where you'll find live classes that you can join or sign up for. Unlike Openfit, BODi does have live classes that can help motivate you when you can see other riders stats in real time.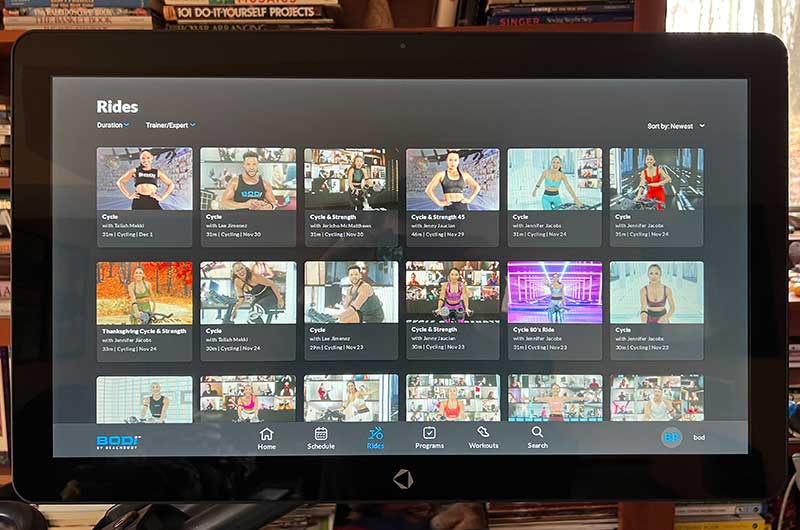 You can also choose on-demand workouts that can be sorted by duration and trainer.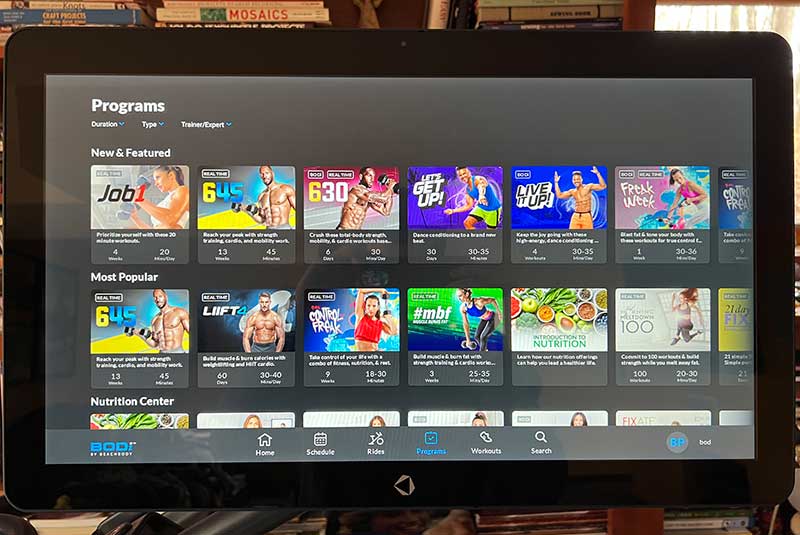 There is a wide variety of fitness programs that you can do as well.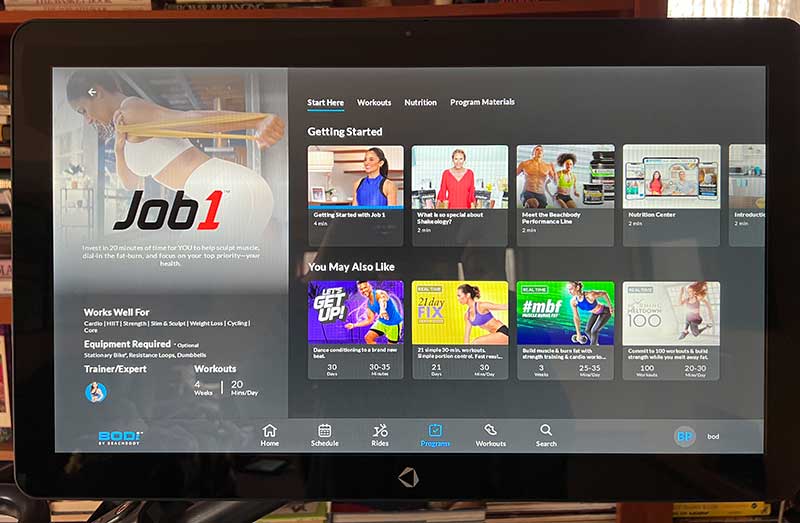 The programs don't just include workouts, they also include other info like…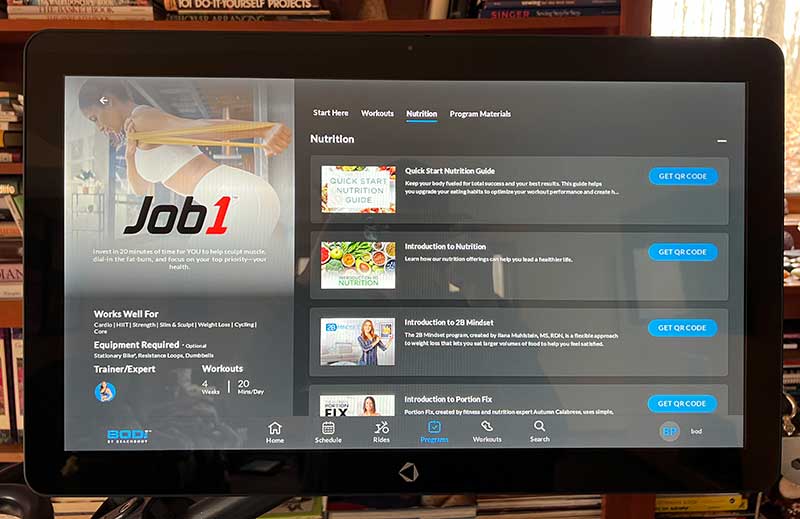 Nutrition videos. The only thing that might annoy some people is that they talk about special supplements and shakes that you can buy.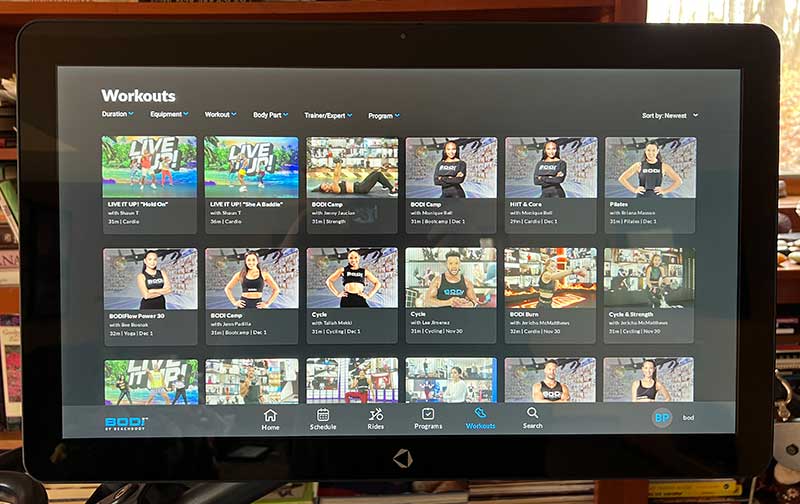 There is also a Workouts area where you can find a variety of strength training and even dancing workouts.
BODi is a great interactive workout option, with live (BODcasts group bike classes) and on-demand classes available. Live BODcasts allow you to turn on your camera (if you choose to) for real-time feedback and call-outs. You can even see other people in the class on the big screen (if they choose to turn on their camera).
See it in action
Which subscription should you choose? If you want to do live classes, then you should go with BODi but otherwise, there are a lot of similarities between the two services. I kind of like Openfit better but I can't really explain why other than while reviewing this bike, that's the service I used most.
What I like
The bike is quiet
Screen rotates for non-bike workouts
One membership can be used with up to five profiles
MYX II Plus includes weights, kettlebell, resistance band, foam roller, and exercise mat
What I'd change
Offer different seat/saddle options
Offer the ability to cast/stream to the screen from your phone
Final thoughts
I realize that the MYXfitness MYX II Plus fitness bike is an expensive piece of fitness equipment especially when you pair it with the Openfit or BODi monthly subscription. But keep in mind that the whole family can use the MYXfitness MYX II Plus fitness bike with just one subscription because you can have up to 5 user profiles on the bike.
Those who buy the MYX bike can try it risk-free for 30 days and get a full refund and a free pickup if they decide to return it. 
There are also free trials available for both Openfit and BODi. BODi provides a 30-day free trial and Openfit provides a 14-day trial. 
I've done the gym thing before and I much prefer working out from the privacy of home instead of going to a gym. I think that the MYXfitness MYX II Plus fitness bike can be a great addition to any home gym setup as long as the buyer is willing to also purchase either the Openfit or BODi membership since without one of those memberships, you lose a lot of functionality.
Price: $1599.00 for the bike and then optional $39/mo Openfit membership and/or $29/mo BODi membership
Where to buy: MYXfitness
Source: The sample for this review was provided by MYXfitness.