We use affiliate links. If you buy something through the links on this page, we may earn a commission at no cost to you. Learn more.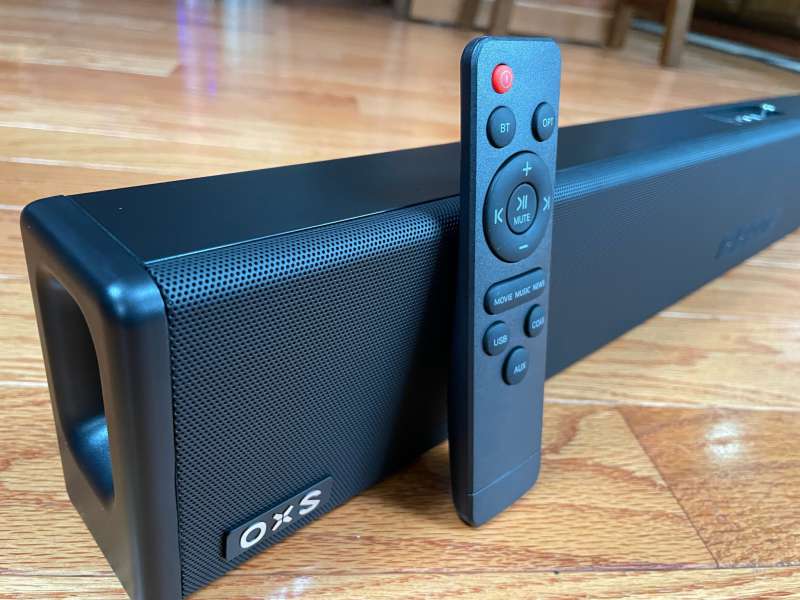 REVIEW – A few weeks ago, I reviewed the Asakuki Avigator 455W video projector. Since its speaker was a bit lackluster, I wanted to see how the OXS S3 soundbar can fill the void. Let's find out.
What is it?
The OXS model S3 soundbar is a self-contained audio amplifier and speaker system with optical, aux, coax, Bluetooth, and USB (MP3) inputs with an infrared remote control.
 Hardware Specs:
7.88 pounds
37.72 x 6.34 x 4.25 inches
Mounting: lay flat or wall mount
40W power (2x20W)
Four 2-inch speakers
Dialogue Enhancement Technology
Bluetooth 5.0
USB, Aux, optical, and coaxial wired audio inputs
3 equalizer modes (music mode, movie mode, game mode/news mode)
Infrared remote control
110-240VAC input power supply, 22V,1.8A output, 50-60Hz
What's in the Box?
OXS S3 soundbar
Remote control
Two AAA batteries
Power supply
Optical cable
Coax cable
Wall anchors
Instruction Manual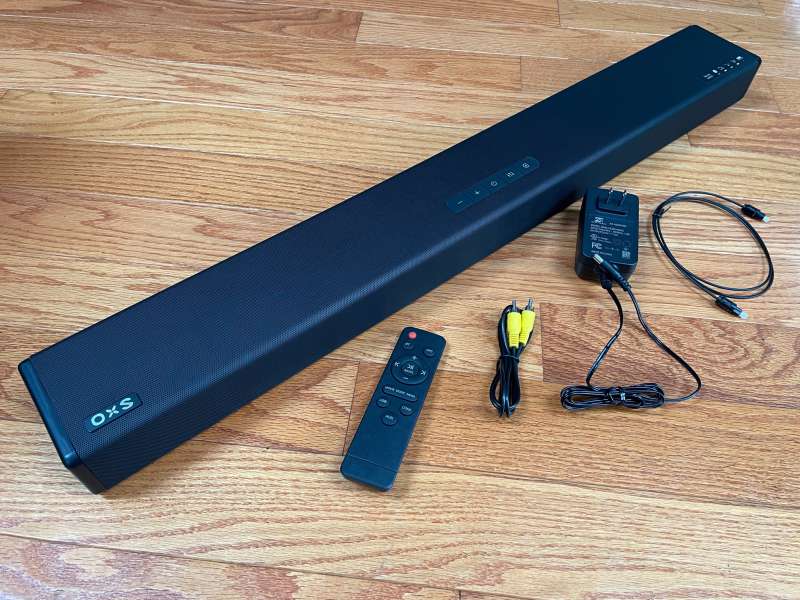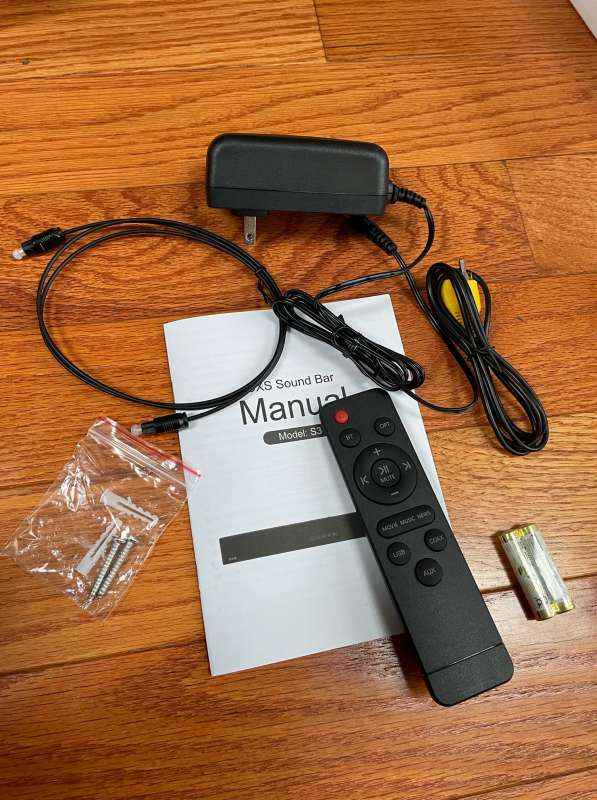 Design and Features:
Tadaaa! It's here!

During the heavy shipping season, it's good to see that the OXS S3 soundbar's packaging can handle being tossed around like a football.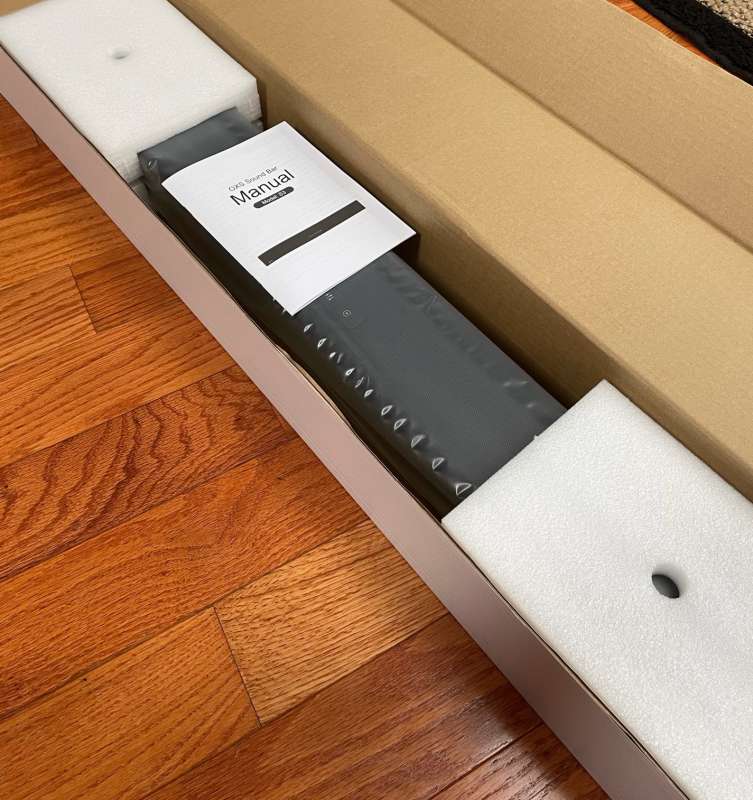 The remote takes two AAA batteries.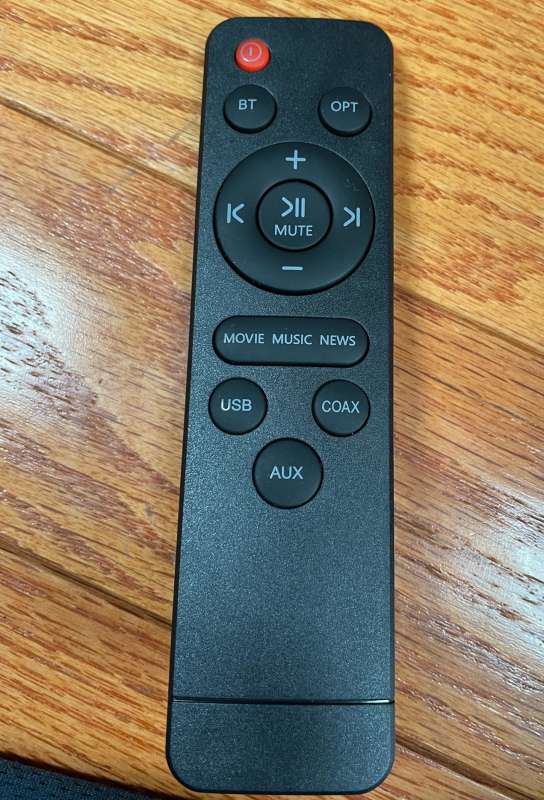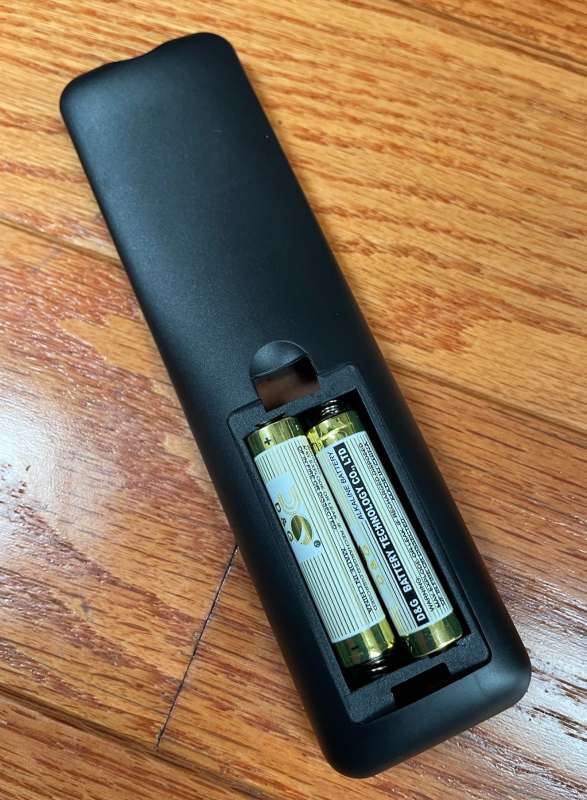 On the rear of the OXS S3 soundbar are the coax, optical, USB, and aux inputs as well as the power connector. They are not recessed, so if the soundbar is oriented with buttons facing up, a few inches will be needed at the back for routing cables.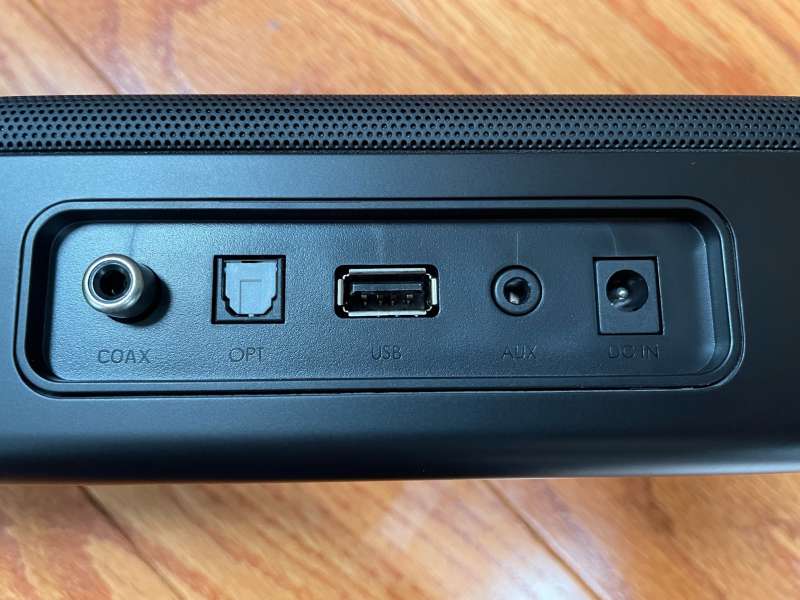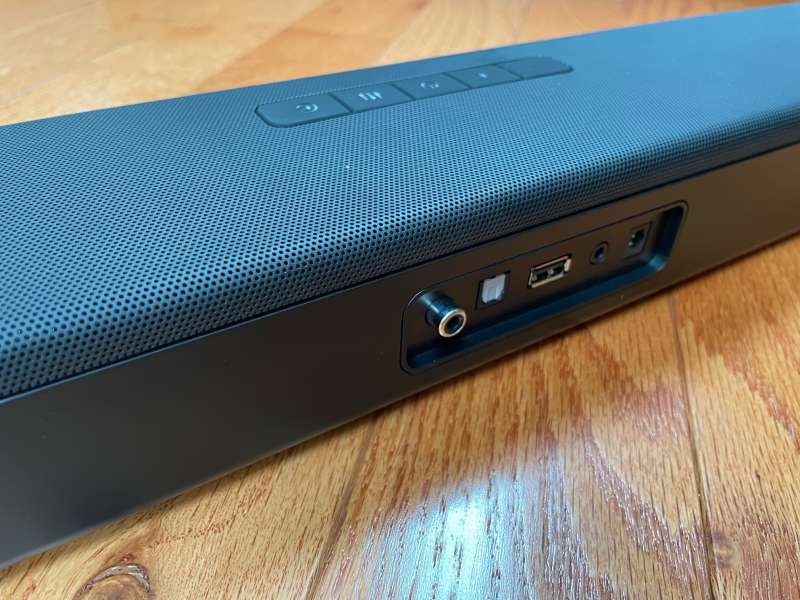 The power supply is a "wall-wart" style.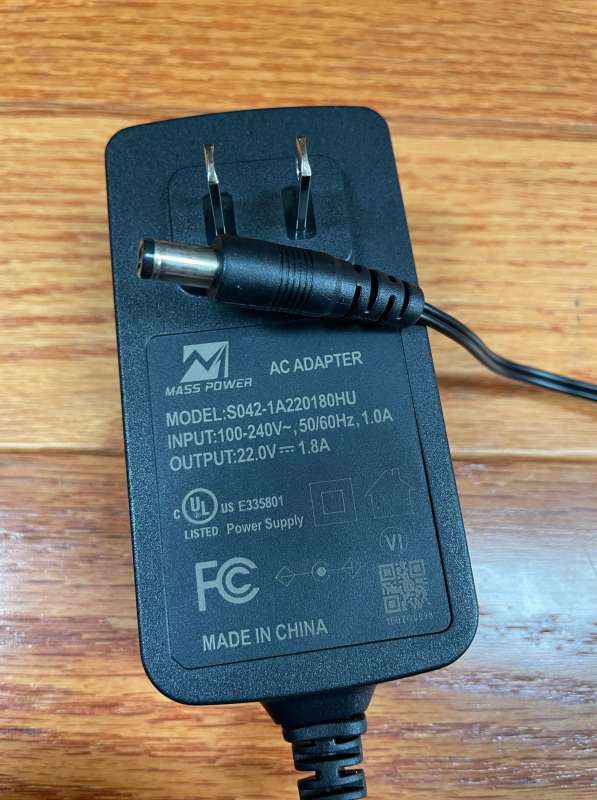 On the rear of the speaker are hooks for wall mounting. They are sturdy and the wall anchors are included.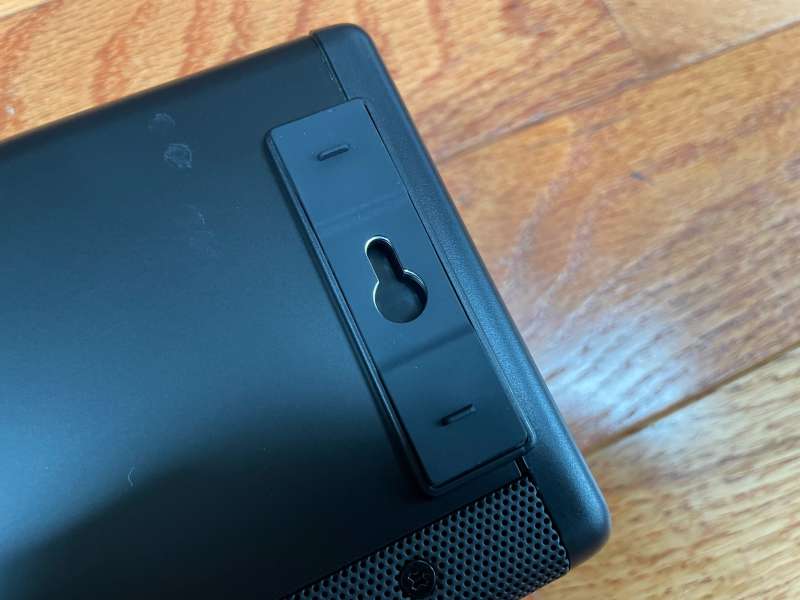 When wall mounting, the soundbar must be oriented with the buttons facing forward. This leaves the power and input connections facing upward which means exposed wires on top.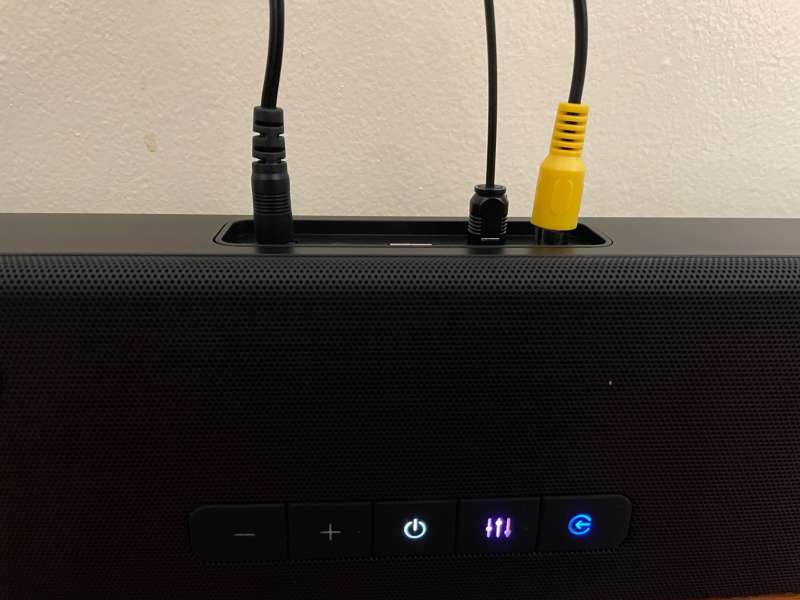 Buttons on the top (or front if that's how you prefer to orient the speaker) are volume up and down, power, sound mode (equalizer), and media selector. Happy, multi-color lights indicate which mode is currently selected.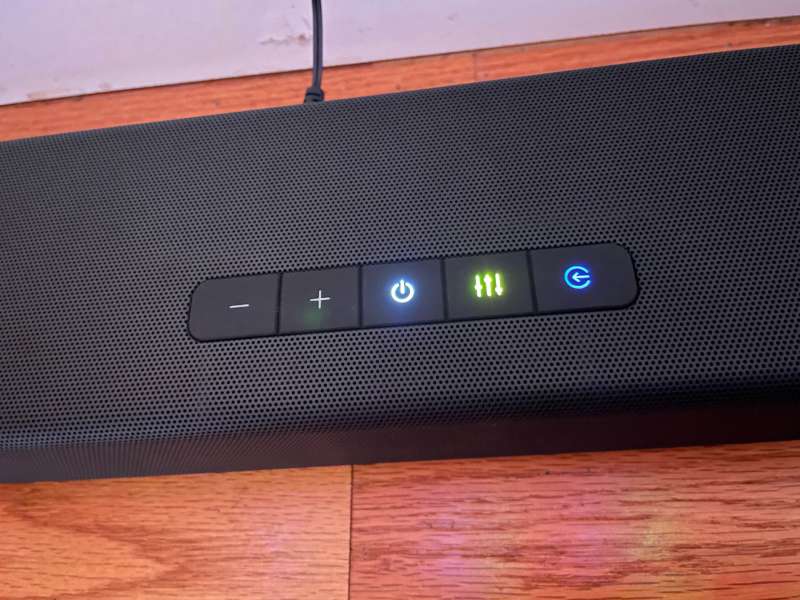 Aux, coax and optical inputs are "plug and play." They both worked the instant they were connected. The aux cable is not included.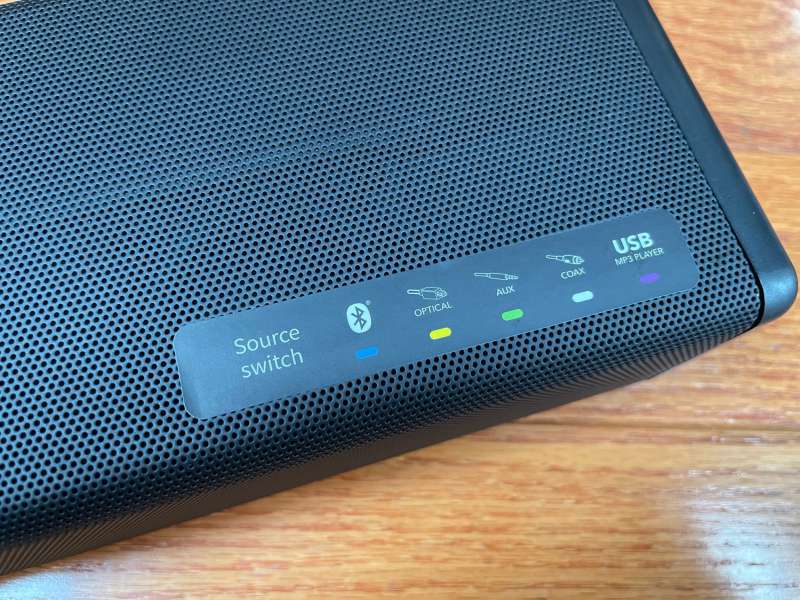 I feature I appreciate is the OXS S3 soundbar will automatically turn off after 15 minutes if no input is detected and automatically turn back on again if an aux, coax, or optical signal is detected. No point in wasting energy if it's not being used.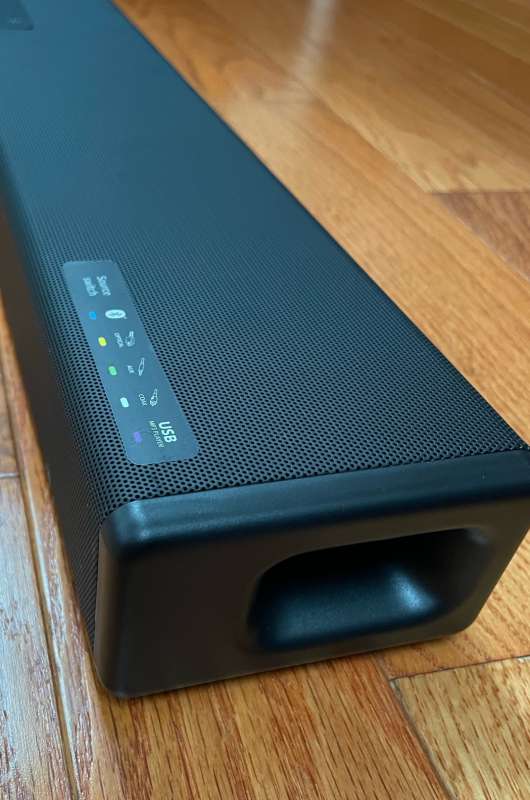 The USB input will play WAV, WMA, and MP3 files, but the media must be formatted using FAT16 or FAT32. The remote supports play pause, forward, and reverse one track at a time. Since there is no display, selecting individual files can be cumbersome and time-consuming. It is much easier to send music via Bluetooth and use that device as the user interface. That being said, the USB file playing capability works well with some creative music selection ahead of time when copying files to the USB stick. I'm thinking of usage scenarios like background Christmas or party music with a playlist loaded ahead of time.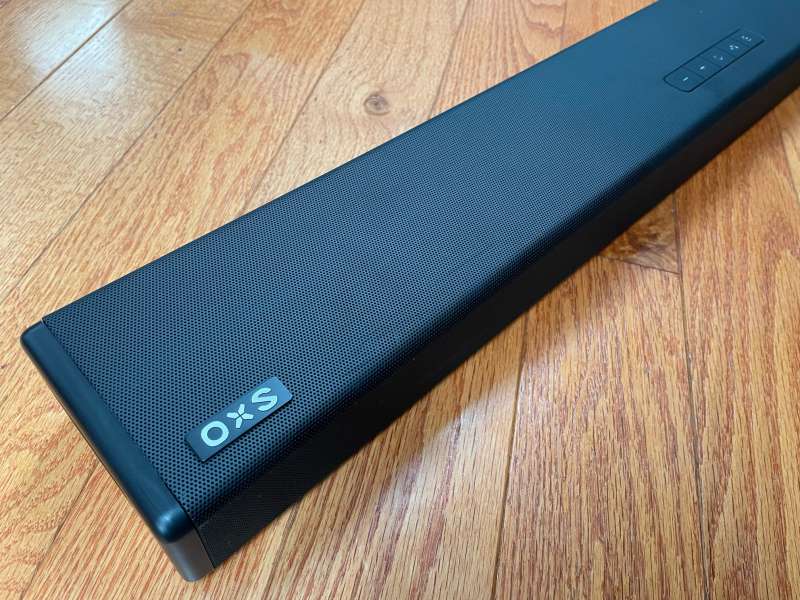 I had zero problems connecting Bluetooth and playing music or movie audio. There was no perceptible lag with video "lip-sync."
The equalizer modes are "music," "news," and "movie." The backlight will illuminate yellow, green, or purple to indicate the selected mode. There is no provision for tweaking the equalizer settings.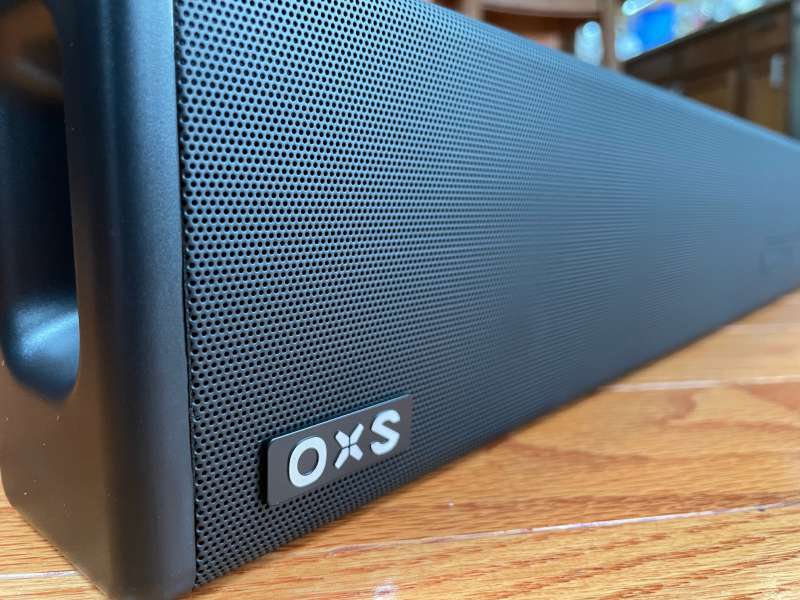 The audio was, well, ok. For a $100 soundbar, it's not too bad and blows away the built-in audio systems in most TVs and projectors. I found the S3 has good, crisp treble, but the bass is somewhat muddy. For example, the S3 failed to reproduce the sternum-vibrating bass notes in Rimsky Korsakov's "Russian Easter Festival Overture." Still, the audio isn't bad and is far better than the tin-can sound from the majority of common gadgetry. Bass is produced through the tuned ports on each end of the soundbar.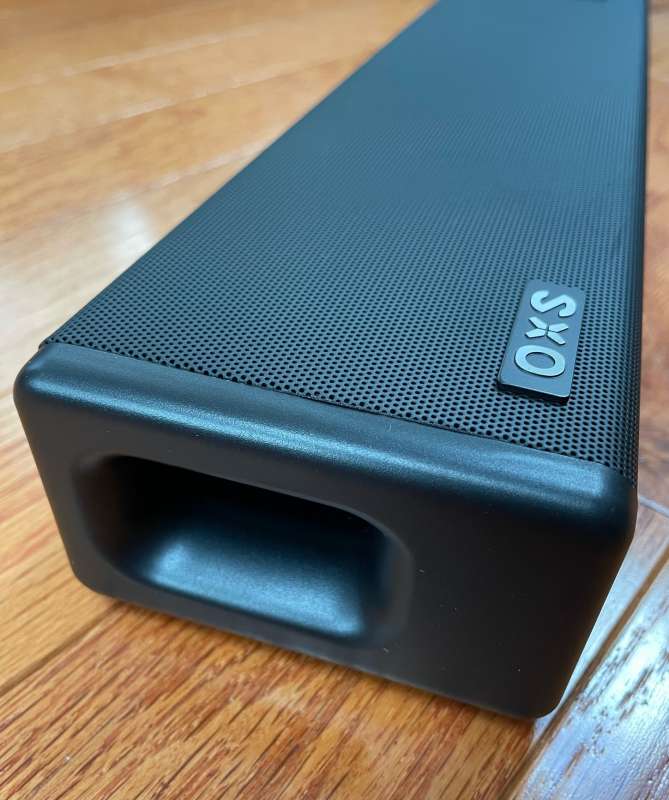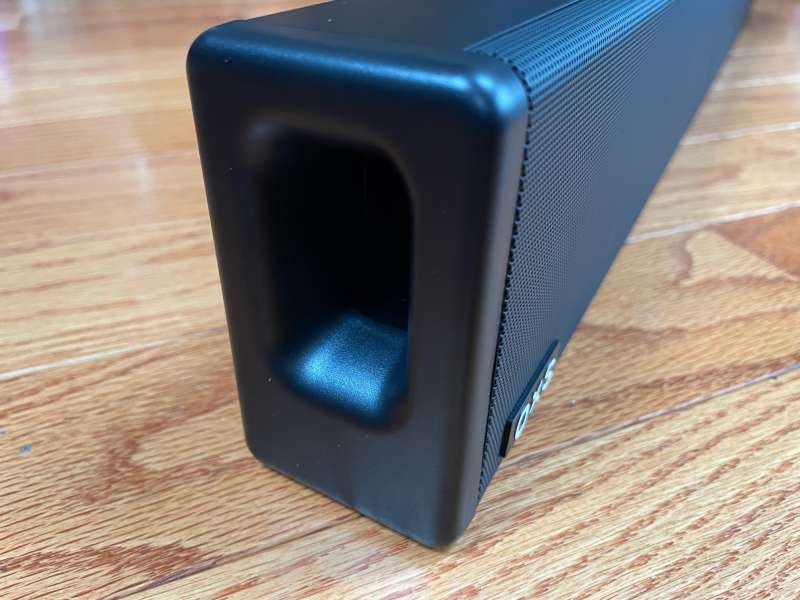 What I Like:
Much better sound than many built-in TV speakers
No-lag Bluetooth
Auto on/off capability
What I Would Change:
Final Thoughts:
While the OXS S3 soundbar isn't the pinnacle of audio reproduction, it does a decent job making the audio sound better and has earned a place accompanying my bedroom TV.
Price:  $99.99 from Amazon
Where to buy: Amazon
Source: The sample for this review was provided by OXS.