We use affiliate links. If you buy something through the links on this page, we may earn a commission at no cost to you. Learn more.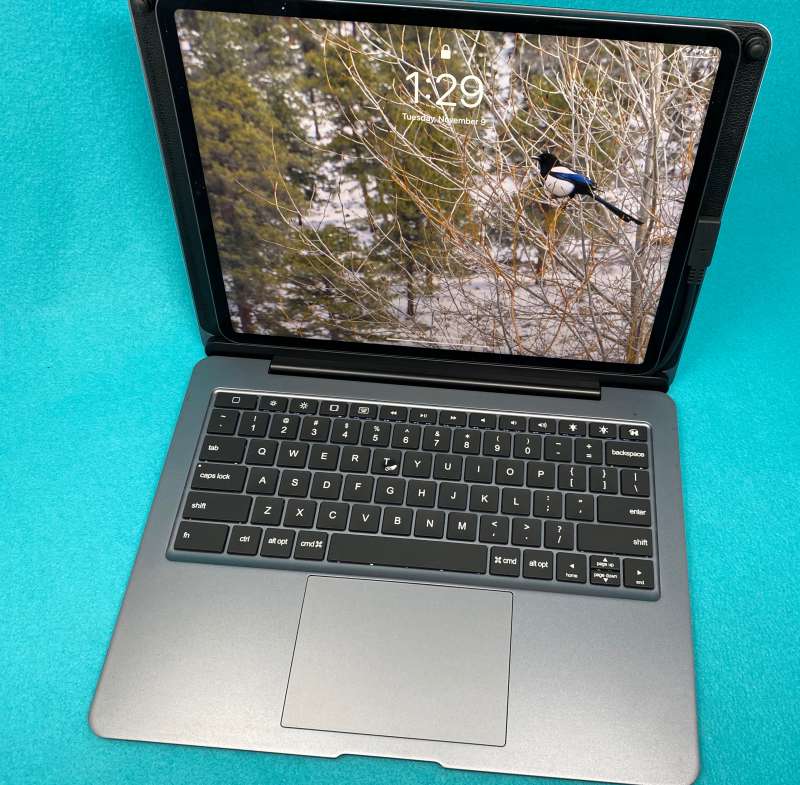 REVIEW – The iPad, introduced in 2010, changed the idea of "tablet computing" for many people. It's often been said that there isn't really a "Tablet Market", so much as an iPad market with various copycat devices. However you feel about this, third parties have embraced the iPad wholeheartedly, and nowhere is this more visible than in the third-party case/keyboard area. I was recently sent the Doqo iPad keyboard case for the iPad Pro 12.9" and am ready to report on my use.
What is it?
The Doqo iPad keyboard case is a heavy-duty aluminum cover for iPad Pro with backlit keyboard, trackpad, and additional ports.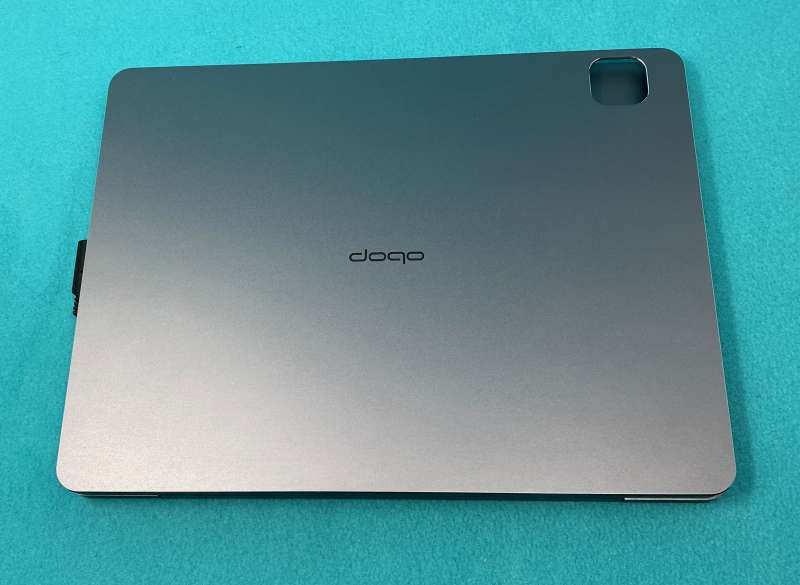 What's in the box?
Doqo iPad keyboard case with USB-C pigtail
USB-A to USB-C cable
Paperwork
Bumper buttons to prevent the cover from rubbing against the screen.

Design and features
From the product website
Multi-ports docking station to boost your productivity, capable of data transfer, HDMI signal expansion, SD/TF card reading and more
USB Type C PD charging port up to 18W/HDMI support UHD 4K/30Hz expansion display/SD/ TF slot support up to 1TB storage/ 2 x USB 3.0 ports up to 5Gbps data transfer
Full-sized trackpad with multi-touch gesture function & iPad dedicated function keys, upgrade your iPad Pro into an ultimate laptop-like machine
Suitable for various occasions: headphone jack, responsive scissor switch keys, adjustable backlight, auto sleeping mode and the sturdy spindle for best viewing angle
Compatible with iPad Pro 12.9″(2018 3rd Gen & 2020 4th Gen)
The Doqo iPad keyboard case is substantial. It measures 12.25" x 9.375" x .875", and weighs in at 2 pounds 12 ounces. The iPad weighs only 1.03 pounds. The combination of these two weighs in at 4 pounds 4 ounces. Compare this to a MacBook Air at 2.8 pounds, and you start to wonder why it exists, but then you see those ports: HDMI, SD card slot, Audio jack, 2 USB-A, 2 USB-C, and a TF card slot. There's actually connectivity here to rival the newest MacBooks Pro!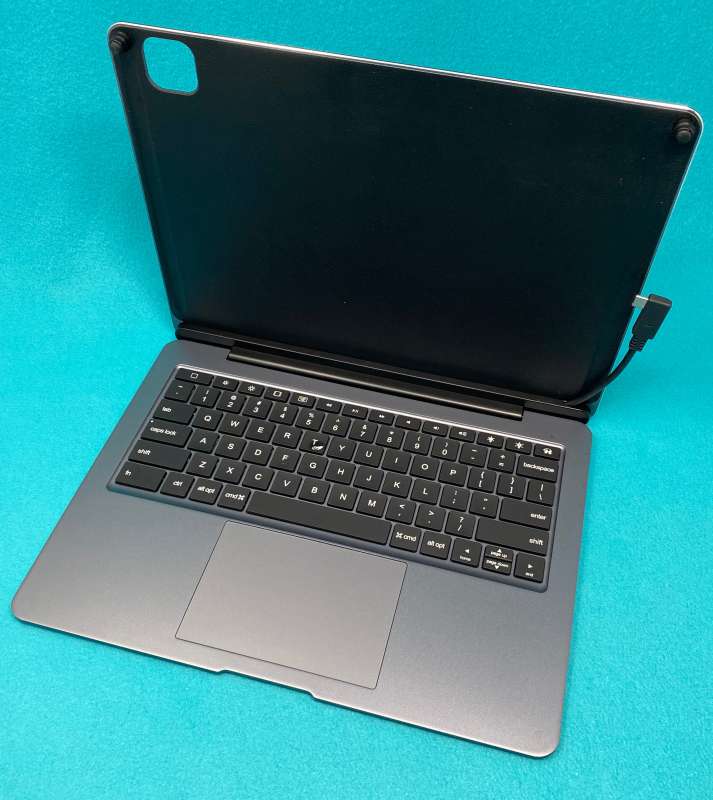 Sure, the Doqo iPad keyboard has those annoying arrow keys with the half-height up/down arrows, and there's a function key in the lower left that is twice the size of anything on any other keyboard, but the hinge is nice and tight, and the magnetic backing, while not connecting to a smart connector, still manages to hug your precious iPad into place securely.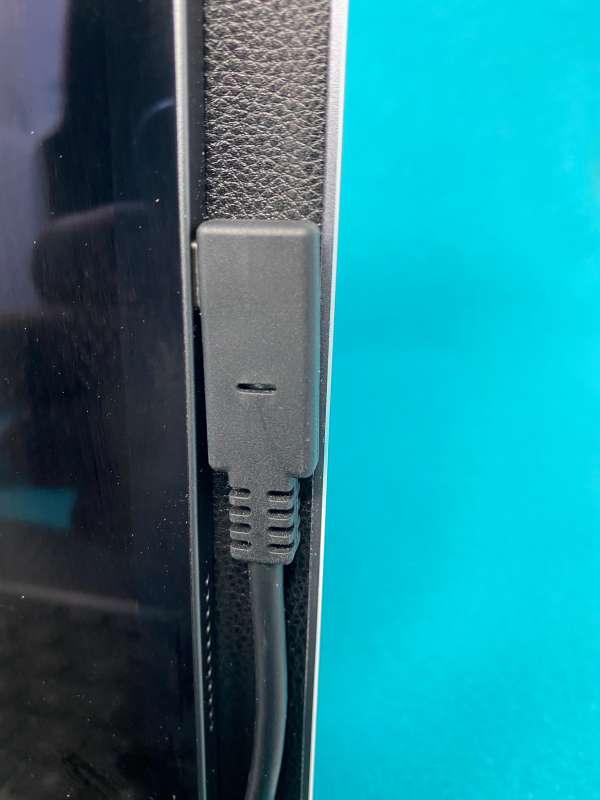 Setup
The Doqo iPad keyboard case has a crinkly vinyl backing with typical Smart-type magnetic attraction, but Doqo has opted for a physical connection, in order to get the full benefit of the iPad's Thunderbolt connector. The area under the keyboard serves as a hub for all the ports offered. The magnets hold the iPad tightly in place, and there is room opposite the pigtail connector to place an Apple Pencil for storage/transport.
Performance
While the enclosure is tight and the ports offer a lot of options, the weight and size are enough to make anyone think twice about taking this on the road. Around the house, it's a fantastic tool, especially when you're needing to transfer data, attach a mic, or any other things that may require an adapter. (While the iPad is a great device for general purpose computing, that single port is a limitation unless you've found USB-C replacements for all your peripherals! We've visited lightweight hubs and port replicators here before, though.)
In use, the Doqo iPad keyboard offers great travel, very bright, yet adjustable backlighting, and full function keys for media control, lighting adjustment, bringing up the virtual keyboard, etc. The trackpad is very roomy, but sometimes balked at doing actual clicks on selected targets. This was frustrating. Also, when editing text, sometimes clicking to place the insertion point would select an entire word, and touching the screen was the only way to get back to regular editing. I finally realized that the trackpad is set to tap, rather than click, for selecting and acting on targets. I sent a message to Doqo support to see if this preference could be changed, but did not get a reply.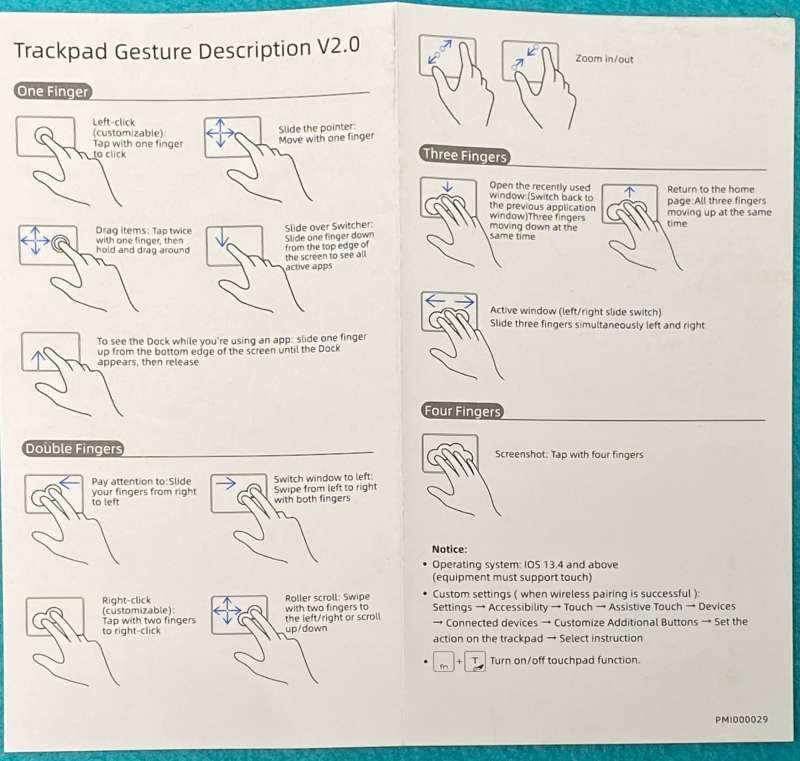 What I like
Loads of ports
Really strong backlighting
Magnetic attachment
What I'd change
Really heavy
Trackpad sometimes doesn't click
Adds substantial size to the already-large iPad Pro.
Trackpad action is set to mimic PC defaults, rather than Macs, for selection and action, which is irritating for lifelong Mac users.
Final thoughts
I love the Doqo iPad keyboard case in theory. It's well-made, strong, tightly built, and offers a wealth of connectivity to our beloved one-port iPad. But I could not get it into any of the bags I've become used to carrying with my iPad with Magic Keyboard. Sure, the keyboard is nice (as nice as the Magic Keyboard, which is saying a lot), but with its poorer layout, heavier weight, and larger footprint, it's a non-starter.
Price: $179.99
Where to buy: doqo.shop
Source: The sample of this product was provided by Doqo.