We use affiliate links. If you buy something through the links on this page, we may earn a commission at no cost to you. Learn more.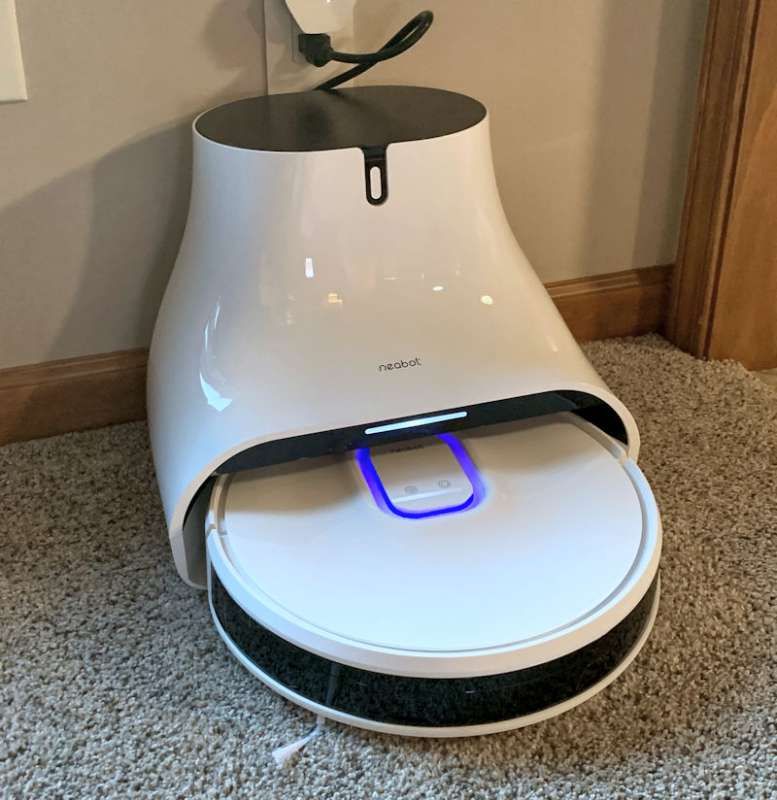 REVIEW – A new generation of robot vacuum products with added features is being released to the market, and we've had the opportunity to review a few of them here at The Gadgeteer.  The latest one we've evaluated is the Neabot NoMo Q11 Robot Vacuum, a sleek robot vacuum with its own self-emptying dustbin.  Let's see how it did.  Gadget on!
What is it?
The Neabot NoMo Q11 is an automated, app-enabled, multi-surface, robotic vacuum cleaner system.  It features a self-emptying dust collection bin as well as hard floor wet mopping capability.
What's in the box?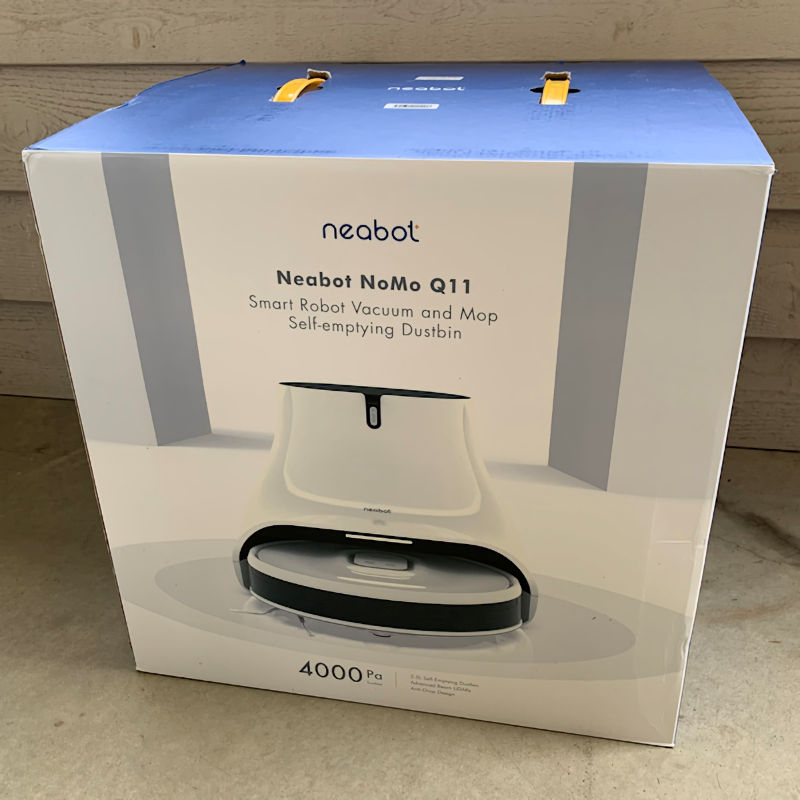 Above is a photo of the front of the Neabot NoMo Q11's packaging.  Because it includes its own 2.5L self-emptying dustbin, the package is quite large and heavy.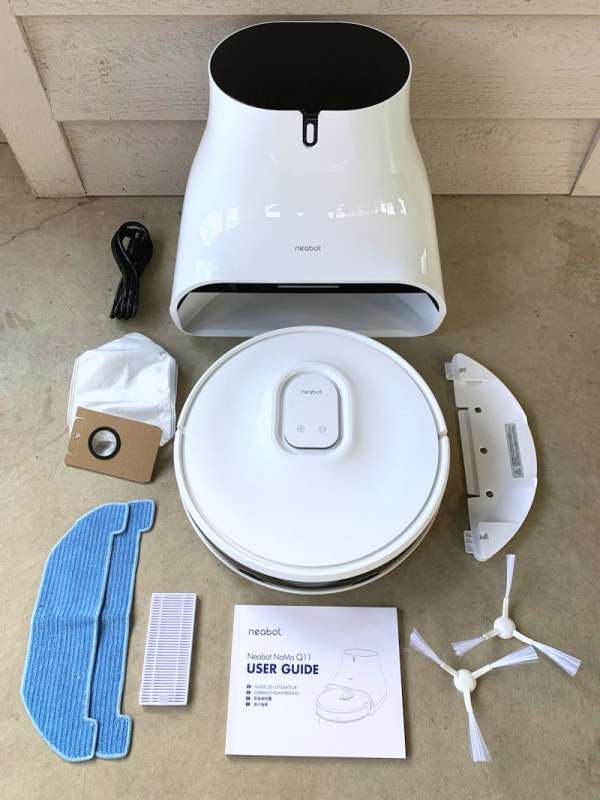 The above photo shows all of the items included with the Neabot NoMo Q11, which are also listed below:
Neabot NoMo Q11 Robot Vacuum
Self-emptying dustbin
Main brush (pre-assembled into robot vacuum body)
2x side brushs
2x mop cloths
2x dust bags
HEPA filter
Mop accessory
AC power able
Cleaning brush
User Guide
Hardware specs
Per the Neabot site, below are listed some of the main features and hardware specs of the Neabot NoMo Q11:
AI Obstacle Avoidance
Advanced Beam LiDARs
Noise Reduction (65 db max)
3.42″ Slim Body (Height)
2.5L Self-Emptying Dustbin
4000Pa Suction
iOS and Android app compatibility
Auto Suction Boost on Carpet
91% Cleaning Rate
Multi-Level Precision Control Water Tank
Anti-Drop Design
Supports Google Assistant and Amazon Alexa
Design and features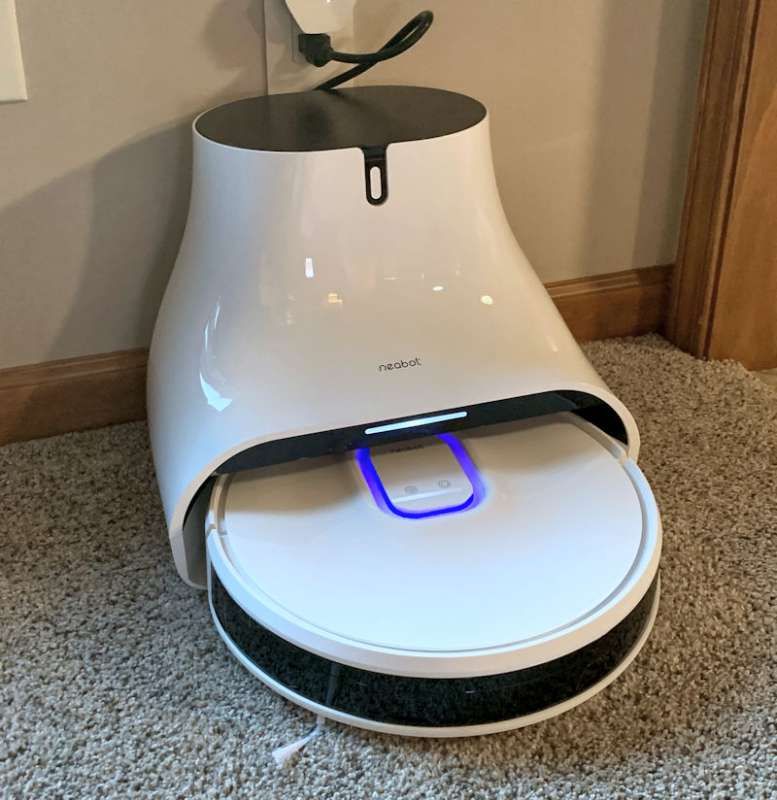 The Neabot NoMo Q11 consists of the robot vacuum itself as well as its combination self-emptying dustbin/charging dock.  The entire setup has a clean, sort of retro-futuristic look.  The charging dock has an interesting shape; it very vaguely reminded me of a ski boot.
Robot vacuum features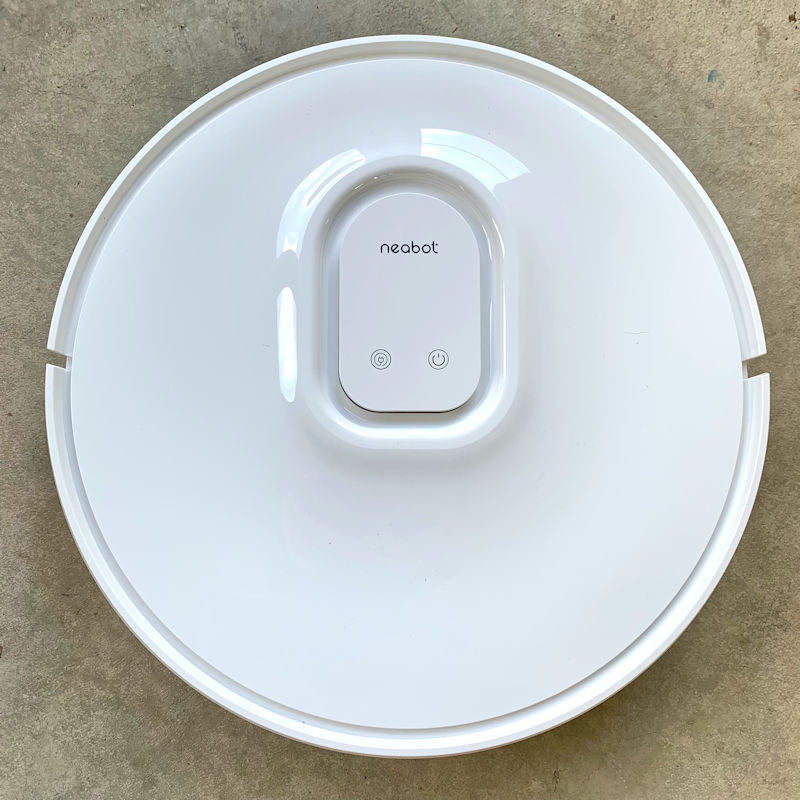 The Neabot NoMo Q11 robot vacuum itself is a clean-looking, non-descript, white disk.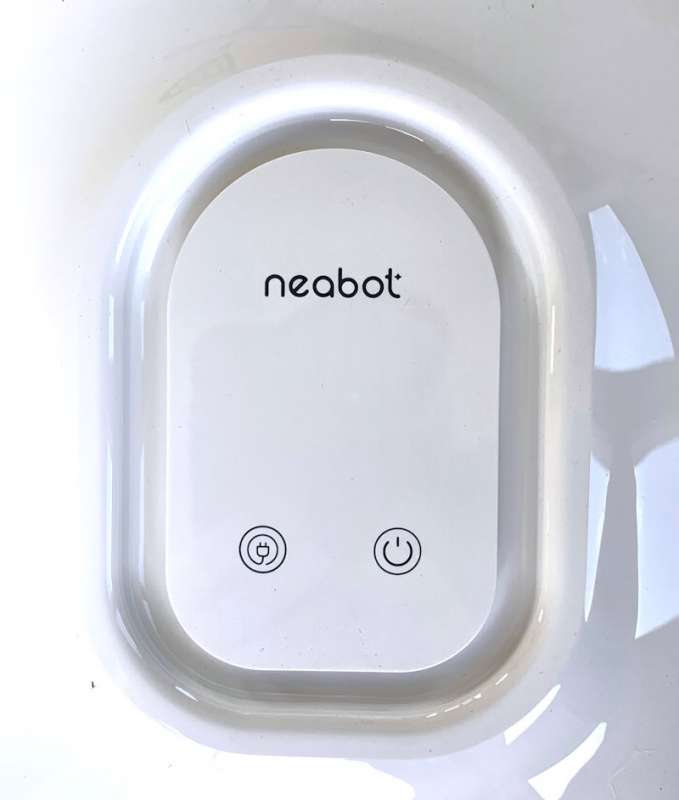 The top of the Neabot NoMo Q11 has a very clean design.  It essentially has a single indicator, a multi-purpose blue ring light (more on this below).  There are also two buttons: Recharge and Start/Pause.  Both are multi-functional as follows:
Recharge button – Short press to start or stop charging while the robot vacuum is in the Self-Emptying Dustbin
Start/Pause button – Short press to clean all and automatically return to recharge.  Short press to pause and restart while cleaning.  5-second long press to shut down, 5-second long press to turn back on.
Both buttons – 5-second long press both buttons at the same time to reset the WiFi connection.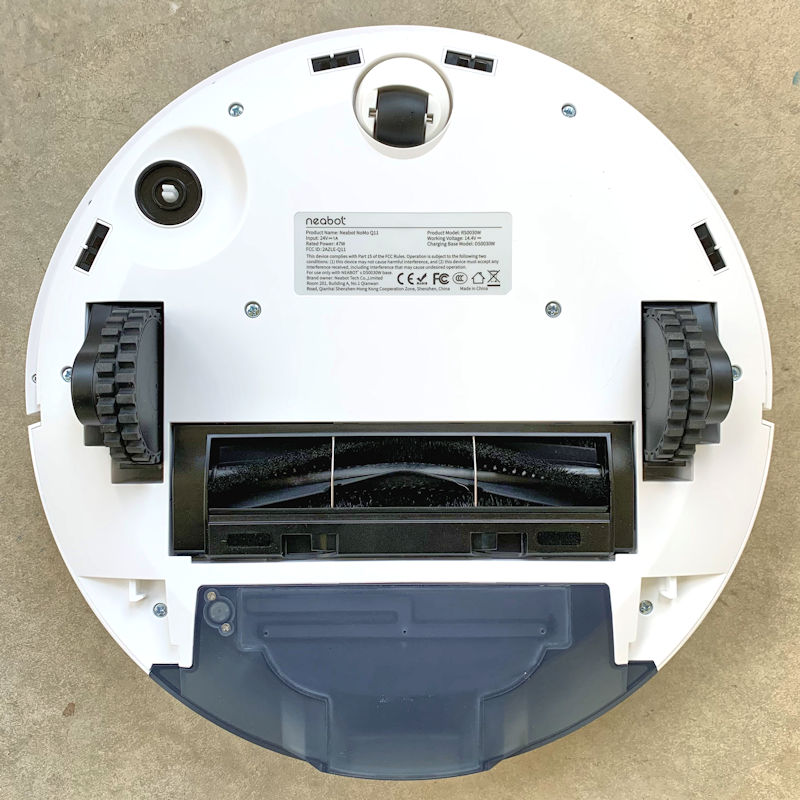 The underside of the Neabot NoMo Q11 appears much busier than its top and is where the majority of its functional features are located.  These will be described in more detail below.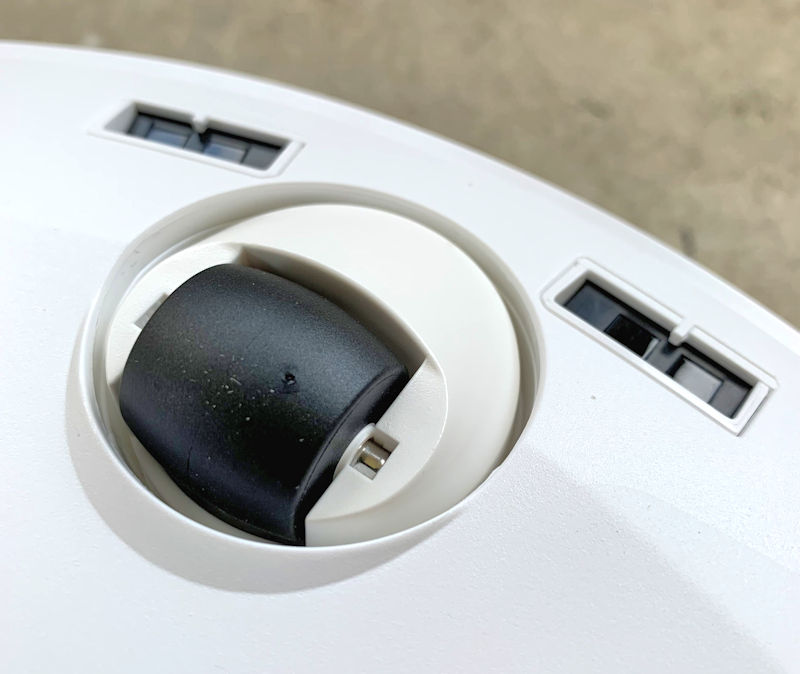 Seen above is the Neabot NoMo Q11's front caster wheel that can rotate 360 degrees and provides the Neabot NoMo Q11's steering.  It has a rubberized tread that helps it grip both hard floors and carpet.  Also visible in the above photo just above the front caster wheel is one of four "cliff sensor" anti-drop sensors that are positioned at the front and near both sides of the Neabot NoMo Q11.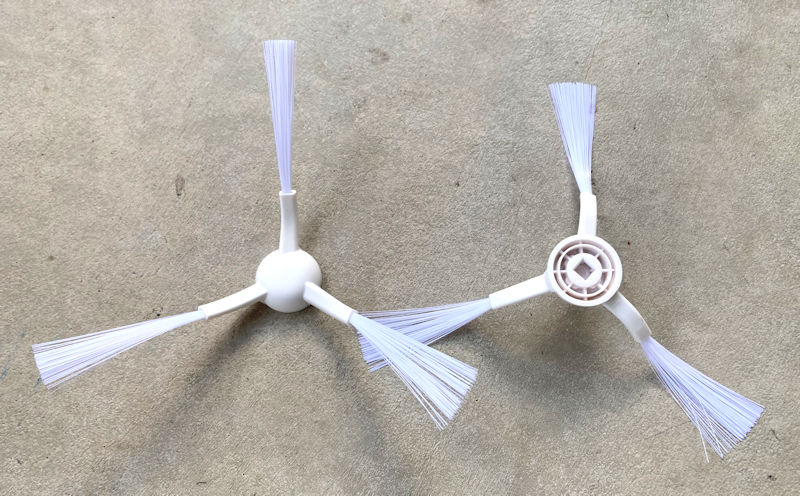 The Neabot NoMo Q11 includes two side brushes, one of which is a spare.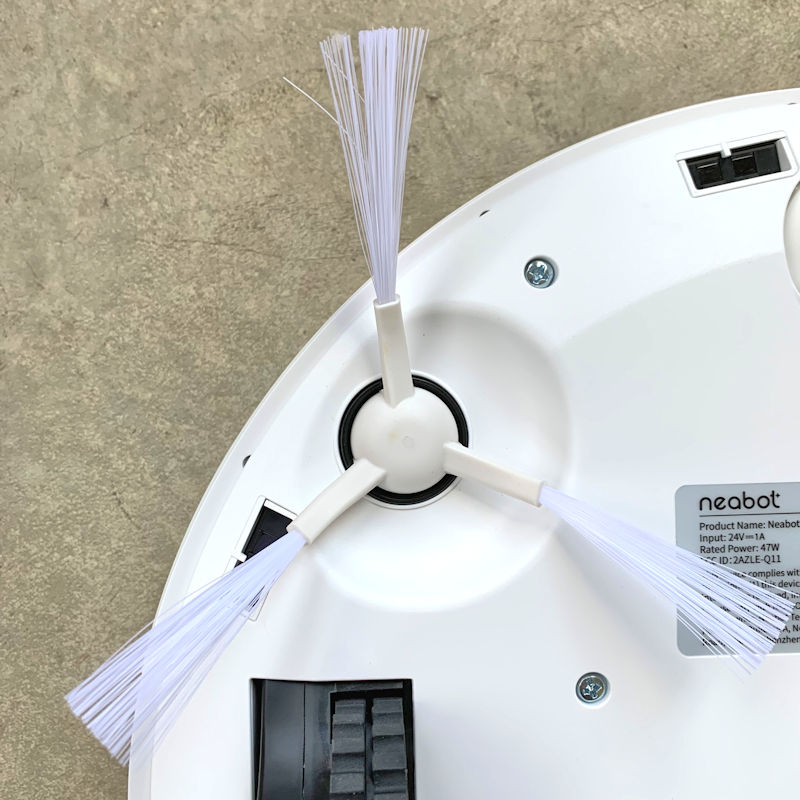 The side brushes must be snapped onto a small post on the underside of the Neabot NoMo Q11.  Its long bristles spin while the robot vacuum is in operation and help to flip up dust and debris so that it can be sucked into the vacuum.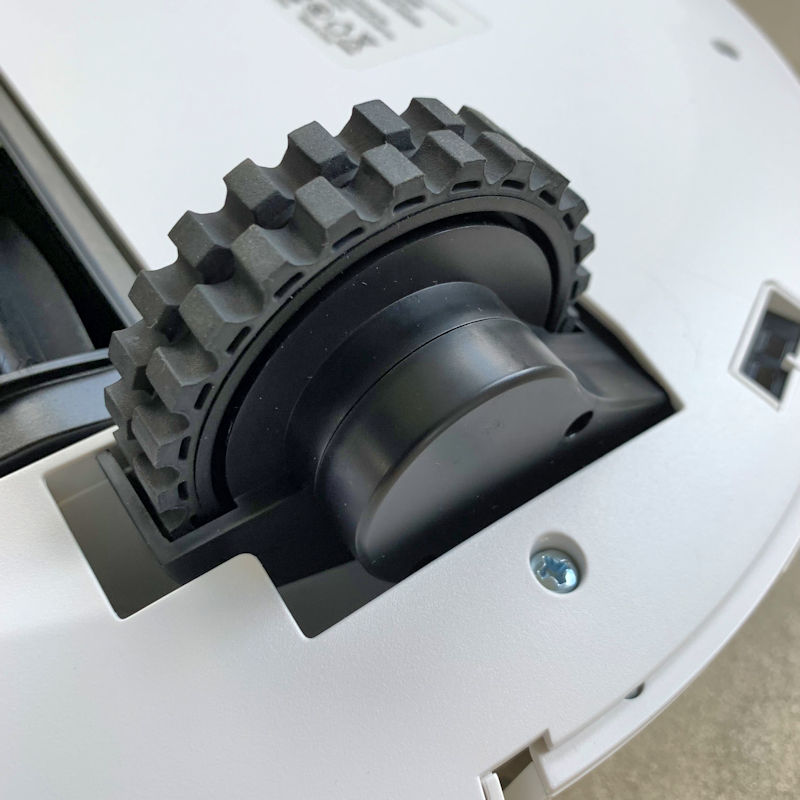 There are also two drive wheels that are shaped like gears or sprockets with chunky teeth and a rubberized coating.  These provide the main locomotion to the Neabot NoMo Q11 and are capable of propelling it over hard floors or carpet of various thicknesses and styles.  These drive wheels are also attached to spring-loaded arms that act as shock-absorbers to help keep the Neabot NoMo Q11 and stable while operating.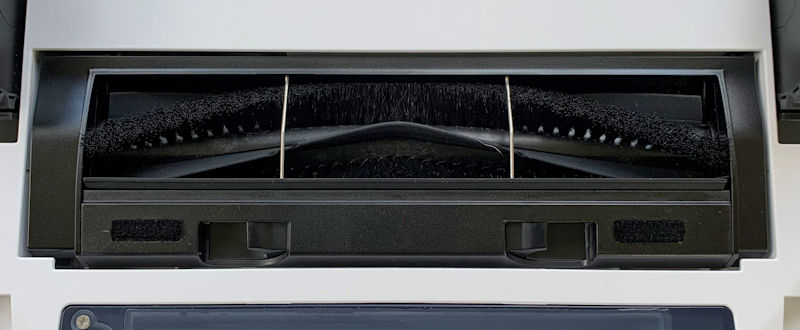 The above photo shows the Neabot NoMo Q11's main brush.  This functions very similarly to a typical vacuum cleaner in that it consists of the brush, with multiple rows of spiral-arranged bristles that spin to kick up dust and other debris into the vacuum itself, which is situated behind the rotating brush and actually sucks up the dust and other debris into the Neabot NoMo Q11's internal dust bin.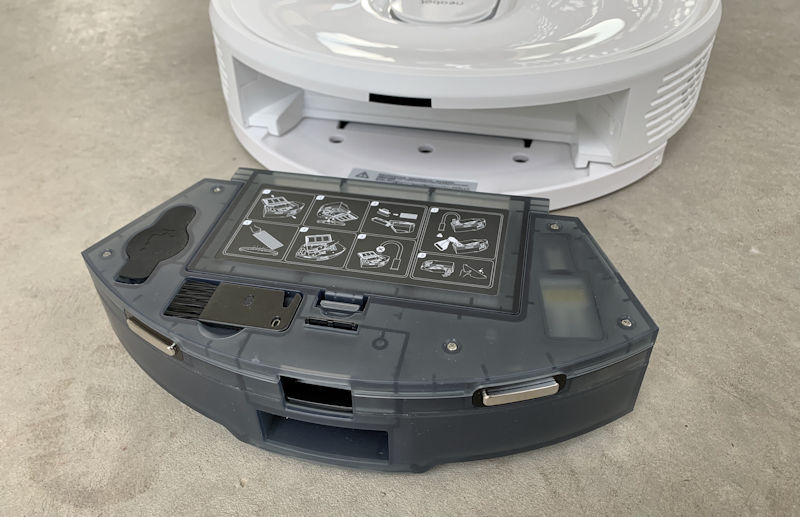 The Neabot NoMo Q11's dustbin is situated at the back of the robot vacuum.  It can be removed for empyting.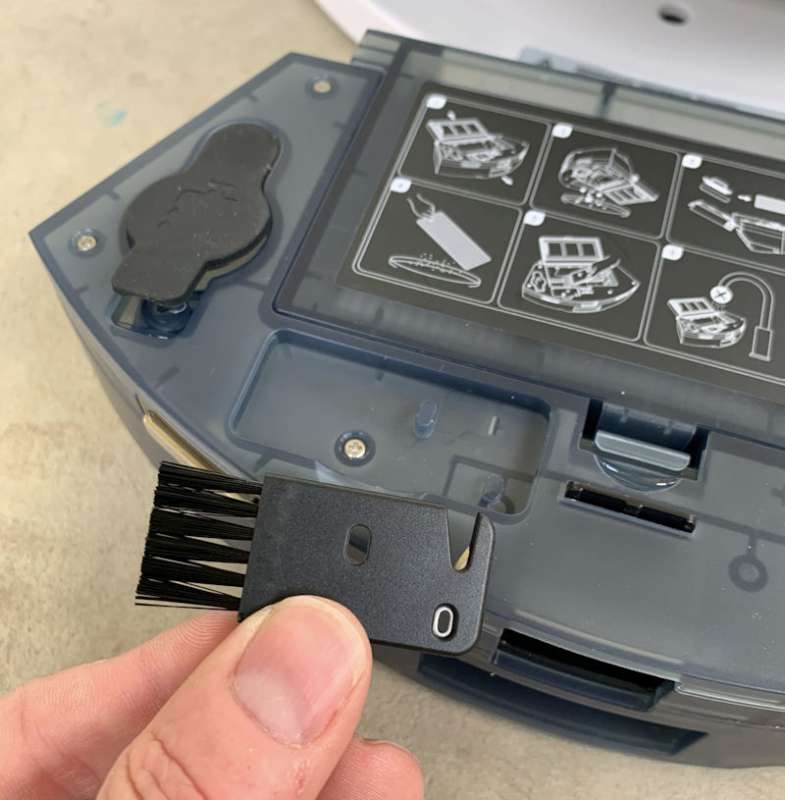 The dustbin has a small brush tool attached to the top that can be used brush dust or bit of debris from the main brush if necessary.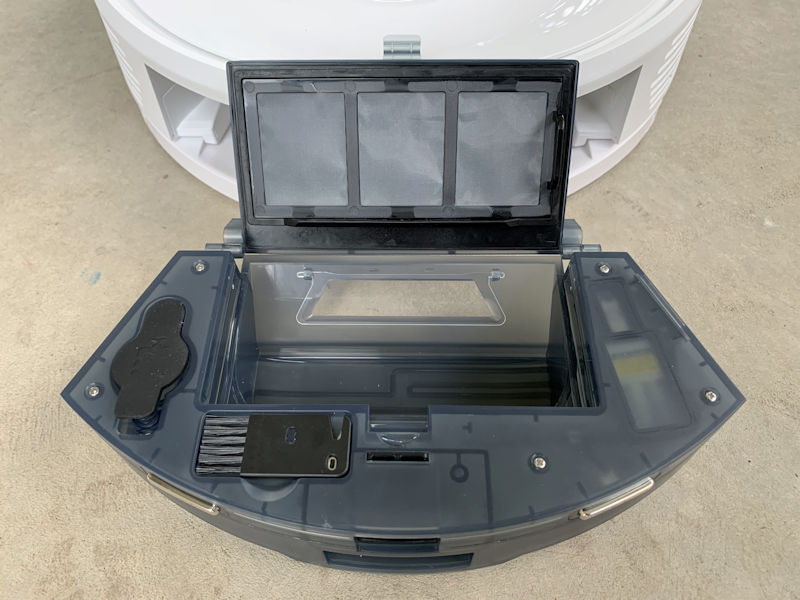 The dust bin has a door on its top that swings open for access to the dustbin's interior.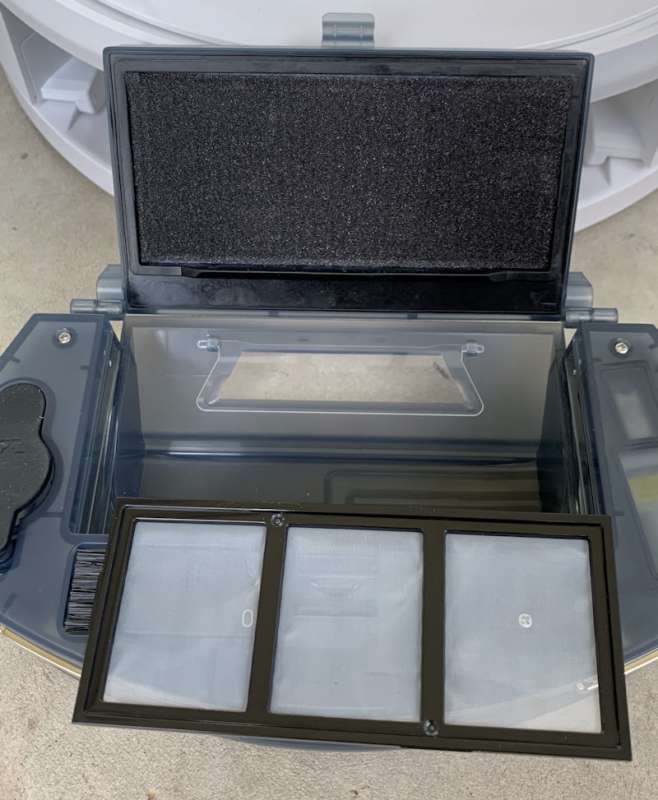 The lid of the door has two filters.  The black filter is a filter sponge with a felt-like look and feel, while the other is the filter bracket cover that has a set of three very fine screens.  Both filters can be removed for cleaning.  I rinsed both with water and allowed them to air dry thoroughly before replacing them.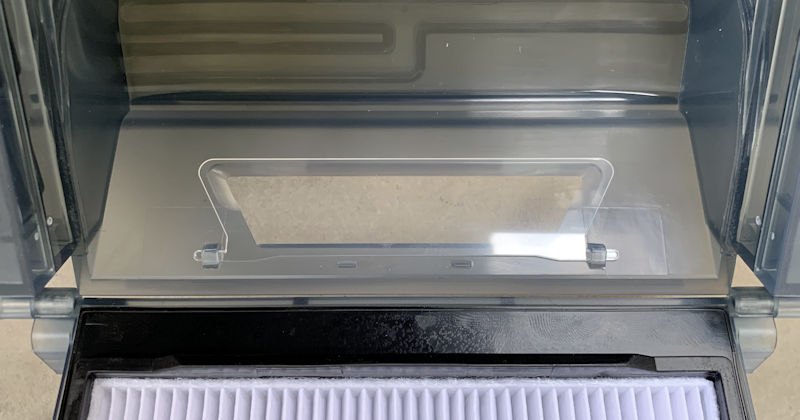 The dustbin has a small transparent flap that stays closed to retain debris inside the dustbin when you remove it.  This flap opens automatically when the self-emptying dustbin station pulls the dust from inside the robot vacuum's dustbin.  This flap is a thoughtful feature that prevents dust and debris from spilling out when you hand the bin.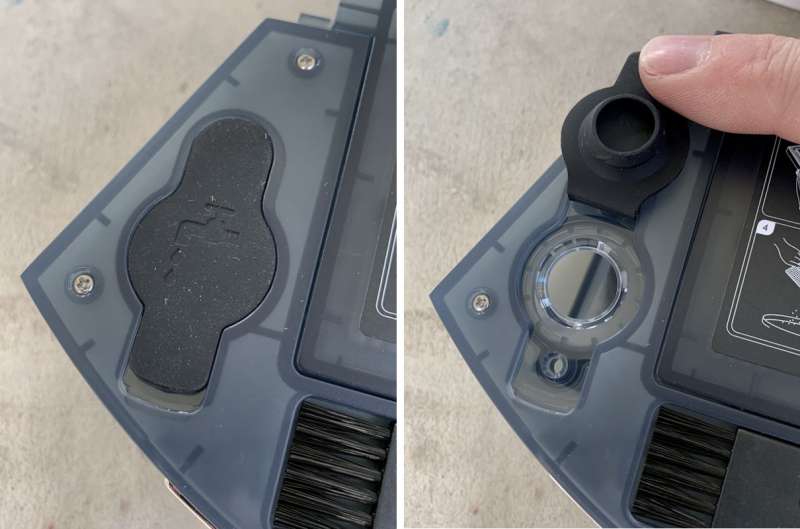 The dustbin has a small silicon flap that can opens to allow access to the water inlet, through which you can fill a small tank with water for the Neabot NoMo Q11's mopping function.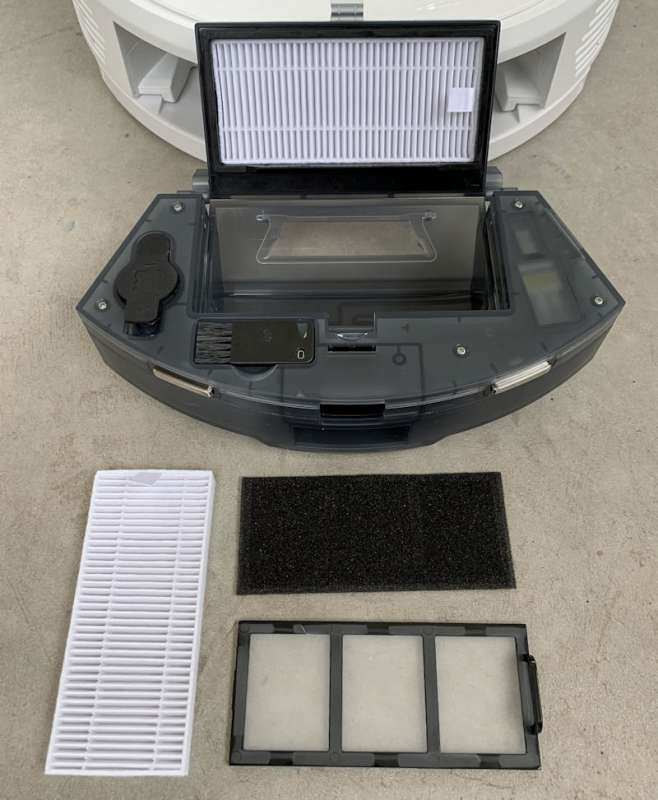 Shown above are all of the components of the Neabot NoMo Q11's dustbin.  It includes a spare white HEPA filter.
Self-Emptying Dustbin features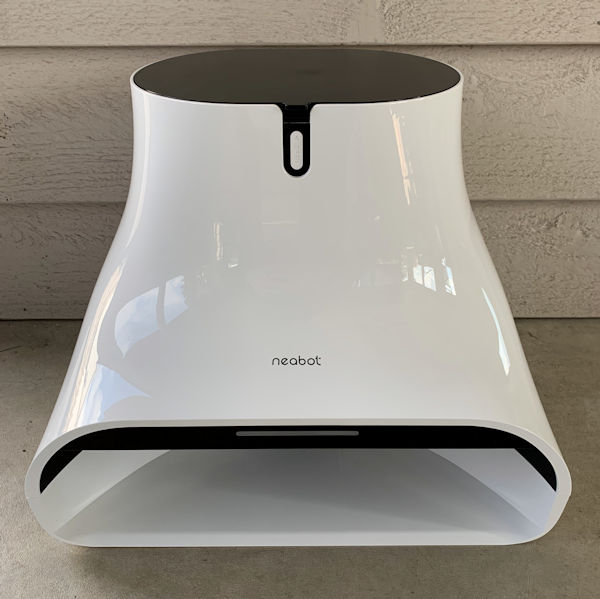 The Neabot NoMo Q11's 2.5L Self-Emptying Dustbin is pictured above.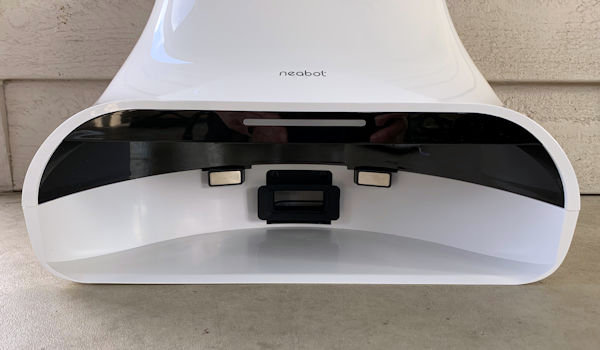 The 2.5L Self-Emptying Dustbin also serves as robot vacuum's charging station.  The two silver charging contacts are visible in the photo above.  The small black rectangle between the two charging points is the port through which the Self-Emptying Dustbin sucks the dust and dirt from the robot vacuum and into a small dust bag.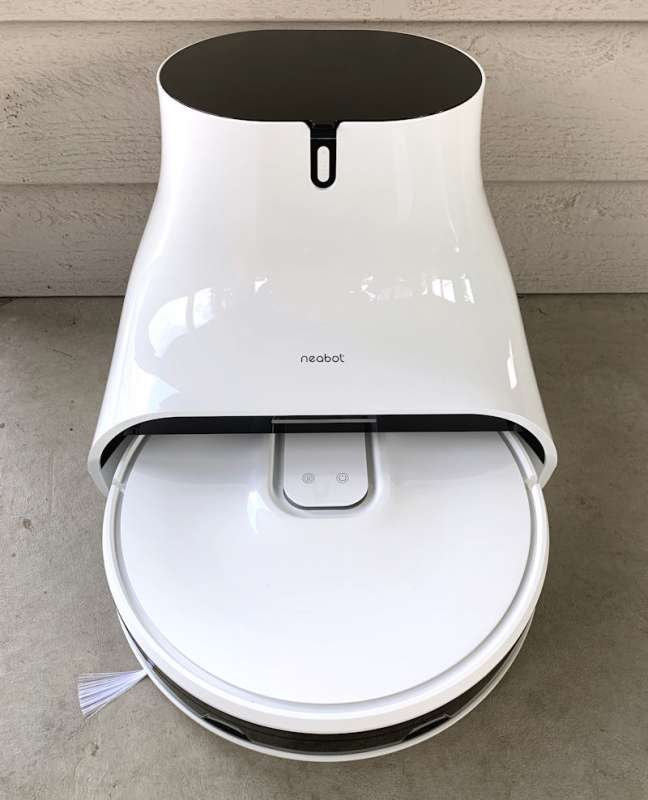 When docked for charging and automatic dustbin emptying, a portion of the back of the robot vacuum sits inside the Self-Emptying Dustbin.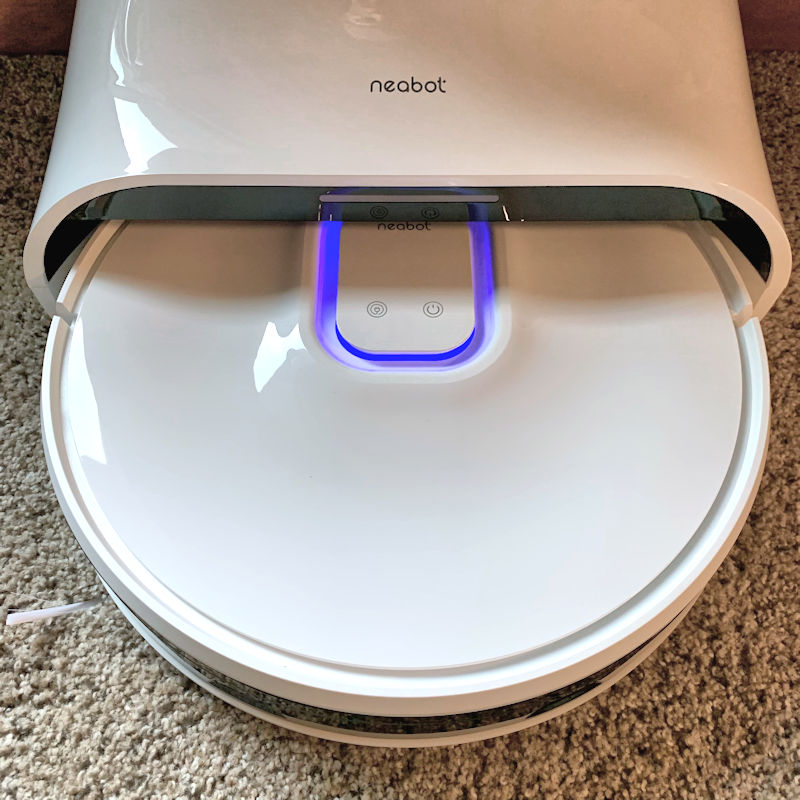 One of the functions of the blue ring light atop the robot vacuum is to indicate that the Neabot NoMo Q11 is charging.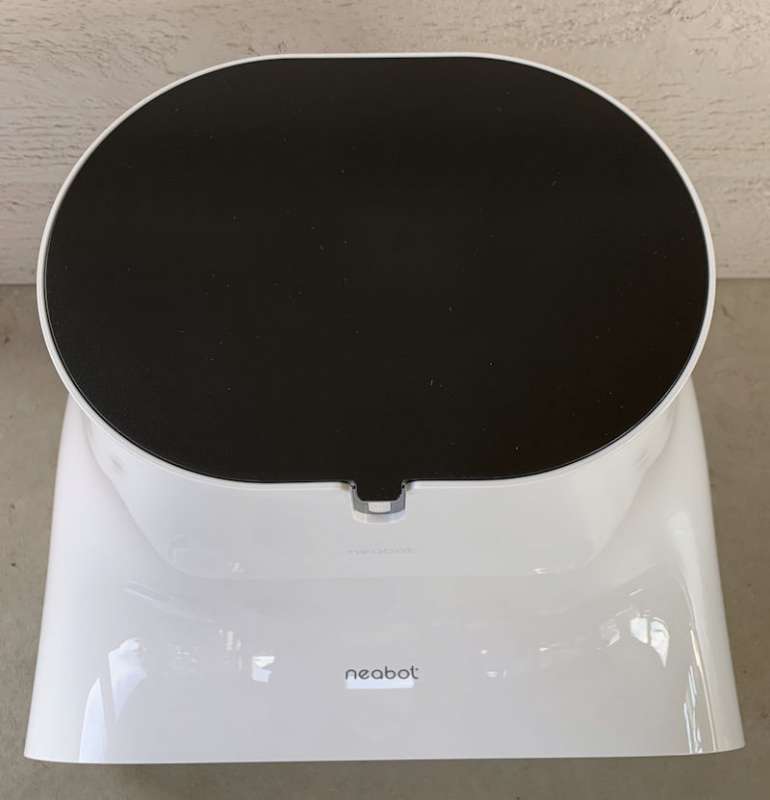 The top of the Self-Emptying Dustbin has a black panel that can be removed for access to the dust bag.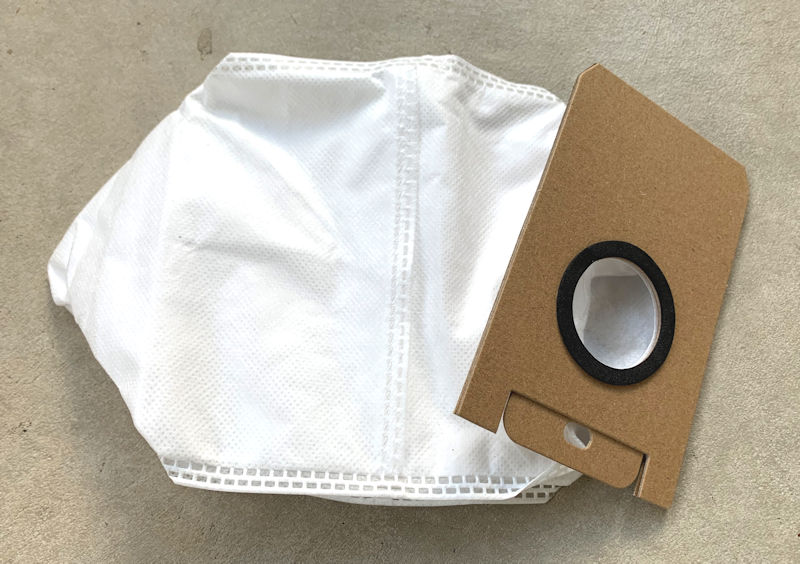 The Neabot NoMo Q11 includes two 2.5L dust bags as shown above.  During the review period, I ran the Neabot NoMo Q11 a few dozen times and although this dust bag did not show any signs of filling up from that many cleaning session, it will eventually fill up of course.  However, it was not obvious to me how to buy replacement bags.  This should be in the app somewhere, but I couldn't find it.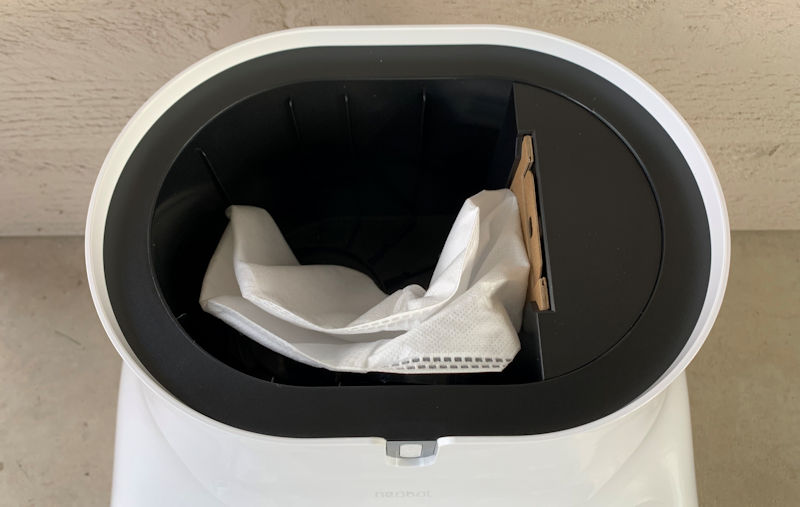 One of the dust bags is pre-installed into a compartment in the top of the Self-Emptying Dustbin.
App setup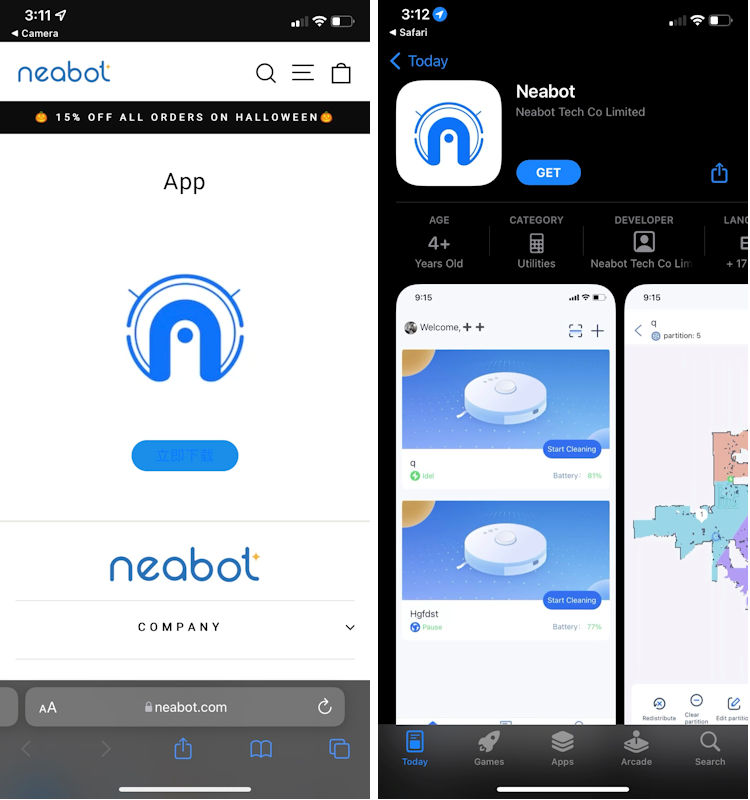 While the robot vacuum's top buttons provide very basic functionality, the Neabot NoMo Q11's mobile app provides the ability to access many more settings and controls.  The Neabot NoMo Q11 is compatible with both iOS and Android devices.  You can find the app on your mobile phone by either scanning a QR code inside the User Guide or searching for "Neabot" on your phone's app store.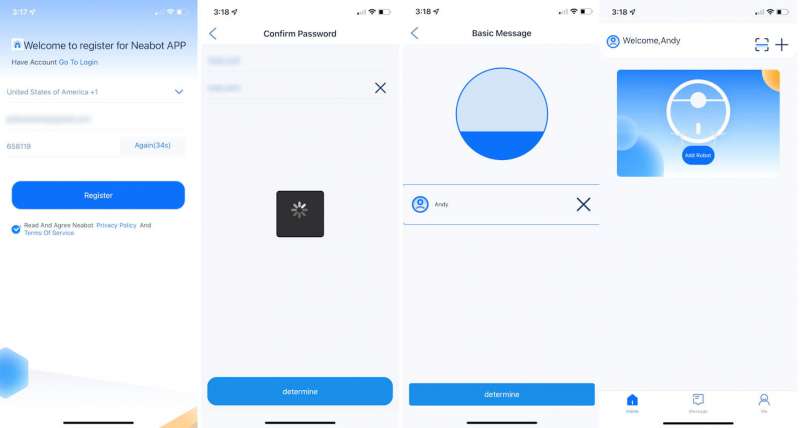 Once the app has been installed on your phone, connecting it with the Neabot NoMo Q11 involves a few steps as shown above.  You'll first register your specific Neabot NoMo Q11.  You'll then set up a password for your app.  Then you'll enter your name as the owner of your Neabot NoMo Q11 and add your robot vacuum to the app.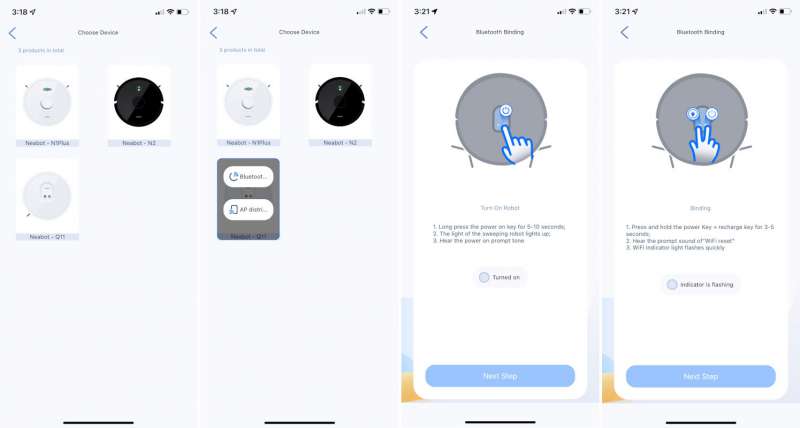 Adding your Neabot NoMo Q11 to the app involves selecting it from a visual list of Neabot's robot vacuum products.  You'll then connect your Neabot NoMo Q11 to you home's WiFi following the steps above.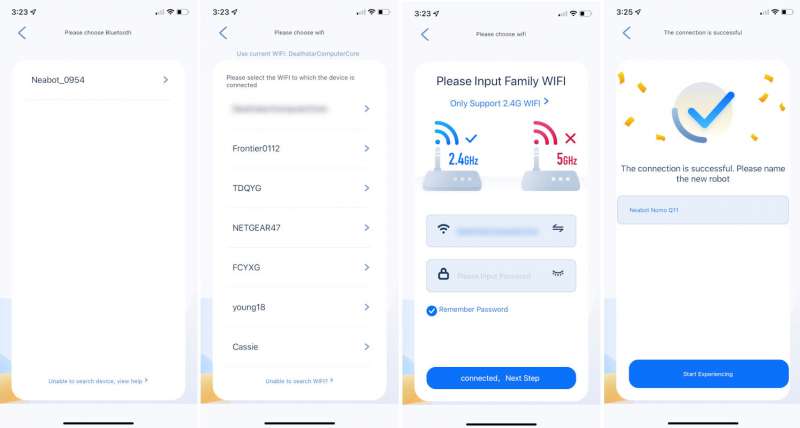 You'll select your WiFi router's name, then enter your WiFi's security code (which I hope you have).  Note that the Neabot NoMo Q11 only supports 2.4GHz WiFi signal.  Boom.  Connected.
Robot vacuum performance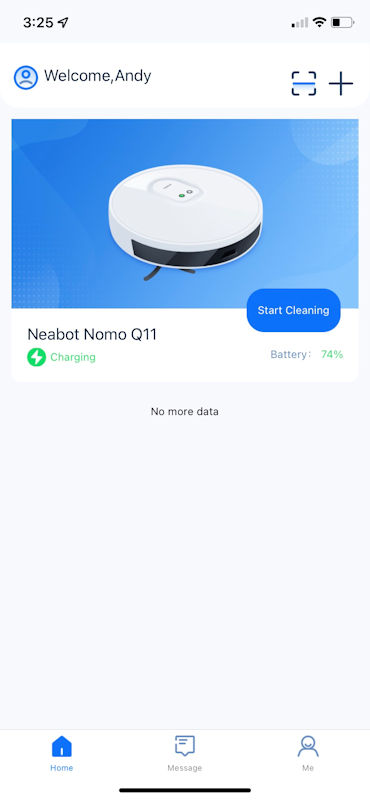 Once your Neabot NoMo Q11 is connected to the app, you'll see the screen above every time you launch the app.  Just click the "Start Cleaning" button and your Neabot NoMo Q11 will launch itself from its Self-Emptying Dustbin on its first cleaning and exploring journey around your home.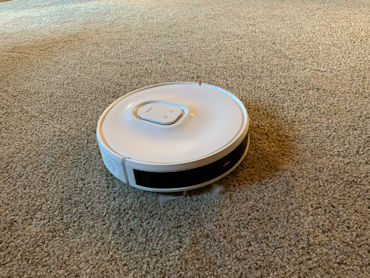 While in a cleaning session, the Neabot NoMo Q11 glides along your floor quietly, smoothly navigating across carpet and hard floor alike.

As the robot vacuum is cleaning, a sophisticated suite of sensors is detecting and recording objects in its environment.  This includes an AI Obstacle Avoidance system which Neabot describes as  "based on structured light technology and 3D imaging algorithm" that lets the robot vacuum redesign the best route through your home every time it runs a cleaning session.
This AI Obstacle Avoidance system is driven by Advanced Beam Laser LiDAR technology, the same navigation system as self-driving cars.  It lets the Neabot NoMo Q11 detect learn your entire home, even very small obstacles, like a dog toy, in seconds, and store it in memory.
The AI Obstacle Avoidance and Laser LiDAR system is so sophisticated that the Neabot NoMo Q11 rarely actually contacts an object; it detects them in advance, pauses briefly, and continues on.  This means that it is not constantly bumping into things.
Also, as mentioned above, atop the robot vacuum is a multi-function blue glowing ring light.  The light glows blue nearest any obstacle that the Neabot NoMo Q11 detects.  A very cool feature.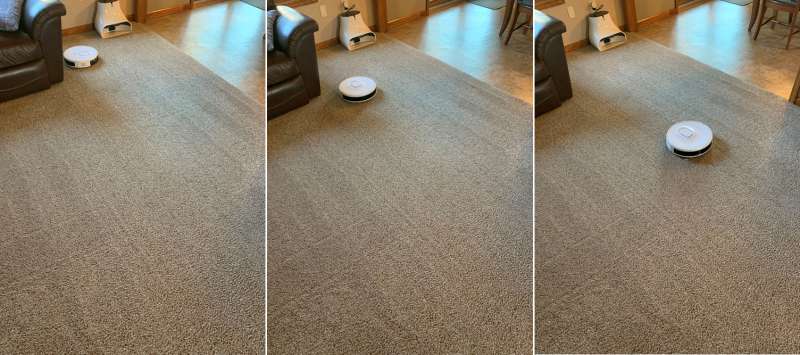 The Neabot NoMo Q11 did an utterly fantastic job of covering every inch of my floor during cleaning.  The path of each cleaning pass across a wide area was very tight with no gaps.
In addition, the highly sophisticated collision detection and mapping as described above let the Neabot NoMo Q11 very carefully and thoroughly get into every corner and nook and cranny around my furniture.
Its 3.42-inch low-profile body height also kept it from getting stuck under my furniture.  A big plus here.
App features and settings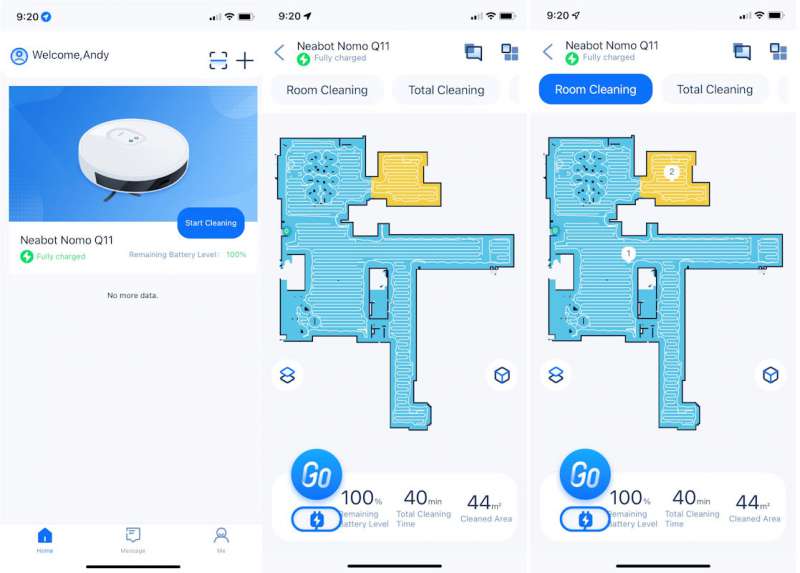 The Neabot NoMo Q11's app is loaded with features.  From the starting screen shown above left, click on the image of the robot vacuum to access the map that the robot vacuum created on its most recent cleaning session.  You'll see a map of the entire area that the Neabot NoMo Q11 cleaned, even down to the detail of its actual path of movement.
Clicking on the small icon near the center left of this screen lets you set a No-Go Area on the map in case you have area that you'd prefer the Neabot NoMo Q11 avoid.
Clicking on the small icon near the center right of this screen lets you adjust the Water Volume for the hard floor mopping function and the Suction Power with four separate settings.
The bottom of this screen also has a blue GO button that will launch the Neabot NoMo Q11 on a cleaning session and beneath that is a blue electrical plug icon that when clicked will return the Neabot NoMo Q11 to its charging station.  There are also indicators for the robot vacuum's current battery level, total cleaning time, and cleaned area, with each of these values being updated dynamically as the Neabot NoMo Q11 operates.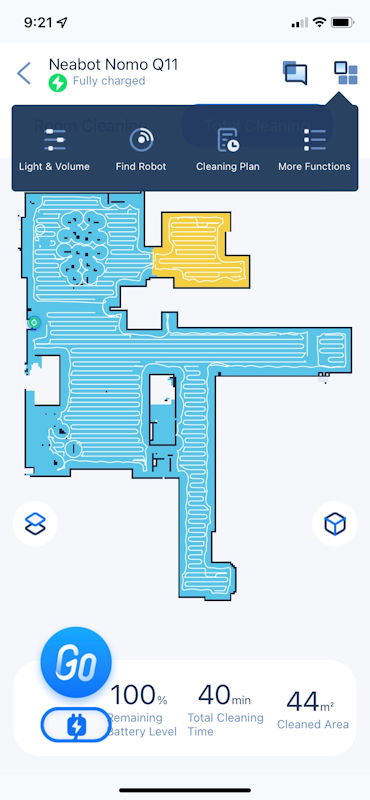 Clicking on the icon in the top right of the app's map view access a bar of four functions:
Light & Volume controls the brightness of the blue ring light and the volume of the Neabot NoMo Q11's voice prompts.
Find Robot activates a voice that audibly indicates where the Neabot NoMo Q11 is located in the even that it has become stuck under or behind something and you can't find it.  I'd mention that this didn't happen to me once during my review period.
Cleaning Plan access a feature that lets you schedule cleaning sessions for specific times and days and even lets you specify a Cleaning Mode for each session (Total Cleaning, Zone Cleaning, or Room Cleaning).  This area also lets you set a Do-Not-Disturb Time Period.
More Functions brings up another screen of a host of additional functions and setting, more on this below.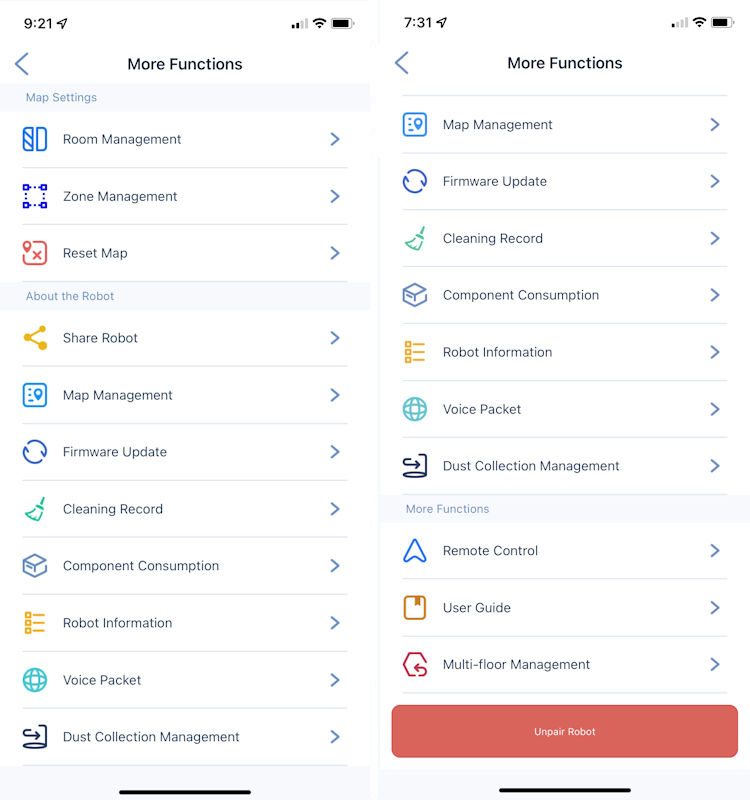 The images above show the list of features and settings under More Functions.  Each of these features and functions is easy to set up and use and all provide additional useful features and functionality for the Neabot NoMo Q11.  I'll hit them briefly here:
Map Settings – More on this below
Share Robot lets you share app control of other members of your household.
Map Management gives a list of every map that has been created on each of the Neabot NoMo Q11's cleaning sessions.
Firmware Update shows the current firmware version and lets you update it if a new version is available.
Cleaning Record shows a list of the surface area cleaned, total cleaning time, and clock start time of every past cleaning session.
Component Consumption shows the percentage of how much of the filter, side brush, and main brush has been used and estimates a number of hours until each needs to be cleaned and serviced.
Robot Information has info on your Neabot NoMo Q11, including Device SN, Name of Connected WiFI, IP of Connected WiFI, Robot MAC Address, MCU Version, and Model Number.
Voice Packet lets you specify one of 11 languages for the Neabot NoMo Q11's audible voice prompts.
Dust Collection Management lets you turn on or off the Self-Emptying Dustbin's collection feature.
Remote Control lets you manually steer the Neabot NoMo Q11 forward, backward, left, or right, almost as if you were playing a video game on your app.
User Guide is…well, the User Guide.
Multi-Floor Management lets you save the map and partitions between rooms, as well as create a new floor map.  Note to the Neabot folks: I think this function should be listed at the top under "Map Settings."  It makes no sense for it to be located here at the bottom of the More Functions list.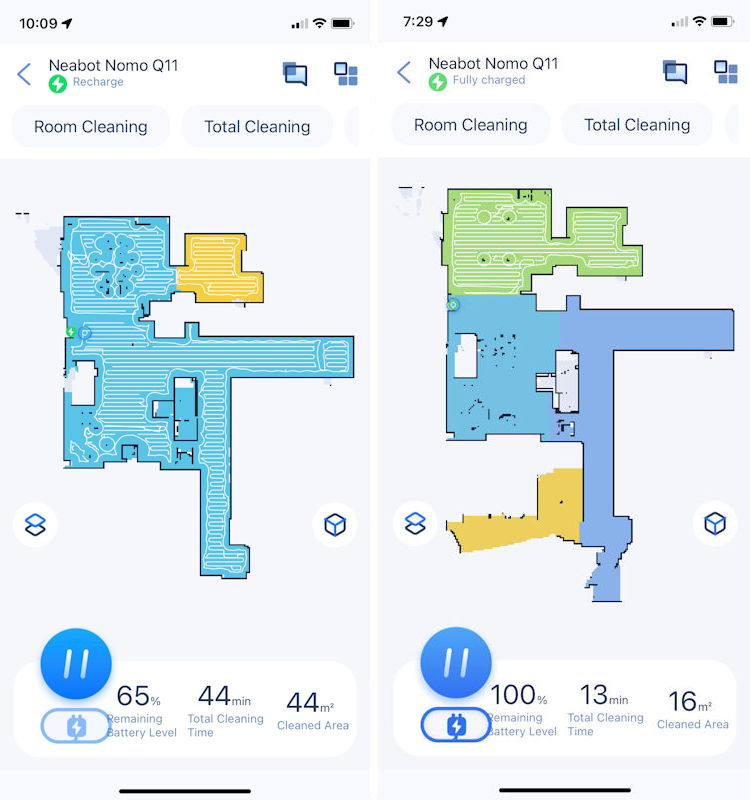 There is an area under the More Functions list that I need to describe and that is the Map Settings.  The combination of features under Map Settings, Room Management and Zone Management let you actually set up and adjust different rooms or zones where you'd like the Neabot NoMo Q11 to operate.  You can click and drag points at the edges of rooms or zones to create partitions between them as well as merge and separate rooms or zones.
It takes a bit to get the hang of this at first, but I found it to be an incredibly useful set of features.  It allowed me to set up my kitchen the area in green in the above right image, as a separate room.  My kitchen has a hard floor while the rest of my downstairs is carpeted, so having the kitchen as a separate room let me use the Neabot NoMo Q11's mopping function on that room's hard floor only and not on my carpeted areas.  This feature works brilliantly.
Mopping

In addition to standard vacuuming, the Neabot NoMo Q11 includes a hard floor mopping function.  There are a couple of accessories specifically for mopping, which are the blue mop cloth and mopping accessory, to which the mop cloth attaches via hook-and-loop fasteners.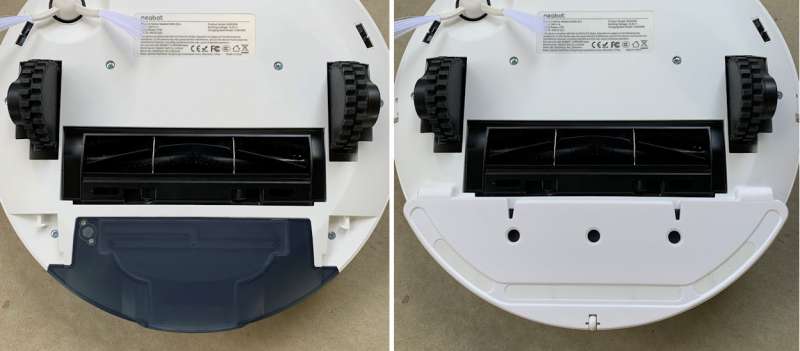 The mopping accessory attaches directly under the Neabot NoMo Q11's dust bin as shown above.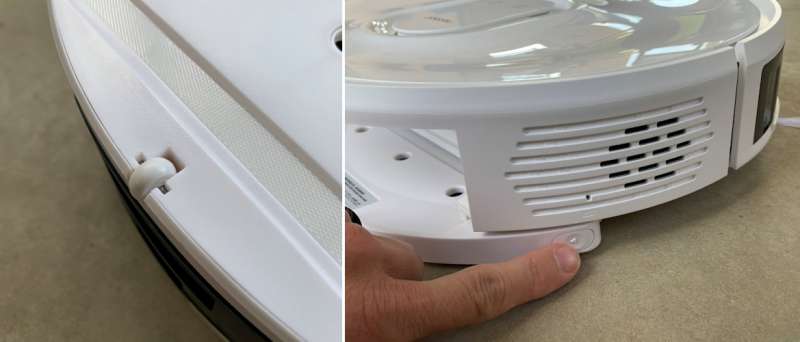 The mopping accessory has a tiny glide wheel to support it during mopping.  It also has two small release button on either side.
EDIT November 26, 2021 – Thanks to a question by one of our readers, I was alerted that I forgot to mention the performance of the mopping function.  The mopping function is intended for hard floors only, not carpeted floors, and it did a good job cleaning the hard linoleum floor in our kitchen.  Because of this, I wanted the robot vacuum to mop only on our kitchen linoleum floor, so went into the Map Settings as described above.  As it mopped our kitchen floor, it overlapped a bit with the edge of our family room's carpet, get it a bit wet, but I didn't think this was a deal-breaker by any means.
What I like
Very thorough cleaning of every nook and cranny of my floor
Ability to set specific rooms for different types of cleaning is excellent
Low noise level
Does well sucking up dust and pet hair
Never got stuck under a piece of furniture
What I'd change
I'm still not sure how to buy additional dust bags, which will eventually fill up
Final thoughts
The Neabot NoMo Q11 Self Emptying Robot Vacuum and Mop is a very impressive system.  It worked flawlessly, cleaning every part of my floor and sucking up lots of dust and pet hair with ease.  Obstacle detection and LiDAR object sensing are very sophisticated.  One of its best features is its easy-to-use app that lets you specify different cleaning rooms and zones.  To be honest, I could have written a review of this product that would have been at least twice as long and probably still not covered all of its features.  While the Neabot NoMo Q11 Self Emptying Robot Vacuum and Mop is a bit on the expensive side, I am fully convinced that this is a good investment in an excellent robot vacuum system product.
Price: $599.99
Where to buy: Neabot and Amazon After store discount & 5% OFF exclusive coupon code: Price $599.99⇒ 474.99(Save $125)
★Extra 5% OFF Coupon code: Q11BLACK5
(From Nov.21 -Nov.27)
Source: The sample of this product was provided by Neabot.