We use affiliate links. If you buy something through the links on this page, we may earn a commission at no cost to you. Learn more.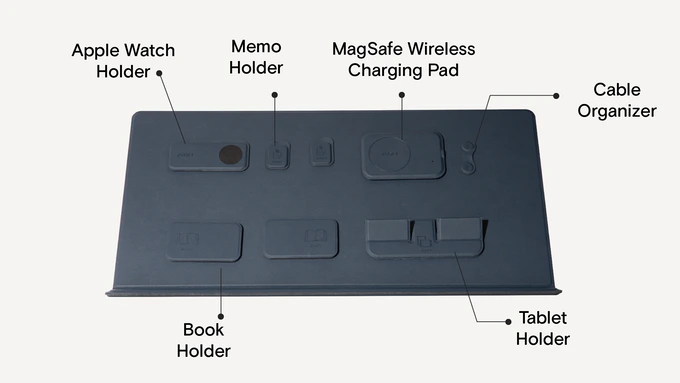 CROWDFUNDING NEWS – Mobile Office for Travelers – (MOFT) has a new product, the Smart Desk Mat. I have backed several of their past projects personally, and have found the products to be very interesting. Since I'm not traveling as much as I did 2-3 years ago, however, the need has not been as great to use their stands, but I still like them. And I hope at some point, I'll be traveling again, even if it's just to the local coffee shop for the day.
This product looks more like a home-office type setup, similar to the Worky Home Office I just reviewed but not so elaborate. There are magnets hidden within that allow for attaching things like phone chargers, watch chargers, memo holders, styluses for tablets (as well as the tablets themselves). It has a leg cushion, so you can use the whole thing as a laptop desk replacement. The main stage can be elevated to several angles for better access while working. The mats start at $79, and there are several levels of adjustment, as well as several levels of investment. (You see what I did there?) The Mobile Office was a fully funded Kickstarter project ($450,000+ of their $20,000 goal!), and they are good about shipping the items on time.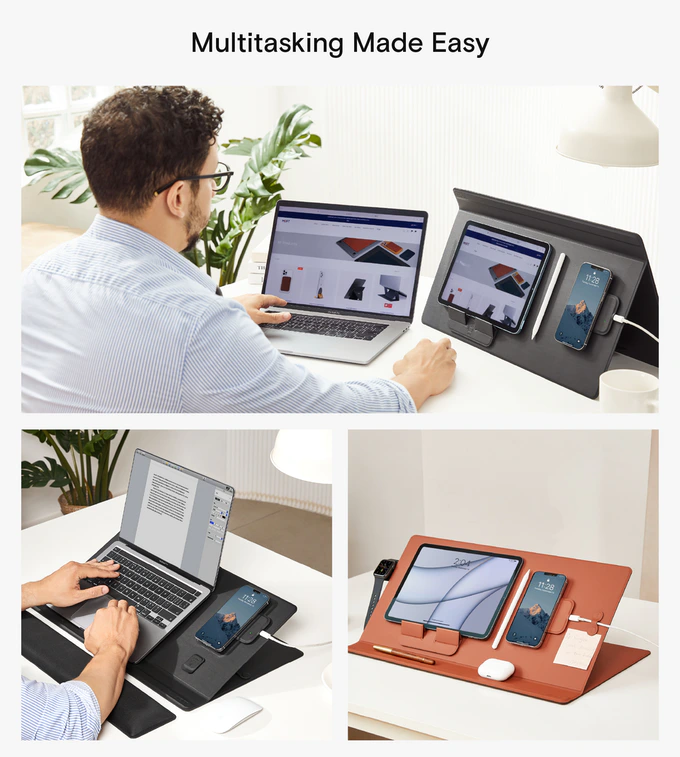 This mat uses the metaphor of a desk mat – which people used to have on their desks, before their desks became a place to hold a massive computer and monitor. Places for pens, calendars, post-it notes, and other constant needs were accommodated. I lusted over many different deluxe models early in my career days, and had a fair number of interesting ones before computers ruled the world.
I am not a fan of typing on surfaces that are greater than 90º from my body (like the keyboard in the pictures), but it doesn't bother some folks. I'd like it better if it had a way to have a keyboard on the desk level that then connected to the raised screen. That's exactly what one of their past projects that I funded does, and I really like it! But if this unit speaks to you, head over to Indiegogo INDEMAND to pre-order one.