We use affiliate links. If you buy something through the links on this page, we may earn a commission at no cost to you. Learn more.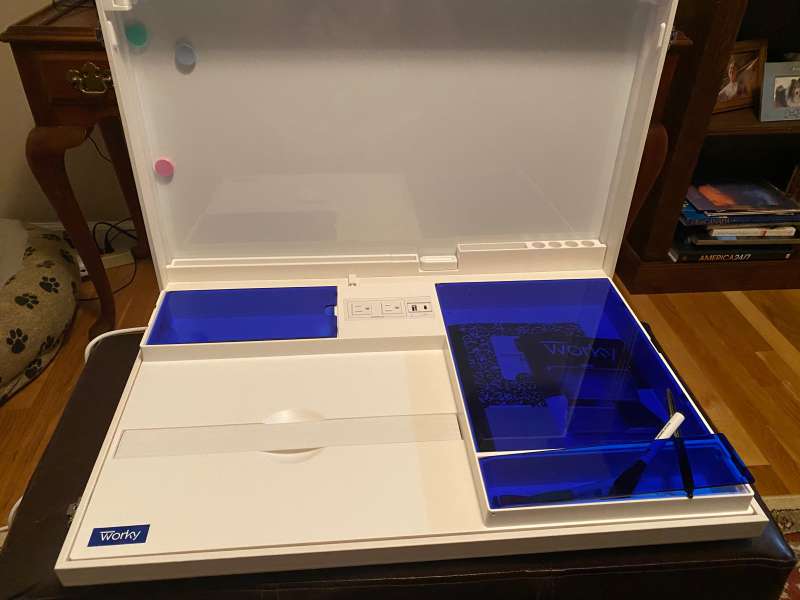 REVIEW – With Working From Home becoming the norm for many, what do you do if you don't have a full-time space to devote to your work life? Rent a hotel room every day? Kick one of your kids out of their bedroom? Or use the dining table, and deal with tearing down the makeshift workplace you created every afternoon when it's time to get ready for dinner? Worky has a better idea: The Home Office! I was sent one to review and want to share it with you. I think you'll dig it!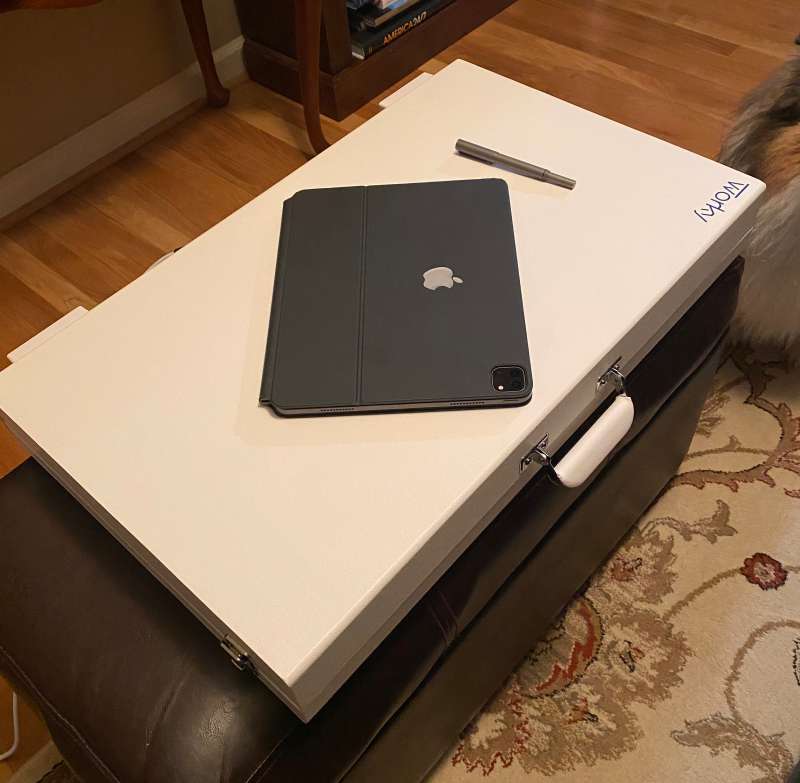 What is it?
The Worky Home Office is a foldable case that contains power management, a whiteboard, and task lighting, plus space for a laptop, tablet, letter-sized notebooks, pens, sticky notes, and other ephemera of your desk life back at that office you used to go to.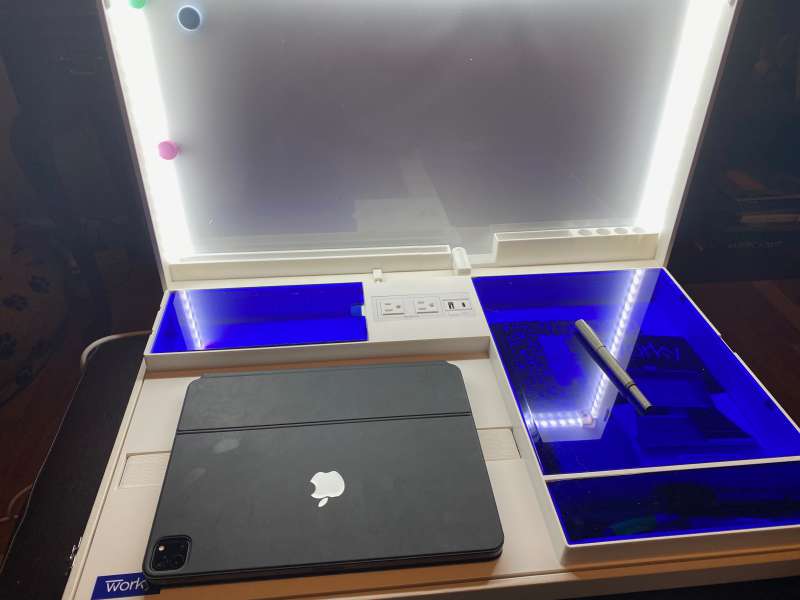 What's in the box?
A single sturdy box made of hard plastic, covered with textured vinyl material. It is held shut with polished silver steel hardware. It attaches to the grid with a single 4 foot power cable.
Hardware specs
From company website
Built In Power and Device Charging
Built In Video Conferencing Light (high and low setting)
Built In Storage
Magnetic Dry Erase Board
Design and features
The Home Office arrives as a solidly packed box. There is a little padding around it (happily so, since the carrier had poked holes into the outer box!), but not too much. There is a single sheet of instructions that is simpler than anything IKEA has ever printed. Quick outside dimensions: 26" x 3.75" x 16" There is a handle on one long edge, and a single snap bracket on each of the short edges. (There are detailed photos of the hardware further down.) On the opposite long edge, there are two hard plastic hinges, built to do double duty holding up the unit when folded, and also holding it open when set up for use. One look at the instruction sheet will help you understand this.
When you open the unit, the insides are a bright white with cobalt blue accents in the form of transparent hard acrylic lids to the three storage compartments. More on these below. The top of the unit is braced open by a manual tab you twist into place. (This won't prevent a determined person from shutting it, but it will keep it from flopping down in the middle of you turning away for a second during that Zoom call when you're presenting to the CEO!) Shutting it with the lock engaged will break the lock, since it's only plastic, so pay attention when quitting time comes and you're packing up. If you feel resistance, stop and check.
The inside of the lid is a magnetic whiteboard. You can draw, notate, stick fridge magnets to it, whatever. Around the perimeter of this is affixed a two-level LED lighting strip. You can use it for video call lighting, or stay out on the screen porch after the kids are in bed to finish up a few details without having to bring along a headlamp.
To give you an idea of the illumination provided, I took two selfies with the den overhead light on, with the Home Office sitting on the ottoman in front of my loveseat in the TV area, and just one take.
Once you decide on where to place it and open it, here's what you'll find:
On the left, there is a place for a laptop, which will hold up to a 15+" machine. Just behind this is a lidded compartment that fits the included power cable with plenty of extra room for things like phone chargers, cables for charging your tablet and other electronic niggles. Not enough room for a full laptop charger for most brands, but we're not finished.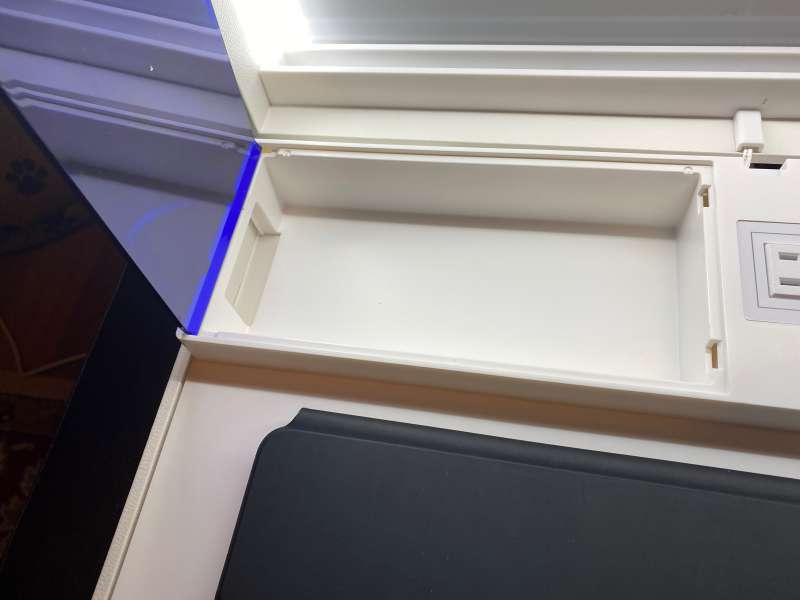 Just to the right of that compartment is a dual AC outlet, a USB A and USB C outlet, and a push-button to toggle the lighting between off/full/dim. Note that there is no high-speed USB charging built-in. There's nothing to stop you from using one of those 110V outlets for a 20-Watt charger, though!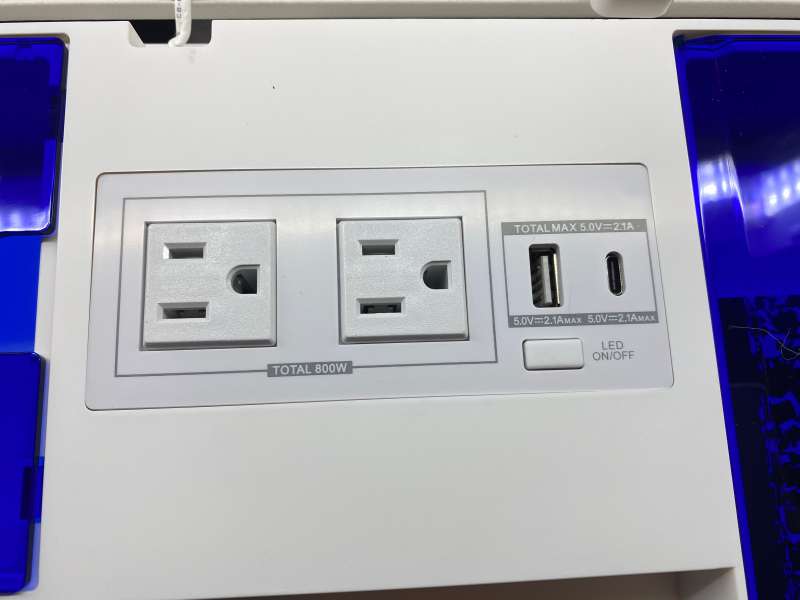 On the right side, there are two main lidded compartments: one is a generous 10" x 12" x 1.75" for paperwork. (Phone power cords and laptop chargers could also go here, if you're more digital and less analog. This is your office, remember! Heck, there's enough room for a ring light and microphone if you're going to record a podcast on location!)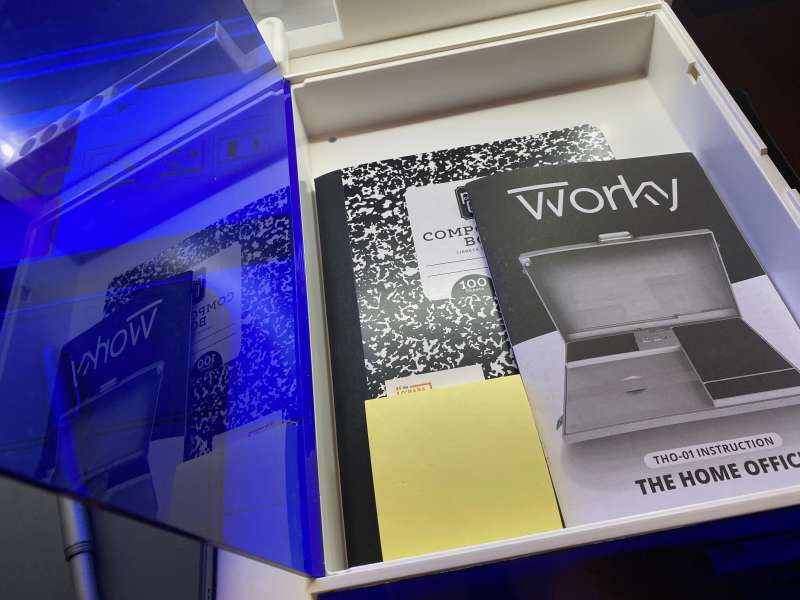 Below that (toward the user) is a "pencil drawer" that measures 10" x 2.5" x 1.75".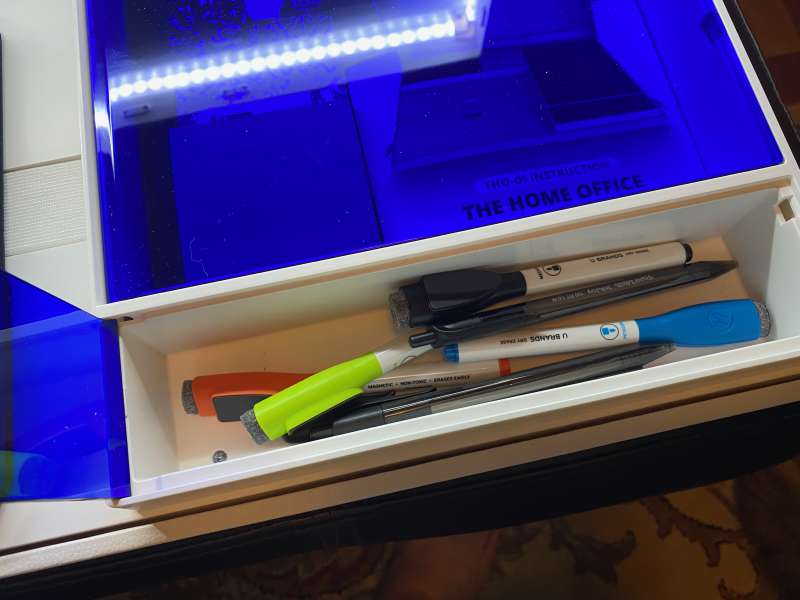 Setup
Out of the box, the only thing you'll need to do is open the sealed bag around the power cord. Find a place you can set it down that's near power (if you need it) and you're ready. Note that you don't have to have power to use the Home Office. But, if you need power, it's a single simple connection.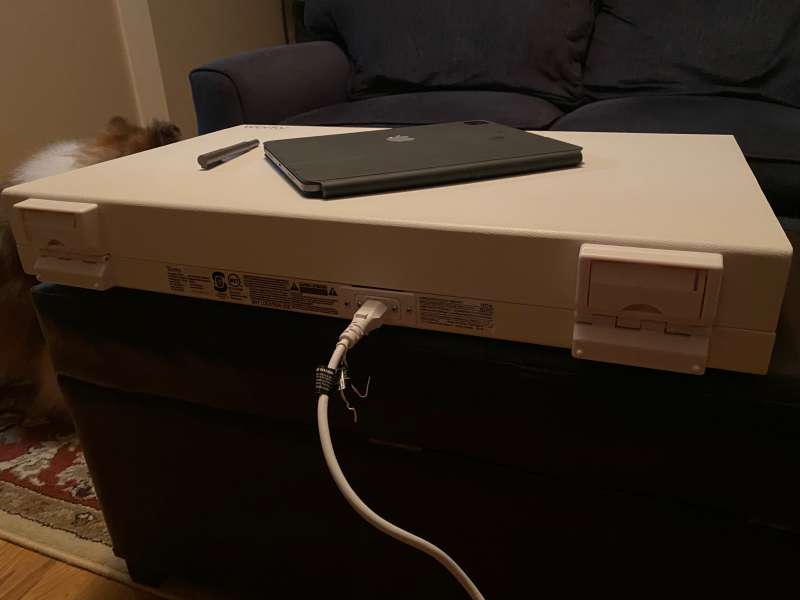 If you're one who uses full headphones for video conferences, there is a hook on the upper left that swings out for you to store them when not in use. Remove them before folding up the Home Office. Also, consider wireless earbuds. (Not judging, but really, I am.)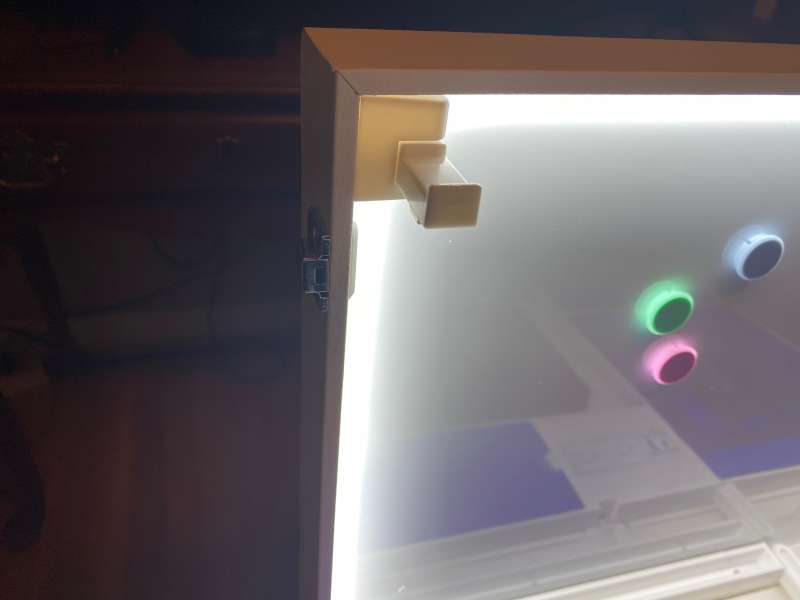 Performance
This thing is the definition of simplicity. I hope they have it patented to death, because the concept is quite obvious, once you see it. I was delighted with it the instant it came out of the box, and didn't have a Zoom meeting scheduled for four days! Here are some detailed shots of the hardware and the textured vinyl covering. (I think it looks like a car top vinyl-covered hardtop or Landau roof. Who remembers those?)
During recent days of the pandemic, I've either been working from the company-provided iMac (which shares a desk and keyboard with my personal Mac mini) in my office, or, more usually, wandering about the house with my iPad Pro, typing and taking meetings where ever I happen to be. I'm sure those in my Spanish class get seasick as I wander around getting settled for our sessions. With the Home Office, I can put my Spanish Reading book, notepads, and a pen or two into their own place, and have it all ready whether I want to set up on the deck, the dining room, or the front porch. Good lighting and my materials will be at hand where ever I am!
What I like
Thoughtful organization without over-specialization
Dual Lighting for on-camera and off-camera illumination
Quality hardware for handle and clasps
What I'd change
The translucent acrylic covers are stiff and loud – make them quieter and softer
A padded lining inside the stationery boxes – I'm thinking of doing this with some stick-on textured material
Final thoughts
Used to be, you could set up your home office with a laptop and a folder of papers and maybe a power adapter. You were only going to be there a few hours, at most, right? How's that working out after 2020? Yeah, you need lighting for video meetings, places for all your project notes, not just the current one, and probably a power solution for your phone and tablet, as well as your laptop. Worky has your back! The Home Office, like the roll top desk of old, is a place to have all your stuff stored and ready, but easily concealable. Snap it shut, slide it under your bed, sideboard, or in that space between the fridge and the oven, and no one has to know this room is also your office. Carry it out to your car if you're going out of town, across town for a meeting, or even to a coffee shop for the afternoon. I've seen folks with full monitors set up in cafes, so this is not going to be the craziest thing the baristas have seen! Once you've "moved in", your office is anywhere you want to go.
Price: $149.99
Where to buy: The Home Office website
Source: The sample of this product was provided by Worky.