We use affiliate links. If you buy something through the links on this page, we may earn a commission at no cost to you. Learn more.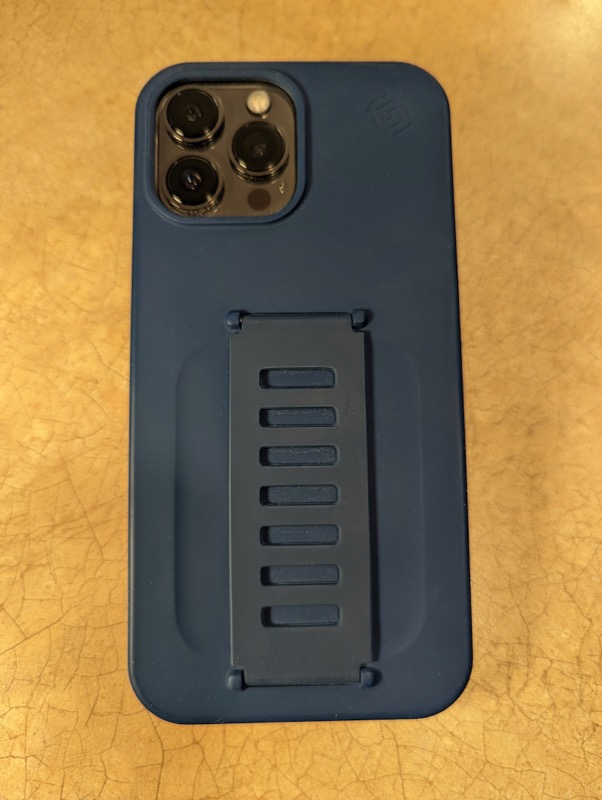 REVIEW – I can't use a phone without a case. I've dropped phones too many times and since the early days of the smartphone revolution, I've used a case because I don't want an expensive repair bill that could have been avoided. As phones have gotten bigger the problem has just been magnified. Grip2ü has a range of cases for various iPhone models and today I'm reviewing their iPhone 13 Pro Max SILICONE case.
What is it?
The Grip2ü SILICONE case is a grippy silicone-textured case available for iPhone 11, 12, and 13 models. The case provides protection on all sides including a raised section around the camera bump in the back and a lip at the front of the case to  help raise the screen off a flat surface if it's placed screen down and prevent damage to the screen in the event of a fall. Also at the back of the case is a rubber band of material that you slide your fingers under for more securely holding the phone. The case also features Grip2ü's antimicrobial Clean Action Technology for helping keep the case clean.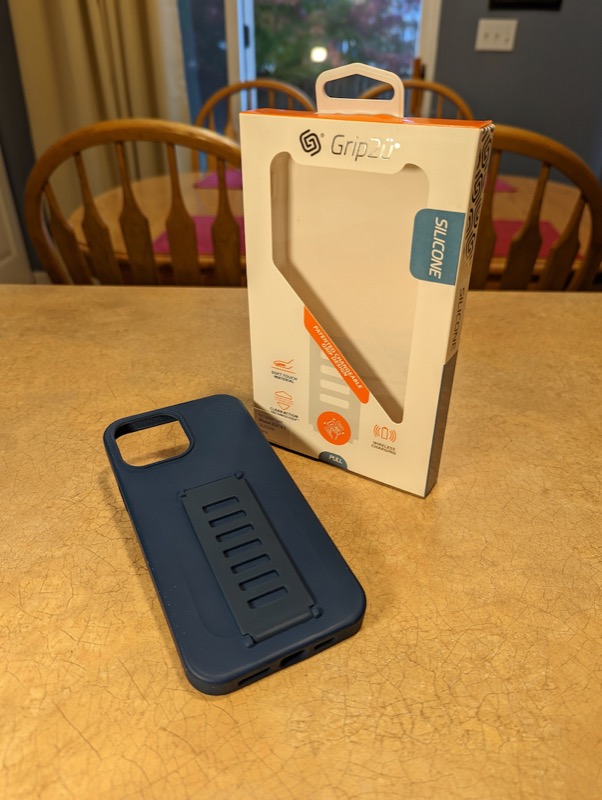 What's in the box?
Grip2ü iPhone 13 Pro Max SILICONE Case
Hardware specs
Soft touch silicone material
Felt-lined
Interchangeable Band
Wireless charging compatible
Clean Action Technology antimicrobial protection
Design and features
The Grip2ü iPhone 13 Pro Max SILICONE Case comes in black and navy blue colors. I chose the navy blue option. The inside of the case is a soft felt material and the outside is a rubbery silicone, great for making sure the phone doesn't slip out of your hands.
One of the nice features of this case is a stretchy band of material at the back designed to help you hold your phone more securely, kind of like a flat Pop Socket. I've never liked Pop Sockets because they stick out of the back of the phone so much but this band is low-profile and not intrusive at all.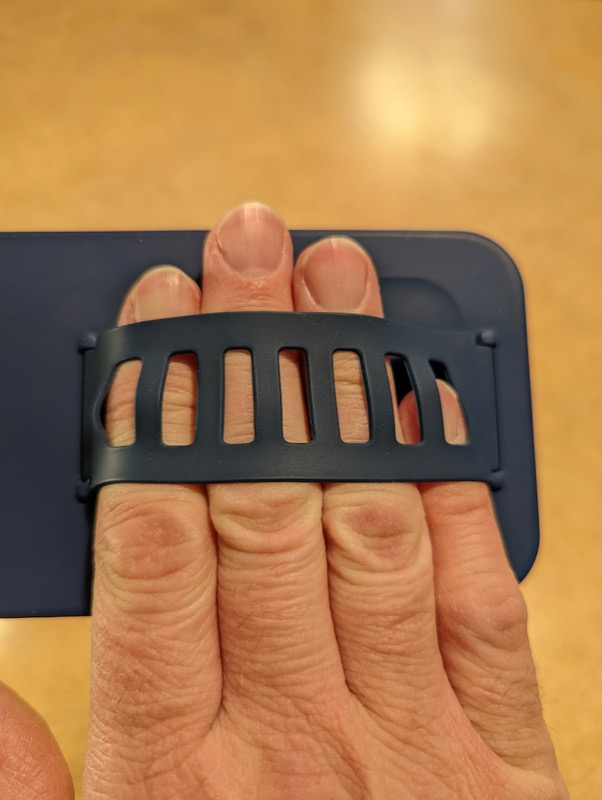 There are raised bumps for the volume and power buttons and cutouts for the mute switch, the Lightning port, and the speakers as well. The cutouts leave plenty of room for the charging cable, the mute switch, and for the sound to come out of the speakers. I've used other cases where the opening wasn't big enough for the cable I was using and it was always a pain to deal with.
Installation and setup
All you have to do is slide the phone into the case at one end and then press around all four sides to make sure it's seated properly. The phone goes in easily but it fits securely. It's also very easy to remove when you want to clean the phone or case material or put it in a tripod mount for taking pictures. This is a welcome thing for me. I had a different case at one point that fit so tight it made me wonder whether I was going to break my phone in half every time I needed to remove it.
In Use
In day-to-day use, it's been nice to have a case on my phone that I know isn't going to slip out of my hands all the time. My hands are always dry and they don't grip on to things very well sometimes so I always have to have some sort of grippy texture on my phone cases. It's been good to know as well that even if i do drop my phone this case is going to protect my phone when it hits the floor.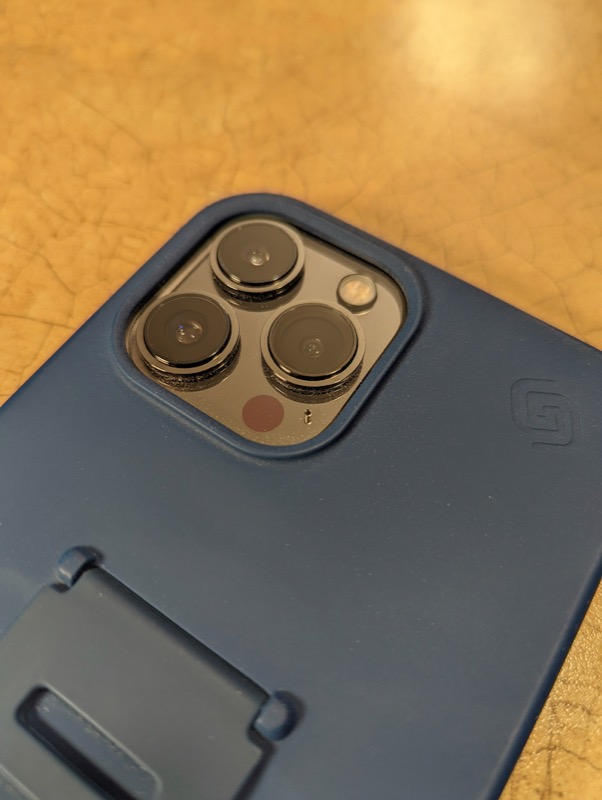 At the back of the case, the raised camera bump and the stretchy band sit at the same level so the phone sits flat on your desk. This is ideal because it not only keeps the phone level but it also protects the glass on the camera lenses since they're not sitting directly on the surface. I suppose if you dropped the phone hard enough the silicone material might compress and the lenses might come in contact with the desk or floor surface but this does provide some additional protection in that event.
While I do enjoy having a case that I know isn't going to easily slip out of my dry, non-grippy hands, this case is pretty grippy in my pocket. It takes a little more effort to put in and take out of my pocket and even pulls out the pocket material a little bit whenever I remove it. This isn't a big deal and is something I've been able to get used to; I figure it's a decent tradeoff for the security of knowing my phone is protected both from slipping out of my hands and will be safe even if it does.
The silicone texture also seems to attract a lot of lint. I'm constantly having to blow it off my screen or trying to rub it off the case. It's always been there on other phones and cases but it seems to be a little more noticeable with this case.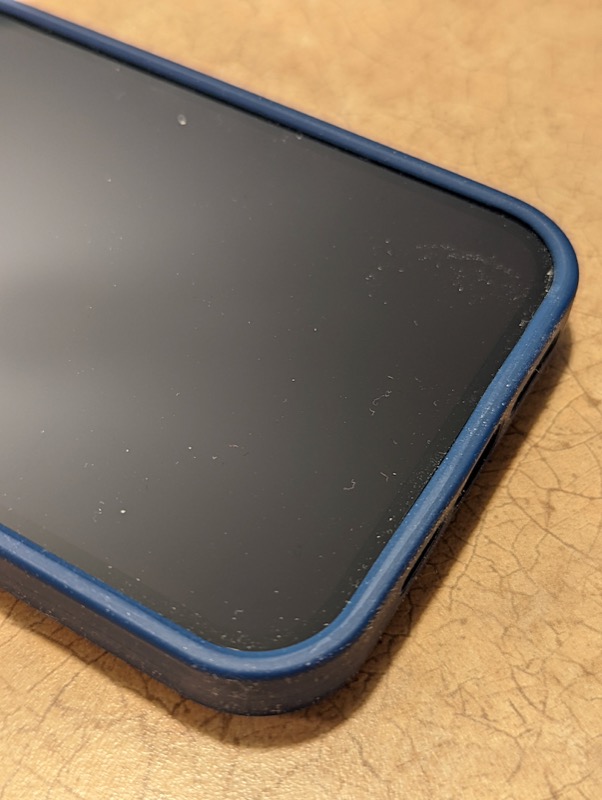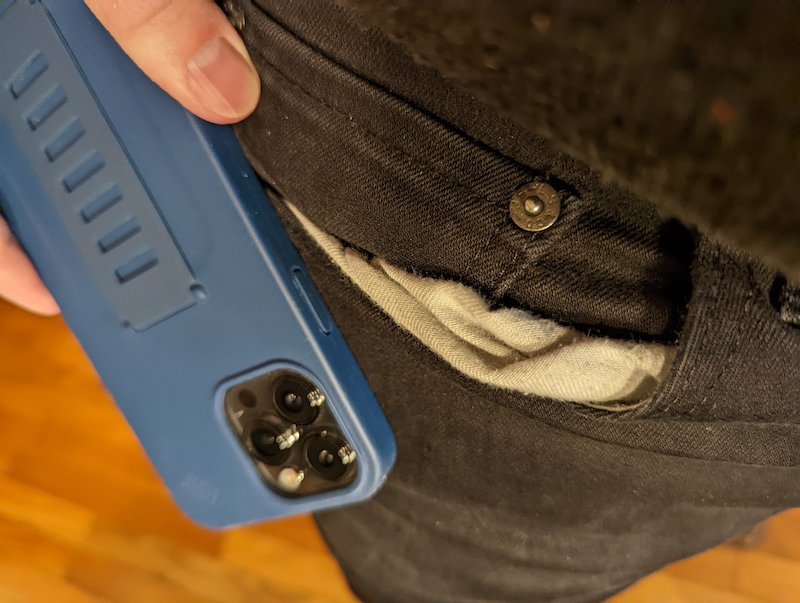 Grip2ü says this case is wireless charging compatible. I have a few wireless charging stands and a battery pack with a wireless charger built in as well. I was only able to get one of those to work reliably with this case on, although this could be due to the fact that the iPhone 13 Pro Max is bigger than my previous phone and it doesn't line up correctly with the existing wireless chargers I already had. For me, I need to start replacing my wireless chargers anyway to be able to use Apple's MagSafe charging for up to 15W vs the 5W or 7.5W that Apple supports with Qi chargers. Other than when I charge my phone overnight, Qi charging just isn't fast enough anymore.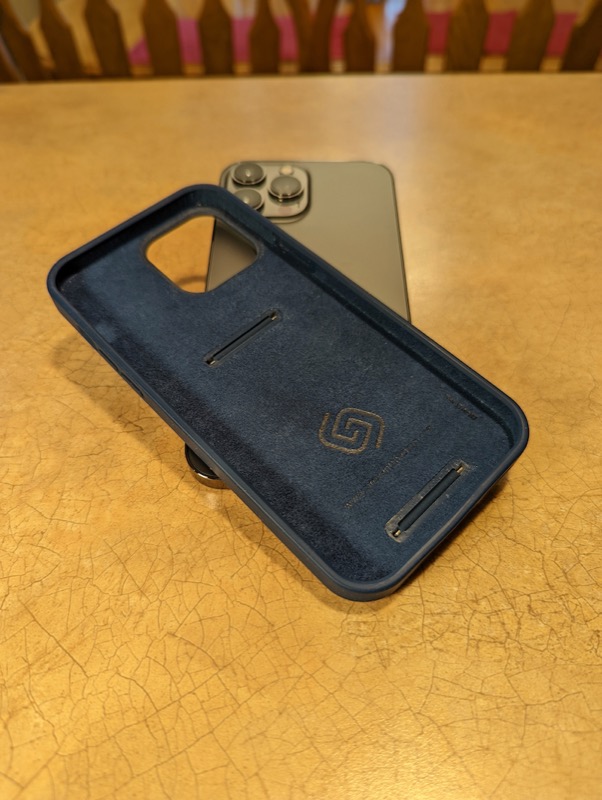 What I like
I like the protection that this case affords, both in terms of the durability of the material in case of a drop but also because of the band that helps you keep a grip on it so it doesn't drop in the first place.
What I'd change
It would be great if it didn't stick so much to my pockets and if it didn't attract so much lint. It's probably too much to ask to have a silicone case that doesn't do these things but it would be nice to find a slightly better balance.
Final thoughts
Having a good phone case is a necessity for me. I'm always looking for something that makes it easy to hold and protects my phone without too much bulk or interfering with the operation of the phone. This case meets those needs, looks great, and feels like it will last for as long as I own my phone. What more can I ask for? 
Price: $34.99
Where to buy: preventthedrop.com and Amazon
Source: The sample for this review was provided by Grip2ü. For more information visit their site.