We use affiliate links. If you buy something through the links on this page, we may earn a commission at no cost to you. Learn more.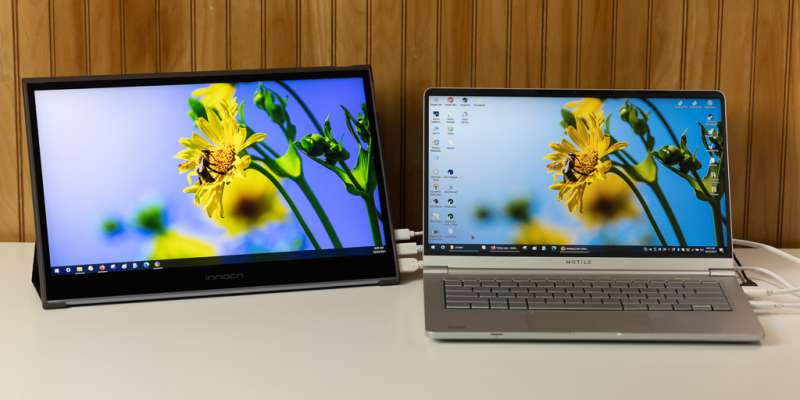 REVIEW – I've been a multi-monitor user since the late 1990s. As a software developer, my workflow has always been working with many applications simultaneously while writing my code. To improve my portable workflow, I decided to try the Innocn PF15-PRO portable touchscreen monitor with my laptop.
What is it?
The Innocn PF15-PRO portable touchscreen monitor is a 15.6″ FHD 1080p external display.
What's in the box?
INNOCN PF15-PRO Monitor

Case/Stand

Type-C Power adapter 

Type-C power cable

Type-C data cable

HDMI to Mini-HDMI cable

Instruction manual
Hardware specs
15.6 inch IPS panel with 178° viewing angles
1920 x 1080 resolution at 60Hz
10-Point Touch screen
1500:1 contrast ratio
16: 9 aspect ratio
Brightness(Max)- 420±20 cd
100% SRGB color rendering
Built-in 5000mAh Battery
USB Type-C and HDMI connectivity
Design and features
Over the past couple of years, I've been using my laptop more often for both software testing and photo editing while traveling. I recently tried out the Lepow 14 inch portable monitor, and although I really liked it, I thought it would be nice to try out a touchscreen monitor that was also a bit larger.
Although the Lepow monitor was nice, two things it did not provide were a display that was larger than my laptop display, and it did not have a built-in battery. The Innocn portable monitor addresses both of these issues with the added bonus of adding touchscreen ability.
The first thing I noticed about the Innocn PF15-PRO display was its weight. Although it can't be avoided, the display is noticeably heavier (2.20 lbs) than one that does not have its own battery power supply. Although the 5000mAh battery adds weight, this aspect was quickly overlooked when I turned it on because the display is so gorgeous, bright, colorful, and sharp.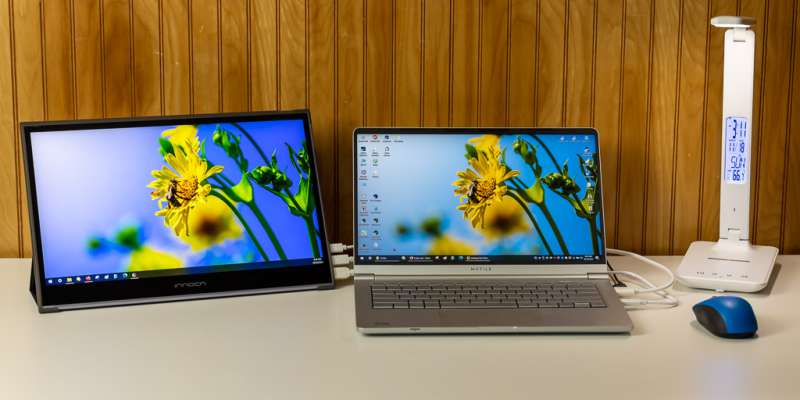 Never miss one of our posts again. Sent MON, WED, and FRI with the latest gadget reviews and news!
The Innocn PF15-PRO monitor supports USB Type-C and Mini-HDMI video connections. Although I connected the monitor via HDMI, I did test it with a Type-C connection as well. There is also a 2nd Type-C connection that can be used to provide touchscreen control when using HDMI.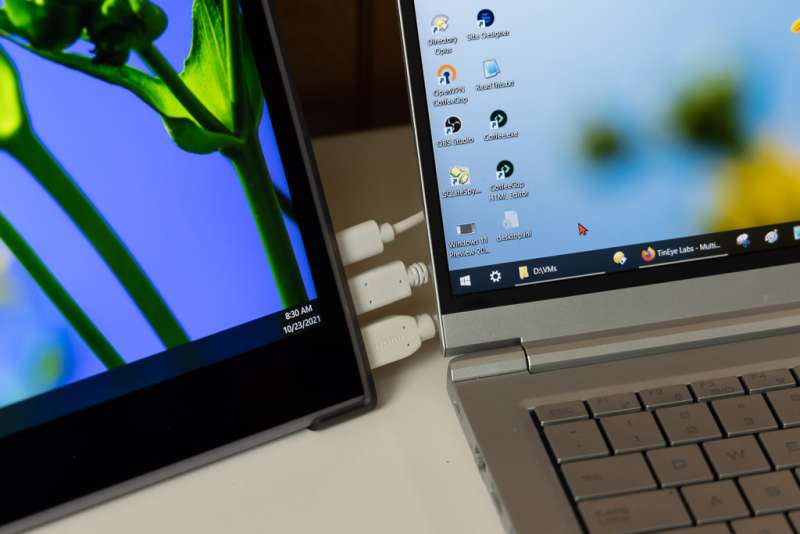 With a 100% sRGB Color Gamut, 400 Nits of brightness, and a 1500:1 contrast ratio, the Innocn PF15-PRO display looks absolutely fabulous. As someone who is used to using 32″ and 40″ displays, the added display area was a welcomed addition to the "tiny" 14″ laptop display.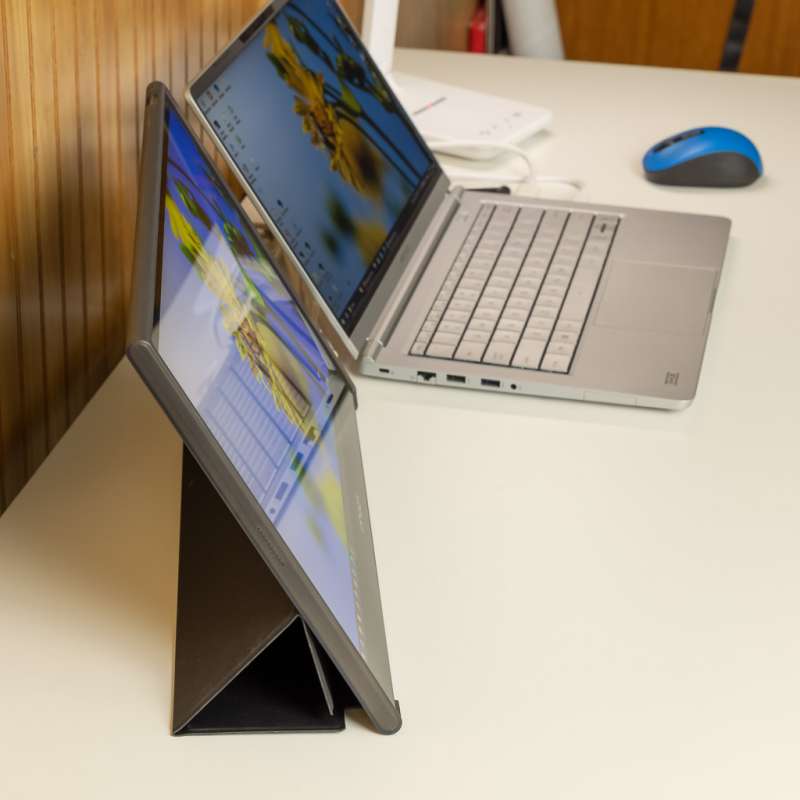 The built-in speakers are sufficient for watching videos, but you certainly won't be rocking music from a distance. However, anyone that wants to blast music from a laptop probably has external speakers anyway.
The menu system is definitely nicer to use with the touchscreen interface than with a typical button control system, although like many other monitors, it's primarily icons without word descriptions. Initially, the timeout for the menu was very short, but there is a menu that lets you extend that to a more reasonable time, for example, 10 seconds.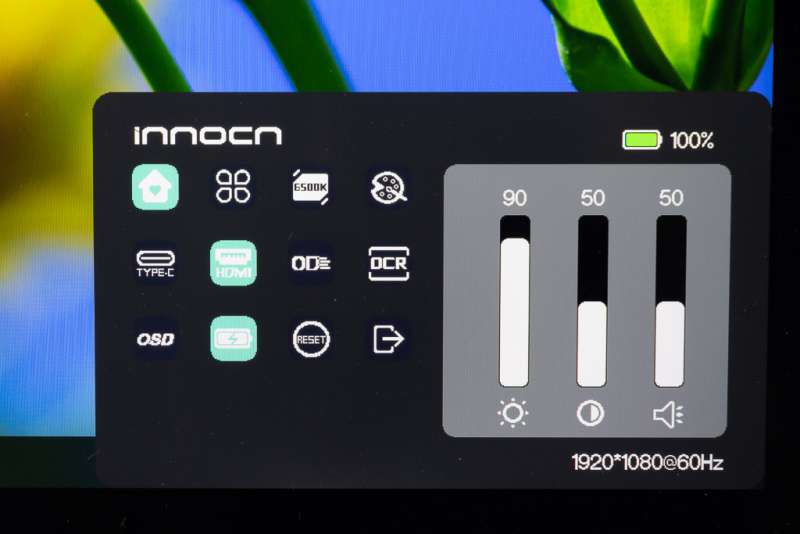 The cover/stand that is included is very similar to a typical tablet cover/stand. This is where I found the main thing that I did not like. The cover folds back and becomes a stand for the monitor. The cover/stand has two drawbacks. First, there is only one position for the monitor. Second, any debris on your table gets on the bottom (inside) of the cover. When the cover is folded back to cover the display while in transport, any debris on the cover touches the screen.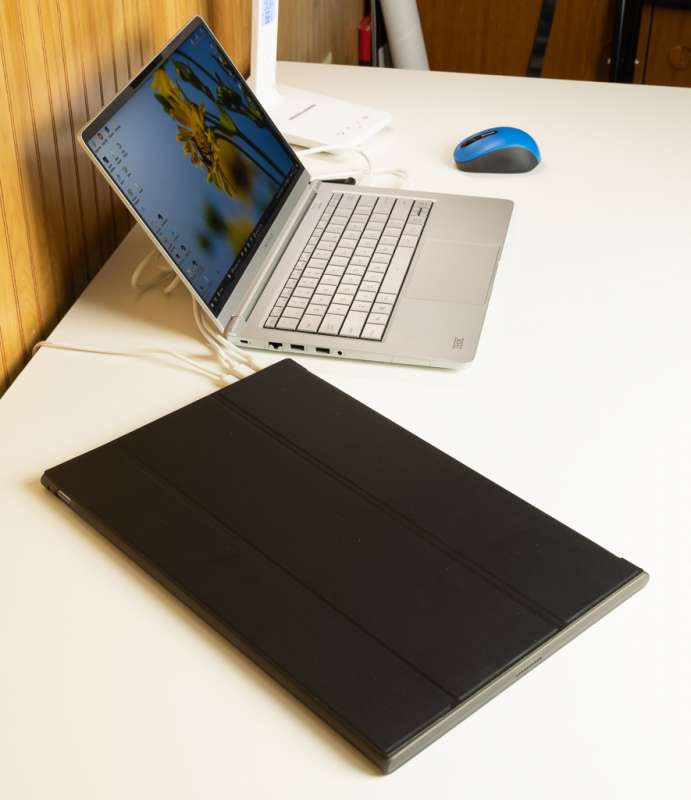 The Innocn PF15-PRO comes with a power adapter, a Type-C cable for power, a Type-C cable for video, and an HDMI to Mini-HDMI cable for those devices that don't support video over Type-C connections.
What about the battery life? I'm glad you asked. The Innocn PF15-PRO is advertised as having "…up to 4hrs of work and play in one full charge." In reality, I found that the battery life can be much longer than that. I ran one session that I played YouTube videos for 5 hours and still had 45% battery left. I was very impressed.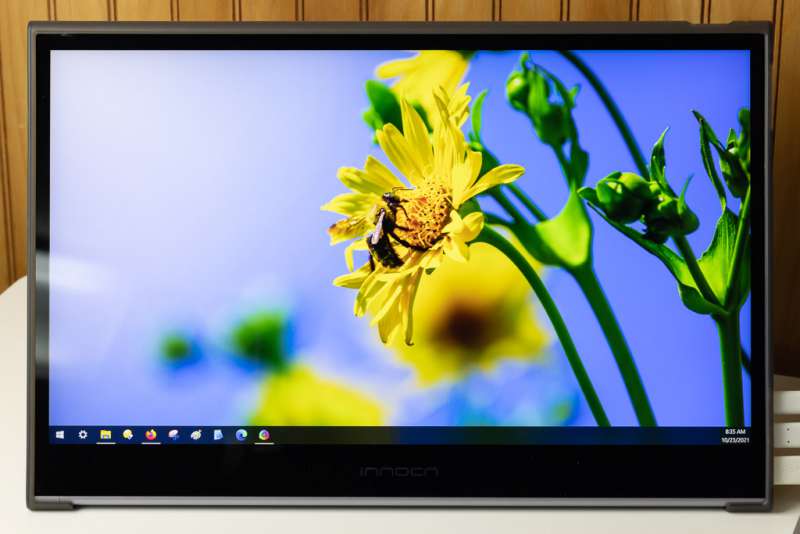 What I like
Great Brightness

Great Color

Built-In Battery

Very thin design
What I'd change
Cover/Stand could be improved
Final thoughts
Overall, I think the Innocn PF15-PRO is an excellent portable monitor. The color, brightness, and contrast are excellent. The battery life is great and the touchscreen feature can be a real help at times.
Price: $299.99
Where to buy: Amazon (20% off code: INC20PF15)
Source: The sample of this product was provided by Innocn.