We use affiliate links. If you buy something through the links on this page, we may earn a commission at no cost to you. Learn more.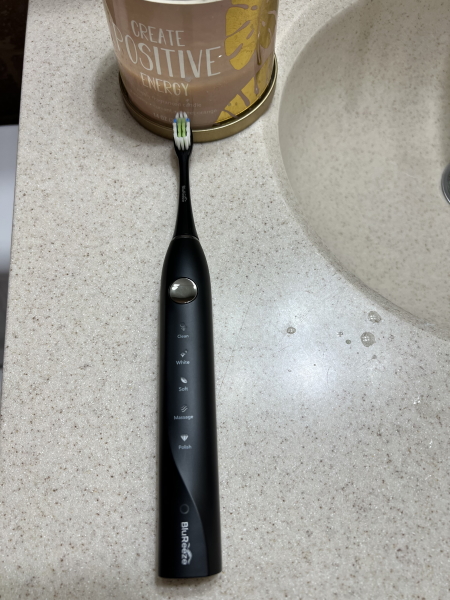 REVIEW – I have been using a toothbrush from Cybersonic for many years, and it continues to serve me well. Cybersonic updates the models every few years, so I have not had much to complain about. However, I also have not been able to compare it to its competitors who I know would be striving to achieve the best from the technology that is available today. Let's try a comparison using this BluReeze M10 Pro Electric Toothbrush. Maybe it can overthrow the longstanding Cybersonic reign.
What is it?
The BluReeze M10 Pro Electric Toothbrush is an electric rechargeable toothbrush for adults that features a Smart Timer with 5 Modes, and a 4 Hr charge that lasts 30 Days.
What's in the box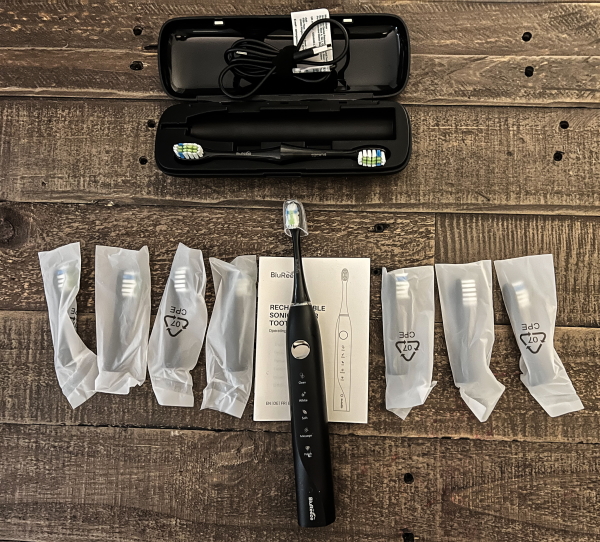 1 x BluReeze M10 Pro Electric Toothbrush
10 x DuPont Brush Heads
1 x Travel Case
1 x USB charging cable
1 x Instruction and Support Contact Manuals
Design and features
Features
BluReeze ELECTRIC TOOTHBRUSH M10 Pro: Ultra-Powerful Toothbrush equipped with World-leading Powered Motor to generate 40,000 VPM, and thus dissolve deep tooth dirt effectively. 10X Cleaning Effect than manual toothbrush and 3X than ordinary Power electric toothbrush. 7 DAYS to Whiten teeth & 14 DAYS for Healthier Teeth.
10 DUPONT HEADS LAST FOR 3 YEARS:  Electric toothbrush for adults comes with 10 toothbrush heads (include 2 soft brush heads) designed by DuPont company; a world leader in quality and material science field. Each brush head lasts up to 4 months, so it will be more than 3 years for 10 in total. Absolutely the ideal choice for all of you!
5 MODES CLEANING: Electric toothbrushes for adult supports 5 modes: whitening, cleaning, sensitive, polishing, massage. Whitening mode is fulfilled by reversing the frequency to dissolve the surface stains. And massage modes deliver smooth microbursts to the tissue to improve blood circulation and gum health.
PERFECT PARTNER FOR TRAVEL: Last for 30 DAYS after only 4 hours full charging(2mins x 2 times per day). Rechargeable toothbrushes come with a USB charging cable for charging anywhere. Weighs just 55g, less than half of an ordinary sonic toothbrush. IPX7 waterproof for easy water rinsing after each use.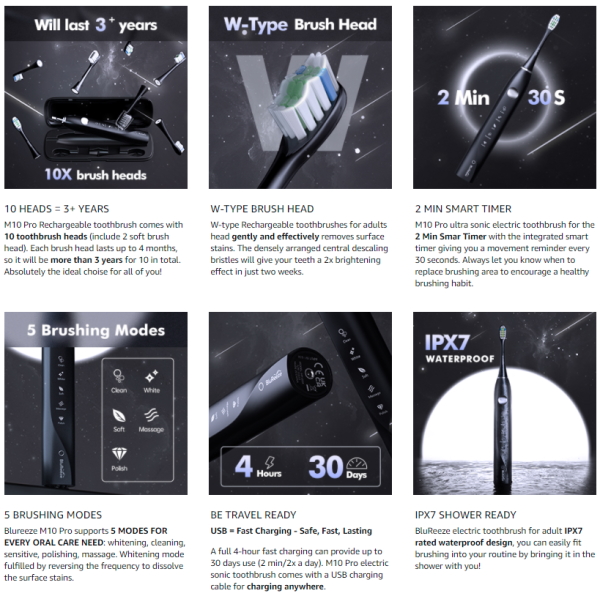 The BluReeze M10 Pro Electric Toothbrush is made of plastic but is solid. The controls are all on one flattened side of the handle and the charging port is underneath.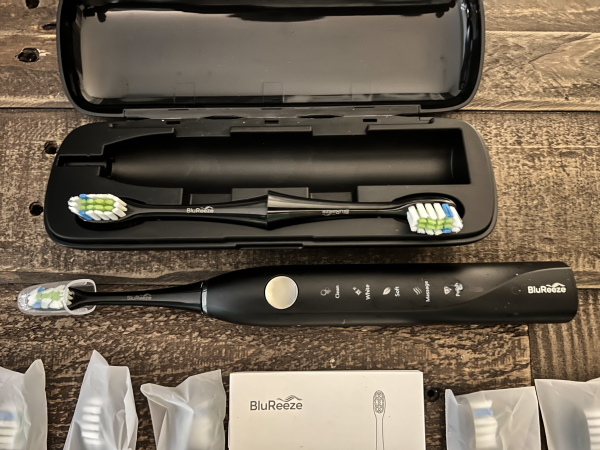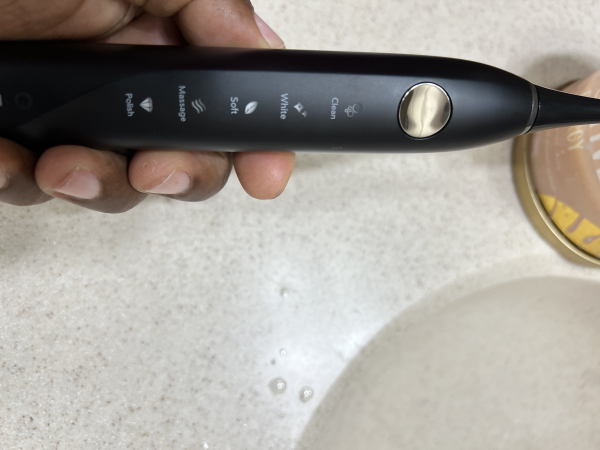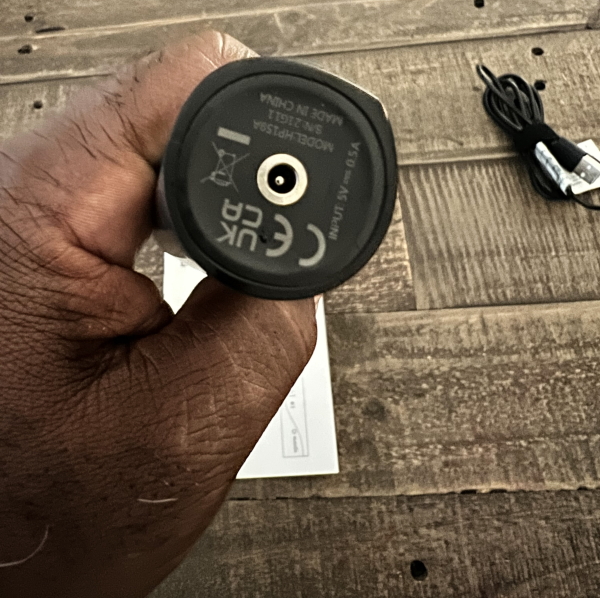 Performance
Out of the box, I just charged the BluReeze M10 Pro Electric Toothbrush, and then I was ready to test. The brushes push on and pull off and can only be inserted one way. Before I tested the feel when brushing, I took a look at the action of the bristles as I cycled through the options:
I spent a lot of time trying the toothbrush on each of the settings, and while each is different, none of them seem to work for me. They all feel too light and seem to lack the oscillations that I like or need. I do find the massage movement to be quite interesting and somewhat weird at the same time. Please keep in mind that something like a toothbrush is subject to personal preference and many people will probably love this toothbrush. I can say that it is waterproof and feels well-built.
What I like
The build quality
The sleek design
The brushing options
The number of brushes that are included
What I'd change
For my personal preference, I need a higher intensity for all of the settings and especially for the "clean" function with definitely more oscillations.
A waterproof charging base that can sit on the vanity with the sink. I hate having to take any toothbrush elsewhere to charge it.
Final thoughts
Overall, the BluReeze M10 Pro Electric Toothbrush feels solid and is nicely designed. Brushing teeth is a very personal experience and what feels right or good to one person may not feel the same for another. This toothbrush works well and pauses every 30 seconds as is usually designed for each quadrant of the moth. However, it does not feel as "energetic" as my Cybersonic and none of the selections are my preference. However, it is a good toothbrush and if you like the performance of the brushing options that it offers, you will likely enjoy using this toothbrush.
Price: $34.99
Where to buy: BluReeze.com
Source: The sample for this review was provided by BluReeze.