We use affiliate links. If you buy something through the links on this page, we may earn a commission at no cost to you. Learn more.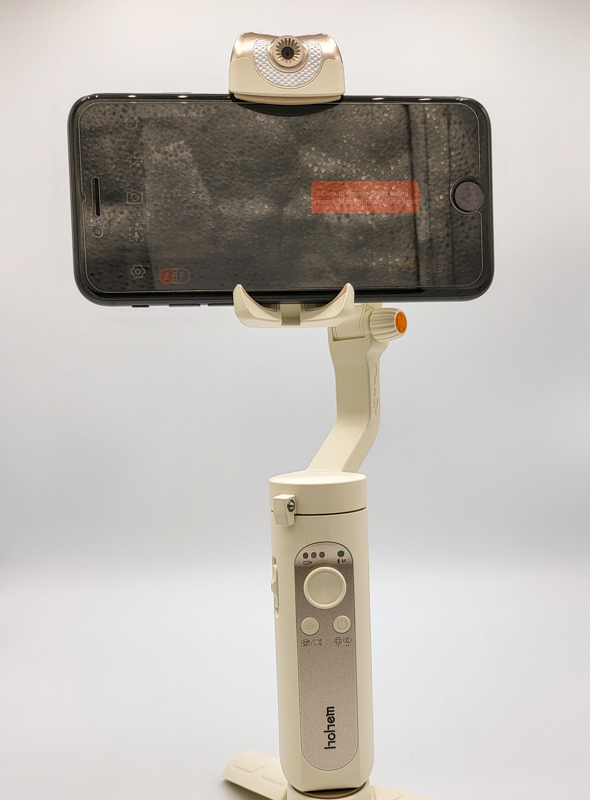 REVIEW – Smartphone cameras have become phenomenally good in the last few years, but no amount of optical image stabilization or digital trickery can match a good gimbal (yet). So is the Hohem iSteady V2 gimbal a good gimbal? I took it through it's paces and will now break it down in review format, as per the usual.
What is it?
The Hohem iSteady V2 gimbal is a motor-stabilized gimbal with extra features like AI-powered face tracking. It has a built-in phone holder that clamps around most phones including the big boys (like the Samsung S/Note Ultras and iPhone 12/13 max plus pro super whatever they are these days).
What's in the box?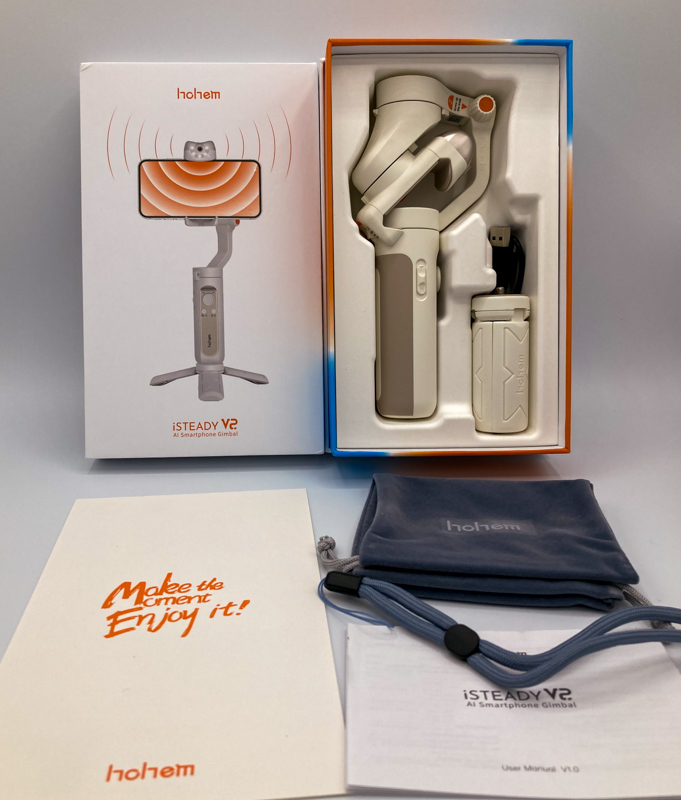 Hohem iSteady V2 gimbal
Mini tripod mount
USB charging cable (USB-A to USB-C)
Cloth carry bag
Lanyard
Manual
Hardware specs
CPU: Hohem AI Chip H2, NPU 0.6T
Fanless passive cooling system
Gimbal: 3 axis motorized with iSteady 4.0 anti-shake algorithm
Tilt range: -30° ~+30°
Roll range: 320°
Pan range: 320°
Weight: 263g
Dimensions: 179 x 79 x 39mm (folded), 230 x 80 x 40mm (unfolded)
Phone compatibility: 100~280g weight, up to 11mm thickness, 55~90mm width
Battery: 2800 mAh Li-ion, up to 9 hours battery life, reverse charging supported.
Charging time: ~2 hours
Working temperature: -10~45℃
Design and features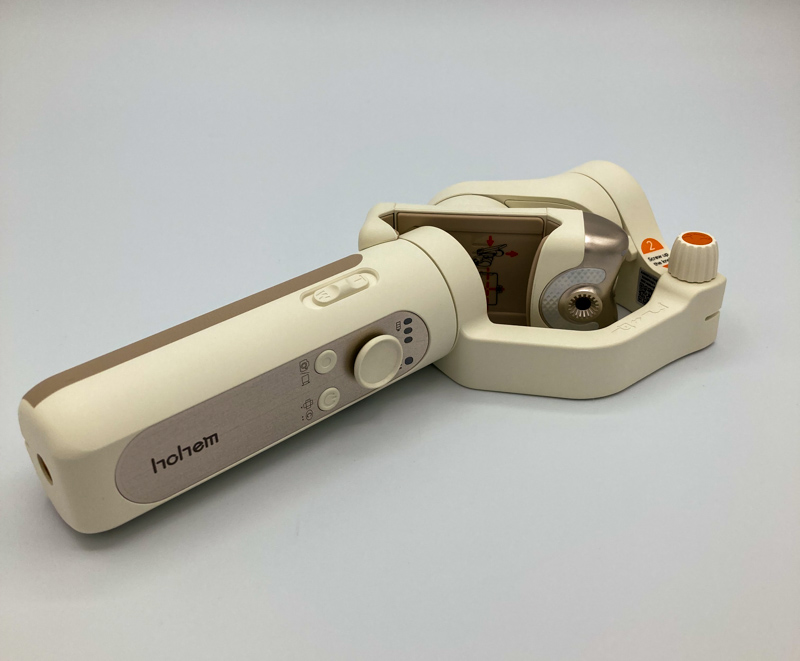 The Hohem iSteady V2 gimbal comes in either black or a "cream white" color, which was the one they sent me for review. When folded up, it's pretty compact as shown above. The buttons and controls all worked well, none were hard to press or register.  The pan/tilt thumbstick reminds me of a Nintendo Switch controller and worked great. The zoom in/out on the side is only supported while using the Hohem app, but the tilt/pan can be used without the app. There's a couple of LED lights as well near the thumbstick to indicate battery status.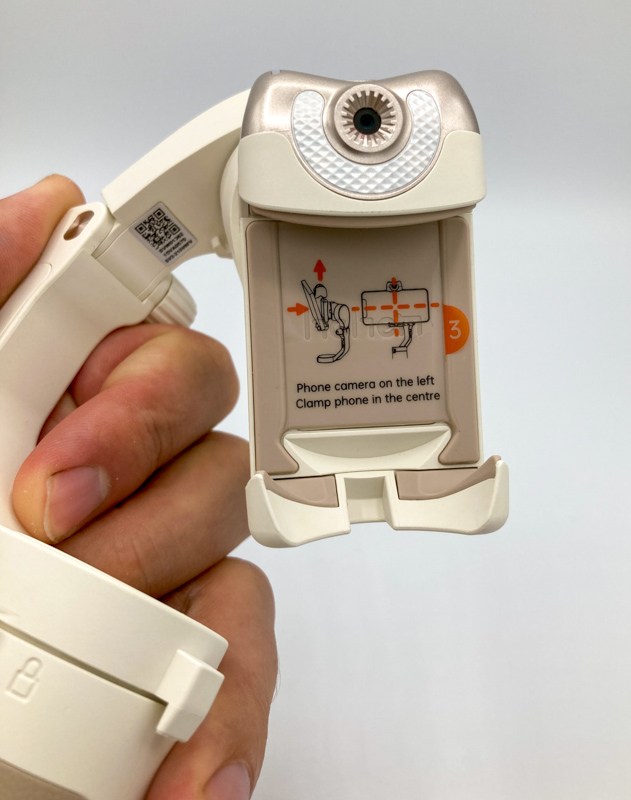 The "ring light" (which is just over half of a ring) has adjustable brightness and is a softer diffused light than a single-LED phone flash so I'm glad they included it for low light conditions (or just to add a bit of light to a face). The tiny webcam is the AI-assisted tracking camera. This can even be activated without the app via a button on top above the camera. The clamp style phone holder has a decent amount of grip to it and the rubberized lining doesn't feel like it will peel off quickly. I was never worried about my phone falling out or jostling while in use.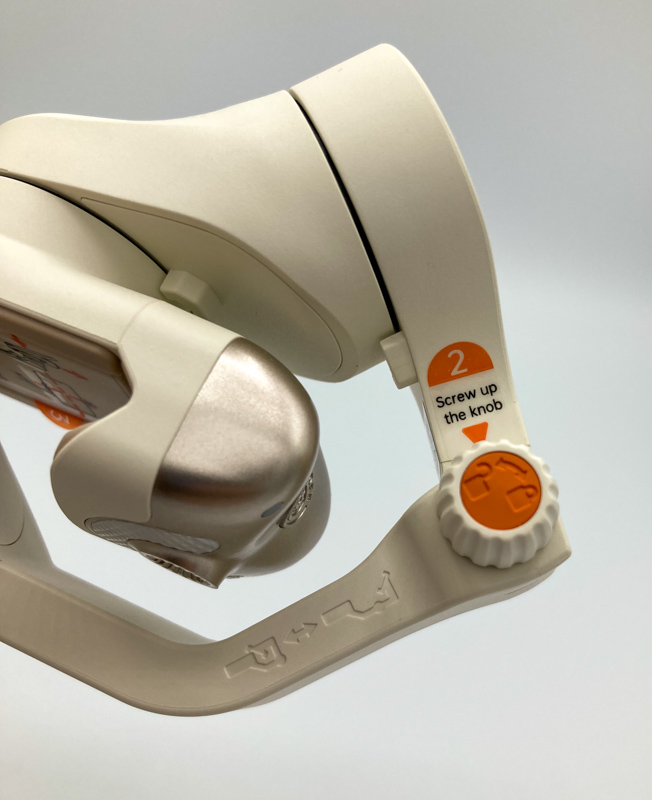 The markings are handy for refolding the Hohem iSteady V2 gimbal when you're done using it. The plastic feels like an average plastic that should handle some use without breaking. It's not the cheap plastic you get with some bargain-bin electronics, but it's not super high-end or premium feeling either. This knob locks the gimbal into folded-up or folded-out modes and seems sturdy.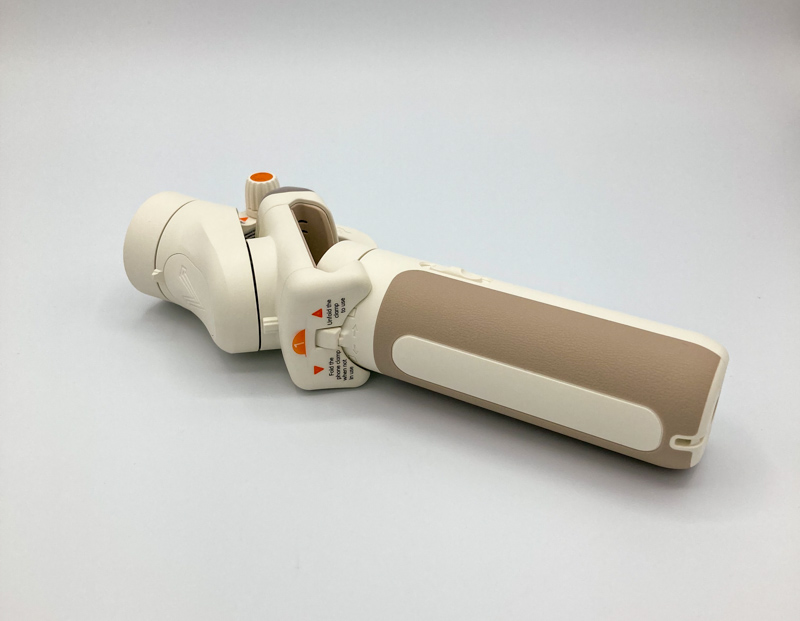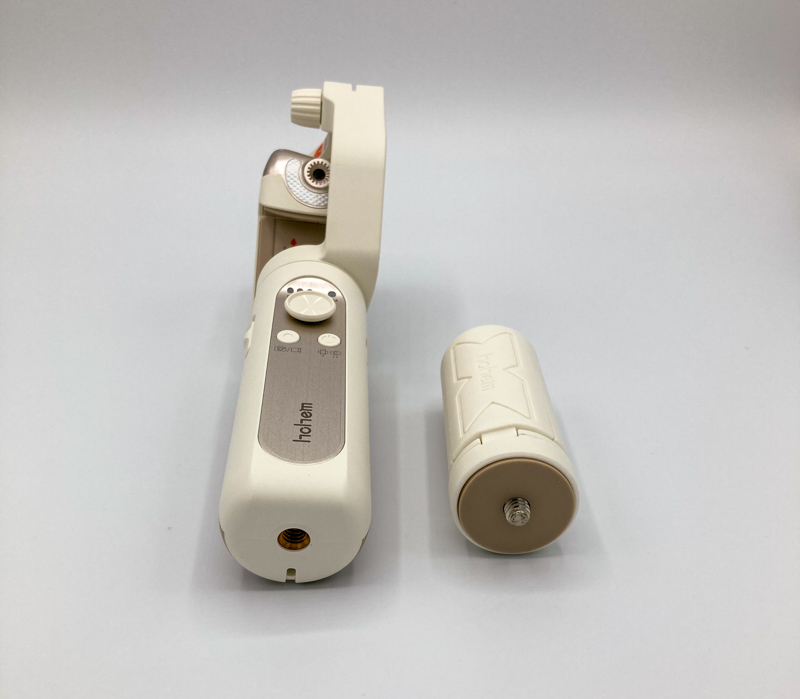 On the bottom you can find a standard camera tripod mount, which you can use to attach the Hohem iSteady V2 gimbal to a tripod/monopod/selfie-stick. They also included a very handy mini-tripod that I left attached: it doesn't get in the way for holding the gimbal and using it, and is very handy for setting up static shots on any flat surface. The only drawback I found with the mini tripod was that it sticks out of the carry bag when attached, but I can live with that.
Installation and setup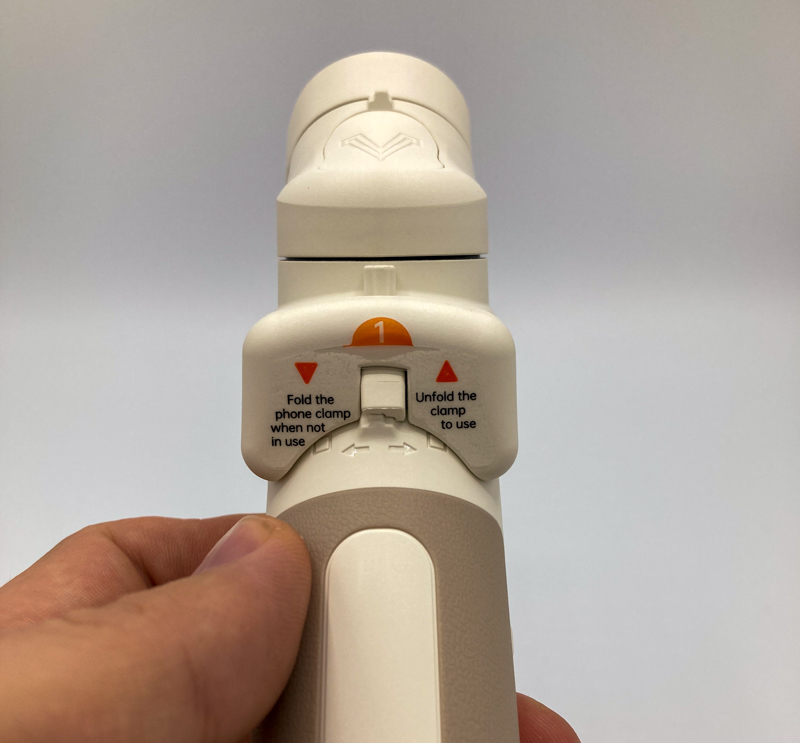 Setup is very easy, the included etched markings combined with the first-time-use stickers made things a breeze. You basically unscrew a single knob, then twist the gimbal out to its extended position and re-tighten the knob. Your phone is held in place with a pretty standard phone grip/clamp. I did all my testing with an iPhone SE but it can accomodate pretty much any standard candy bar style phone on the market. Powering on is done by simply long-pressing the power button.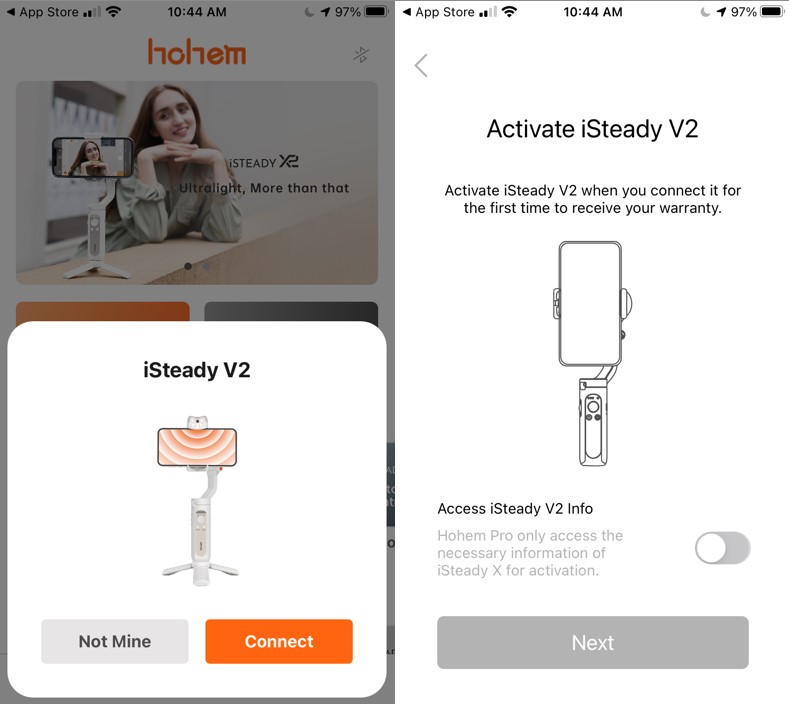 The app is completely optional, though it does add some nifty prebuilt "templates" for shooting like 360-degree panoramas and a "dolly zoom" shot amongst others. I like that the gimbal does not require the app for operation, this helps to get set up and shooting faster if you don't need the app functionality. I found the app to be easy and intuitive to navigate, and the special shot modes were fun to try out.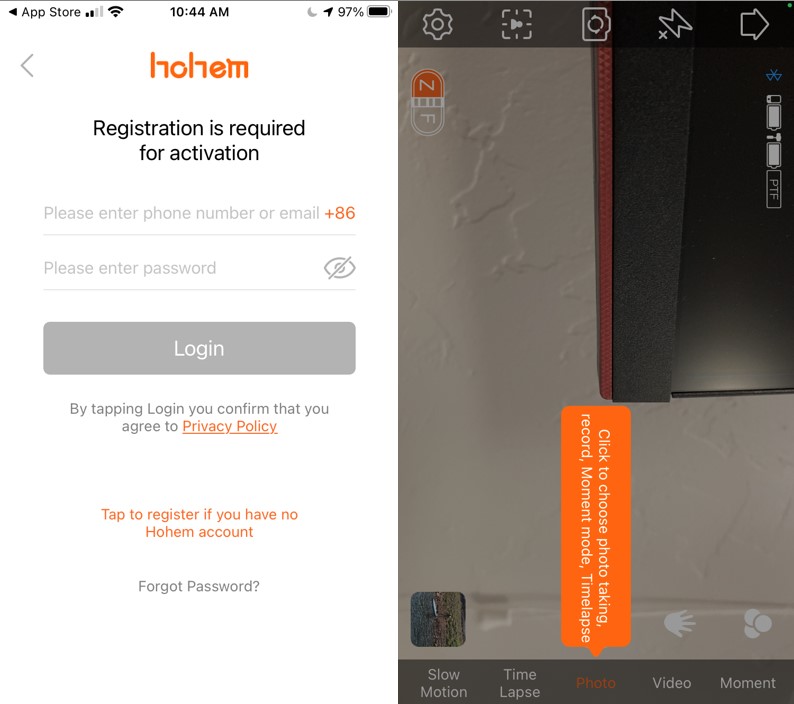 The only thing I didn't like was the required registration, but this is pretty normal for most devices these days. The English language manual was better than average for a product at this price point (few to no errors or strange translations).
Performance
Above is a video showing some of the hand controls and the Hohem iSteady V2 gimbal in action. Activating the AI tracking can be done in the app, or by simply pressing the top button (above the face-tracking camera). You can start and stop recording, activate AI-face-tracking, and switch between portrait and landscape mode via hand gestures.
And the video above is a comparison between handheld and the Hohem iSteady V2 gimbal. I really liked the AI-face tracking feature. While it wasn't always perfect, it's much easier than using the thumb controls to track your subject while panning around them for a more dramatic shot. This is even better for selfie-style videos like the one above – I didn't have to look at the phone to adjust the framing.
I shot the above video while riding the Segway Ninebot S Max that I recently reviewed, which can be a bumpy ride at times. I did some quick testing with the Akaso Brave 6 Plus action camera as well (I zip-tied it on) and it worked perfectly. Since that action camera has no built-in optical or digital image stabilization, this will be a great combo for future action video (I'm now looking for a decent selfie stick that I could use for wider angle selfie video for future reviews).
What I like
Decent app that isn't required for use
Good overall gimbal functionality
USB-C charging and reverse charging support
What I'd change
At this price point, probably nothing!  (I'd love to be able to also use this with my mirrorless camera, but gimbals that can support SLR cameras tend to cost MUCH more)
Bluetooth 4.0 max support is a bit dated, but the functionality was fine so not a big deal
Final thoughts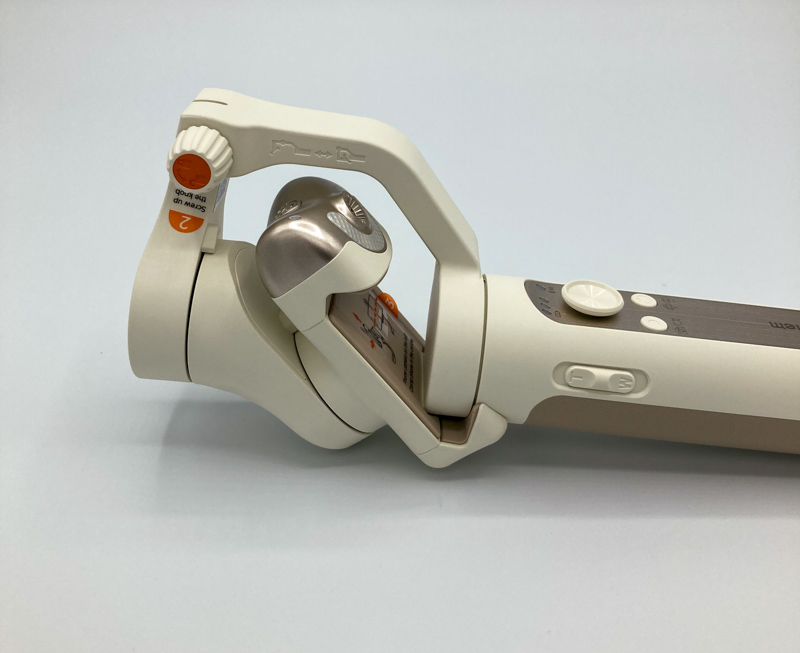 I wasn't expecting much when I volunteered to review the Hohem iSteady V2 gimbal since my previous experience has been with much more expensive gimbals, but I found it to be surprisingly capable. I have happily added this to my adventure camera bag (I'm now lugging a DJI Mini 2 drone, this gimbal, the Akaso Brave 6 action camera, and a Canon M200 mirrorless camera).
Price: $129
Where to buy: Hohem store
Source: The sample for this review was provided by Hohem