We use affiliate links. If you buy something through the links on this page, we may earn a commission at no cost to you. Learn more.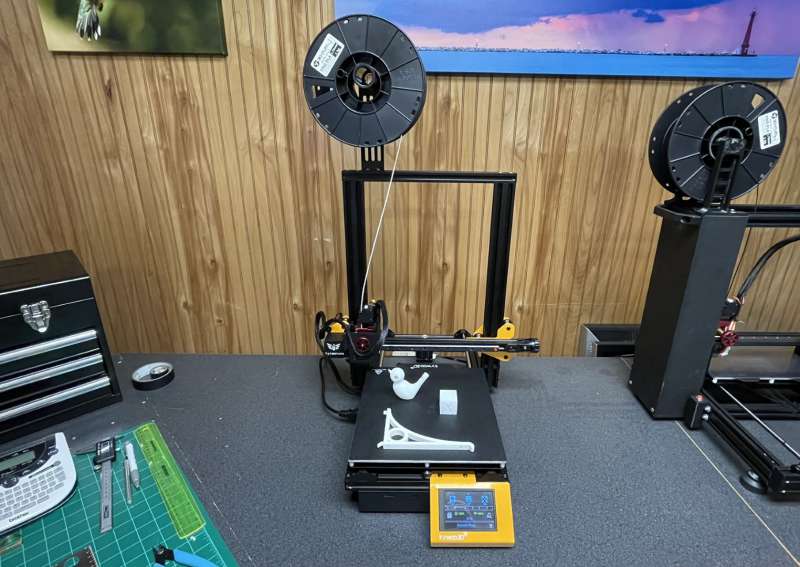 REVIEW – My first experience with 3D printing was the Kywoo3D Tycoon 3D printer. I have enjoyed using it to make many items for my home and office. Kywoo3D recently asked if I wanted to review their new Tycoon Slim Direct Drive 3D printer, and I could not say no!
What is it?
The Kywoo3d Tycoon Slim Direct Drive 3D printer is an easy-to-use FDM (Fused Molding Manufacturing) 3D printer with a wide range of filament options.
What's in the box?
Tycoon Slim 3D printer

Various Spare parts, tools, and memory card

Small starter filament spool
Hardware specs
Printing Size: 240mm x 240mm x 300mm
Nozzel Diameter: Standard 0.4mm
Precision: +- 0.1mm
Filament: TPU, PLA, PETG, ASA, Wooden, ABS, Nylon, etc.
Calibration: Auto Leveling
Printing speed: 60-80mm/s
Machine Size: 464mm x 552mm x 552mm
Display: 3.5″ Color Touch screen
CPU: 32-bit silent mainboard
Drivers: Silent TMC2209 Driver
Design and features
The Tycoon Slim is about 2.5″ narrower than the Tycoon while providing the same X/Y build dimensions. It is slightly taller, but it is also able to print 60mm taller also.
The Tycoon Slim is easy to assemble, as most of it is pre-assembled when it arrives. The assembly consists of installing four screws for the upright portion, one clamp for the wiring, two screws for the filament holder, and two screws and a ribbon cable for the display.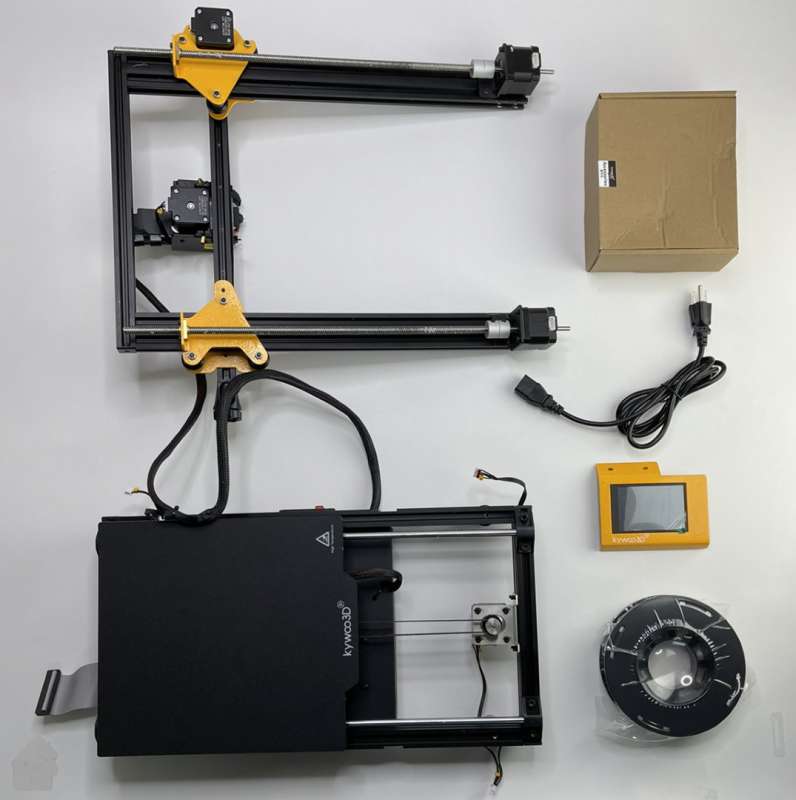 Operating the Tycoon Slim is easier than the original Tycoon, with fewer icons and steps needed to set up for printing. I do recommend watching their operation videos, as I was not initially aware of how to home and level the machine due to it being a pre-release version and not having full instructions.
I did have a few issues at first, but I was able to remedy them myself. These issues were attributed to the pre-release nature of the machine and packaging. Kywoo3D is really good at taking feedback from reviewers and adjusting their products based on the recommendations they receive.
Never miss one of our posts again. Sent MON, WED, and FRI with the latest gadget reviews and news!
There are several main features of the Tycoon Slim that I really like:
The integrated direct drive extruder instead of a Bowden tube extruder means that filament feed happens right at the extruder, is less prone to problems, and provides higher print quality.

The dual Z-Axis drive motors eliminate shake and wobble and are also used for the auto-leveling feature.

The X-Axis linear rail increases stability and reduces shaking, resulting in more effective, higher-quality, and silent printing.
The auto-leveling feature is not only a great time-saving feature, but also eliminates the monotonous task of leveling the bed. This is something I have not had to do previously, but just from watching videos, it seems to be a laborious task.
The firmware on the Tycoon Slim is a newer version than the original Tycoon, although I believe the latest version for the Tycoon is similar. It's not apparent at first, but you can tap on the XYZ positions to enter the move/level/home screen. From there, you can home and level the bed and manually move the print head if needed.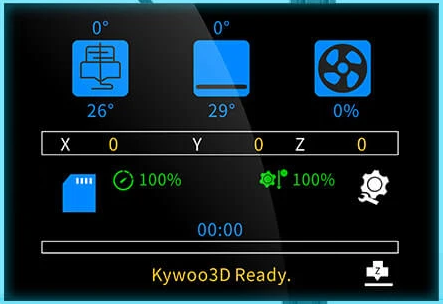 The settings button allows for various tasks such as saving settings, replacing the filament, and starting/stopping/pausing prints. Inserting an SD/TF card automatically opens the file browser, so starting a print is easier.
The Tycoon Slim also includes a magnetic flexible build plate. I found this material much easier to use than the glass build plate. Prints are much easier to remove by simply flexing the surface, and I had no problems getting the material to stick to the plate. In fact, at times, it stuck a little too much, but this will probably get better over time. There is no need for tape, glue, or other hacks to get the print to stick. However, I prefer the Wham Bam flexible metal build plate that I bought for my original Tycoon.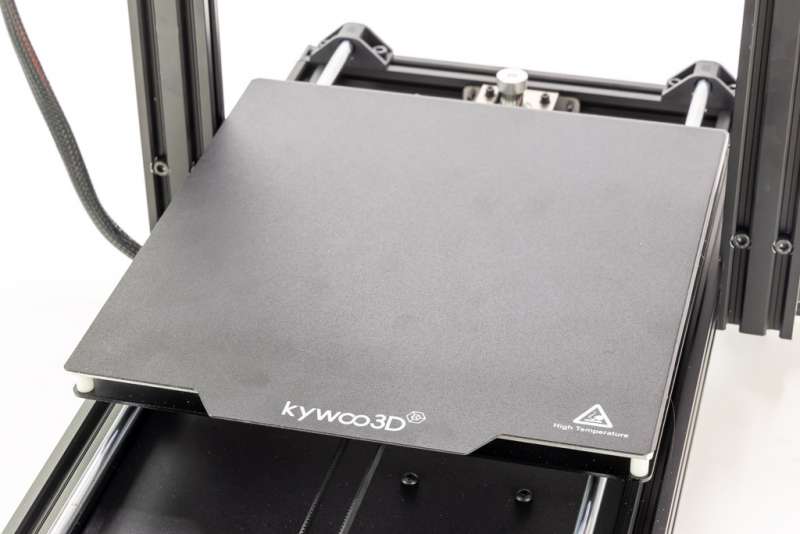 The filament sensor provides a means of resuming a print after filament breakage or if your filament runs out. The printer also supports resuming a print after a power failure.
As for print quality, I'm thrilled with it. Once you set the Z-axis offset correctly, I had no issues. I do wish that the printer manufacturers would come up with a better way to do this. I'm not an engineer, but I can think of a couple of ways this could be done.
If you're not familiar with the way 3D printing works, I'll give you a quick rundown. When you set up the printer, the auto level sensor gives the printer a general idea of where the bed is. However, due to the various nozzle heights, and the variations on how far the nozzle is screwed in, you need to manually set how close the nozzle comes to the bed when printing. This manual setting is called the Z-axis offset. 
I ran many different prints, and had no issues. I printed a nozzle for my leaf blower, the longest print I've ever done, at just over 10 hours. I had not printed with this filament before, so I don't think my settings were entirely correct, but it did reasonably well.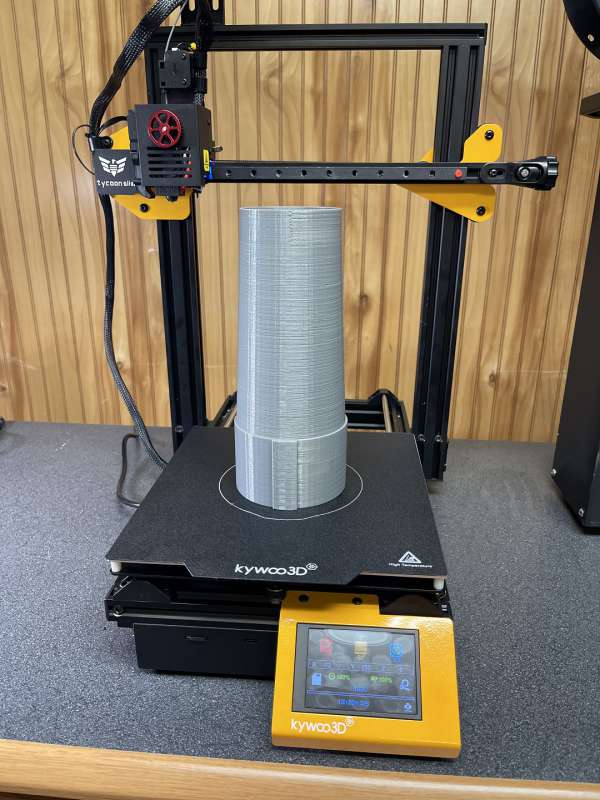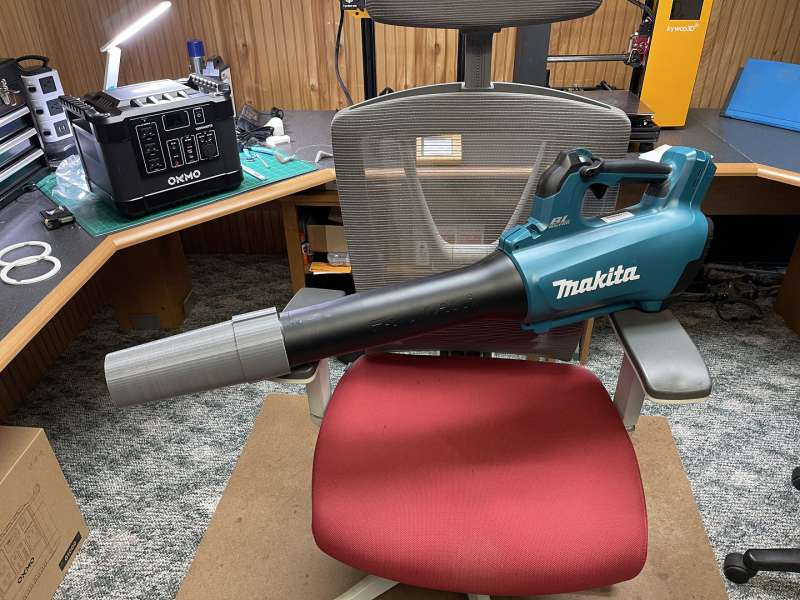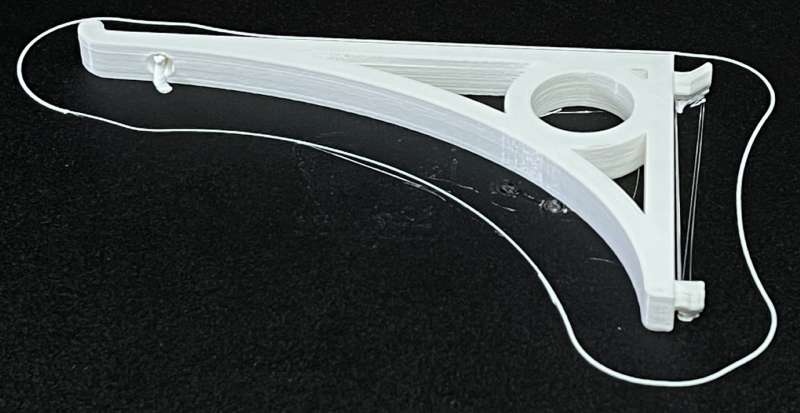 The only thing that I could really suggest as an improvement would be better cable management. The cable seemed a little short for full height printing when the X-Axis was at the far right. However, I don't expect to ever do a print that large.
What I like
Easy to assemble

The very good print surface

Simple user interface

Integrated Extruder
What I'd change
Cable management could be slightly better
Final thoughts
Overall, the Kywoo3D Tycoon Slim 3D printer is an excellent 3D printer. The design is extremely sturdy, well thought out, and creates great prints. The improved print surface makes starting prints easy and the user interface is simple and effective. The support from Kywoo3D has been awesome when I had questions.
Price: $359
Where to buy: Kywoo3D
Source: The sample of this product was provided by Kywoo3D.