We use affiliate links. If you buy something through the links on this page, we may earn a commission at no cost to you. Learn more.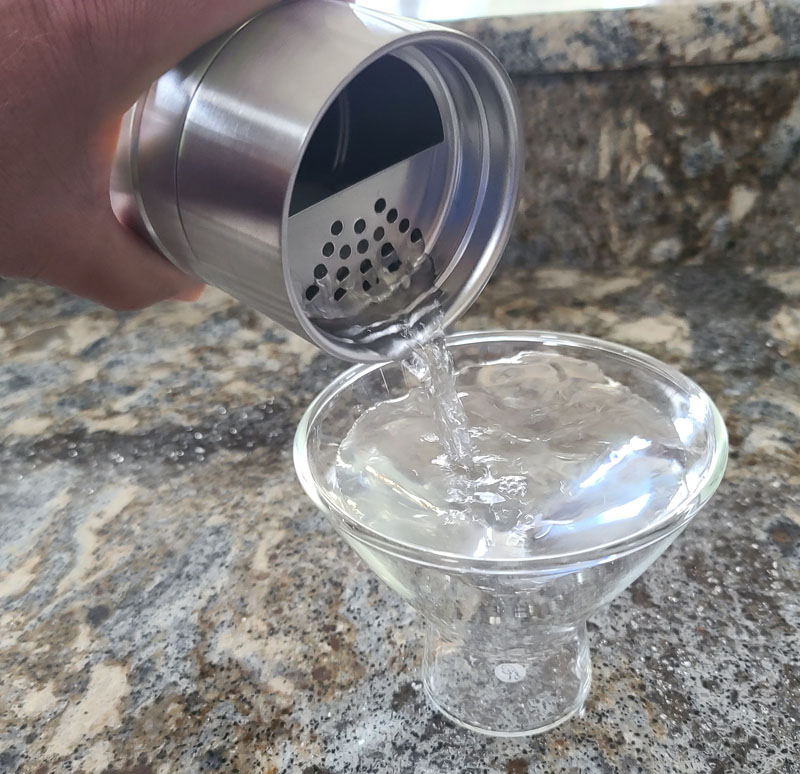 REVIEW – If you're a beer or soda drinker, there are a ton of options for taking your beverages with you and keeping them cool. But for the mixed drink crowd, unless you're willing to tote all the ingredients with you as well as some sort of mixing container, you're really out of luck.  High Camp Flasks is a maker of insulated containers for those that want to take spirits on their adventures.  Their new offering is a highball shaker that can be used at home as well as as a means to make your potent potable portable.
What is it?
The High Camp Flasks highball shaker is an insulated, double-walled, stainless steel cocktail shaker with an integrated strainer.  It can also double as an insulated highball tumbler, making your beverage transportable.
What's in the box?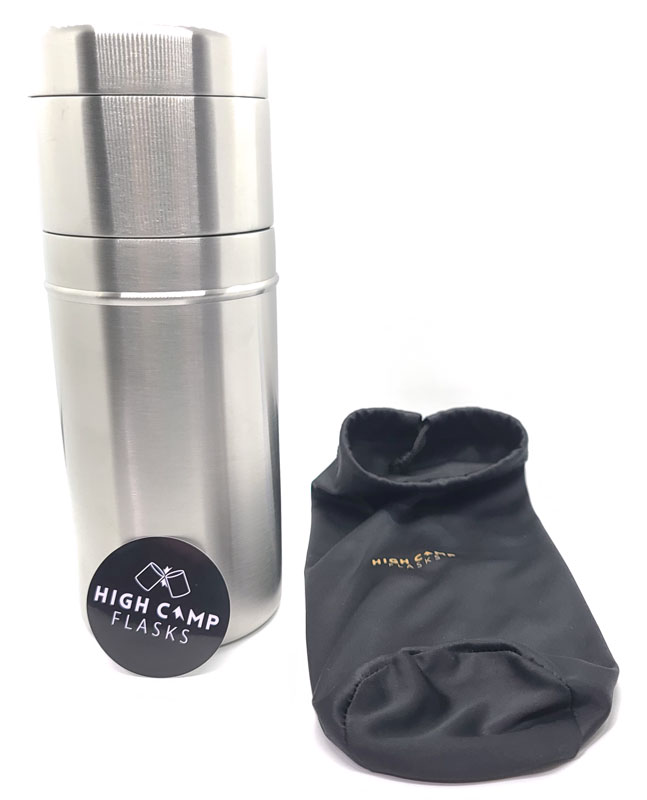 The High Camp Flasks highball shaker with strainer and no-leak top
Protective sleeve for no-scratch transport
High Camp Flasks sticker
Hardware specs
Dimensions: 8.5″ h x 3.25″ w, 6.75″ h without strainer
Opening: 3″ but narrows to about 2.75″ inside
Weight: 20.1oz
Capacity

Fluid

14oz without strainer
20oz with strainer

Single can beer/beverage cooler

1 full 12oz can without the strainer
1 full 16oz tall can with the strainer

Construction: double-wall 18/8 stainless steel with silicone seals
Available colors: copper, gunmetal (dark gray), stainless steel (tested)
Design and features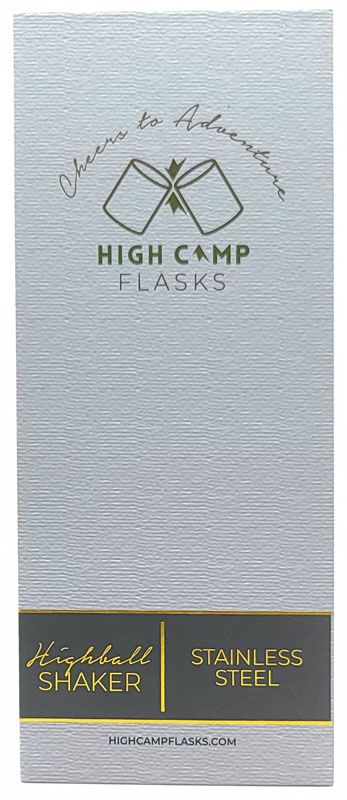 The High Camp Flasks highball shaker arrives nicely packaged.  It looks classy and would certainly make a great gift.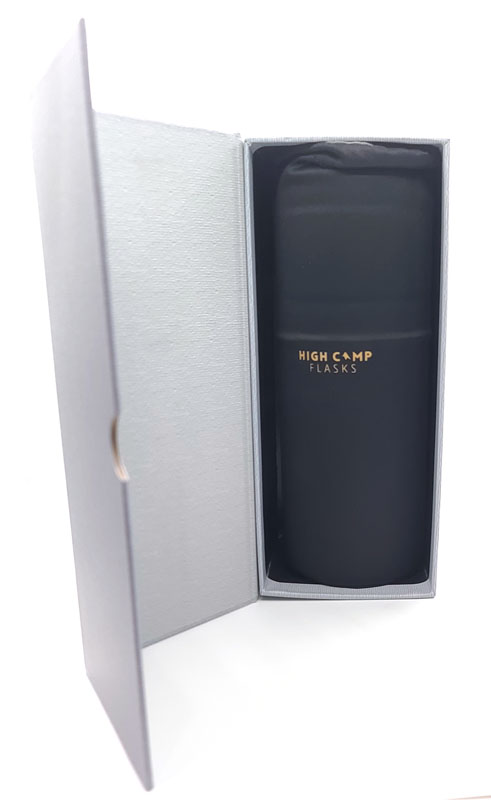 The shaker comes wrapped in a reusable soft sleeve that is designed to protect the shaker when you throw it in a travel bag.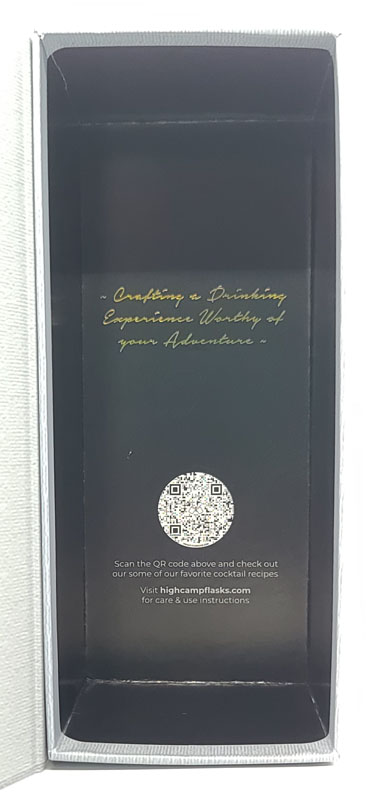 Inside the box, you'll find a QR code that leads you to High Camp Flasks' website where you'll find several cocktail recipes.
The shaker is constructed of 18/8 stainless steel. I was sent the natural stainless steel model.  It is also available in a copper or dark gunmetal finish.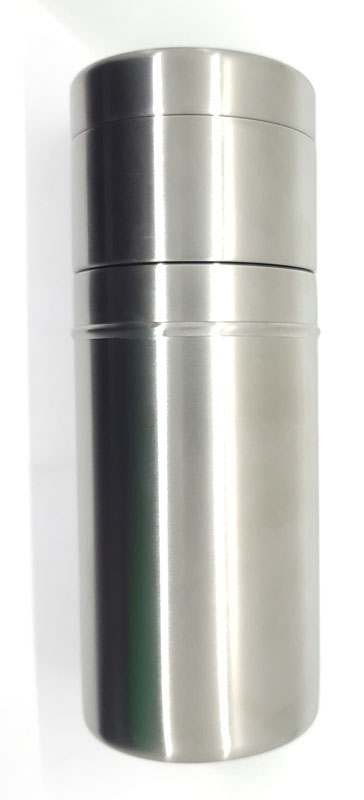 Its double-wall construction insulates your beverage, keeping it at the perfect temperature for many hours.
The bottom of the High Camp Flasks highball shaker is engraved with the High Camp Flasks logo.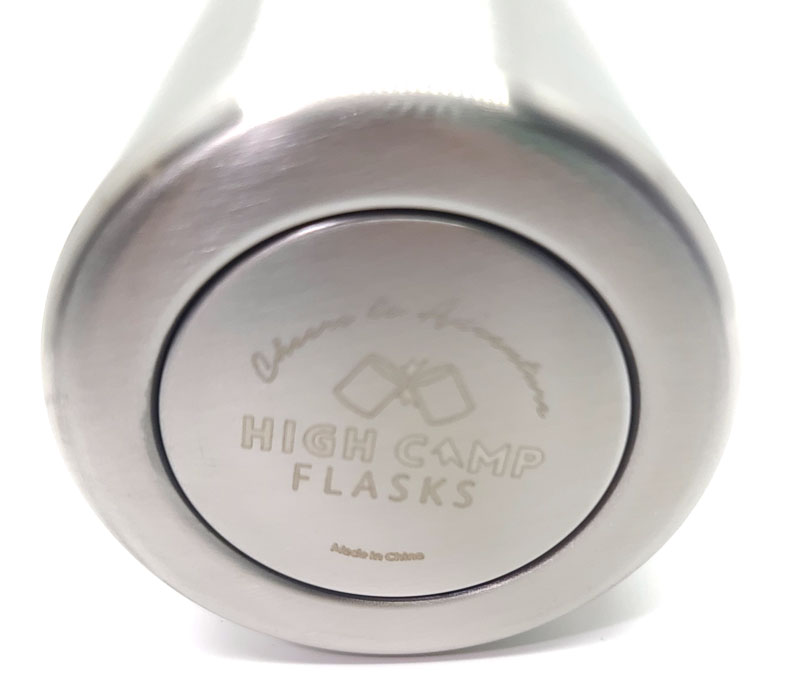 Speaking of engraving, for an extra $20, you can have your shaker engraved with your custom artwork. You submit a black & white JPG or PNG file and they do the rest.
Here, we see the three pieces of the shaker.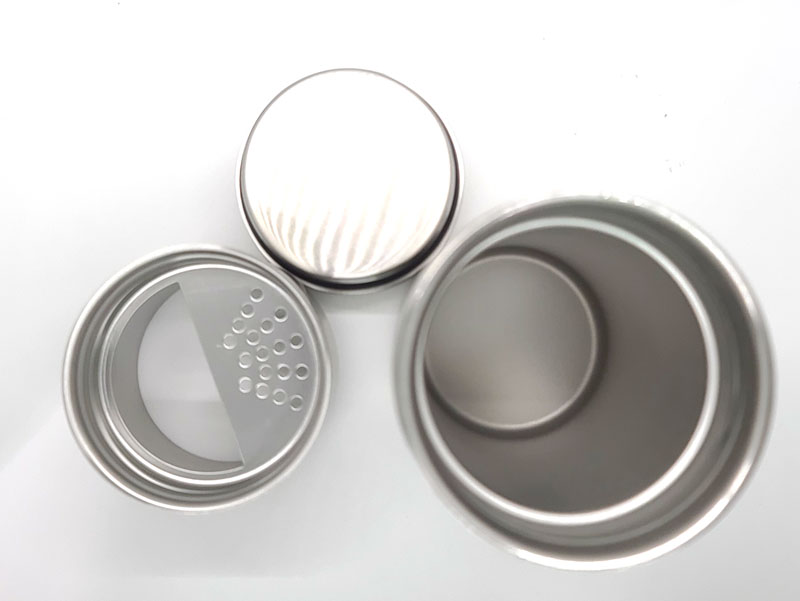 The lid is at the top.  It fits onto the strainer (left) as well as the shaker/tumbler (right).
Here, you can see the silicone o-ring on the lid that forms the leak-proof seal. There is another seal at the top of the threads on the strainer.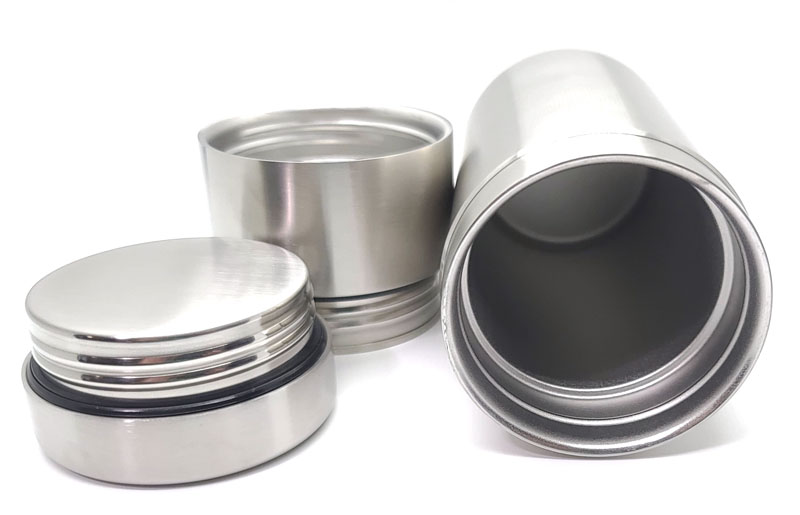 The opening of the flask is wide and will easily accept ice cubes.  With the strainer installed, there is still a large opening so that you can add ingredients and ice.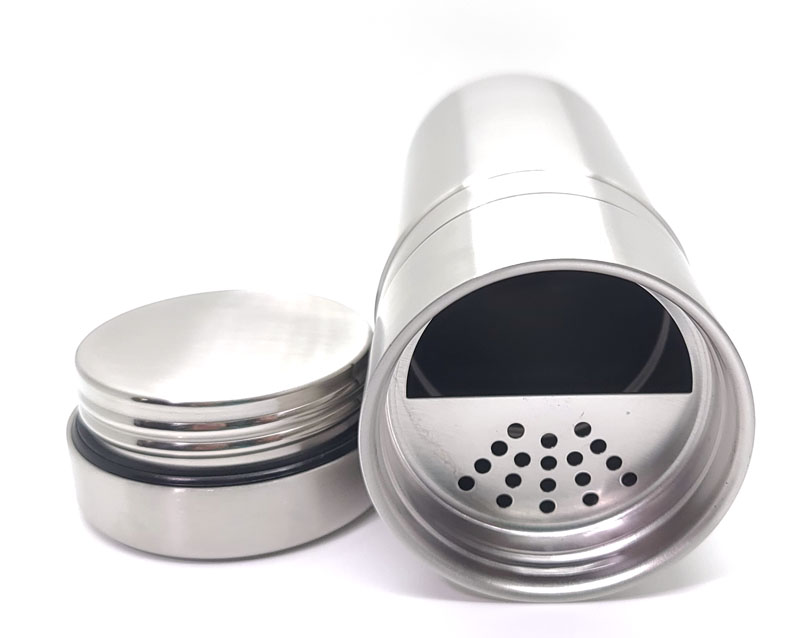 With the strainer removed, the lid mounts on the tumbler portion of the High Camp Flasks highball shaker, making for a more contact container.
Setup
After washing the shaker, the only setup is to put together the pieces you intend to use – the tumbler plus the top, or the tumbler plus the strainer plus the top. Then, it's time to get mixing!
Performance
To test the shaker, I needed to start mixing something.  I know, a martini!  Yes, this is called a highball shaker, and a martini isn't technically a highball, but it is still liquid and needs to be shaken, at least according to 007.
I added the ingredients and some ice, screwed in the strainer and top, and got to shaking.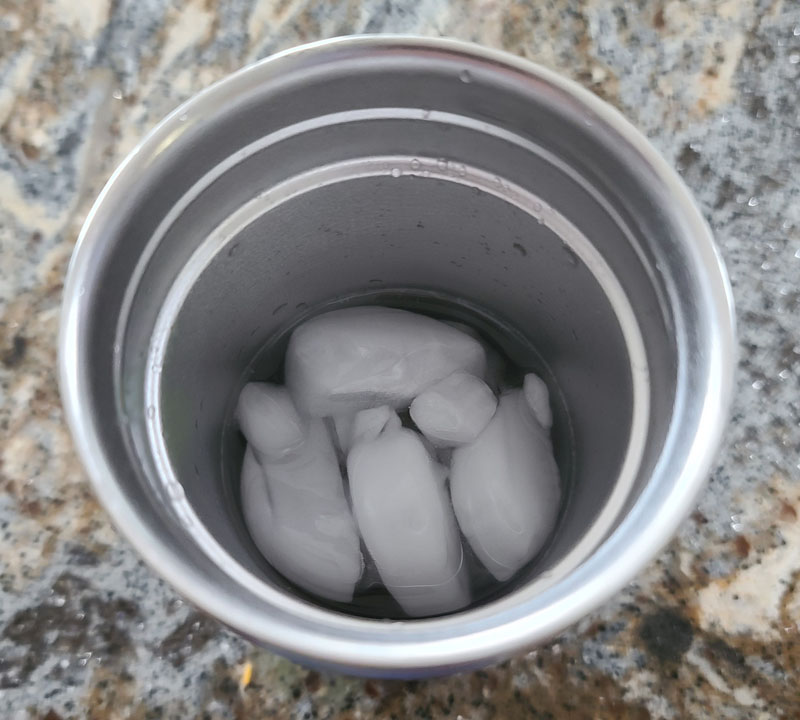 The body and top of the shaker remained at room temperature.  The edge of the strainer did feel a little cool, perhaps because the insulating layer is a little thinner.  Still, it was much more comfortable to hold than a non-insulated shaker.  There were no leaks from either of the screwed-together parts.  Now, to pour!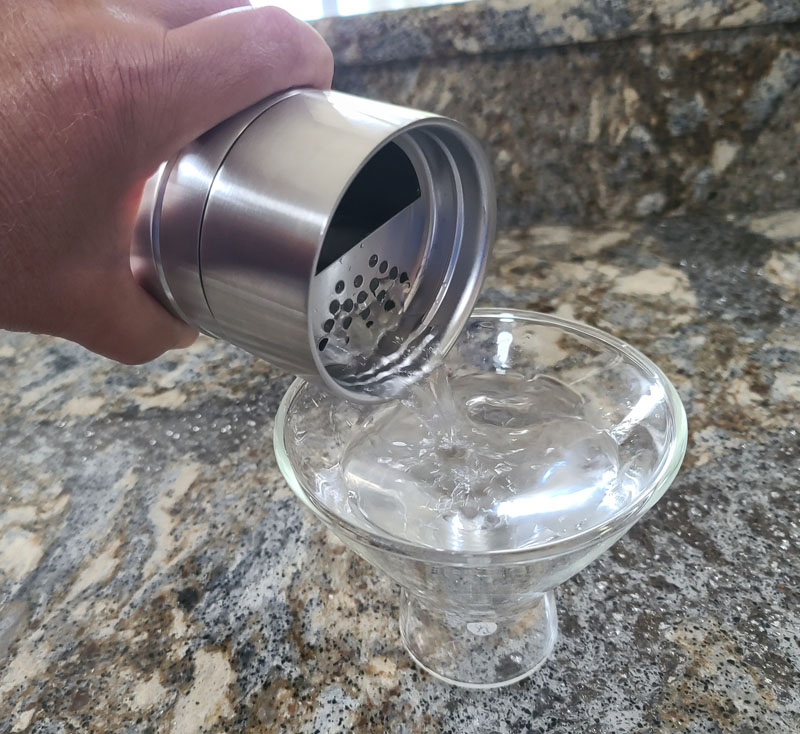 The strainer filtered out the ice cubes as expected and the drink poured perfectly.  With its stainless steel construction, this shaker will not impart any flavor into your concoctions, keeping them tasting as you designed. As a shaker, I'd say this performed well.
One of the draws for this type of container is its ability to keep your drink at the perfect temperature. To test it out, I filled the tumbler with cool water and ice and shook it vigorously for a couple of minutes. With the ice nearly melted, I removed the ice and checked the temperature of the liquid.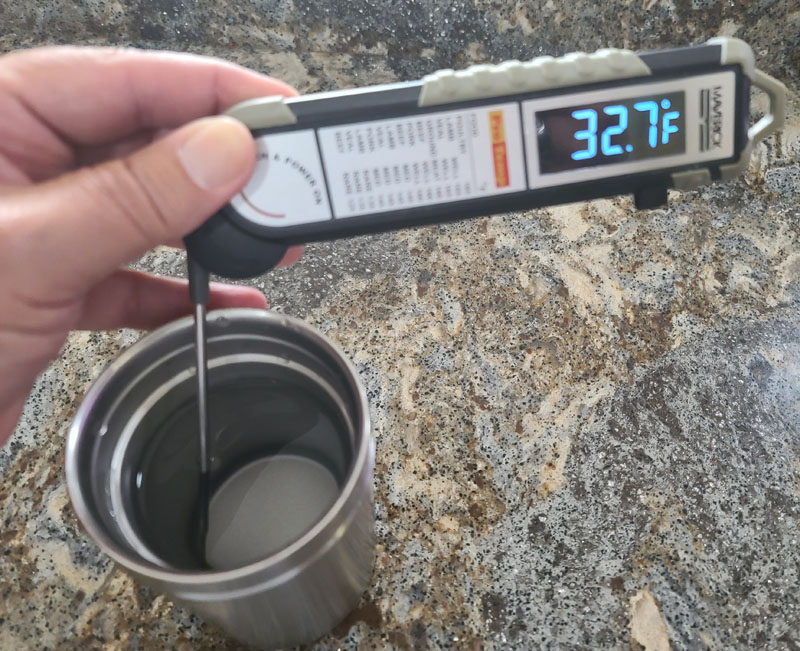 It registered at an icy 32.7 degrees – perfect!  I sealed up the tumbler and let it sit.  They claim that the shaker will maintain your drink's temperature, hot or cold, for up to 24 hours. That's all fine, but in the real world, you probably won't prepare a drink for an entire day in the future.  But, I believe that you might prepare one for consumption in perhaps four or five hours.  The temperature reading above was taken at 4:40 pm.  I let it sit, undisturbed in my 75-degree kitchen until 7:40 am the next morning or 15 hours later.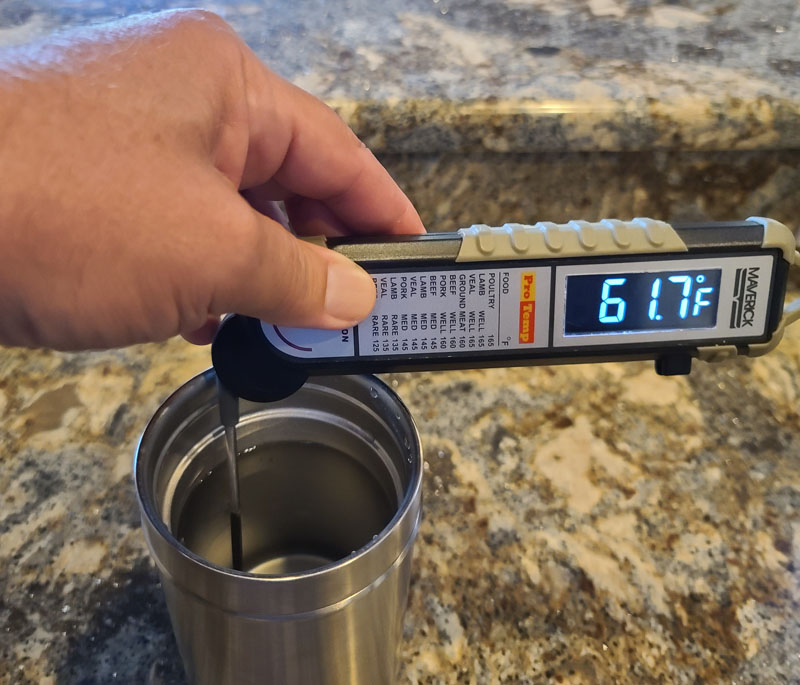 As you can see, the liquid was 61.7 degrees.  That's a far cry from the 32.7 degrees 15 hours earlier.  But 15 hours is a long time to wait for a drink.  I also didn't leave any ice in the shaker, but that's probably a good test for a highball since you wouldn't want to dilute the drink over time.  Bottom line is that it should do a fine job keeping your beverage chilly for a few hours, but not overnight.
In addition to shaking duties, the High Camp Flasks highball shaker can double as a single can cooler.  Taller cans fit with the trainer installed.  Shorter 12-ounce cans fit in the tumbler section.  Note that this is for transport only.  It is not designed to use when drinking from the can.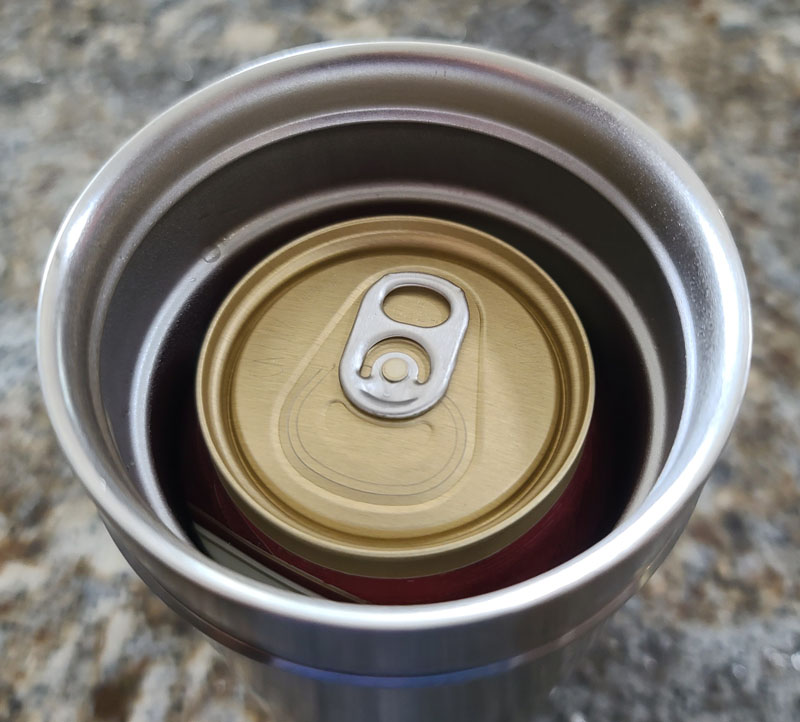 Portability for your cocktail is what this shaker is all about.
What I like
Well-made
No leaks
Reasonably well insulated
What I'd change
It is a little pricey, but quality comes at a price
Final thoughts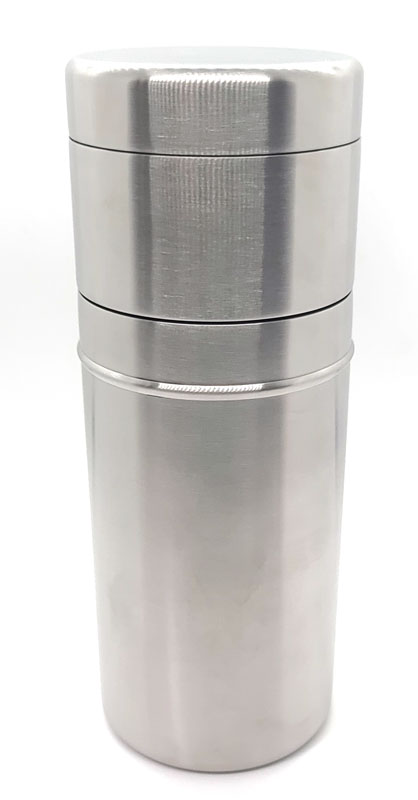 The High Camp Flasks highball shaker is a nicely made cocktail shaker.  Having an integrated strainer and the ability to seal for travel is really nice.  The way it is packaged means it would be a terrific gift for a friend.  With the personalization option, it would be a really cool groomsman gift.  If you're the type of person that wants to take a preferred mixed drink to a party, this is a great solution.  The fact that it is also a great shaker that can be used at home makes this a really nice cocktail solution.
Price: $79
Where to buy: High Camp Flasks
Source: The sample of this product was provided by High Camp Flasks.